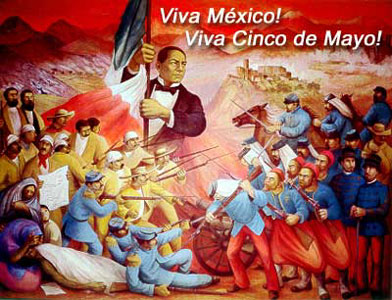 Cinco de Mayo is not Mexico's independence day like many people assume. Cinco de Mayo commemorates the Mexican Army of 4,500 men's victory over the 6,500 French at the Battle of Puebla in 1862.   In Mexico it is not celebrated nationally but only in Puebla.  In the 1960s and 1970s, civil rights Chicanos related the Battle of Puebla to their quest for respect in the United States and publicized it as a popular holiday.  Most people do not know about the real meaning of this holiday and why it has become so popular and today it is mostly used just an excuse to party, wear sombreros and drink margaritas.
I see this is as a great opportunity to educate my children as well as my friends about "real" Mexican and other Latino traditions and foods as Cinco de Mayo has become a day which most Americans relate to Latinos in general.   Here are 5 great and easy activities to make a last minute Cinco de Mayo Fiesta for the children: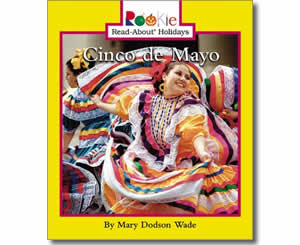 Read about the history of the holiday:  Start the party off by talking about the holiday's history. We got a wonderful book from the library : Cinco de Mayo from Rookie Read about Holidays Collection and read it out loud with the kids. It outlines the events that led up to the Battle of Puebla in remarkably simple terms, and then shows various aspects of contemporary festivities, including a mariachi band, dancers, parades, and so on. It's colorful pictures kept the kids interested and there where a lot of questions, which means they where really paying attention.  You can also look for pictures and information online and print them out and even print out some Mexican coloring pages to explain to the children the real reason for celebrating this holiday in a fun way.
Cook a traditional Mexican dish:  this is a great opportunity to involve children in the kitchen and prepare a simple Mexican dish.  There are many simple kid friendly recipes out there but my favorites are Guacamole, Nachos with Pico de Gallo and Tacos de Carnitas, all easy to make and all are well received by the younger crowd.
Mexican inspired crafts:  Kids love crafts  so we made some very simple maracas. We put some beans inside a plastic cup and taped it to a second plastic cup using bright colored tape.  Then the children decorated the maracas with more colored tape.
Music:  What is a party without music?   We are not of Mexican descent so my children had never heard mariachi music, this was an excellent opportunity to introduce them to it.  We also played some of their favorite Spanish children's music CDs and did a parade around the park with the maracas and some Mexican sombreros.
Piñata:  At the end of the day we broke a piñata filled with candy and little treats.  My children as well as all the children of my American friends had a wonderful time and they learned about the Mexican culture and the real history behind this holiday in a fun way.
Related posts: