I don't know about your kids but mine are both visual learners.  If the materials we use are fun and colorful they are more motivated and eager to learn and let's not even mention the increase in attention span.  I'm always on the look out for bilingual products that make learning feel like a game. That is why I was instantly attracted to Bebe Bilingual's beautiful designs.
Bebe Bilingual's founder and designer Kimberly Schwede has taken inspiration from her many travels and released a collection of bilingual products for children.  Her artistic creativity has brought together whimsical drawings and fun fonts to create flash cards, place mats, wall art and other products in English, Spanish and French.
My daughter is reading and writing in English at school but she still needs some work on her Spanish, especially when it comes to spelling.  I have found that the easiest way for her to learn the correct spelling is by being presented with the words in a visual manner.  This year we are working on increasing the amount of educational activities and materials in Spanish as you can read in our bilingual family's goals for 2013 and Bebe Bilingual's flash cards just fit the bill.
We have been working with the numbers flash cards and after just a couple of weeks she can write all her numbers and colors in Spanish flawlessly.  Now we are using them with my little guy and we are making great progress.  He really loves the colors and the cheerful designs.  These flash cards are double sided with the numbers and colors in English on one side and in Spanish on the other side. There are also super cute animal flashcards so kids can learn all about wildlife in their second language or in their first.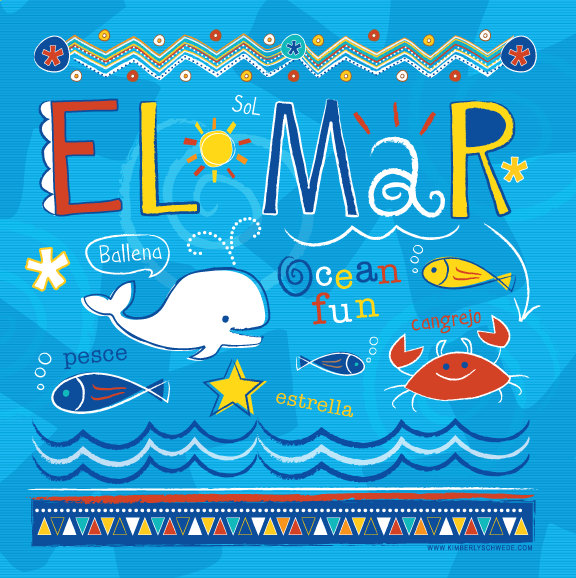 I love that Bebe Bilingual uses different every day objects and turns them into educational tools.  The wall art is perfect for decorating the room of the bilingual little people in the house, the place mats and the lunch boxes will have them busy learning while they eat.
You can check out all of Bebe Bilingual's products on their Etsy shop. My favorite is the Jungle Amigos place mat and the El Mar wall art. Let us know which product is your favorite and what language you are teaching your children.
Giveaway:
Win one set of bilingual numbers and colors flash cards (Spanish-English or French-English) and one set of super cute bilingual Valentine's cards (Spanish-English or French-English). Enter in Rafflecopter below.
Related posts: