Presented by Mami Innovative Media, this is a sponsored post on behalf of Whirlpool. All opinions expressed here are my own." #WhirlpoolWashSquad
I don't know about you but my least favorite chore is laundry, yeah I would rather scrub toilets.  Laundry is just never ending, you wash, you dry you put things away and turn around to find that a new pile of smelly dirty laundry has magically appeared already. In my house this happens at an alarming speed; I have two kids who besides getting their school uniform stained on a regular basis also go to soccer practice and horse back riding and a husband who goes to the gym every day!  I love that my family is active but I do not love the fact that they produce at least two sets of dirty everything (from socks to shirts) on a daily basis.  So I do laundry twice a week and if I happen to get sick or miss doing the laundry on the scheduled day for any reason not only do I have to run out to buy clean underwear for every one but we get a pile of dirty laundry so big and so wide and so tall that I might loose one of the kids in there.  Ok, so that has actually happened but it was totally the kid's fault … I mean who decides to take a nap in a pile of warm, delicious smelling clean laundry?  But anyway, back to the laundry.  I've always thought it was not fair for me to have to wash everyone's clothes but the kids where too young and the husband was at work 24/7 so I had not choice.  Now things have changed a bit, both my husband and I work from home and the kids are old enough to help but for some reason I usually get stuck with the laundry anyway.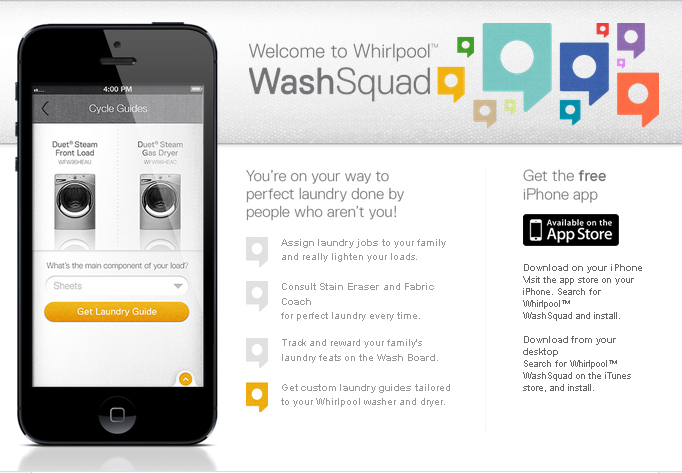 When I heard about WashSquad, the new free app from Whirlpool, I could not wait to try it out.  This easy to use app has really helped get us organized when it comes to doing laundry as a team and I could not be happier.  I have no idea what it is about technology but my kids are attracted to the phone like moths to a flame. We've tried chore schedule boards before and they just become invisible to the kids after a while. With the WashSquad app they enjoy checking it out and finding how many points they have earned and they love the excuse to steal my phone for a while.
The free Whirlpool® WashSquad App lets you:
- Assign laundry jobs to your family. No matter if your kids are still young they can still help out with simple things like sorting or moving the clothes from the washer to the dryer.
- Track and reward their completed chores. The important thing here is to make those rewards motivating, a monthly trip the go-carts for the little guy, a visit to the zoo for the critter loving gal, a free pass for a night out with the guys without me complaining about it for the hubby and for me an afternoon getting a pedicure or a facial!
- Create custom laundry guides with wash and dry instructions tailored to your Whirlpool® washer and dryer.
And the WashSquad features a Stain Eraser guide and Fabric Coach to help get you through even the toughest of loads. This has really come in handy for getting rid of those chocolate and grass stains!
Download the free application now and you'll be on your way to perfectly clean laundry that you didn't have to do and that your husband didn't ruin because he was clueless about how to care for it (at least my 8 year old can now use that cute wool sweater he shrunk).
Related posts: