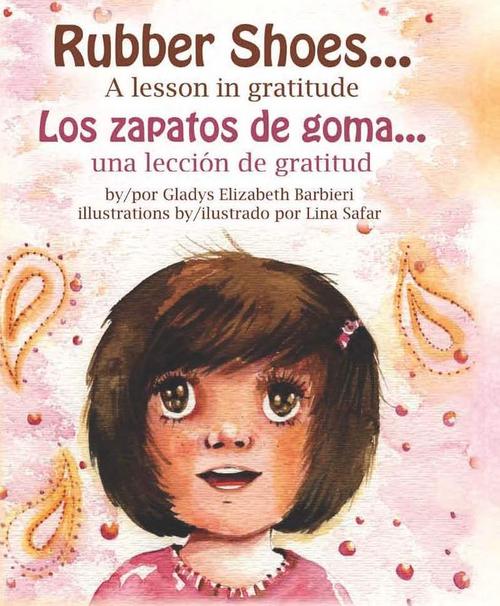 Gladys Elizabeth Barbieri's bilingual book Rubber Shoes … A lesson in gratitude is a charming and engaging book with a compelling story.  Little Gladys Elizabeth is so excited to go to the store with her mom to buy new shoes.  On the way there she dreams of shiny and sparkly shoes, like the ones her friends have and once in the store she falls in love with a pair of pink ballet shoes.  Her mom, with visible sadness, tells her that those shoes are too expensive and instead buys her the ugly rubber shoes that are on sale.  Gladys Elizabeth does not hide her great disappointment and acts out her emotions as children do.  Her behavior is not idealized in any way as Ms. Barbieri describes how Gladys Elizabeth gets into trouble as she tries in every way to destroy the ugly rubber shoes.
Ms. Barbieri accomplishes to make this story both moving and fun at the same time.  It is rare when a children's book is able to portray that much emotion. I don't know if it's Lina Safar's soft watercolor illustrations of Gladys Elizabeth with her big expressive eyes or the subtle hints in the text like when Gladys Elizabeth describes how her mom holds her hand a little too tight as they cross the street.
You would think that this book would be more suited for girls as it talks about pretty shoes, but my 4 year old little boy laughed out loud as Gladys Elizabeth carries out plan after plan to destroy her ugly shoes.
There are so many things I like about this book.  My children really connected with the story because of the way it was written, using simple words and fun dialogue as told by Gladys Elizabeth in her own words. Also, I just fell in love with Lina Safar's illustrations; their sweetness and warmth is a real treat. The fact that the author and the main character not only have the same name but look exactly alike, as you discovered when you see a photograph of Ms. Barbieri as a child at the end of the book, was an added bonus for me as it made this story real.  And to top it off the book is written in both English and Spanish making it ideal for bilingual families and anyone who is learning Spanish.
The lesson to be learned from this book is powerful and even though it is timeless I feel like it is also very current.  This is a wonderful tool to teach children that we cannot always get them everything that they want and that they must be thankful for what they have.  It is also a story about "growing up". The illustrations compliment the words beautifully, leaving lots of room for discussion and interpretation about what Gladys Elizabeth is feeling.  I truly believe this book is a must have in any bilingual child's library!
Disclosure: I  recieved a copy of Rubber Shoes … A lesson in gratitude free so I could read it with my children and review it.  My opinion is sincere and this post was not edited by a third party.