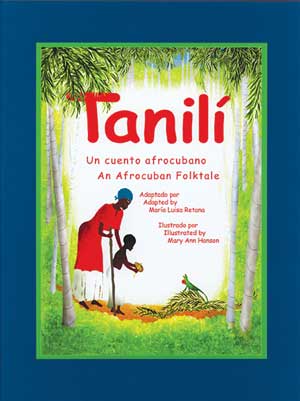 Tanilí is a enchanting bilingual story that was told to the author, Maria Retana, by her grandmother when she was a child in Cuba.  Two neighbors one rich and one poor, ask the town's people for help when it comes time to pick their harvest. While the rich owner of the rice field seems to have a lot more to offer it is Domitila, the owner of the small cotton field who can offer something magical.  The story teaches a valuable lesson on how money is not the most important thing and about the value of working together.
This interesting and engaging folktale is a wonderful source of education for children. Tanilí offers a glimpse of the Cuban culture, the people and their lives during the post-slavery era.  Just as in the afro Cuban culture music plays an important and central part in the story. The illustrations by Mary Ann Hanson have quite a distinctive style and they are as bright and lively as Cuban music.
I  loved the style of the illustration and the engaging story.  I am always looking for fun children's books that expose my kids to other cultures so that they can recognize all we share in common and delight in how the unique beauty of different traditions enriches our own lives and Tanilí is just such a book.
Tanilí is a real treat for anyone, young or old, who is learning to read Spanish and looking for a good bilingual storybook.
Disclosure
I  recieved a copy of Tanili free so I could read it with my children and review it.  My opinion is sincere and this post was not edited by a third party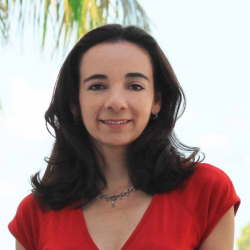 Latest posts by Paula Bendfeldt-Diaz
(see all)