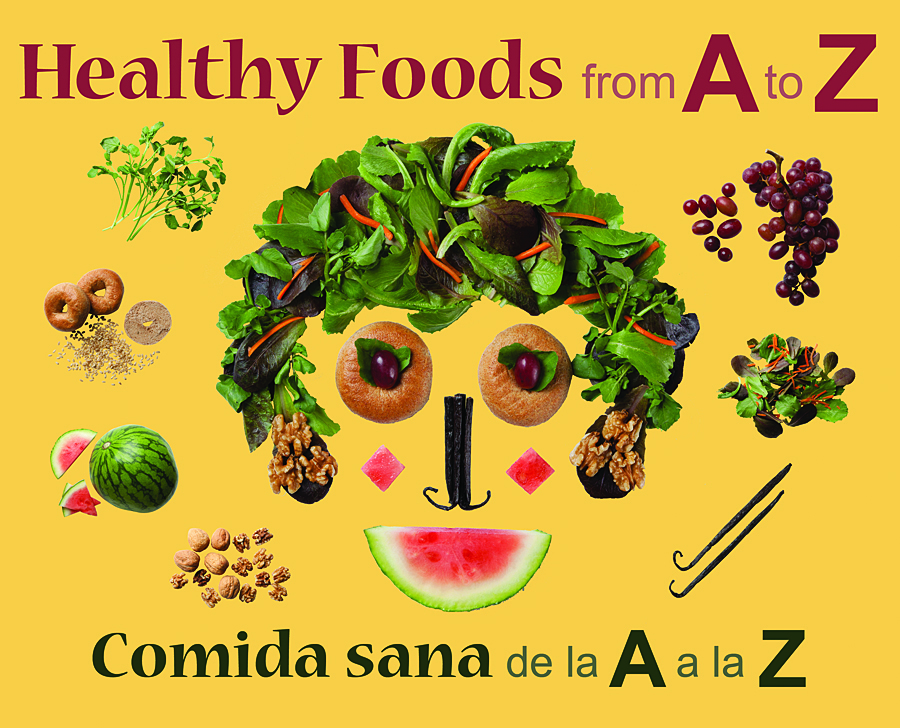 Healthy Foods from A to Z / Comida Sana de la A a la Z is a truly unique bilingual book.  It's originality along with the quality of the pictures and the wealth of educational opportunities in this book really set it apart.
Before receiving Healthy Foods from A to Z / Comida Sana de la A a la Z I had read a lot about it.  After all, this book is the winner of numerous awards among them: the 2012 Mom's Choice Gold Award, the 2012 Creative Child Book of the Year Award and the Bronze Winner of the 2012 Moonbeam Children's Book Awards in the Spanish category.  Not only did this book not disappoint; it exceeded my expectations.
My children are 5 and 7 and they are usually too old for A to Z books but they found the book so interesting and funny.  On each page you will find a different letter and a big face made entirely of different kids of healthy foods that start with that letter.  Around  the face you find smaller pictures of each food. On the left side the food names are in English with the Spanish word underneath and on the right side the words are in Spanish with the English word underneath.

The pictures are beautiful and crisp and the colors fresh, just like the fruits and vegetables.  Each face has a different expression providing the opportunity to teach children how to recognize feelings by looking at the faces that range from happy, to surprised and serious.  The book provides the opportunity for children to learn new vocabulary in both languages and is the perfect catalyst to open up the conversation on the importance of nutritious meals and healthy foods.
The book includes instructions for making your own food face as well as a list of activities that can be done at home or in the classroom with the children to teach them English vocabulary, Spanish and healthy eating habits.  The last few pages of the book are written with parents and teachers in mind and contain a complete list of 70 healthy fruit, vegetables, seeds, spices and other healthy foods pictured in the book in both English and Spanish.  A picture of each food is accompanied by a description that includes the food's origin and it's health benefits.
The best part though, was my children's reaction to the book.  They could not stop looking at the pictures. My oldest read the whole book to my youngest and she was having a great time explaining things to him, saying things like: "Do you know what blueberry is in Spanish? It's arándano."  My little man, who always expressive could not hide his delight, and as my daughter turned the pages you could hear him saying: "Wow. Awesome. Look at that! She is a happy girl with lettuce hair." While we read it together we tried to find each food in the face:  "Are the olives the eyes? Is the mouth a berengena? Where is the parsley in this face?"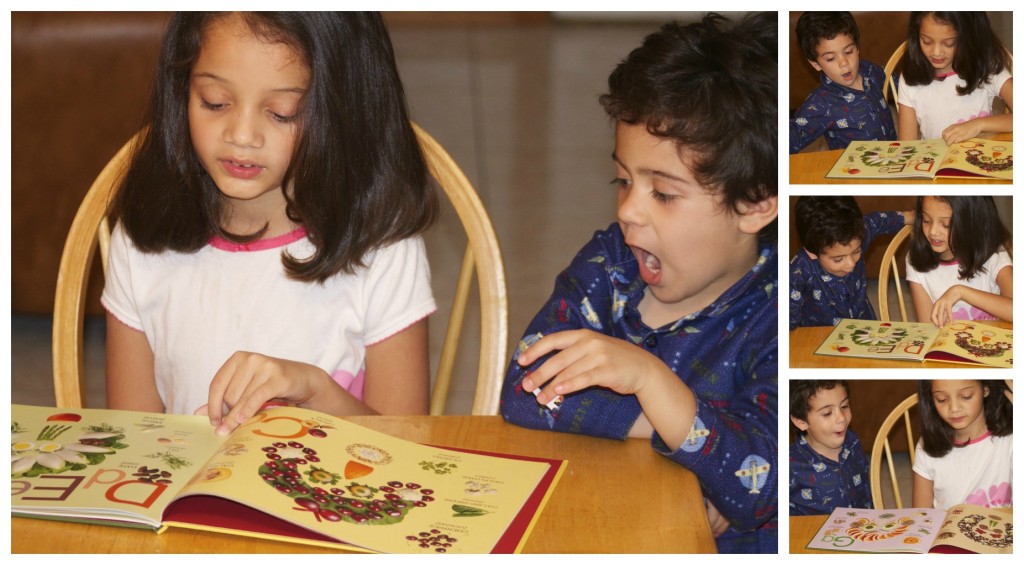 The questions and the conversation continued long after we where done with the book.  Both of my kids where so excited they wanted to make their own food face and even thought it was time for bed they where so motivated that I couldn't say no. My little guy went to bed telling me how he was going to make 4 food faces: one happy, one sad, one surprised and one scared and which foods he was planning to use.  This coming from a child that can not even be described as a picky eater because his sensory food aversions are so severe.  My little man goes to therapy to help him increase the variety of foods he eats and in a few minutes this book had awaken in him an interest in foods he's refused to even touch in the past.  I was more than impressed!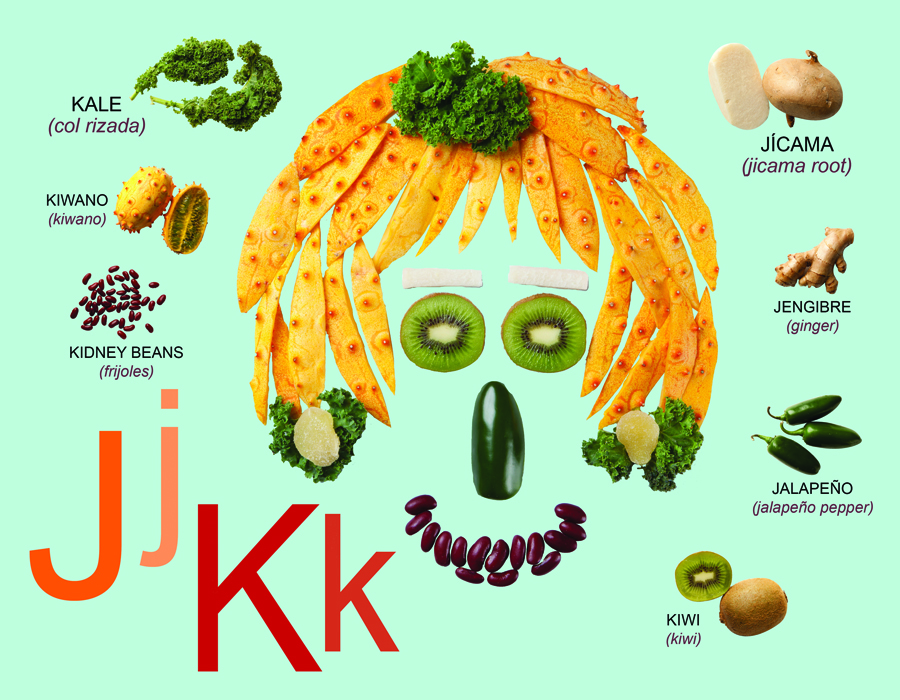 Healthy Foods From A to Z / Comida Sana de la A a la Z is so much more than a bilingual alphabet book and even though it's recommended for children from 3-6 years old I not only loved it and was mesmerized by the clever and fun food faces but learned more than a couple of things from the book both in terms of health benefits and vocabulary!  I would personally recommend it for kids 3 to 110.  I think most of us can learn quite a bit about healthy eating habits and better food choices and in the process we might also learn what the Spanish word for prickly pear is.
For more information about Healthy Foods from A to Z / Comida Sana de la A a la Z or to buy your copy visit the  Moonstone Press website HERE or email them directly at [email protected]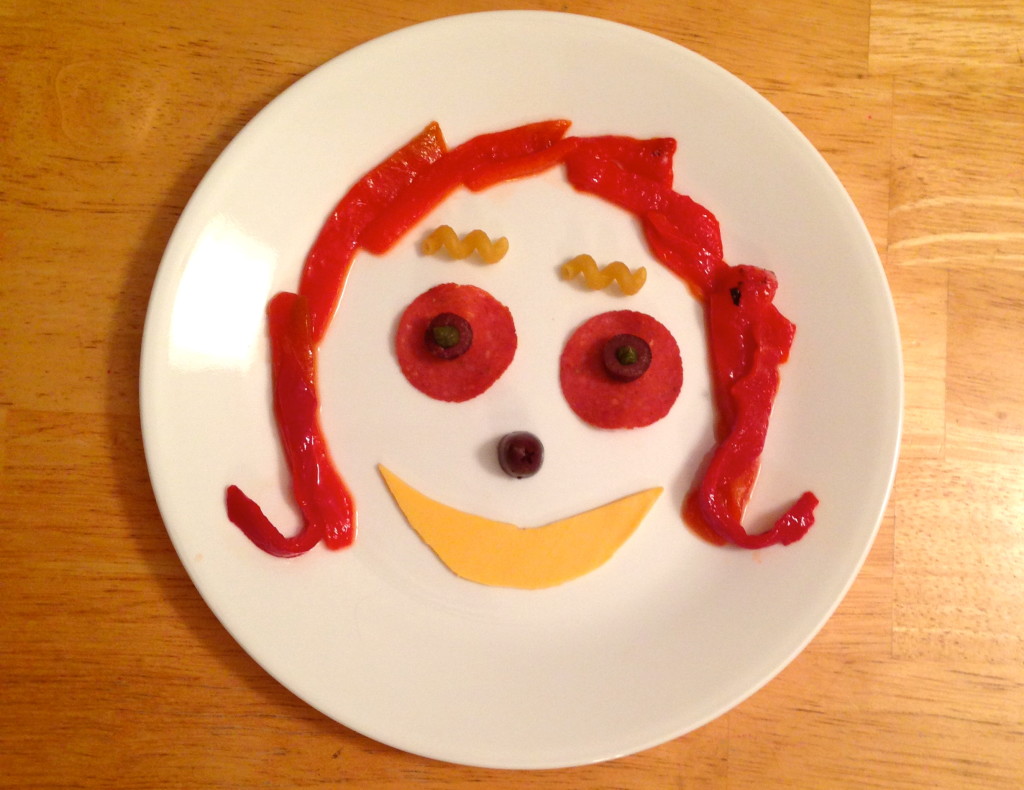 Disclosure: I received a copy of Healthy Foods from A to Z / Comida Sana de la A a la Z to review but was not financially compensated in any way. All opinions expressed here are honest and my own and are based on my observations while reading this book with my children.