We are always on the lookout for products that will help our kids with reinforce our minority language, Spanish.  We have been hearing great things about Little Pim for a while so I was really looking forward to reviewing their products.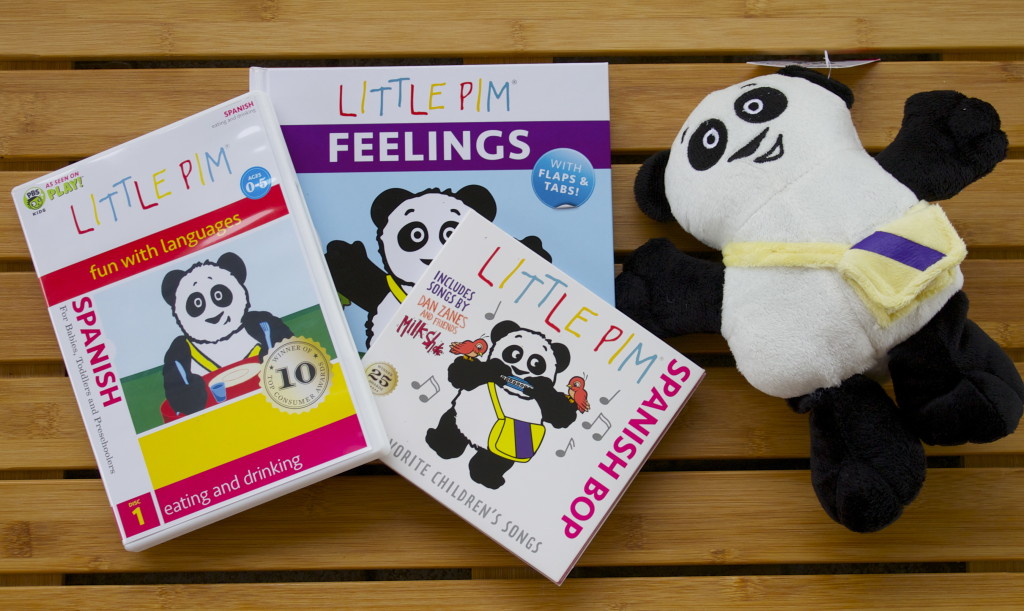 We received a super cute package containing a Little Pim DVD, their Spanish Music CD Spanish Bop and the Little Pim Feelings board book along with a Pim panda plush toy.
I really like that Little Pim has DVDs, music CDs, flash cards and books available. At home we use all of these tools to support my children's Spanish but having the same themes and the fun Little Pim Panda incorporated into all of these different formats really reinforces the learning process.  My kids will watch the video a couple of times per week, at night we read the book and when we are driving around in the car we listen to the CD. My little man sleeps with the Pim panda plush toy and plays with him a lot so when we read the book or watch the CD he is really exited to see Pim.
Little Pim Feelings Board Book
The book is mostly in English and it introduces simple words in Spanish and French. At the end of the book, there's a review of all the words learned in the three languages represented.  As they learn new words children also learn about emotions combining colorful drawings featuring Pim the panda with photographs of children showing different emotions.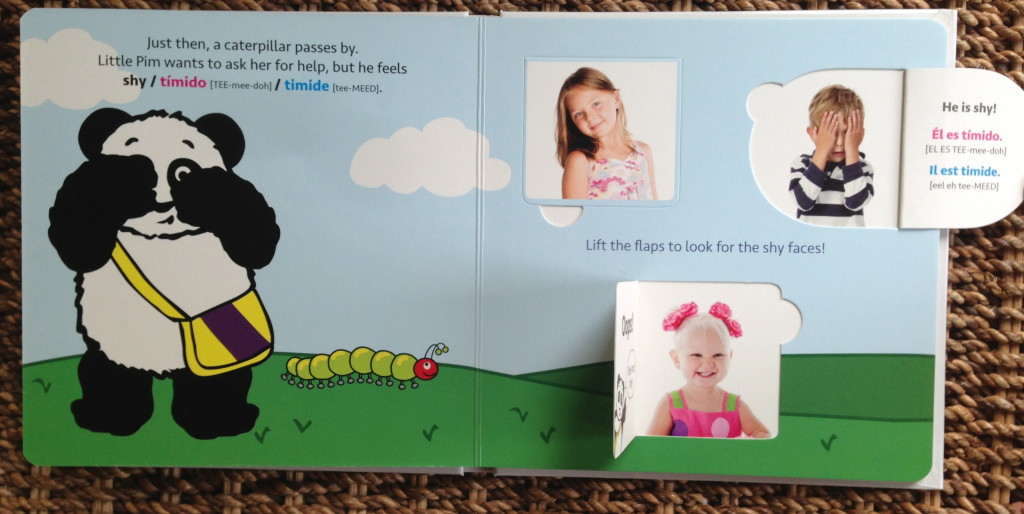 The book is ideal for smaller children with thick board pages that have either flaps for the kids to lift or tabs for them to pull.  It combines illustrations of Pim the panda with pictures of children showing different emotions.
Both of my children are very visual and for my little man it's very important to be able to interact and this book was really engaging as kids can pull and lift tabs answering questions and getting little surprises.  The book is very simple with just a few sentences in each page and although it is meant to introduce very young children to basic words in Spanish and French it turned out to be ideal for my 7 year old daughter who is starting to read in Spanish.  We have other books in Spanish but sometimes she will get overwhelmed but with this book she loved that she could read the whole book all by herself both the English and the Spanish. She did get a little confused with the French words the first few times she read it but we are planning to introduce French in the future so this was a good way for her to be introduced to the third language without it being.
We love the subject as my daughter, who has autism, sometimes struggles recognizing facial expression so she is learning how to recognize feelings at the same time she is learning to read words in Spanish.
Little Pim Eating and Drinking DVD
Focused on foods, drinks, utensils, etc., Eating and Drinking combines clips of Little Pim the panda engaged in activities ranging from hand washing to making a sandwich, each animated segment is followed by children and family members cooking and eating together.  Taking into account the short attention span of babies and toddlers (and let's admit it most preschoolers too) the video is segmented into episodes that are only 5 minutes long. Each DVD has a different theme. The Spanish vocabulary words are circled as they are spoken so that children are also learning to relate the spoken words to the written word. The DVD teaches more than 60 words and phrases.  Narrated by the Little Pim panda the DVDs kept my kids engaged and entertained. The DVD has the option to add English subtitles and also includes a parent guide.
Little Pim Spanish Bop CD
This music CD includes 13 songs in Spanish and 3 in English, along with a booklet that includes all the lyrics in both Spanish and English.
I personally believe that music is one of the greatest ways to teach a language.  My kids love music and my little man, who usually prefers to speak in English will sing in Spanish.  We have a lot of kid's music in Spanish but this CD is one of our favorites for many reasons.  The CD is super fun and besides classic favorites like "Los Elefantes" it also includes many songs that teach kids words about specific subjects like greetings and parts of the body.  Having the lyrics on hand makes it so much easier to learn the songs and my daughter loves to read them and sing along. Many of the songs are repetitive and oh so easy for kids to sing along and memorize.  This CD was real hit at our house.
About the Little Pim

Little Pim is an award winning method for teaching children languages and it's ideal to introduce a new language to children 0- 5, that being said I believe it works well for kids who are a little older as well.
Julia Pimsleur Levine is a mom, educator and the daughter or Dr. Pimsleur, an acclaimed pioneer in foreign-language teaching. She developed the Little Pim language series along with leading neuroscientist Dr April Benasich,  director of the Rutgers Infancy Studies Lab.  The Little Pim method is based on the latest research on language learning and brain development and  uses the Entertainment Immersion Method® which, quoting from their website "integrates the latest scientific research regarding kids' language learning and brain development."
Visit the Little Pim website to learn more about their products, available in many different languages and to access tools, information, research and resources for parents of children learning a second or third language.  You can like then on Facebook and follow them on Twitter to stay informed about their latest products and offers.
Disclosure: I received a the Little Pim products to review but was not financially compensated in any way. All opinions expressed here are honest and my own and are based on my observations.