This is a sponsored post; however, all opinions are my own and based on my own experience.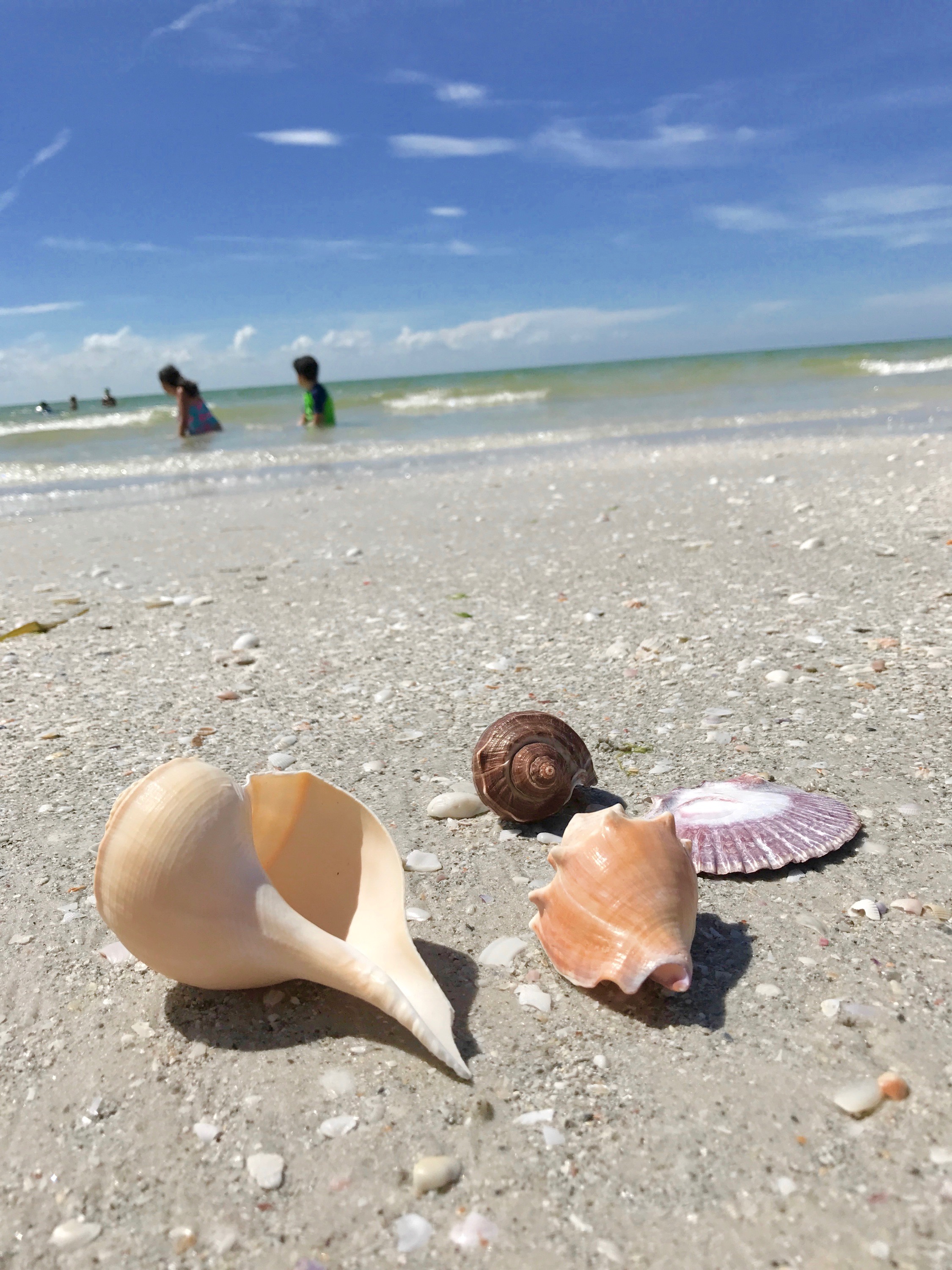 Fall can mean different things for different people, in Fort Myers Beach fall means white powder beaches filled with seashells, warm water, beach perfect weather and beautiful sunsets.
As a local living in Southwest Florida, a lot of people ask me for recommendations regarding when to go, where to stay and what to do in Fort Myers Beach. When it comes to when to go, one of my favorite times to enjoy some fun in the sun in Southwest Florida is at the beginning of fall so I wanted to share my top reasons for visiting Fort Myers Beach and why you should visit now.
Amazing Beaches
Southwest Florida is home to some of the best beaches in the country with long. Located in Estero Island Fort Myers Beach boasts seven miles of wide, gently sloping white sand beaches. The warm Gulf water is peaceful and shallow making it the perfect beach for relaxing and enjoying with family.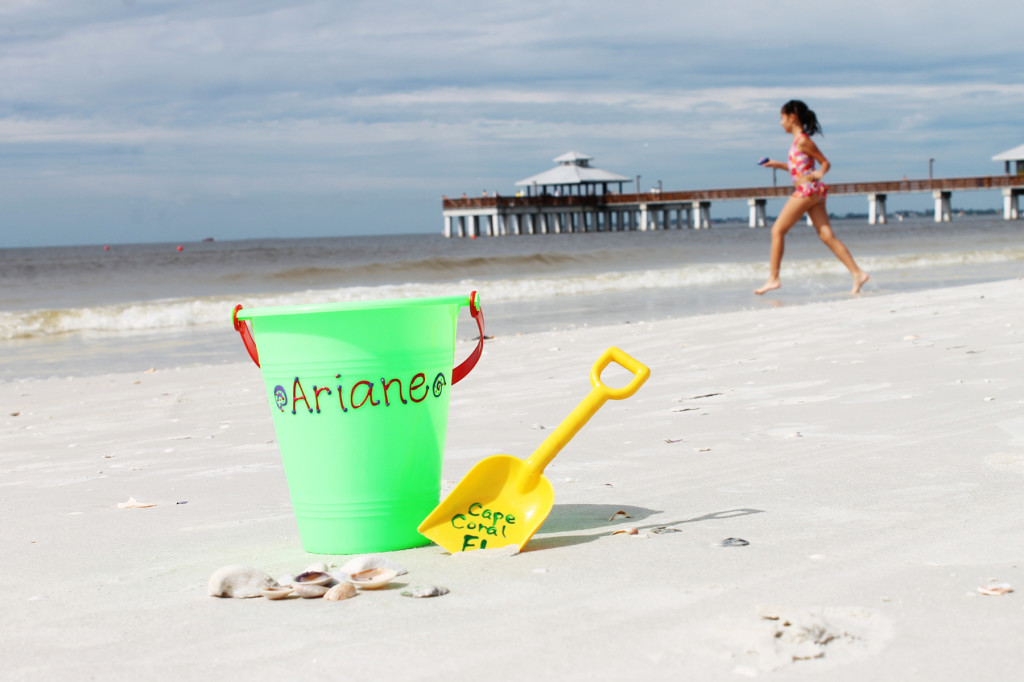 In the Times Square area, there are lots of restaurants and fun beach shops and there is always something to do there. We love going for the sunset celebration where you can enjoy live music right next to the beach every Friday and Saturday. Next to Times Square the iconic Fort Myers Beach is a great spot to take a stroll and look for dolphins or try your luck catching some fish; you can rent fishing equipment right on the pier.
Great Beach Weather
If you want to take advantage of everything that Fort Myers Beach has to offer my best advice is to book a stay now; as a local, I can tell you this is one of the best seasons! As summer comes to an end and the weather starts getting cooler up north conditions here in Southwest Florida are just ideal for a beach getaway.  The rain has subsided; families that spent the summer here have fled and snowbirds have not yet arrived and most importantly the heat and humidity have decreased.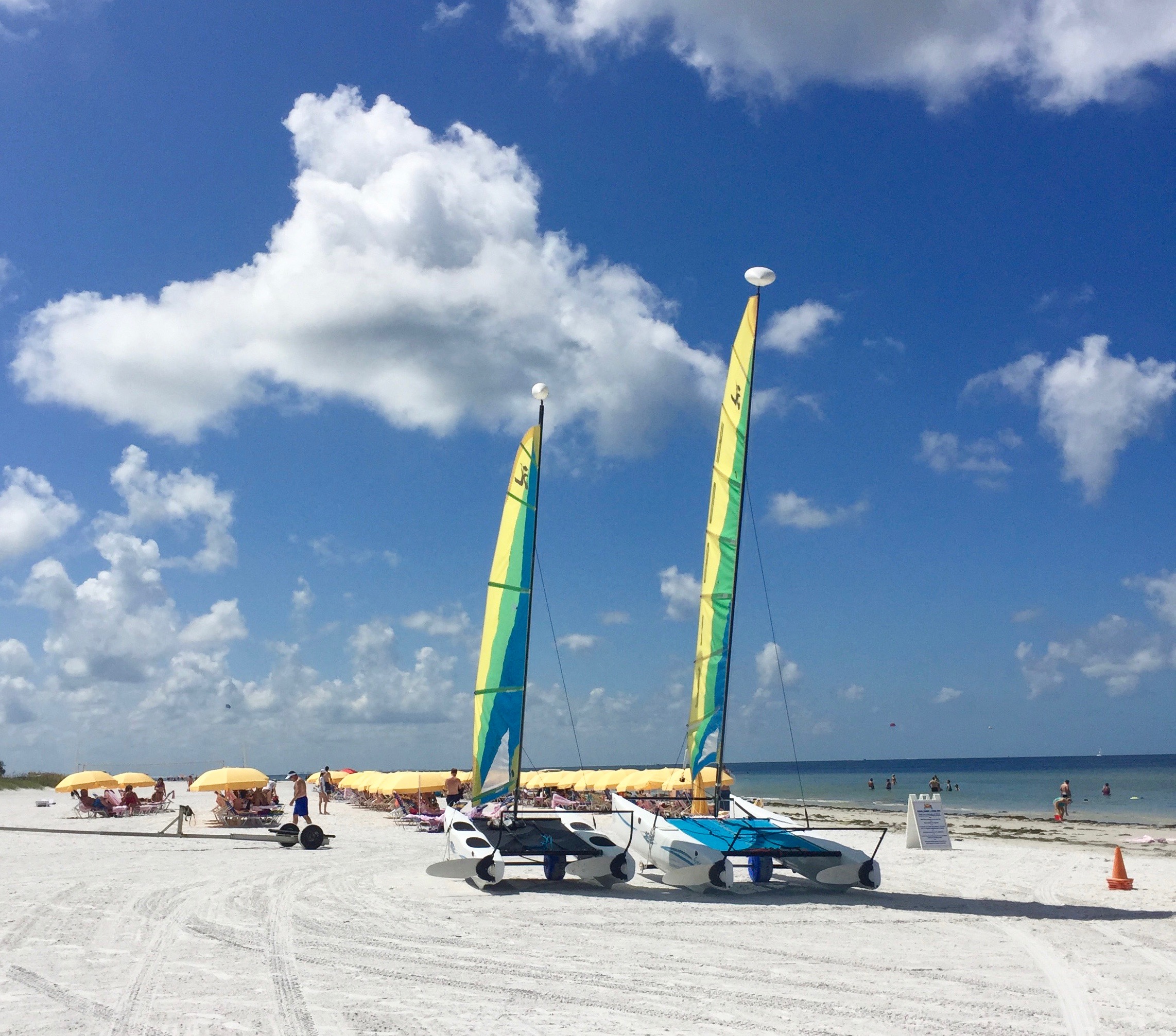 Awesome Events
Right now, there are lots of fun events going on at Fort Myers Beach and I want to share with you some of our favorites:
Island Hopper Songwriter Fest – Now in its fourth year, this award-winning music festival features nationally acclaimed singer-songwriters. From September 22nd to October 1st there will be159 live performances by 85 singer-songwriters in 24 unique, intimate venues. Featured artists include Brooke Eden, Lindsay Ell, and RaeLynn! The Pink Shell Resort & Marina has a special offer for people staying at the hotel during the Island Hopper Songwriter Festival and hotel guests can enjoy a free concert by RaeLynn on October 1st. You can learn more about the Island Hopper Songwriter Fest here.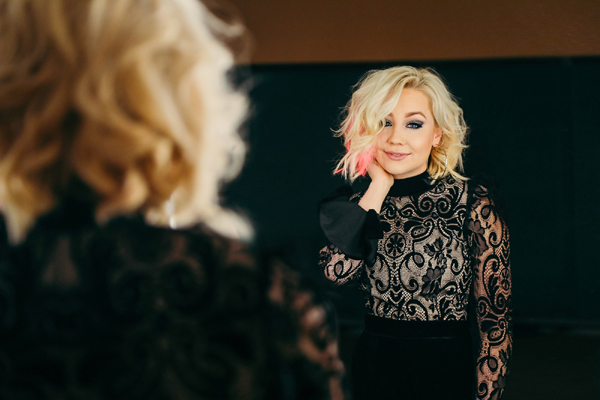 Paint the Beach – Artist from around the country get together to compete in various open-air painting challenges throughout Fort Myers Beach and the public is invited to observe the artists at work! The Paint the Beach Plein Air Festival takes place in Fort Myers Beach from November 6th to November 12th. You can get the full schedule here.
Sandsculpting Championship and Beach Festival – This is one of our favorite events of the year, there is nothing more mesmerizing than watching master sand sculpting artist from around the world create sand masterpieces. This will be a fun-filled event that will not only include World Class Master Sand Sculptors, a State Championship contest and a Quick Sand Speed Sculpting but there are also sandsculpting demonstrations and lessons, Chain Saw Art and a kids activity area with bounce houses and slides, and more than 50 vendors. The Sandsculpting Championship takes place from November 17th to November 26th.
Great Rates and Offers
Right now you will find great rates because this is a shoulder season, just after summer and not yet time for snowbirds to arrive for winter. When it comes to the best place to stay at in Fort Myers Beach my first choice would be the Pink Shell Resort and Marina in Fort Myers Beach. The Pink Shell Resort has always been one of our favorite local hotels. Nestled on the northern tip of Fort Myers Beach the Pink Shell Resort has many things we love: a peaceful stretch of private beach, a great location close to restaurants and lots of activities for everyone in the family.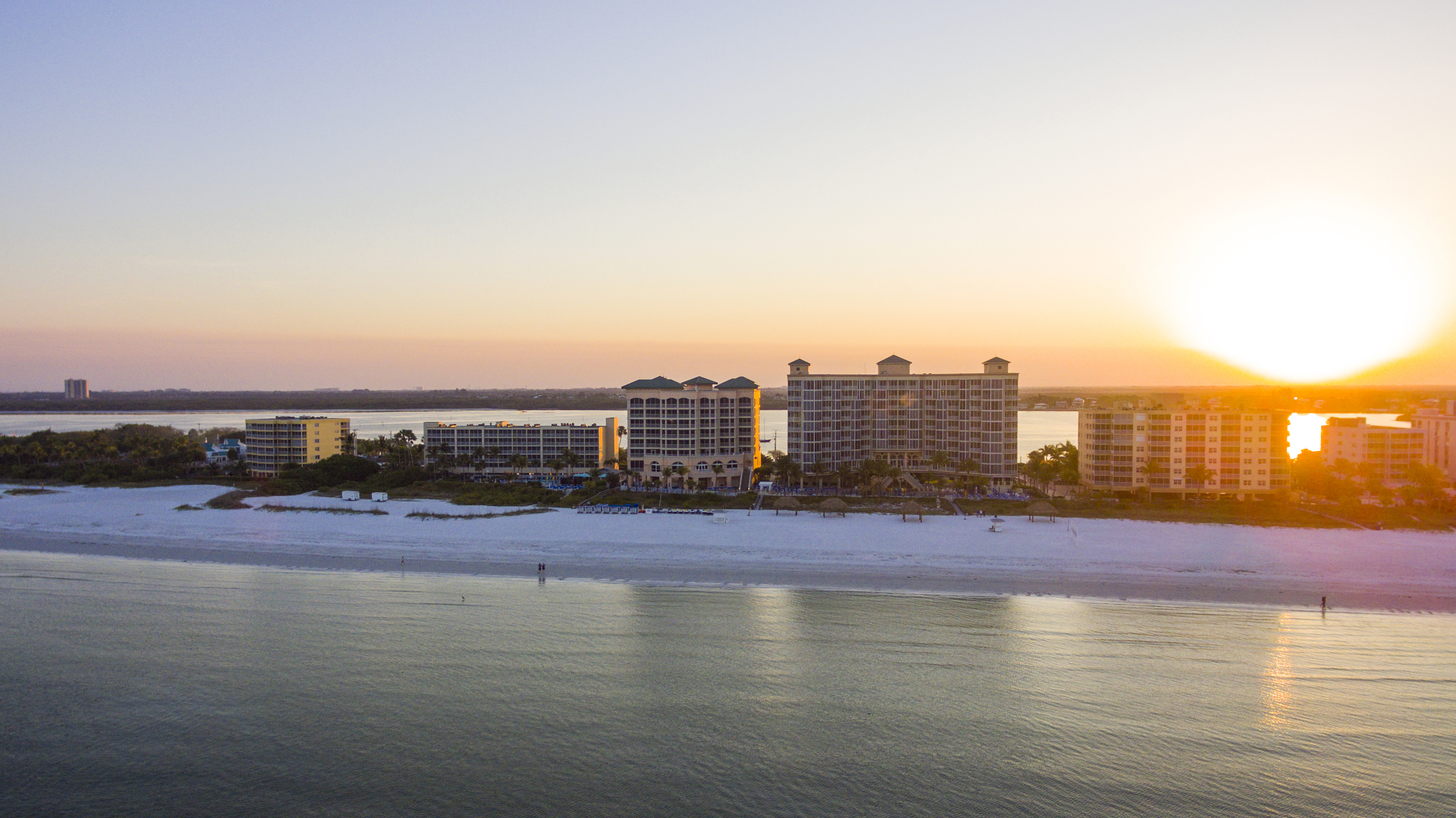 At the Pink Shell Resort and Marina, there is no need to pay extra for the beach view because all of the one and two bedroom condo suites have guaranteed beach views!  The spacious suites are perfect for families and we love that there are so many activities for everyone: from a full-service spa and beach and watercraft rentals to an awesome kid-friendly pool (or a more quiet pool if you want to relax) and award-winning restaurants. You can check out the special rates and offers at the Pink Shell Resort and Mariana here.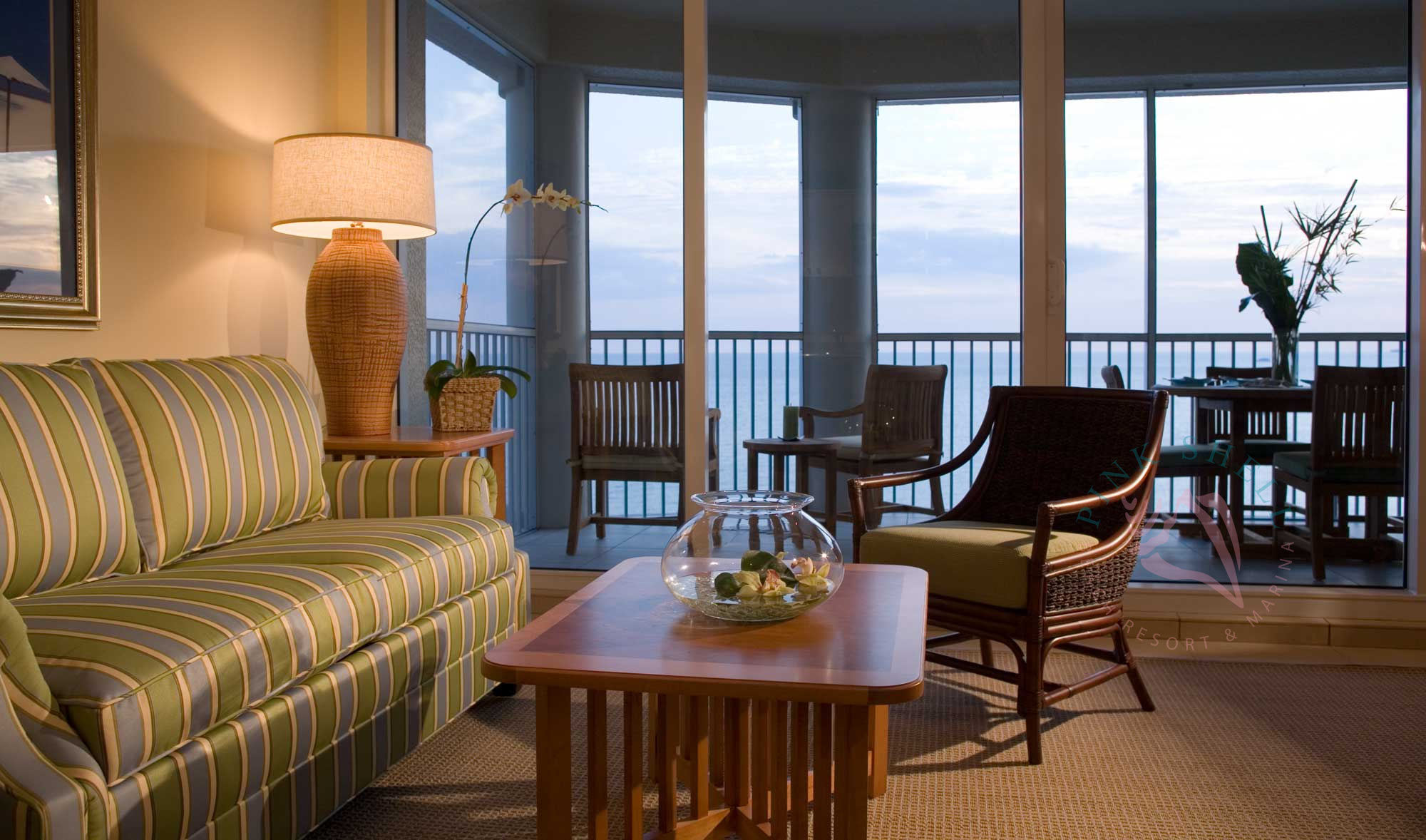 One of our favorite features is the awesome Octopool with its waterfall but I also love that there are so many things to do at the beach from paddleboarding and sailing to renting wave runners or just relaxing on a beach chair.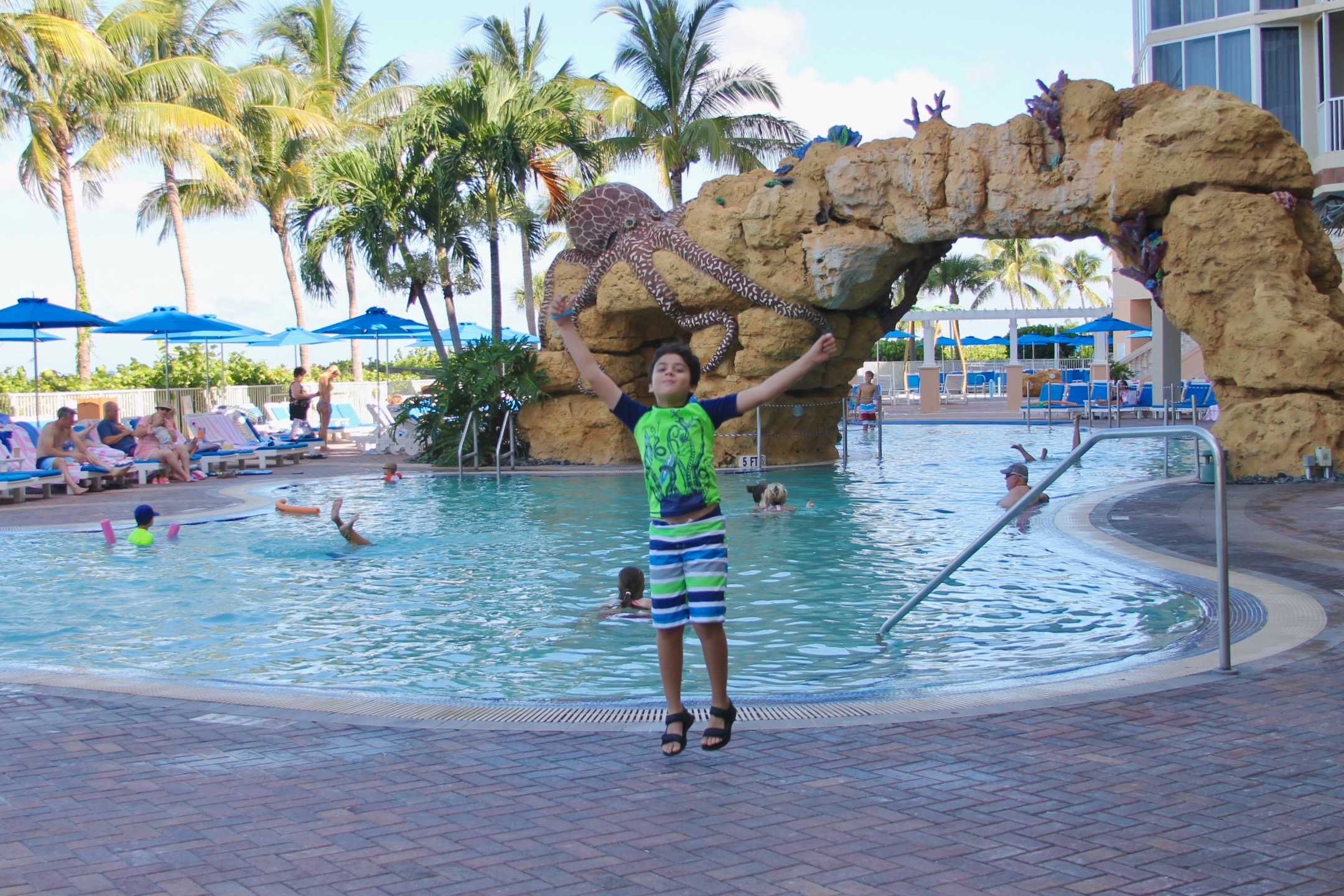 The location is also ideal: a short walk or bike ride from the fun beach vibe and lots of restaurants yet far enough from the hustle and bustle you can enjoy the peaceful stretch of private beach.
Easy Access
This fall there are new non-stop flights to RSW, making Fort Myers Beach an easy destination to get to. There are also lots of commuter flights from in-state available and I just love flying into or out from the local Fort Myers airport; it's new, clean, small and never crowded! So if you're dreaming of a beach vacation now is a great time to head to Fort Myers Beach and book a stay atthe Pink Shell Resort and Marina. Hurry before the snowbirds get here!