This shop has been compensated by Collective Bias, Inc. and its advertiser. All opinions are mine alone. #VansFoodsWaffles #vansfoods​ #CollectiveBias
This waffle hummus toast with chipotle mushrooms is the perfect vegetarian meal or snack. It's nutritions, protein-packed and better for you.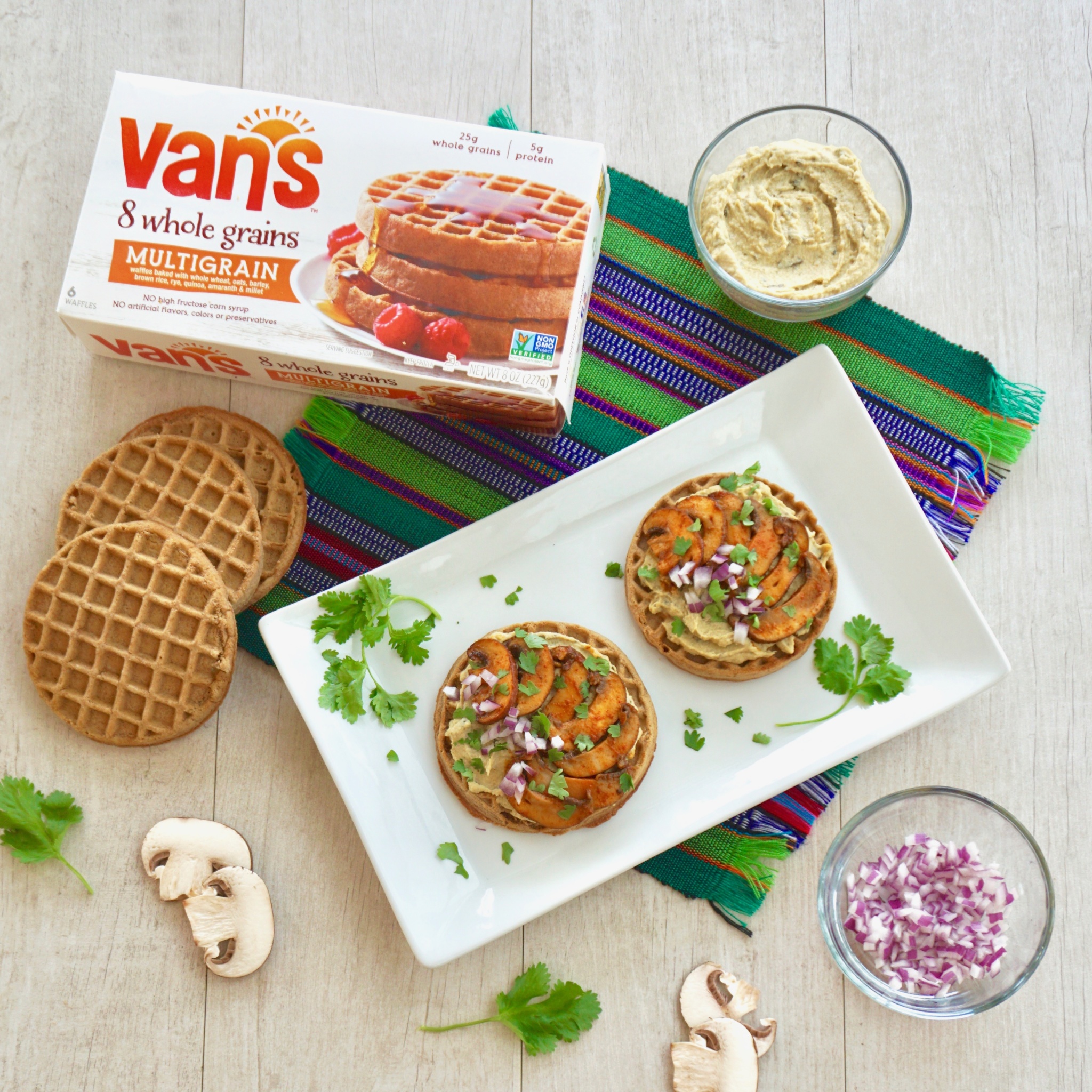 I have been obsessed lately with hummus toast. It's up there with avocado toast for me. But hummus toast is even more versatile and it can be perfect as a light lunch, a quick dinner or a nutritious snack. As I was trying out new ways to make and eat hummus toast I thought about putting hummus on a waffle, and let me tell you this turned out to be a genius idea. If you're looking for a delicious and savory recipe to make using waffles you should definitely give this hummus toast a try. And get creative with your waffles. There's so much more to waffles than just drizzling them with honey or maple syrup. They can be the base for a wide array of sandwiches and other sweet or savory recipes.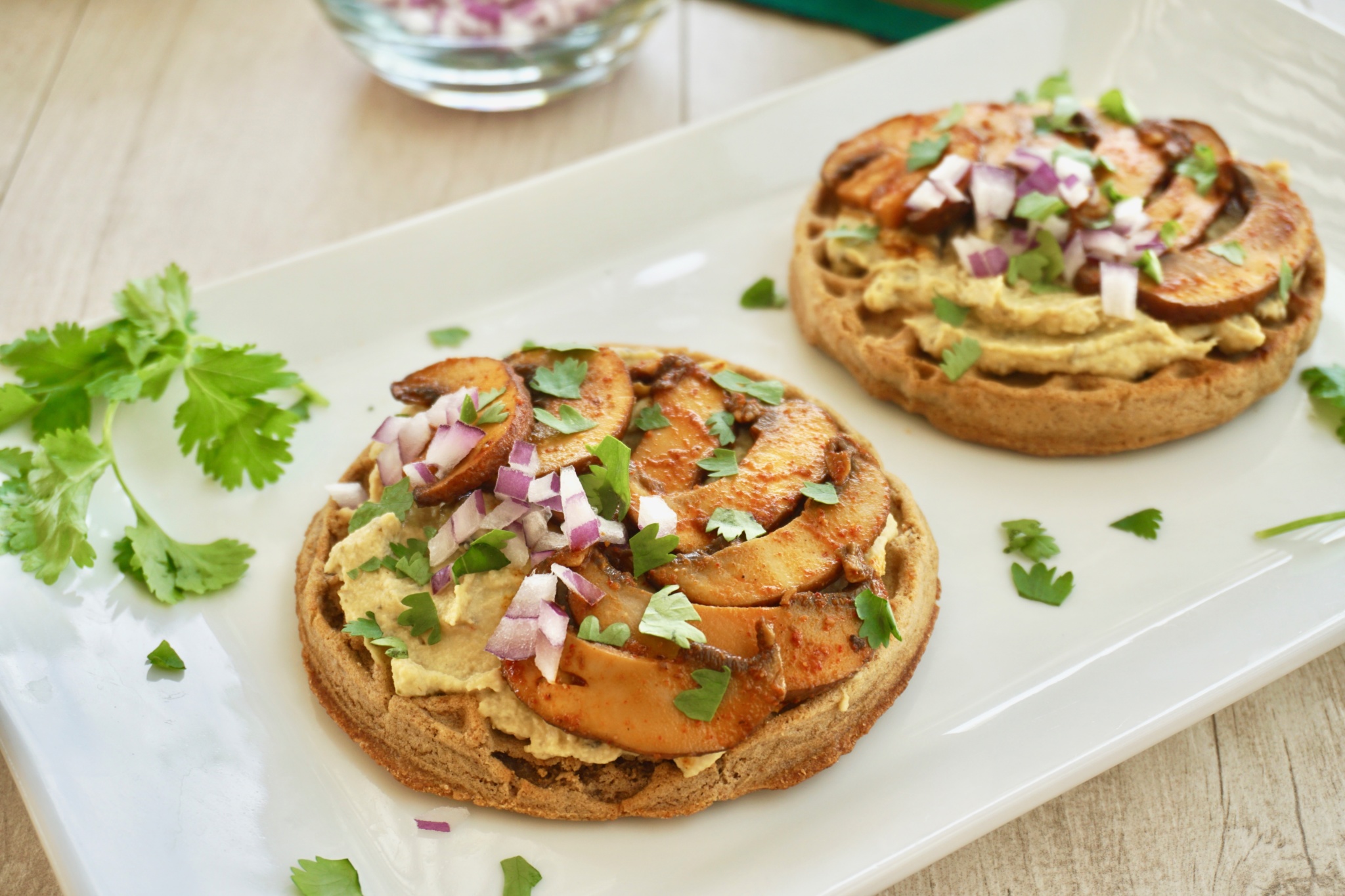 For this recipe, I used Van's® 8 Whole Grains Multigrain waffles. They are packed with whole grains and they taste delicious. They provided the perfect wholesome and slightly sweet base for my hummus waffle toast.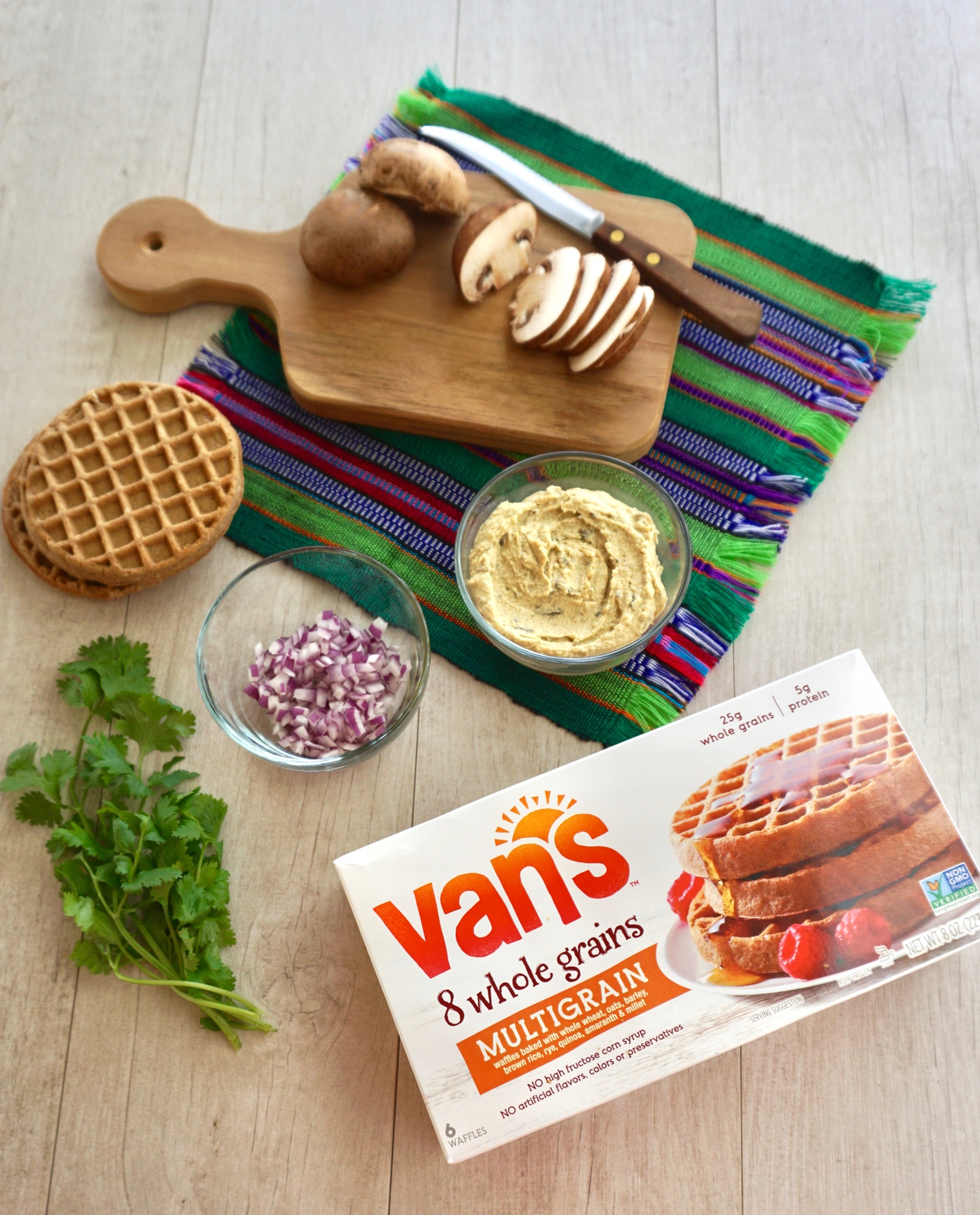 I topped them with a homemade artichoke hummus and chipotle baby portobello mushrooms. Now if you are not making your hummus at home you don't know what you're missing out on. It's so easy to make your own hummus and if you make it at home you can add anything you like to it so the sky's the limit. For this recipe, I made an artichoke hummus. Did I mention that making your own hummus takes just minutes?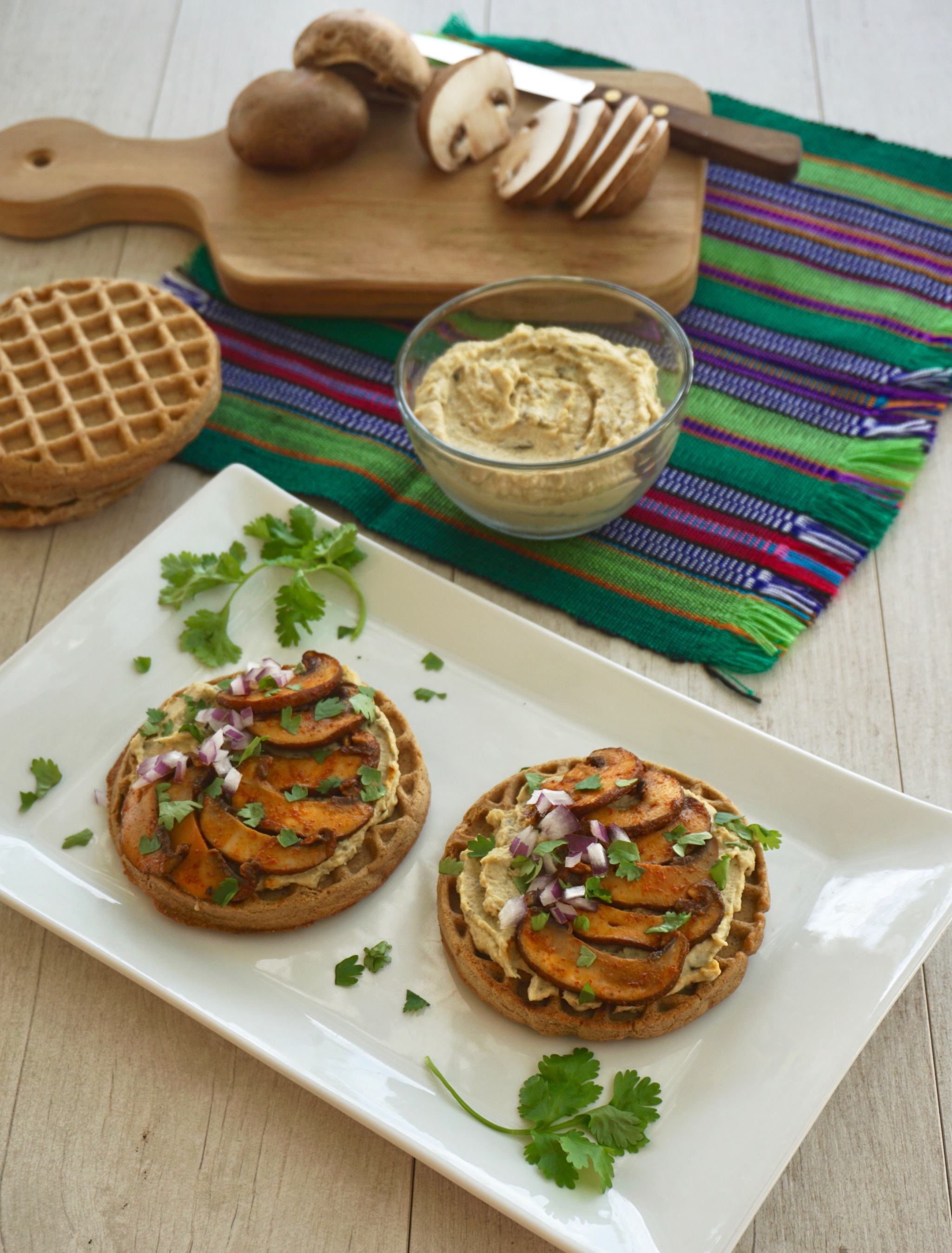 I really love Van's waffles and products. When it comes to waffles they have so many varieties that cater to different needs and preferences including Certified Gluten-Free, Organic, No Artificial Flavor, Dairy Free and Egg Free among others. So you can choose the variety that best fits your family's needs. No matter what variety you get they are always nutritious and delicious!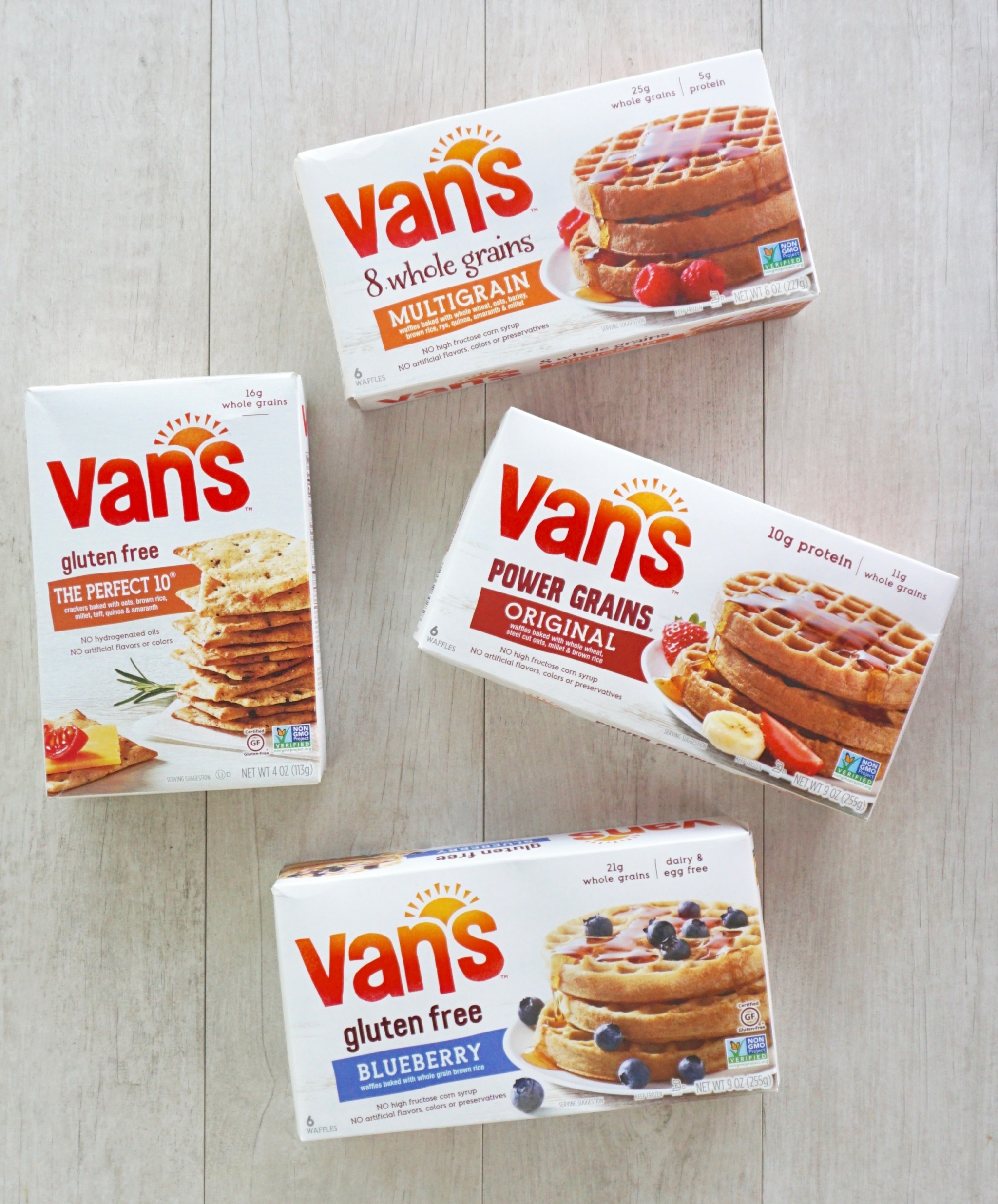 We always buy a lot of Van's products from waffles to snacks. Van's is a great way to start your day or perfect for any snack. Van's is one of my go-to brands when it comes to eating better. They have products I know I can trust to provide me and my family with good nutrition and great taste.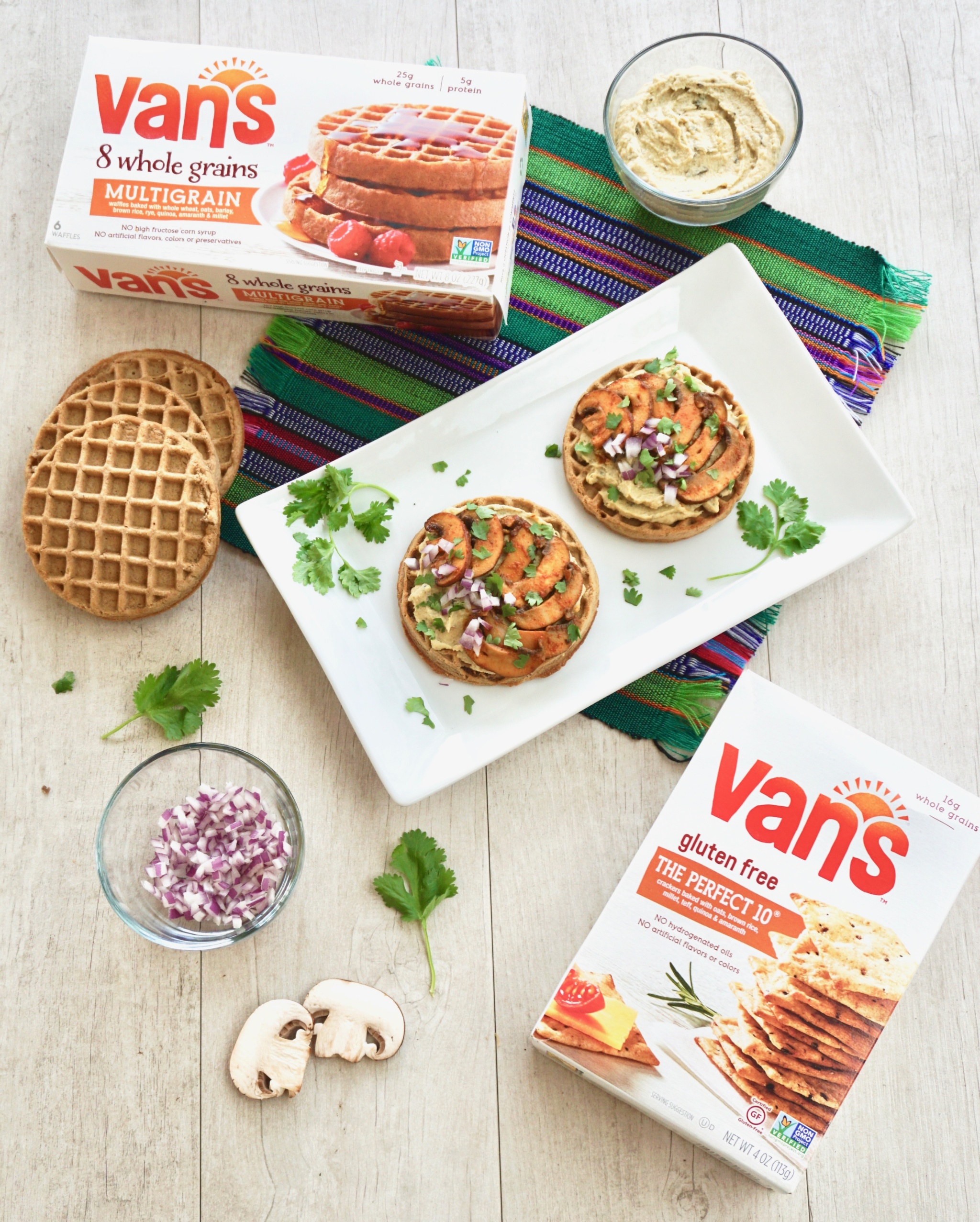 We also love Van's snacks and one of our favorite crackers is Van's® Gluten-Free The Perfect 10® Crackers. They are gluten-free, baked with oats, brown rice, millet, quinoa and amaranth and contain 16g of whole grains. They are the perfect base for appetizers and snacks and they are also delicious on their own.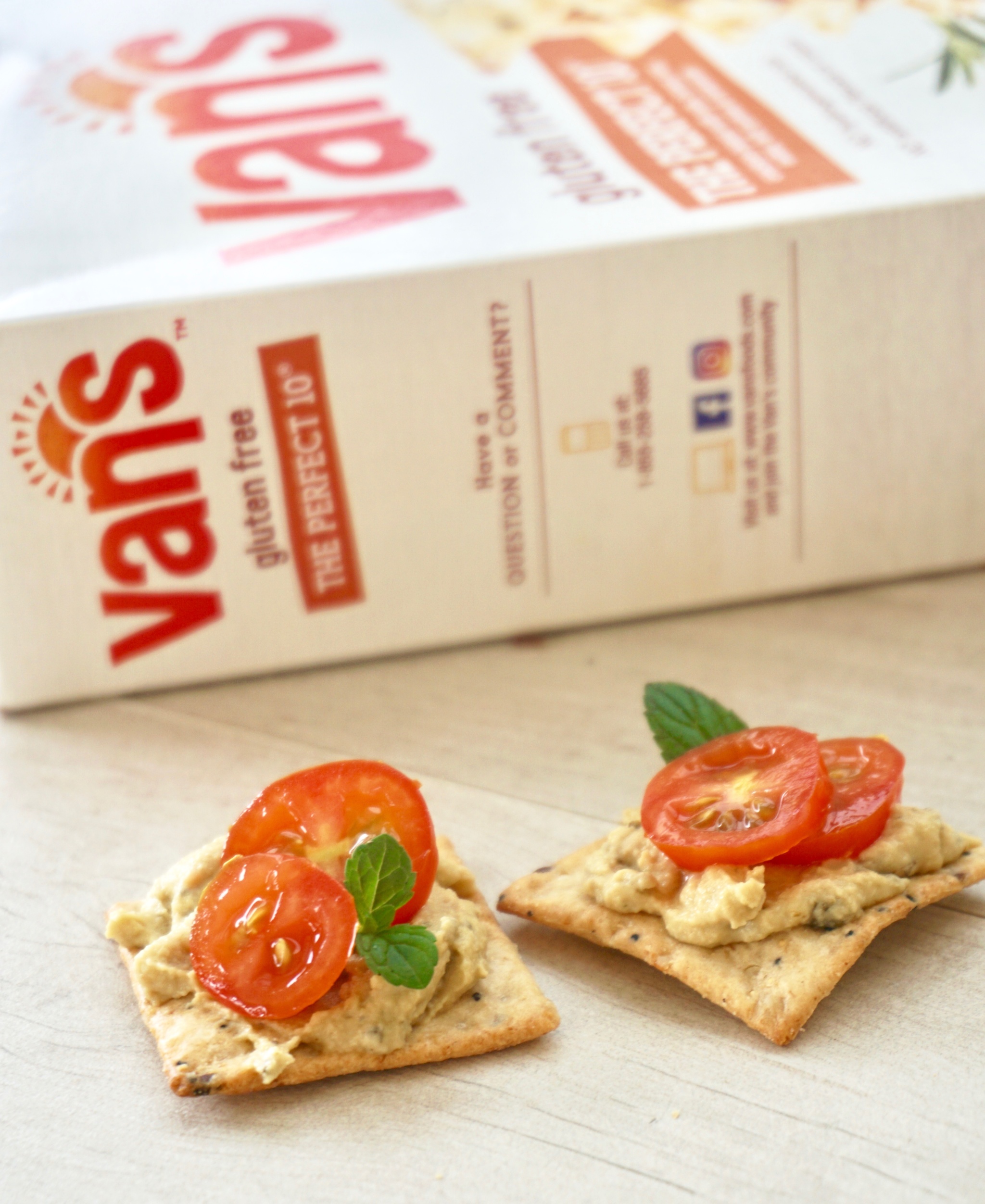 Waffle Hummus Toast with Chipotle Mushrooms Recipe
Ingredients
1/4 cup of red onion, finely chopped
1/4 cup cilantro, finely chopped
Ingredients for the chipotle mushrooms
1 lb of baby portobello mushrooms, sliced
1 tablespoon olive oil
1/2 teaspoon chipotle powder
1/2 teaspoon garlic powder
1/2 teaspoon onion powder
salt and pepper to taste
Ingredients for artichoke hummus
1 14oz can of chickpeas, drained
1 12oz jar of marinated artichokes
1/2 cup of tahini
1 tablespoon lime juice
1/2 teaspoon garlic powder
1/2 teaspoon cumin
salt and pepper to taste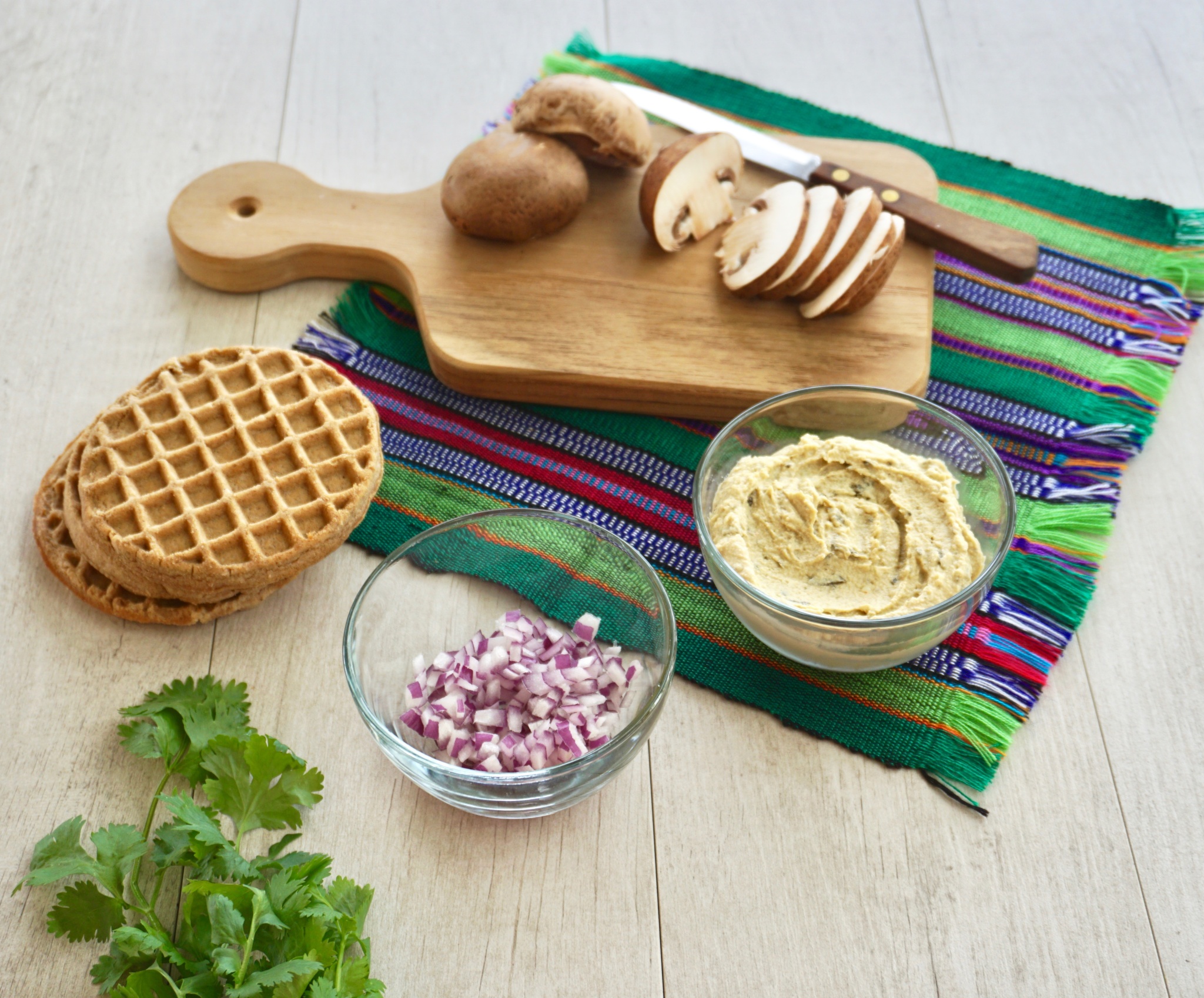 Instructions
To make the hummus drain the artichokes and reserve the liquid. In a food processor combine the chickpeas, artichokes, tahini, lime juice, garlic, salt, cumin, pepper and 1/4 of the artichoke marinade liquid. If there is not enough marinade liquid for a 1/4 cup add some water. Taste for seasoning and add more salt, pepper or lime juice if necessary.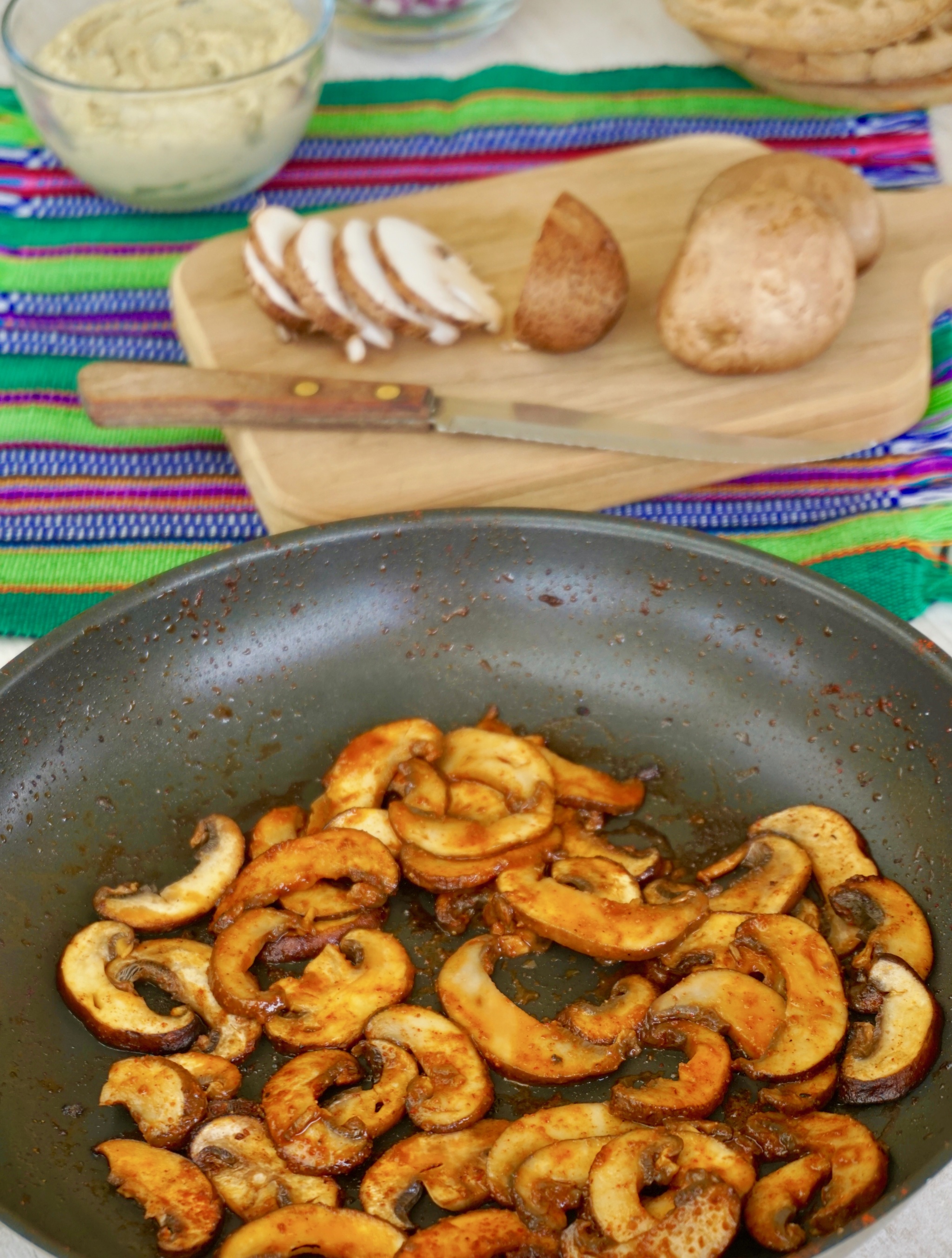 To make the chipotle mushrooms heat the olive oil in a large pan over medium heat. Add the mushrooms and saute for a couple of minutes until they start releasing liquid. Add the garlic powder, onion powder, and chipotle powder. Combine
Reduce heat and cook for an additional 8-10 minutes. Season with salt and pepper to taste.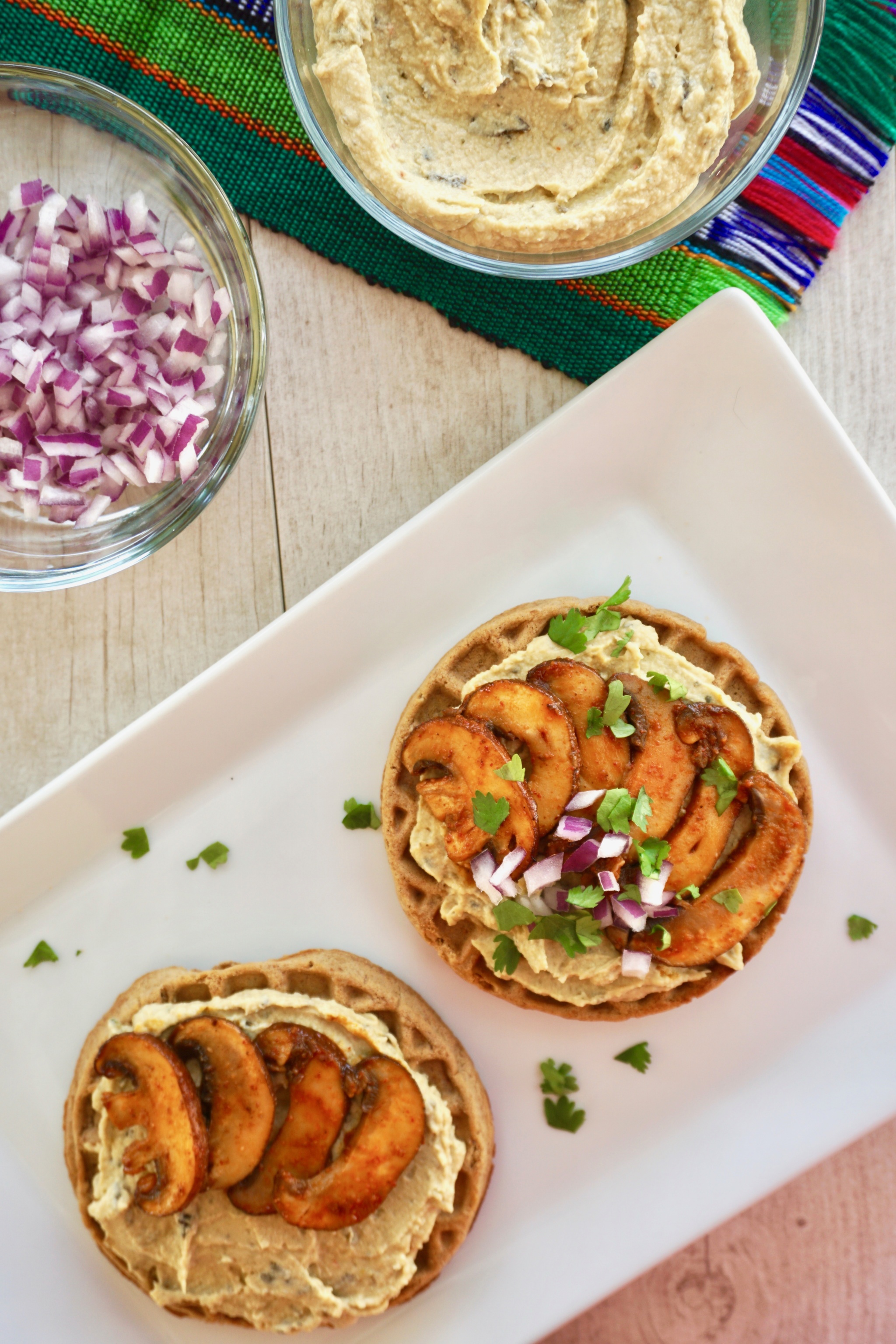 Toast the waffles according to instructions. Spread 2-3 tablespoons of hummus on top of each toast. Top with chipotle mushrooms, onion and cilantro.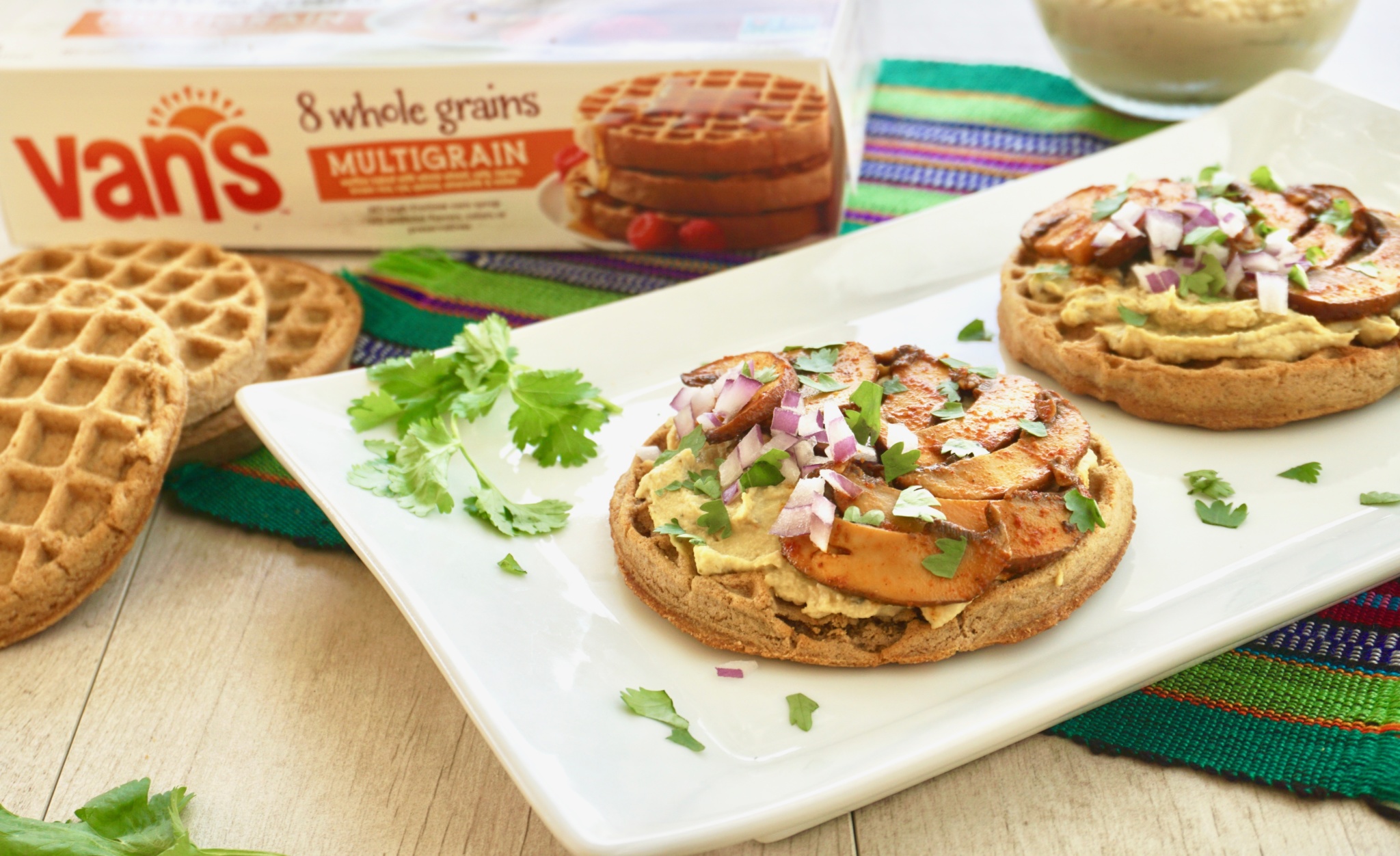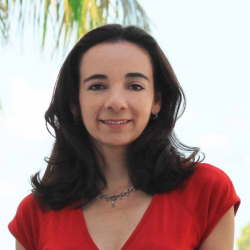 Latest posts by Paula Bendfeldt-Diaz
(see all)