Our goal for 2013 is to eat better. We avoid junk food and soft drinks in general but we wanted to take it a step further and eat healthier.  Both my husband and I work from home and we are always on the go, running errands, picking up kids and attending meetings and when we realize how hungry we are we end up stopping somewhere and eating something that we regret afterwards.  Other times we find ourselves at home working late on the computer and raid the fridge without stopping to think of what it is we are eating or if it's good for us.
Finding healthy and great tasting snacks that are easy to grab on the go has been our greatest challenge.  The key to snacking healthy lies in removing all the unhealthy snacks from your fridge and your pantry and replacing them with healthy foods that you like (no use in replacing them with healthy raw broccoli if you are never going to eat that).
I had not realized that the answer to our healthy snack dilemma was right under our noses: Sargento all natural cheese sticks and string cheese!  We buy them for the kids and I have been knows to steal one once in a while, but had not realized they are the perfect adult snack. With only 90 calories or less and 4 grams of protein per stick this is an easy snack that we can just grab on the go or combine with fruits, vegetables, nuts, lean meats, etc. to create so many different snacking options.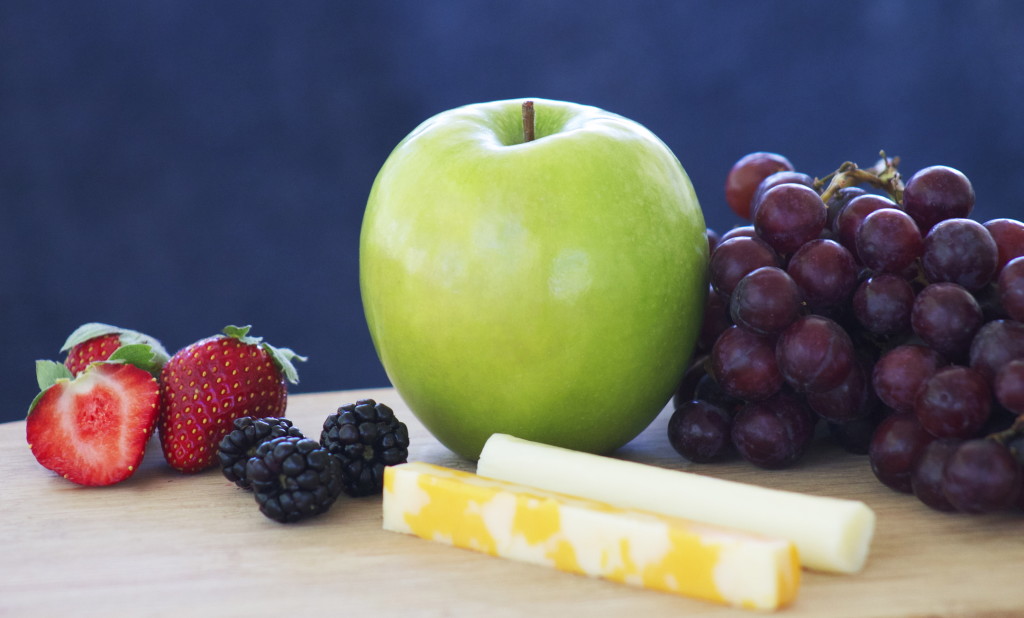 I visited the Sargento website and was thrilled to find out all of their products are real cheese, made with natural ingredients and with no artificial colors or flavors.  I love that they are a family owned company and you can just see their commitment to offer good quality products that are good for YOU!
The website had a lot of helpful information and tools to support our goal of eating healthier. Their Build a Smart Snack tool lets you combine different snacks in your plate and gives you the complete nutritional information (perfect for my husband who counts calories every day).  They have a Healthy Living section of recipes, which is perfect because every single recipe is healthy, so there is no temptation.
I got some ideas from the Sargento website and from Pinterest and created a healthy snack board with great healthy ideas that included cheese.  Then my husband and I went to our neighborhood Walmart together so we could both pick what we like.  I usually go to the supermarket with the kids but going as a family turned out to be a lot of fun and my guys even got me some flowers.  You can check our whole shopping adventure on my Google+ album HERE.
Sargento string cheese and cheese sticks are truly a super snack. They are healthy and natural and can be combined in so many ways with so many ingredients to create an infinite amount of deliciously healthy snacking options for every taste.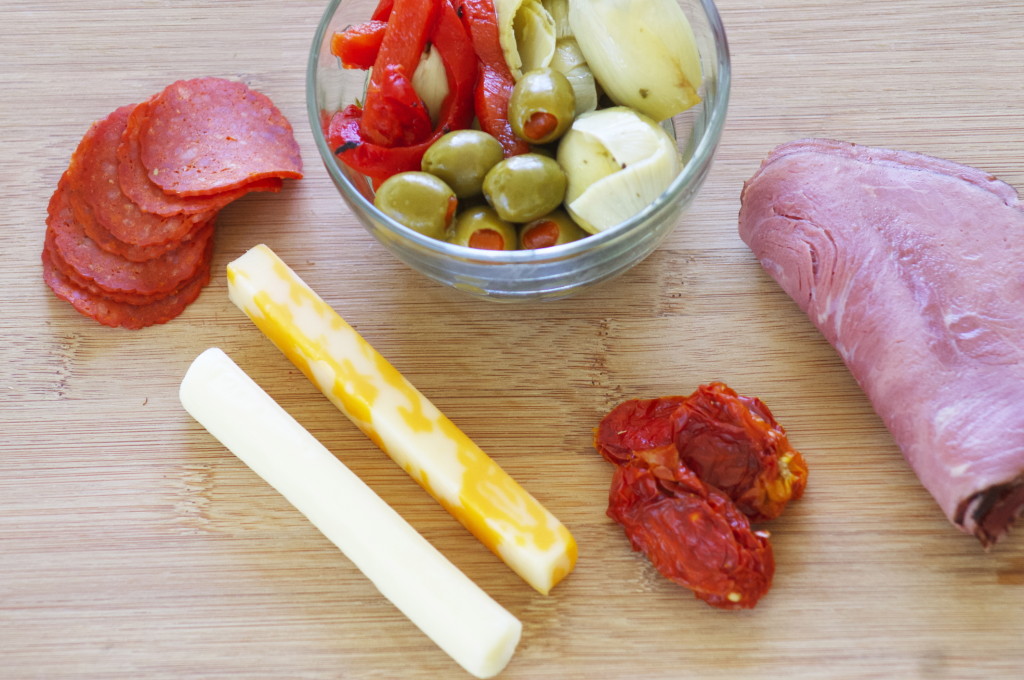 On Friday night my husband and I have a date night, in the past I would spend a couple of hours in the kitchen trying to make something special for date night but now that I am starting my own business I can never find the time for it.  I realized that I can make great tasting, gourmet snacks and appetizers in no time for our date nights using Sargento cheese sticks. All of these took under 5 minutes to make, most of the ingredients where things we usually have in the refrigerator and all of these are healthy.  The best part is that they looked and tasted delicious. With Sargento you can have gourmet and healthy snacks and appetizers every day.
Roast Beef and Cheese Rolls
Makes 2 servings Preparation time: 3 minutes
These can be done in no time and can be made to look really nice just by placing them in a nice platter and using the basil leaves as garnish.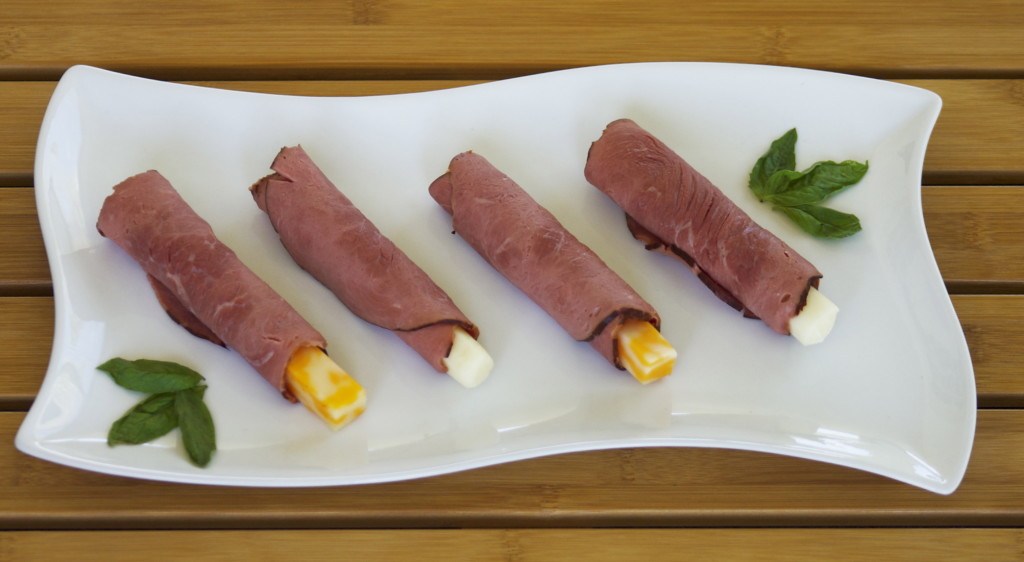 Ingredients
4 slices of extra lean Roast Beef
2 sticks of Sargento Colby-Jack Reduced Sodium Cheese
2 sticks of Sargeto Light Mozarella String Cheese
6 small basil leaves
Instructions
Wrap each Sargento cheese stick in a slice of extra Roast Beef.  Place on a nice platter and decorate with small basil leaves and voilá you have a beautiful looking snack or appetizer that is high in protein and low in calories.  Of course this was one of my husbands favorites!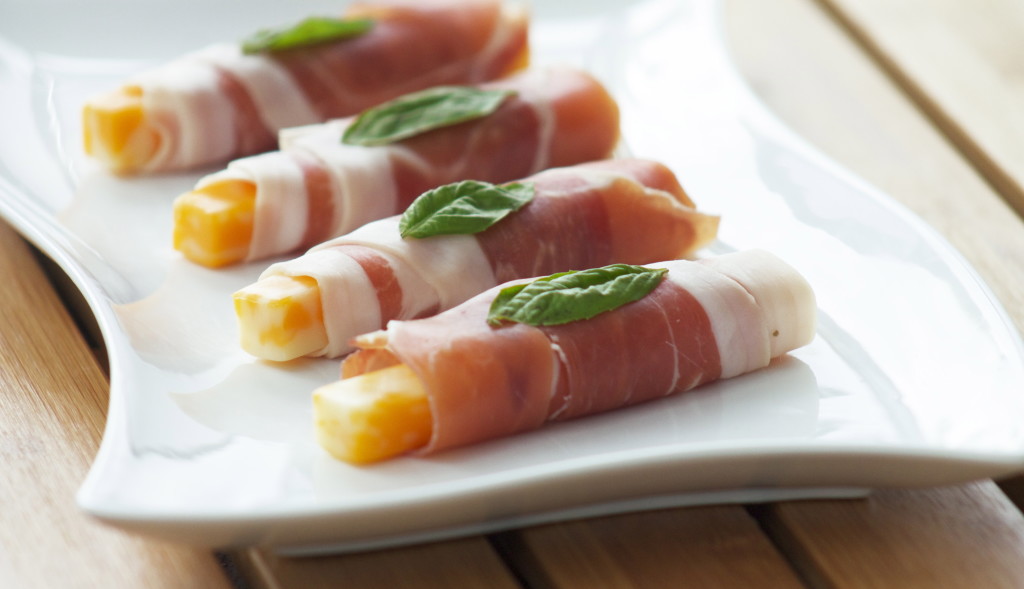 Nutritional Information
Serving size: 2 roll Calories: 210 Fat: 11.5g Saturated fat: 10g Trans fat: 0g Carbohydrates: 0 g  Sugars: 0g Sodium 16% Fiber: 0% Protein: 22g Cholesterol: 35mg
Note: We also tried this with prosciutto and it was delicious!
Antipasto

Makes 1 serving Preparation time: 5 minutes
In our house we love olives and sun dried tomatoes, combined with the Sargento Light String Cheese for a snack that is low in calories but is bursting with flavor.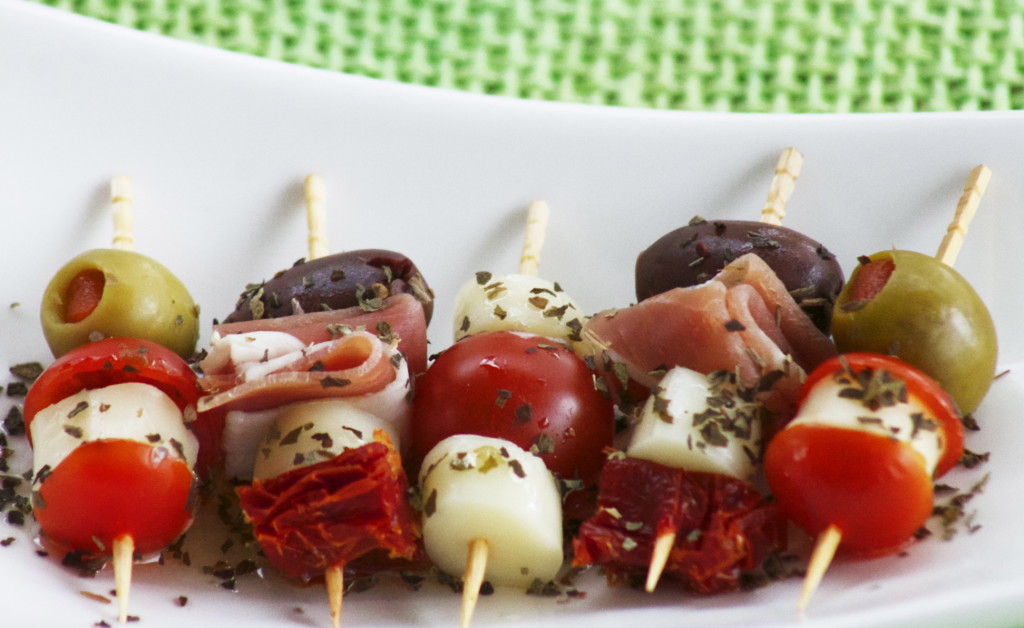 Ingredients
1 stick Sargento Light String Cheese
2 Spanish Olives w/pimento
2  Black Kalamata Olives
1 tbsp Olive Oil
1 tbsp Basil
1/4 slice of prosciutto (can be replaced by 2 slices of turkey pepperoni)
3 Cherry Tomatoes, Fresh
1 piece of Sun Dried Tomato
5 Toothpicks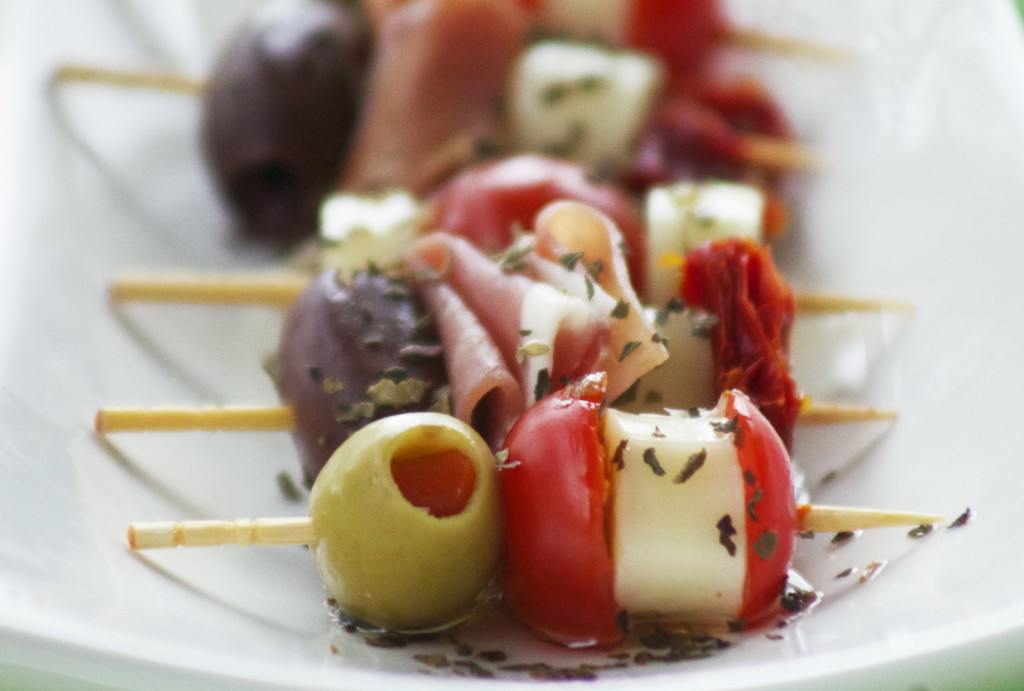 Instructions
Cut the Sargento Light String Cheese into 6 pieces. Cut 2 cherry tomatoes and the sun dried tomato in half, leave one cherry tomato whole. On the first toothpick place one kalamata olive, one small piece of prosciutto about (1/8th of a slice), one piece of cheese and half of a sun dried tomato.  Make another one just like this. On the next toothpick place one pimiento stuffed olive, one half of a cherry tomato, one piece of cheese and the other half of the cherry tomato. Make two of these. For the last toothpick start with a piece of cheese, add a whole cherry tomato and end with another piece of cheese.  You can make these anyway you want and have fun with them. Place them in a dish drizzle with olive oil and sprinkle dried basil.
Nutritional Information
Serving size: 5 mini kabobs
Calories: 255 Fat: 19.7g Saturated fat: 5g Trans fat: 0g Carbohydrates: 5.5 g  Sugars 1.5g Sodium: 2750mg  Fiber: 1.4g Protein: 16g Cholesterol: 17mg
Mini Fruit Kabobs

Makes 2 servings Preparation time: 5 minutes
For these you can pick whatever fruit you have in the house and combine with cheese.  I used blackberries and grapes, both of which didn't need cutting so I made this in a couple of minutes.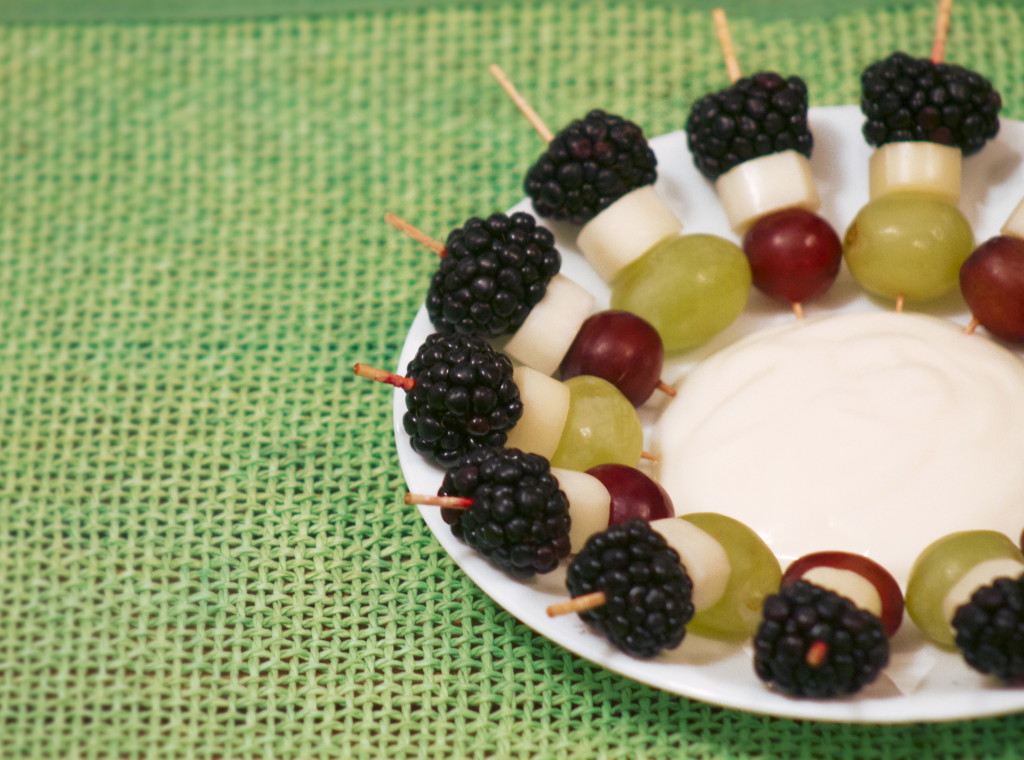 Ingredients
2 sticks Sargento Light String Cheese
1/2 cup grapes (green, red or both)
1/2 cup blackberries
toothpicks
Instructions
Place one blackberry, one piece of cheese and one grape on each toothpick. You can eat these alone or dip into fat free yogurt or light cream cheese fruit dip.
Nutritional Information
Serving size: 7 mini kabobs Calories: 91 Fat: 83g Saturated fat: 0g Trans fat: 0g Carbohydrates: 18 g  Sugars: 13g Sodium:163mg Fiber: 3.8g Protein:11g Cholesterol: 5mg
For more information on Sargento cheese sticks and string cheese you can visit the Sargento website. Follow Sargento on twitter to receive news and updates of their products as well as great recipes and snack ideas.  You can also check out their Pinterest boards and follow them for more great snacking ideas, that not only taste good but look like you spent hours making them.
"I am a member of the Collective Bias® Social Fabric® Community.  This shop has been compensated as part of a social shopper insights study for Collective Bias®. However all opinions are my own." #CBias #SocialFabric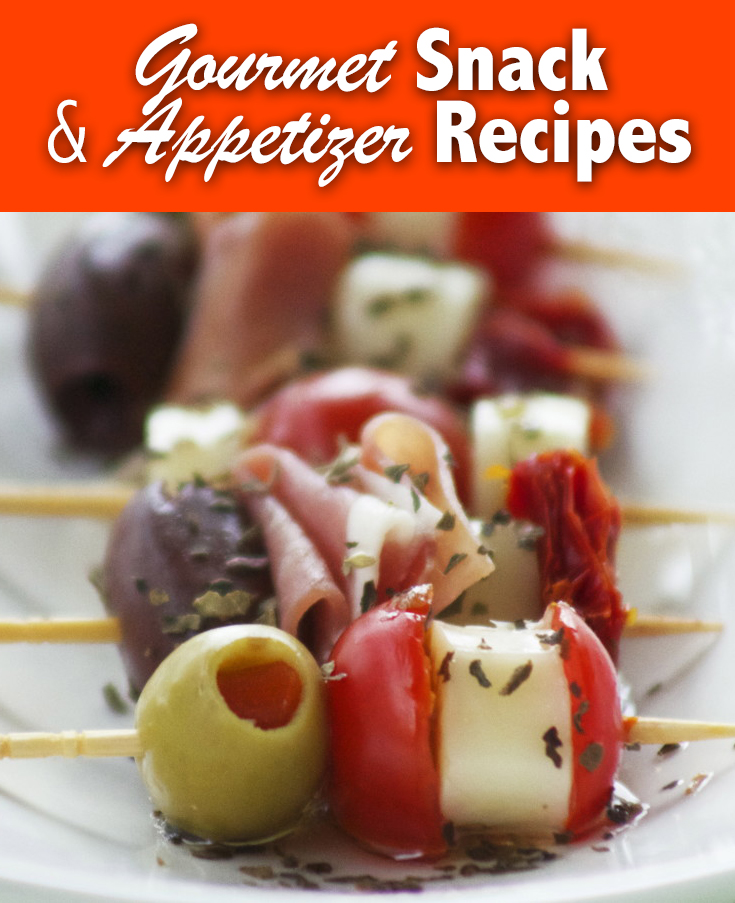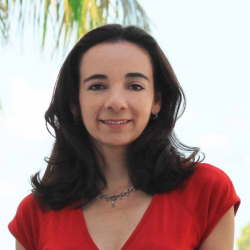 Latest posts by Paula Bendfeldt-Diaz
(see all)