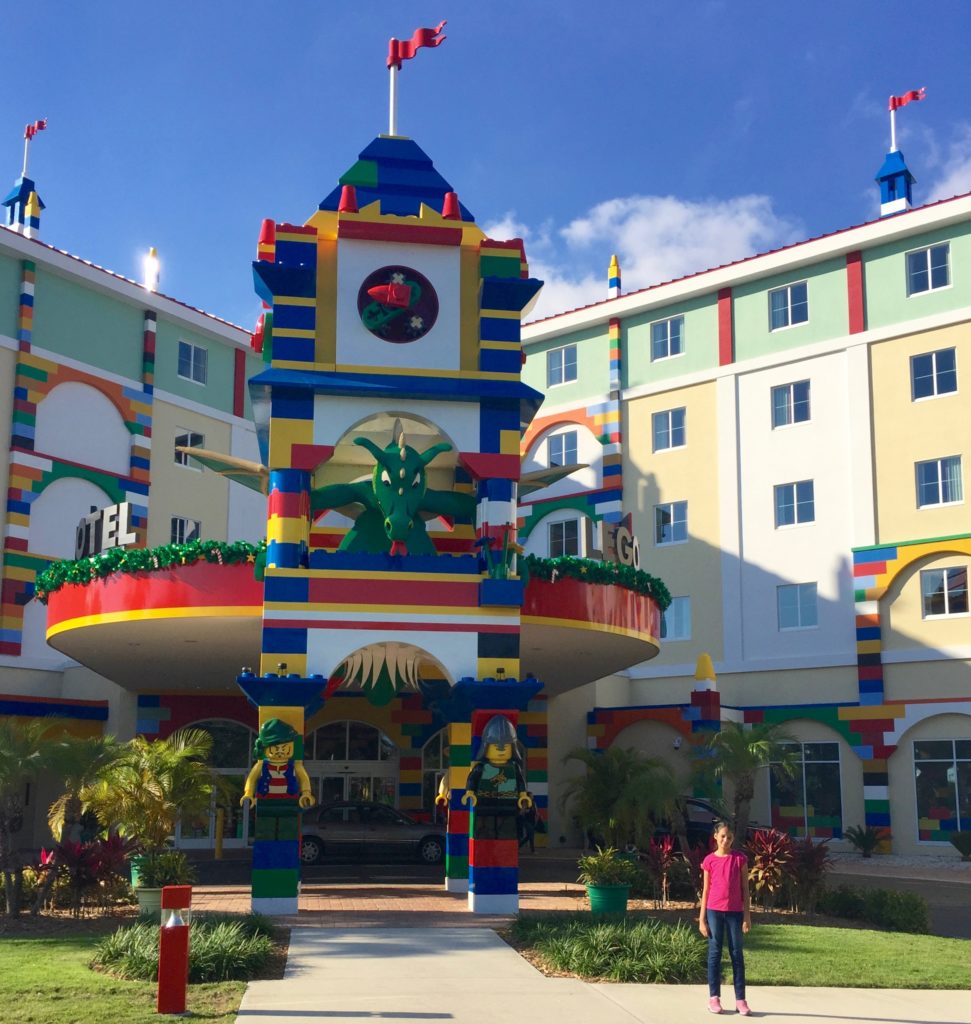 We travel a lot and we have been to quite a few kid friendly hotels during our family trips but we had never had as much fun at a hotel as we did at the LEGOLAND Hotel Florida this past weekend. Even if your child is not obsessed with LEGOs like mine is this hotel is a kid's dream come true and as a parent you will appreciate the attention to detail and how this resort goes past creating a fun environment and really goes above and beyond to ensure an unforgettable family experience.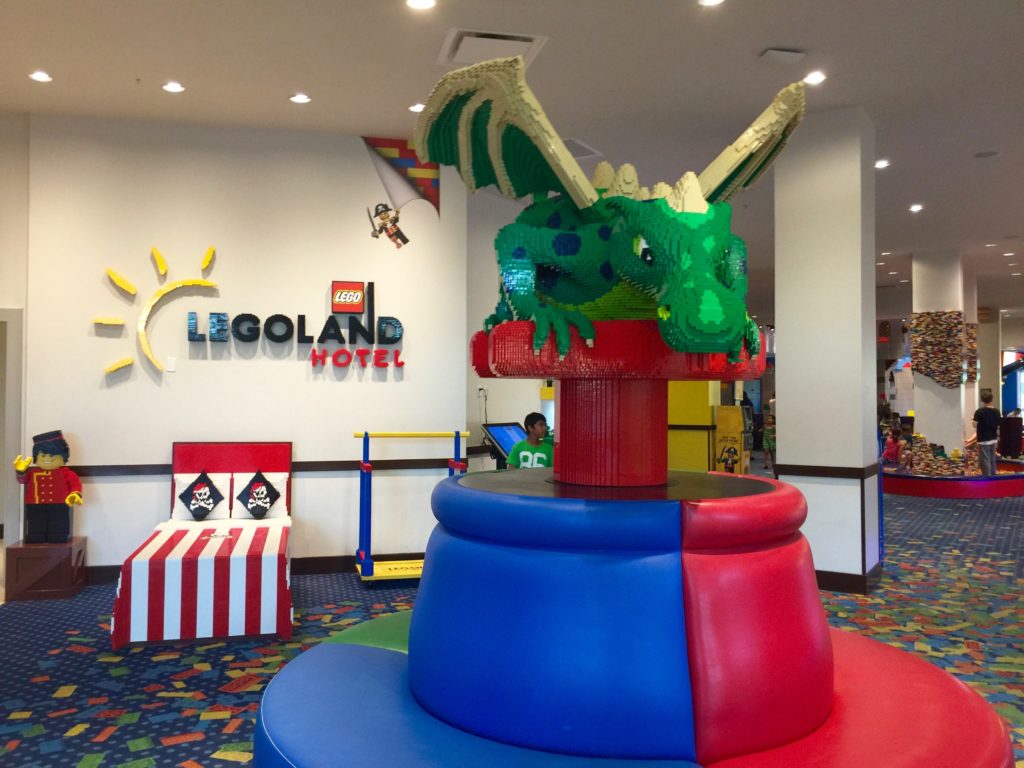 As soon as we walked towards the hotel you could see my kids eye's glimmer with excitement. We have been to the Legoland Park before but this would be our first time staying at the hotel. For them it was like stepping into a kid's world. From the outside the LEGOLAND Hotel really looks like a castle made out of LEGO bricks, the bright colors and the dragon in the entrance not only look pretty awesome but the hotel itself inspires kids and opens their minds to the endless possibilities of what they can create. My son was in awe and his mind was immediately racing with his own plans to build fantastic things from his own LEGOs at home.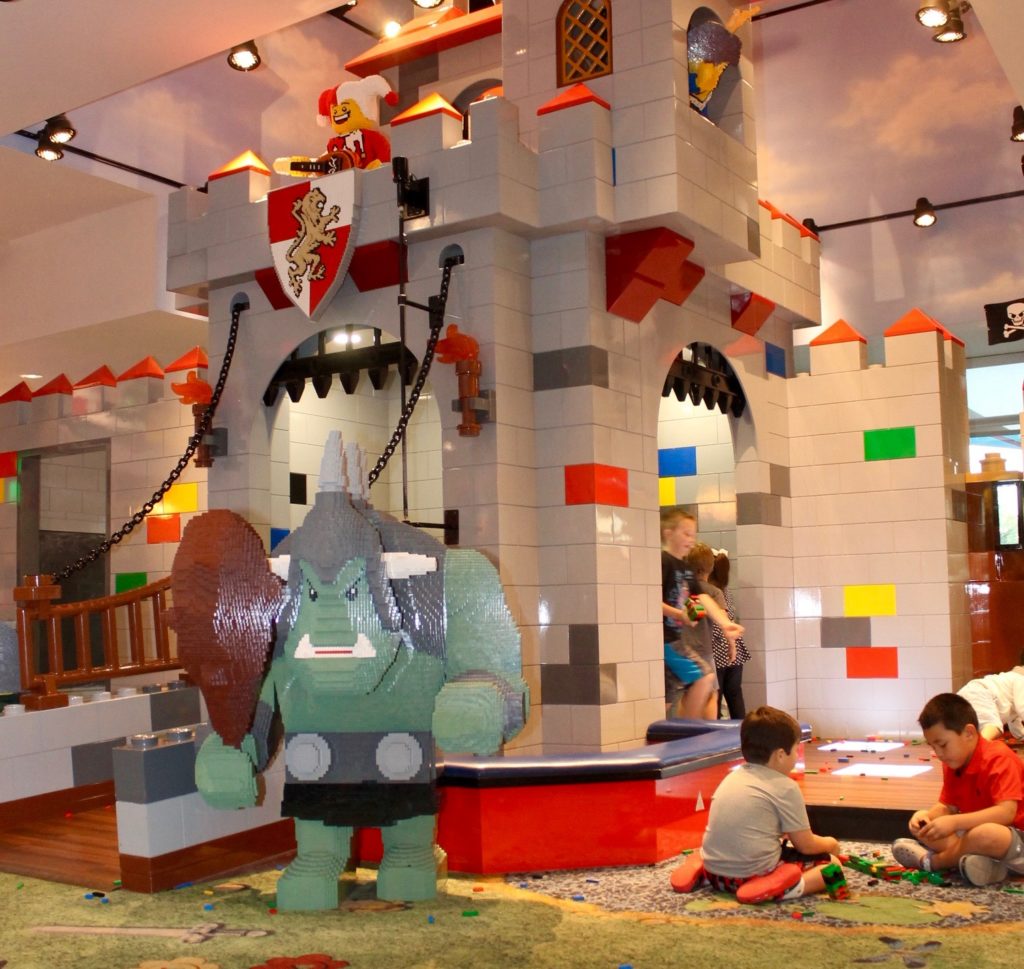 As we checked in the kids ran to the LEGO castle play area, my son literally diving into the LEGO mote. Check in was quick but we had to stay in the lobby a few minutes longer while the kid's marveled at the LEGO dragon in the entrance and played in the LEGO castle area. Most of the time you will also find a LEGO character hanging out in the lobby ready to take pictures with the kids.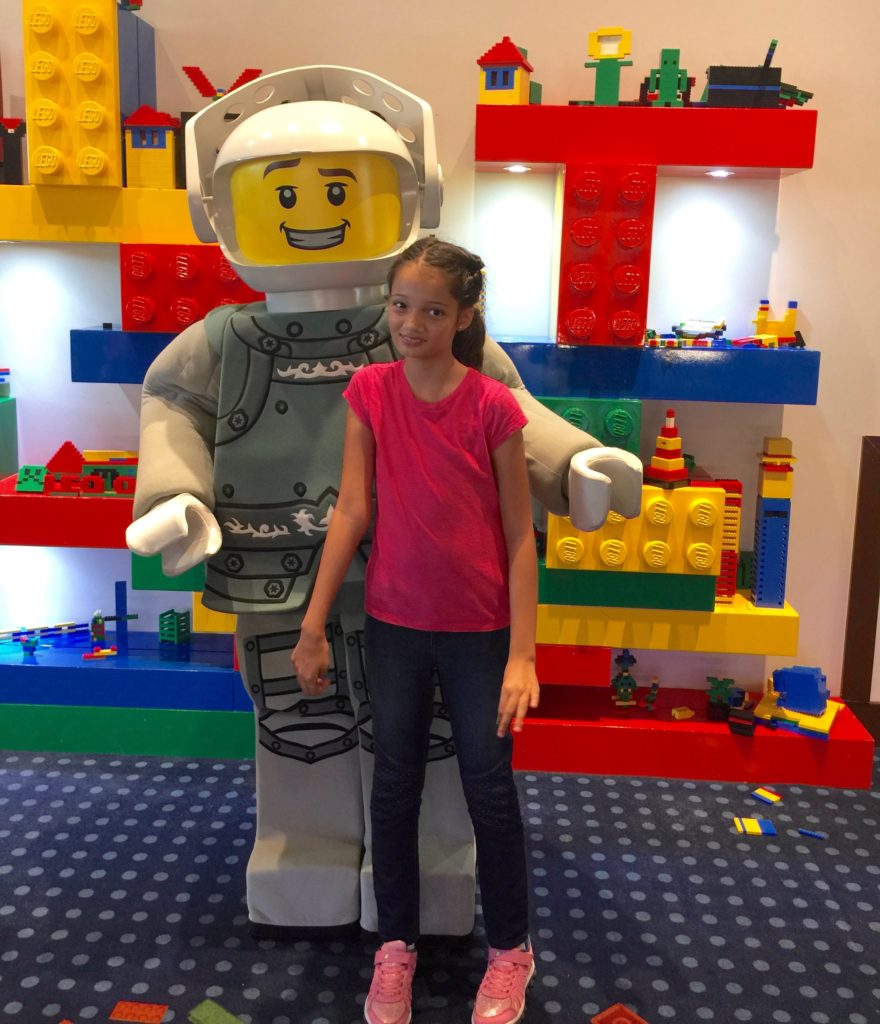 For me the fun really started when we got inside the elevator. The walls where decorated with LEGO mini figures dressed in 70's garb and as soon as the doors closed strobe lights turned on and disco music started playing. Immediately everyone in the elevator started giggling and moving to the beat. When it was time to get in the elevator later that day we where all ready to strike our best disco moves as soon as the music started. It really makes you wonder why all other elevators aren't this much fun. There is really no better way to start your day than by dancing Y.M.C.A. on the elevator on the way to breakfast, it really get's everyone in a great mood!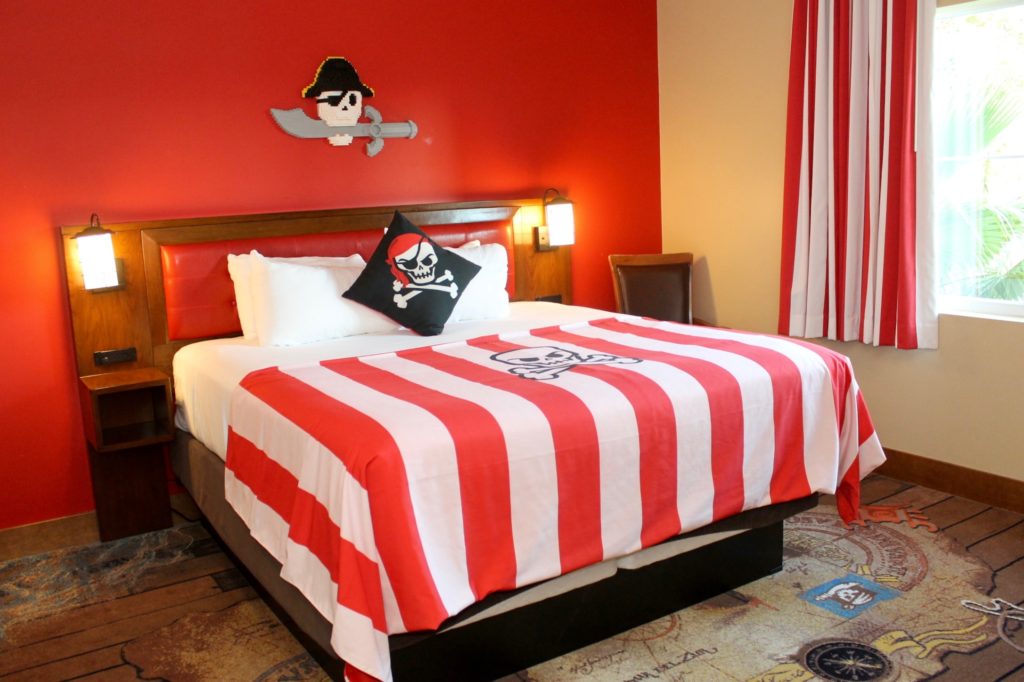 The rooms at the LEGOLAND Hotel Florida are all themed and you have a choice between Adventure, Pirate, Kingdom or Friends themed rooms. The rooms are spacious and have a separate kids area with bunk beds and their own TV. Regular rooms sleep 2 adults and 3 children. My son declared our Pirate themed room the best room ever and that was even before my kids embarked on the treasure hunt (included in each room) and found a wonderful surprise for each of them in the treasure chest. Rooms include two TVs, free WiFi and a small refrigerator that was just perfect for keeping snacks and drinks. The bathroom was also very spacious with a decent sized tub.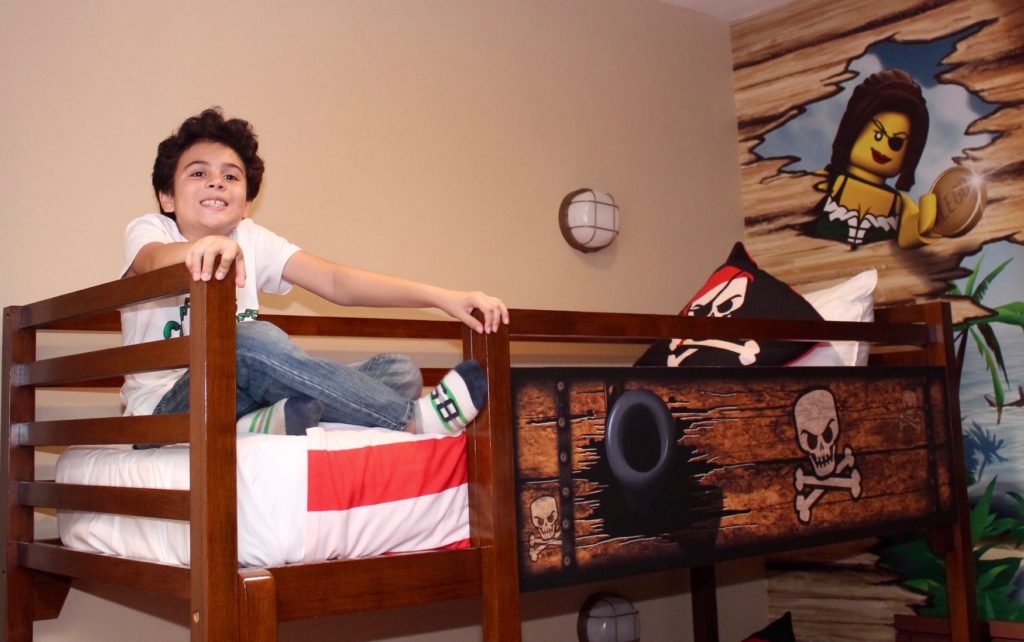 Tips When Staying At The Legoland Hotel
Check the Legoland website for offers. There are often offers on their site and there are often awesome room and Legoland park ticket packages.
Take advantage of the exclusive extended hours. LEGOLAND Hotel guests get exclusive early Park access. You can enjoy select rides at LEGOLAND Florida 30 minutes before the Park opens each morning and because this is not a huge Park you can really get a lot of those roller coaster and other popular rides in before the crowds get there.
Sign up for master builder classes as soon as you arrive as these fill up quickly. During the master classes kids get to build a LEGO model lead by an awesome and super fun master builder instructor. The kids will not only learn some new LEGO building skills but they also get to take their creation home. My son loved it and if there had been more time we would have signed him up for more than one of the classes.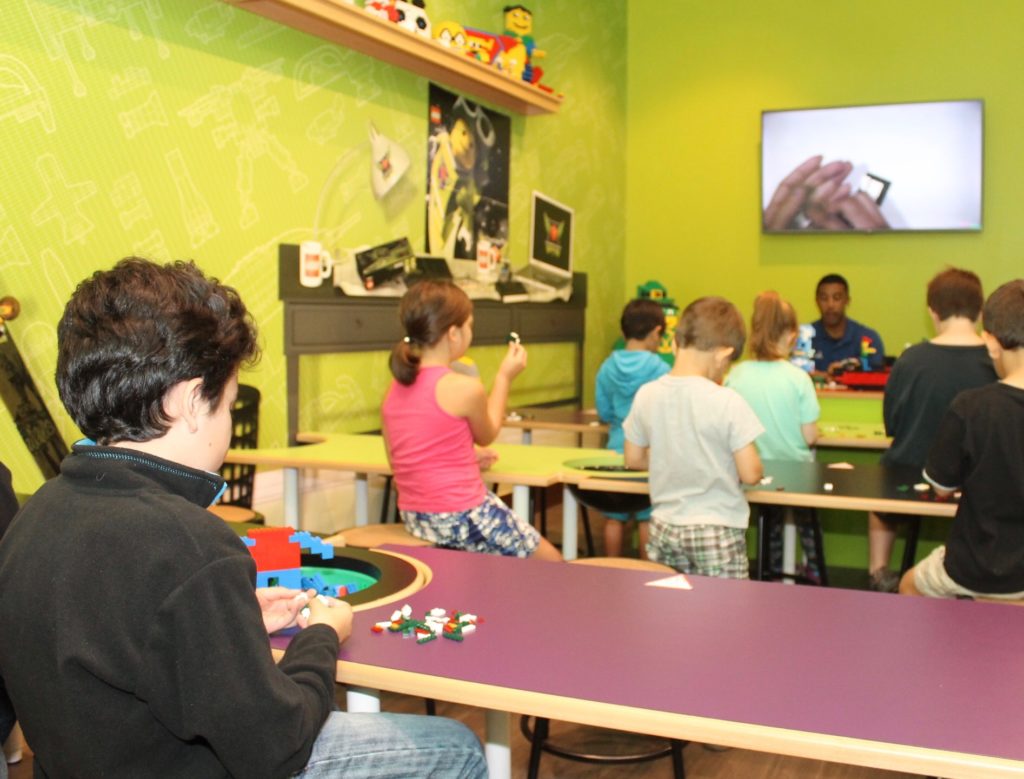 Take advantage of special scheduled activities like the pajama parties every night. My kids had a blast dancing and laughing. It was so much fun even many of the grownups (including myself) joined the singing and dancing. While at the hotel check to see when characters will be available for meet & greets at the lobby.
To save avoid booking during high season, during holidays and school breaks. Booking in advance and taking advantage of special offers and trying to book on weekdays instead of weekends can also help you save.
Choose your themed room in advance. Specially during high season some rooms get booked quicker than others so if you children have a strong preference for a specific themed room make sure to book well in advance.
Choose a room with a view. You can enjoy a great view of the Park or of beautiful Lake Eloise from the higher floors and bing in a higher floor also means you get to spend more time o the Disco elevator.
Take advantage of the Lake Eloise boardwalk. The LEGOLAND hotel overlooks beautiful Lake Eloise and while staying at the hotel you have access to a beautiful boardwalk along the lake shore. This is something a lot of people don't take advantage of but it's the perfect place for an early morning walk or to check out the day you check out of the hotel if you are not hitting the Park. The views are beautiful with all the Spanish moss covered trees a small creek and a pond. Along the way you all also find some LEGO surprises.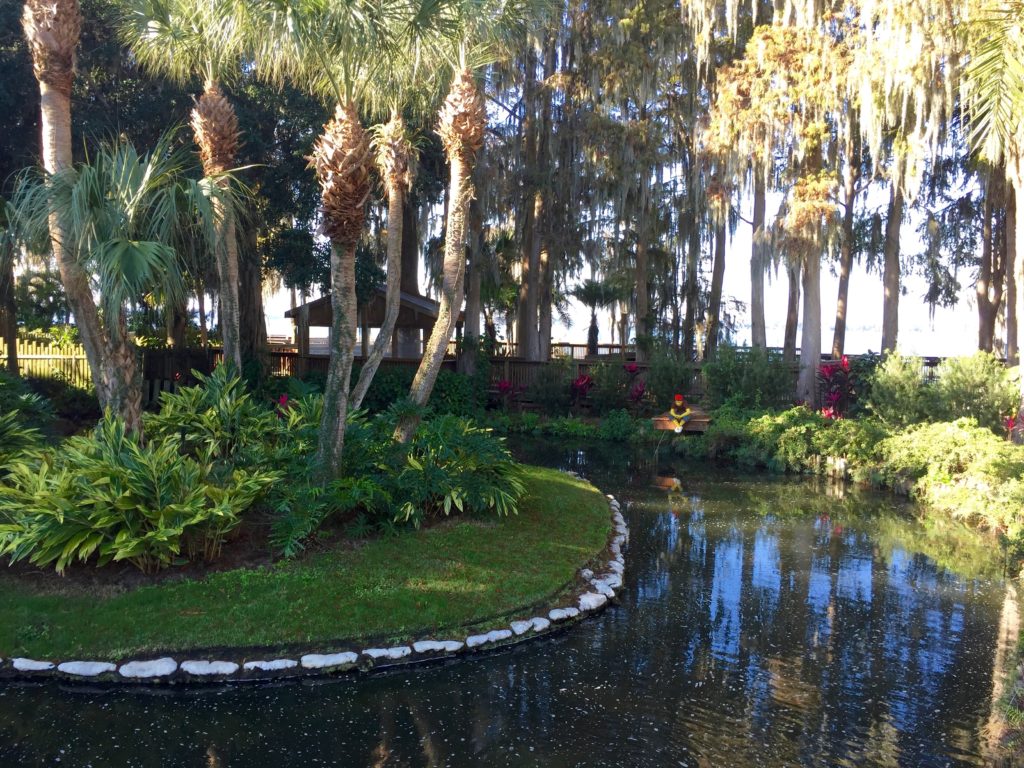 What We Loved
The folks at Legoland have figured out how to make everything fun, from the check out counter with hundreds of mini figures and the themed rooms to the disco elevator and scheduled kids activities. My kids did not want to leave and as we got in the car they where already asking when we would be back again. The bright colors and high energy kid centered atmosphere had everyone in the family smiling during our whole stay. The kids loved the room and where over the moon excited to figure out the clues to get the treasure in their room. If you are looking for a kid centric fun hotel the Legoland Hotel really tops them all in our book.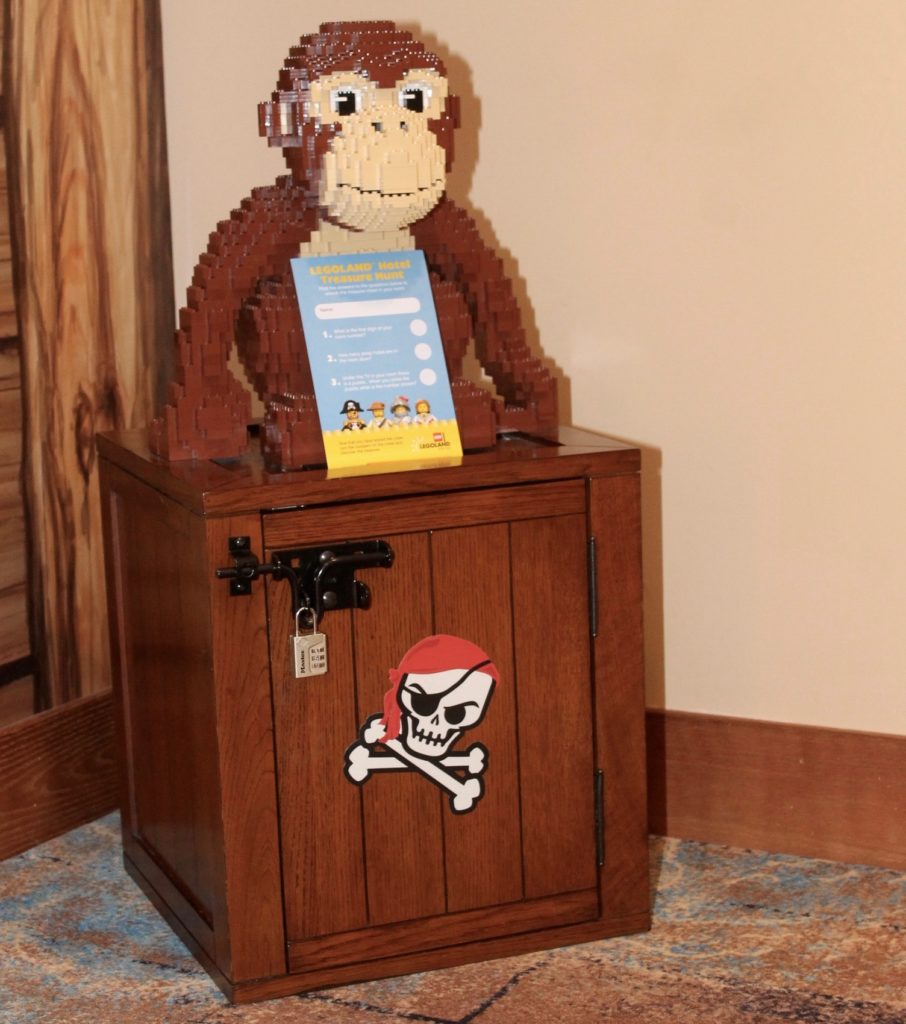 Staying at the Legoland Hotel is a great value; not only do you get free parking (parking for the Legoland Park is $17 plus tax) but breakfast is also included in your stay and we're talking about a full buffet breakfast with Legoland characters. My kids love character breakfasts and we often do them and they are usually very expensive, here this experience was included in our stay and for us it was a huge plus. My daughter loved chatting with Oliva, one of the LEGO Friends characters; she was so gracious and sat with us for a couple of minutes and took the time to really have a conversation with my daughter. She will never forget this!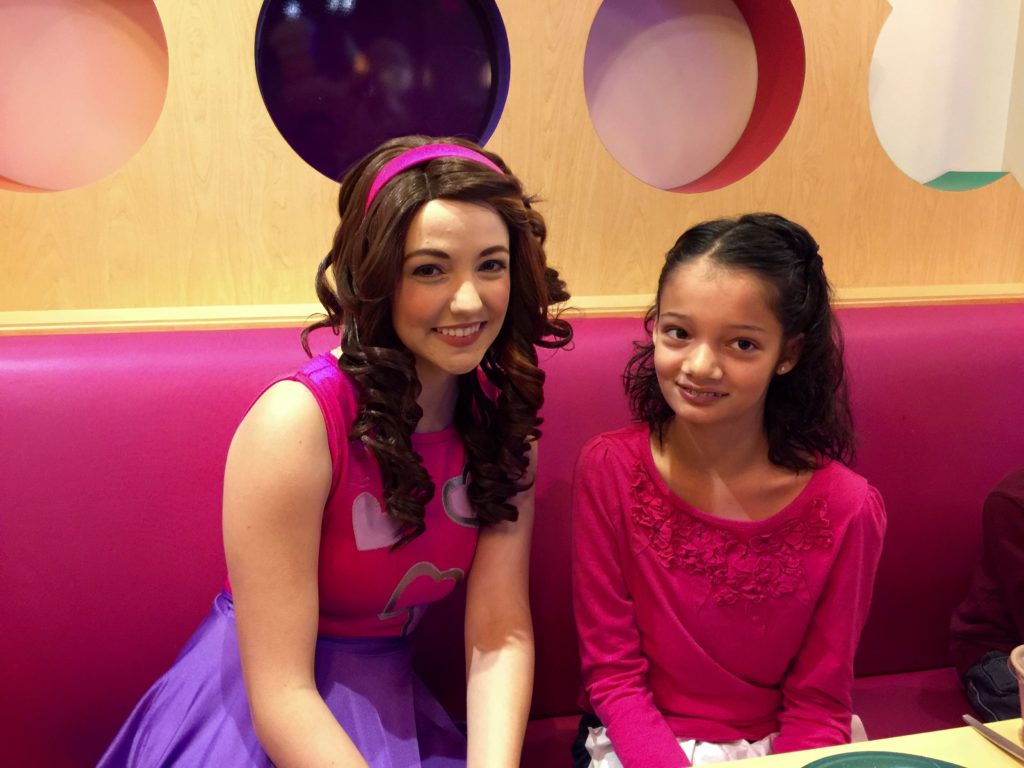 You can't beat the location as you will be staying literally steps from the park. Once you come out of the lobby it takes you less than 5 minutes before you are inside the park. I was able to go back to the hotel to drop off and pick up stuff without it being a hassle and if you have younger kids that need a break or a short nap having the hotel so close to the park makes this possible.
Separate space for the kids. We really loved that the LEGOLAND hotel rooms have a separate space for the kids with bunkbeds and their own TV.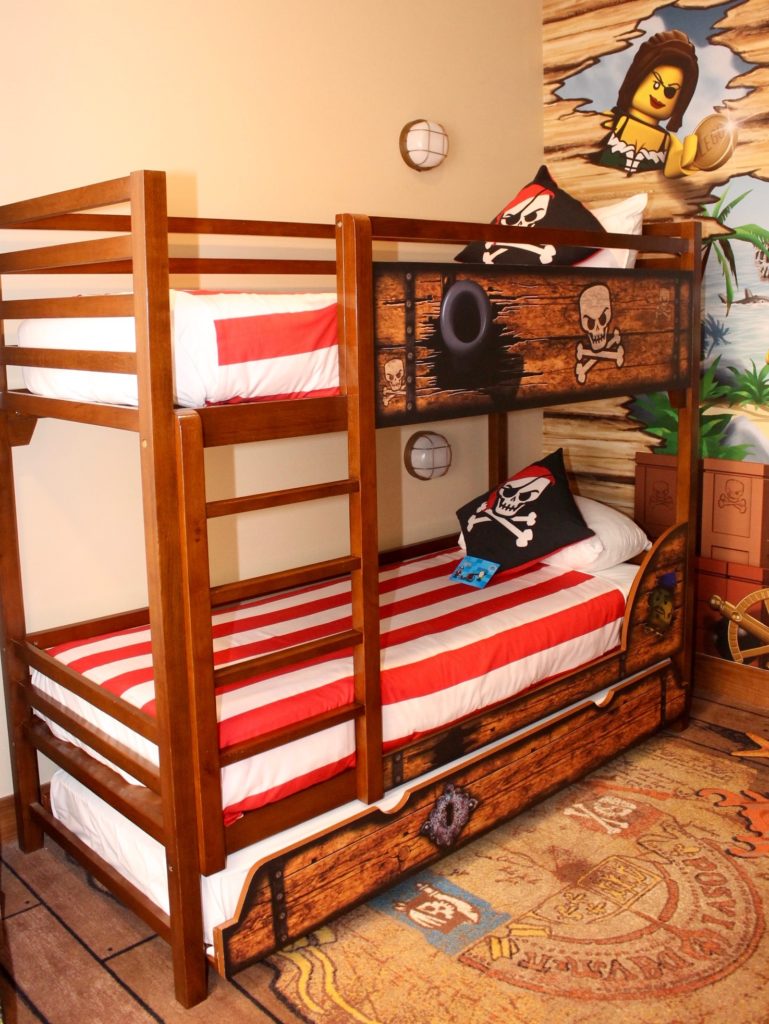 Things To Consider
If I had to look for something this hotel could improve I would have to say that the pool is nothing special, it's just a pool with some floating Legos and a lifeguard (which is great) but honestly why do you even need a water slide or anything fancy on the pool if you are just steps away from the Legoland Waterpark? What I did love about the pool was that because it's not huge you don't loose sight of your kids and even though it was cool in January we got to enjoy the pool because the water was pretty warm. To be fair my kids still loved the pool and really liked being able to play LEGOs even at the pool.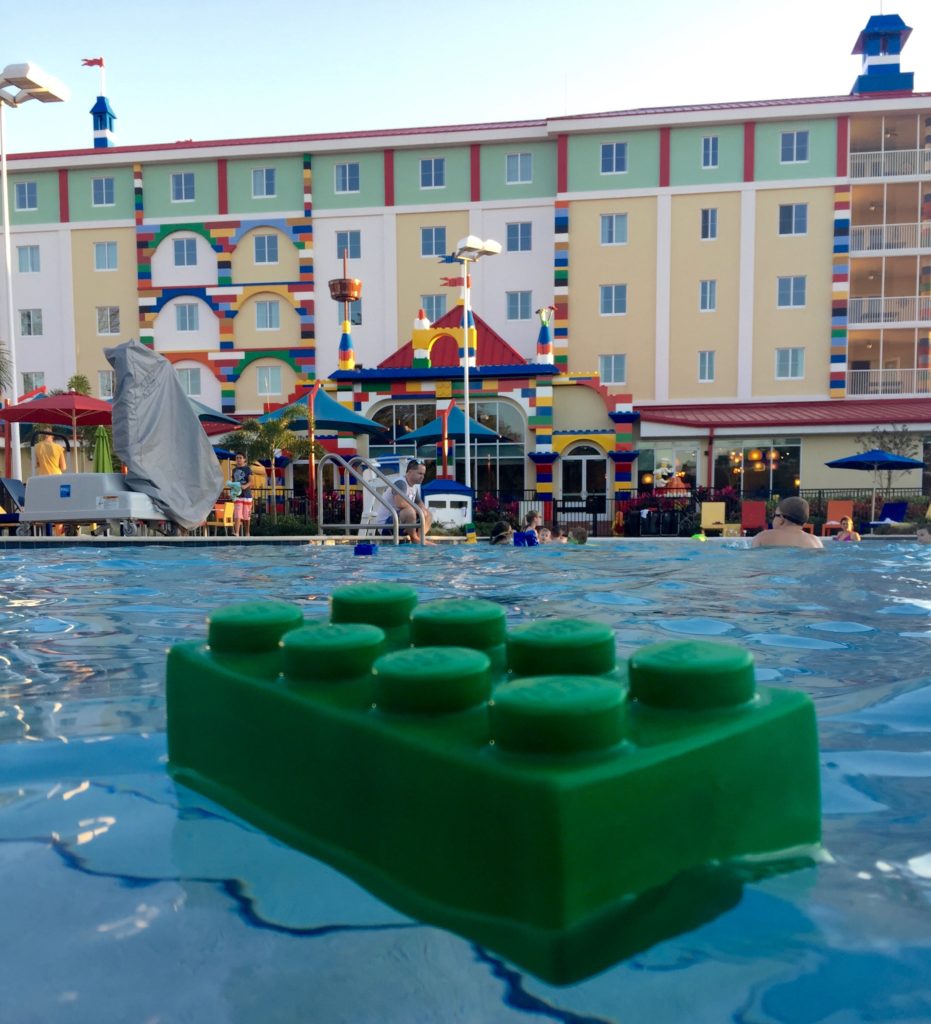 The lobby, specially the castle play area can feel a little crowded at times specially during the nightly pajama party, but it was so much fun I did not mind at all.
We stayed in a room in the second floor but I would stay in a higher room next time as the rides in the disco elevator where too short and yes there is probably a better view of the Legoland park from a higher floor. But really it's all abut that disco elevator, it's been a few days since our stay at the Legoland hotel and my kids are still requesting disco music and I am loving it.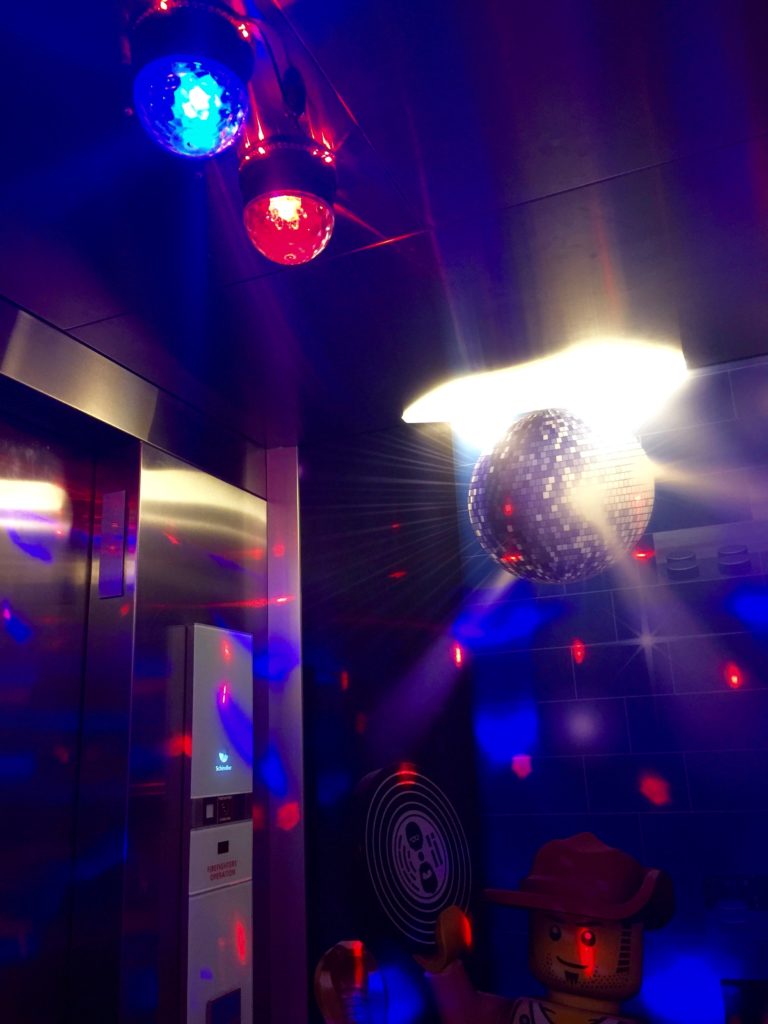 There is a $20 resort fee but if you take advantage of all the awesomeness that is the LEGOLAND Hotel Florida the resort fee is well worth it!
Honestly our stay at the LEGOLAND Hotel Florida has been one of the most fun experiences in a hotel ever and we can't wait to go back. You can check out the LEGOLAND Hotel Florida website for more information, current offers and to make your booking. And if you go please come back and tell me if you loved it as much as we did!