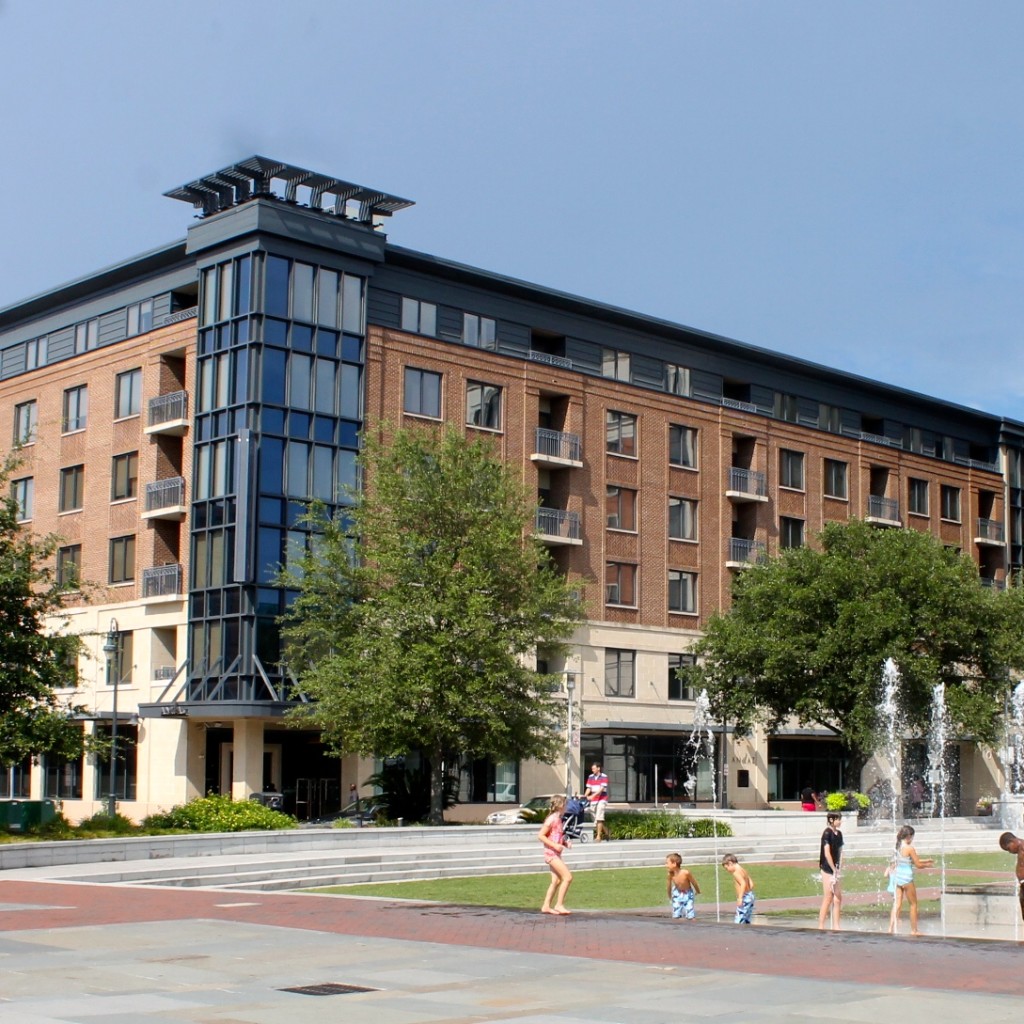 Visiting Savannah had been on my bucket list since I was in college; I saw a series of black and white photographs at a friend's apartment and was immediately captivated by this city's beauty and mystery.  One of America's most beautiful cities Savannah combines history, elegant architecture and a vibrant culture with a generous helping of southern charm.
As we drove into the historic district I was excited to share this experience with my family. We came to Savannah to soak in it's history, to walk along it's numerous squares and parks hugged by giant oak trees draped in Spanish moss, ride the trolleys and stroll along River Street so we wanted to stay at a hotel in the historic district.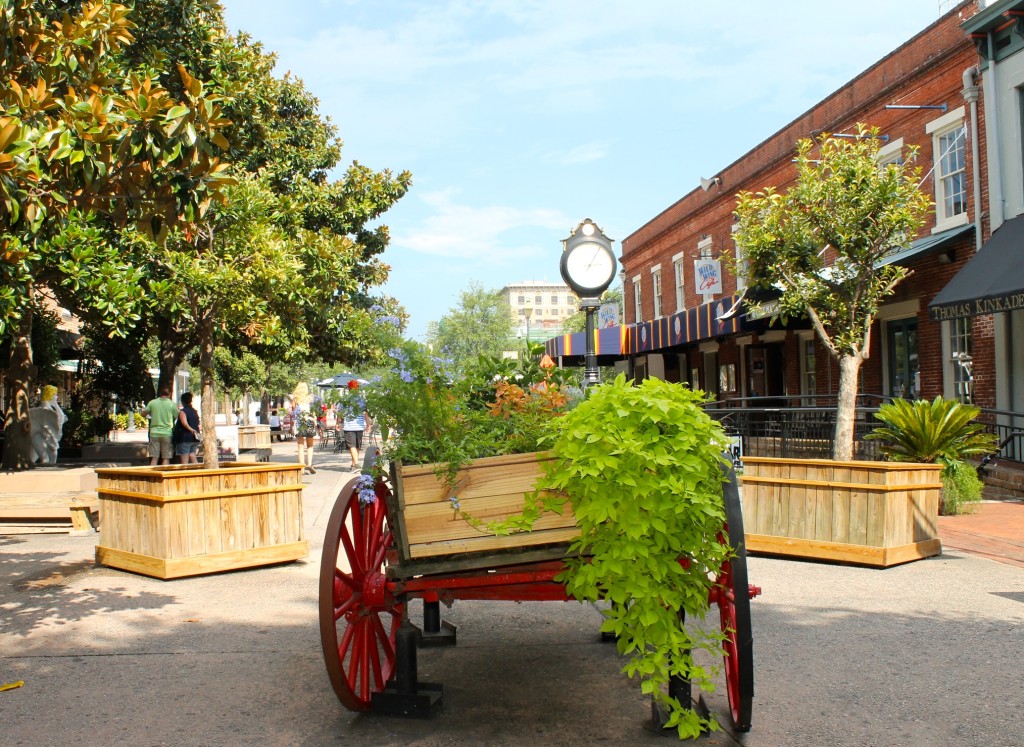 The Andaz Savannah is located in the heart of the city, overlooks Ellis Square and is just steps away from the City Market, Broughton Street, the Savannah River and the Historic Savannah Theatre.  This modern hotel combines fresh sophistication, comfort and southern charm.
From the moment we came into the hotel we where greeted by friendly faces and a complimentary glass of wine.   I loved that even though this contemporary hotel is very hip and has artistic vibe it also is a place where families with children are made to feel welcome, which is not always the case in other boutique hotels.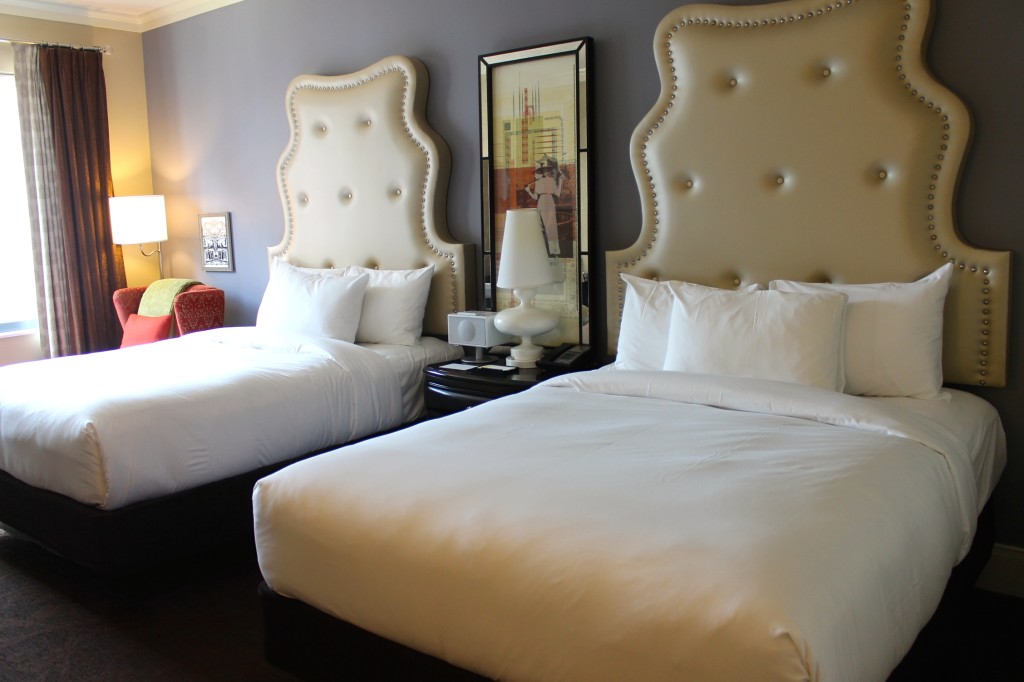 The spacious rooms combine modern elegance and warmth achieving a fresh urban, yet comfortable ambiance.  Our room was filled with light, good taste and had a great view into the courtyard.  The lobby provided a bright oasis that always welcomed us with refreshing drinks after our long walks enjoying the many sights.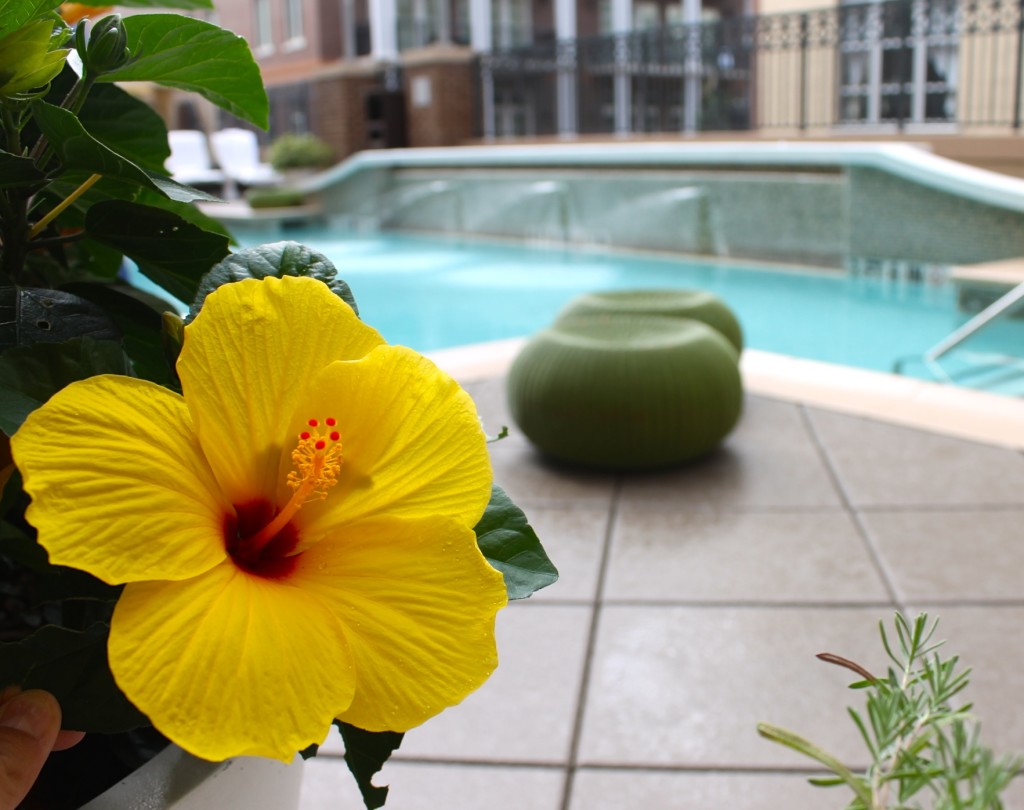 At the end of the day we went out to the 2nd floor terrace pool which is open until 10:00pm .   Here my husband and I could relax and unwind while the kids splashed around.  The terrace is small and there where not a lot of people making it feel more like we where spending time together on our family pool than at a hotel, we felt right at home.  In the terrace there is also a bar and a fire pit and it's the perfect place to reminisce about all of the new experiences and share our favorite things about our family trip to Savannah.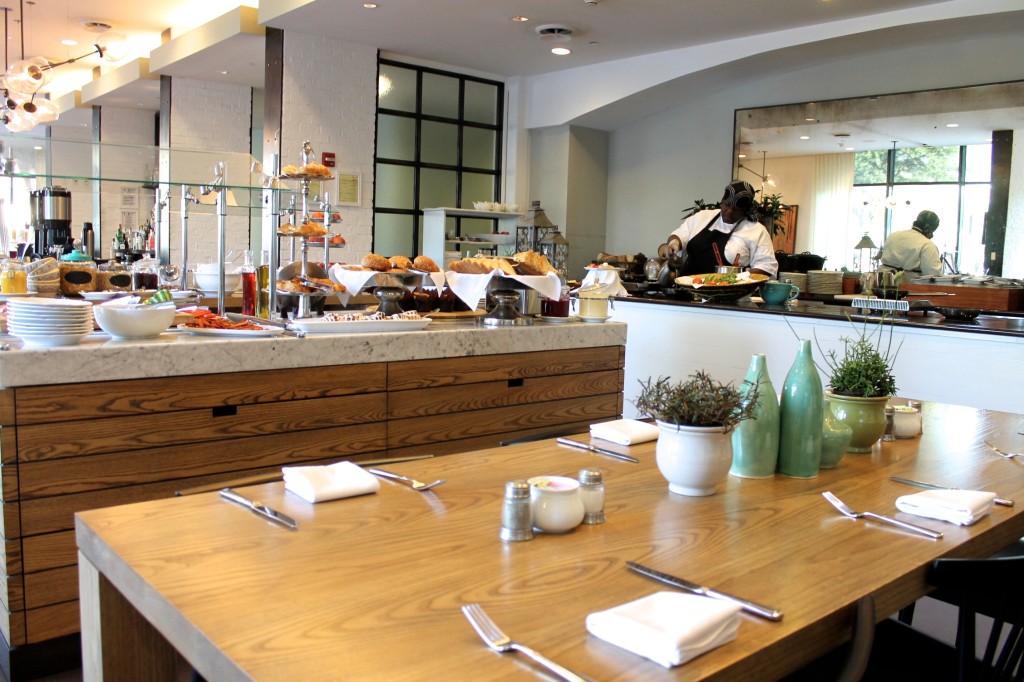 The 22 Square restaurant is truly a gem; offering souther comfort food reinvented and using organic, fresh and locally sourced ingredients.  I am not a huge fan of fried foods and when I eat southern food I usually find it a bit too heavy and greasy but at 22 Square everything we had was light, delicious and interesting and the breakfast buffet was outstanding.
What We Loved About the Andaz Savannah
The location was fantastic, close to so many points of interest and right in the heart of the historic district.
There where free snacks and beverages both in the lobby and in our room; everything in the stocked mini bar is free excluding alcohol.
There is free WiFi which is always a huge plus.
The lobby bar had a great vibe as well as killer cocktails and live music.
The restaurant is one of the best restaurants in Savannah offering organic and locally sourced options. Even if you are not staying at the Andaz you should make it a point to visit 22 Square.
The service was outstanding and not only did we get a warm welcome (cheese plate included) but after our stay I shared a few times how much I had loved our experience on social media and when I got home I recieved a beautiful box of hand made soaps made at the hotel! That is the most thoughtful gesture and nicest gift I have ever gotten from a hotel and I share about hotels on social media a lot! 
Things To Consider
Valet parking is $23 per night and self parking is $16 a night.
Everyone at the hotel was welcoming and friendly to the kids but both the hotel and the restaurant definitely cater more to couple, business travelers and families with older kids than to families with little ones.
We chose to stay at the Andaz for it's great location and received so much more than that: from it's outstanding service and the staff's attention to detail to it's sophisticated decor and wonderful restaurant.  The Andaz was a wonderful value considering the great quality of the hotel, the outstanding service, the ideal location and all of the extras and it's not wonder that the Andaz Savannah was recently received Condé Nast Traveler Readers' Choice Award as one of the best hotels in the South. If we are ever back in Savannah we will be staying at the Andaz!
For more information visit the Andaz Savannah website and follow Andaz Savannah on Facebook.
If you are traveling to Savannah with your family make sure to check out my article on 5 Great Things To Do In Savannah With Kids.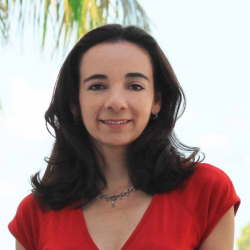 Latest posts by Paula Bendfeldt-Diaz
(see all)