Empanadas are a staple at our home. I like making a big batch of them and because they are easy to transport we will use them throughout the week to take to the office, put them in lunch boxes or take them for a weekend road trip or picnic.
This recipe is a variation on one of my favorite empanadas. Back in Guatemala we lived close to a restaurant where they sold empanadas Chilenas and they where very similar to these ones. I always loved the combination of the ground meat and salty green olives with the sweetness of the raisins and the flavor of cinnamon giving these empanadas so many layers of flavor.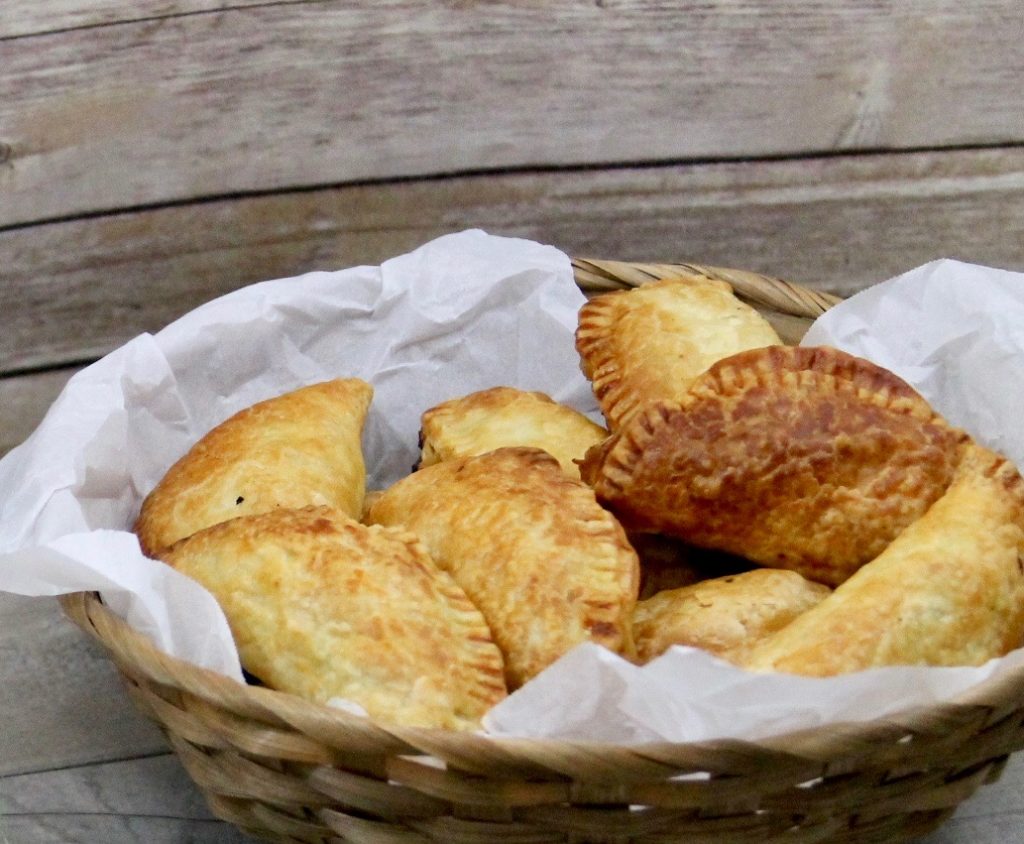 For this version of those empanadas Chileans I remembered eating as a kid I used ground lamb for a richer flavor but you can always substitute ground lamb for ground beef and these will come out just as good. I will admit that I usually do not make empanadas from scratch. I buy the empanada discs and just make the filling at home. I always have empanada discs in my freezer so I can make them anytime. I buy the empanada discs at a local Latino market and always choose the empanada discs for baking as I don't like fried empanadas as much and of coarse baked empanadas are healthier.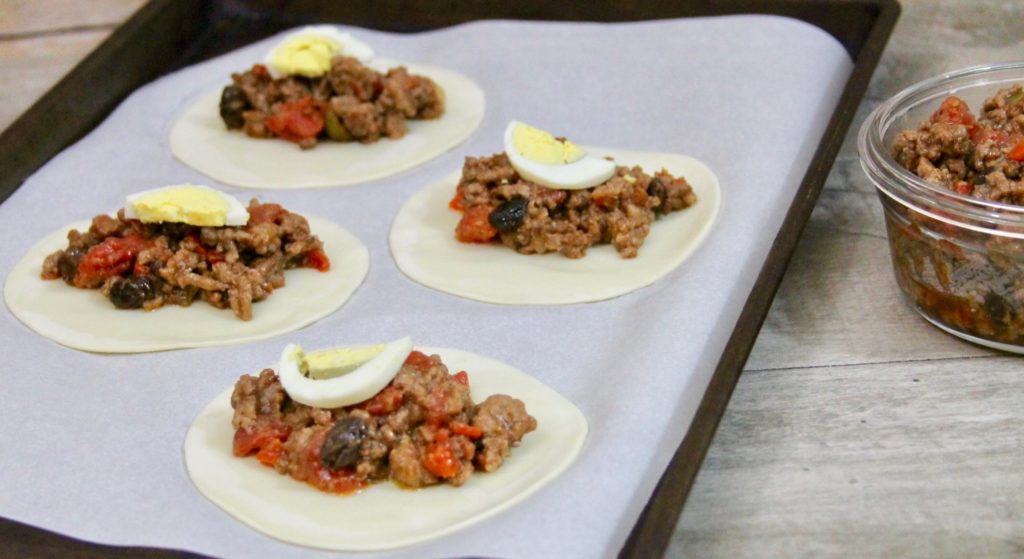 Baked Lamb Empanadas Recipe
Ingredients
1 tablespoon virgin olive oil
1 medium onion, diced
1 pound ground lamb
1 garlic clove, minced
1 teaspoon oregano
1/3 cup green olives, pitted and chopped
¼ cup golden raisins
1 ½ teaspoons cumin
1 teaspoon cinnamon
1 can diced tomatoes, including liquid
2 tablespoons balsamic vinegar
2 hard boiled eggs, thinly sliced
1 ½ teaspoons salt
1 package of frozen empanada disks, for baking
1 egg, beaten
1 tablespoon of water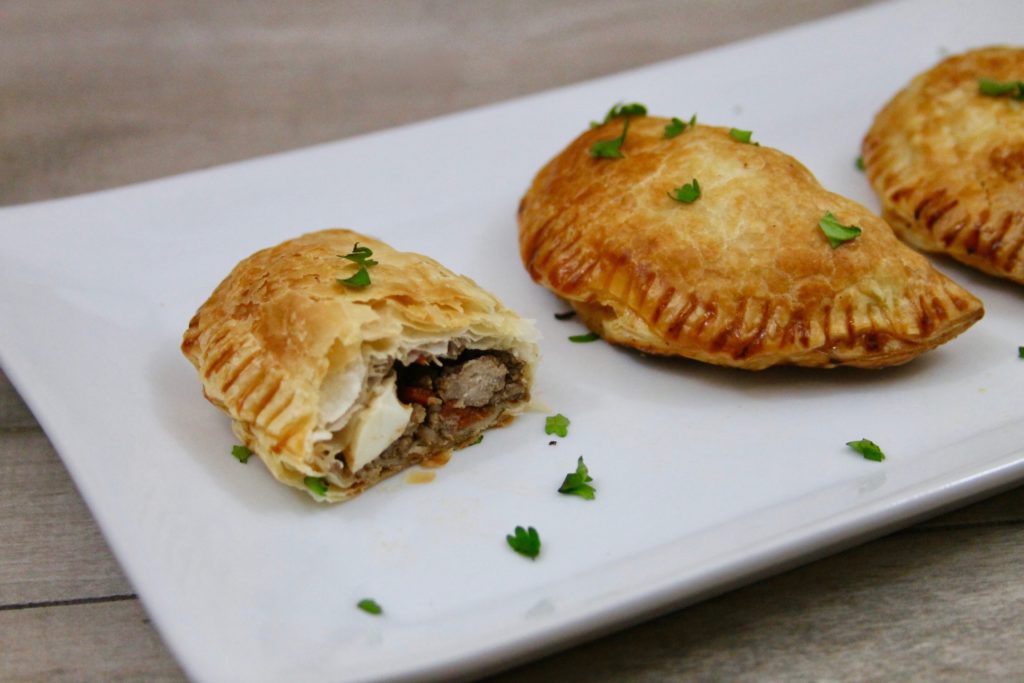 Instructions
Remove frozen empanada discs from freezer and let thaw.
Preheat your oven to 425°F.
Heat oil in a sauce pan on medium heat. Add onions and sauté until soft and tender.
Add the ground lamb and cook separating with a fork to avoid clumps. Cook meat until browned.
Add the chopped tomatoes balsamic vinegar, cumin, oregano, cinnamon and a pinch of salt and pepper. Simmer for about 10-15 minutes.
Add the olives and raisins and mix well.
Remove from heat and let cool.
Place empanada discs on parchment paper.
Put two tablespoons of filling in the center of each empanada.
Add one slice of hard boiled egg.
Using a brush moisten the edges of the empanada discs.
Fold the empanada discs and bring the edges together sealing them by pressing down on them with a fork.
Beat eat with the tablespoon of water.
Glaze the tops with egg wash mixture.
Bake on an oiled baking sheet until golden, about 10-12 minutes.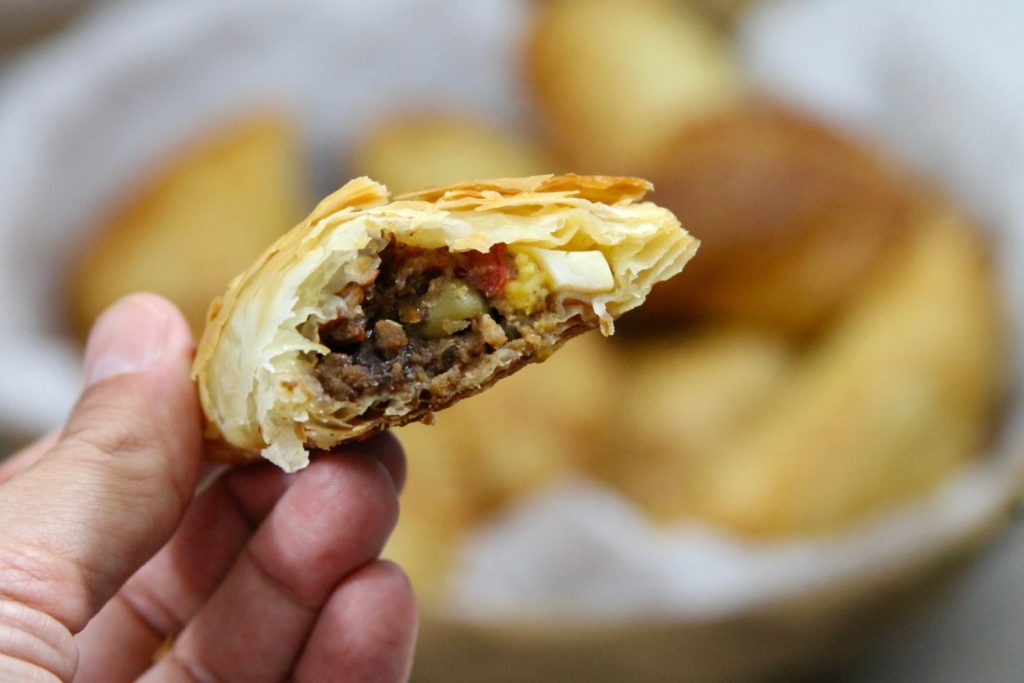 I brought some of these empanadas to work yesterday and they where a total hit. Everyone loved the flavor and I will have to make another batch as they are all gone and my hubby didn't get a chance to taste them so now I'm in trouble.
These baked lamb Chilean empanadas or empanadas Chileans are really delicious and easy to make. They are perfect for bringing to a pot luck or for a road trip or picnic.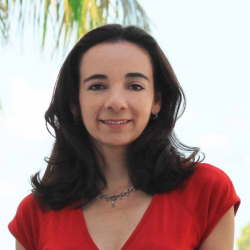 Latest posts by Paula Bendfeldt-Diaz
(see all)