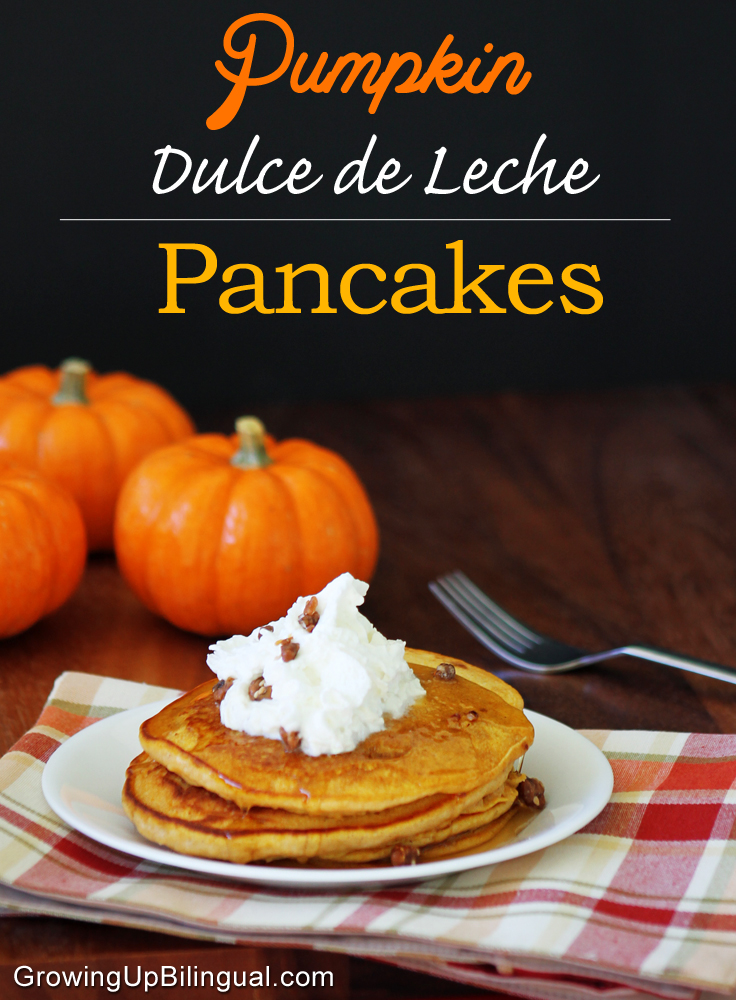 For many of you fall is already in full swing and although I have been having fun with all the delicious fall flavors and have decorated with fall colors the weather here in Florida has stayed in the 80's and 90's.  But this morning it's at a nice
I am loving the crisp morning air and looking forward to using some long sleeved tops and closed toe shoes, maybe even a nice scarf or a sweater.  So to celebrate this deliciously cool weather we decided to make a special Sunday family breakfast today.
Of coarse it had to be something with pumpkin in it and the kids where craving pancakes so they helped me to make these delicious and healthy pumpkin dulce de leche pancakes.
We like to make our own dulce de leche at home and I used a fat free can of condensed milk this time to reduce the calories and the fat on this recipe.  To make Dulce de Leche at home simply grab a can of condensed milk, remove the paper and make two small holes on the top of the lid (on opposite sides).  Then place the can in a pot with 1/2 an inch of boiling water and let it cook for 2 hours or more depending on how dark you want your Dulce de Leche.  Just remember to add more water periodically as it will evaporate and you want to maintain 1/2 inch of water.  Do not put more water than that because you risk water getting into the can through the holes you made.
I used unsweetened almond milk that has only 40 calories per serving versus 150 for whole milk.  I added some fiber by substituting half the flour for whole wheat flour.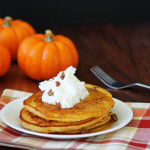 Pumpkin Dulce de Leche Pancakes
Ingredients
1 1/2

cups

almond milk

1

cup

pumpkin puree

2

egg whites

2

tablespoons

canola oil

1

tablespoon

vinegar

3

tablespoons

fat free dulce de leche

1

cups

all-purpose flour

1

cup

white whole wheat flour

2

teaspoons

baking powder

1

teaspoon

baking soda

1

teaspoon

sugar or natural sweetener

3

teaspoons

pumpkin pie spice

1/2

teaspoon

salt

light whipped cream

pecans for garnish
Instructions
Mix milk, pumpkin puree, egg, oil, vinegar and dulce de leche in a bowl.

Mix both flours, baking powder, baking soda, sugar, pumpkin spice and salt in another bowl.

Beat wet mix into dry mix roughly, so as to add more air to mix.

Spray non-stick olive oil onto griddle or skillet and preheat.

Pour batter onto hot griddle.

When pancake bubbles around edges and towards center turn.

Pancakes are done when golden brown.

Serve hot and drizzle with maple syrup, honey or dulce de leche.

Top with whipped cream and garnish with chopped pecans
These came out really good. They where the perfect way to celebrate the cooler weather and I didn't have to feel too guilty about enjoying these delicious pumpkin dulce de leche pancakes.  Hope you enjoy them too!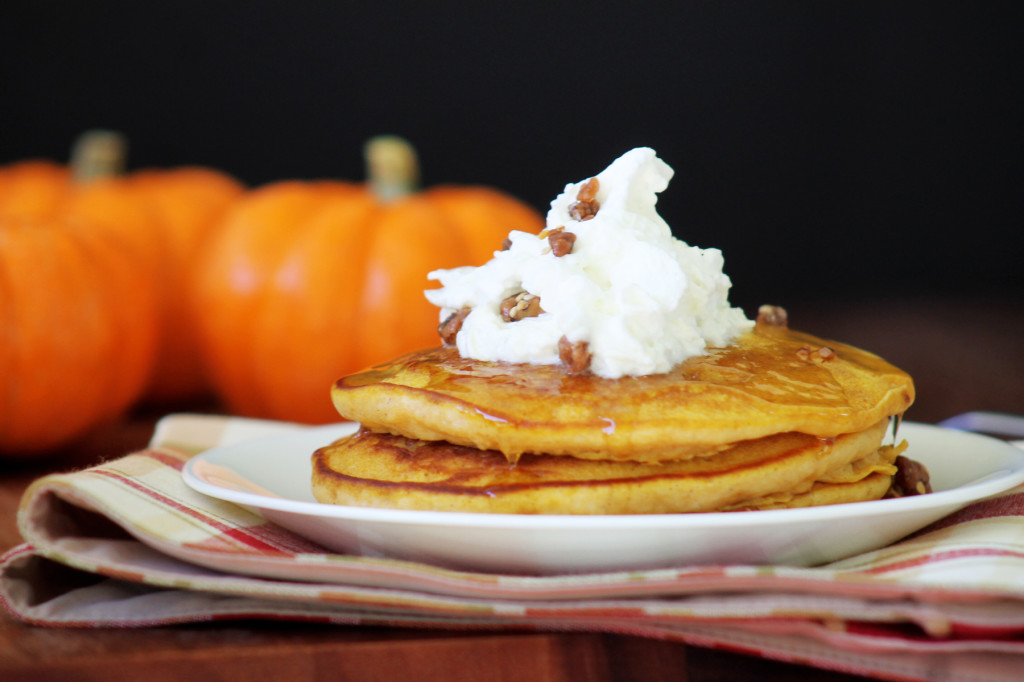 You can see more of my holiday recipes on my Pinterest board below. Hope you find something you like!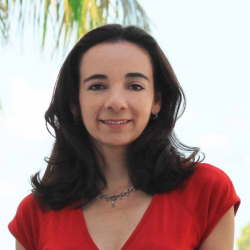 Latest posts by Paula Bendfeldt-Diaz
(see all)