As Halloween and el Día de los Muertos approaches many of you might be thinking about your costumes and a very important part of that is how you will wear your hair. If you are considering a Day of the Dead themed costume here are some great hairstyles if you are dressing up as la Clavera Catrina or a muerta.
Besides these great hairdos that you can do at home when you're dressing up for Die de los Muertos or Halloween using a wig is also a great ideas. Whether you are using a long wig or short bob wigs the key to a Day of the Dead hairstyle is to add some big flowers. Weather it's a red rose headband, a red rose hair clips or a flower crown the important thing to consider when adding flowers to your hairdo or wig is that the flowers should be primarily dark red, orange and or yellow as these are the colors associated with Dia de los Muertos. Dark red roses and marigolds are great options if you're considering fresh flowers.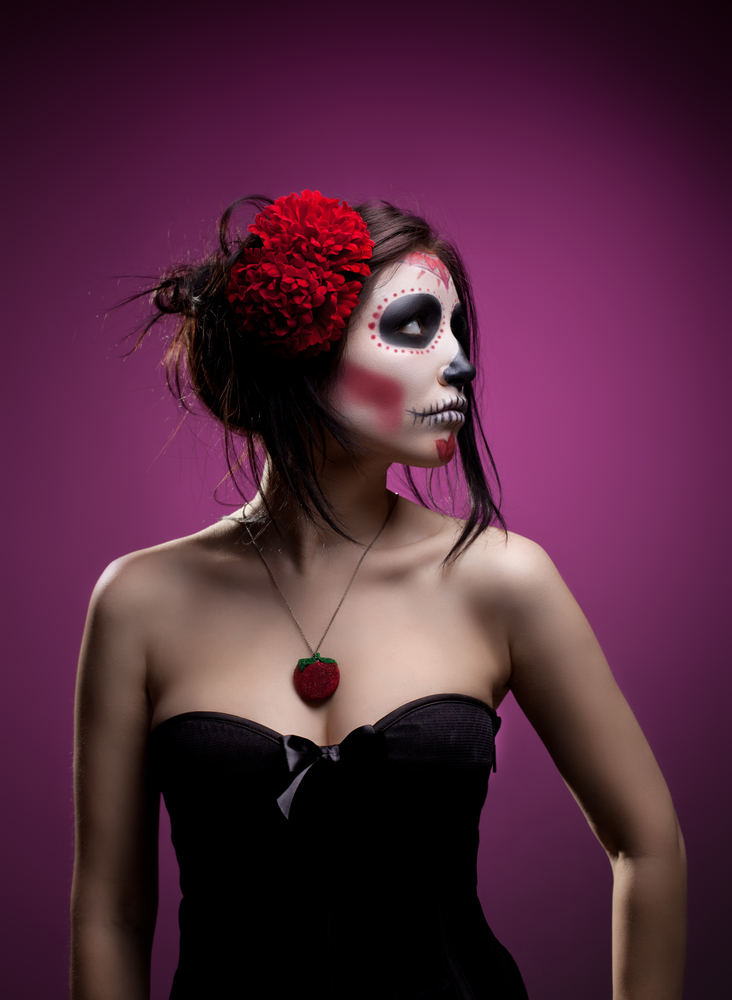 Updo Day of The Dead Hair Style

1. Shake your Suave Professionals® Volumizing Mousse for about 3 seconds then pour it in your hand. Apply it on your hair with a wide tooth comb and cover thoroughly. This product is perfect because it gives about 4 times more body and volume to your hair making it look heavy.
2. Dry your hair with a round barrel brush focusing on the crown of the head which is where you want to create volume.
3. Now split your hair to the sides and put your hair up in a ponytail leaving the hair in front of your ears loose, keep in mind you hair needs to be teased, this is not a clean cut look.
4. Keep splitting your ponytail and curling each piece of hair. After this wrap each piece around your fingers and pin it to the ponytail. If necessary pin one piece of hair on top of the other, this will create volume. Leave some loose to give the hairdo a softer look.
5. Take both parts that were previously left loose and place both pieces under the ponytail to better frame your face. Curl the rest of the hair and pin it.
6. Lastly, use your Suave Professionals® Touchable Finish Extra Hold Hairspray to fix your do. The advantage of using this spray is to maintain those curls left loose for longer, so you can enjoy the night without worrying about your hair.
Place one or several colorful flowers on your head to add that Día de Muertos final touch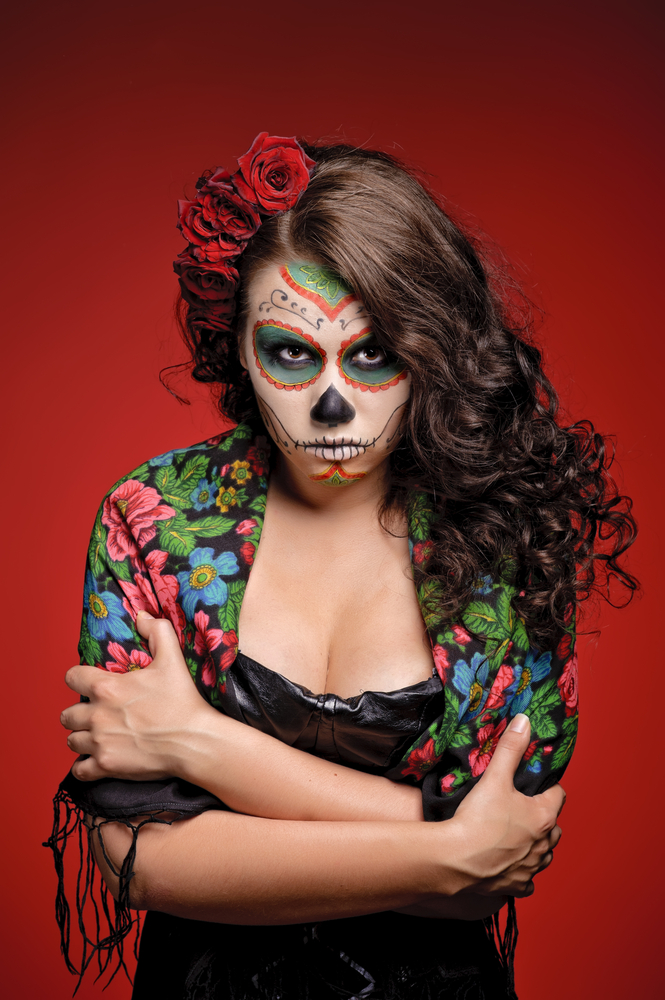 Beach waves Day of the Dead Hair Style

1. Once you wash your hair apply a bit of Suave Professionals® Keratin Infusion Smooth and Shine Serum to add shine and softness to the hair and fight humidity to prevent frizz.
2. Blow dry your hair with a round barrel brush, the best way to do it is dividing it in small pieces.
3. Choose a curler with a diameter bigger than 2 inches; curl the hair from the middle to the ends.
4. Apply a few pumps of the Suave Professionals® Moroccan Infusion Styling Oil and your fingers through your hair to open up the waves
5. Lastly, use a bit of Suave Professionals® Touchable Finish Extra Hold Hairspray to hold the waves longer. Pin a flower on the side and you're ready for El Dia de los Muertos!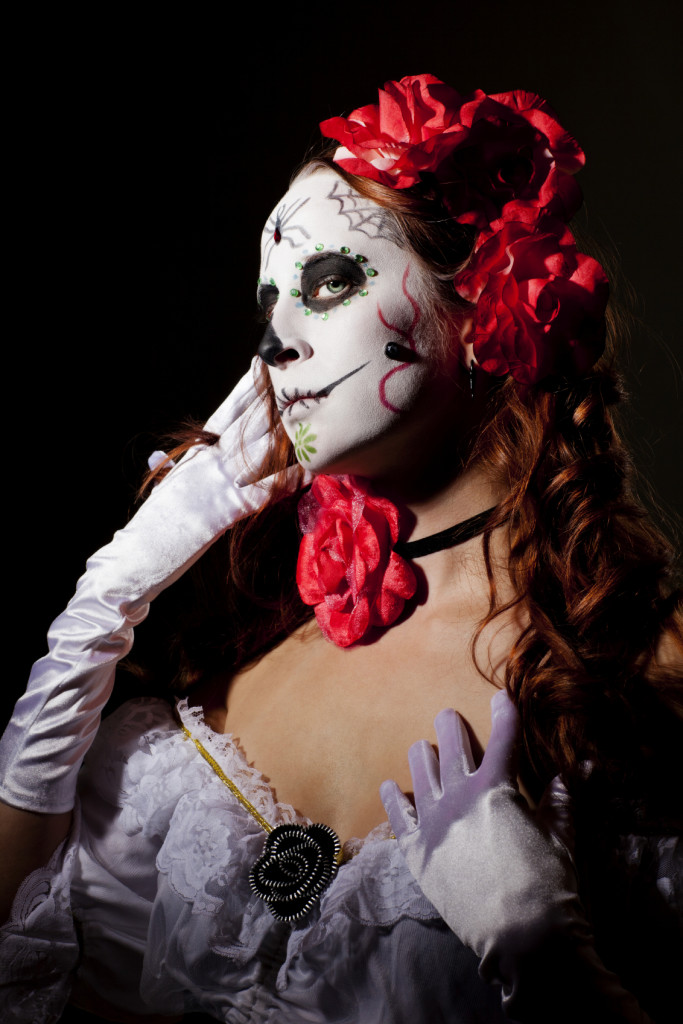 Teased Ponytail Day of the Dead Hair Style
1. Wash your hair a day before then spray Suave Professionals® Dry Shampoo on your dry hair from about 6 to 7 inches apart, dividing it at about 1 inch width. Apply mostly on your roots and along the first two inches of your hair since it is where oil residue is concentrated. This product not only absorbs the oil but refreshes the hair. Aside from this, it also adds volume, necessary for this look.
2. Once you apply it use the hairdryer at its maximum heat and blow from the roots down. Then bend your head forward and just like in the movies, quickly stand back up. Notice the difference this dry shampoo creates adding a lot more volume to your hair.
3. If your hair is not naturally wavy, curl it up a bit in order to create more texture.
4. Softly comb your hair to the side you prefer and hold it behind your neck. Grab a piece of hair and wrap it around the ponytail to cover the hairband.
5. Lastly, spray a bit of Suave Professionals® Touchable Finish Lightweight Hold Hairspray, which offers you a light finish that can be easily comb and complement your hairdo with colorful flowers.
Thanks to Suave for the great photos and instructions on how to do these hairstyles.
Check out more Día de los Muertos posts on my Pinterest board below.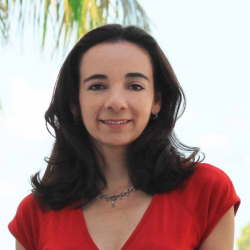 Latest posts by Paula Bendfeldt-Diaz
(see all)