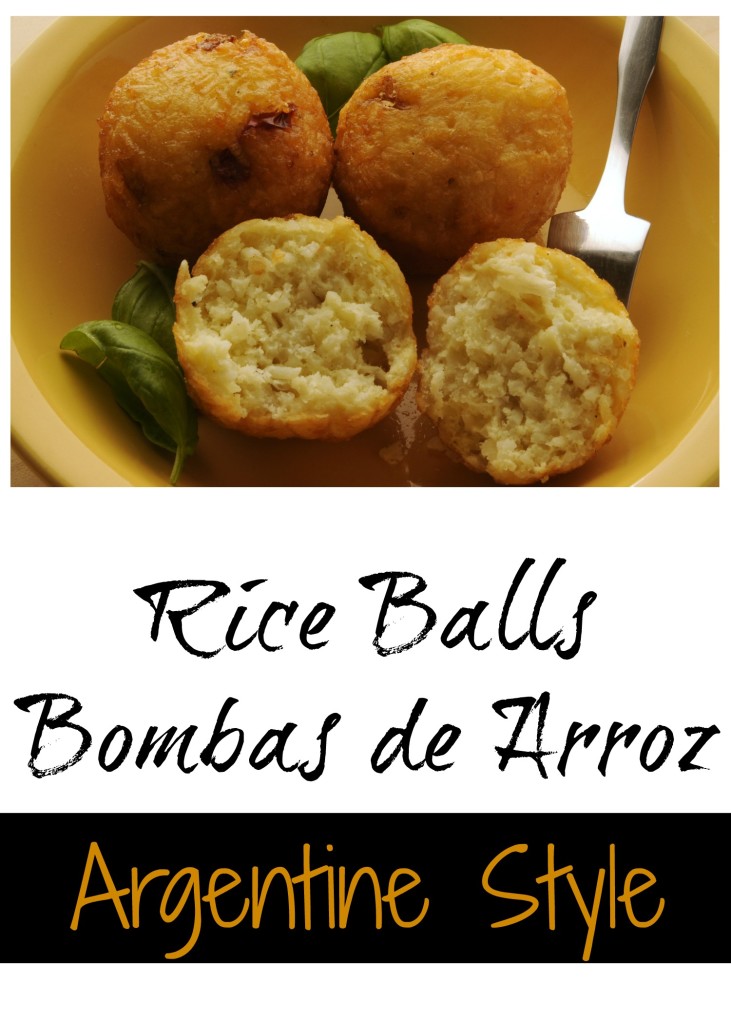 In much of Latin America people refrain from eating meat on Fridays and during Holy Week ( Semana Santa) .  So the recipes for meatless dishes are plentiful and one of my favorite dishes to eat is Rice Balls.  For a meat free rice ball cheese is used .  In the Caribbean they tend to use a Munster cheese , in Argentina Parmesan and Mozzarella, in Mexico you might find them with a hunk of Queso Fresco in the middle.
If you have some leftover rice and some cheese and breadcrumbs you can throw together  delicious rice balls as an appetizer or main dish with a little tomato sauce ( that's more the Argentine style).  I like to make them into egg like shapes around Easter but a Hersey's kiss shape or thumb shape is common too.  Whatever shape you make your rice balls I hope you enjoy them.  Be sure to try out different cheeses as well for variety, they all taste great!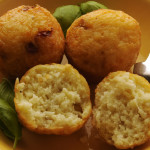 Rice Balls Recipe - Bombas de Arroz Argentinos
A delicious Argentine style Rice Ball that is perfect for holidays or for a vegetarian meal
Total Time
1
hour
30
minutes
Ingredients
5

cups

cold medium grain or arborio rice

1

cup

Pecorino Romano Cheese or Parmesan

12

cubes of fresh mozzarella cheese

4

eggs and 1 egg yolk

1/4

cup

Oregano

1/2

onion diced and 2 cloves garlic minced and sauteed until translucent in olive oil

2

Cups

lightly salted breadcrumbs
Instructions
Place rice in a bowl and add 1 egg yolk , Parmesan Cheese, oregano and onion and garlic mixture.

Mix well

In a separate bowl place 4 eggs and beat in a low disk place breadcrumbs seasoned with a bit of salt and pepper.

On the stove heat 4 cups of olive oil, be sure it is deep enough to completely cover your Rice ball when cooking.

Take a palm full of the rice mixture and roll into a ball

Make a well deep enough to place a cube of the Mozzarella cheese , close and reform an oval shape with your hands.

Dip the ball into the egg wash and then coat in breadcrumbs .

Cook in hot oil for 5-7 minutes until the outside is golden

Remove to a plate covered in paper towels to drain.

Repeat
You can serve them with Italian style tomato sauce for a complete meal , use less oregano , or substitute with fresh basil. Make the balls smaller and pile them onto a plate for a yummy rice ball appetizer. This is a very versatile dish that your family will love.
Latest posts by Growing Up Bilingual
(see all)