Disclosure: This is part of a compensated campaign with Latina Bloggers Connect and Maseca. However all opinions and the recipe for the easy turkey and cranberry mole tamale casserole are my own.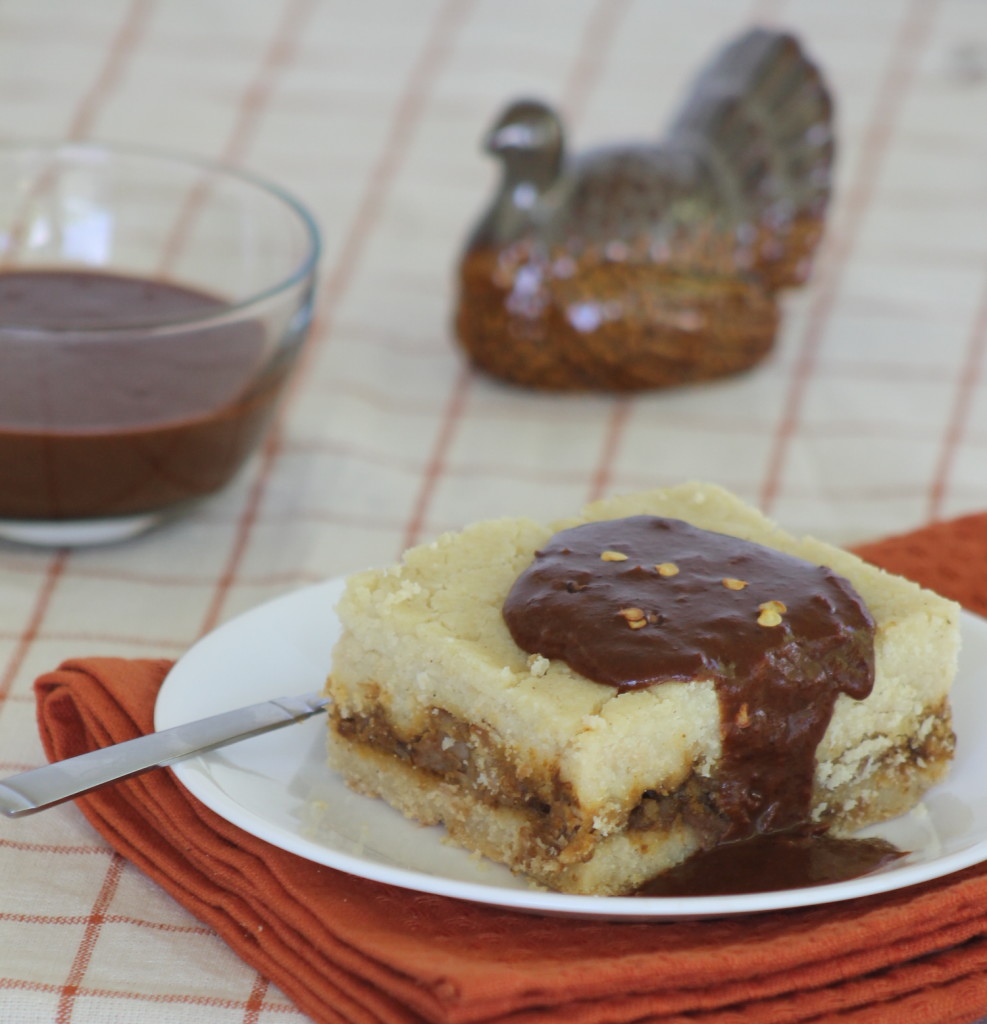 I always get nostalgic during the Holidays . It's harder than ever to be away from my parents, my brothers and my friends during this time of the year.  I miss going out to posadas, eating guatemalan tamales rojos and negros, drinking ponche and all of the Guatemalan holiday traditions.  During the Holidays traditions and foods really take on a central place and by keeping those traditions alive in my own home with my children and sharing with them the foods that I used to eat in Guatemala as I feel so much closer to my family and to my country.  I had hope that we would be able to travel to Guatemala this year for the holidays but we probably won't be able to afford it.  So we are bringing Guatemala home for the holidays.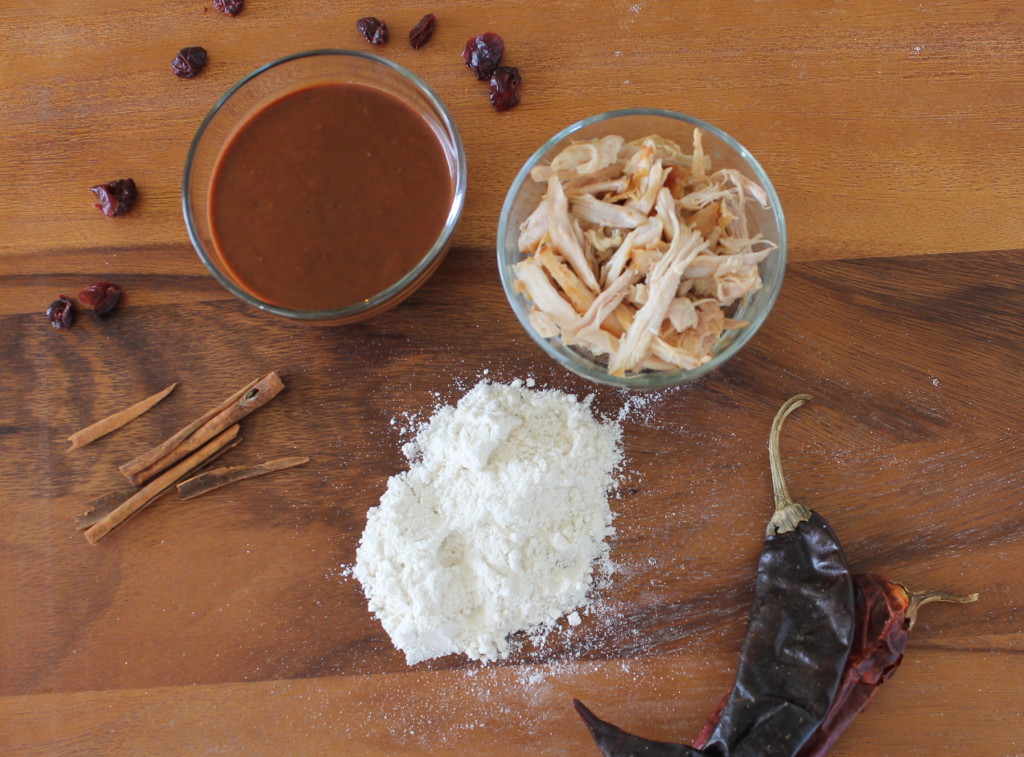 For this recipe I used shredded turkey but you can also use chicken, this would be the perfect dish to make with Thanksgiving leftovers.  I also used a cranberry mole sauce that I came up with earlier this week.  I created this based on a family  recipe that I modified. It's a guatemalan mole, in Guatemala we call it pepian dulce, and it's a bit different than the Mexican mole most people know.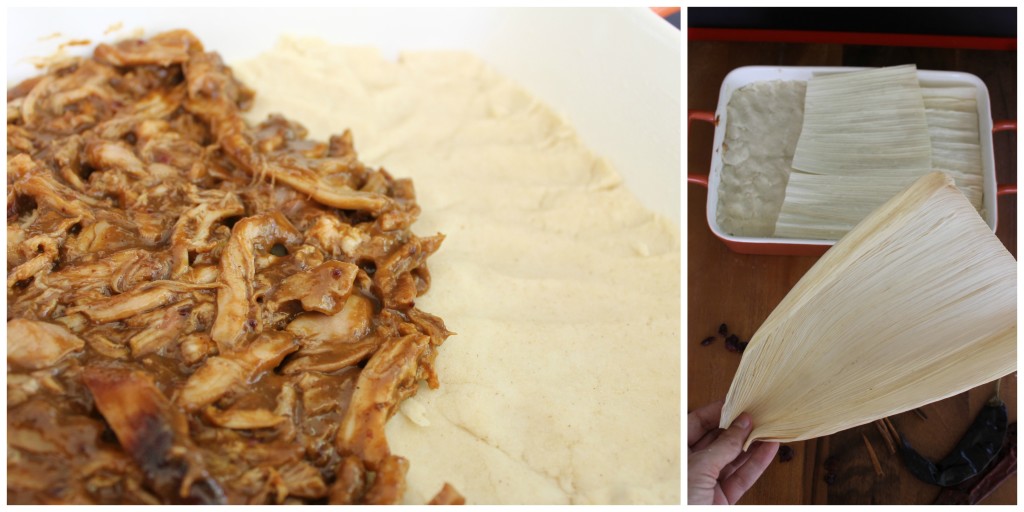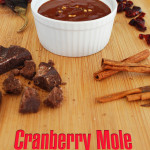 Turkey and Cranberry Mole Tamal Casserole
For this recipe I used a cranberry mole sauce I created based on the Guatemalan pepian dulce which is a slightly different type of mole than the Mexican mole Poblano which is more common in the US.
Ingredients
4

cups

of cranberry mole sauce

recipe below.

4

cups

cooked turkey

shredded

3

cups

Maseca masa harina flour

Maseca corn tortilla flour

1½

cups

chicken broth

1

cup

lard or shortening

melted

5

or 6 corn husks

no-stick cooking spray
Instructions
Preheat oven to 375F.

Soak the corn husks in a bowl of warm water.

Mix masa harina flour, chicken broth and and melted lard or shortening with your hands until you have masa with a sticky consistency.

Coat a medium casserole dish with cooking spray.

Put half of the masa on the bottom of the casserole and spread evenly with a spatula.

Combine shredded turkey and 1 1/2 cups cranberry mole sauce or more if necessary. You want the turkey to be well coated but do not want the mixture to have too much sauce or be too watery.

Using a slotted spoon add mole turkey mixture over first layer of masa and spread evenly.

Add the rest of the masa distributing it evenly with a spatula.

Cover put one layer of corn husks over the masa to prevent it from drying out.

Cover the dish with aluminum foil.

Place casserole on the lowest rack of the oven and cook for 45 minutes. Check to see if top of the casserole feels dry to the touch. If still remove aluminum and leave a few minutes longer but make sure the masa does not over dry.

Warm up the rest of the cranberry mole sauce.

Remove from oven and let stand covered for 5 minutes before serving.

Serve topped with warm cranberry mole sauce.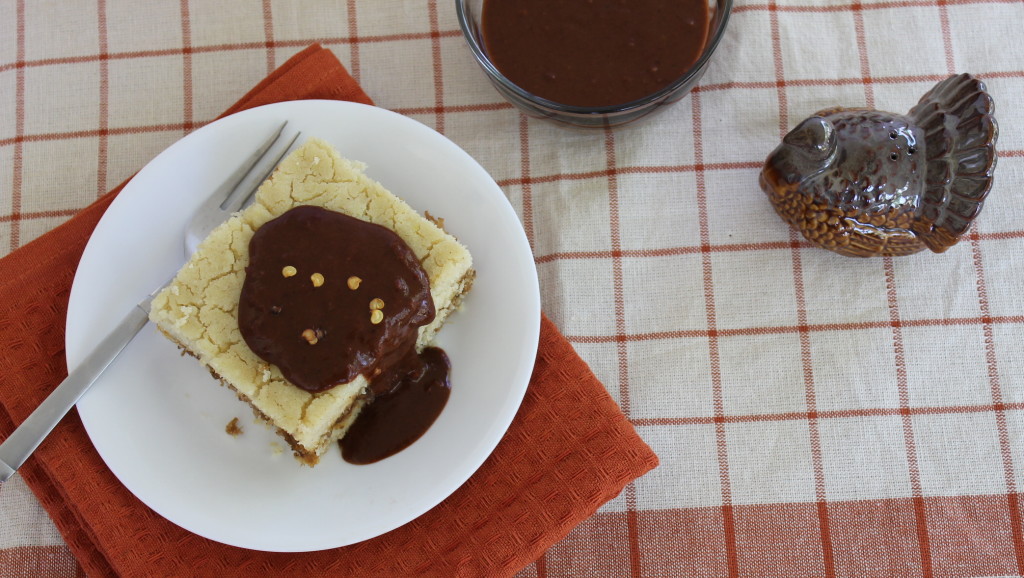 I came up with the idea of creating a cranberry mole to blend together  the best of my two worlds,  combining a traditional guatemalan mole recipe with cranberries to make a festive sauce that can be used to accompany chicken, in tamales, quesadillas or in a tamale casserole like I did here. This is the ideal sauce to accompany a Thanksgiving dinner.  I have seen recipes for mole turkey and I'm thinking I might even try to use this sauce to make a cranberry mole turkey for Thanksgiving dinner, I'll let you know how that works out.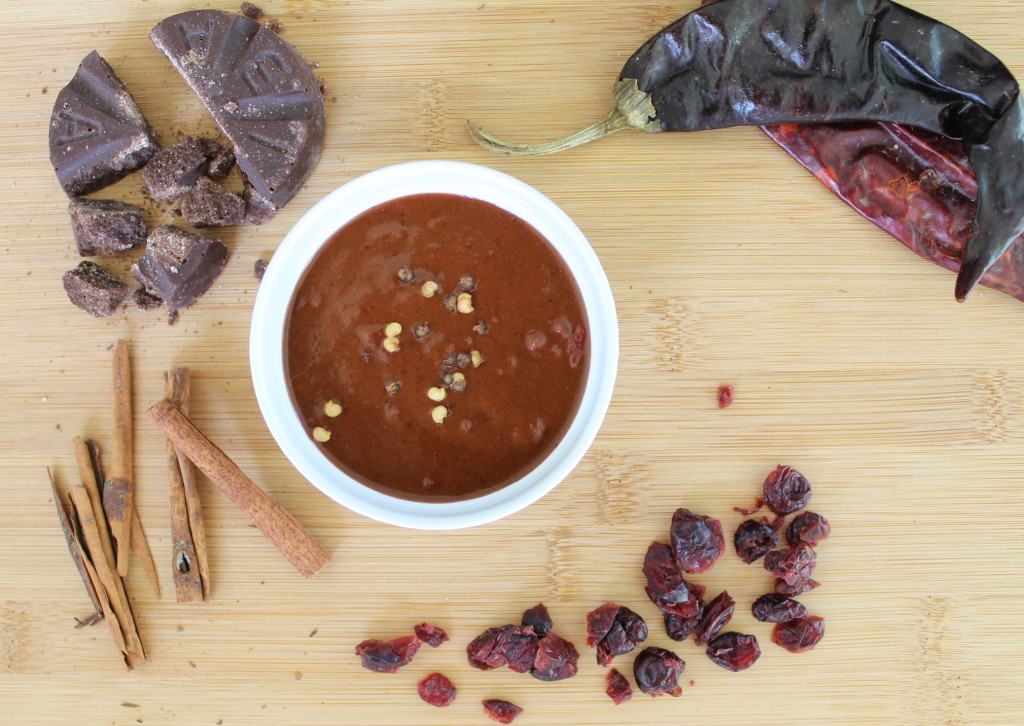 Because our family lives between two cultures we end up blending traditions and I love to cook dishes that remind me of home but sometimes I also throw in some American ingredients to create new versions of these traditional recipes that reflect our lives here in the United States and that is how I came up with this cranberry mole recipe.
This sauce is based on the my grandmother's recipe for Guatemalan pepian dulce, a type of mole that is slightly different than the Mexican mole Poblano which is better knows throughout the world.  As I share on my post for the Guatemalan pepian dulce recipe, this recipe is very dear and near to my heart as my grandmother didn't really cook that much but she had two recipes she would always make and this one was one of them. The pepian dulce is also my mother's favorite dish and we would always have it for her birthday.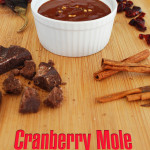 Cranberry Mole Sauce
Ingredients
1

oz

of Mexican chocolate

1ounce semisweet chocolate, 1/2 teaspoon ground cinnamon and 1 drop almond extract can be substituted for 1 ounce Mexican chocolate

4

tablespoons

of pepitoria

green squash or pumpkin seeds

4

tablespoons

of sesame seeds

1.5

inch

piece of cinnamon

broken into several pieces

8

roma tomatoes

whole, unpeeled

1

dried chile guaque

chile guajillo in Mexican/Latin markets

1

dried chile pasa

chile pasilla in Mexica/Latin markets

salt

1/2

cup

dried cranberries

1

cup

of chicken broth

2-3

hot dog buns (in Guatemala

they use about 3 pieces of

pan frances

which look more like blunt hot dog buns than baguettes)
Instructions
Roast the tomatoes in the oven. Turn occasionally to allow to roast evenly.

A couple of minutes before removing the tomatoes from the oven roast the cinnamon, this will burn quickly so make sure it's only in the oven enough time for it to become dry and fragrant.

Pour the roasted sesame and squash (pumpkin) seeds into a blender and blend until finely ground, or about 30 seconds.

Add the roasted cinnamon stick fragments and grind for another 30 seconds. Then add the tomatoes, chilies, dried cranberries and top with the broken pan francés (hot dog buns) and about 1 cup of chicken broth.

Blend until everything is smooth; add more chicken broth or pan frances (hot dog bun) fragments until you achieve the desired consistency.

The sauce should drip slowly from the spoon.

Put the  sauce and the chocolate cut into pieces in a large pot on medium heat until it boils, then lower the heat and  simmer for about ten minutes; make sure the chocolate has completely melted .

Add  salt and or sugar to taste. If your sauce is thinner than you'd like, cook a bit longer; if it's too thick, add some of the remaining broth.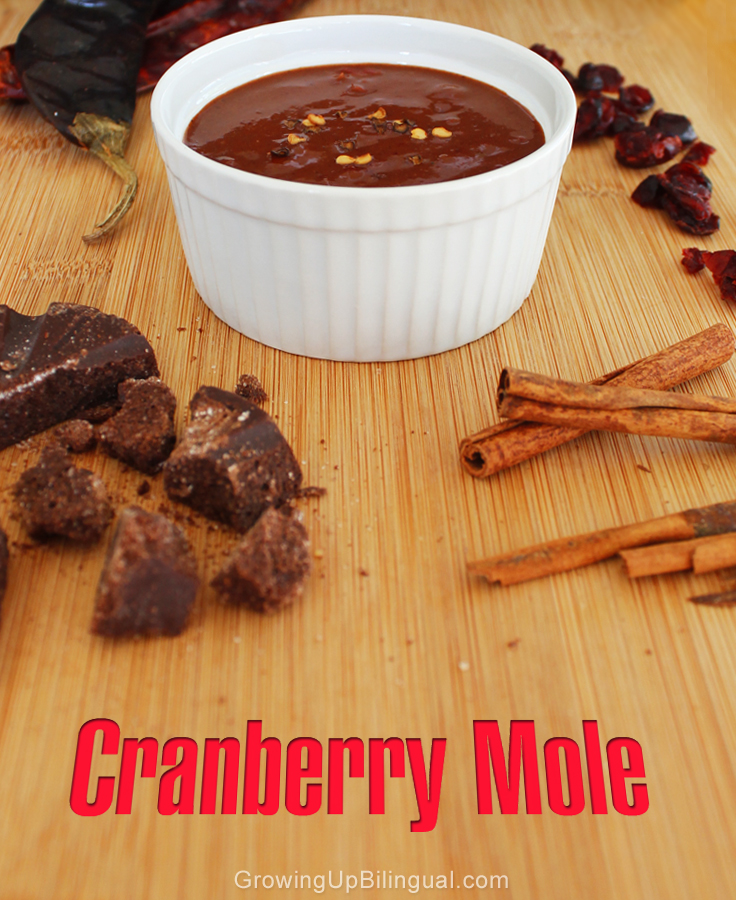 What I like about the tamale casserole it that it has all the flavor and texture of a tamale but without all the work required to assemble tamales.  I have to admit that although I love tamales I have never made them myself.  So a few months ago I made my first tamale casserole using Maseca masa harina. It was so easy and everyone like it so much that now we make them at least a few times a month, the best part is that you can fill them with anything you like.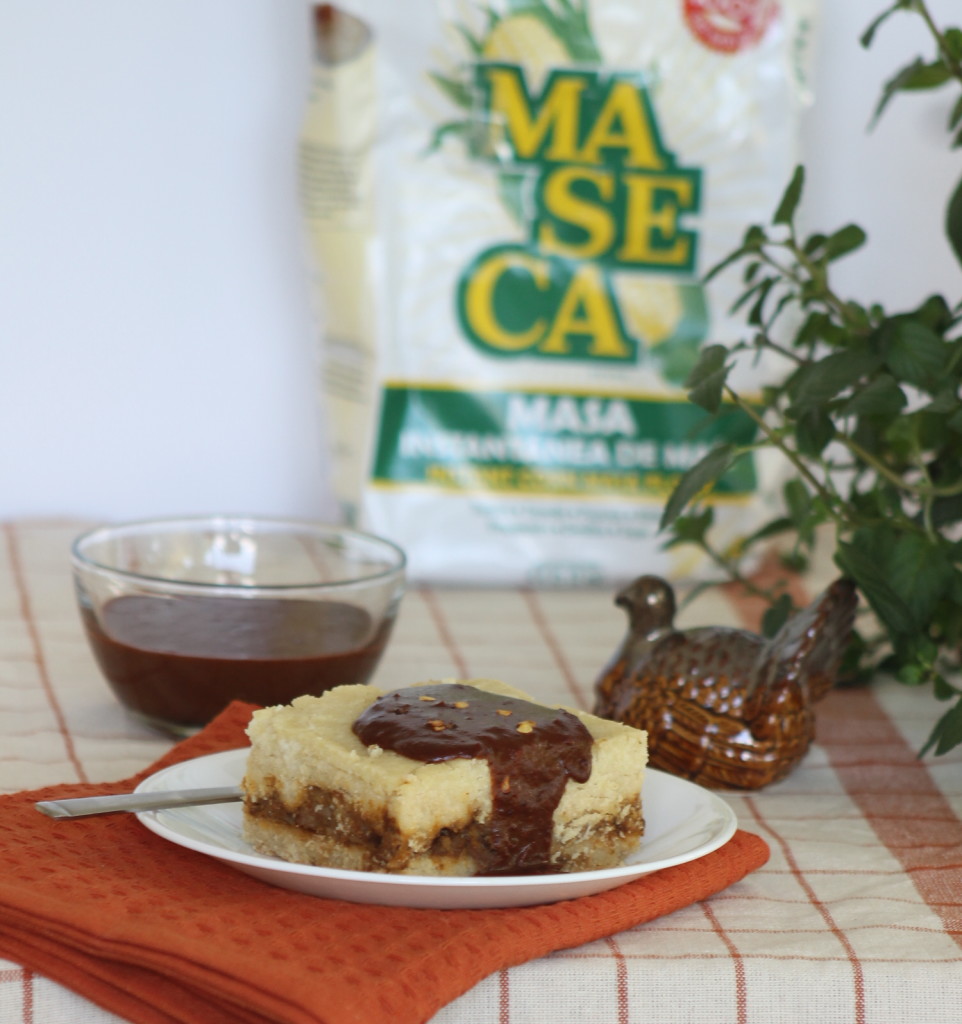 You can visit the Maseca website to find more great recipes and like Maseca on Facebook and follow@MiMasecaUSA on twitter to get the latest recipes and inspiration.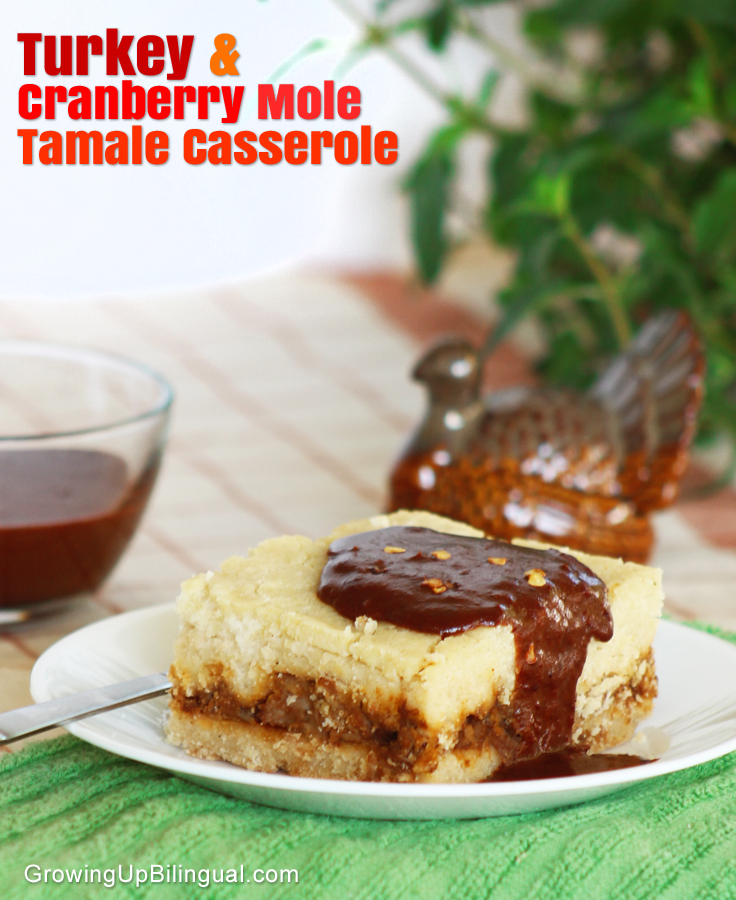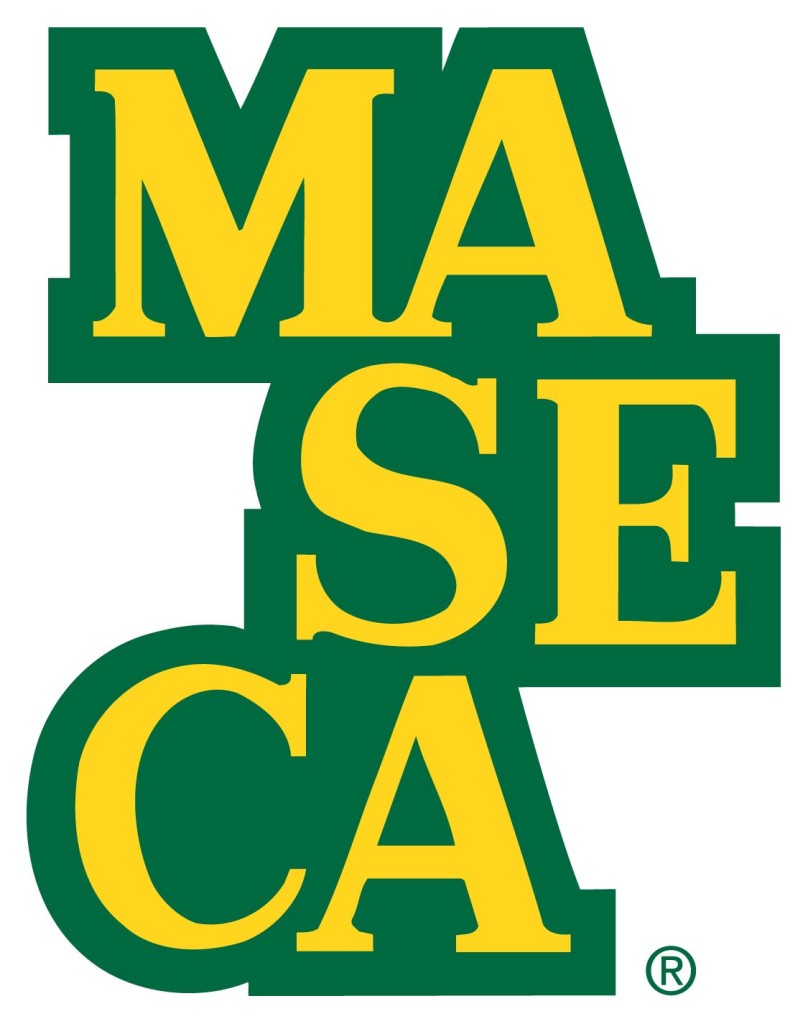 You can check out my other holiday recipes on my Pinterest board below. I'm sure you will find something you like!