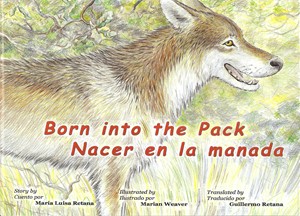 This is Maria Retana's second bilingual book on her series about Southwest nature and much like the first one (The Pig That is Not a Pig / El Cerdo Que No es Cerdo) it is an ideal book for beginning readers or anyone learning Spanish.
Born Into the Pack/ Nacer en la Manada takes you into the world of the Mexican grey wolf, but it is much more than an informational and interesting nature lesson, it is also a fun and engaging non-fictional story that describes the life of a family of Mexican grey wolves in the wild.  The text written both in English and in Spanish gives us a very rare glimpse of this specie's natural habitat and their life in the pack. The wonderfully detailed pen and ink illustrations by Marian Weaver make us feel as if we are right there in the Arizona desert, like a lizard on a rock, looking at the wolf pups play tug of war, learn to howl and go on their first hunting trip.
My children really enjoyed the way in which the author got them involved in the wolves' life and engaged in the story by asking questions and comparing them to the playful and mischievous wolf pups.  As a parent and a nature lover, I really value a book that is not only beautiful, fun, and bilingual but that also raises awareness and helps the reader understand an endangered species like the Mexican grey wolf. Anyone that steps into the world of this interesting and mysterious animal with certainly appreciate it's importance in the desert ecosystem's natural balance and will want to know more about it's history and the efforts being made to successfully introduce the species to the Southwest.
As an added bonus the author donates a considerable percentage from sales of the book to the 
MexicanWolves.org.
Disclosure
I  recieved a copy of Born Into the Pack free so I could read it with my children and review it.  My opinion is sincere and this post was not edited by a third party