If you are planning a long road trip or a short ride to the beach this summer and want to take your dog, this no-sew DIY dog car seat is for you. A doggie booster seat is a great way to keep your four-legged friend safe and secure and ensure you are not distracted from the road. And if you are like my family and me and love to take our pets everywhere we go, this no-sew DIY doggie booster seat will supply a comfortable place for them to ride along!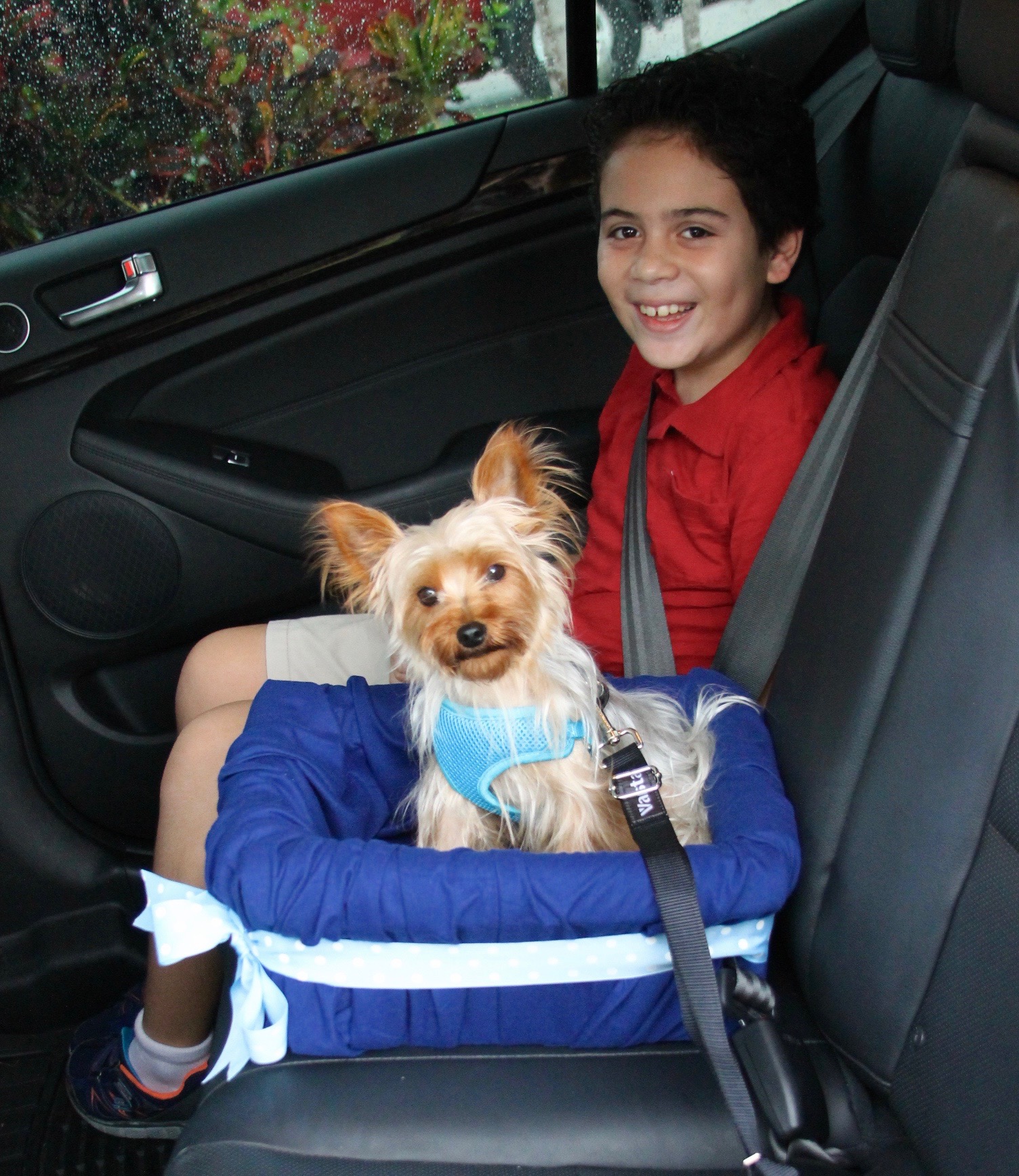 Go Anywhere with a No-Sew DIY Dog Car Seat
We've had many changes in the last few weeks, including moving in with my parents after hurricane Irene damaged our house. The changes have come with some challenges and many things we are thankful for. My kids are incredibly excited with the new family member we gained when we moved in with my parents: Mickey is a rambunctious Yorkie, and his energy is contagious.
We have been working hard on helping him socialize, so we try to take him everywhere we go. However, because he has a hard time staying still, even in the car, it was essential to making sure he was secure and safe while we were driving. So, I decided to create a no-sew DIY doggie car seat or booster seat that he can feel safe. It also gives him a good vantage point from where he can see the world outside.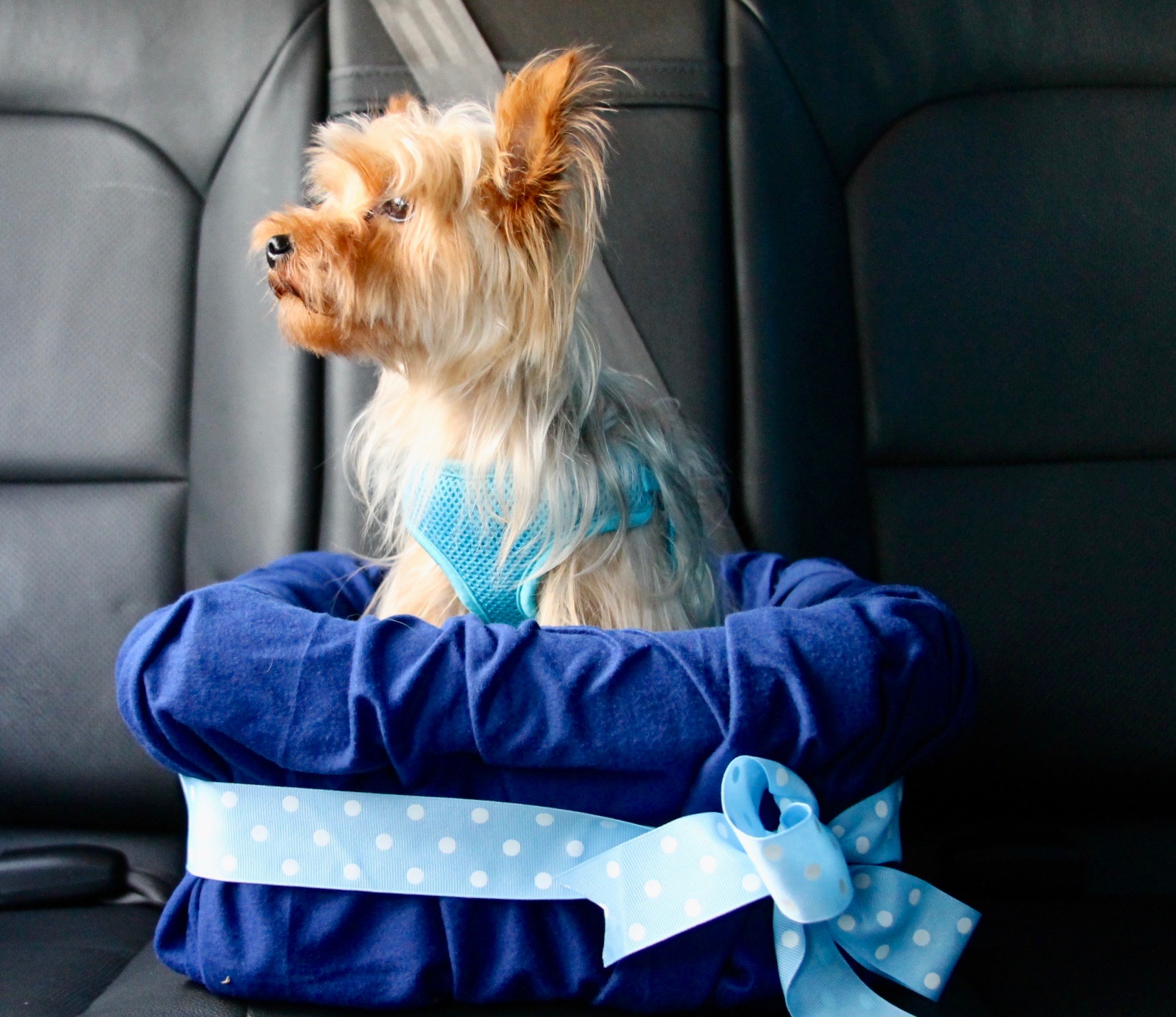 What Are Dog Booster Seats For?
A dog booster car seat provides your dog with a safe and secure place to sit while traveling in a car. It has multiple uses, like helping your puppy with motion sickness, avoiding ruined car interiors, and keeping your dog comfortable while taking a long road trip. And for small dogs like Mickey, let him look out the window!
Is a Dog Car Seat Necessary?
Yes! A booster dog seat and a harness will restrain your four-legged friend from roaming around the car, improving safety for you and your passengers. Furthermore, an unleashed dog is not safe, as it only takes one furry distraction to cause an accident. Therefore, it is best to teach your dog to stay in place while giving him a comforting bed to curl up and nap while reaching your destination.
Is It Illegal To Have a Dog in The Front Seat?
In most states, including Florida, there is no law against driving with a pet in the front seat with you, but you might get a ticket. And some states do require some type of restraint, regardless of where your dog is sitting. So, a puppy car seat is an excellent idea to avoid accidents, a fine for reckless driving, or having your best friend jumping out of the car.
Most small dogs like Mickey don't weigh enough to trigger the front passenger airbag sensor, so it is best if they ride in the back seat. And since Mickey can't even reach the window, I decided to build this no-sew DIY puppy car seat as a safety measure and a comfortable booster seat to bring him along with us everywhere we go.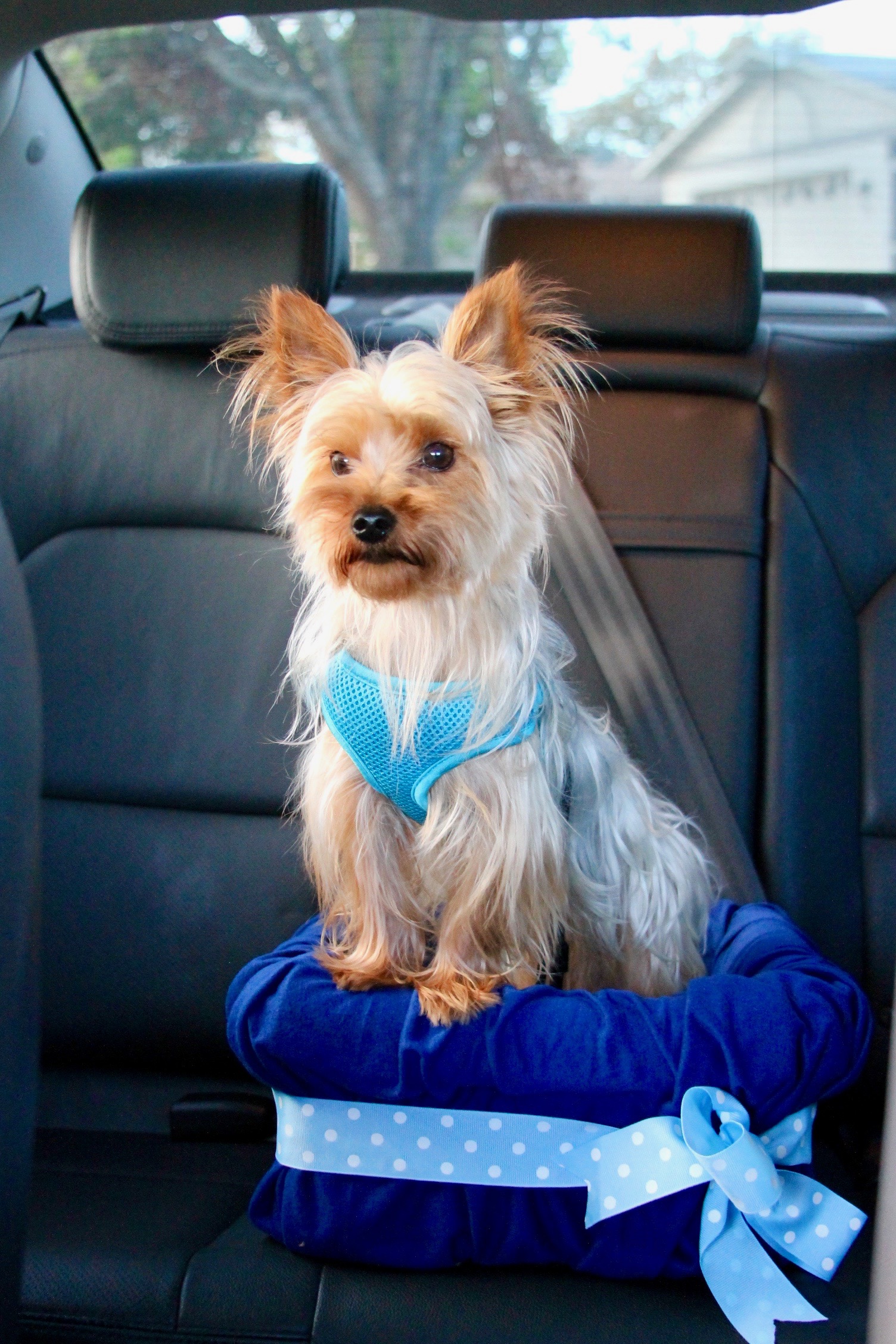 Tips For Making a DIY Dog Car Seat
Check For Supplies Before You Start:

Before you even plug in your glue gun, make sure you have all the right materials for the project. Sometimes you won't be able to drop everything and run to the nearest hardware store without messing with a design or a crucial step in a DIY process.

Have fun with fabric:

Making a doggie booster seat for your car should be a valuable DIY project and a fun one too. Choose a colorful material or one that has a dog-theme print or something stylish that goes well with your car and your personality!
Allocate a Personal Work Space:

It is best to designate an area as a workspace, like your garage or basement. Having extra space will allow you to work without limitations while keeping the area out of bounds from little idle hands or paws.

Not into DIYs?

Not everybody loves DIY projects or doesn't have the time to make a car seat from scratch. But don't worry, you can always buy a

booster seat online

.
How to Make a No-Sew DIY Dog Car Seat:
Materials For DIY Car Booster Seat For Your Dog
Foam
Plastic basket or bin
Hot glue gun and glue sticks
A large piece of soft fabric
Ribbon
Pet seat belt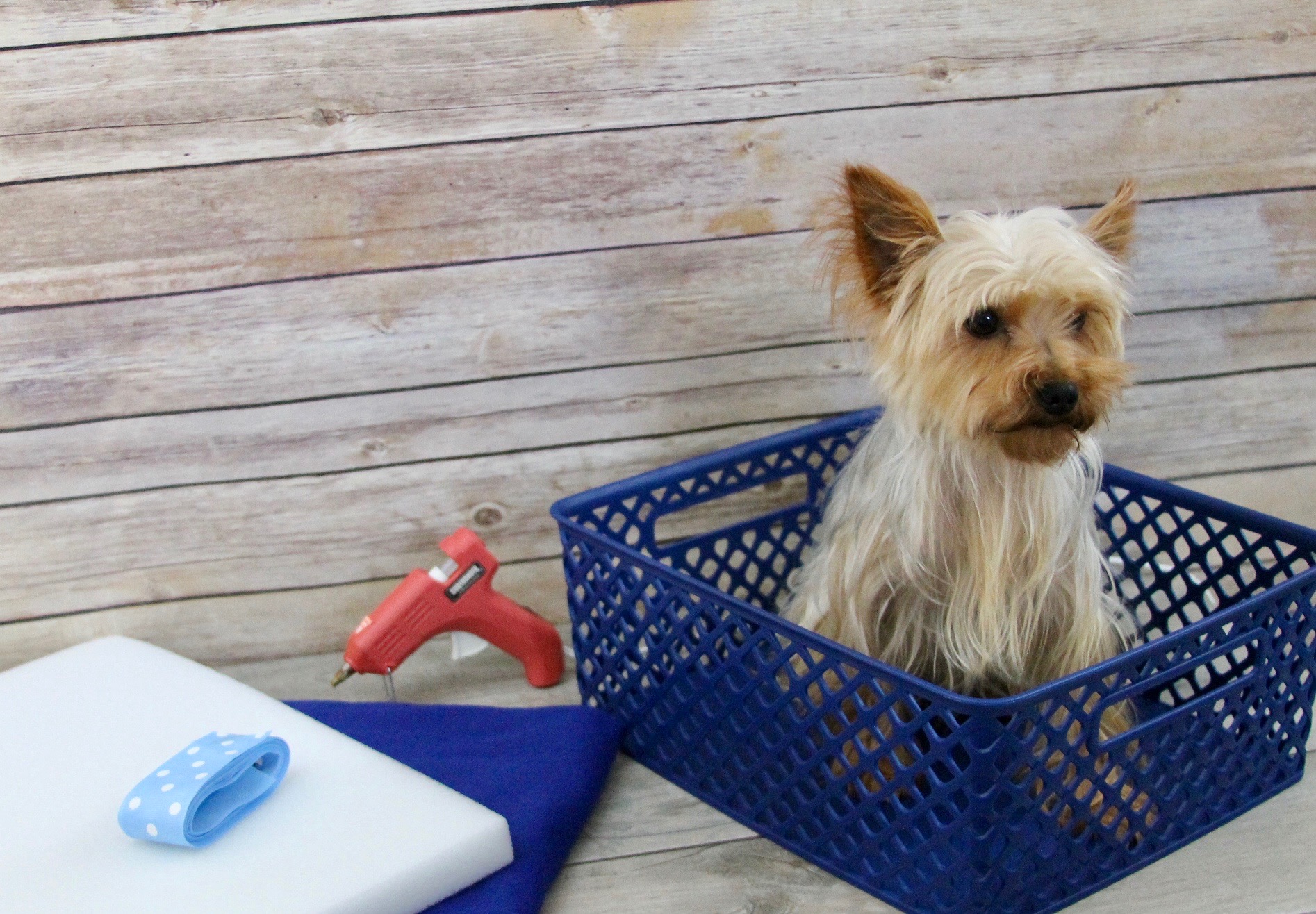 Directions For DIY Dog Car Seat For Your Dog
1. Cut a piece of foam the size of the bottom of the plastic basket or container.
2. Cut four long pieces of foam.
3. Glue the foam along the edges of the plastic container.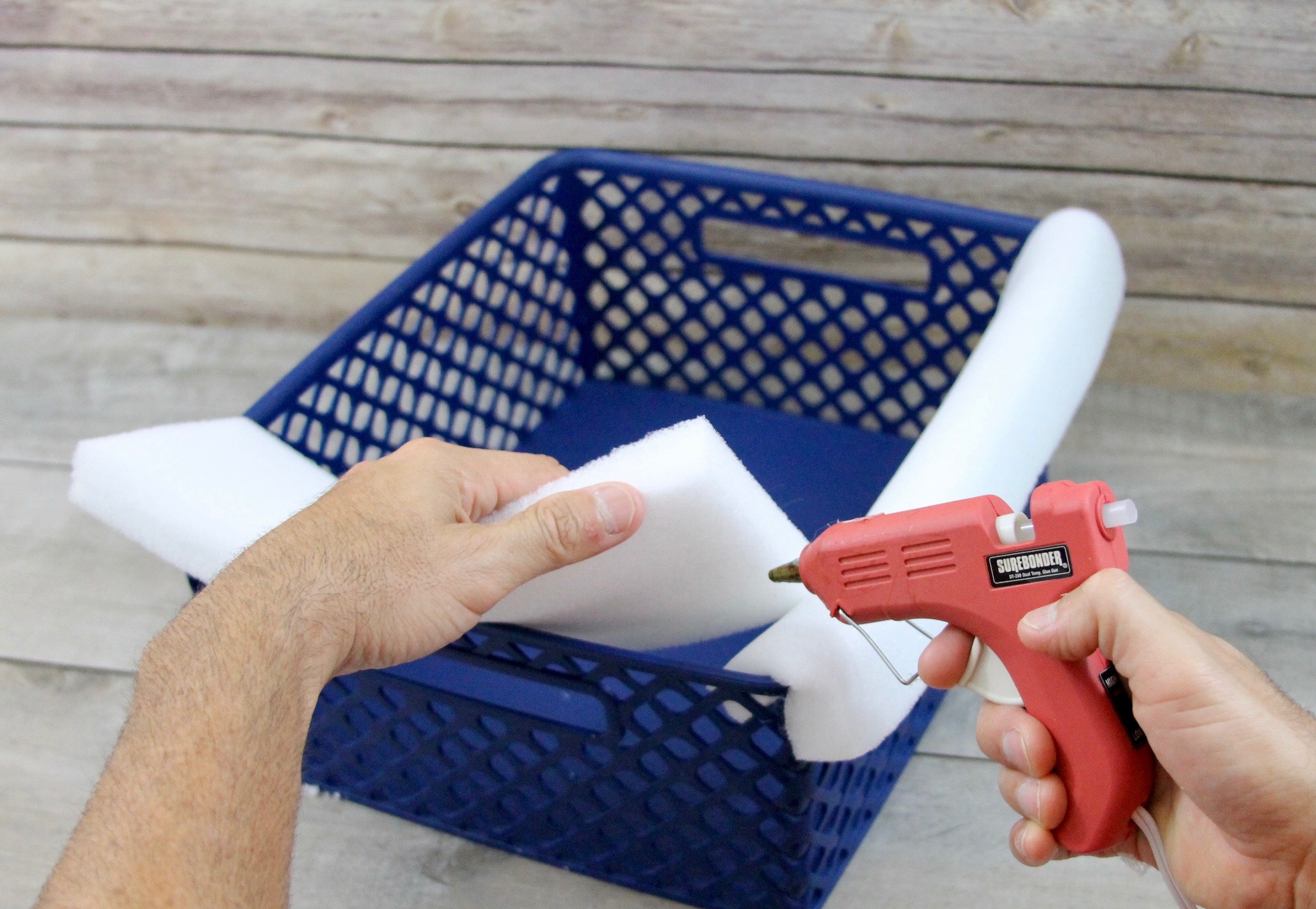 4. Make an extended cut on both sides of the container, large enough for the car seat buckle of your car to fit through.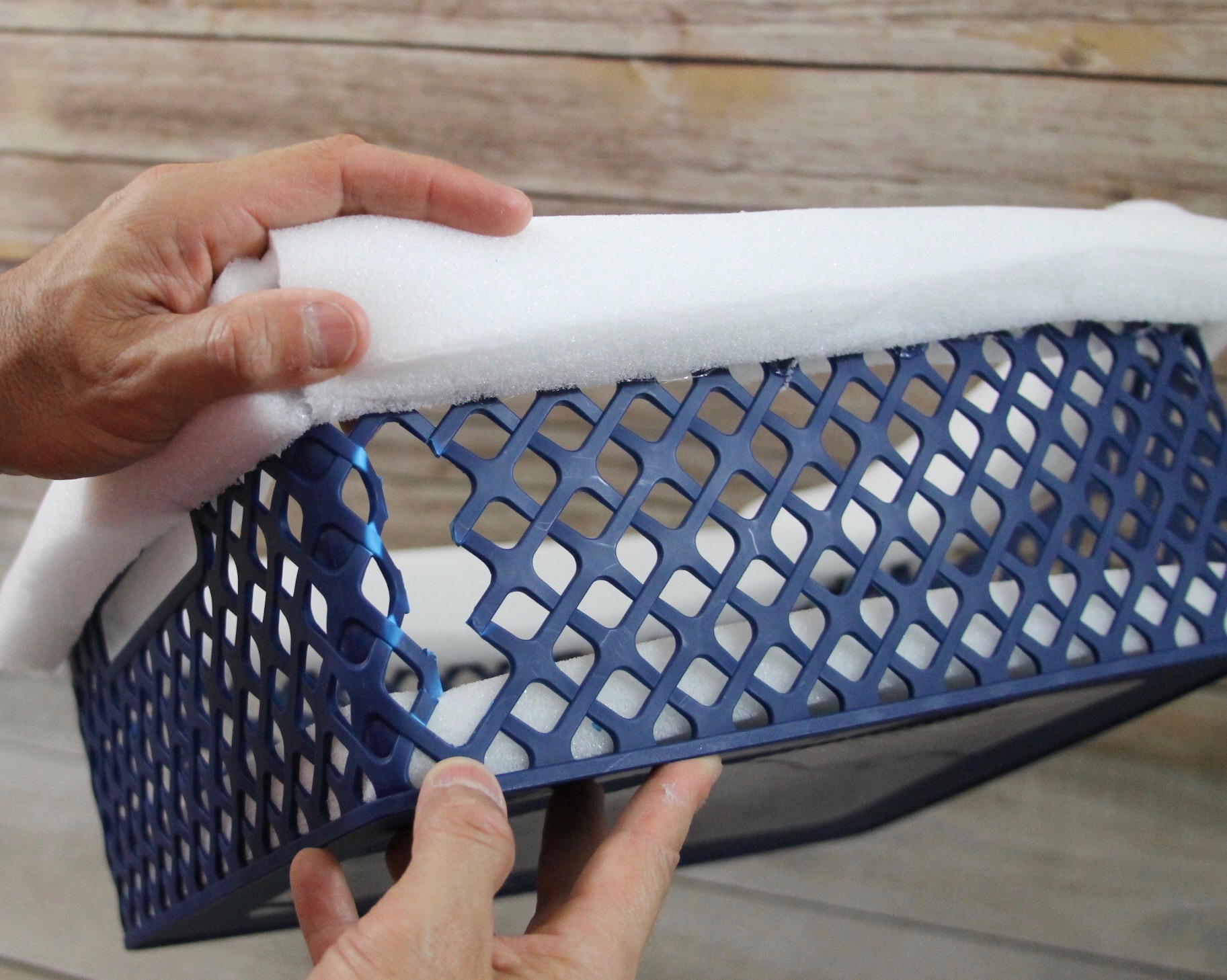 5. Cover the container loosely with a piece of fabric.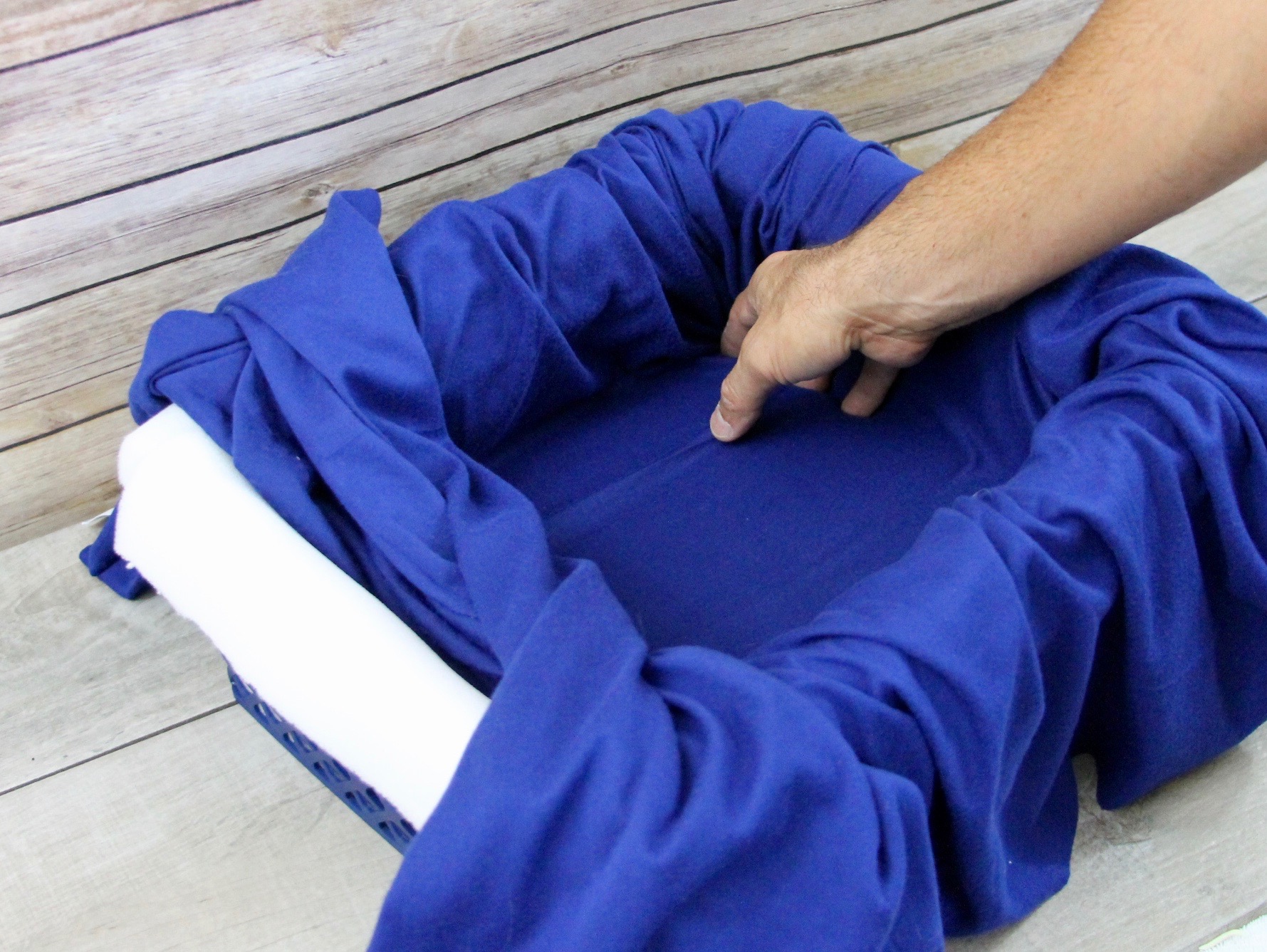 6. Secure the fabric with a ribbon. It will make it easy to remove the material for washing.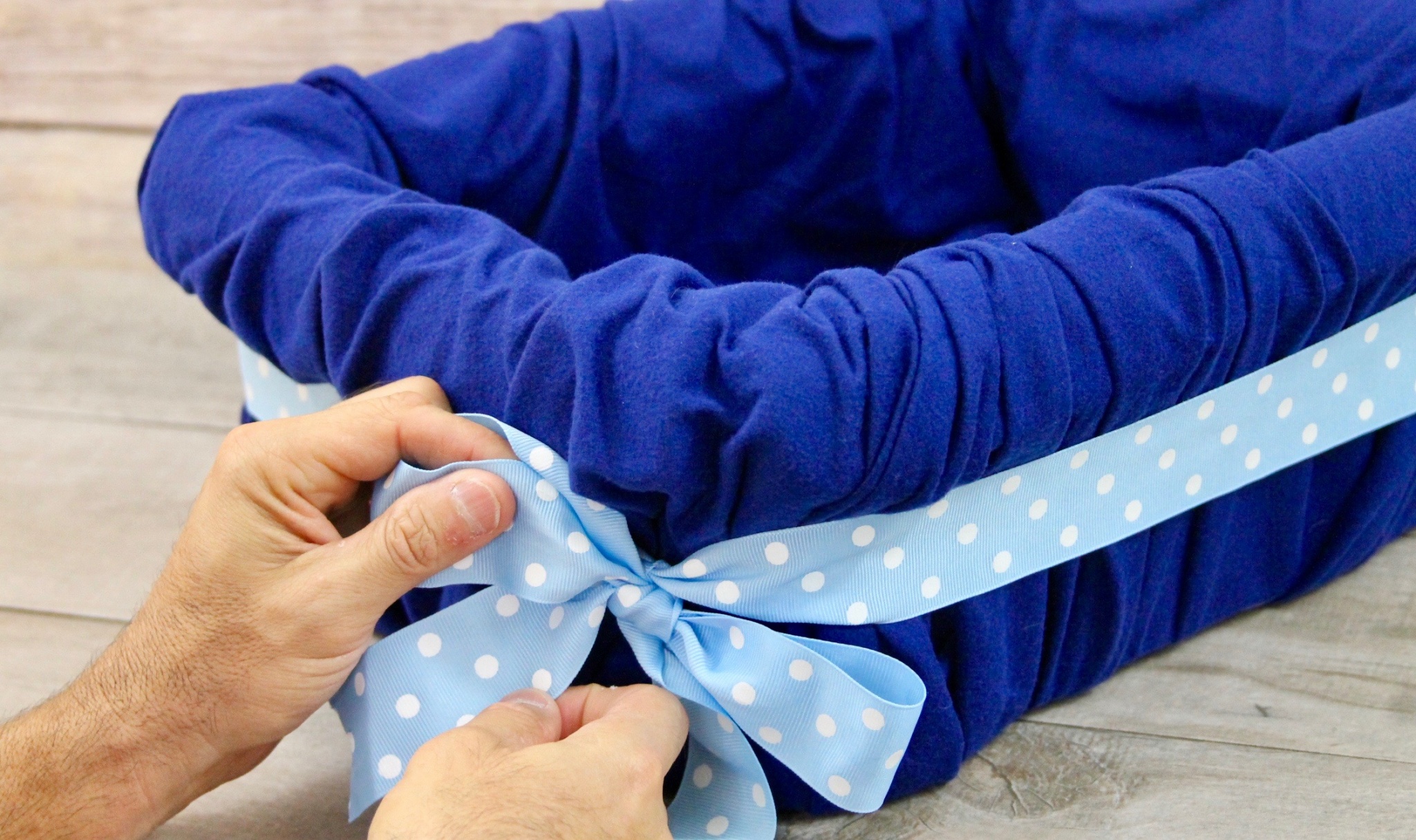 7. Cut slits in the fabric in the same place where you cut the slits on your plastic container for the car seat buckles to pass through.
8. Place the car seat or dog booster seat in the middle of the back seat.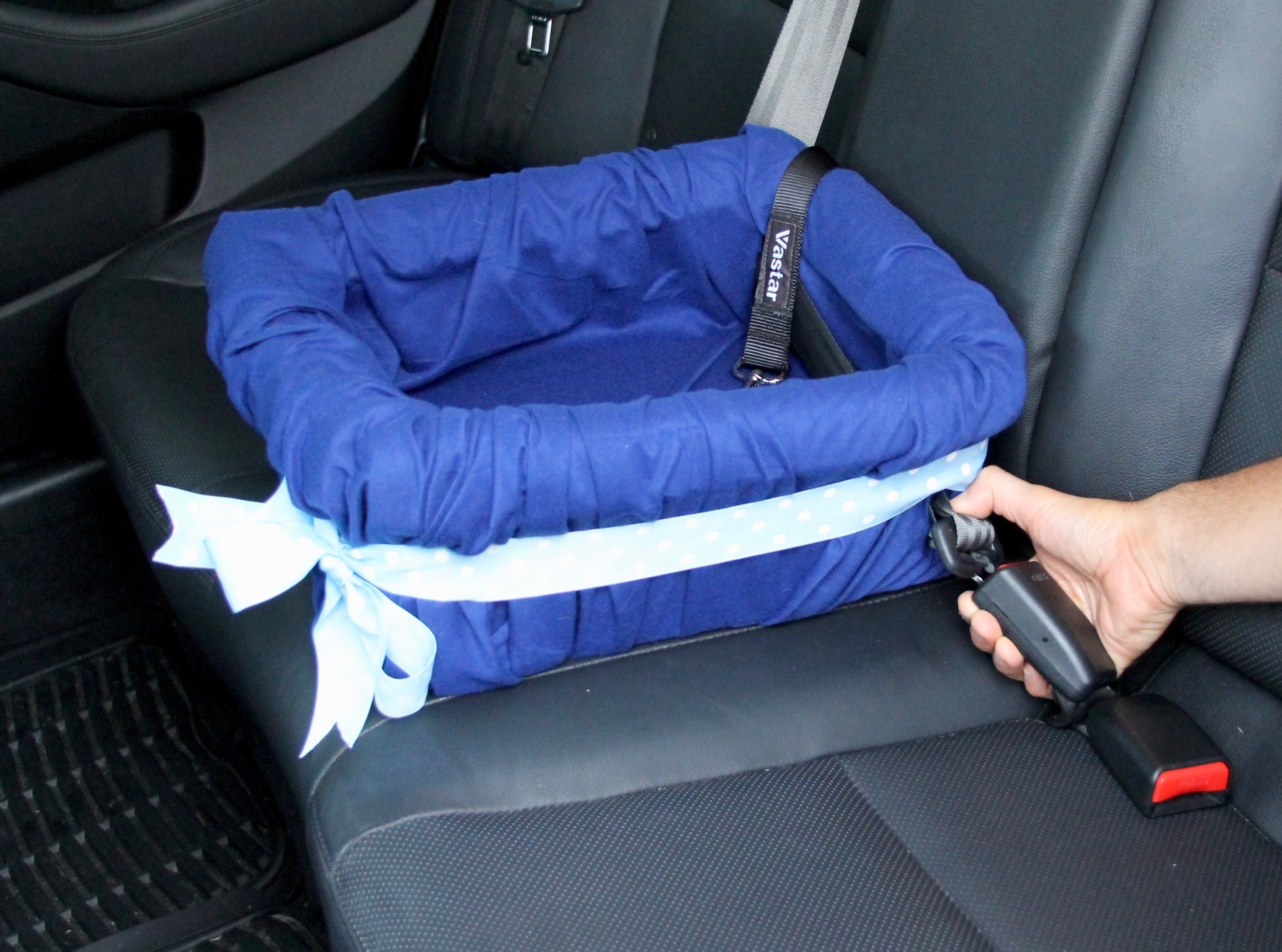 9. Pass the seat belt through both slits that you cut on the back of your car seat and buckle the seat belt. Now the car seat is secure.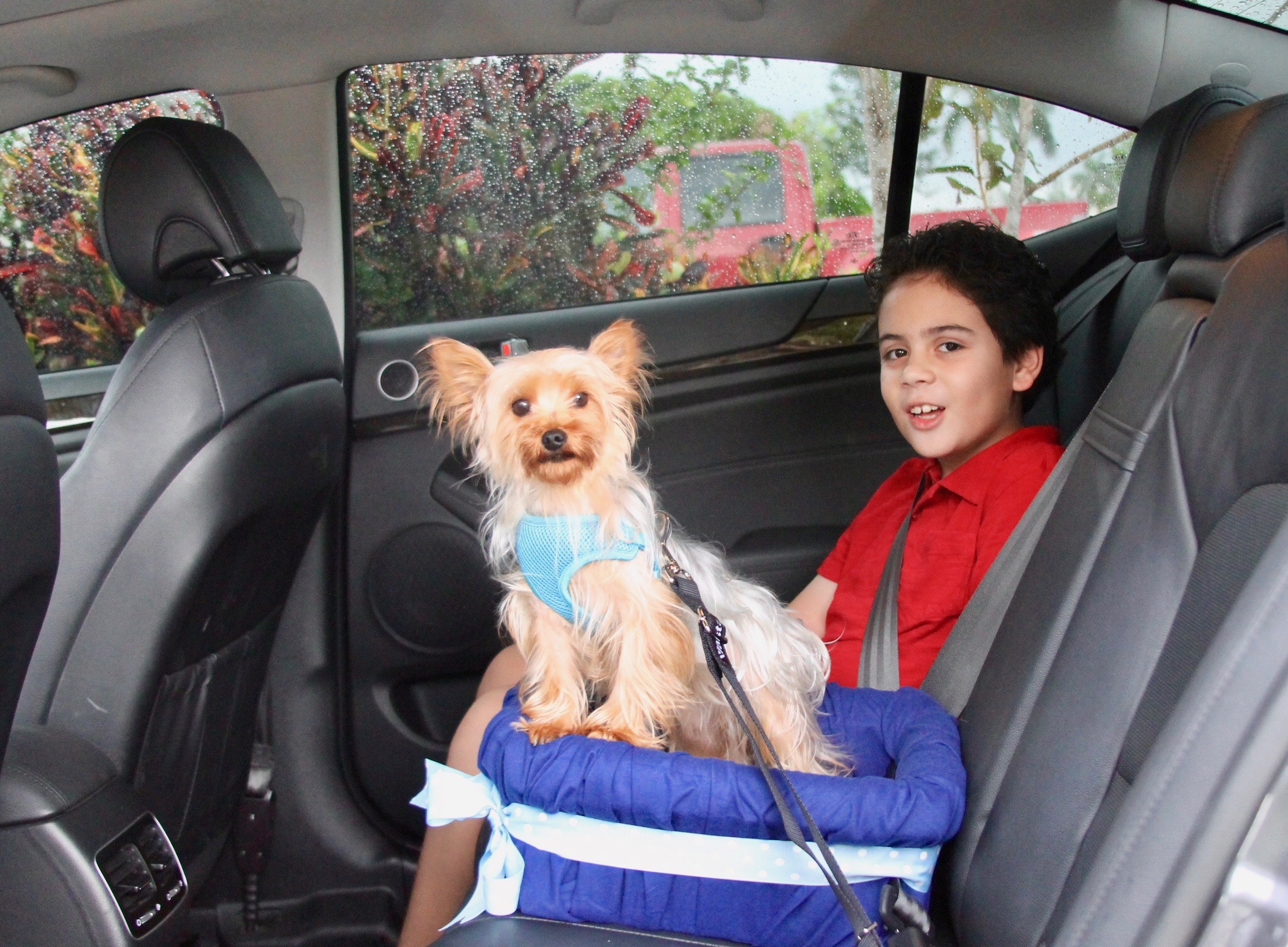 10. Make sure your dog is safe and secure using a dog seat belt or lead. This dog seat belt from amazon.com has a clip that attaches to your dog's harness on one side and a seatbelt clip that latches onto your car.
If you're looking for other DIY projects for your dog, be sure to check these out:
DIY Dog Toy with Recycled Materials

An easy DIY project for an eight-arm octopus tug toy made with old t-shirts for your furry friend. It is a great summer activity for kids as they can help make the toy and then have a lot of fun playing with it with your pup.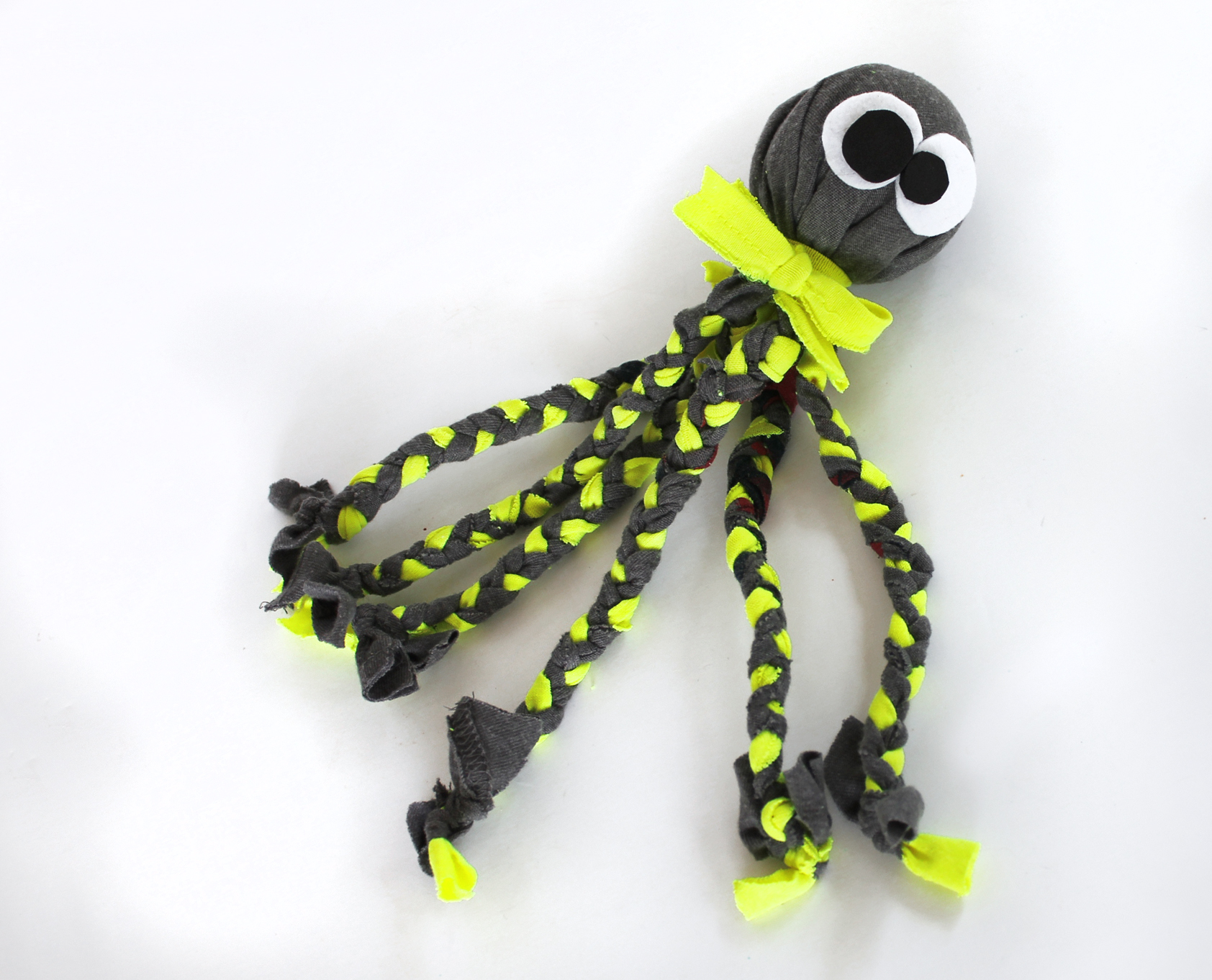 Easy DIY Dog Toy Made with a Sock

Your four-legged best friends deserve a special Halloween treat! So, surprise them with a dog toy using a Day of the Dead sock and a tennis ball and fill the BOO'ing bundle with their favorite treats. Of course, you can tweak this and use any fun and colorful sock.

Easy DIY Leash and Treat Holder Create a fun and easy DIY leash and treat holder in less than 15 minutes! Keep your pet's leash and favorite goodies in a new leash hanger with a cute treat basket, a perfect design to keep everything organized.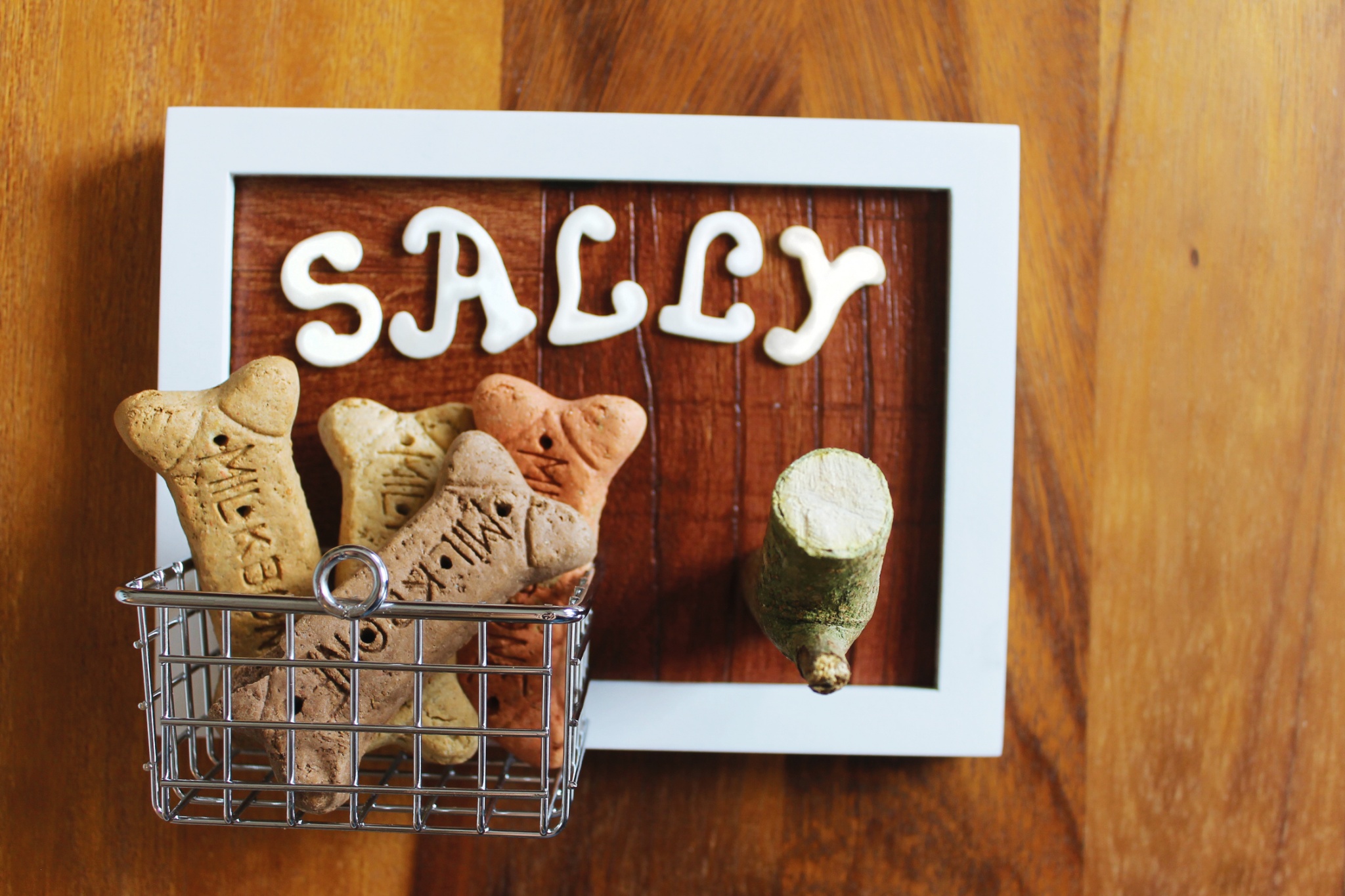 No-Sew DIY dog car seat is so easy to make. It's a great way to ensure your pup is safe and comfortable when riding in the car. This no-sew DIY dog car seat has been ideal for our frequent family road trips. If you are embarking on a road trip with your dog, I highly recommend this dog car seat! Keeping Mickey and my family safe in the car also means I need to make sure that the vehicle is in the best shape possible. So before heading out on an adventure, check these tips for preparing your car for a road trip with your dog.
Latest posts by Cesar Diaz
(see all)