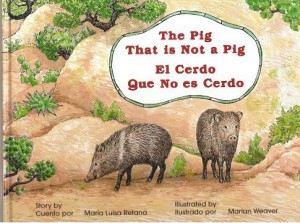 The Pig That is Not a Pig / El Cerdo Que No es Cerdo is a bilingual (English/Spanish) children's book written by Maria Luisa Retana that will appeal to a wide age-range.  Thought the eyes of a family of wild javelins children will get a glimpse of the Arizona desert habitat, learn about the javelinas and accompany them on a nighttime adventure into town. The book gives an accurate and thorough description of the javelinas and their life in the desert in a fun and engaging way, using simple words both in English and Spanish making this a great book for both beginning readers and older children or adults who are learning Spanish.
The intricate pen and ink illustrations by Marian Weaver cover every inch of the book and with each turn of the page you find yourself immersed in detailed southwestern desert sceneries.
I love that this book gives readers a lot of room for discovery and discussion.  My children where delighted to find the illustrations filled with all sorts of native desert inhabitants from quails to lizards. I really enjoyed the accurate and detailed depiction of the desert terrain and vegetation, especially since I am not familiar with it.  After we finished the book my kids wanted to know more about the desert and this lead us to look for some of the other animals online to learn more about them. Taking advantage of the javelina's nighttime visit to town we discussed how we should respect natural habitats and how we can share the land with animals like the javelina.
There are not many bilingual books in the market and this is a wonderful option because this book is a lot more than an interesting story told in two languages: it is also valuable tool for teaching children about the desert habitat and about the environment.
Disclosure
I  recieved a copy of The Pig That is Not a Pig free so I could read it with my children and review it.  My opinion is sincere and this post was not edited by a third party.