Thank you Idahoan® Mashed Potatoes for sponsoring this post. Idahoan® Mashed Potatoes are real potatoes, real easy, delivering homemade taste on demand.
This easy weekday dinner menu is something you can have ready quickly and that all the family is sure to love.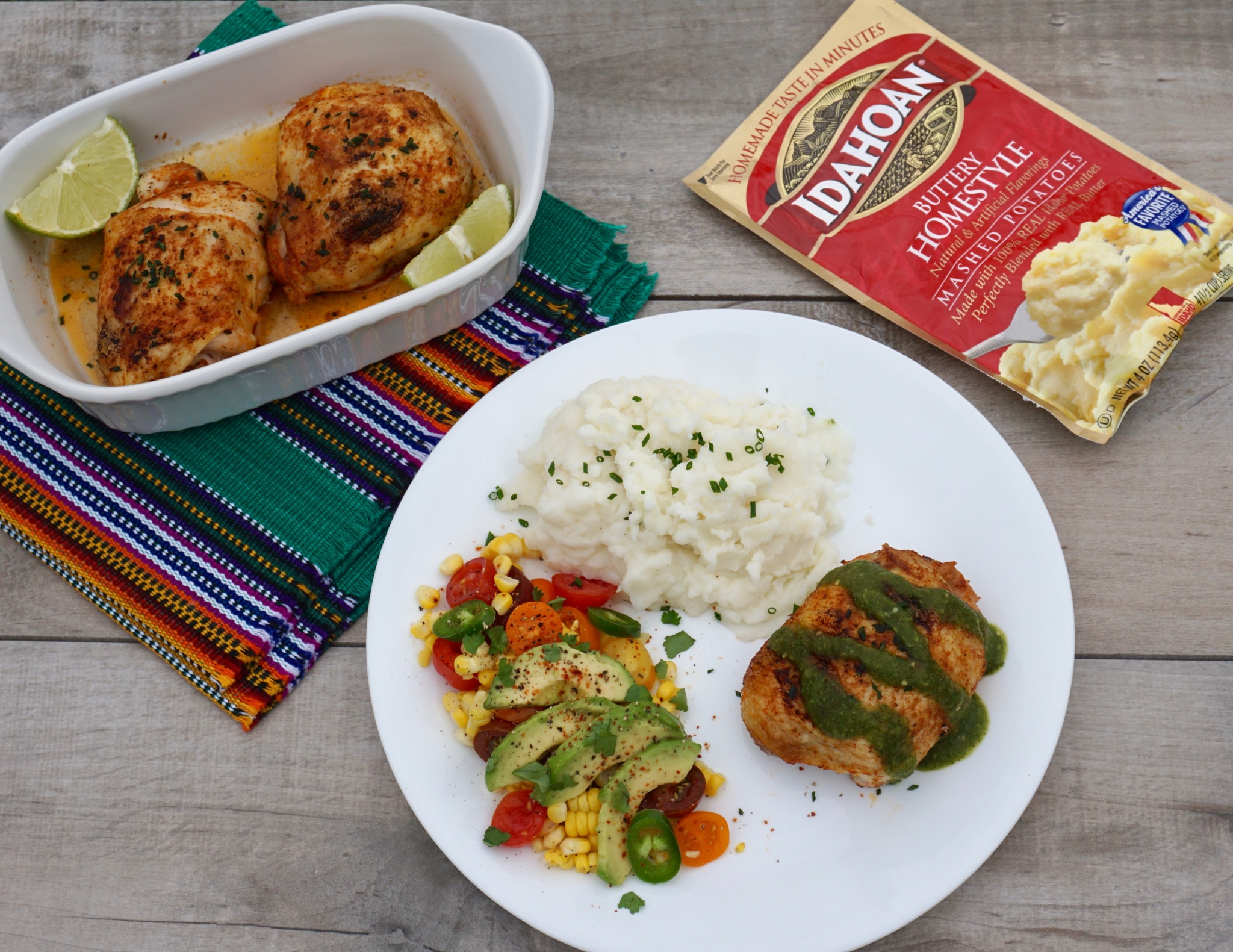 Sometimes there's just no time to make dinner from scratch. Let's be honest, that's probably the case on most nights. I still love putting a home cooked meal on the table for my family so I turn to easy solutions and recipes. One of my family's favorites is Idahoan® Mashed Potatoes. Making them could not be easier, they're ready in a matter of minutes and they taste amazing. I've tried other brands and I keep coming back to Idahoan® Mashed Potatoes because they are made from 100% real Idaho® potatoes and they have the best flavor and texture; no wonder they are "America's Favorite Mashed Potatoes."
A few nights ago I made Mexican roasted chicken, a corn and avocado salad and the Homestyle Idohoan® Mashed Potatoes were the perfect match! The chicken is easy to make and just takes about 30 minutes to cook in the oven while the salad can be put together in minutes. Idahoan® Mashed Potatoes are the perfect solution for a delicious side dish; they're real potatoes real easy!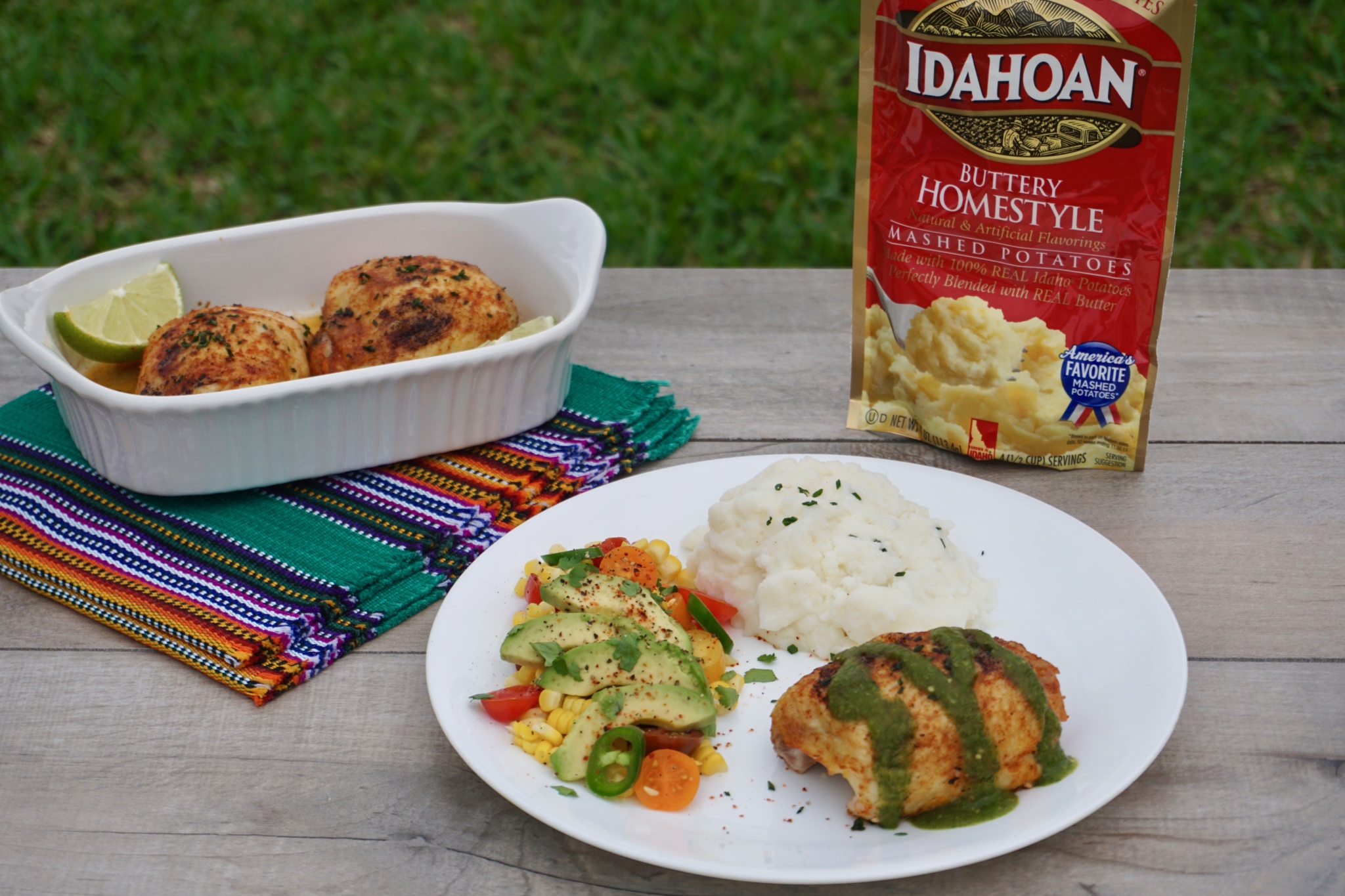 The Importance of Family Dinners
Being able to get dinner on the table quickly and without a hassle leaves more time for me to spend with my kids enjoying the food and each other's company. With work, school and after-school activities dinnertime is a time we all cherish because we finally get to pause and spend time with each other. Dinner is a time for sharing about our day, reconnecting and bonding.
Sitting down to eat dinner as a family is a priority for us. Growing up I remember dinnertime as my favorite time of the day. It was the time when I felt closest to my parents because I got to share with them those things that were important to me. Now that I have kids I notice that dinnertime is when I get to hear all about their day. What they like about school and what they're struggling with; who their favorite teacher is and who their friends are. Dinner time is when we talk about vacation plans and when we dream about the future together.
Eating dinner together also lets me make sure the kids are eating balanced meals and getting the nutrients they need. My kids are growing up fast and soon they will both be teenagers and soon after that they'll be off to college and I know that family dinners will always be something we all cherish.
Now for that easy Mexican roasted chicken recipe!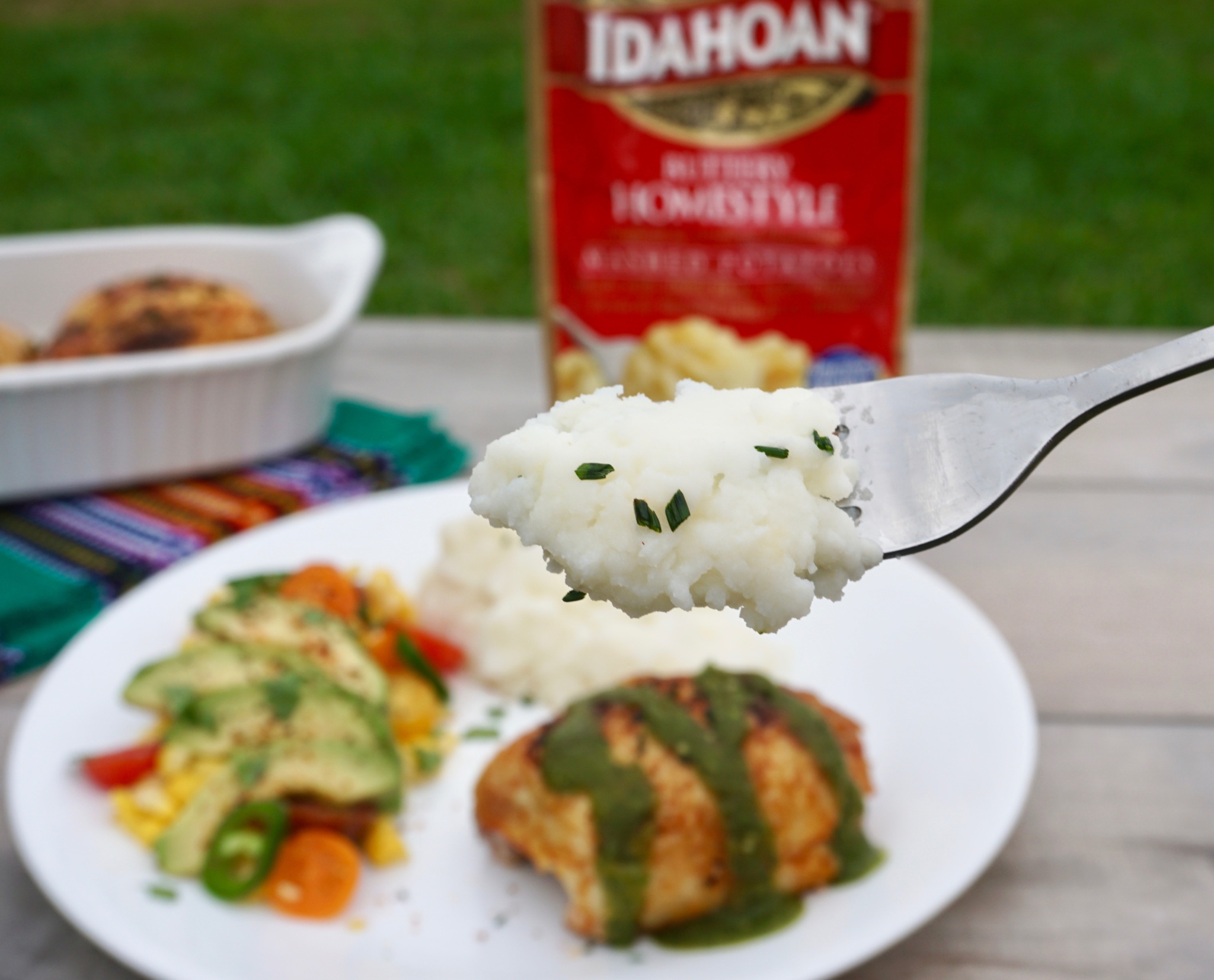 Mexican Roasted Chicken With Cilantro-Tomatillo Sauce 
Ingredients for the roasted chicken
8 chicken thighs
1 tablespoon of olive oil
2 tablespoons of lime juice
1 tablespoon of chipotle adobo sauce
salt and pepper
Ingredients for the green cilantro-tomatillo sauce
2 cups store-bought green salsa (mild)
1 bunch of cilantro
2 tablespoon of lime juice
salt and pepper to taste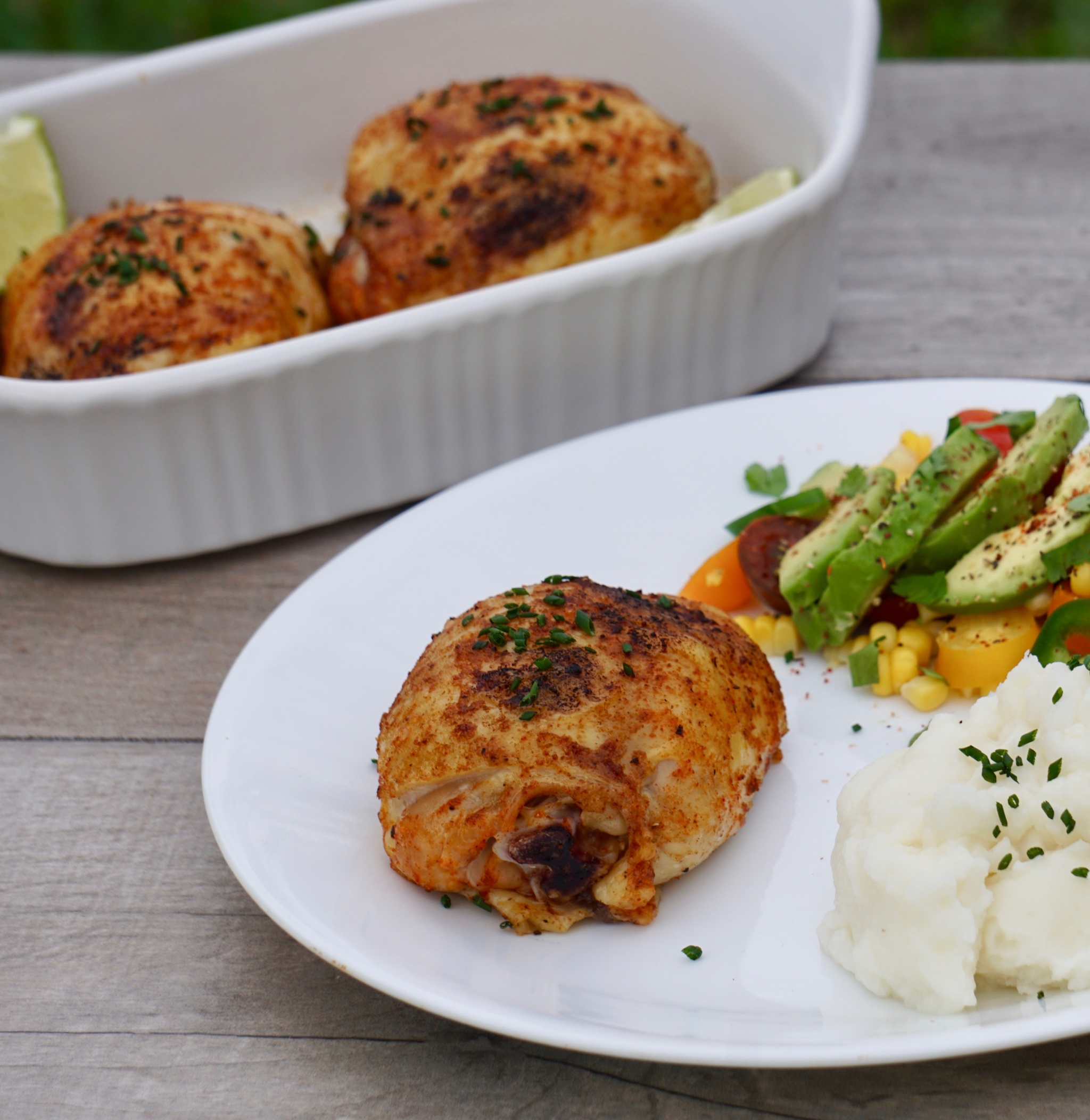 Instructions
In a bowl, toss chicken with oil, lime juice and chipotle.
Season with salt, pepper and marinate at least for an hour.
Preheat oven to 375 degrees.
Place chicken skin-side down in a lightly greased roasting pan or pyrex.
Cook for 20 minutes. Flip and roast for 10 more minutes.
If you like your chicken crispy and browned broil for an additional 2-5 minutes or until skin is golden and crispy.
While the chicken is in the oven combine all of the ingredients for the cilantro-tomatillo sauce in the blender. Blend until smooth.
Serve chicken drizzled with tomatillo sauce.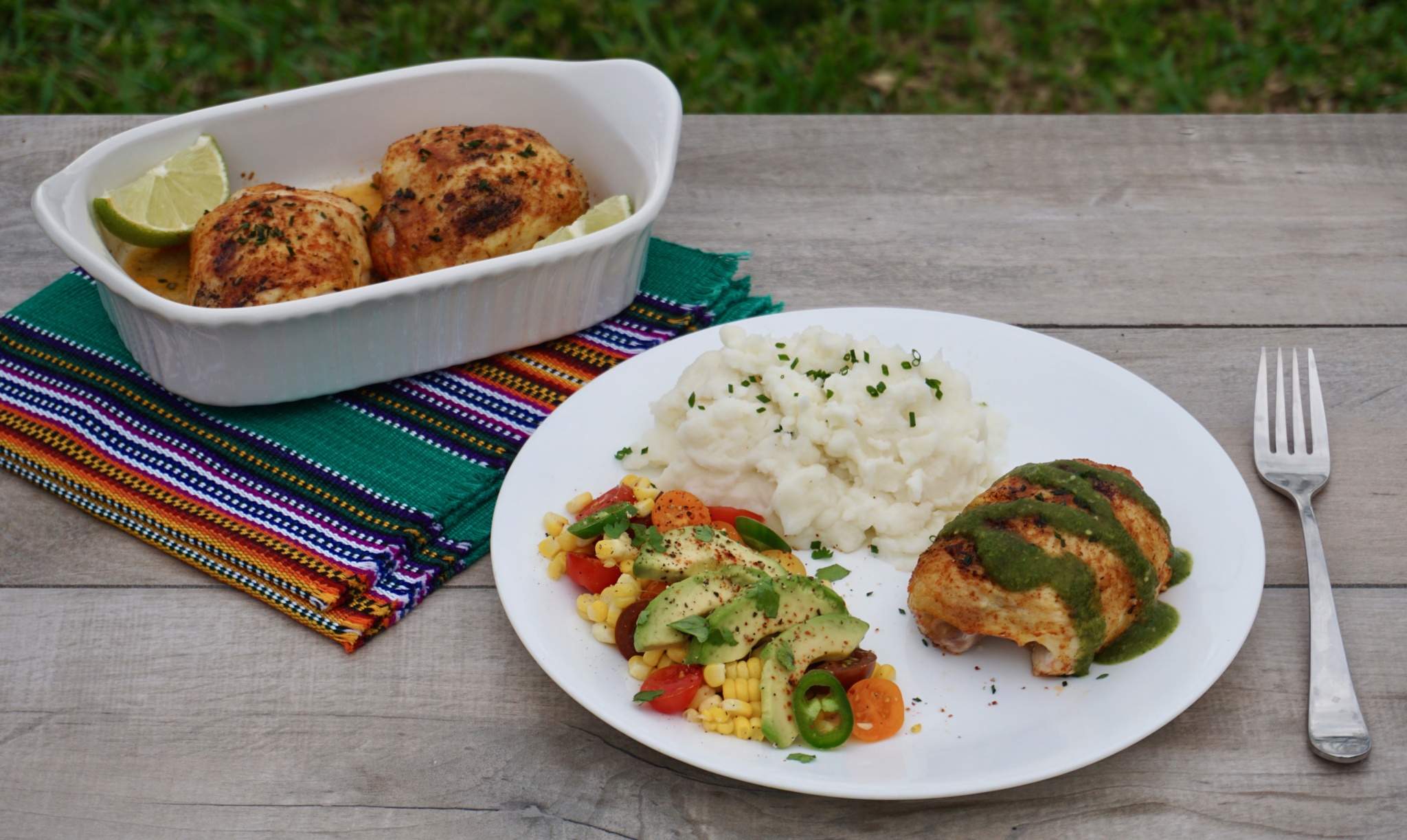 When I go grocery shopping I always stock up on a variety of Idahoan® Mashed Potatoes from Buttery Homestyle®, Butter and Herb, Bacon & Cheddar Chipotle, Roasted Garlic, Four Cheese, and Buttery Golden Selects. Each delicious flavors is perfectly blended with real cheeses and authentic seasonings. There's always a flavor that combines perfectly with whatever I'm whipping up for dinner.