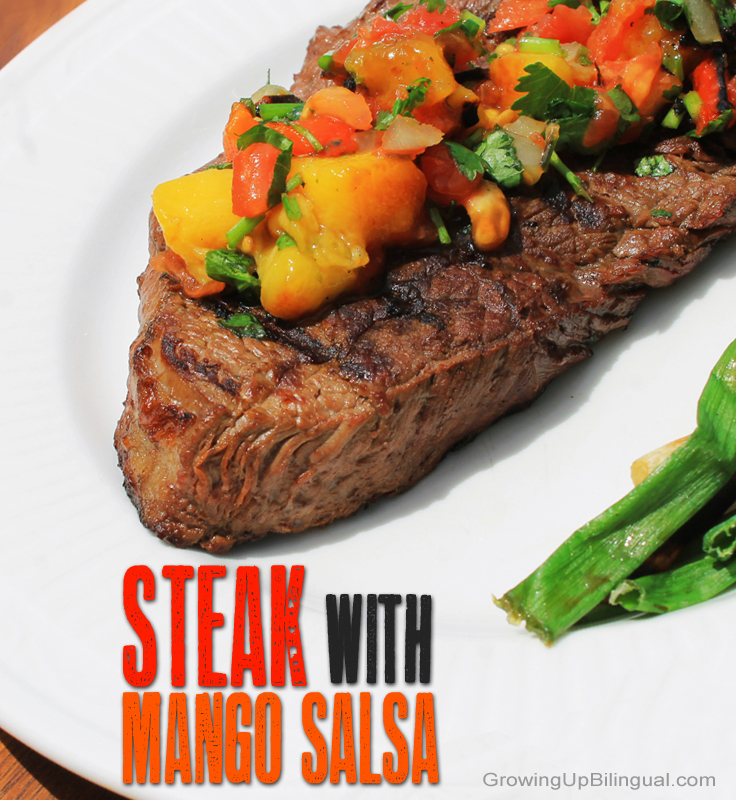 Some of my fondest memories growing up where the family reunions and celebrations. Like a lot of Latino families my family expressed their love with food. My parents are always throwing churrascos or BBQ parties where we eat grilled steak, chorizos, chicken, ribs etc. accompanied by big stacks of tortillas, grilled corn loaded with butter, Mexican crema and queso and loaded baked potatoes.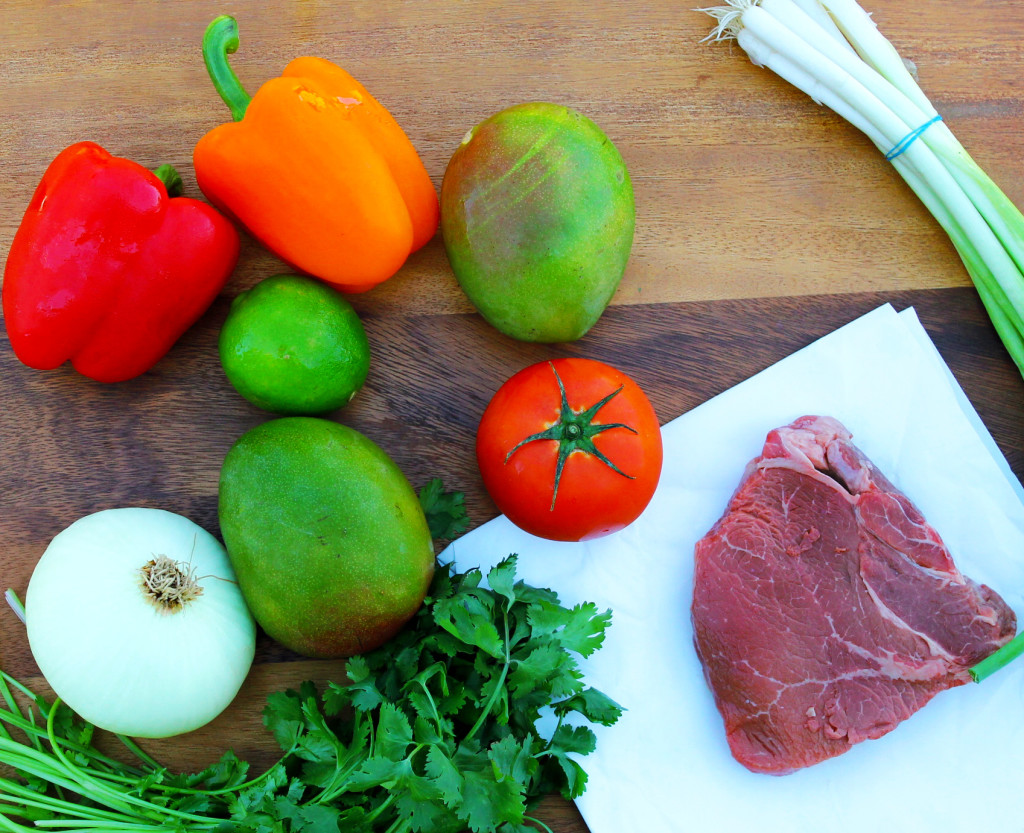 I love food but work hard to stay away from food that has too many calories, carbs and fat.  I am very strict about what I eat but for years it was really hard to say no to my mom and my aunt's elotes (corn on the cob)  and papas cocidas (baked potatoes) without hurting their feelings.  Over the years I have learned to find a happy medium between my healthy eating habits and our family get togethers.  Instead of bringing my own food in a tupperware (which I used to do) I come up with healthier options that I share with everyone and although my mom is not giving up her elotes and tortillas quite yet everyone enjoys the healthier foods and I don't get as many people offended when I turned down that loaded baked potato.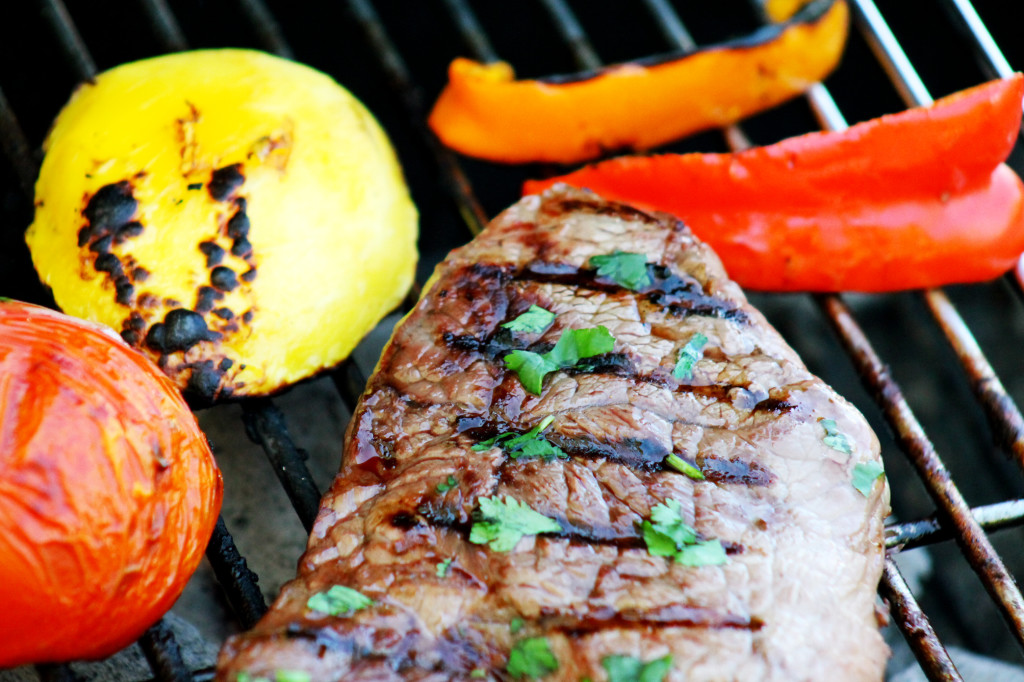 The first thing you can do is look for the leanest cuts of beef.  If you are looking for the leanest cuts you should opt for those with the word loin or round in the name, like sirloin and eye of round. Trimming excess fat before cooking reduces fat up to 50 percent and added fat can be kept to a minimum by using low-fat cooking methods like grilling.
Second instead of bread, tortillas, elotes (corn)  or potatoes opt for grilled vegetables, some of my favorites include grilled green onions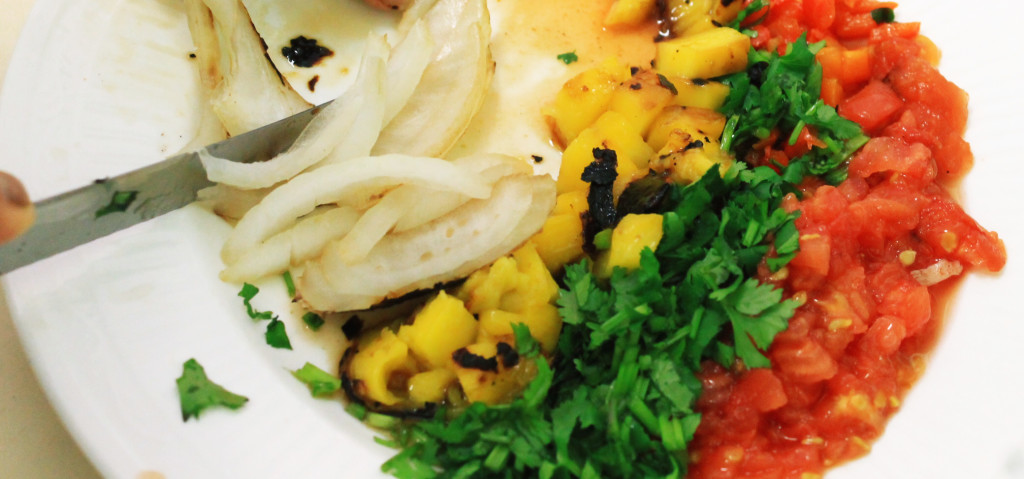 Third find ways to bring more taste without adding calories or fat. I love fresh made salsa and I add a little extra flavor by getting creative and finding ways to add variety.
On our last family parrillada I grilled some sirloin tip steaks accompanied by mango salsa. With less than 200 calories per 3.5onz serving the sirloin tip steaks accompanied by mango salsa makes for a filling meal that is very low on calories and high on protein and taste.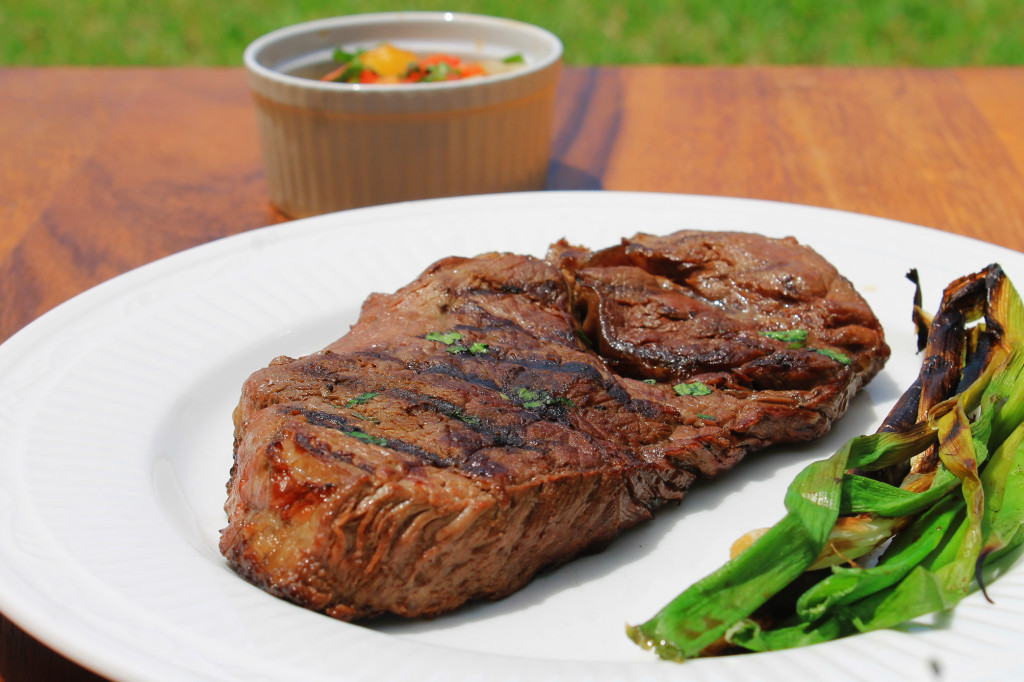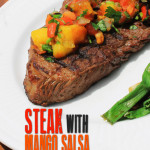 Grilled Tip Sirloin Steak with Mango Salsa
Ingredients
2

lbs

tip sirloin steaks

2

mangos cut in half

1/2

white onion

2 to

matoes cut in half

1/2

red pepper

seeds removed

1/2

orange pepper

seeds removed

1 1/2

tablespoon

of fresh lime juice

1/2

teaspoon

of apple cider vinegar

¼

cup

chopped cilantro

1/2

tablespoon

of salt

feel free to add more if necessary

1/2

teaspoon

of pepper
Instructions
Prepare a grill for direct-heat cooking over hot charcoal (high heat for gas).

Pat steaks dry and season with salt and pepper to taste

Oil grill rack and place steaks, mango onion and tomatoes on the grill.

Turn steaks occasionally, 6 to 8 minutes total for medium-rare.

Grill vegetables and mango for only a couple of minutes.

Remove vegetables and mango from grill and dice.

In a bowl combine the mango, tomatoes, onion, red and orange peppers.

Stir in the lime juice, vinegar, and cilantro.

Fold together until well combined.

Season salsa with salt and pepper.

Serve at room temperature and enjoy!
Latest posts by Cesar Diaz
(see all)