This post is sponsored by Coleman Natural.
​​This keto-friendly recipe for Hot Dog and Egg Tacos is easy to make and the perfect breakfast, brunch, or breakfast for dinner recipe. Made using low-carb tortillas, Coleman Natural Hot Dogs and a fried egg topped with avocado and freshly made salsa, these keto-friendly breakfast tacos are one of those recipes you're sure to come back to again and again.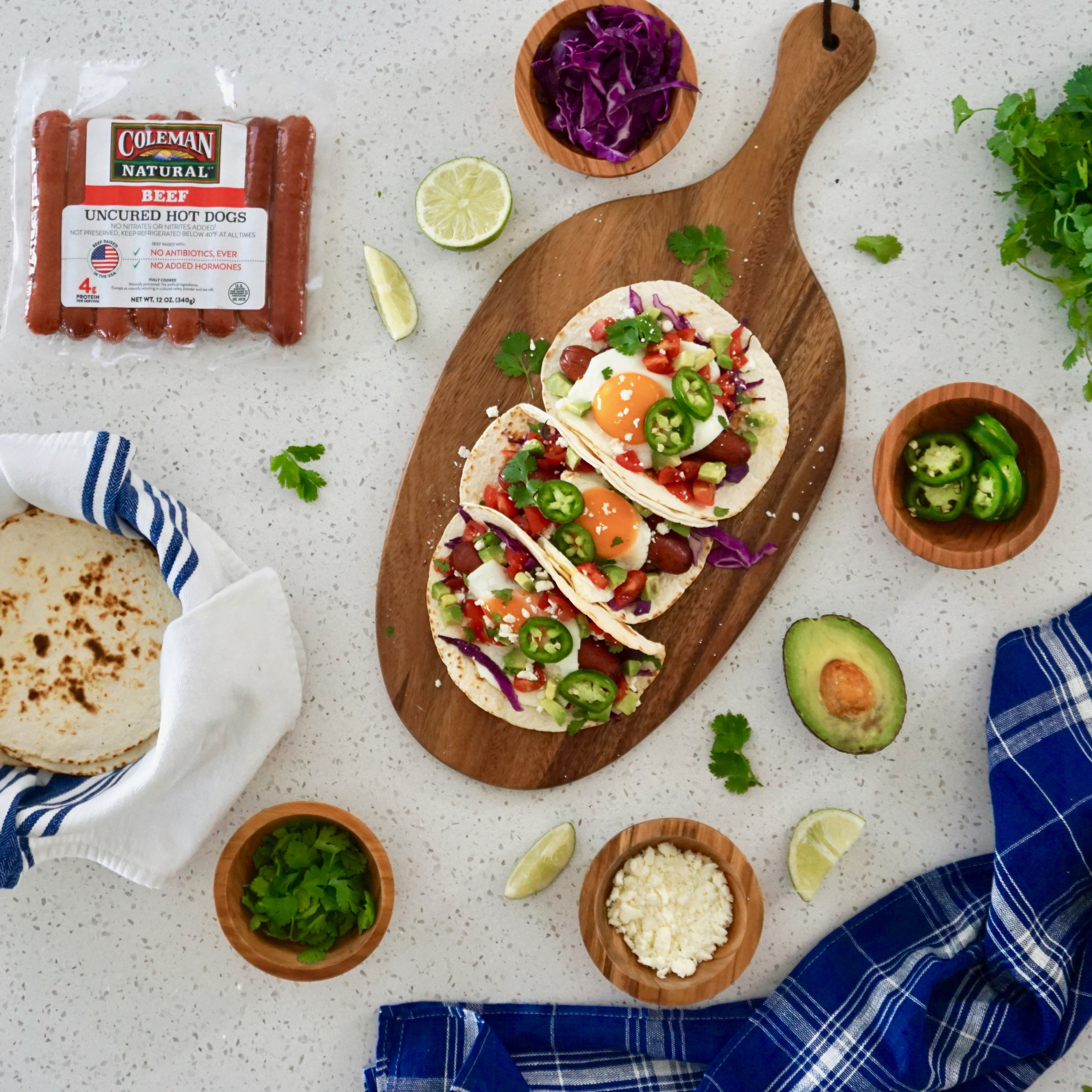 Sometimes I really get tired of eating the same things for dinner, and I thought it would be fun to try something new. I am always looking for easy, keto-friendly recipes that are low in carbs and high in protein. Plus, I love recipes that are easy to prepare, nutritious, and taste amazing, like these Cuban Picadillo stuffed peppers!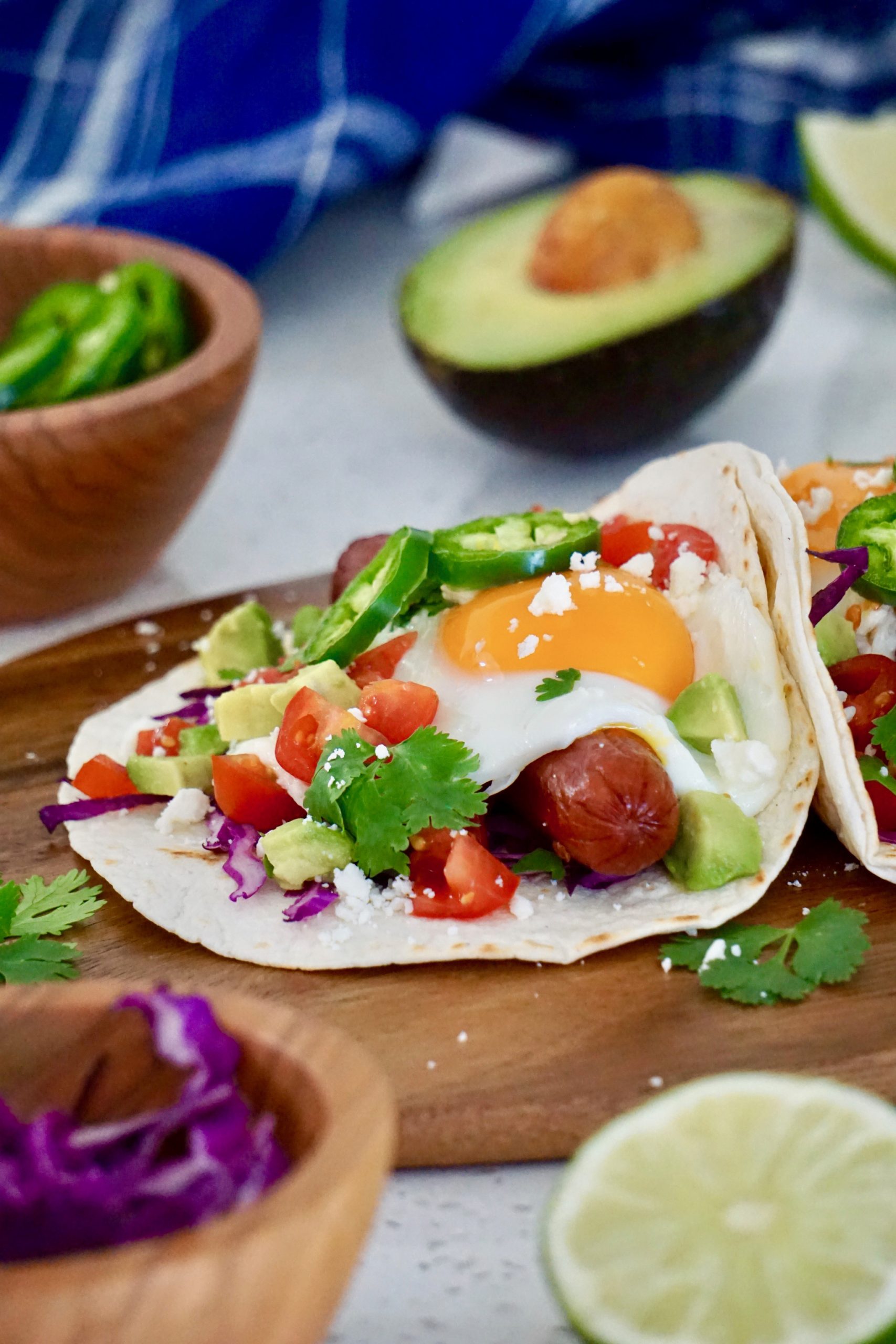 At home, we all love hot dogs but this time I wanted to do something a bit different. I wanted to get creative and think outside the bun. For this recipe, I took inspiration from the Guatemalan "mixtas" which are very similar to a hot dog but instead of a hot dog bun they are made with corn tortillas.
For my version of these Hot Dog and Egg Tacos I used a low-carb wheat tortilla instead of the corn tortilla, and instead of using guacamole, I topped them with fresh avocado and homemade salsa. I treated these more like a taco than a traditional hot dog.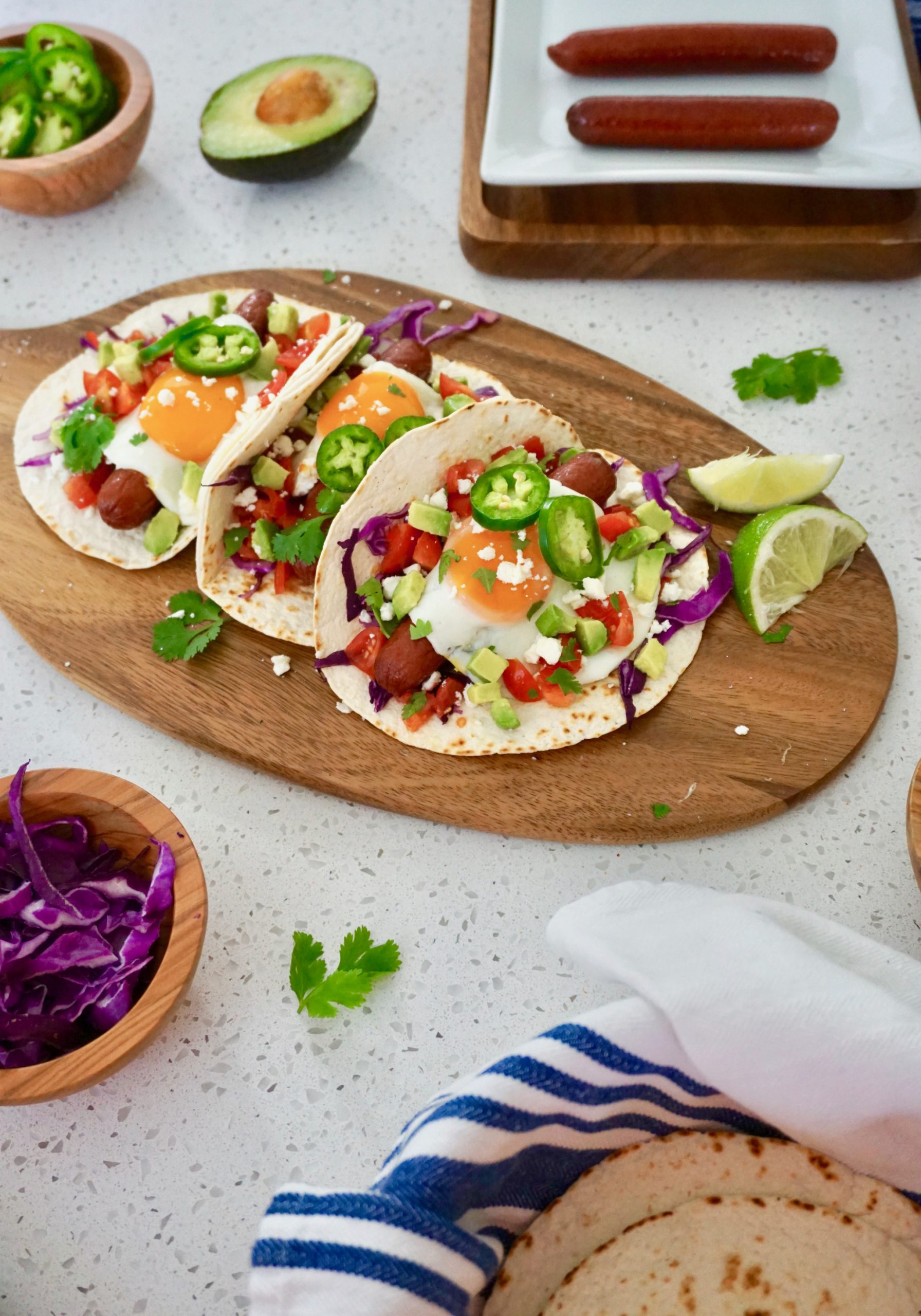 I really like that this recipe comes together in no time and it's also kid-friendly. If you want to save even more time, you can use store-bought salsa, as this will save you some time and effort.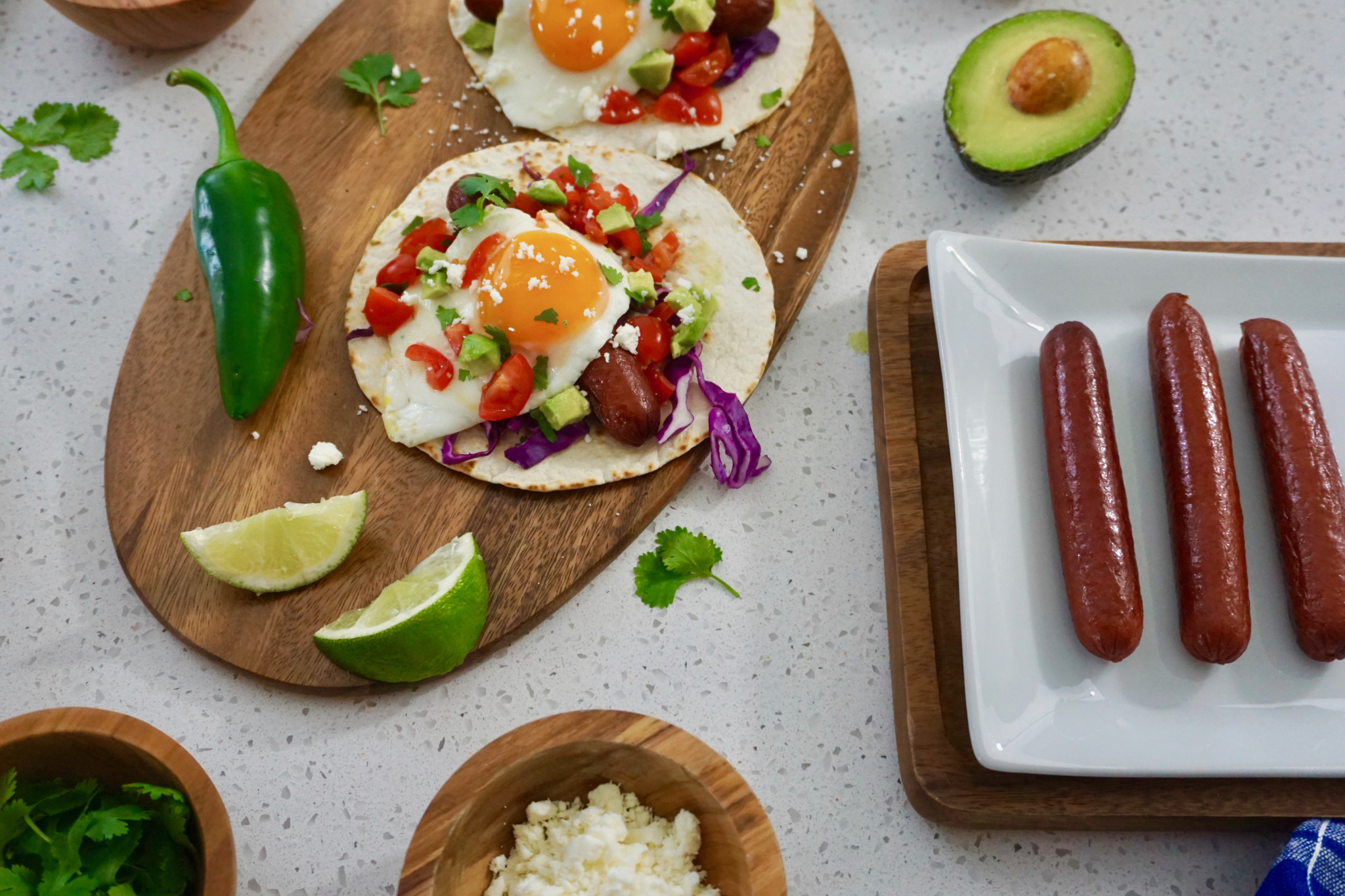 The best hot dogs
The key to making this recipe a total success is using quality ingredients, starting with the hot dogs. When it comes to hot dogs, quality is so important. I only buy Coleman Natural Hot Dogs because they not only taste great, but because I can feel good about serving them to my family!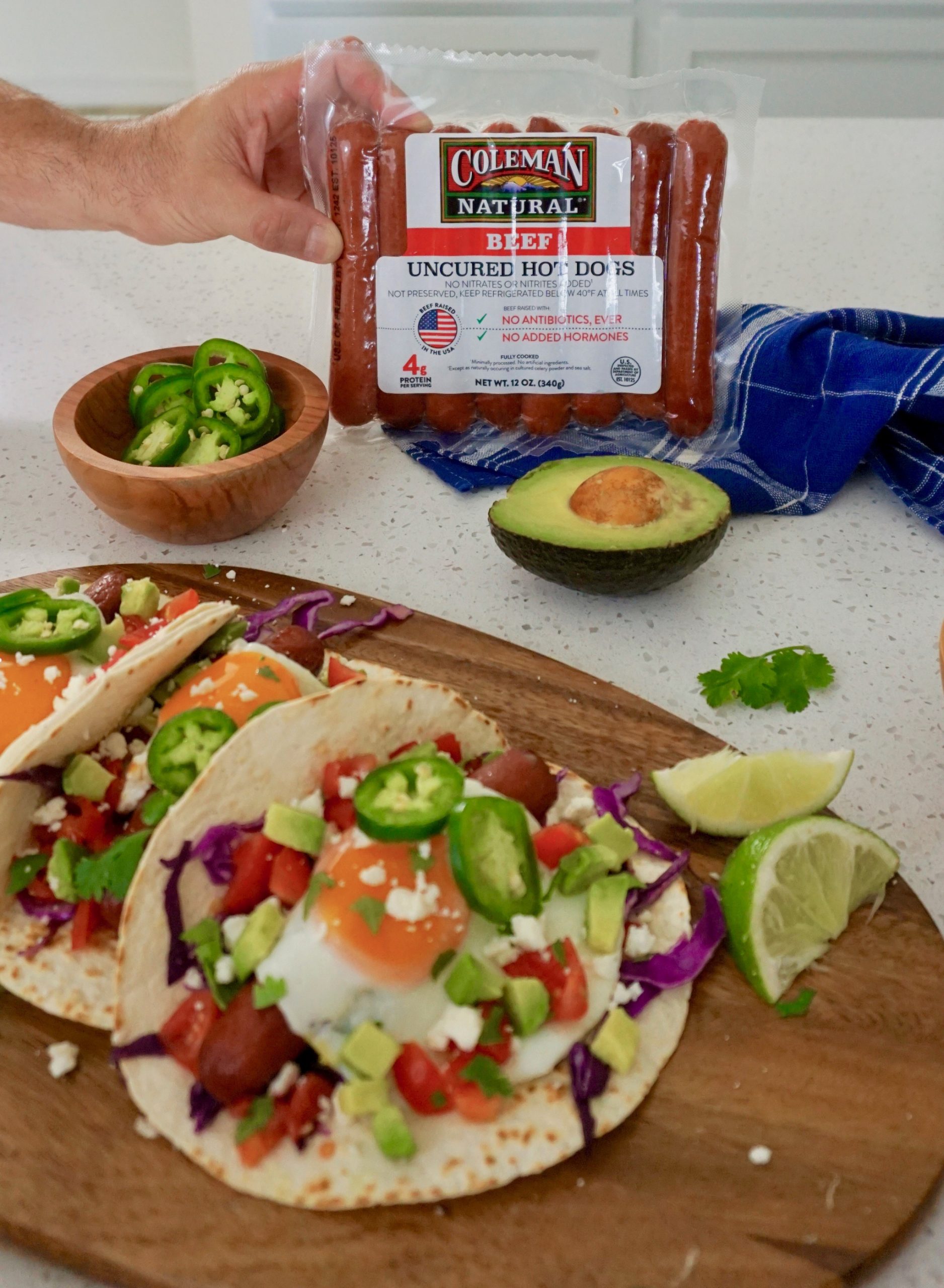 Coleman Natural Foods produces all-natural meats sourced from American family farmers that raise their animals with no antibiotics or added hormones, ever. As I shared in a previous post, making sure that my pork and beef is raised without antibiotics is really important for me. And, Coleman Natural 100% Beef Hot Dogs contain no added nitrates or nitrites, no artificial preservatives or ingredients. When I buy Coleman Natural products I can feel confident that I am feeding my family better. You can find Coleman Natural products at Sprouts like I do, or at your local grocery store.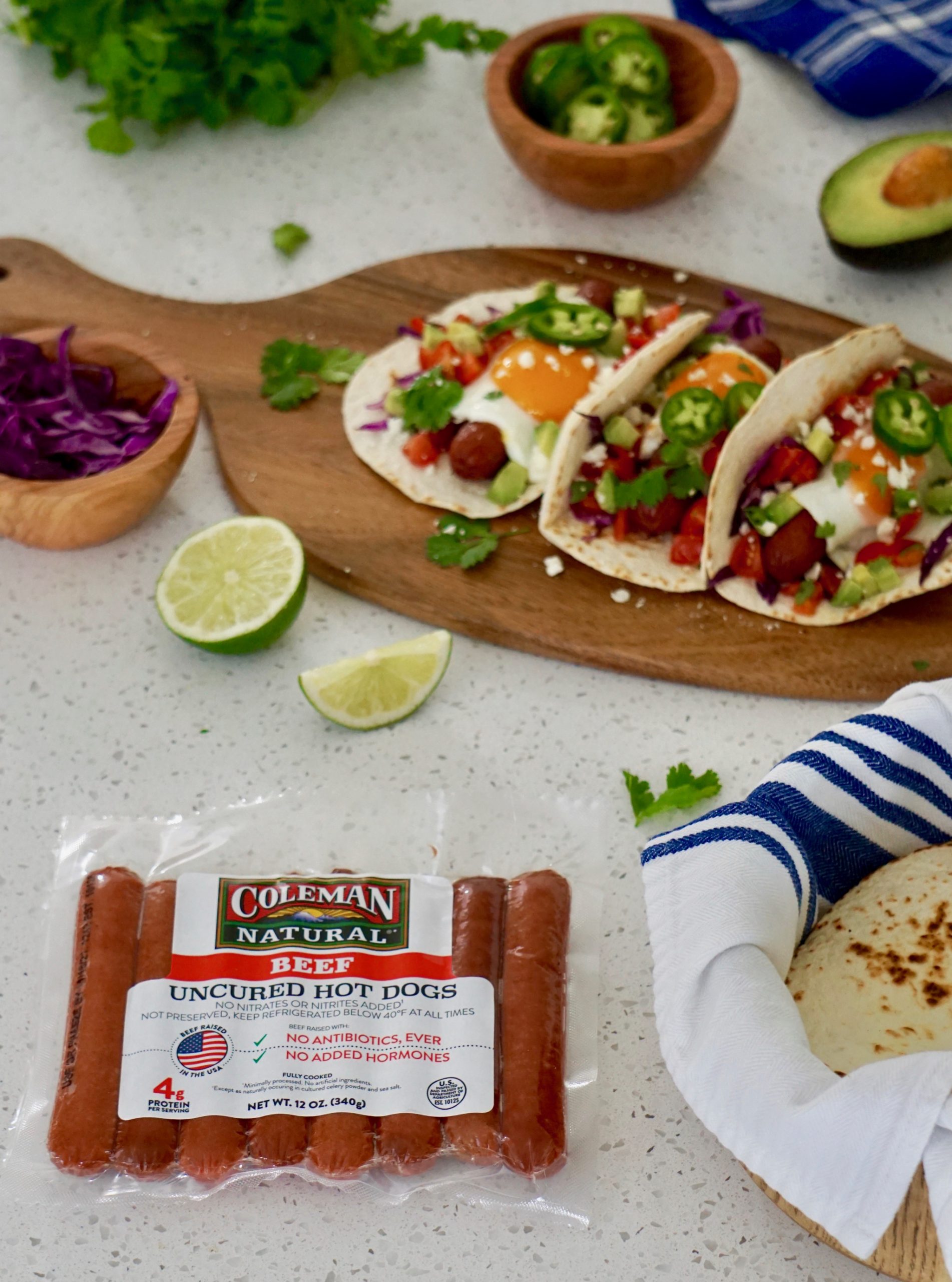 Recipe for Hot Dog and Egg Tacos
Ingredients
4 low carb wheat tortillas

4 eggs

1 Hass avocado, diced

1 tomato, diced

¼ red onion, diced

¼ cup fresh cilantro

1 lime

1 jalapeño, thinly sliced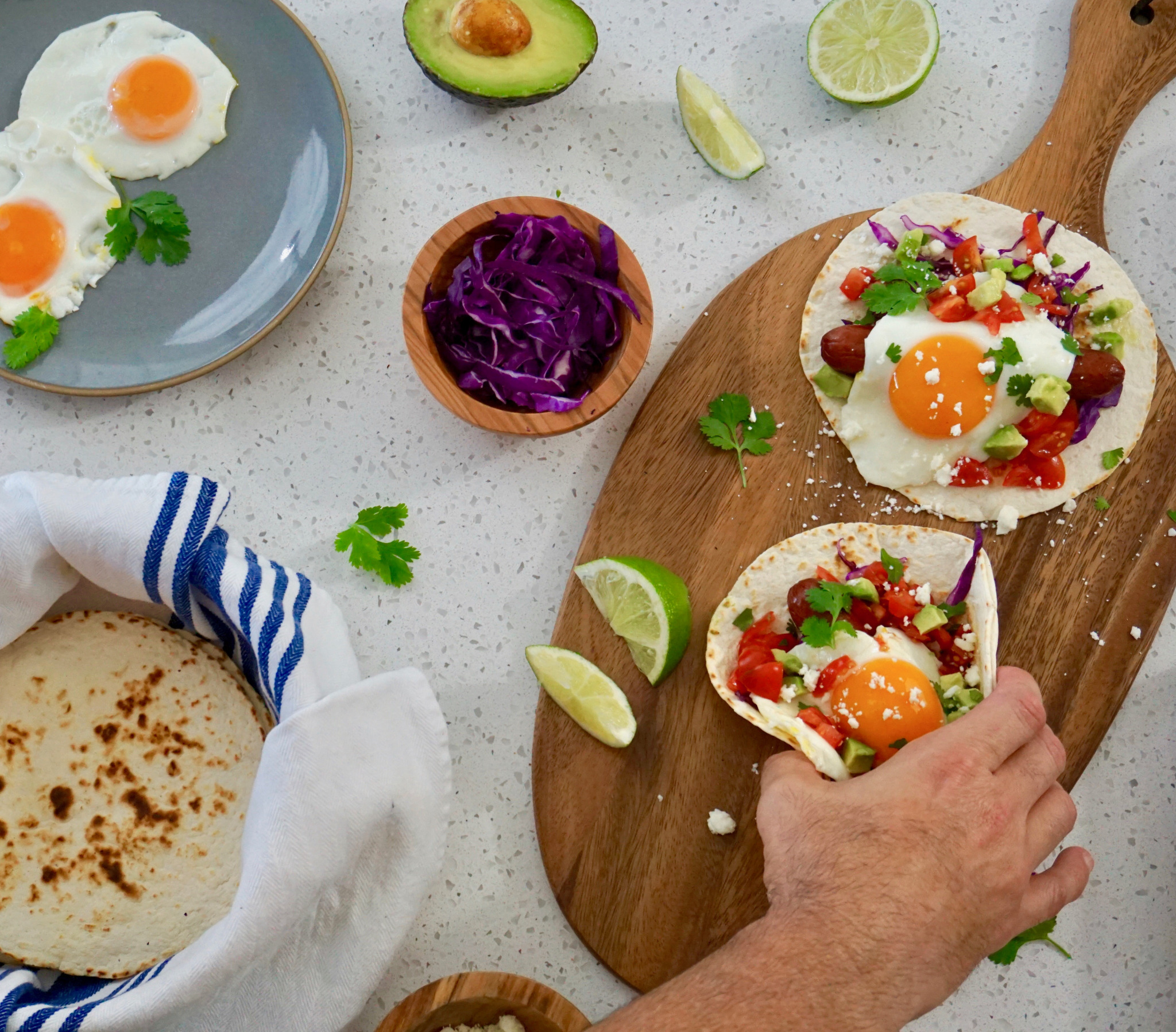 Instructions
To make the Pico de Gallo mix the tomato, the onion and the cilantro. Add the lime juice and salt and pepper to taste.

Heat the hot dogs.

While the hot dogs are cooking fry the eggs, sunny side up.

Warm the tortillas.

To assemble place a hot dog in the middle of each tortilla.

Place an egg on top of each hot dog.

Top with Pico de Gallo, avocado and jalapeño slices.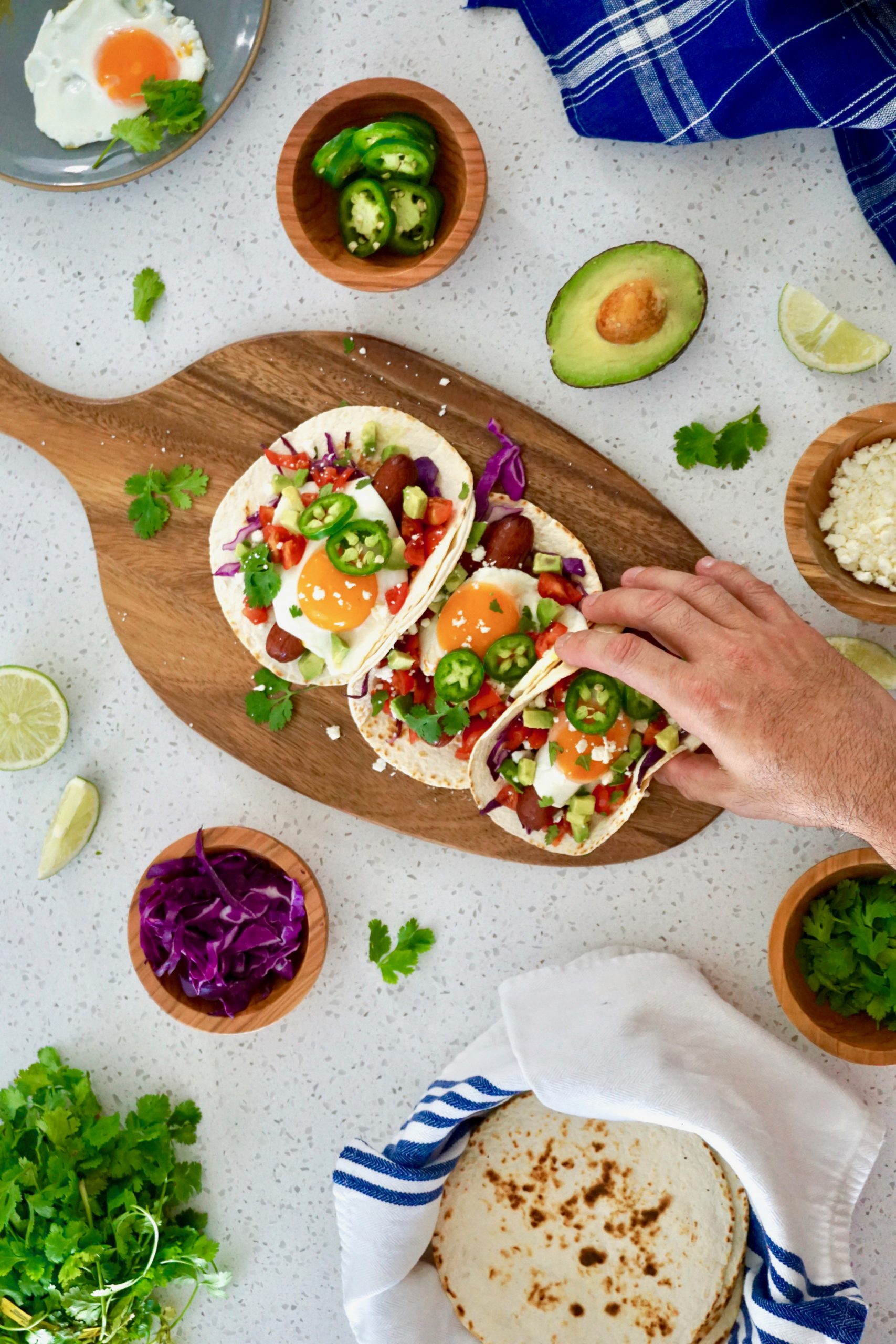 Tell me: have you ever had a hot dog in a tortilla? If you haven't you're really missing out. I grew up having hot dogs in tortillas topped with guacamole. Like I shared before, they are called "mixtas" and are a very popular Guatemalan street food.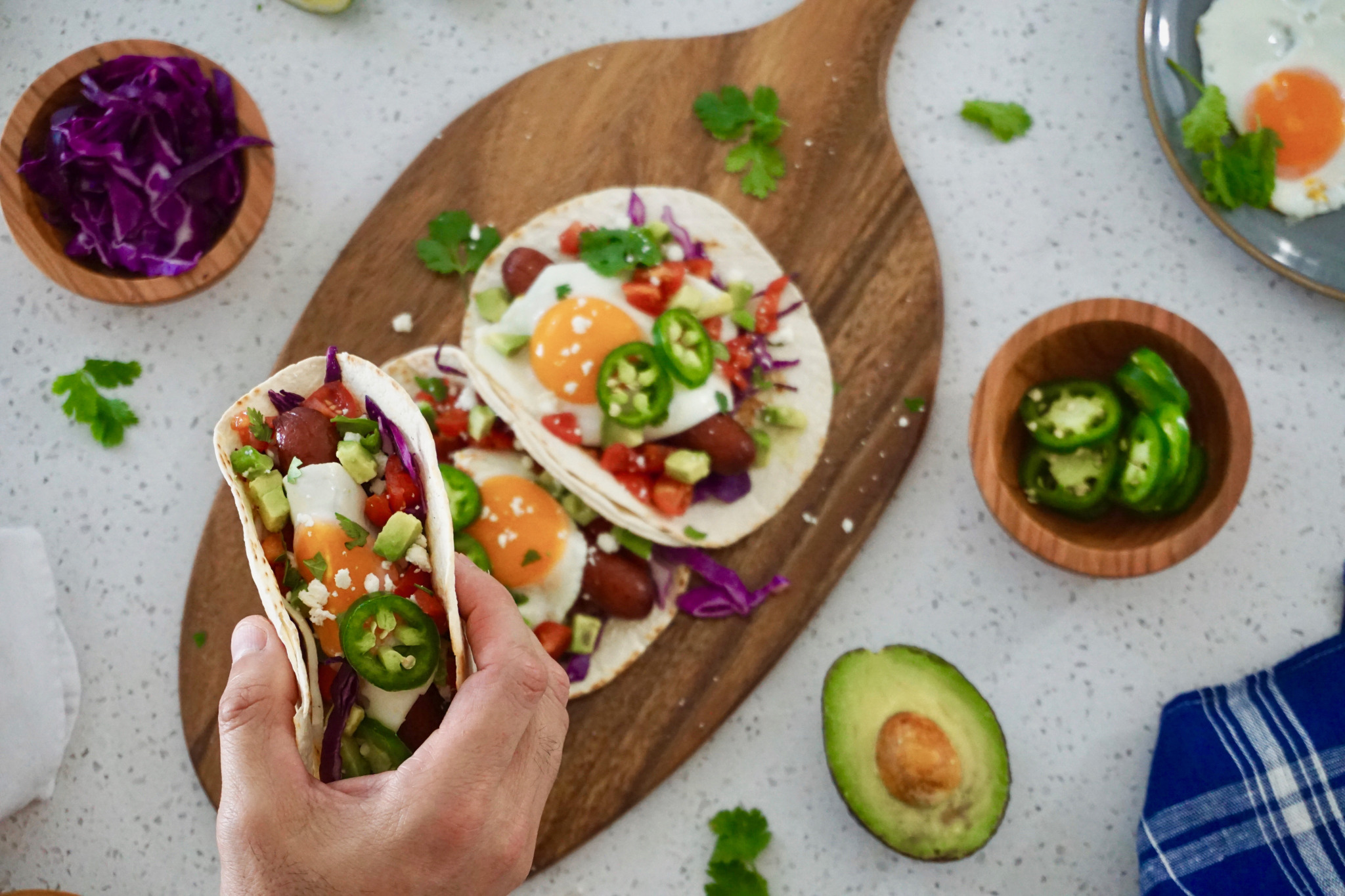 I really love how these "Guatemalan mixtas" inspired keto-friendly Hot Dog and Egg Tacos came out. I'm sure they will now be a permanent part of our dinner rotation. They're ideal for those days when you want to get dinner on the table quickly and with little effort.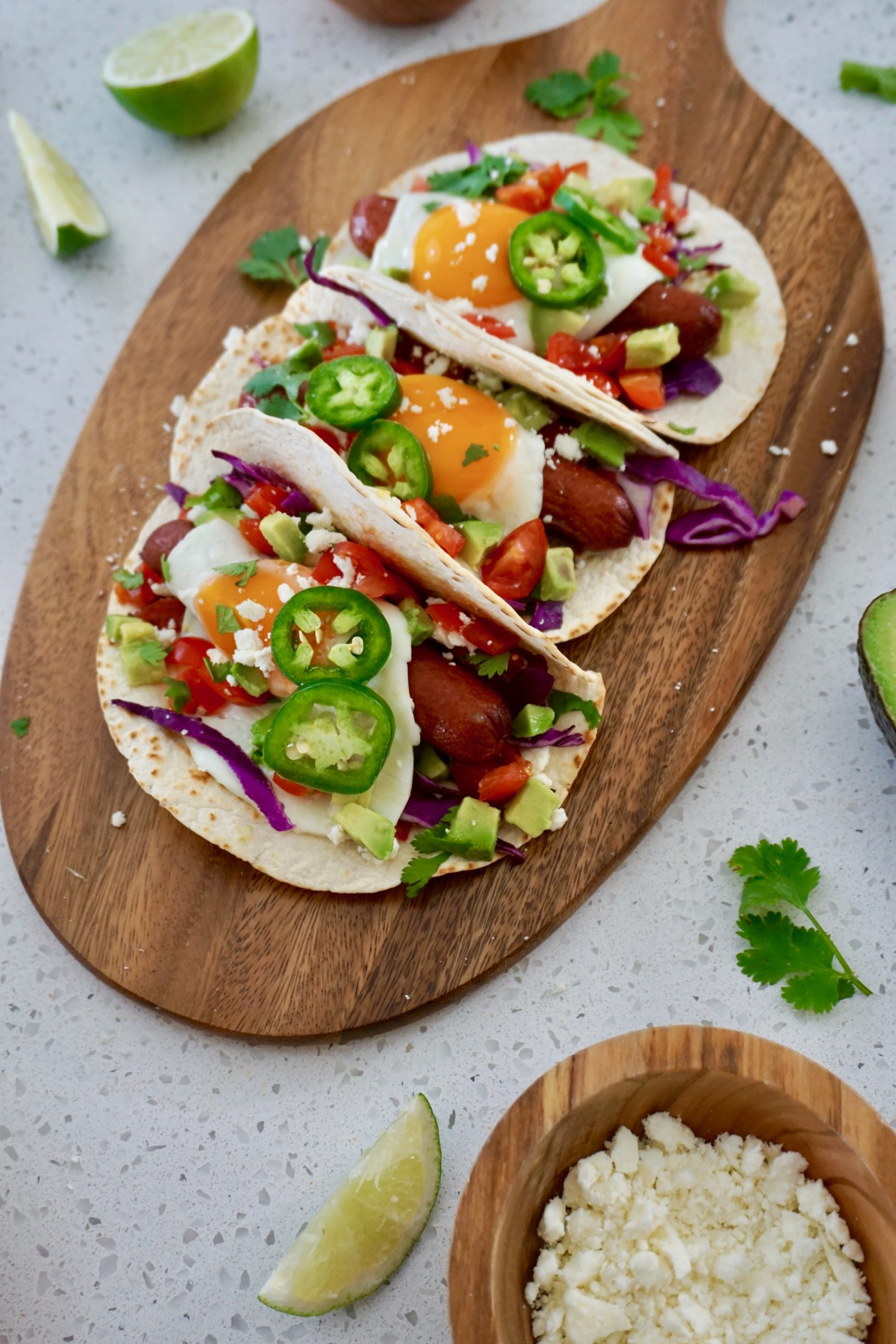 Big thanks to Coleman Natural for sponsoring this post.
Latest posts by Cesar Diaz
(see all)