Hi, my name is Denna.  If you saw me walking by in the mall, you would see a thirty-something, white and freckly woman (obviously a mom), with her hair pulled back and in need of more makeup.  What you might not immediately guess about me is that I listen to Luis Miguel mariachi music on a regular basis and that if I happen to overhear your Spanish conversation in the mall, I can understand every word. 😉  You couldn't see my Latin "heritage" just by looking at me.
There's a wise old saying: don't judge a book by it's cover.  We say it all the time, but I think most of us are guilty.  My point is, my outward appearance doesn't give too many hints about what's inside me: the color and nationality of my heart!
Just from looking at me you can't tell that my very first memories are of living at the southernmost tip of Texas: the town of Pharr in the Rio Grande Valley.  That there were only two Caucasian kids in my kindergarten class and that I was one of them.  That I called my teacher "tee-chair" along with the rest of the class.  That I lived 8 miles from the Mexican border until I was almost 6 years old.  You can't have guessed that.

After my parents had studied Spanish for awhile, we moved further south, south down to Guatemala City in Central America.  All of a sudden we were completely surrounded by Spanish.  On the TV, in the grocery store, in church, on the street. Different food, different customs, different people.  And that it quickly became home.  Seventeen years later,  after living and growing up and marrying in Guatemala, it was hard to leave.  It had truly become home.
Looking back, I credit my Mom with a lot of my love for Guatemala.  Instead of complaining or always comparing everything to "back home" (Canada), she embraced the life we had and the details of  daily living.  Of course we kept a lot of our Canadian customs at home (only a few Texan ones!), but overall there was a sense of "aren't we blessed to be living here!" instead of "can't wait to ditch this place and get back home" like I picked up on from other people we met.  We enjoyed the differences we found.  And if they were unpleasant differences, then they made for good storytelling!!

Fast-forward 15 years, and here I am, with my dear husband from Guatemala and 4 kids who are half-blooded Latin-Americans!! 🙂  And somehow I've found that I have become the "keeper" of  the Latin American flame at our house!  There are moments when I feel like I've failed miserably, but other times I feel that I have done a good job instilling a love in the kids for the other half of their heritage.  I'm afraid that we haven't "gone all the way" and spoken only Spanish to our kids since they were born, or making them only speak Spanish at home, stuff like that just hasn't worked out for us (ok, we just haven't put all the hard work into that effort!).  But we haven't messed up completely….I feel that we have fostered a love of all things Spanish/Latin in the kids.  By sending them to a bilingual school, they have learned from their teachers and in some respects I have noticed that this has reinforced the importance of the language with the kids.  Instead of just being something that "Mom wants me to do" they are learning along with their classmates, doing mathematics in Spanish (something I could never do!) and hanging out with lots of friends who are from "mixed" homes!
Trying to think back and figure out exactly what we have been doing with our kids in regards to their Latin heritage has helped clarify some things in my mind.  Sometimes it just helps to write things out!   And I even came up with a little ditty to illustrate! 🙂 heh heh.  Here you go: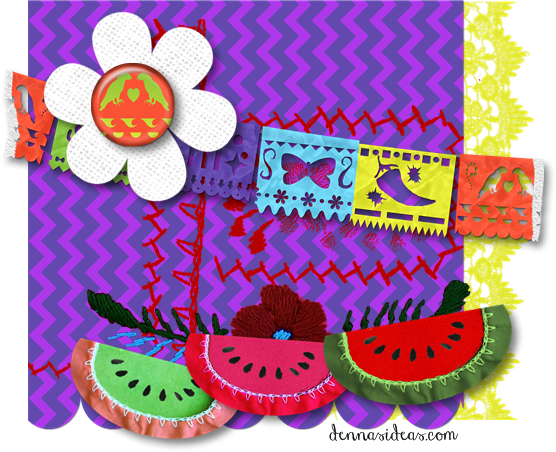 love it.
sing it.
practice it.
celebrate it.
Love it.  Just like my mother did when she moved to Latin America, she embraced it: the culture, the food, the differences…and I honestly believe that she did love it.  She didn't need to be saying it all the time, we could just tell.  It's all in the attitude!!  And like my mom, I love my "latino home"!! (For some reason or other, we don't use the word Hispanic here much at all, don't know why).  I admit, I do talk a lot about Guatemala and growing up there to my kids (and to anyone else who will listen).  I tell stories, I show them photos.  I tell them weird random memories that they don't want to know.  I have had to become the family storyteller (though I'm not very good at it) and tell them the family stories from my husband's childhood…like the time he climbed the jocote tree to sneak  jocotes…..and both the branches he was standing on and grabbing onto broke and he fell out of the tree, still clutching the branches…the time of the huge earthquake of 1976…the volcanic eruptions….all that good stuff!
Sing it.  Ahhh, Spanish music!  So many types to love!  We've found that long road trips are great times to listen to all our Spanish CDs…and we started when the children were very young, so they couldn't complain!  Now my heart thrills when I hear one of them singing Spanish lyrics as they putter around the house!  I have always thought that listening to music is a great way to learn a language, a great way to memorize.  Music is such a big part of Latin American culture, isn't it?  No escaping that one!  The other day I was surprised when I heard the 2 youngest kids singing the beginning of the Guatemalan national anthem….I didn't know they knew so many of the words….then I realized how much I sing (the opening stanzas, anyways!) and belt it out from the shower (especially in September!)  You just never know what they are picking up!
Practice it.  Some things just have to be taught and practiced!  Like math.  Like vocabulary and verbs.  Like learning how to saludar a la gente, learning how to greet people properly and how important that is in Latin culture.  Some ways we have practiced (other than just lecturing!) are visiting friends, watching Spanish TV programs (like El Chavo del Ocho), going to bilingual school, talking to our relatives constantly by video chat and by visiting Guatemala whenever we get the chance!!
Celebrate it.  There are always fun Latin American festivals and holidays to celebrate.  And of course, food to go along with all of those holidays!!  We do what we can…sometimes just small things like cooking a traditional meal (using lots of shortcuts, ha!) and getting the kids to try them.  There isn't a very huge Latin community where we live, and only a few restaurants…(no fresh tortillas!) so I find it's mostly up to me to come up with ideas.  I try to celebrate Guatemala's Independence day, to explain traditions, to talk about quineceañeras and about celebrating them someday! 🙂  If you look for it, there is always something to celebrate!
In all of this, I try to be realistic, too.  I tell the bad and sad stories along with the fun ones.  When we visited Guatemala, the kids noticed the pollution, noticed the disparity between the rich and the poor, heard rumors about the crimes, and attended a funeral.  I still really try and use a filter when I tell about the hard stuff: the rampant crime and natural disasters and things like that, for I don't want to completely scare them.  It's a fine balance to find, I must say.

Nowadays you can't necessarily know what someone's culture is just by looking at them.  You need to talk to them, engage with them and find out what is important in their life, and see how they are raising their kids.  I am happy to say that my children are proud of their Guatemalan heritage and that it's something we are trying to keep alive.
After reading Paula's last post, I do feel that we personally need to make an extra effort to speak Spanish in our home…I know it's important!  Celebrating and eating isn't all there is to learning about Papí's culture, and language is very important when it comes to culture.  I know how much I love to speak in Spanish with my Guatemalan family (and anyone else I can find!)…it's a beautiful language and I need to make sure that my kids can use it, too, so that someday they can discover deeper roots in their Latin American heritage for themselves.  Maybe someone in the mall wouldn't be able to pick them out as being Latin Americans, but when they speak Spanish I hope that it will be obvious that they are (at least half) Guatemalan!! 🙂
Latest posts by denna's ideas
(see all)