Hen in Sweet Pepián Sauce
Gallina en Pepián Dulce is my favorite typical dish from my home country Guatemala. Roughly speaking, pepian is chicken (boiled then lightly fried) served in chocolate sauce. At first look, the recado resembles mole, a sauce known well in Guatemala's northern neighbor, Mexico. Its flavor, however, is remarkably distinct due to roasted sesame and squash seeds.
Guatemalans often reserve this dish for special occasions (e.g., weddings, birthdays, holidays).
This particular recipe has great meaning for me. My grandmother used to cook this dish for my mother's birthday. When she passed away her cook Olga, who is like part of the family,  took over and cooked it on special occasions.  About a year ago I asked her for the recipe and it took months of begging and reminding her to get it: it turns out she never had the recipe written down and she actually had to cook this dish to be able to write down the correct amounts of the different ingredients she used.  She passed away shortly after she send it to me and no one else in the family has ever cooked this except for me.  So now I share it with all of you.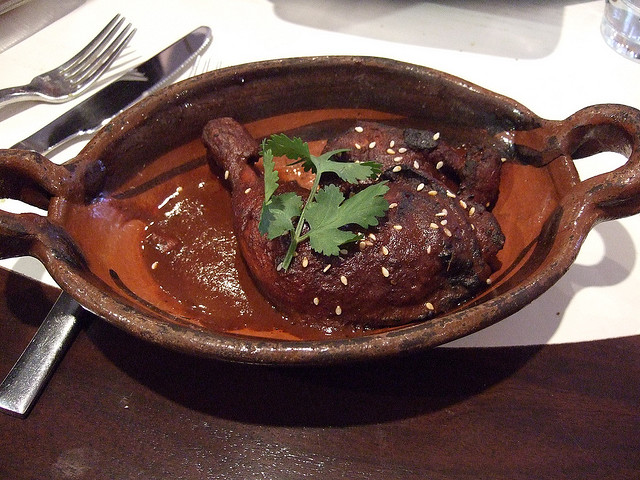 Ingredients:
1oz of Mexican chocolate (1ounce semisweet chocolate, 1/2 teaspoon ground cinnamon and 1 drop almond extract can be substituted for 1 ounce Mexican chocolate)
4 tablespoons of pepitoria (green squash or pumpkin seeds)
4 tablespoons of sesame seeds
1.5 inch piece of cinnamon, broken into several pieces
8 roma tomatoes (whole, unpeeled)
1 dried guaque chili (chile guajillo in Mexican/Latin markets)
1 dried pasa chili (chile pasilla in Mexica/Latin markets)
salt
2 lbs hen or chicken, cut into pieces
1 1/2 liters water
2-3 hot dog buns (in Guatemala, they use about 3 pieces of pan frances, which look more like blunt hot dog buns than baguettes)
Place the chicken parts and a pinch of salt in a large pot with about 1.5 liters of water. Cover and simmer for about 20 minutes until chicken is done and a golden broth emerges.
Dry roast the sesame seeds until they are slightly brown. Place them on a paper towel to cool. Do the same with the squash seeds.
Roast the tomatoes in the oven. Turn occasionally to allow to roast evenly, a couple of minutes before removing the tomatoes from the oven roast the cinnamon, this will burn quickly so make sure it's only in the oven enough time for it to become dry and fragrant.
Pour the roasted sesame and squash (pumpkin) seeds into a blender and blend until finely ground, or about 30 seconds. Add the roasted cinnamon stick fragments and grind for another 30 seconds. Then add the wet ingredients – tomatoes, chilies – and top with the broken pan frances (hot dog buns) and about 1 cup of chicken broth. Blend until everything is smooth; add more chicken broth or pan frances (hot dog bun) fragments until you achieve the desired consistency. The sauce should drip slowly from the spoon.
Heat a pan with a bit of oil. Remove the chicken pieces from the remaining broth and fry for about 5 minutes, until golden. Put the  sauce and the chocolate cut into pieces in a large pot on medium heat until it boils, then lower the heat and  simmer for about ten minutes; make sure the chocolate has completely melted . Add  salt and or sugar to taste. If your sauce is thinner than you'd like, cook a bit longer; if it's too thick, add some of the remaining broth.
Serve chicken pieces topped with sauce. Sprinkle remaining sesame seeds on top for garnish. Serve with rice pilaf .
¡Buen Provecho!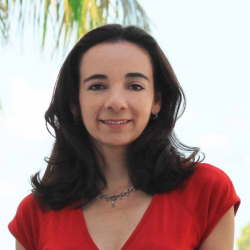 Latest posts by Paula Bendfeldt-Diaz
(see all)