The classic Cobb salad gets a spicy makeover with this amazing chipotle shrimp Cobb salad. This delicious salad recipe is sponsored by Great Day Farms. #EggceptionallyGreat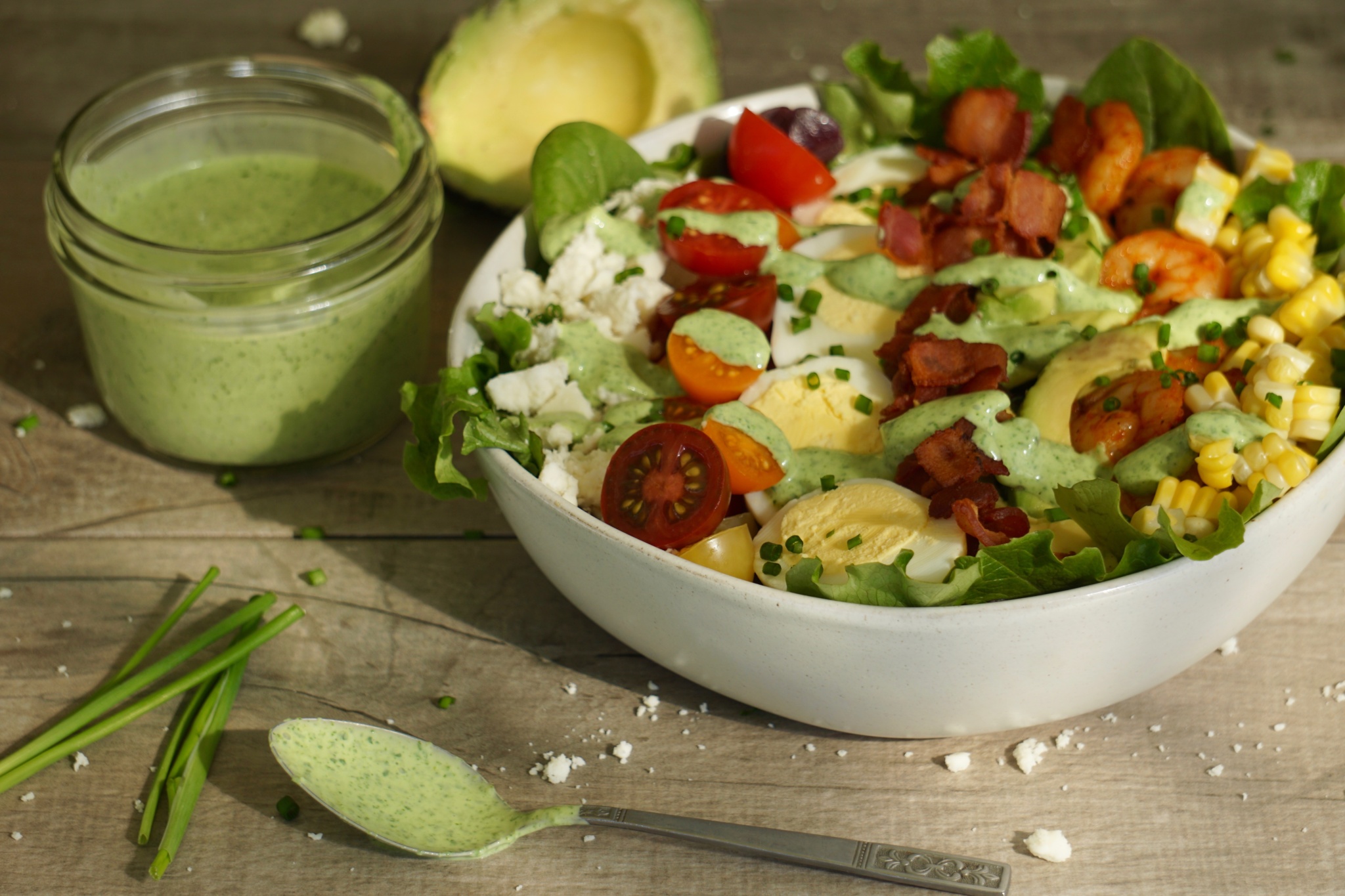 I'm happy to report that my New Year resolutions are still going strong. I'm eating healthier by meal prepping and meal planning with a focus on low-carb, high protein recipes that are not just good for me but that I enjoy. Cobb salad is usually one of my go-to lunch recipes but instead of going with a classic Cobb salad made with chicken I like to change things around. For this recipe, I gave the Cobb salad a southwest makeover. I replaced the chicken for spicy chipotle shrimp, added some corn and used queso fresco instead of blue cheese. I finished it off by making a healthy and light creamy cilantro dressing with a yogurt base.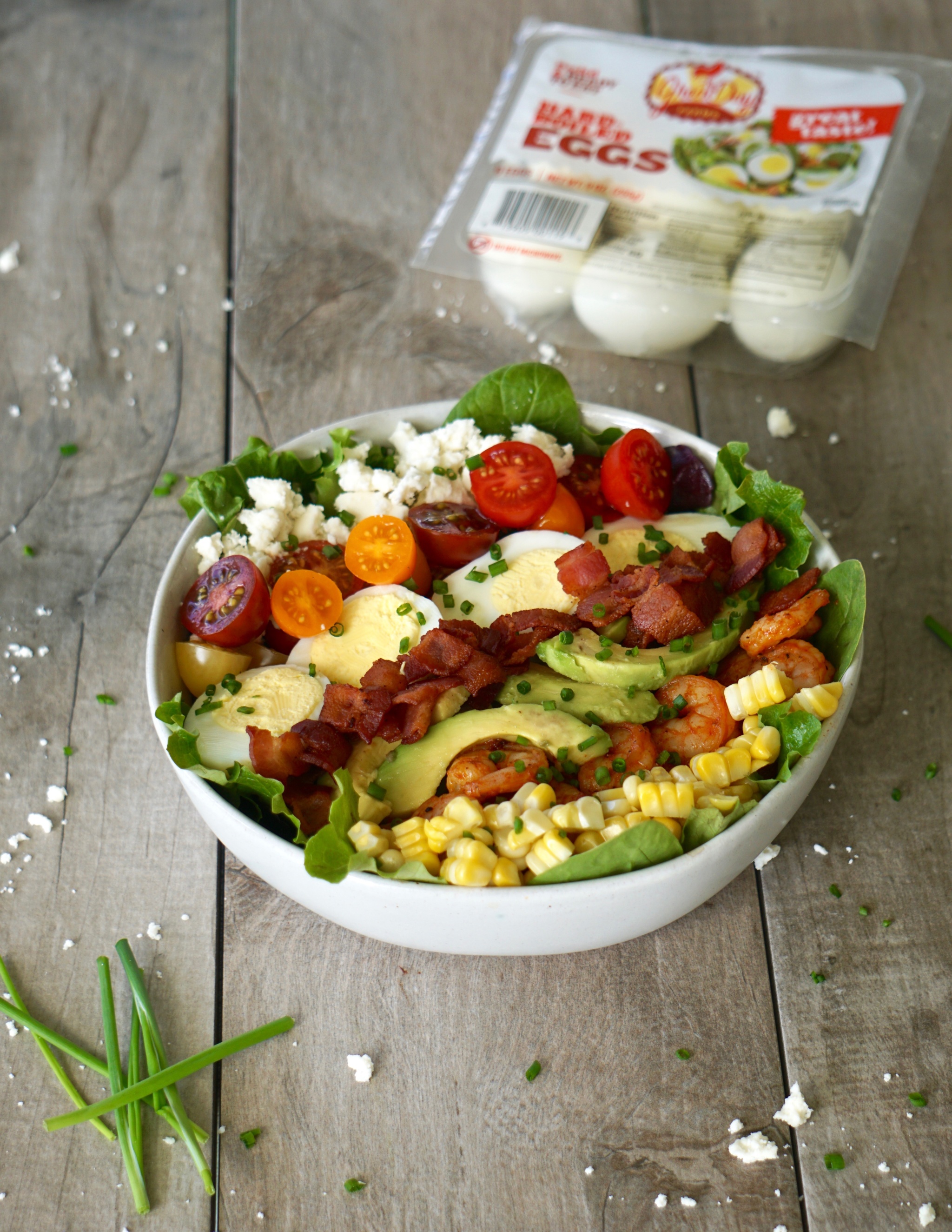 Filling and flavorful this is such a great salad to have for lunch or dinner and the best Cobb salad I've had. I love how easy and quick it is to make because I'm using Best Day Farms hardboiled eggs. So there's no need to boil or peel them, they're in my fridge ready to go.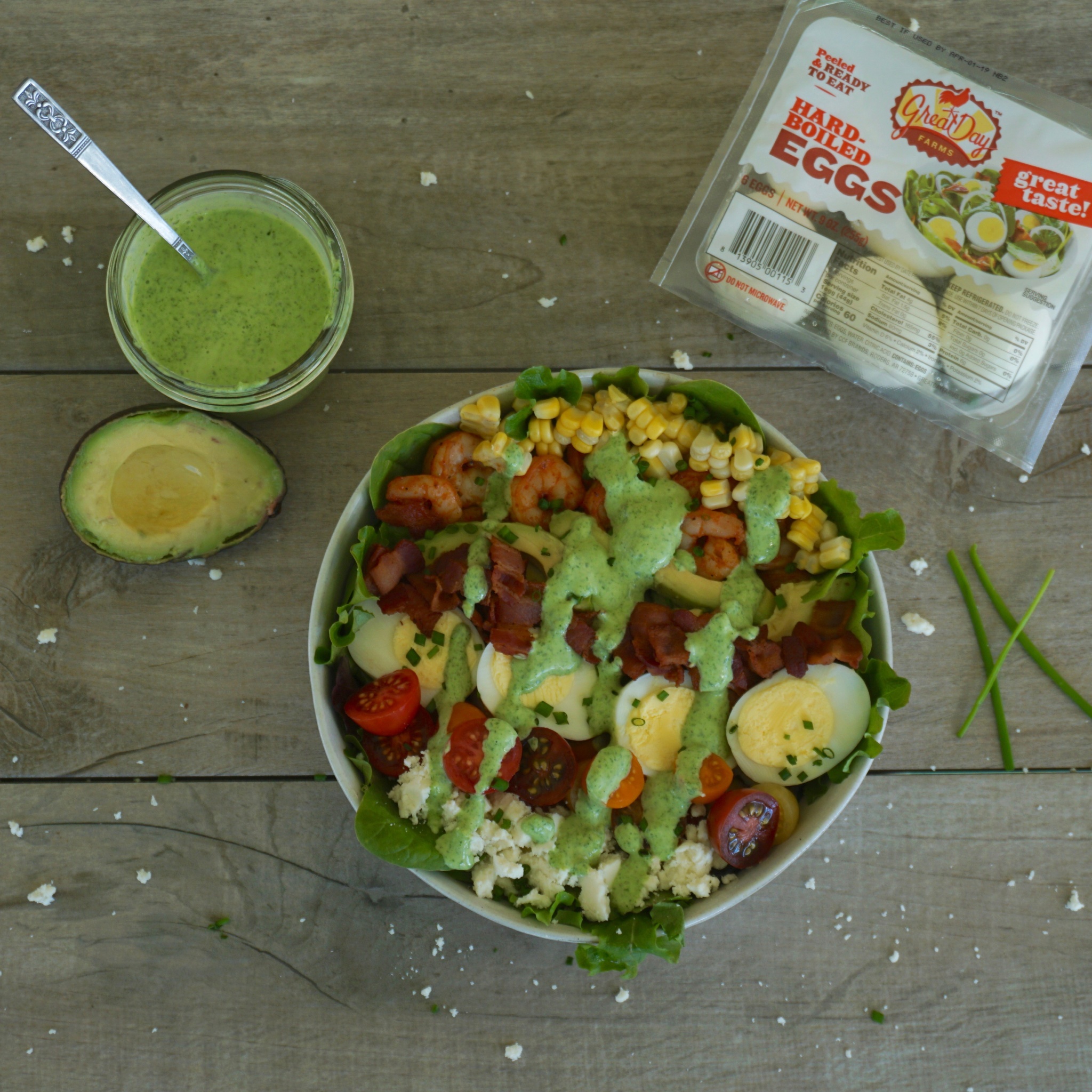 Chipotle Shrimp Cobb Salad Recipe with Cilantro Yogurt Dressing
Ingredients for the chipotle shrimp Cobb Salad
6 cups of lettuce, I used a spring salad mix
1 pound large shrimp, peeled and deveined
6 slices of bacon
4 Great Day Farms hard-boiled eggs cut in halves or quarters
1 cups cherry tomatoes, quartered
1 cup whole-kernel corn, thawed
1 Hass avocado peeled and cut into wedges
1/2 teaspoon paprika
1-2 tablespoons of chipotle adobo sauce (depending on how much heat you want)
Cooking spray
Ingredients for the healthy cilantro yogurt salad dressing
Juice of one lime
¼ cup extra-virgin olive oil
2 tablespoons white wine vinegar
½ cup low-fat Greek yogurt
1 bunch of fresh cilantro, stems removed
1/2 teaspoon of garlic powder (or more if desired)
salt and pepper to taste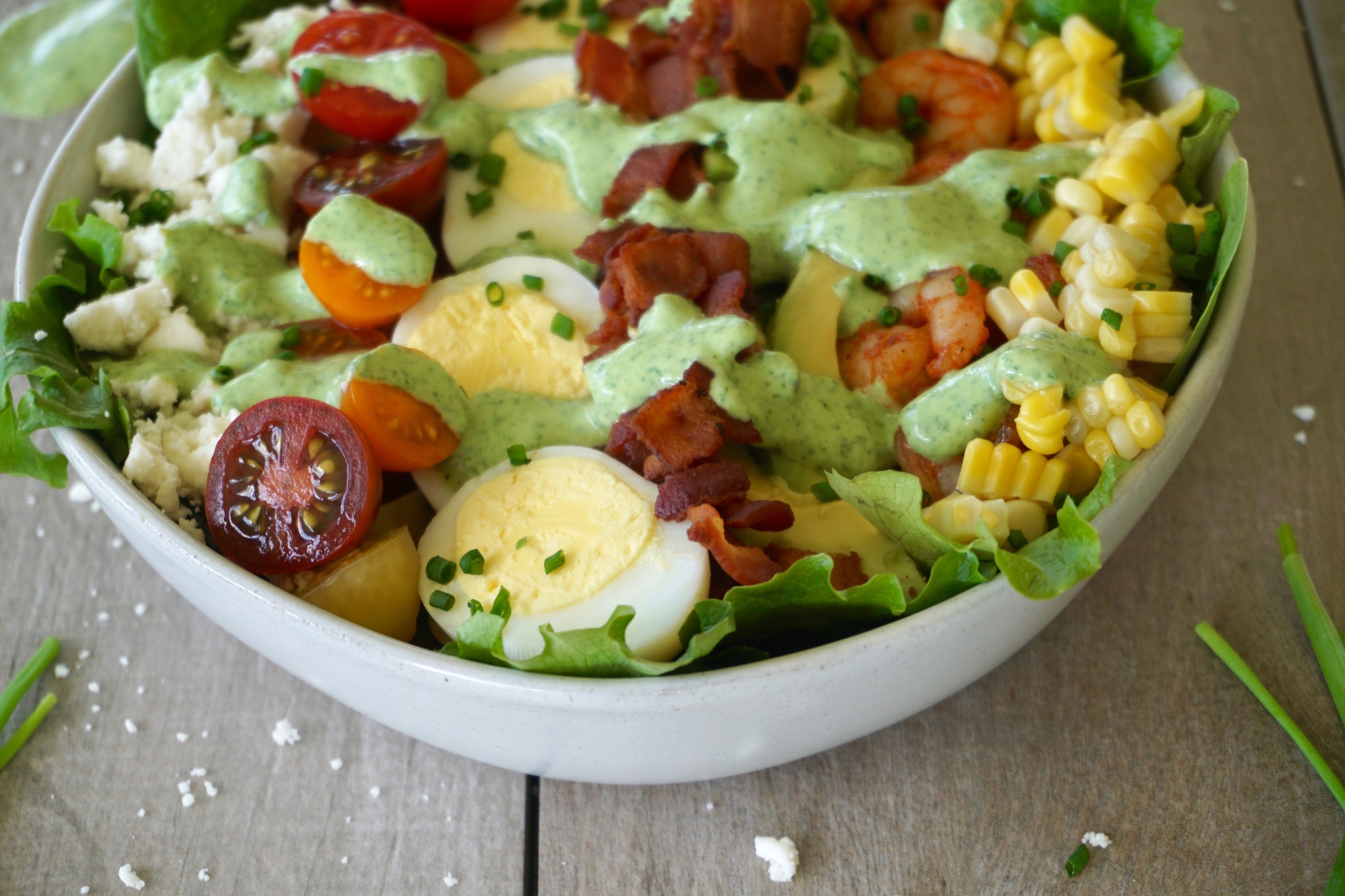 Instructions
In a large nonstick skillet cook the bacon over medium heat until crisp. Transfer to a plate lined with a paper towel. Once cool, cut the bacon into small pieces.
Discard excess bacon grease and wipe the pan with a paper towel.
Place shrimp in a glass bowl. Sprinkle with paprika and salt and pepper to taste. Add the chipotle adobo sauce and mix until the shrimp are well coated.
Spray pan with cooking spray. Add the shrimp and cook until pink. About 2 minutes on each side.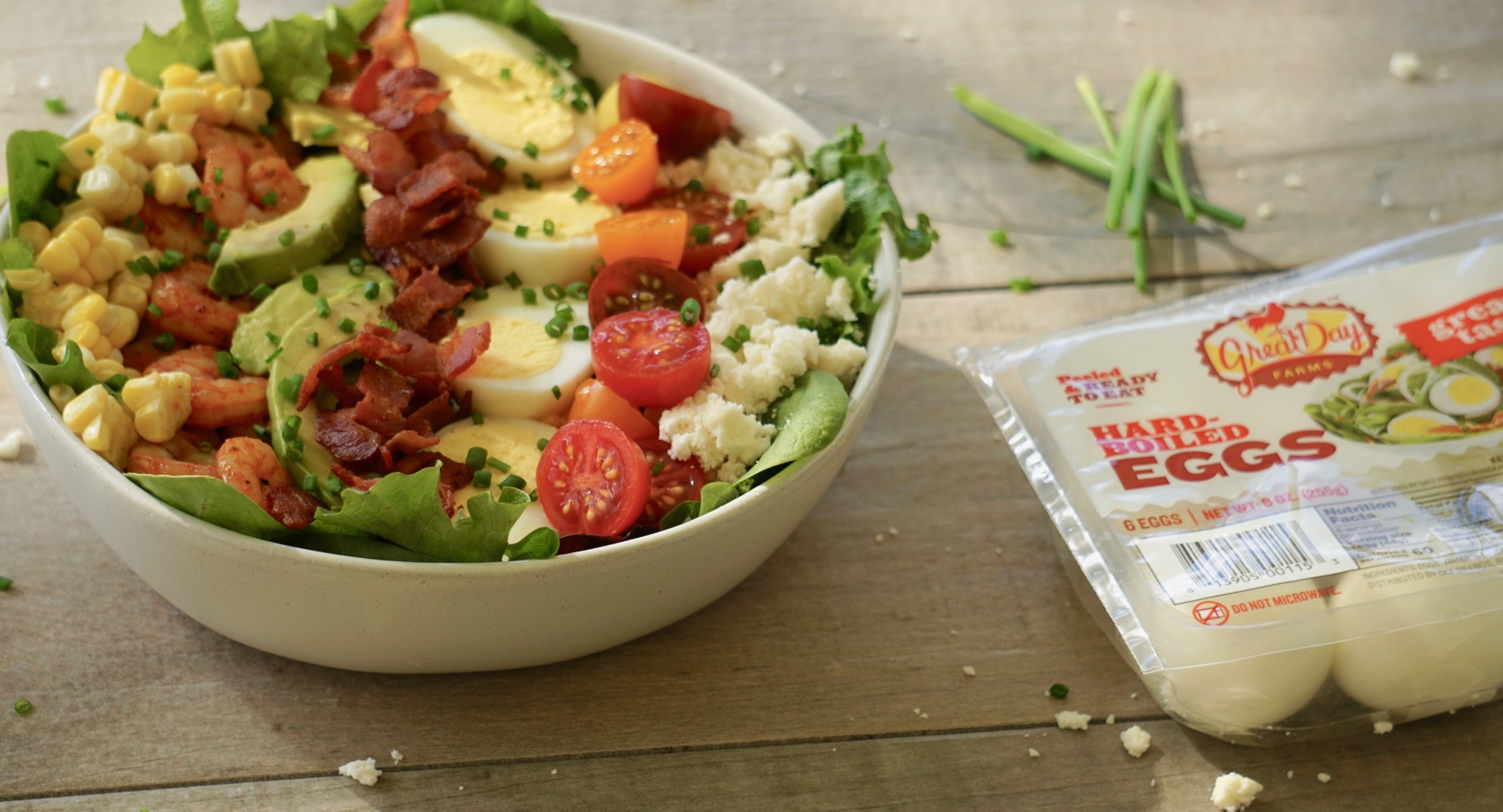 To make the cilantro yogurt salad dressing place all of the ingredients in a food processor and pulse until smooth. Add more olive oil if you feel it's too thick and pulse again until well blended.
To assemble the salad place the lettuce mixture in a large platter or bowl. Arrange the shrimp, hard-boiled eggs, tomatoes, corn, avocado slices, bacon pieces, and queso fresco in lines over the greens.
Top with chopped chives and drizzle with the cilantro yogurt dressing.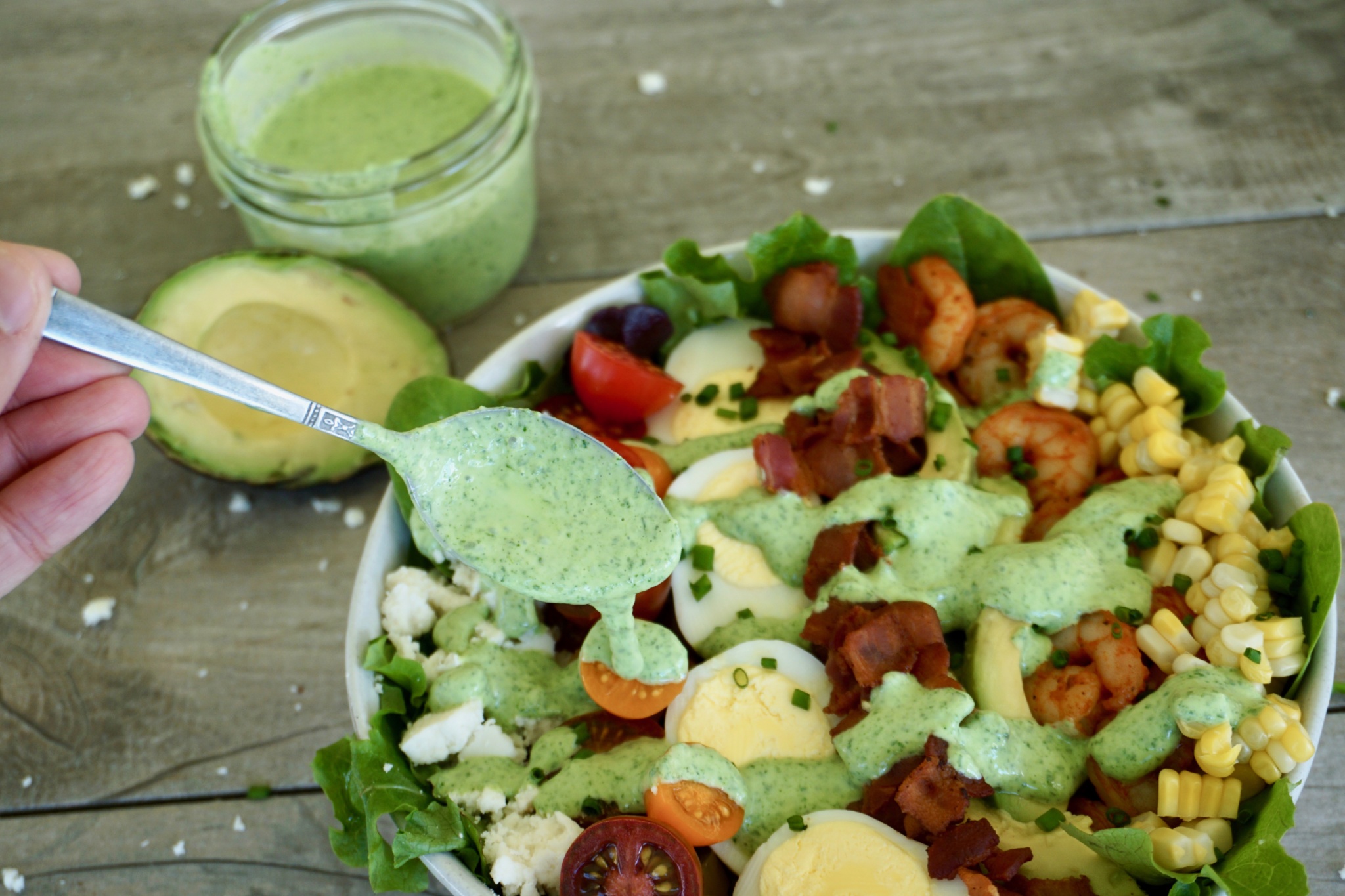 I always have Great Day Farms hard-boiled eggs at home. They're easy to add protein to salads, pizzas and they are also great as a post workout snack. You can grab them at your local Walmart in the deli section.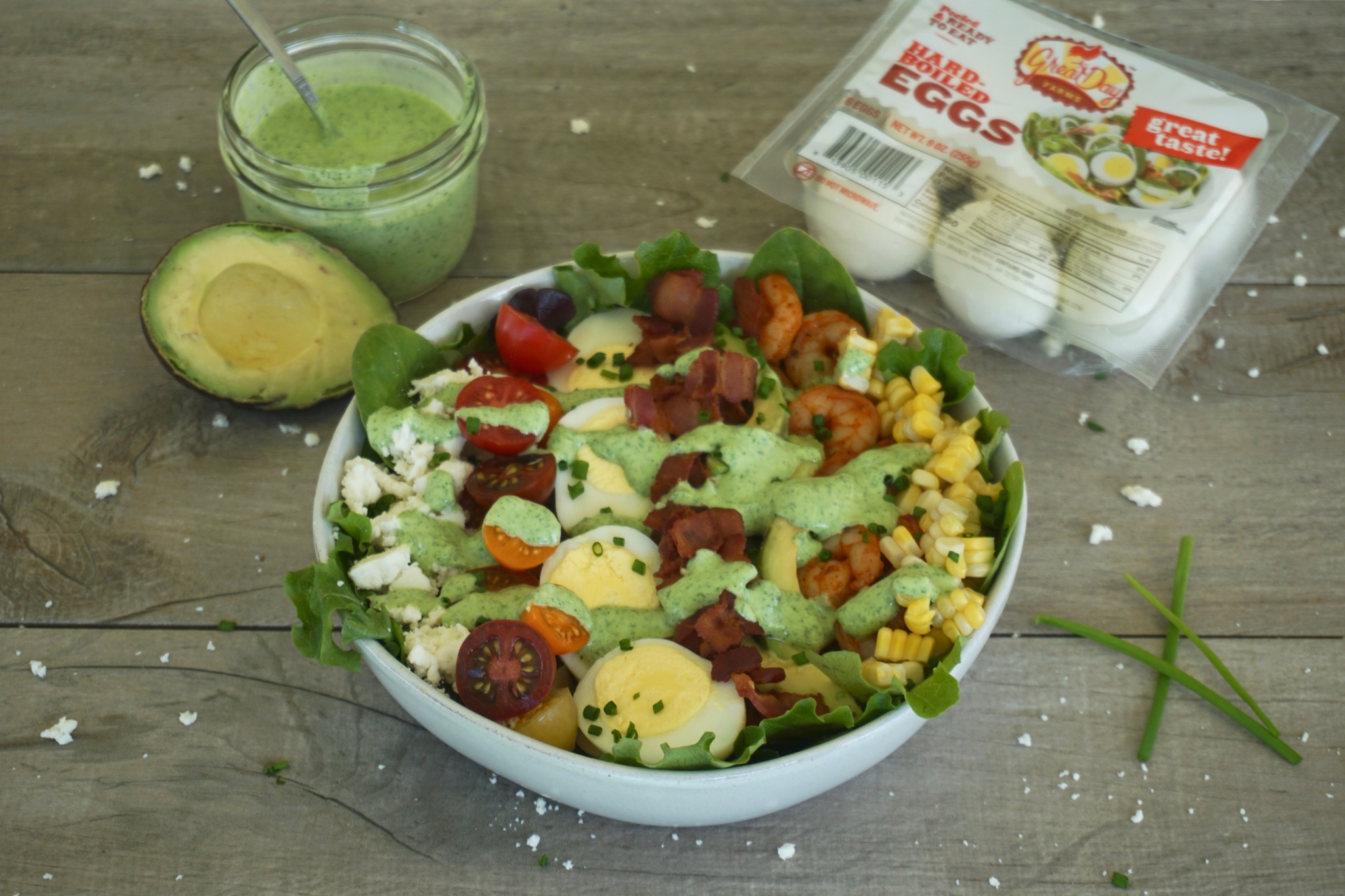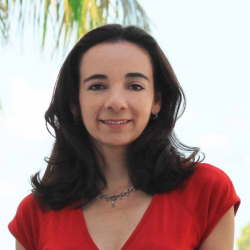 Latest posts by Paula Bendfeldt-Diaz
(see all)