This Day of the Dead skull pull-apart pumpkin bread makes a great dessert and is ideal for a Day of the Dead part or Halloween party.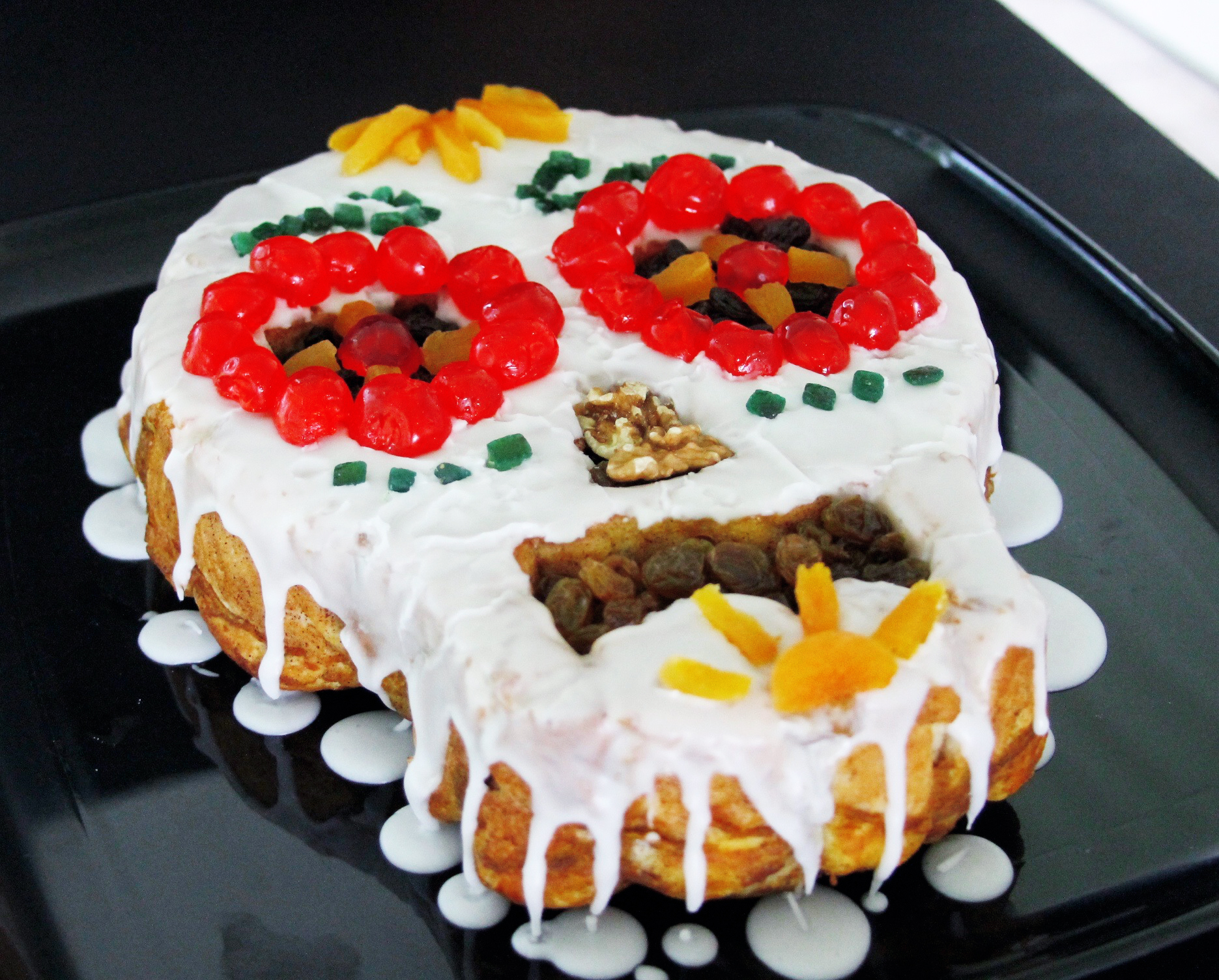 For the last few years we have sort of extended our Day of the Dead celebration by throwing a Day of the Dead themed Halloween party on October 31st. We love Halloween: costumes, parties and having the chance to act like a kid which I probably do a lot of anyway. And by bringing some of the imagery and the themes of the Day of the Dead into Halloween I get the chance to share a little bit of my culture with friends who are not familiar with this holiday.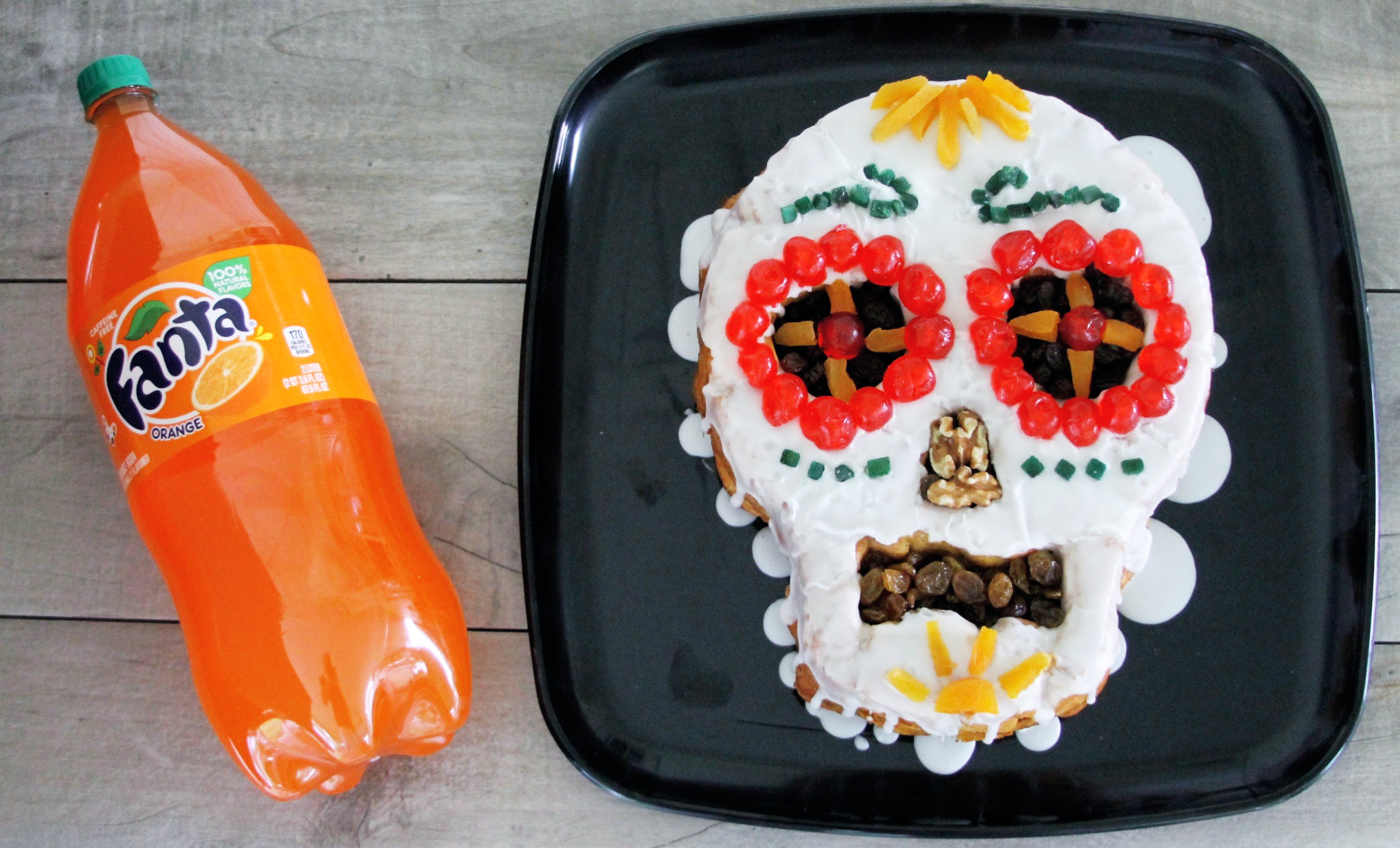 I decided to make a pumpkin pull-apart bread skull for our Dia de los Muertos party. This recipe is not only super easy to make but it also brings together two of my favorite things this season: pumpkin and Halloween fun. This will make the ideal treat for our adult Halloween party.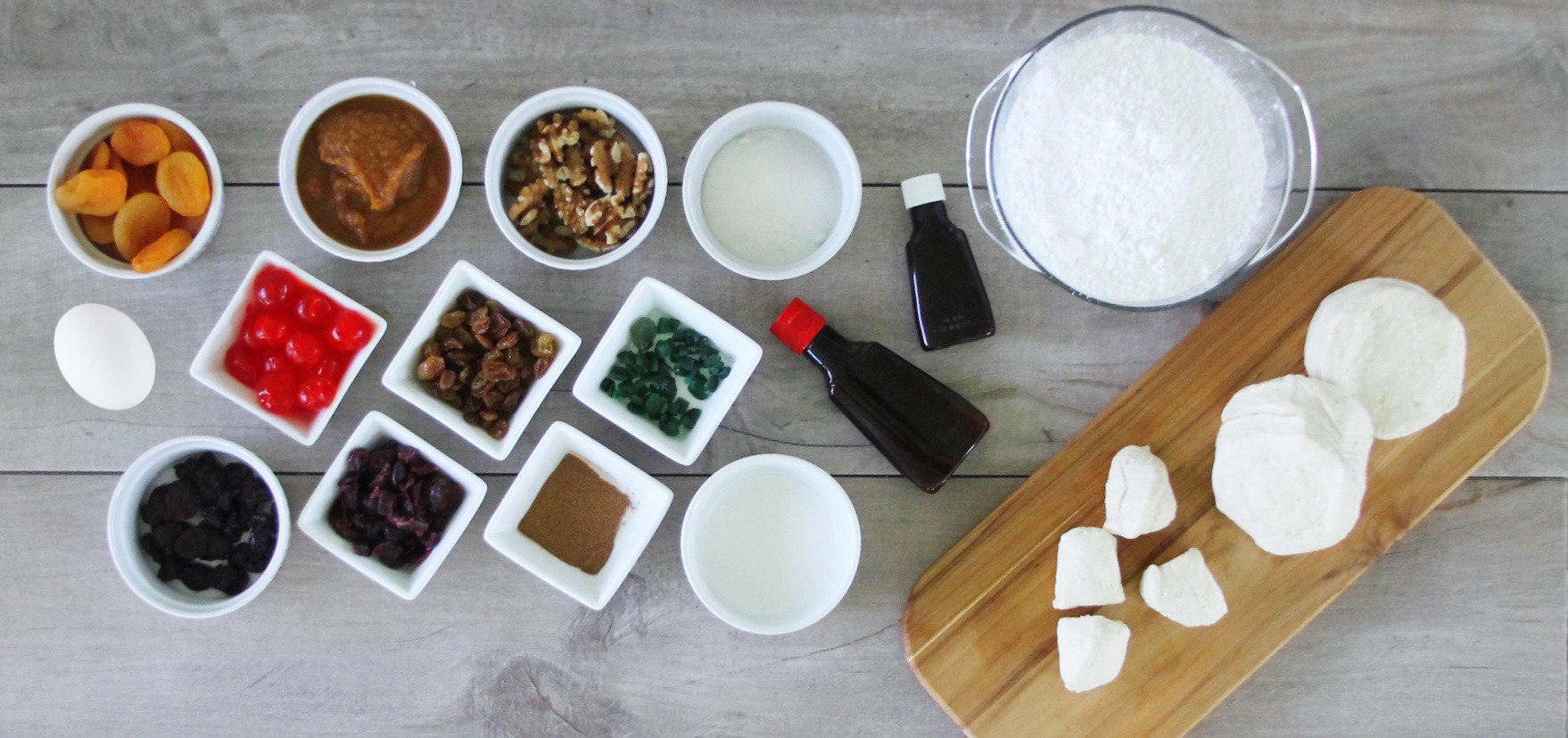 To make it I used home made pumpkin butter which Paula had made last week, you can get the recipe for it here, and I used refrigerated biscuits which made the whole process a lot quicker and easier.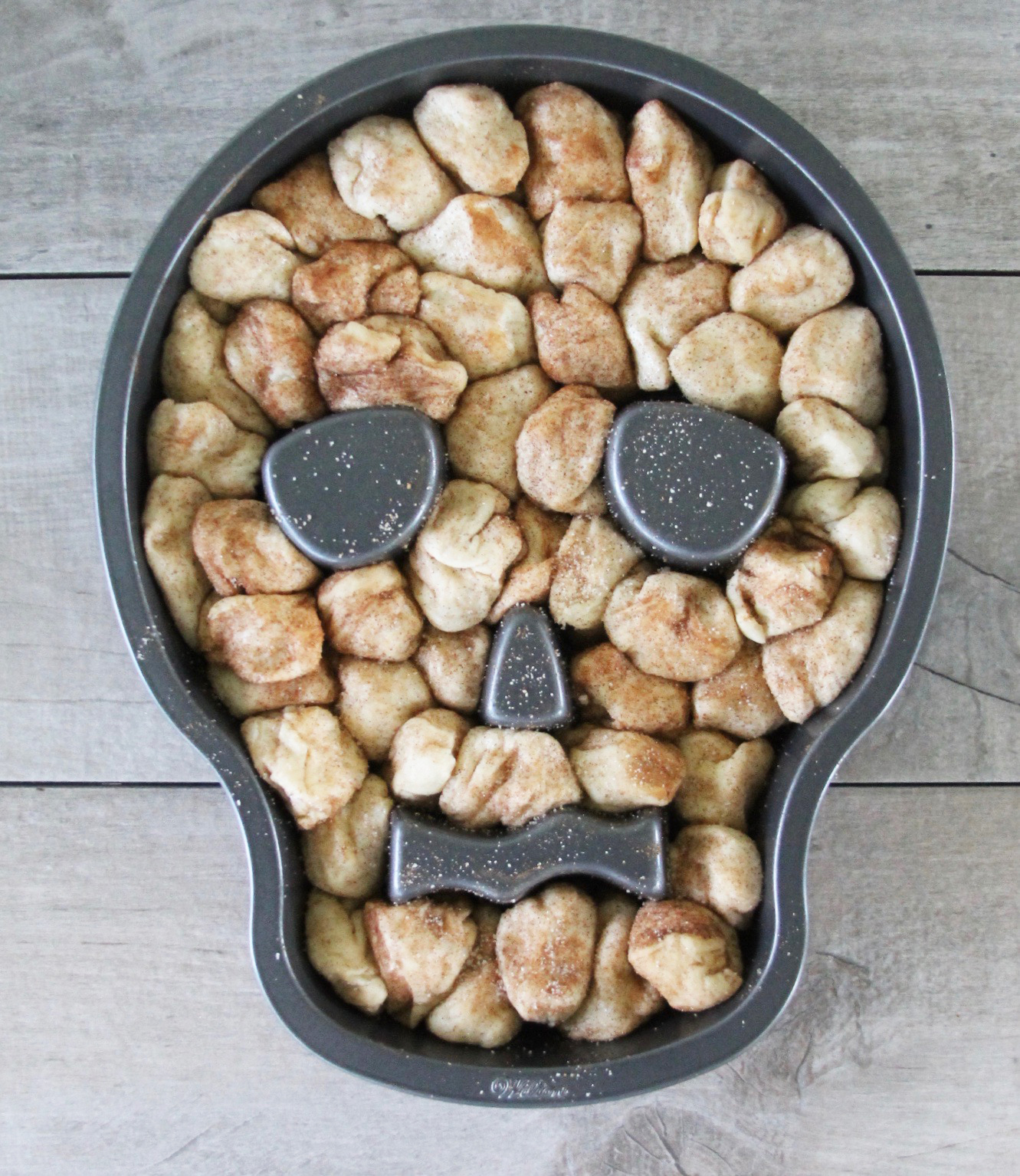 I used a Wilton skull shaped pan we got this year and which I was excited to try out for the first time. Baking is usually not my favorite thing but if I'm baking something in the shape of a skull then things get a lot more interesting and fun!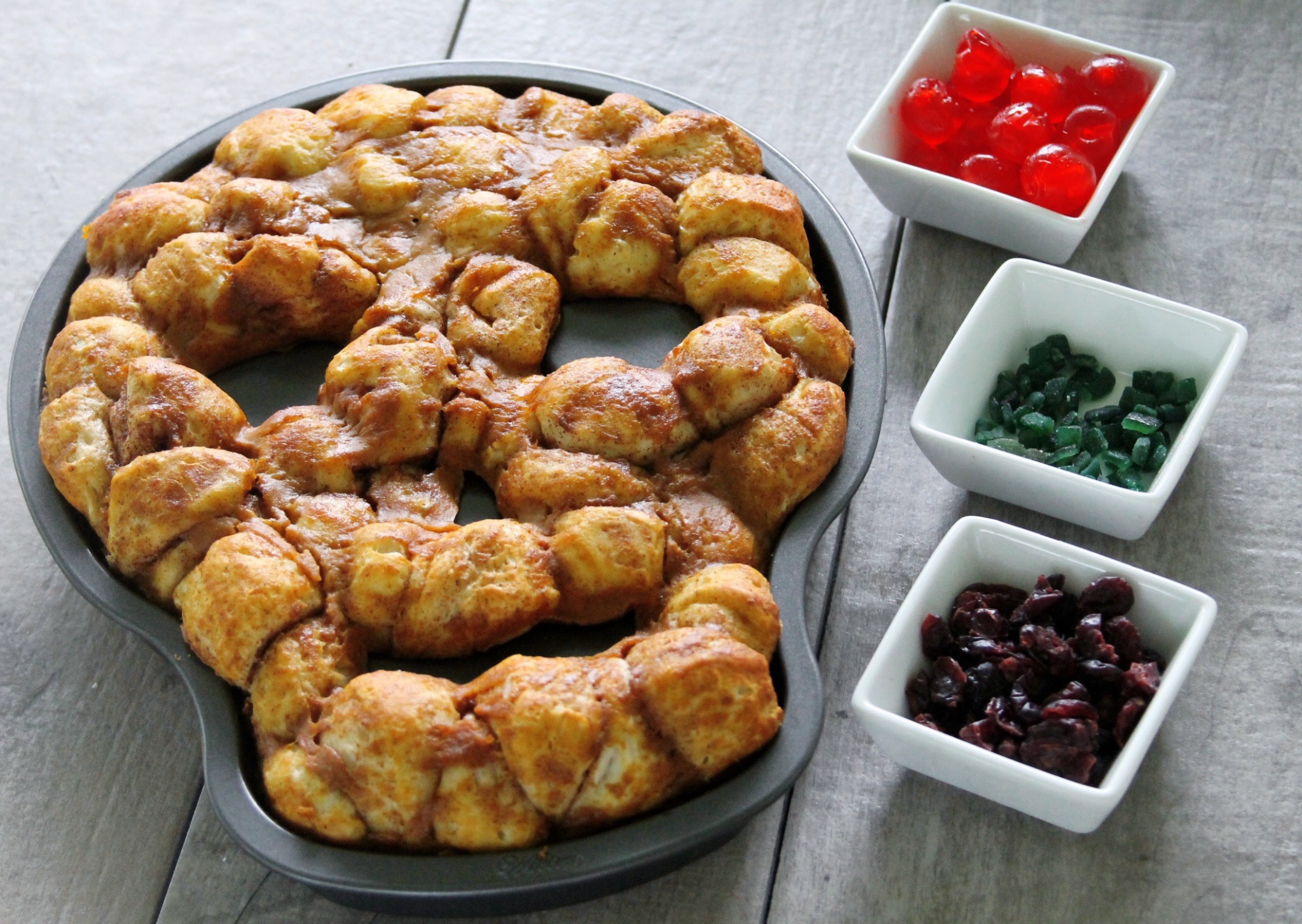 For the glaze I used coconut milk as I recently discovered that pumpkin and coconut are a fantastic flavor combination; it's like bringing fall and summer together in your mouth, which is perfect for a Florida Halloween party since no matter what the time of the year there is always a tropical feeling here in Florida.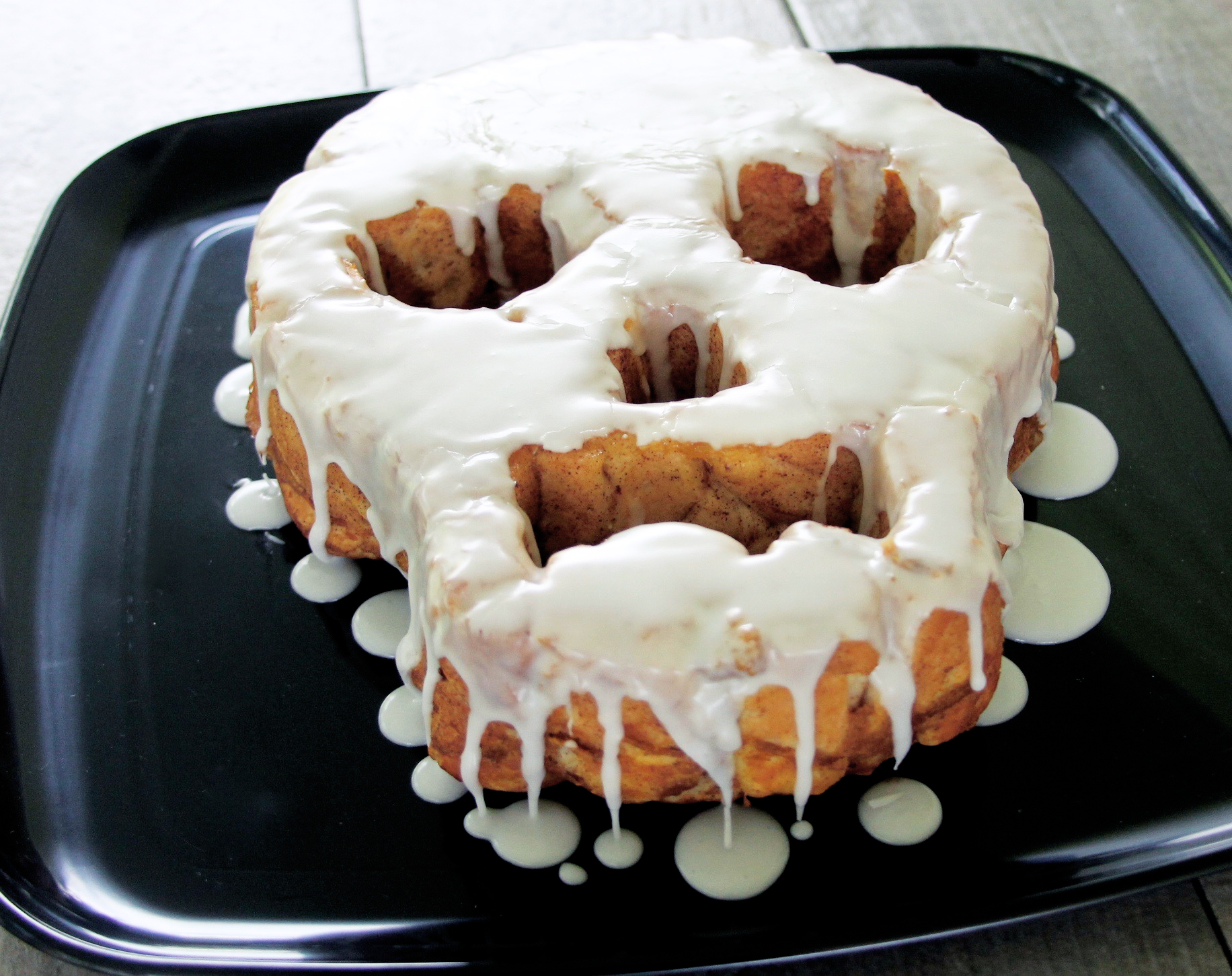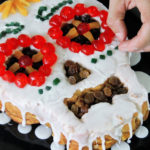 Day of The Dead Skull Pull-Apart Pumpkin Bread
Ingredients
Ingredients

1 ½

cup

pumpkin butter

1

large egg

1

can

8 count Pillsbury Grands Biscuits (homestyle or buttermilk, not flaky)

1

teaspoon

pumpkin pie seasoning

1/2

cup

of sugar

GLAZE:

4 to 6

tablespoons

coconut milk

½

teaspoon

coconut extract

½

teaspoon

vanilla extract

2

cups

powdered sugar

sifted

DECORATION:

Dried cranberries

Black raisins

Yellow raisins

Walnuts

Crystalized cherries

Crystalized fruits
Instructions
Preheat oven to 350°F. Spray skull shaped pan with nonstick cooking spray.

Stir together the pumpkin butter and egg and set aside.

Open the can of biscuits and cut one into 4 pieces.

Stir together sugar and pumpkin spice in small bowl. Roll each biscuit piece on the pumpkin spice mixture. 

Arrange biscuit pieces in prepared pan, pressing lightly into an even layer.

Spread some pumpkin mixture on top, then place another layer of biscuit pieces on top.

Place pan on cookie sheet and bake 20-25 minutes or until golden brown

Cool in pan on cooling grid 5 minutes. Turn bread out onto cooling grid.

Mix all of the igredients for the glaze, add powdered sugar if it's too runny. Drizzle over the bread.

Decorate with dried fruit and nuts.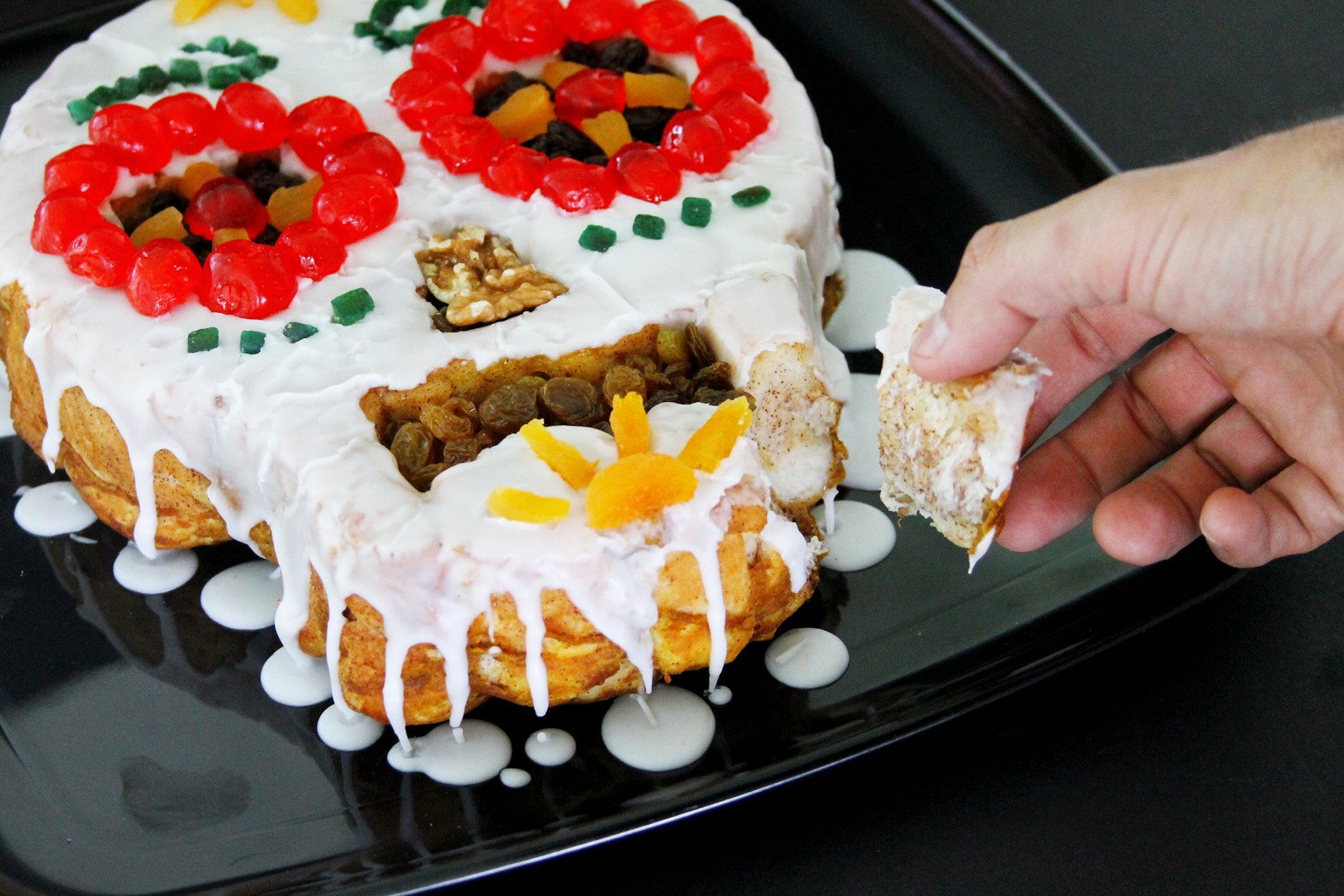 When I was growing up Fanta was one of my favorite drinks, I remember going to the corner store which was right next to my house, buying a Fanta and sitting on the curve watching the people and cars go by while I enjoyed it. So bringing some Fanta flavors and also that orange fall color into the party was a no brainer!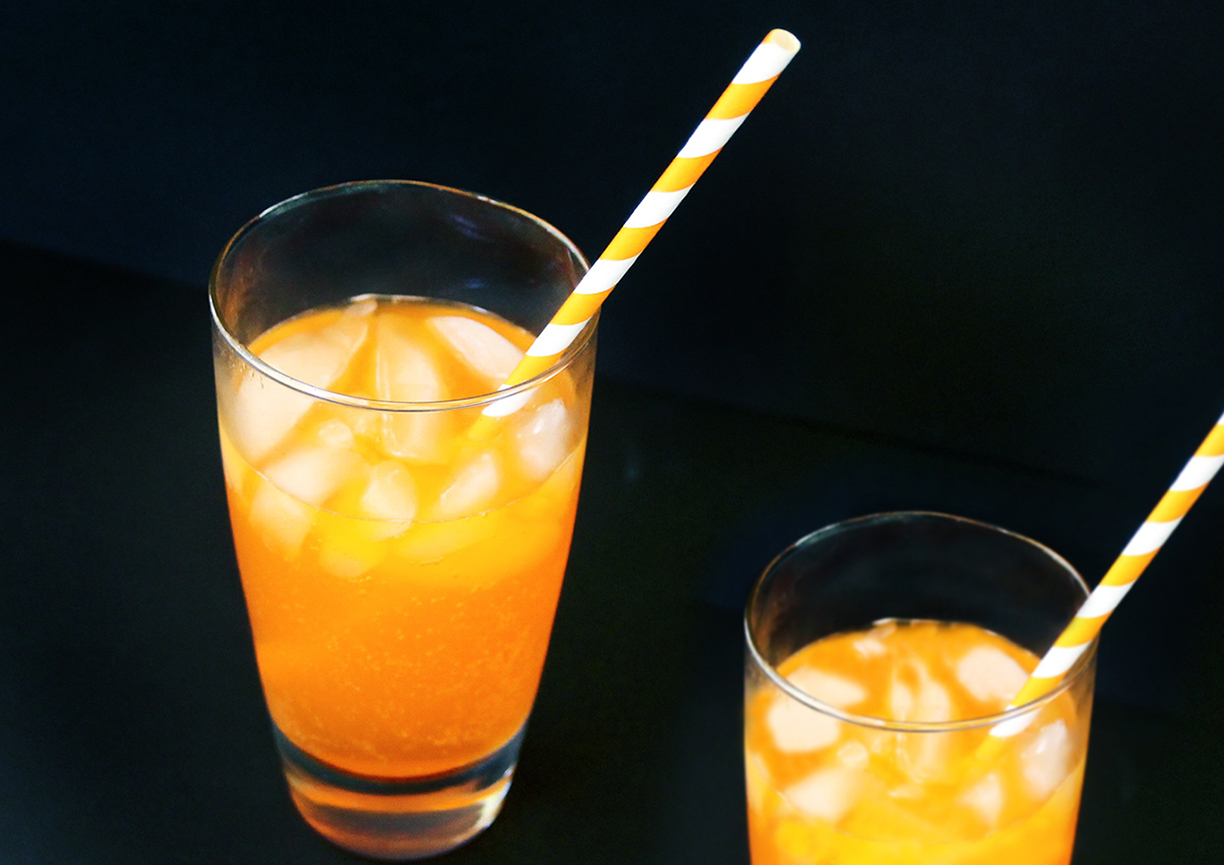 Get inspired with the fun Halloween designs of the Fanta bottles and unleash wickedly good fun! Fanta is a 100% natural soft drink inspired by real fruit flavors and comes in 8 FUN flavors – Orange, Grape, Strawberry, Pineapple, Grapefruit, Apple, Peach, Cherry. My favorite is still the orange flavor because it transports me back to those fun childhood moments so having Fanta at our Halloween party just brings back that feeling of fun and great memories together.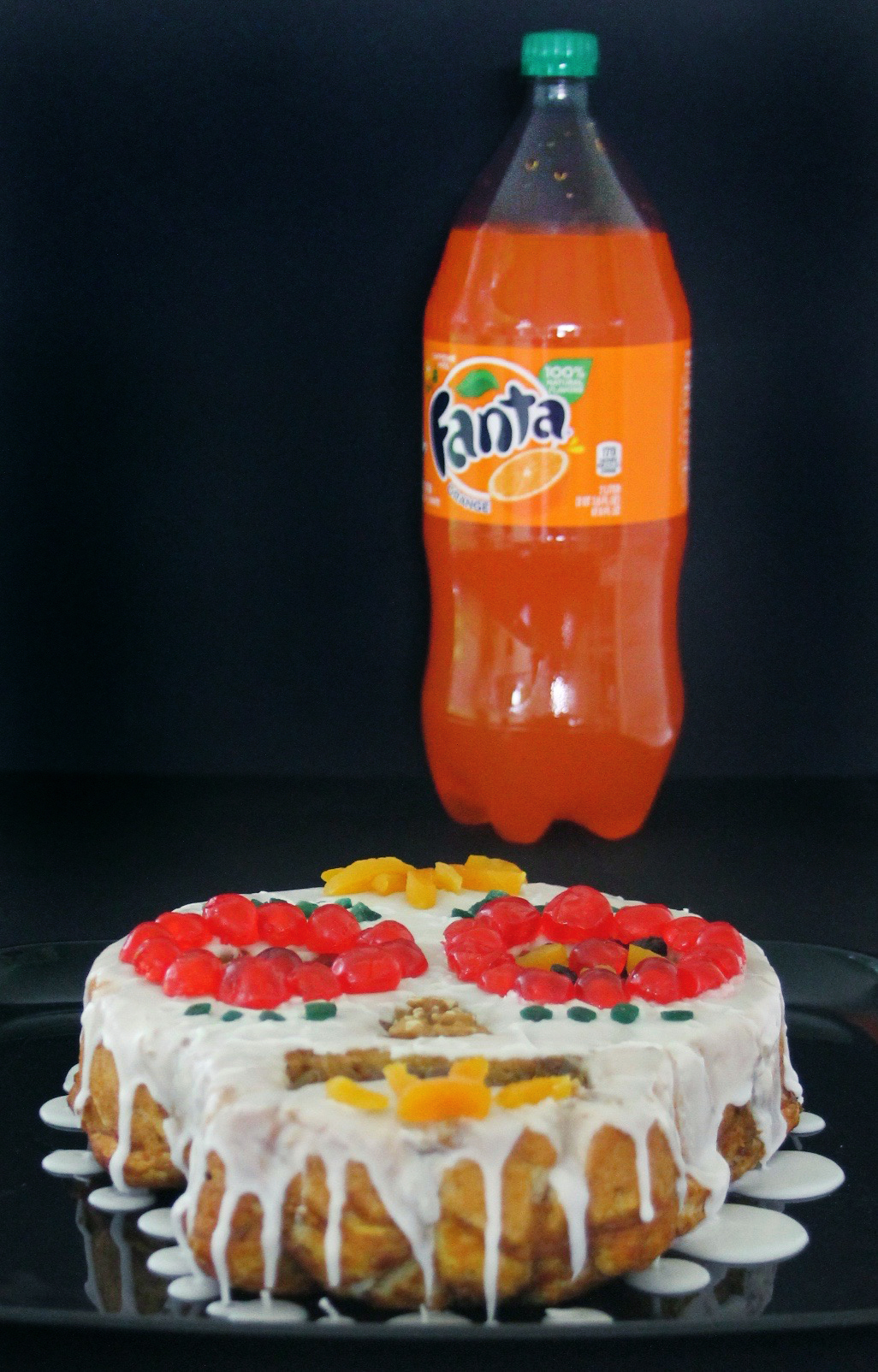 I might not be that kid back in Guatemala drinking my Fanta on the curve but during Halloween I can still act like a kid, have fun dressing up and play with my food and enjoy those things that bring back great memories like drinking a Fanta.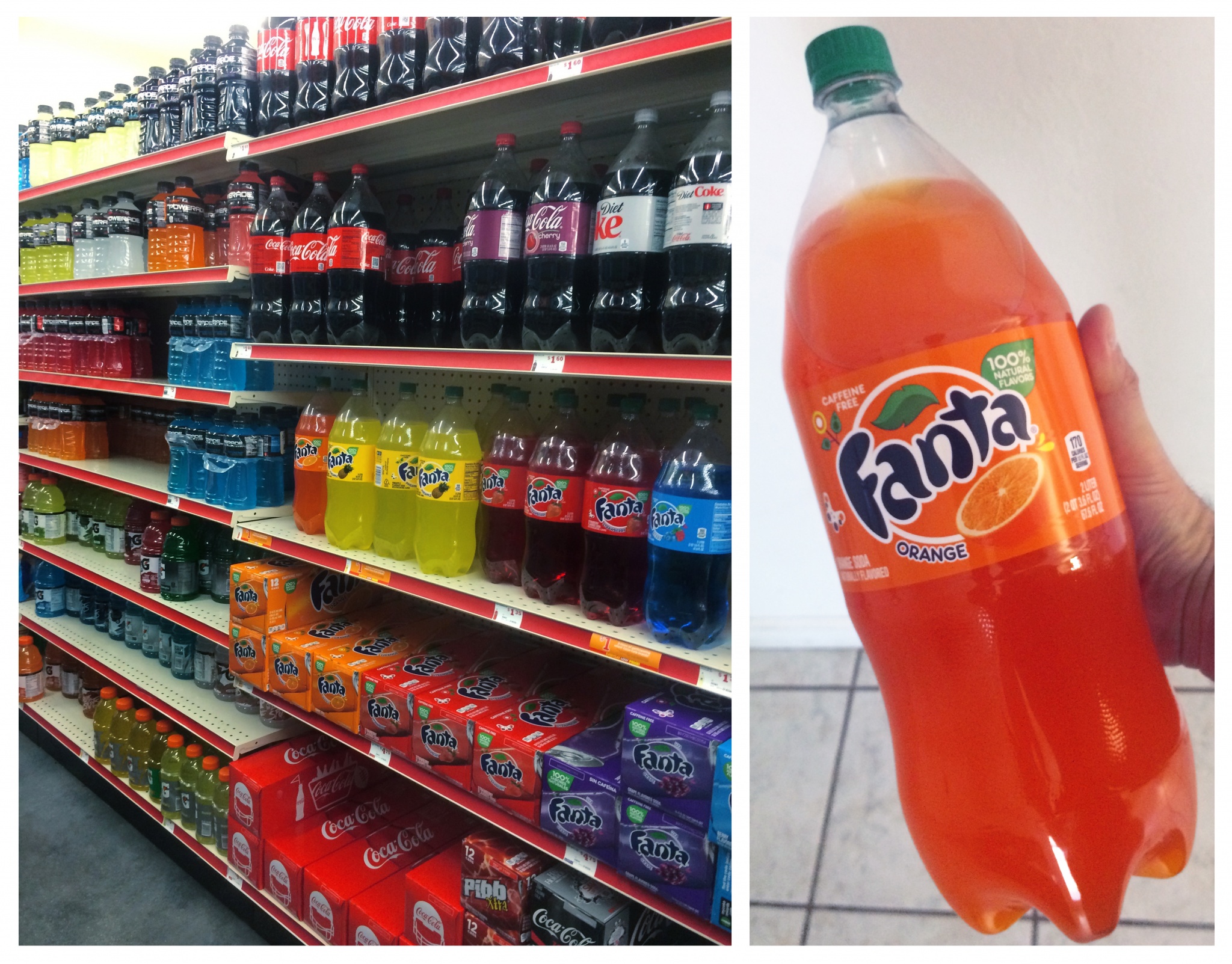 So head on out to your nearest Family Dollar and grab your favorite Fanta flavors now with fun and wicked packaging designs by Noma Bar. Be sure to look for the the one-stop FantaHalloween display at Family Dollar and right now you can save $1 when you buy (1) Fanta12-pack 12oz cans AND (1) Red Baron pizza 12oz or larger, with digital Smartcoupon at Family Dollar (10/24/16 – 10/31/16).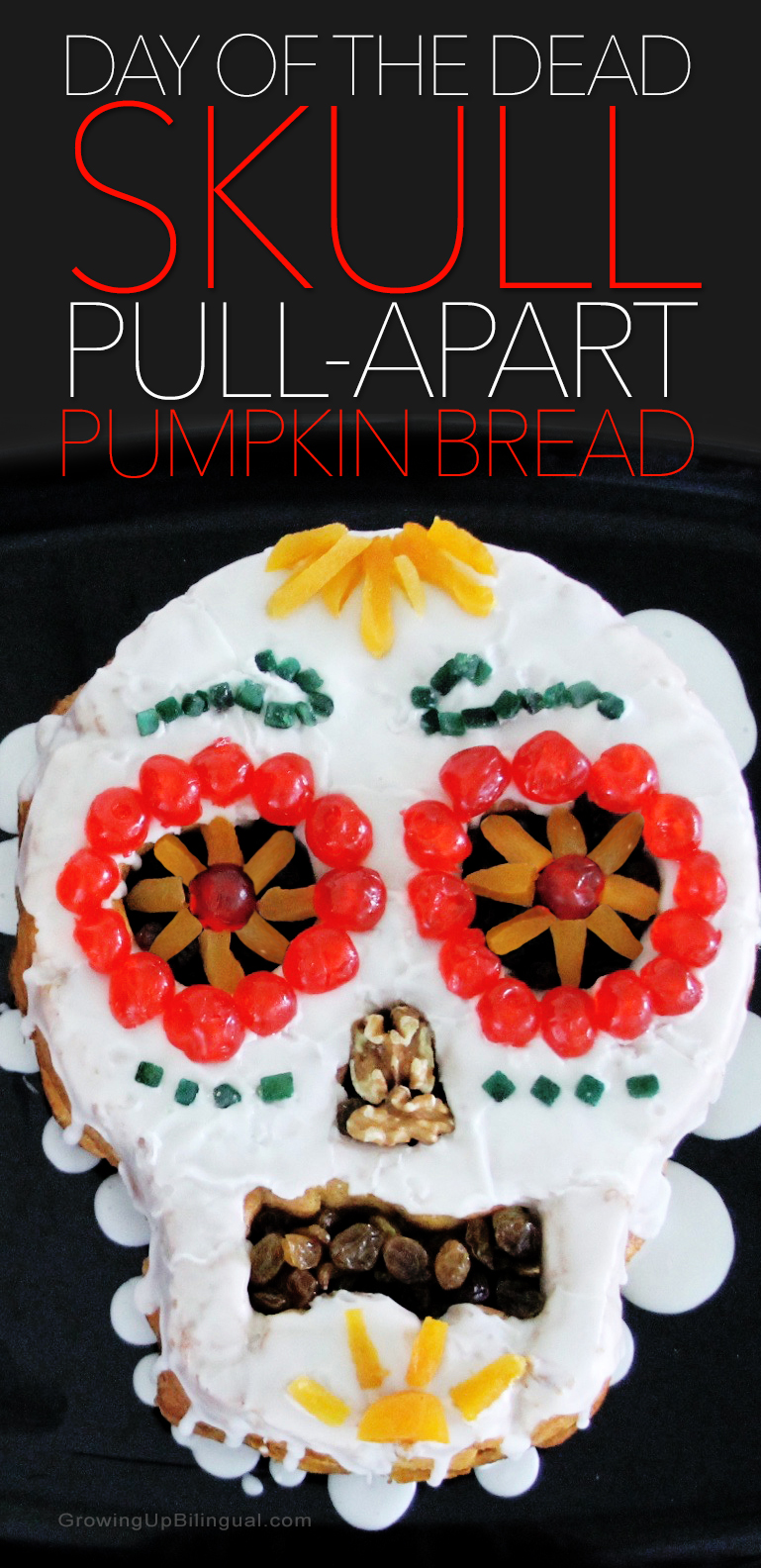 Latest posts by Cesar Diaz
(see all)