Disclosure: This post this is a compensated campaign in collaboration with JOHNSON'S® NO MORE TANGLES® and Latina Bloggers Connect.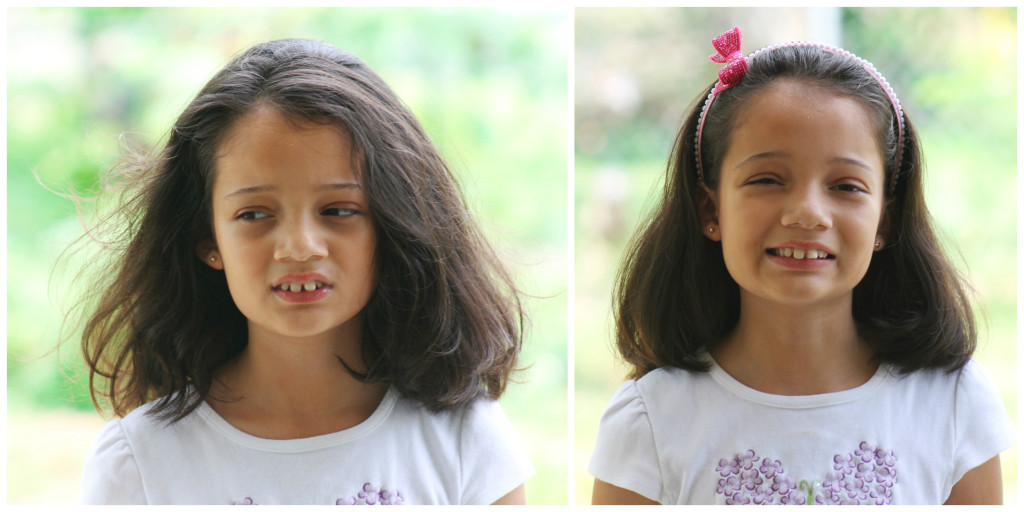 When I was pregnant with my daughter and found out she was going to be a girl I was so excited. I dreamed of pink dressed, braiding her hair and trying out new hair styles.  I know I'm not alone and many moms think that they will be able to play dress up with their daughters.  But once you actually become a mother instead of playing dress up with your daughter you get to witness how she grows as she discovers the world.  You see how she starts making her own choices and becomes her own amazing little person.  My little girl, well she's not that little but she will always be my baby, is not into princesses or dolls.  She likes cowboys, astronauts and space ships. She does not like wearing dresses AT ALL and when it comes to her hair she does not like to have it brushed! And you can just forget about trying to make a fancy hairdo with her hair, she will not sit still for more than a couple of minutes. This is not only part of her personality but also because she is very sensitive so brushing and untangling her hair can be quite the difficult mission! And don't even get me started on trying to keep her hair looking nice all day, that is why I make sure that I only try simply and quick hairstyles on her hair.
Our Secret for Beautiful Hair
I only use JOHNSON'S® NO MORE TANGLES® products on my daughter's hair to make sure that her hair is always healthy and shiny.  In only 3 easy steps I assure that her hair is always tangle free so that brushing and doing her hair is never a struggle but instead a fun time where we can bond and I get to put some pretty bows and accessories on her hair.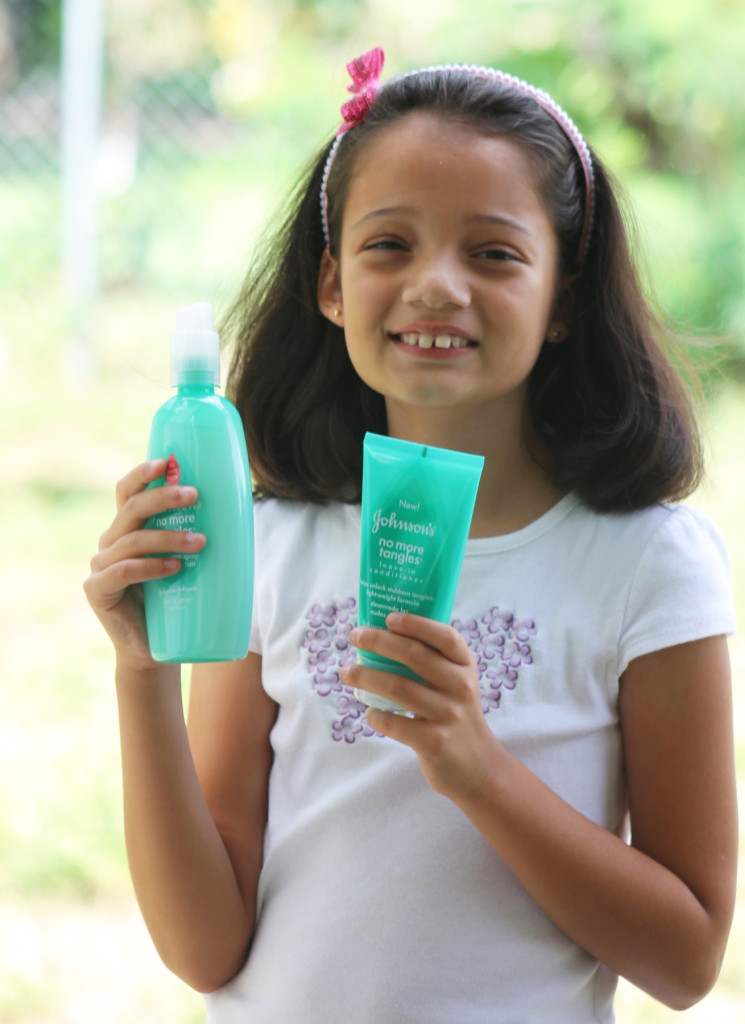 Step 1 Cleanse: I use JOHNSON'S® NO MORE TANGLES® Shampoo and Conditioner while giving her a bath. I love that they have a line of hair products for her type of hair. You can choose shampoo and conditioner for thin straight hair or for thick curly hair.

Step 2 Nourish: After she comes out of her bath I towel dry her hair and apply JOHNSON'S® NO MORE TANGLES® Leave-In Conditioner, this helps her hair stay tangle free during the night.  This product is a new discovery and since we have been using it our mornings are so much better because she wakes up with almost no tangles!

Step 3 Style: In the mornings when it's time to brush her hair and style it I could not live without the JOHNSON'S® NO MORE TANGLES® Detangling Spray. It makes detailing her hair such a breeze and prevents her running off or crying, which she does when I don't have it around because even if I am careful she is so sensitive when it comes to her hair!
Once her hair is detangled I usually put a headband or pull her hair up on a ponytail and add a nice bow to it.
Easy Hair Do Tutorial: Twist Back Flip Under Hairstyle
As I said before my daughter will not sit stay still and let me style her hair for more than a couple of minutes so when we are going to somewhere special I make sure I style her hair with a hairstyle that will not require too much time or too much hair pulling. 😉
This side ponytail with a twist is super easy to make and looks beautiful!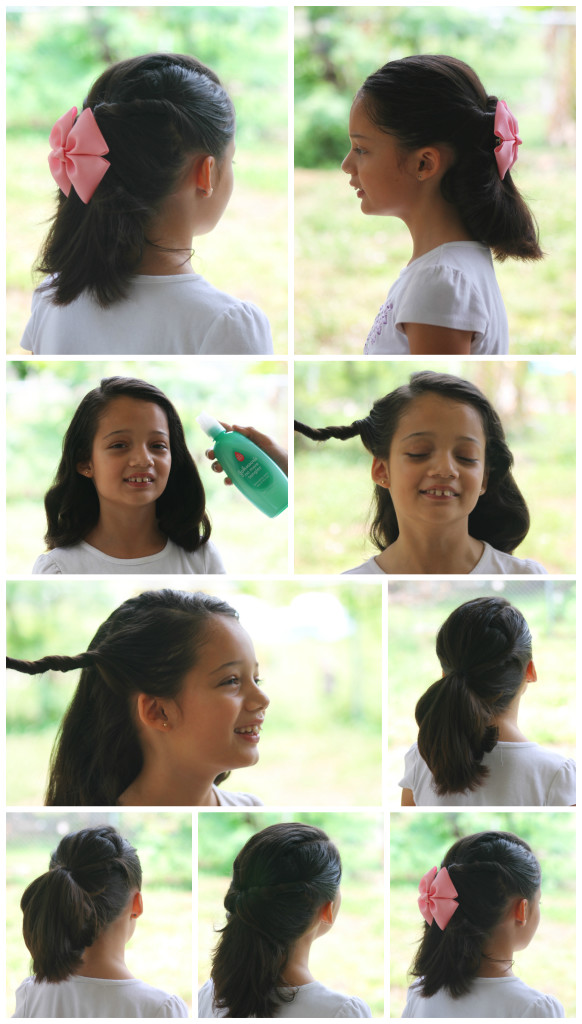 Step 1. Apply Johnson's no more tangles spray which helps you unlock the tables and having damp hair to work with will help keep the flyways under control.
Step 2. Part the hair to the side, following the natural direction of your child's hair. Part down from the top of her hair to her ear on only one side of her hair. Section off that little piece of hair, apply a bit more of Johnson's no more tangles spray. Twist that small section around and have your daughter hold it.
Step 3. While she holds the twisted section of hair comb the rest of her hair back and gather it into a side pony tail.
Step 4. Add that little twisted section of hair into the ponytail before you rubber band them together.
Step 5. Pull the rubber band down a little bit, part the hair in the middle and pull the pony tail through. You can also use a topsy tail tool to do this.
Step 6.  Pull the pony tail down and make sure it is tight.
Step 7. You can leave it like that or place a nice bow to give it a more elegant or fun touch.
Easy Hair Accessories
Because I want my daughter to love styling her hair we are trying to make it more fun. Remember I mentioned that for heir brushing can be hard as she is super sensitive! To do that we decided to create some beautiful hair accessories together. This was such a fun activity!  We started off with lots of hair hands, pretty bows and other fun and shiny accessories. There was enough things for her to choose what she wanted to create.

We made some sparkly hair bands and hair accessories with feathers and she could not wait to wear them.  Between the new hair regimen using the JOHNSON'S® NO MORE TANGLES® line of products that keeps the tangles at bay and the flyways in check and her new hair accessories she is now enjoying getting her hair brushed and styled and I am so excited about the possibilities.  Maybe I will get to play "hair stylist" after all! 🙂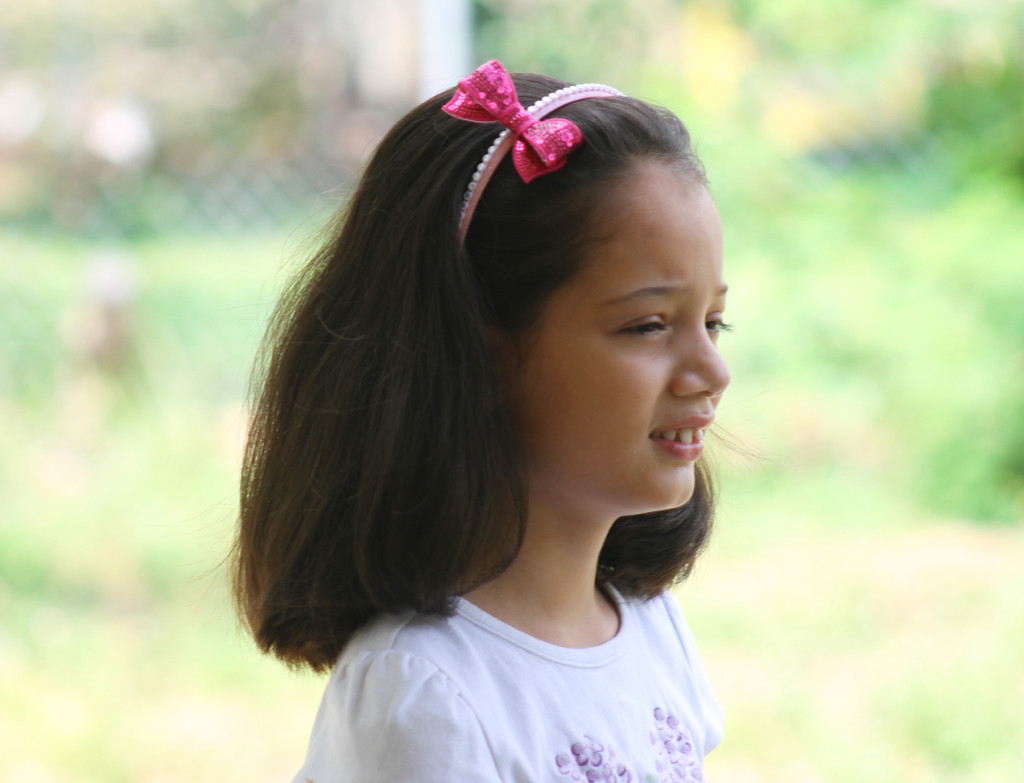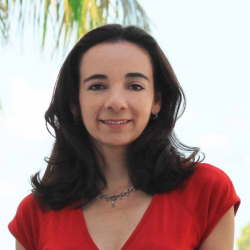 Latest posts by Paula Bendfeldt-Diaz
(see all)