If you're looking for a Halloween snack board that works well for both kids and adults, this Halloween charcuterie board is it. With a combination of cheese and meats, this Halloween grazing board is easy to make, and it makes for the perfect appetizer for a Halloween party.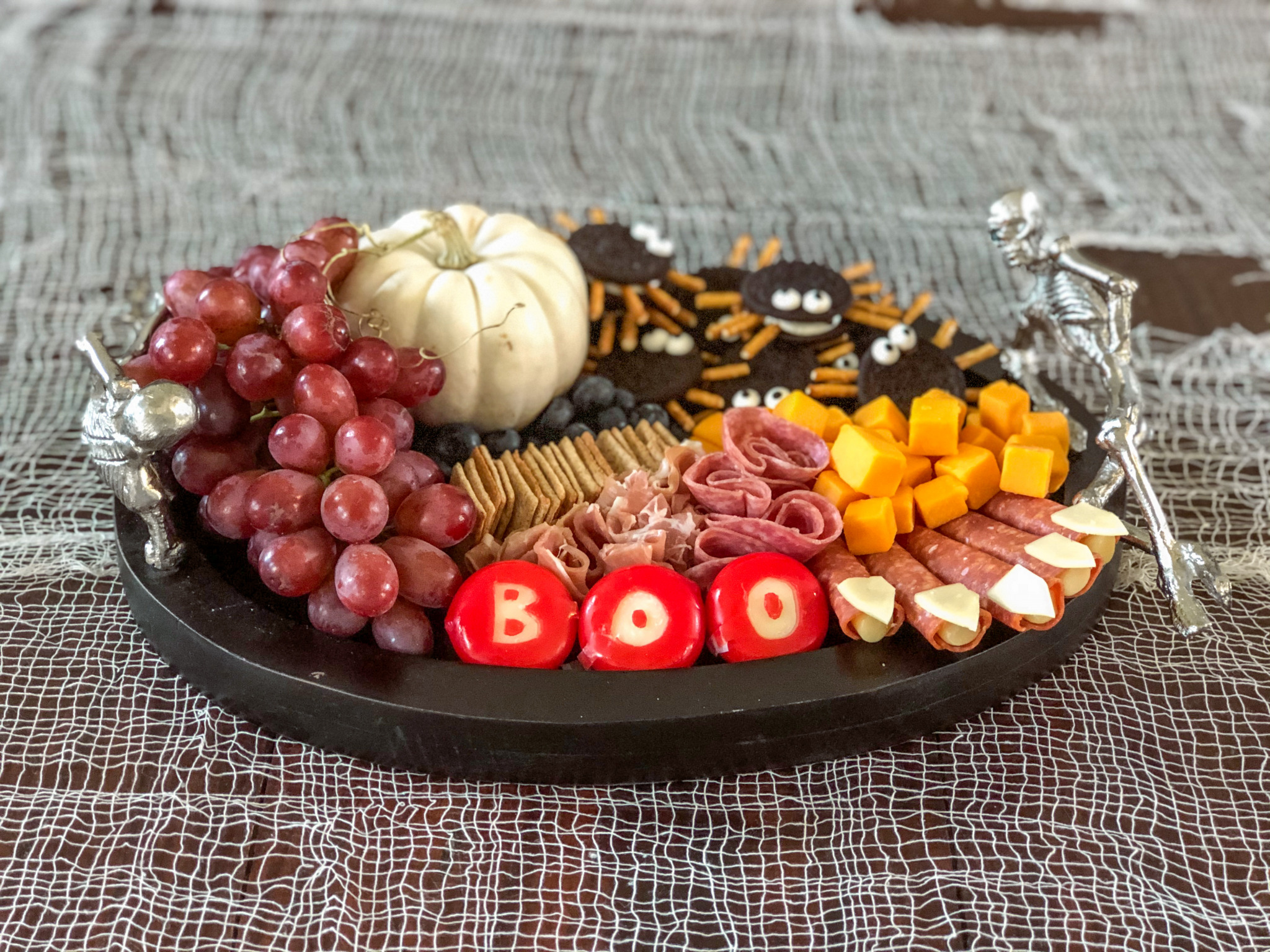 We used this Halloween cheese and meat board for our family movie night, so we added things for both the adults and the kids. To make this really spooky, we used a super cute skeleton tray I snacked at TJ Maxx. For some really spooktacular beverages to serve the grownups, check out these incredible Halloween cocktails.
How to make a Halloween snack board
Start by choosing your board. If you can find a tray that has a Halloween theme like this skeleton tray that would be awesome. Any large tray or cutting board will work but trays, platters or cutting boards that are darker in color or black will work even better.
Choose a color scheme. Because this is a Halloween cheese and meat board I focused on darker colors for both the cheese, the fruit and the meat. Following this black and white color scheme really helped me bring everything together. I stayed away from greens, yellows and any bright color.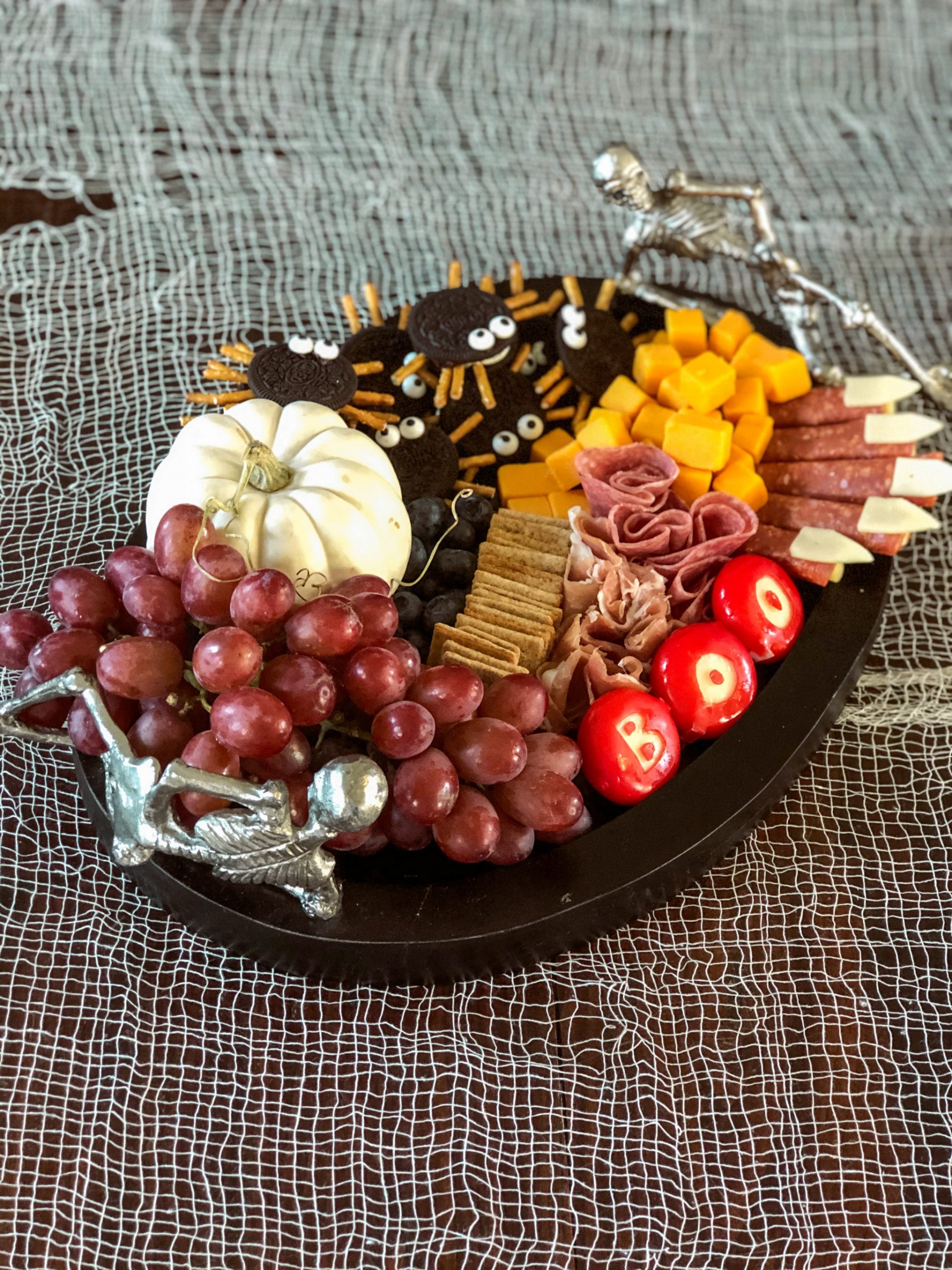 What ingredients to add to your Halloween charcuterie board?
When it comes to ingredients you can add to your Halloween snack board the sky's the limit. You can use lots of different things and focus on things you may already have at home. Some of the basics include:
Meats
For this Halloween grazing board, I chose dark and spicy meats like salami, prosciutto, and jamon Iberico. To place them on the board I folded them like a bloom and placed them in the middle of other ingredients so they would stay up.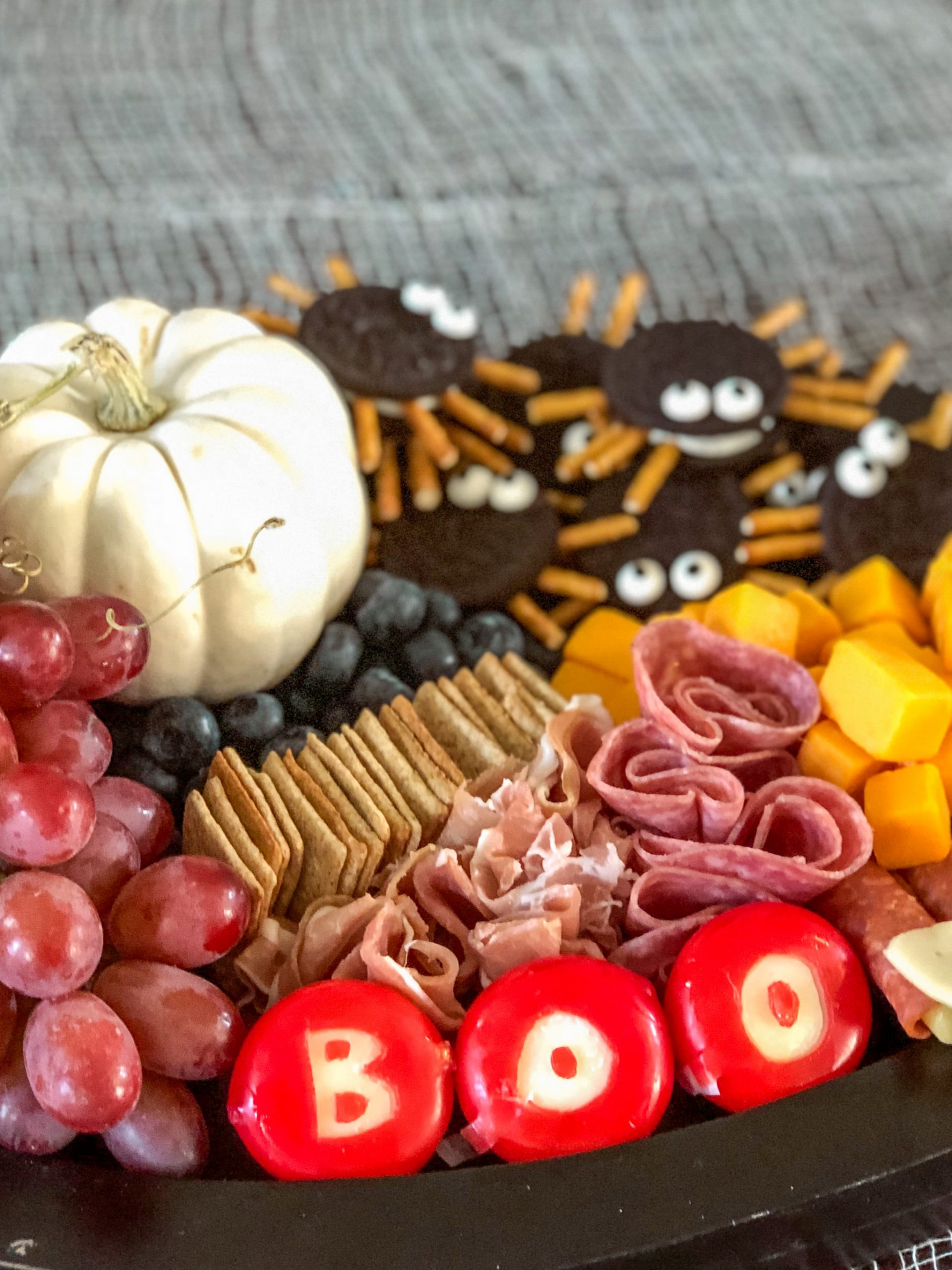 Fruit
Because I was going with dark colors I chose dark fruits for this Halloween cheese board. I included blueberries and red grapes. Other fruits that would be a great fit include figs, blackberries, plums, tart cherries and any other black, blue or dark red fruits. You can also add dried fruit along with the fresh fruit.
Cheeses
I choose cheddar cheese cubes for this Halloween snack board because I know my kids love them and because of the orange color that goes well with the Halloween theme. I also chose BabyBel cheese, not only because it's my kids favorite but also because I was able to carve letters out of the red wax to add to this board's spookiness and fun. You can choose any cheeses you like, and get creative. Any orange cheeses would be great and blue cheese would also look awesome on a Halloween board.
Crackers and bread
I usually place crackers outside the board unless they add to the overall look. For this Halloween cheese board, I tried to go with darker, whole wheat crackers. Pumpernickel bread would also look great because of the dark color. But ultimately choose crackers and bread that your family will like and place it in the board or outside the board depending on whether you have enough space.
Add some spooky elements
Along with the ingredients I would regularly use for a charcuterie board I also added some spooky elements to my Halloween cheese board. First I placed a white mini pumpkin, I choose white as my decor this year for Halloween is black and white and I'm not using any orange but if you have a Halloween decor with more colors an orange mini pumpkin or a combination of orange and white mini pumpkins works well.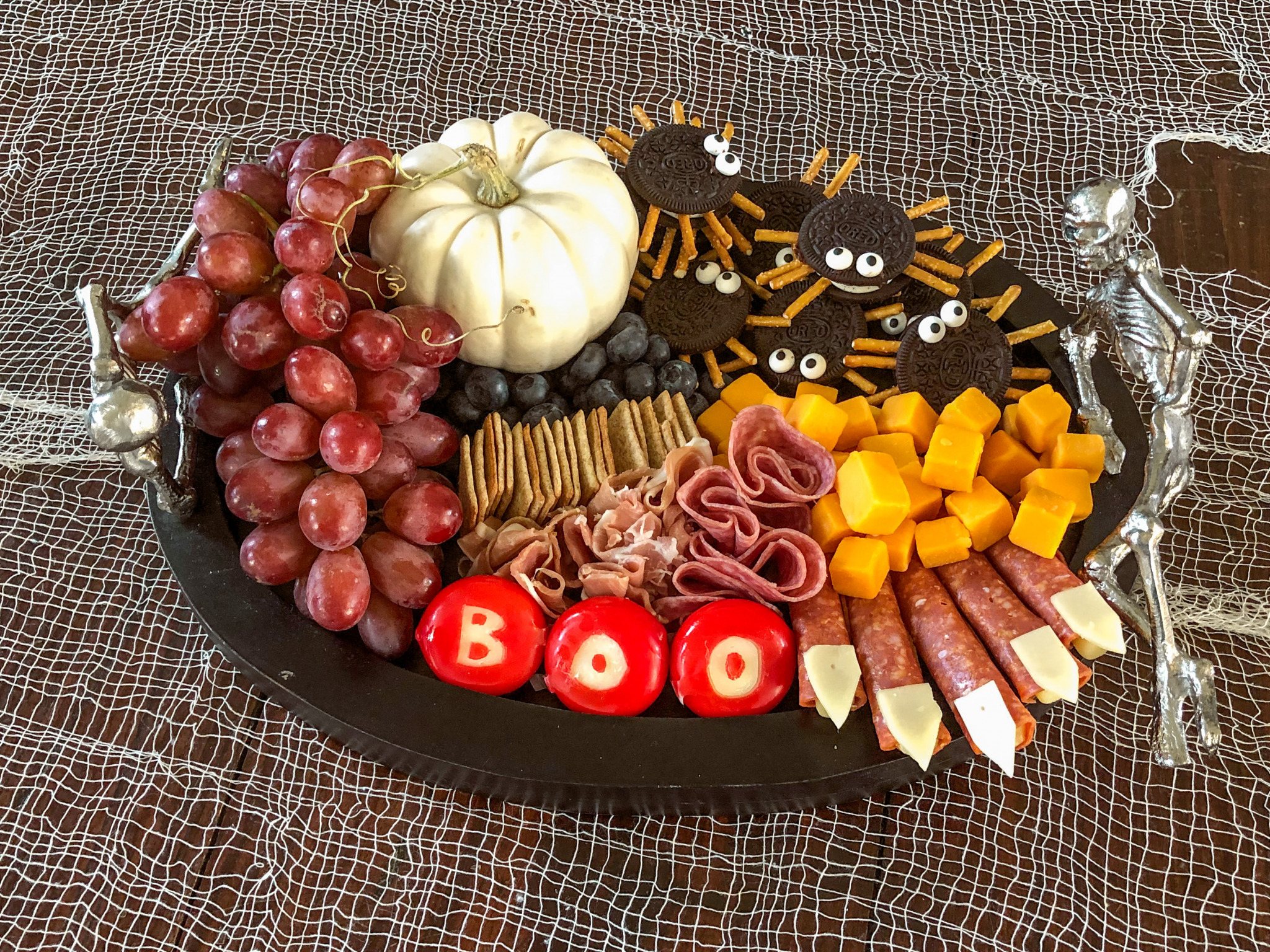 Then I added some creepy fingers. I made the fingers by wrapping a cheese stick with salami. I then cut the nails from a slice of provolone cheese and placed them on top of the salami. I made 5 of these and placed them to resemble a hand.
We also made some oreo spiders. This turned out to be a great addition to the board not only because it made it look spooky but also because my kids loved making these cute spiders with me. I also carved the word BOO on the BabyBel cheeses. But one of the most important spooky elements for my board was the board itself with the skeleton handles.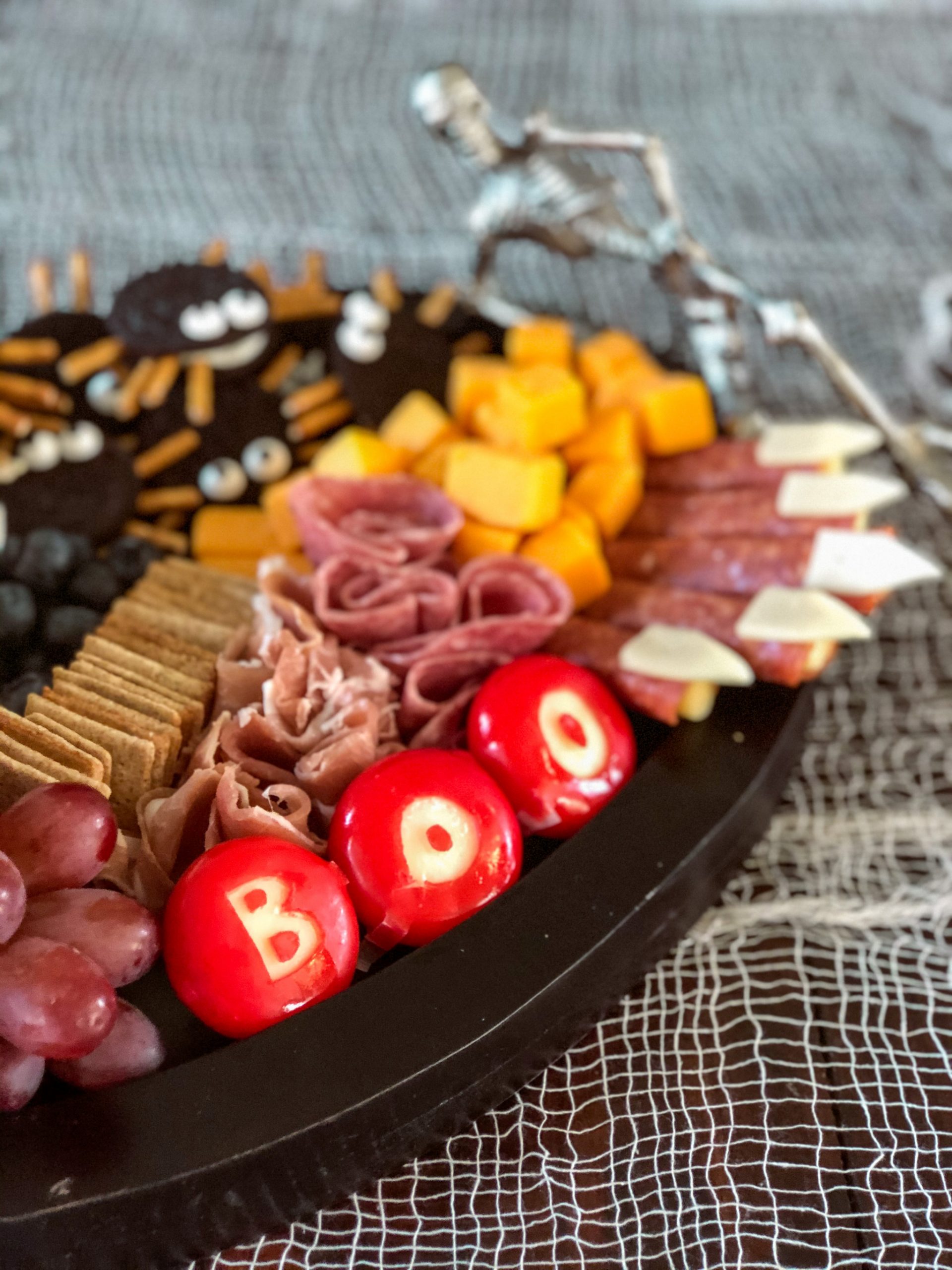 In past years when I have made Halloween cheese boards I have used a skeleton hand placed over the board as the spooky element. So if you don't have a Halloween tray that works really well. You can also add plastic spiders crawling over the food as a fun spooky element to your board.
I hope that this Halloween snack board inspires you to create your own Halloween charcuterie board. Above all have fun with it and use your creativity to make this your own.
This Halloween cheese and meat board is perfect for movie nights, family get-togethers, or for a fun Halloween party. This year we're not going out and we're having a spooky movie night and this Halloween grazing board worked great for that as everyone just picked what they liked and munched on it throughout the movie so I didn't have to make dinner.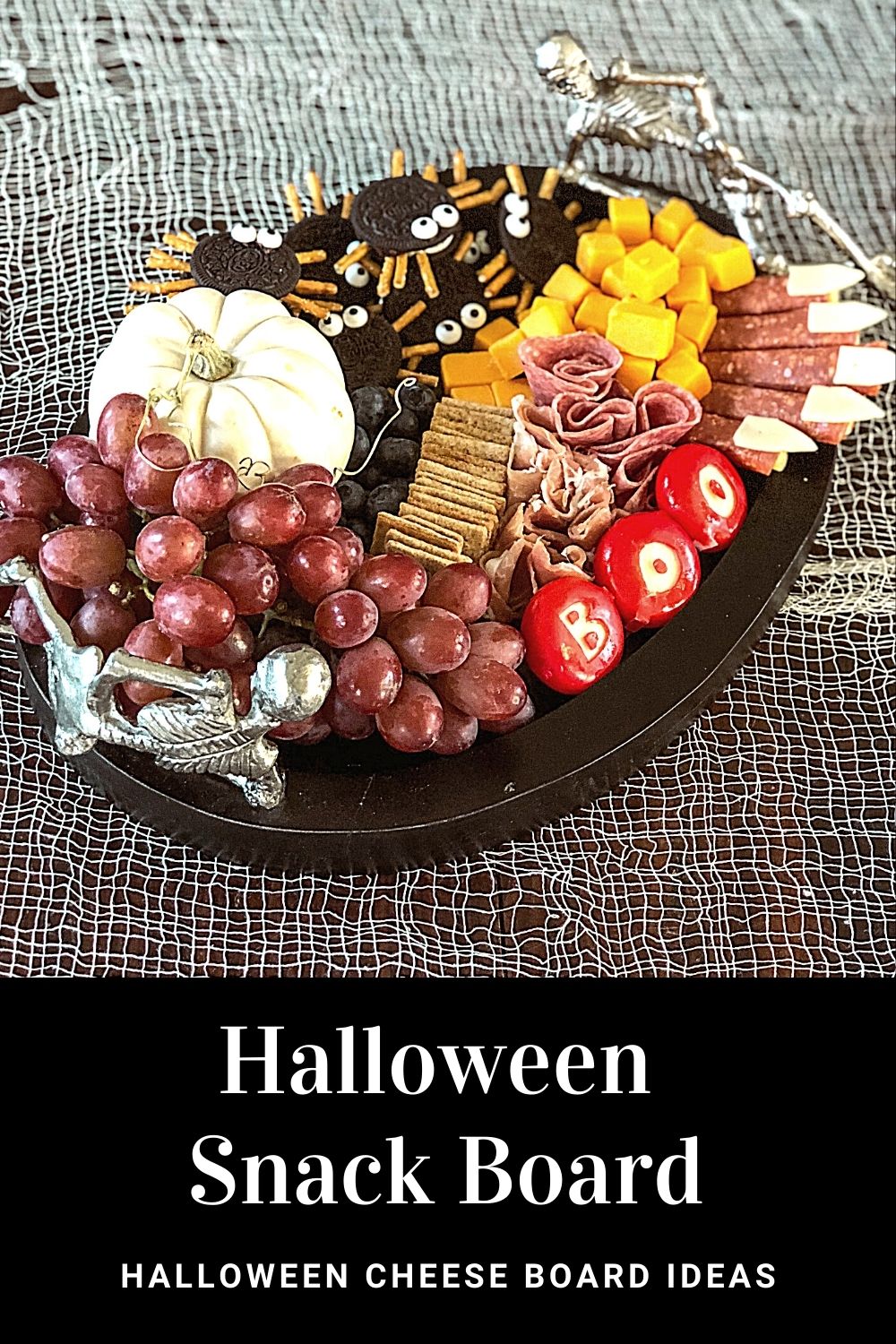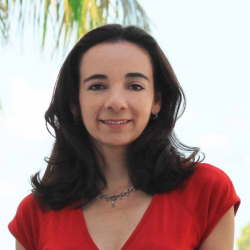 Latest posts by Paula Bendfeldt-Diaz
(see all)