This shop has been compensated by Inmar Intelligence and its advertiser, Angel Soft®. All opinions are mine alone. #AngelSoftScentedTube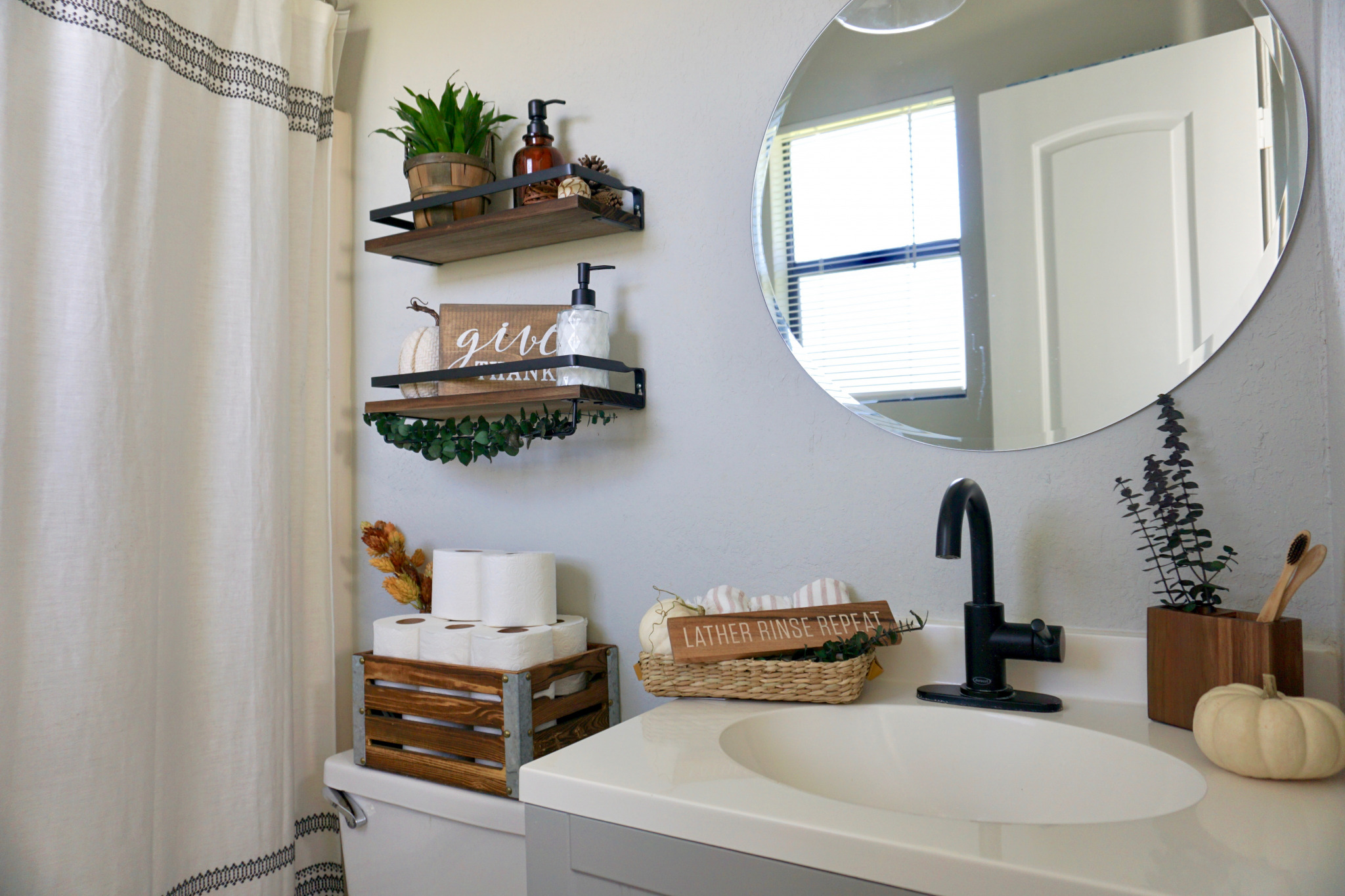 Keeping your small bathroom organized can be challenging. These fall bathroom decor and organization tips for small bathrooms will give you some ideas for giving your small bathroom a fall makeover just in time for welcoming guests.
I'm also sharing my latest find: Angel Soft® with Scented Tubes. Not only is this toilet paper strong and soft but it also makes your bathroom smell great because it comes with a scented tube. But more on why I'm loving it later. Now for those tips!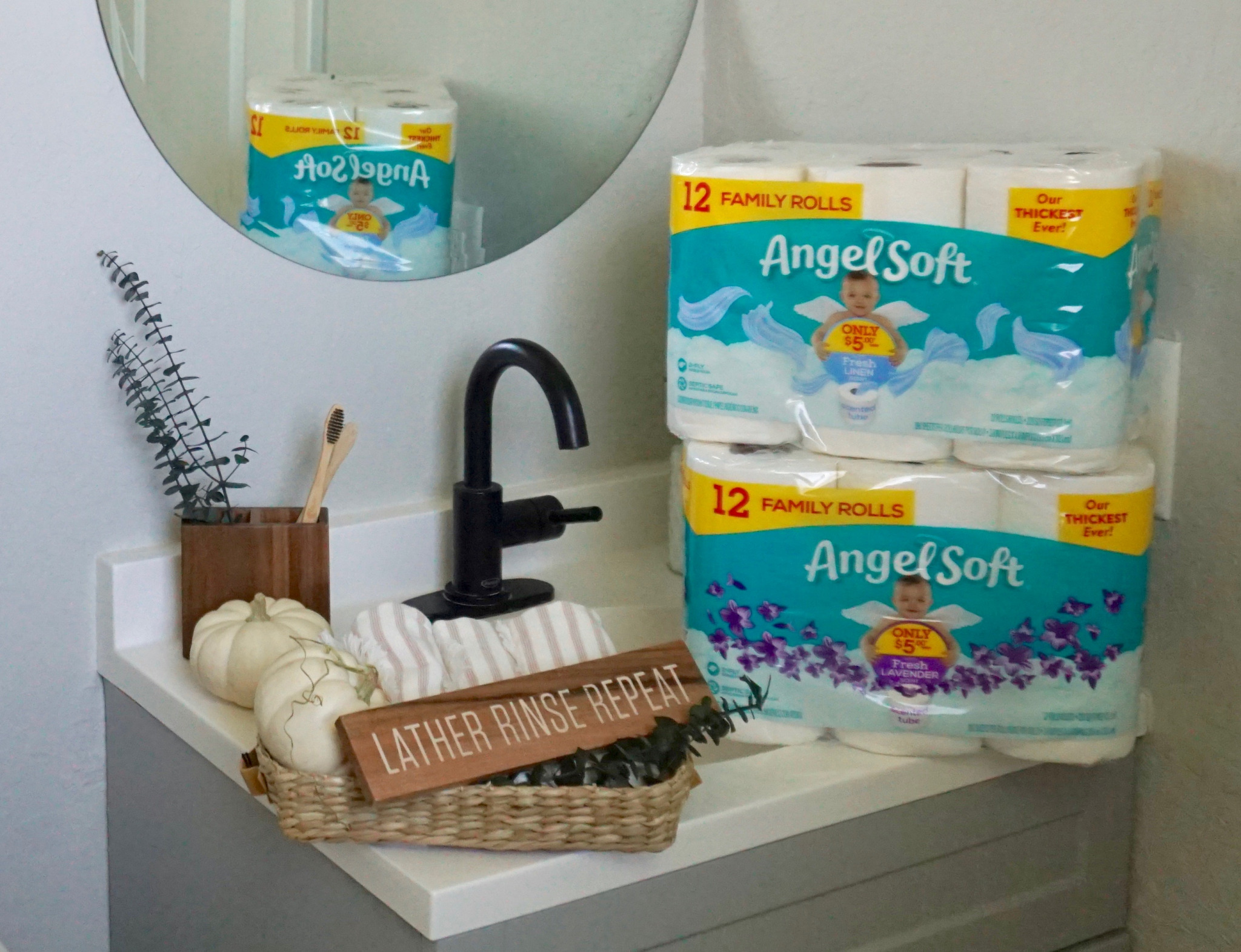 Fall Bathroom Decor and Organization Tips
I'm really looking forward to having family over for the holidays and one of the most important things for me, when I have people over, is making sure my bathroom looks great. Even if you have a tiny bathroom and very limited cabinet space it's easy and affordable to give your bathroom a fall refresh if you follow these simple tips.
Choose a color scheme
When it comes to small bathrooms using light colors will make them look more bright and spacious. That is why this year for my bathroom fall decor I'm staying away from the bright oranges, reds, and yellows and focusing on a more muted fall palette. I combined natural materials like wood, wicker, and white pumpkins for more a farmhouse fall look.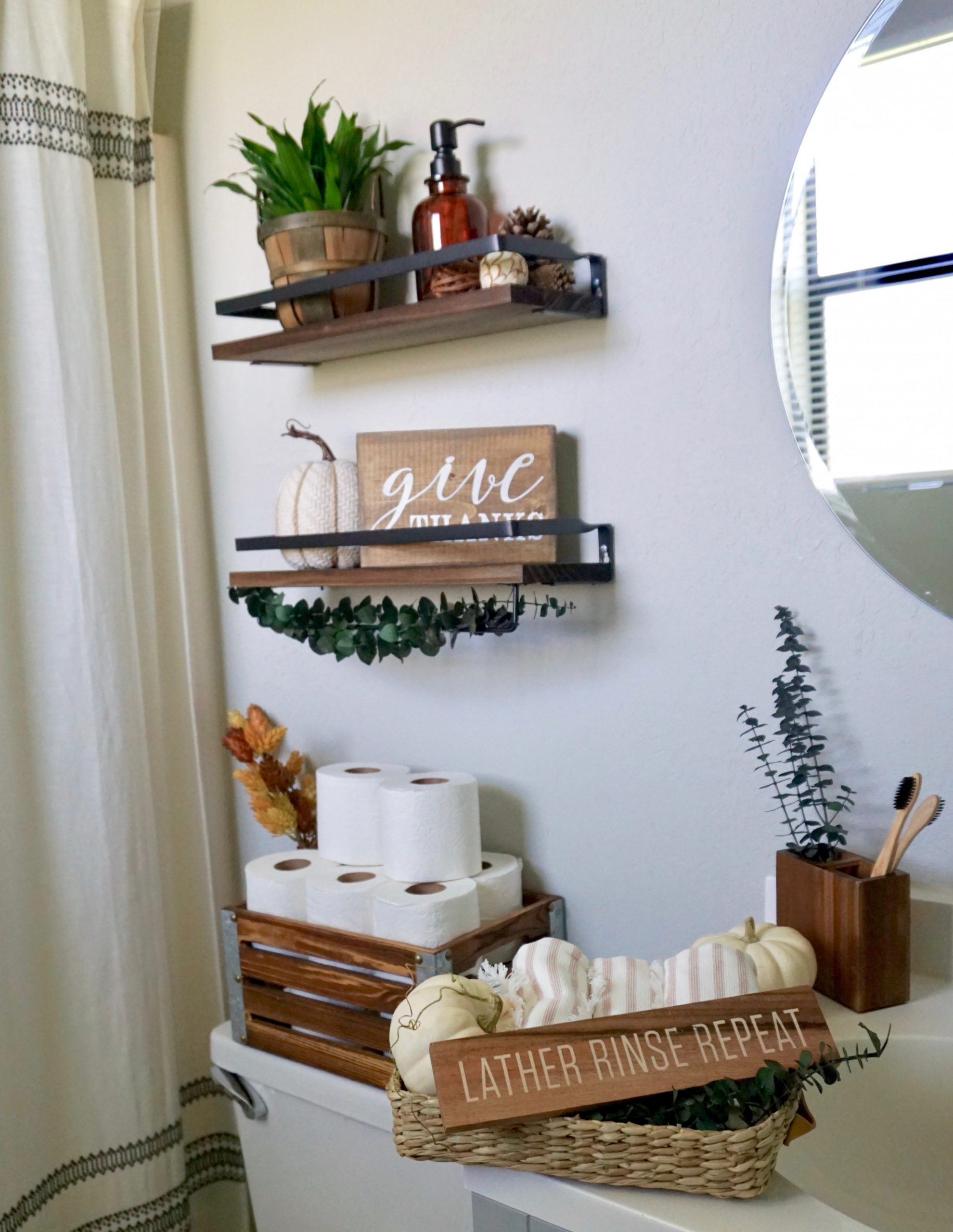 Choose the right products for your bathroom
Less is more, and when it comes to choosing products for a small bathroom I go for those products that are really needed and also try using 2 in 1 products. My newest find is Angel Soft® with Scented Tubes. This is now my go-to toilet paper because it combines the same softness, strength and great value I've always loved about Angel Soft® toilet paper with a pleasant scented experience for my bathroom.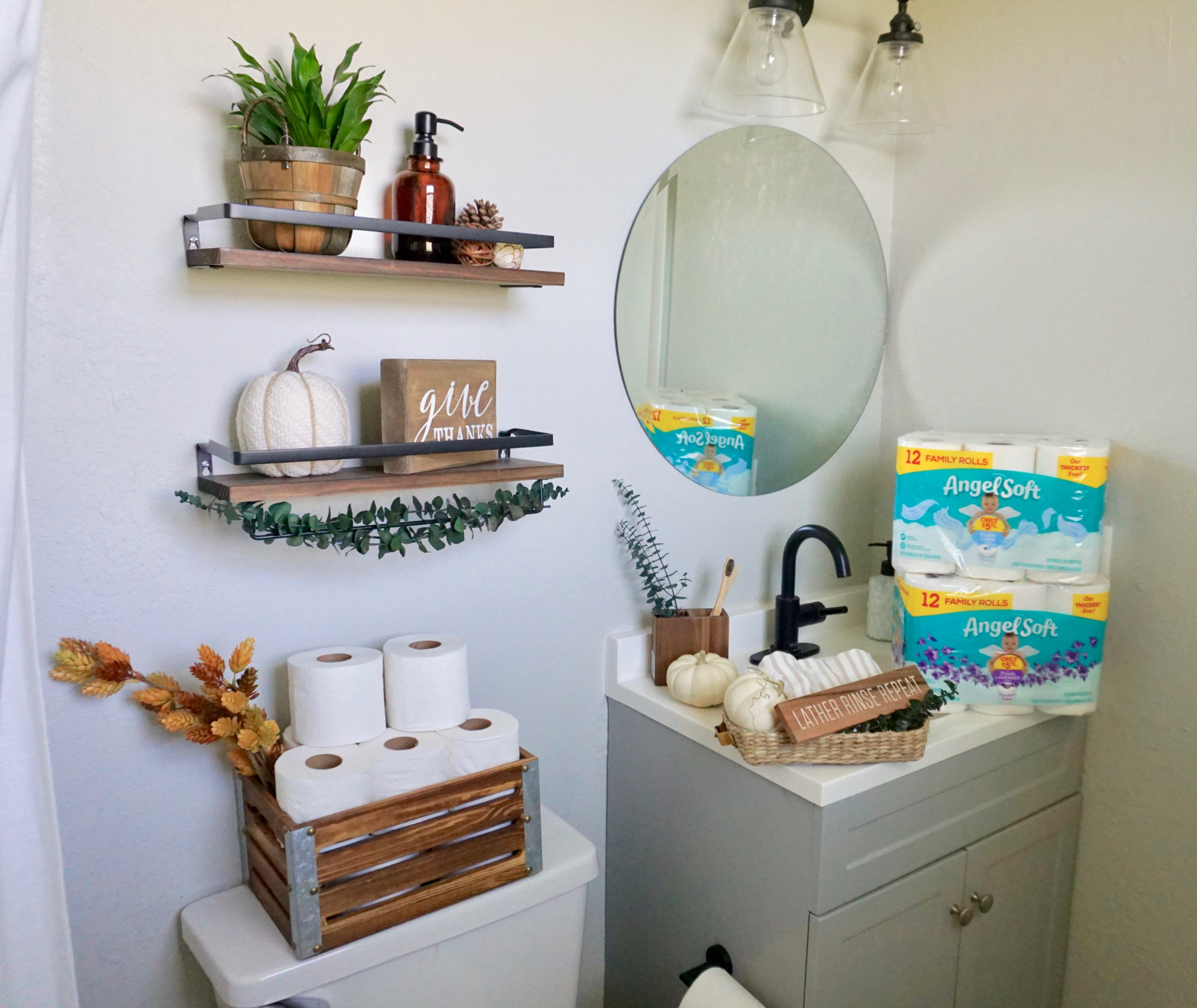 The scent is added to the cardboard tube to give off a light, pleasant scent in the bathroom for you, your family, and guests. It comes in lavender or fresh linen so you can choose the scent that you like best or change it around as I do. Angel Soft® with Fresh Lavender Scented Tube adds a welcoming scent of fresh lavender fields to my bathroom while Angel Soft® with Fresh Linen Scented Tube gives my bathroom a scent of freshly laundered linens with just a hint of that clean, classic scent all year 'round.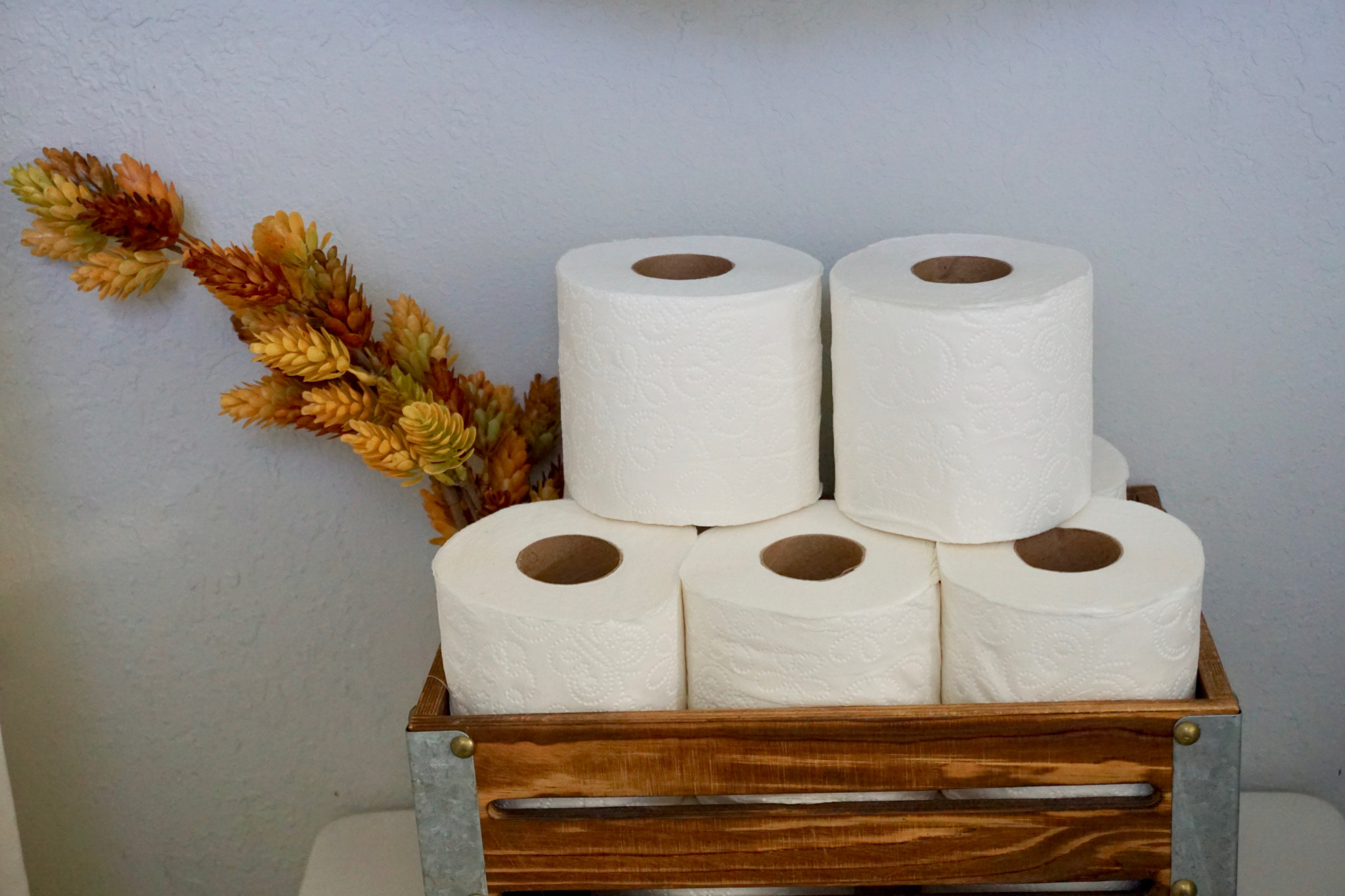 Make good use of your wall space
One of the first things we did when we moved to this house a few months ago was to install small shelves over the toilet. On the shelves, I combine decor elements with bathroom essentials like hand soap, hair products, and lotion.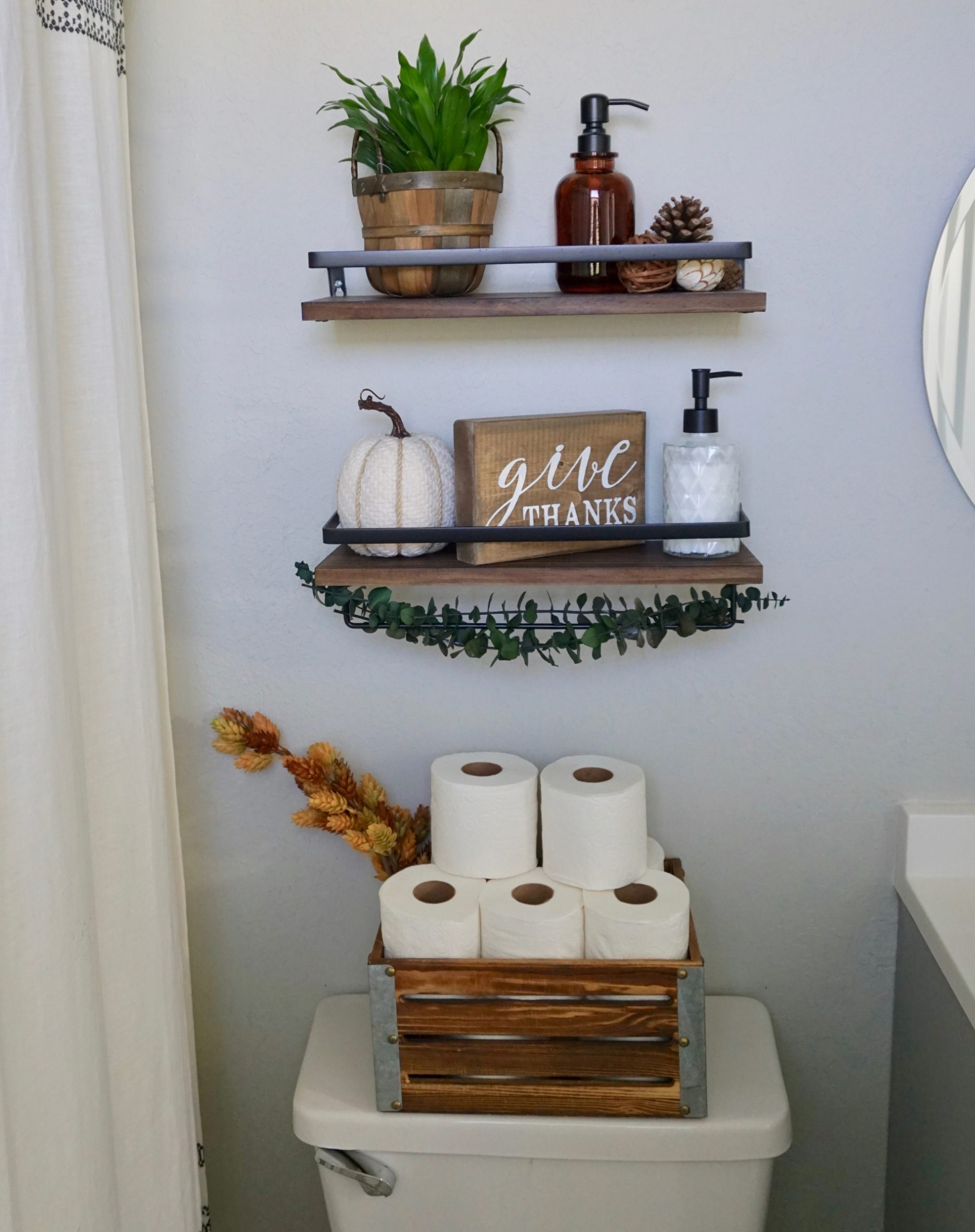 I always transfer products like lotion into glass dispensers so that everything would nice and pretty. By transferring things you use every day into glass containers you can display them on shelves and don't have to hide them away in your cabinet.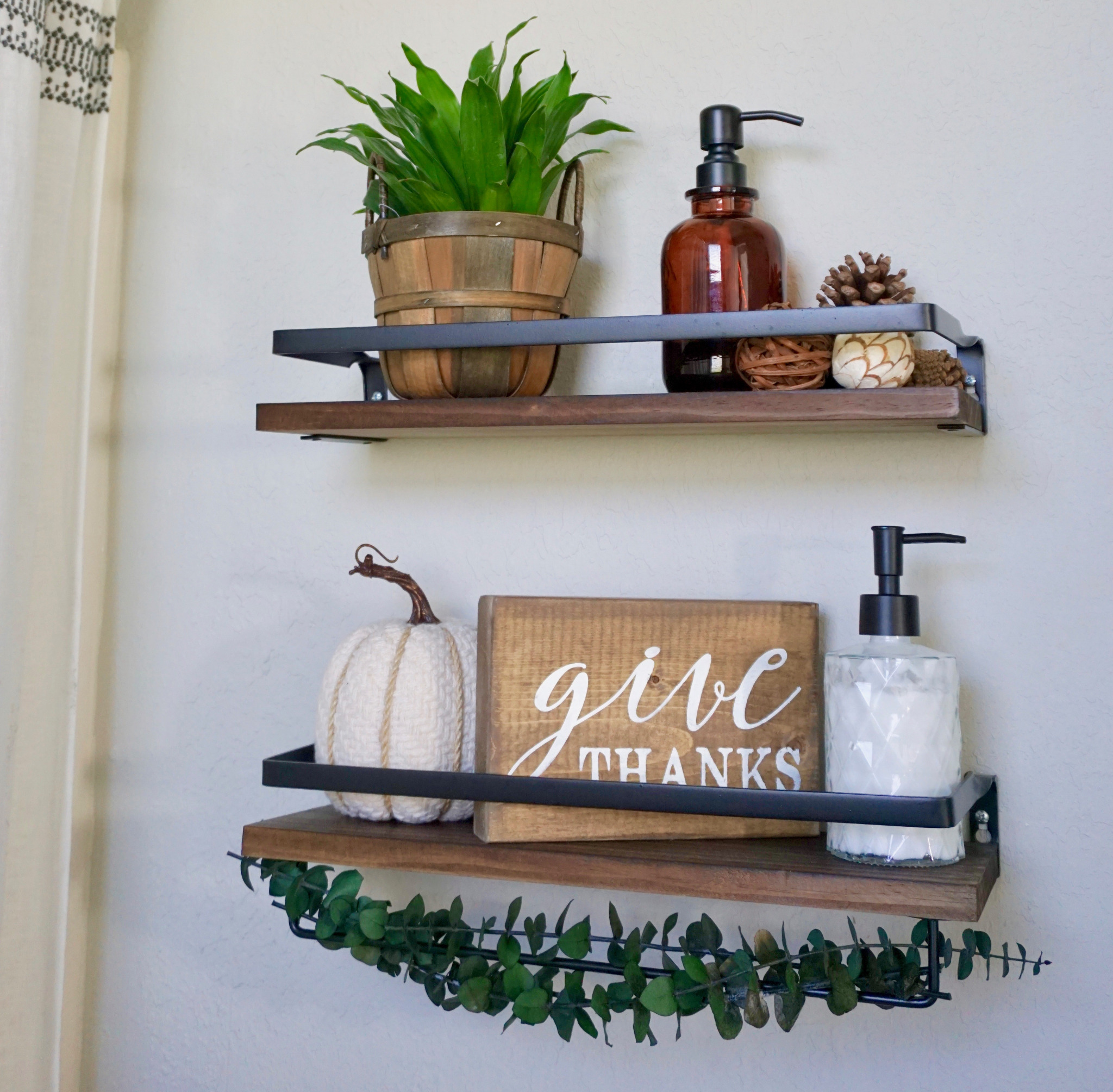 Display everyday essentials in creative ways
There's no need to overstuff small cabinet spaces. You can display things like hand towels and toilet paper in boxes, trays, or baskets. The key to styling baskets, boxes, and trays is to combine different elements to create a beautiful decorative display that is also functional. I used a small basket tray to place hand towels and combined them with a white pumpkin, a wooden sign a few branches of eucalyptus to give it a bit of color. If you need to improve your shower, you can think about using a metal handheld shower head to make your space more stylish.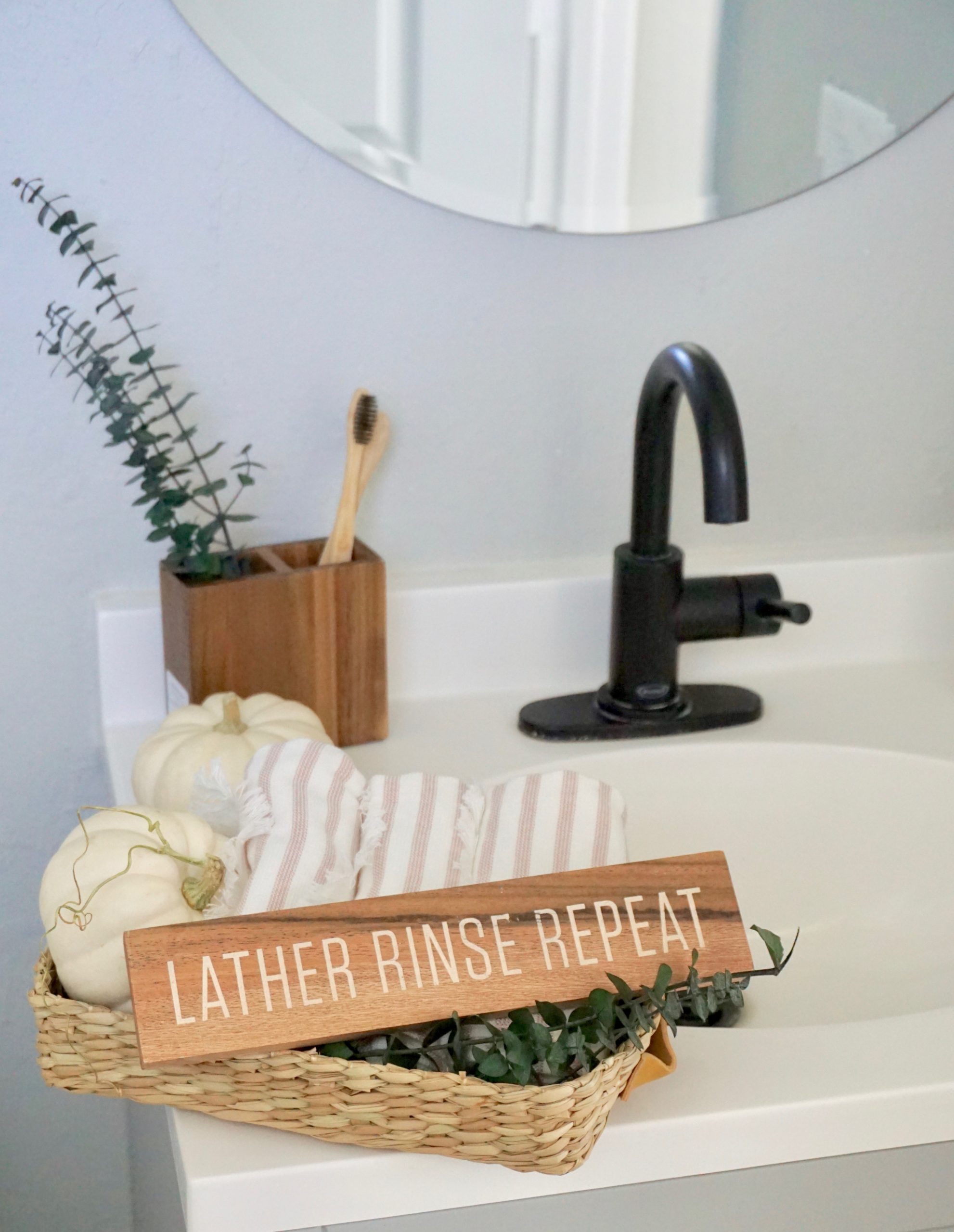 To make the best use of every inch of space available I placed a wooden box on top of the toilet and used it for storing spare rolls of toilet paper. Putting spare toilet paper outside of the cabinet not only makes it easy to access it also leaves lots of space for other things. And I love that because I use Angel Soft® with Fresh Lavender Scented Tube and Angel Soft® with Fresh Linen Scented Tube toilet paper having my toilet paper outside of the cabinet also means my bathroom always smells clean and fresh.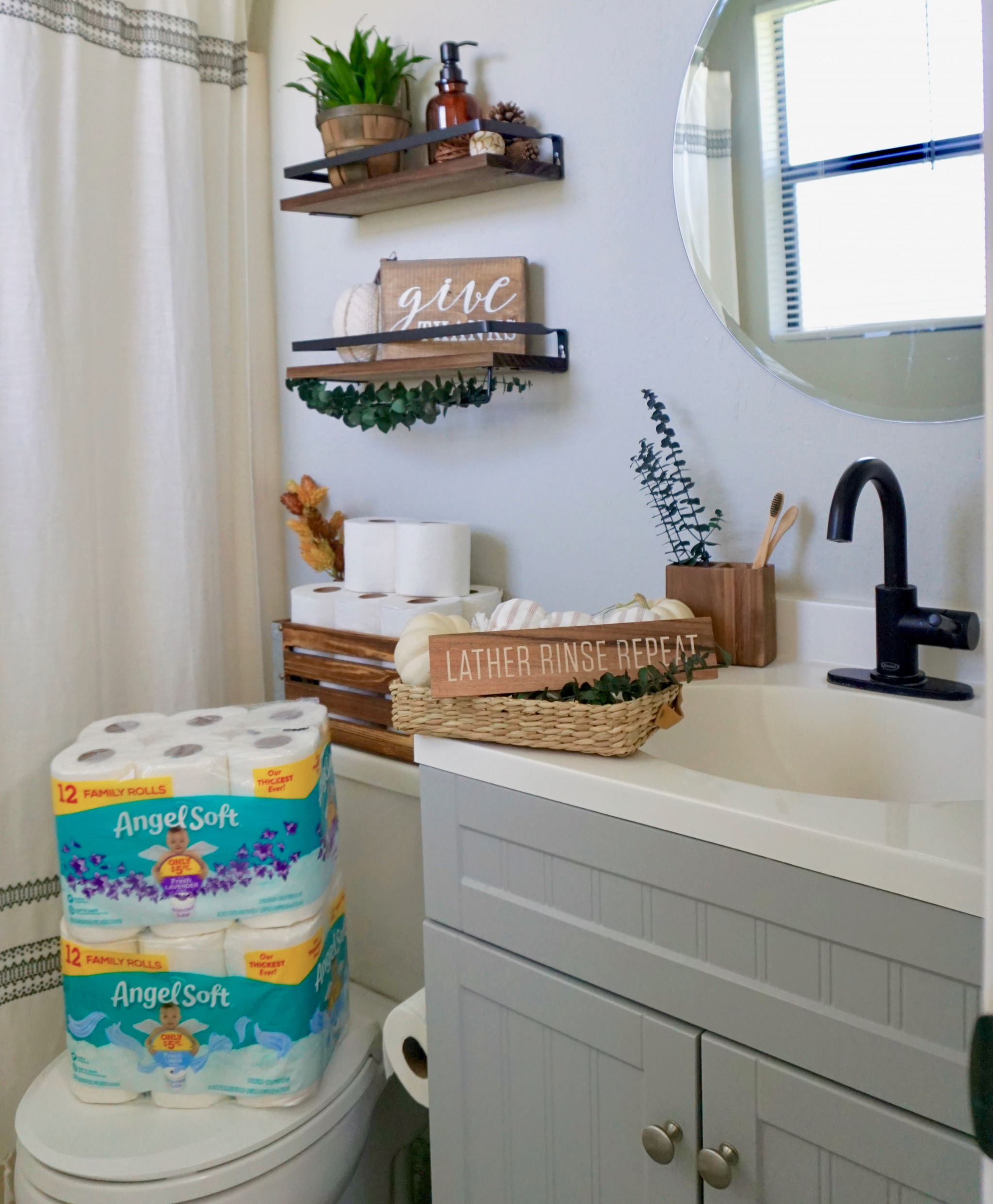 You can get Angel Soft® with Fresh Lavender Scented Tube and Angel Soft® with Fresh Linen Scented Tube at Family Dollar.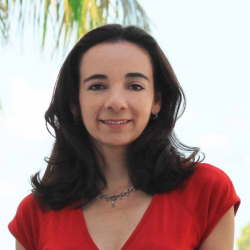 Latest posts by Paula Bendfeldt-Diaz
(see all)