This shop has been compensated by Collective Bias, Inc. and its advertiser. All opinions are mine alone. #RibsMadeEasyWithSmithfield #CollectiveBias
This blog post was created prior to the Coronavirus outbreak and recent CDC social distancing recommendations. As many of us are spending more time at home, I hope this recipe inspires you to try something new and brings some joy. Stay safe!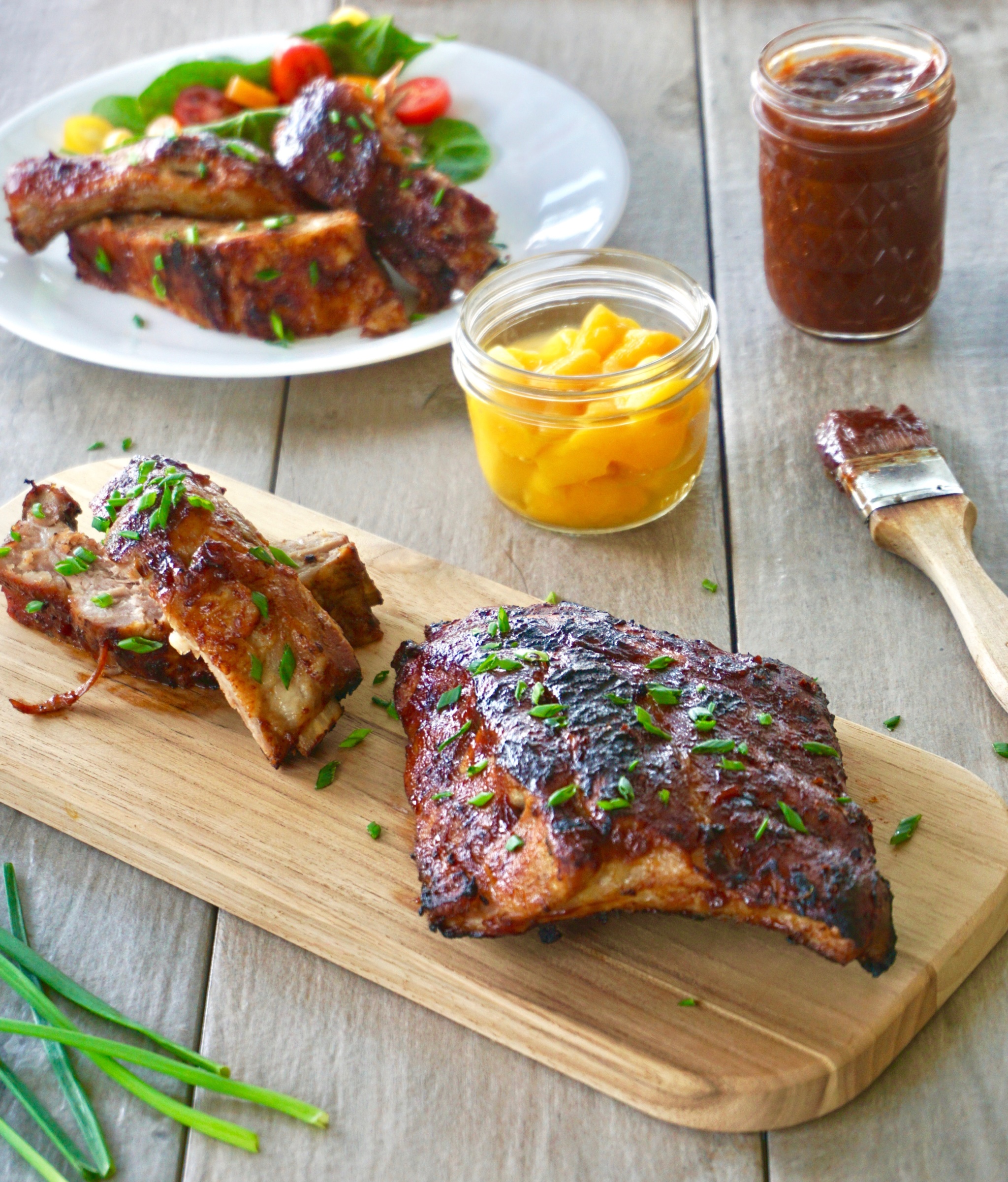 BBQ ribs are one of my favorite foods and this recipe for grilled baby back ribs give you juicy and tender ribs every time! The homemade mango BBQ sauce gives the ribs a sweet and tangy taste that will have everyone licking their fingers.
I have been craving some tender and juicy, fall-off-the-bone baby back ribs for a while now. So on my last trip to Walmart I picked up some Smithfield Extra Tender Fresh Pork St. Louis Style Ribs I love that the Smithfield® ribs are always very meaty and come out soft and tender.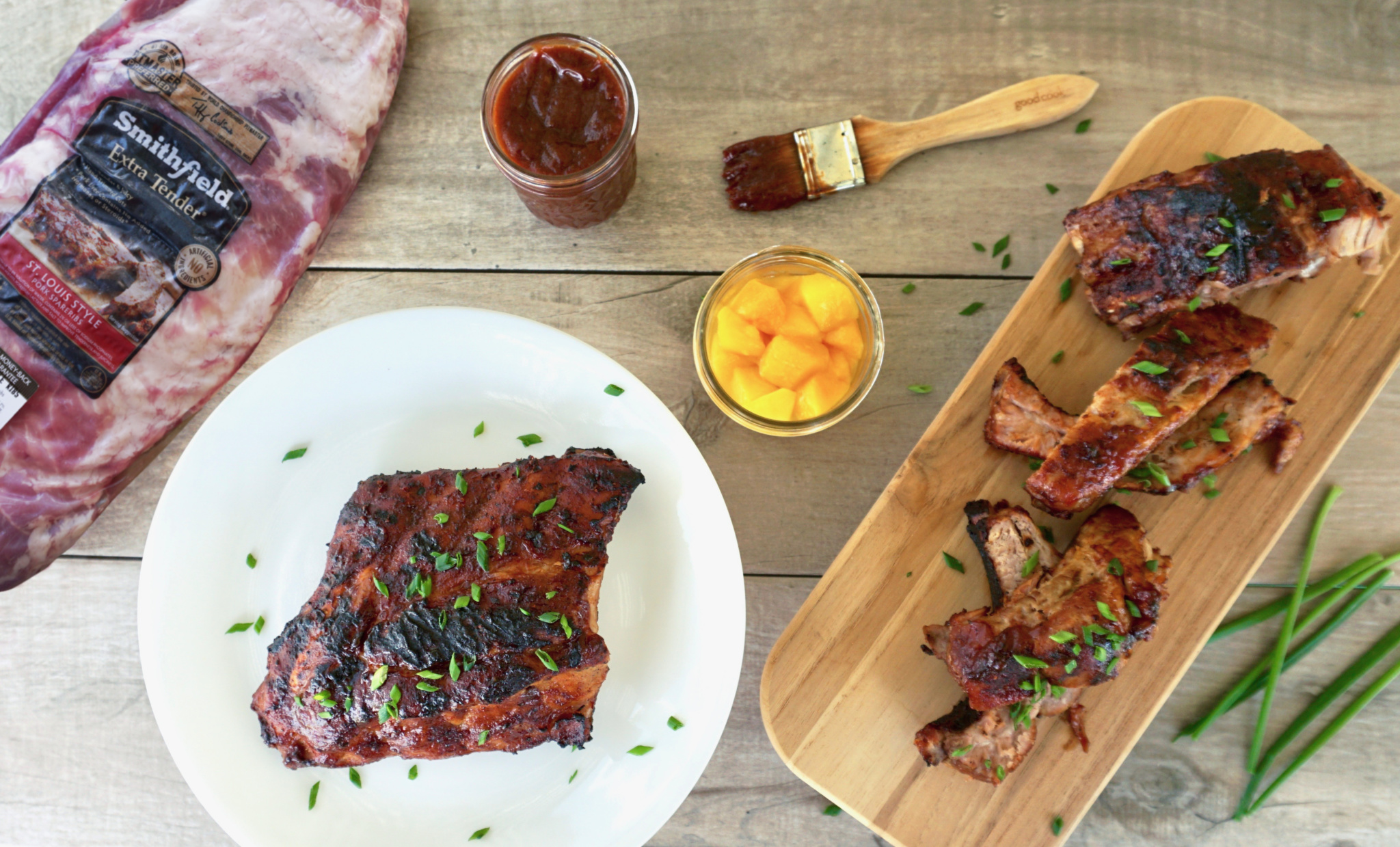 I wanted to do something different this time and decided to make a mango BBQ sauce instead of using a store-bought sauce. Our mango tree in the back yard is filled with mangoes so I thought it would be a great idea to make a mango BBQ sauce using our own mangos.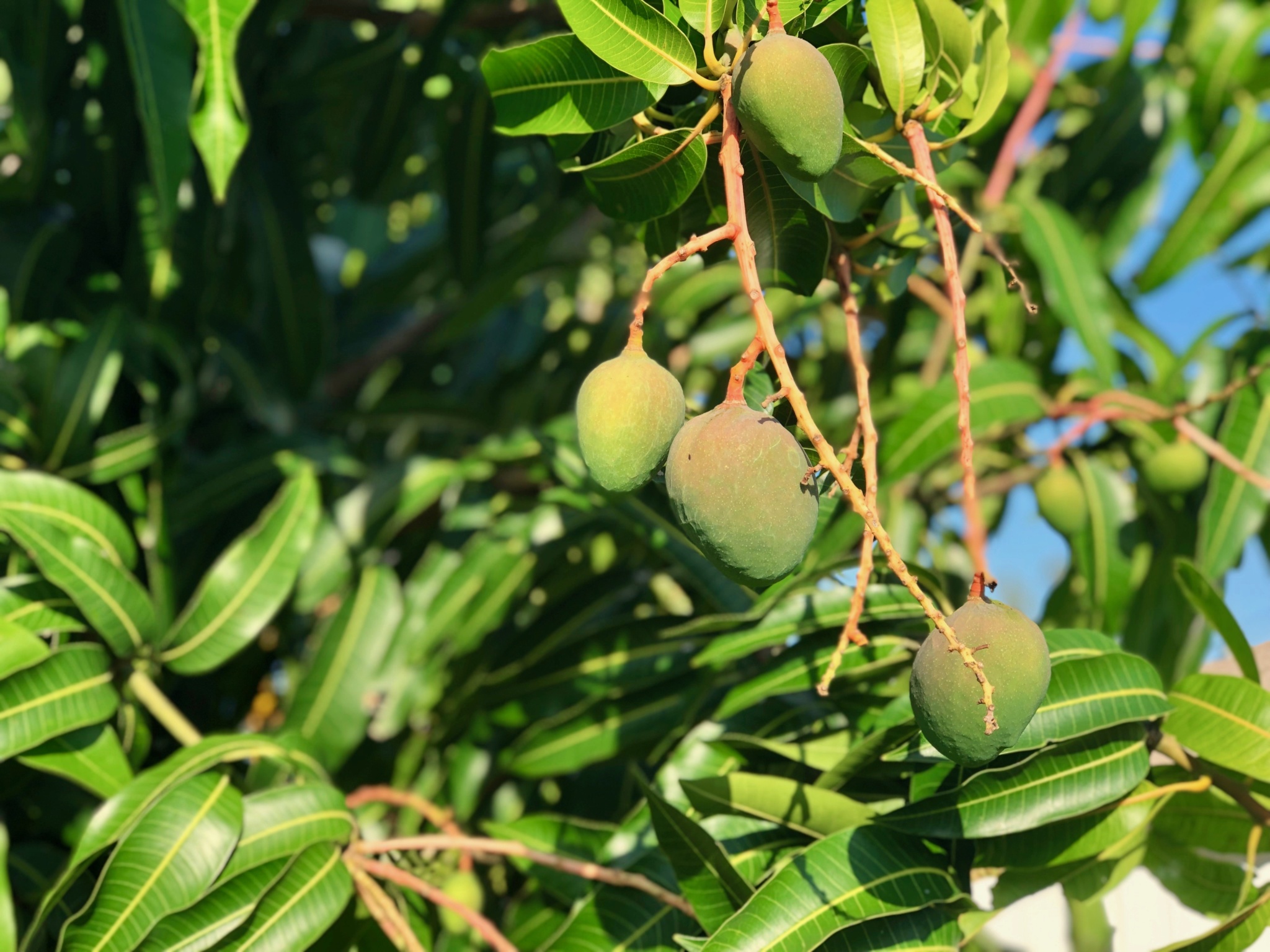 I made a big batch of the mango BBQ sauce because I know I will be using this a lot. I love that BBQ sauce is so versatile and can be used a marinade, as a condiment on burgers or sandwiches and even to make pizza. I even made enough so I could gift some to my parents. This mango BBQ sauce is sweet and tangy and I made mine kid-friendly. If you want to add some heat I recommend adding some chipotle adobo which will complement the sweetness of the mango and give it a nice smoky flavor.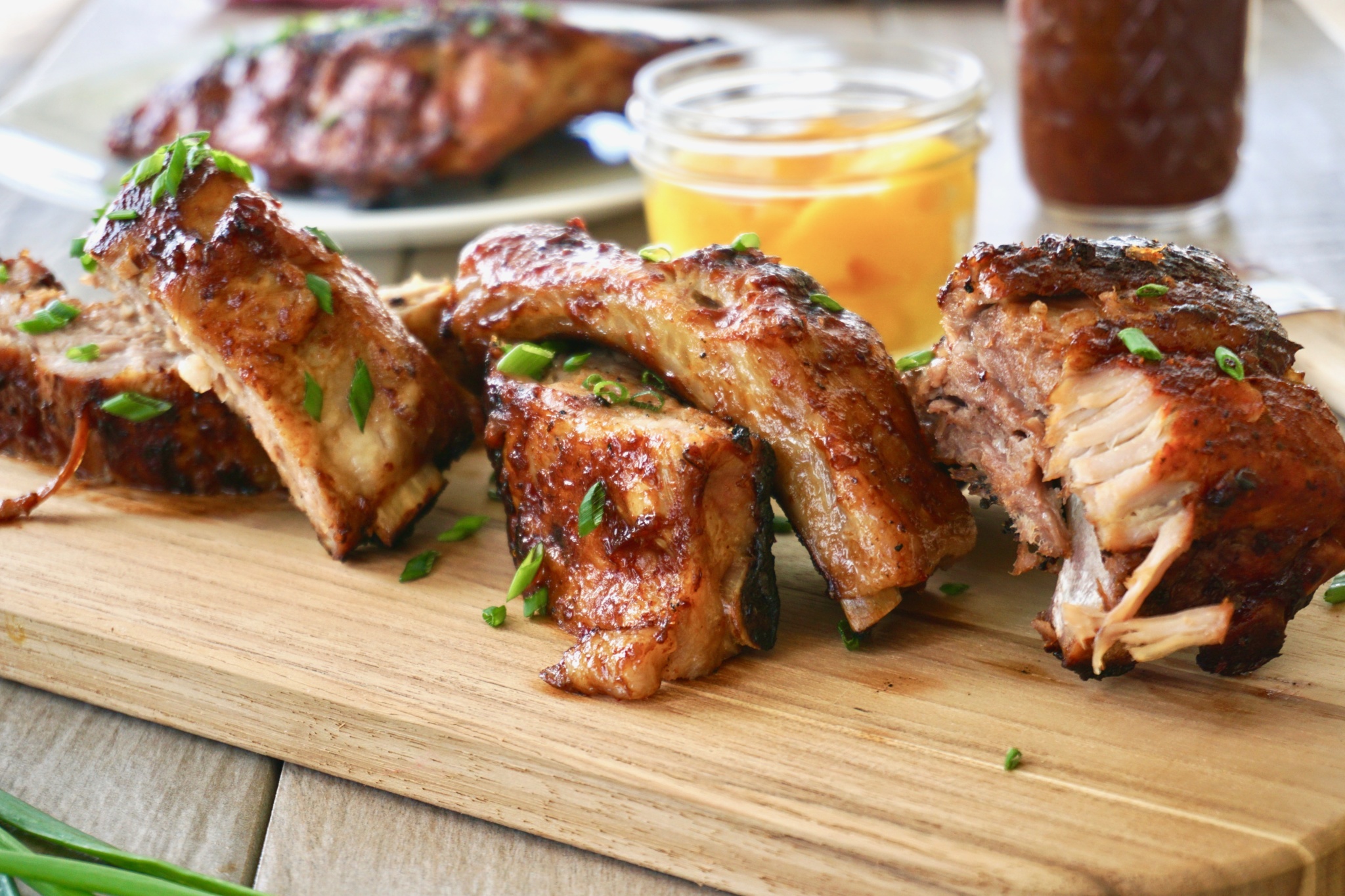 When it comes to making tender, fall of the bone BBQ baby back ribs slow grilling is definitely my favorite way to cook them. The key to tender and perfectly cooked ribs is to cook them slowly over low indirect heat. I like to use a charcoal grill because of the smoky flavor it gives the ribs but I'm not gonna lie, grilling them on a gas grill is easier as you can control the heat better.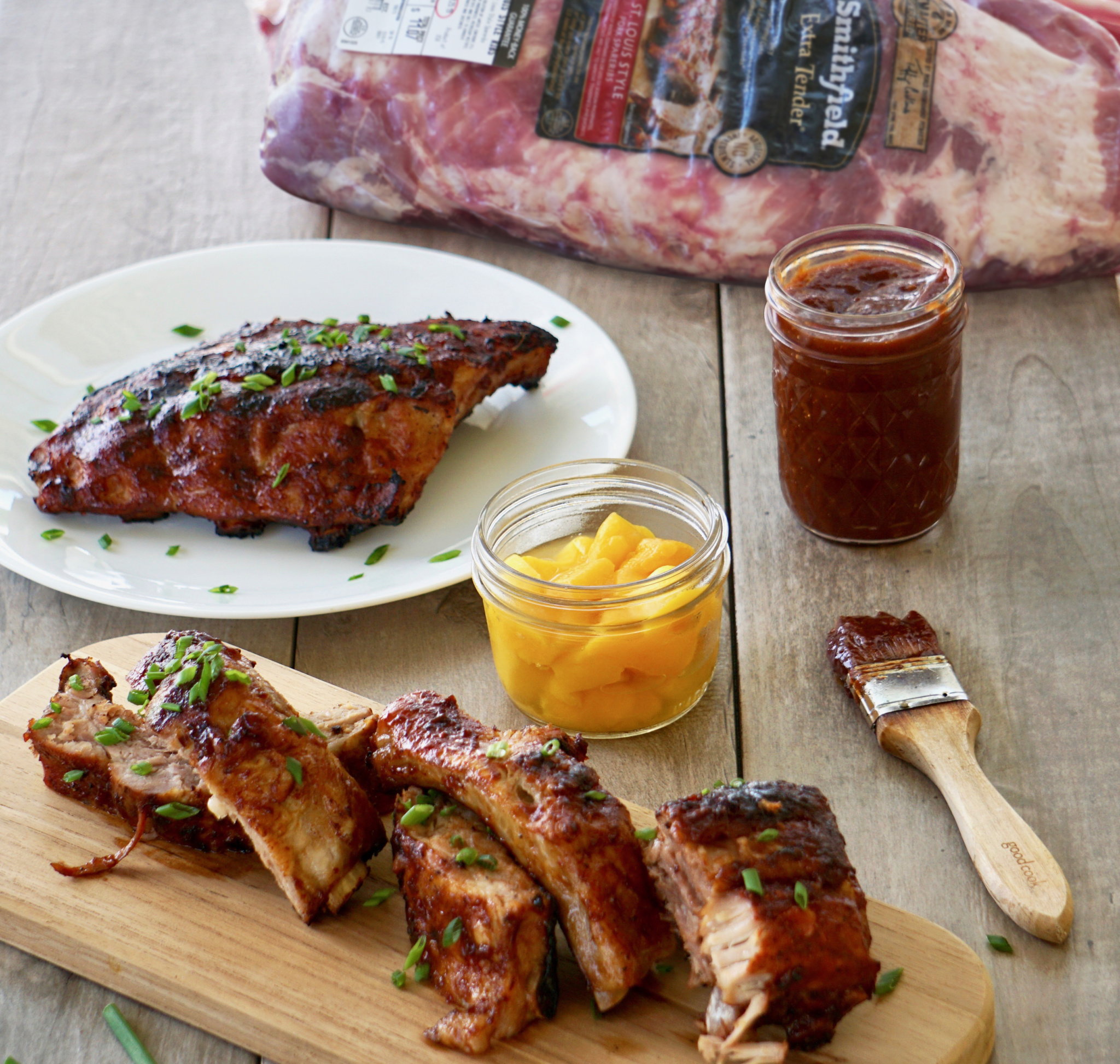 Grilled Mango BBQ Ribs Recipe
Ingredients for grilled mango BBQ ribs
1 cup of homemade mango BBQ sauce
salt and pepper to taste or dry rub (you can use a store-bought dry rub but I use my own recipe)
Ingredients for mango BBQ sauce
1 1/2 cup of ketchup
4 tablespoons Worcestershire sauce
4 tablespoons of apple cider vinegar
4 tablespoons brown sugar
1 cup chopped mango
Instructions for making the mango BBQ sauce
Stir all ingredients into a saucepan and cook over medium heat for 6-7 minutes. Remove from heat and let cool for 10-15 minutes.
Pour into a food processor or blender and blend until smooth.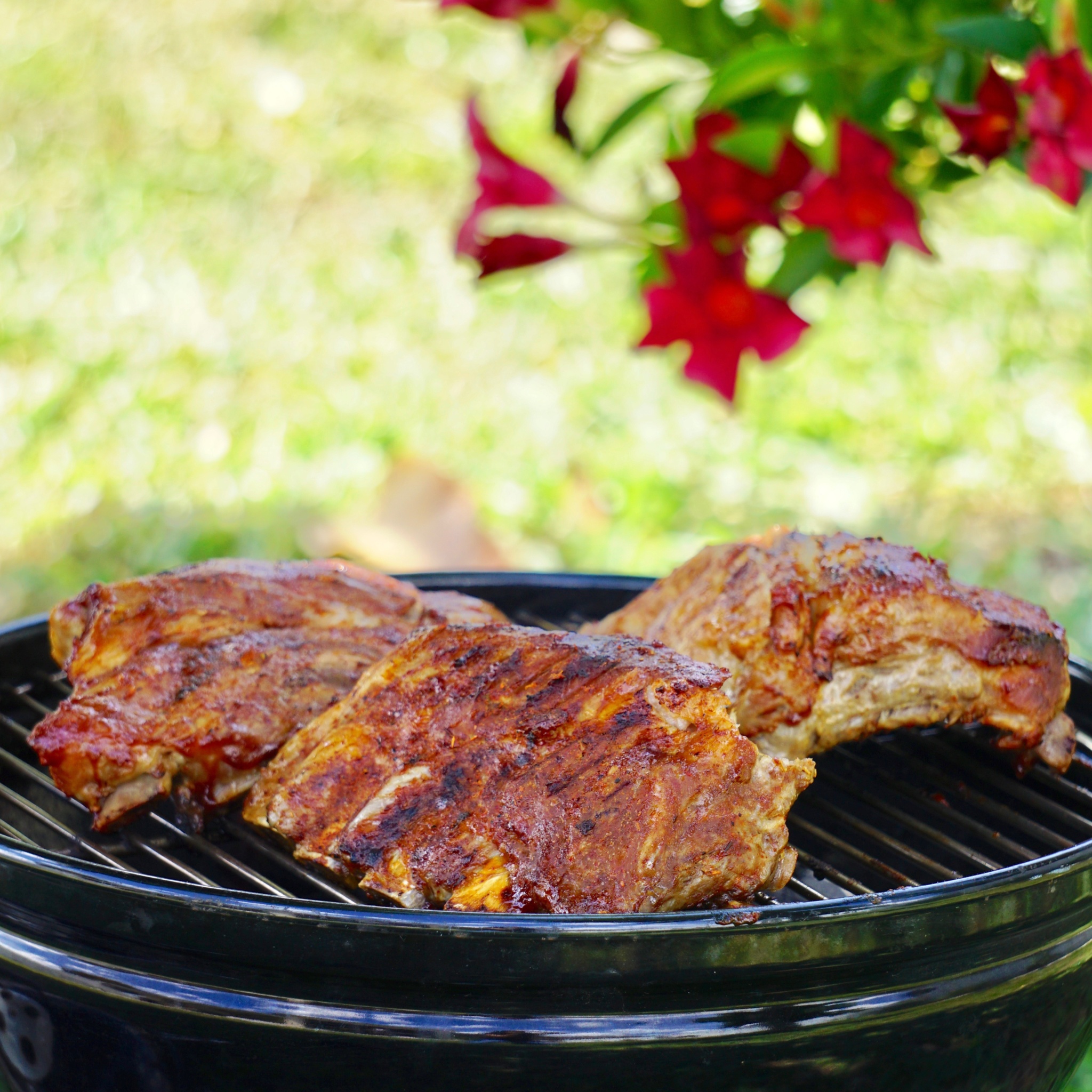 Instructions for the mango BBQ baby back ribs
1. Cut each rack of ribs into 3-4 pieces and season with salt and pepper or with the dry rub if you're using a dry rub.
2. Prepare the grill by oiling it.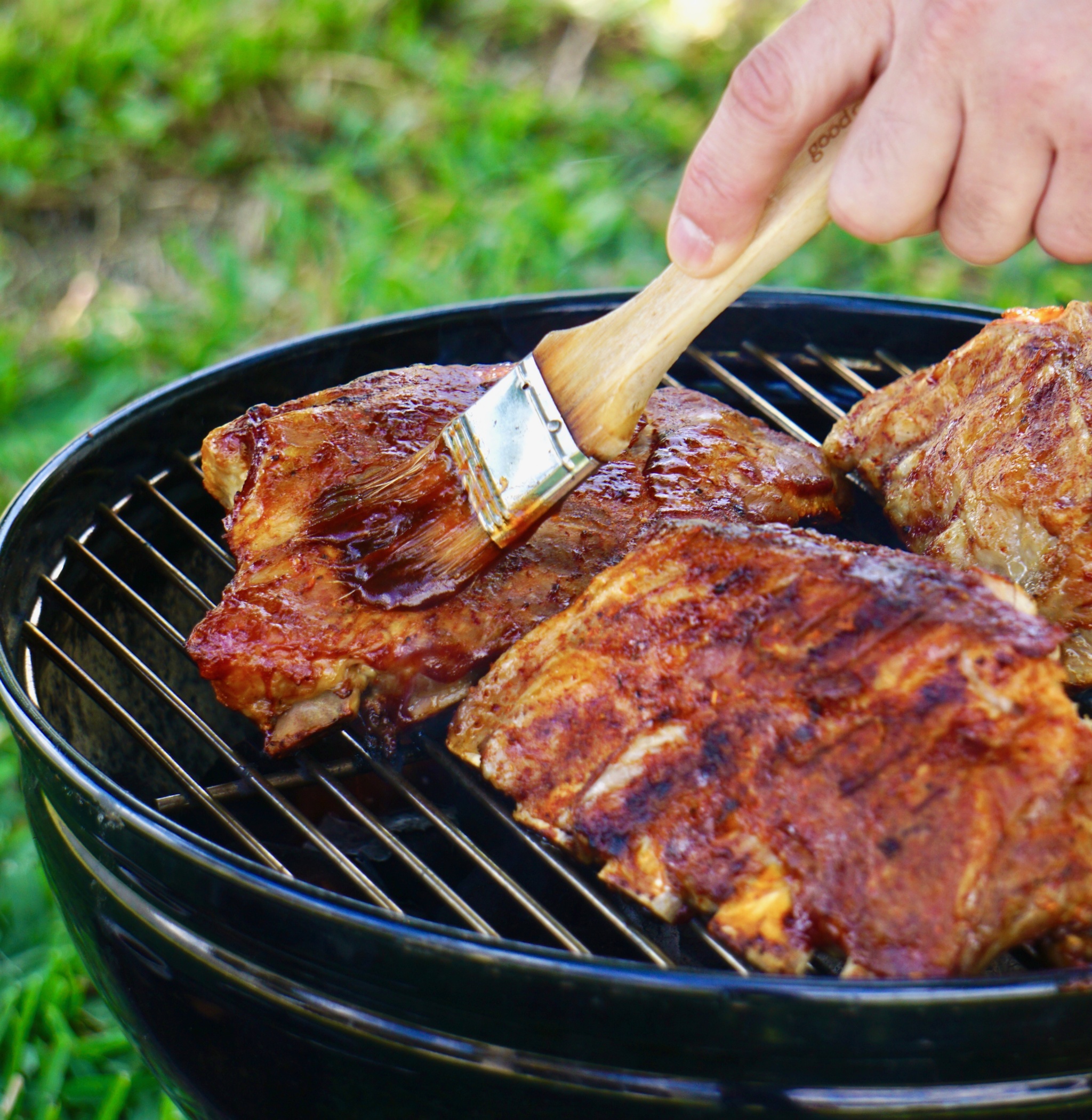 3. Place ribs on the grill over indirect medium heat. Remember that you want to grill them slowly. Grill covered for 30 minutes on each side.
4. After the first hour move the ribs to direct medium heat and brush with BBQ sauce. Cook for about 30 minutes longer turning every few minutes and brushing more BBQ sauce on them as needed. Make sure you keep an eye on the ribs now that you have applied the BBQ sauce because you want the sugars in the BBQ sauce to caramelize but want to prevent them to getting burned or charred.
5. To test for doneness by piercing with a fork. The fork should to through the meat easily. You don't want to overcook the ribs and have the meat fall off the bones.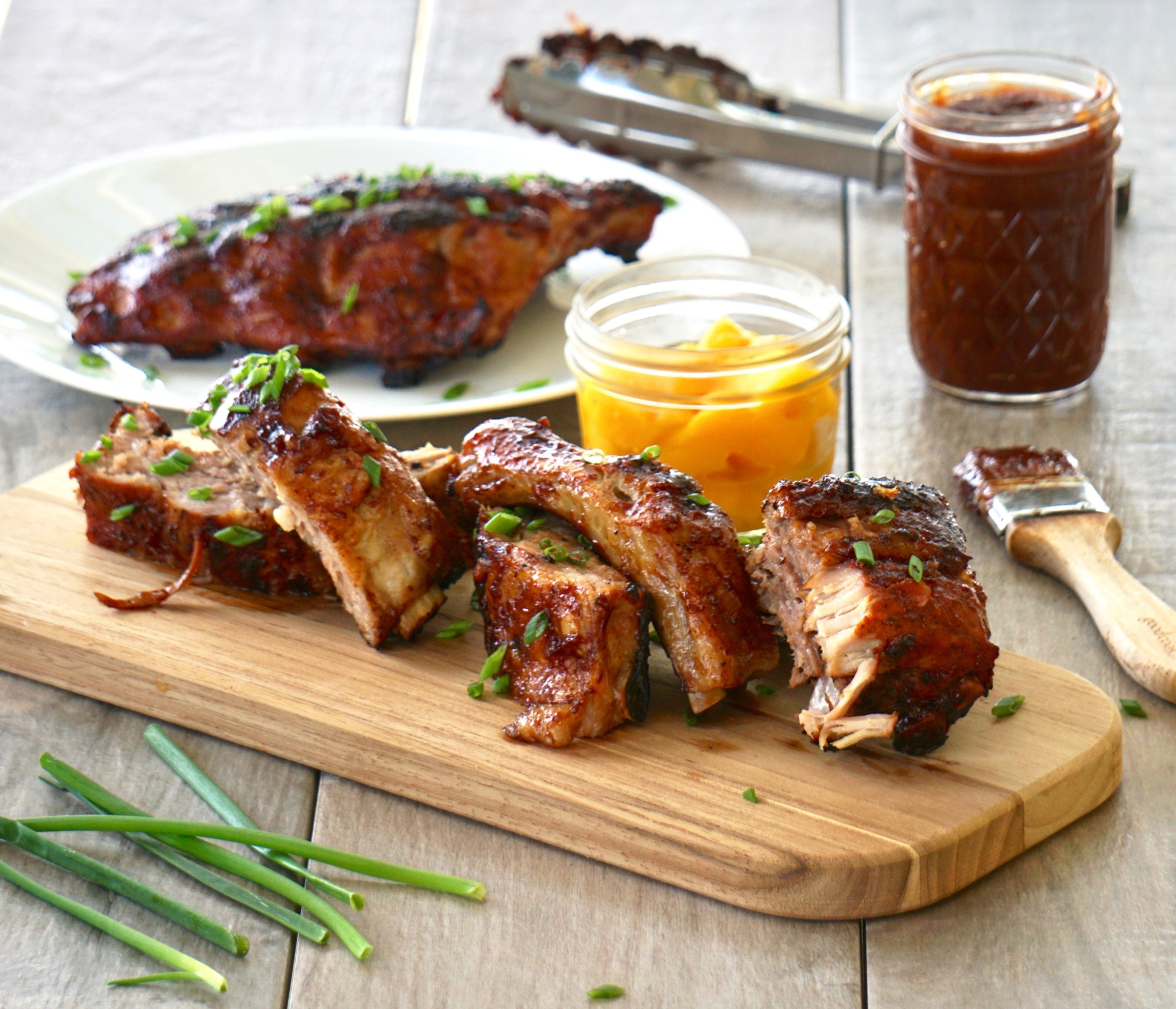 6. Remove to a cutting board and let stand for a couple of minutes before cutting.
7. If you like your ribs sticky you can brush some additional mango BBQ sauce just before serving.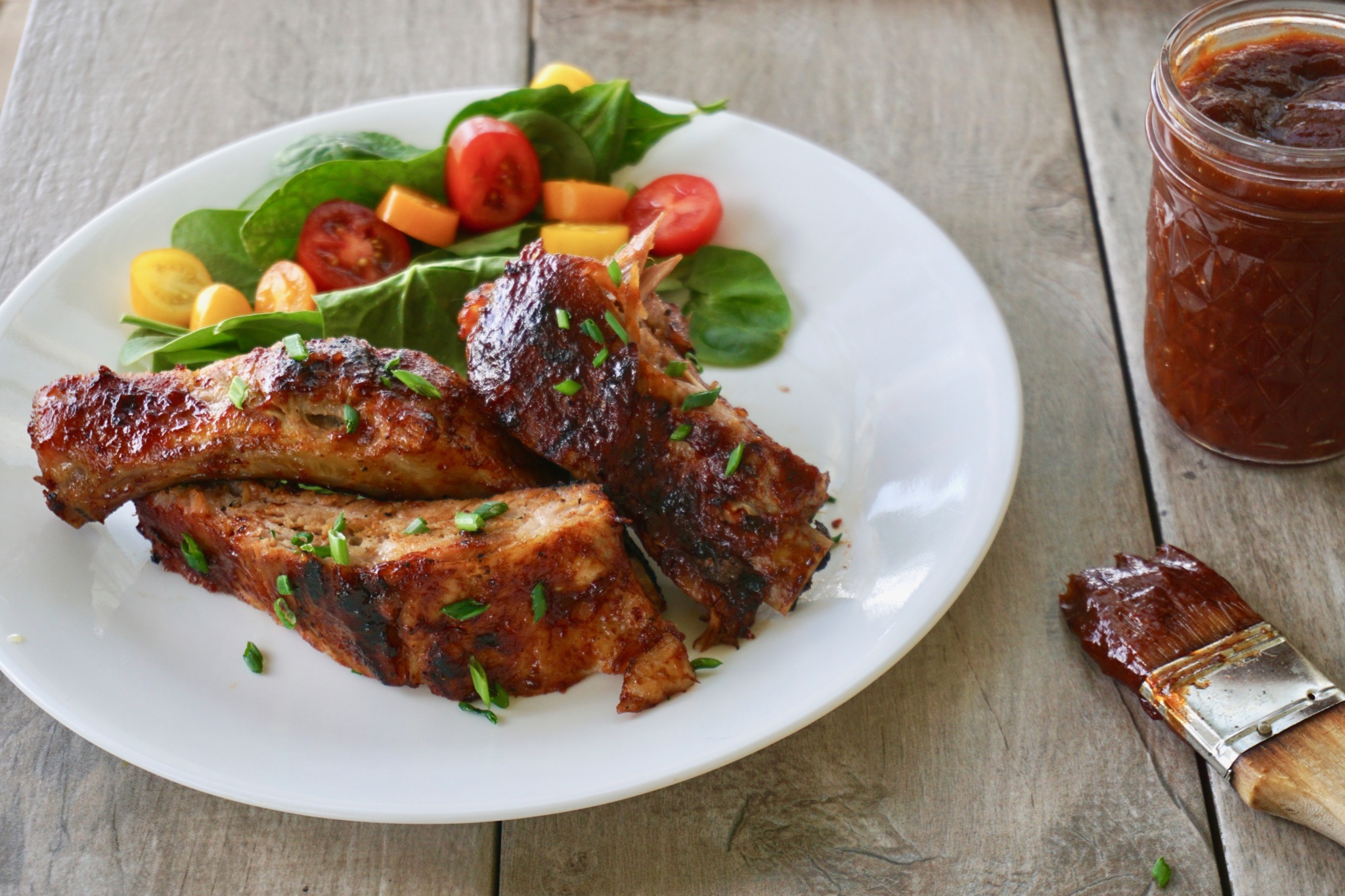 I served these accompanied by a simple spinach and tomato salad with a balsamic vinaigrette. I'm really glad I made two racks of ribs because people had seconds and thirds. I got so many compliments on how good these baby back ribs were and how tender and flavorful they came out.
The key to making the best ribs every time is to start with the best meat of course and that is why I always use Smithfield Extra Tender Fresh Pork Ribs. No matter if you have lots of experience making ribs or if it's your first time Smithfield Extra Tender Fresh Pork Ribs are so easy to make and they are hand-trimmed, extra tender & juicy with no added hormones or steroids.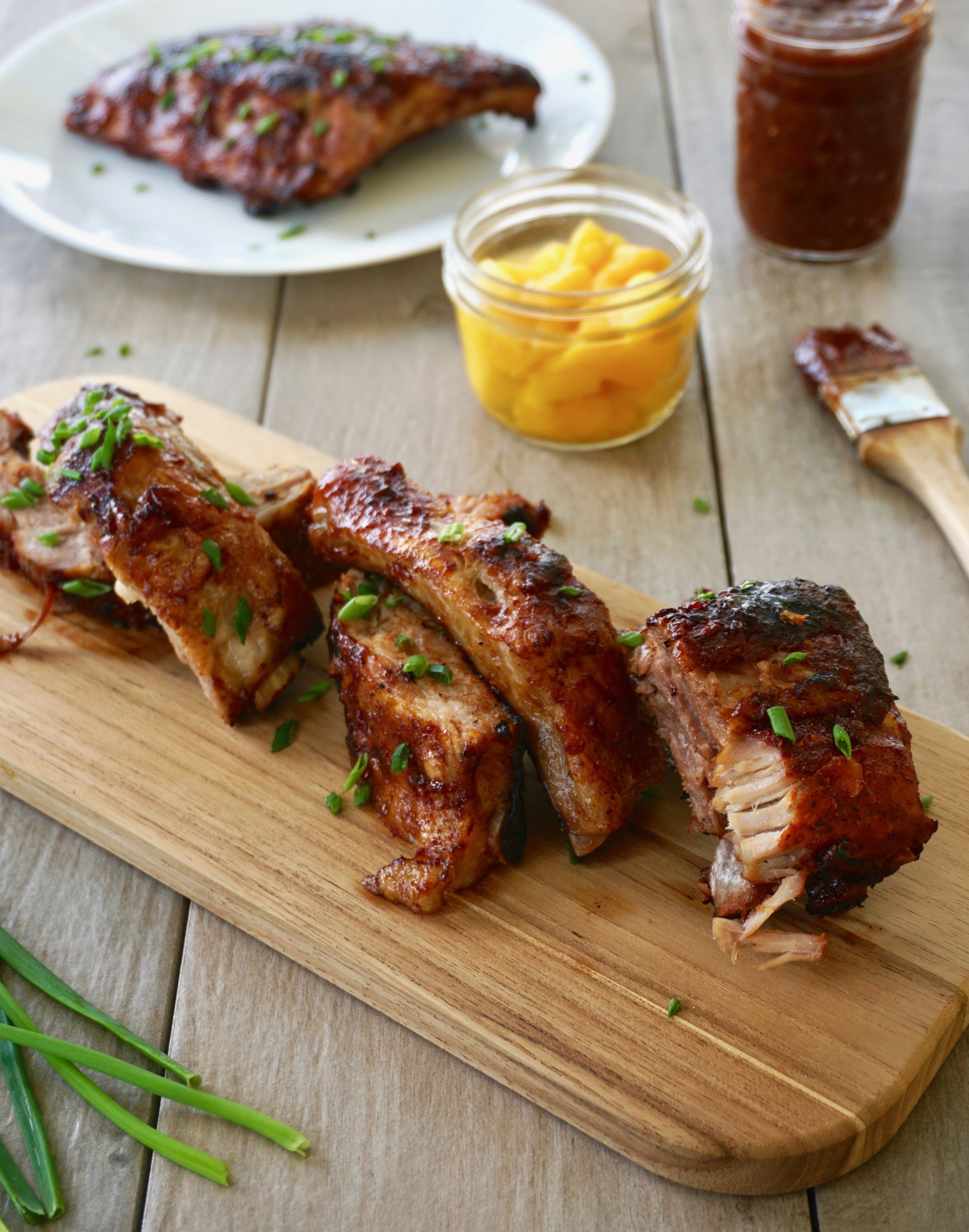 You can get Smithfield® ribs at Walmart and right now. Order a few of these so you can wow your family with this recipe. I got a few racks and have them in my freezer ready for throw on the grill anytime. And be sure to check out these great tips to grill like a pro every time!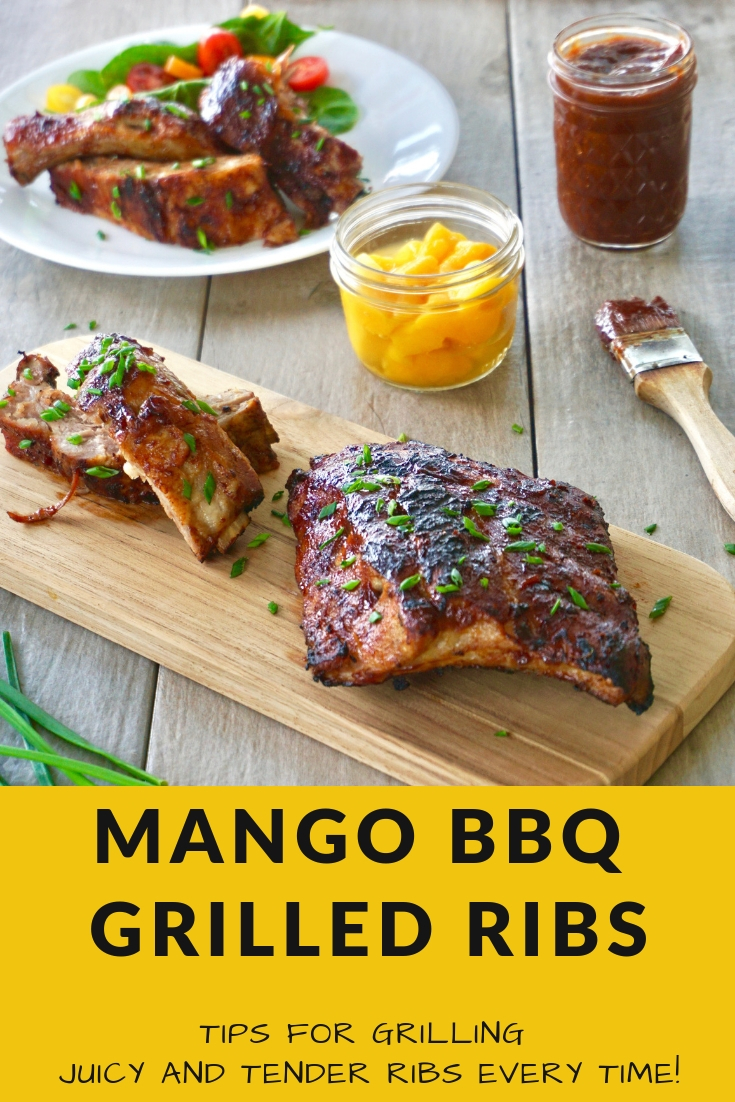 Latest posts by Cesar Diaz
(see all)