This shop has been compensated by Collective Bias, Inc. and its advertiser. All opinions are mine alone. #VidaAguacate #TusFiestas #CollectiveBias
This quick and easy pumpkin mole sauce recipe gives the traditional mole a fresh and modern twist by adding pumpkin and serving the chicken with mole sauce inside delicious fresh Avocados From Mexico. These mole stuffed avocados make the perfect dish for entertaining during the holiday season!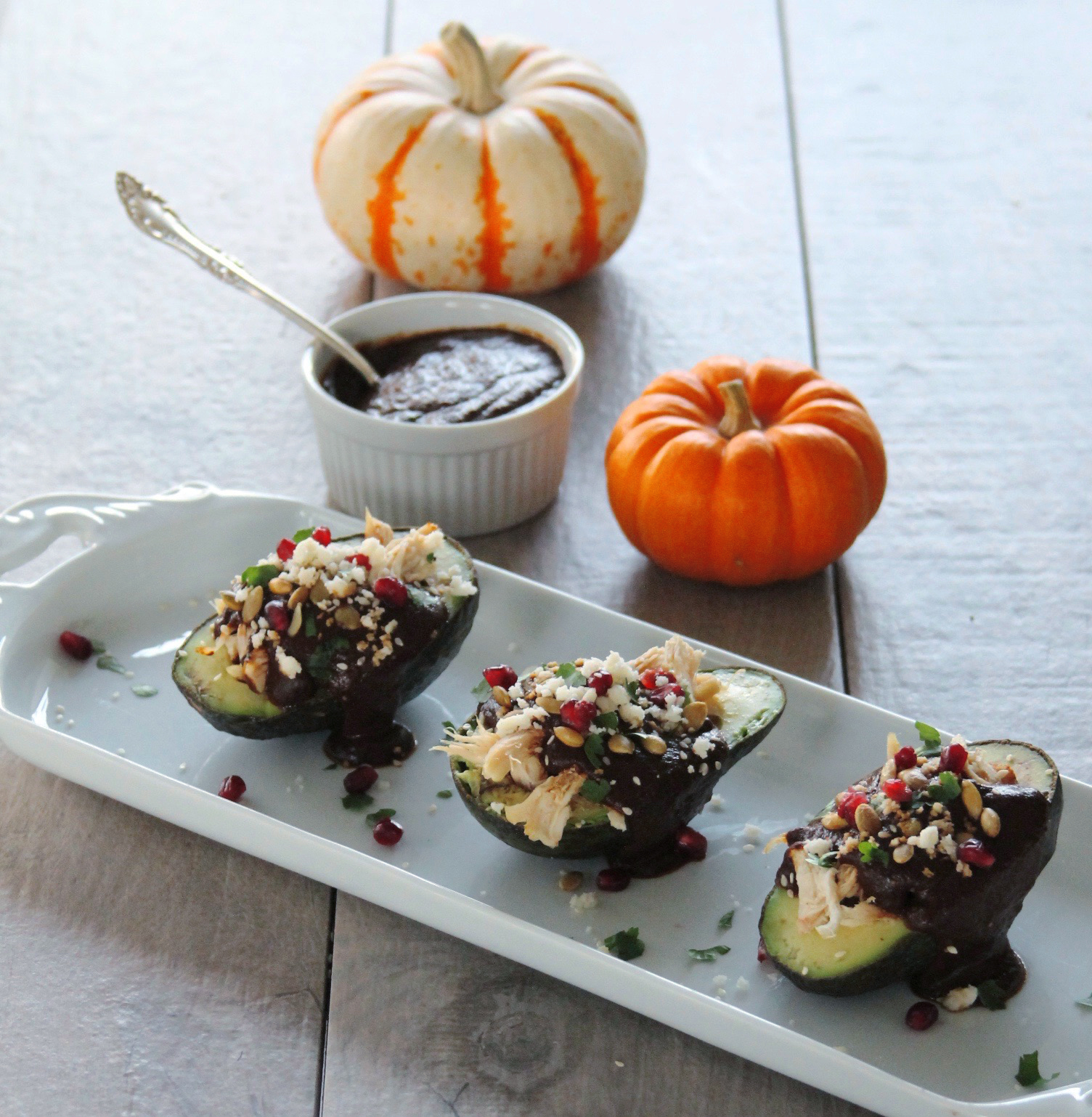 Before the kids go back to school after the winter break, I am really looking forward to one more holiday celebration. Three Kings' Day is almost here, and we will be getting together with my parents to eat delicious food and cut the Rosca de Reyes.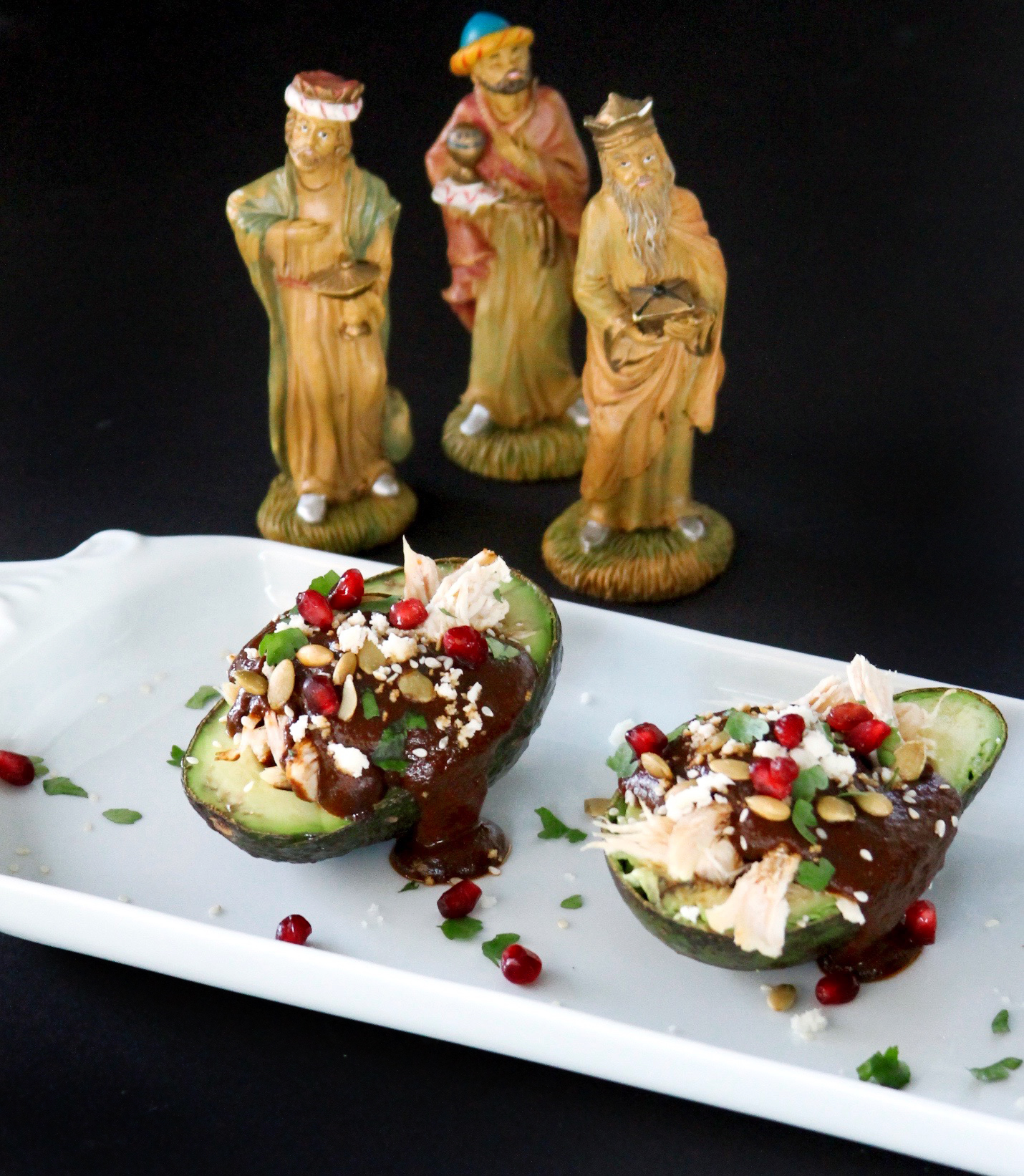 I have been craving mole lately, so I thought I would give the traditional mole recipe a twist by adding pumpkin to it and, instead of serving the mole with a side of rice, I will be stuffing fresh Avocados From Mexico with the pumpkin mole chicken. This not only makes for a more festive and beautiful presentation but it also makes the meal more nutritious and delicious. You can get more inspiration for great recipes that incorporate Avocados From Mexico by signing up to VidaAguacate.com.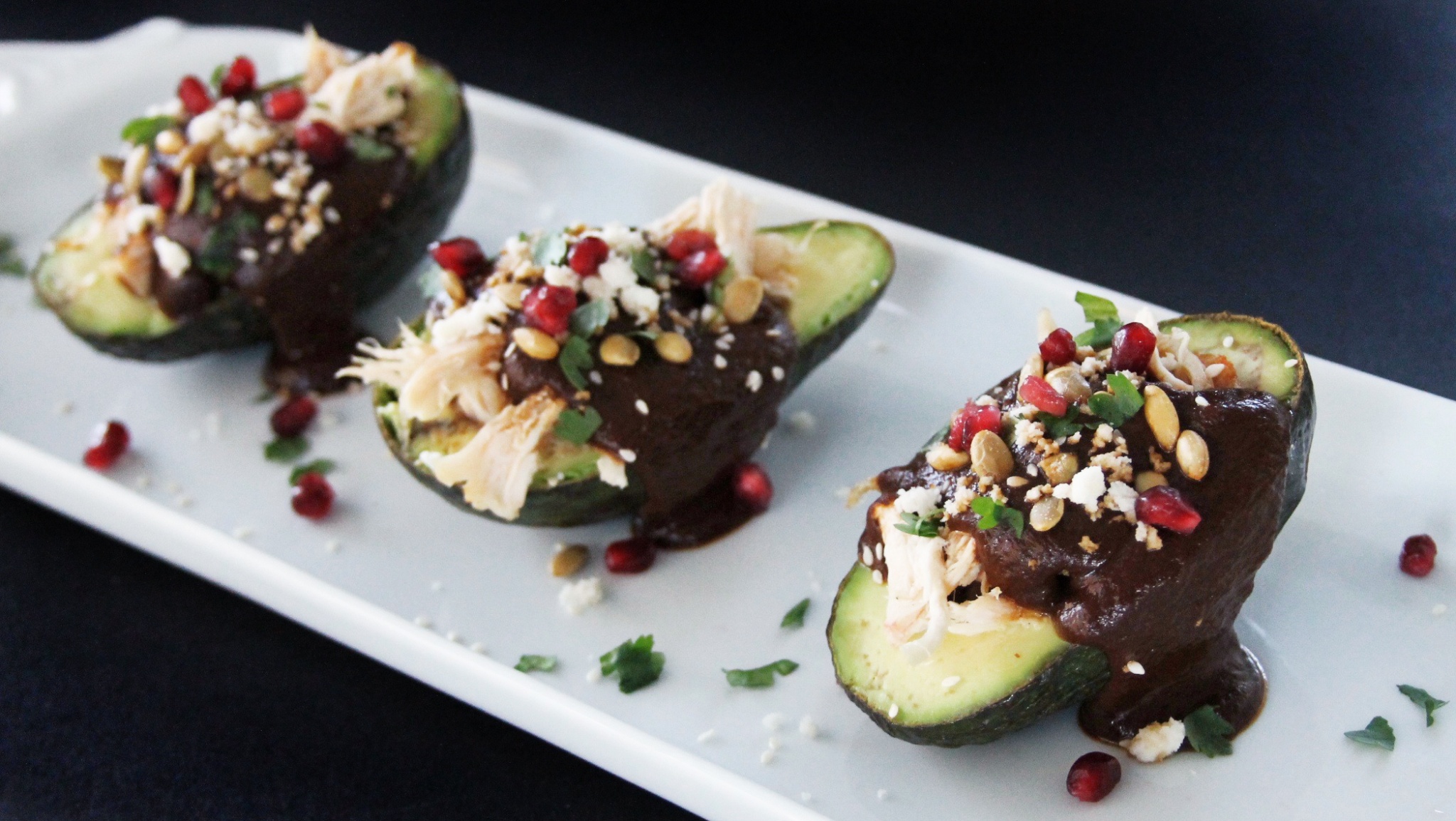 This pumpkin mole feels a bit lighter than the traditional mole, and the taste of the chocolate is not as strong, blending with the earthy flavor of the pumpkin. I came up with the idea of stuffing avocados with the pumpkin mole chicken because I am always trying to find new ways to incorporate avocado into my meals, not only because I like avocado so much, I would not mind eating it every single day, but also because I thought it would give the mole dish a fresh new twist. Avocados From Mexico are always fresh and always in season, so you can incorporate them into your holiday meals in creative ways.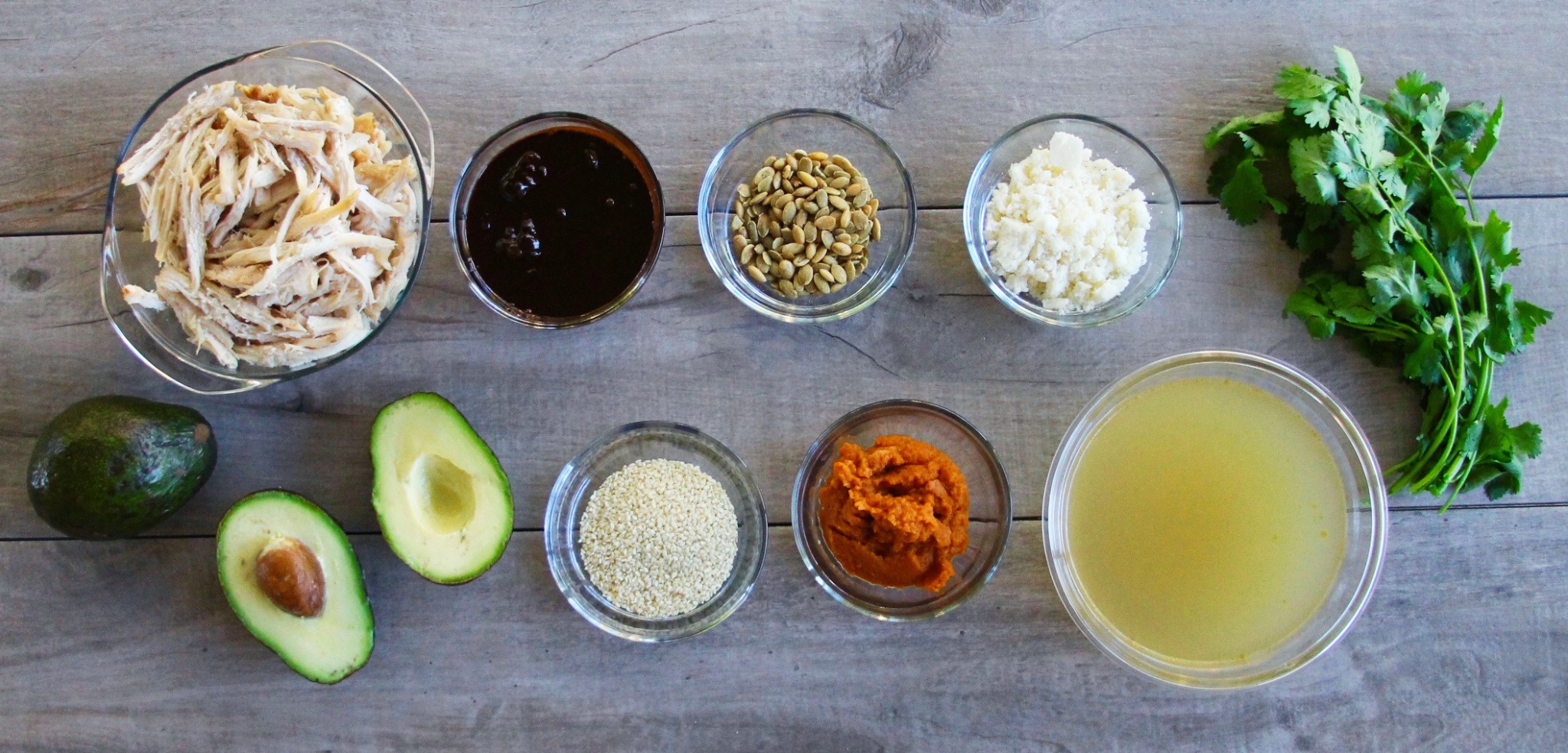 Avocados Stuffed with Chicken In Pumpkin Mole Sauce
Ingredients
 

4 Avocados From Mexico

 

2 cups shredded chicken, cooked. I use white meat only, but you can use white or dark meat. You can also use turkey.

 

2 cups of pumpkin mole (see recipe below)

 

¼ cup pumpkin seeds

 

2 tablespoons sesame seeds

 

¼ cup fresh cilantro

 

¼ cup pomegranate seeds

¼ cup

queso fresco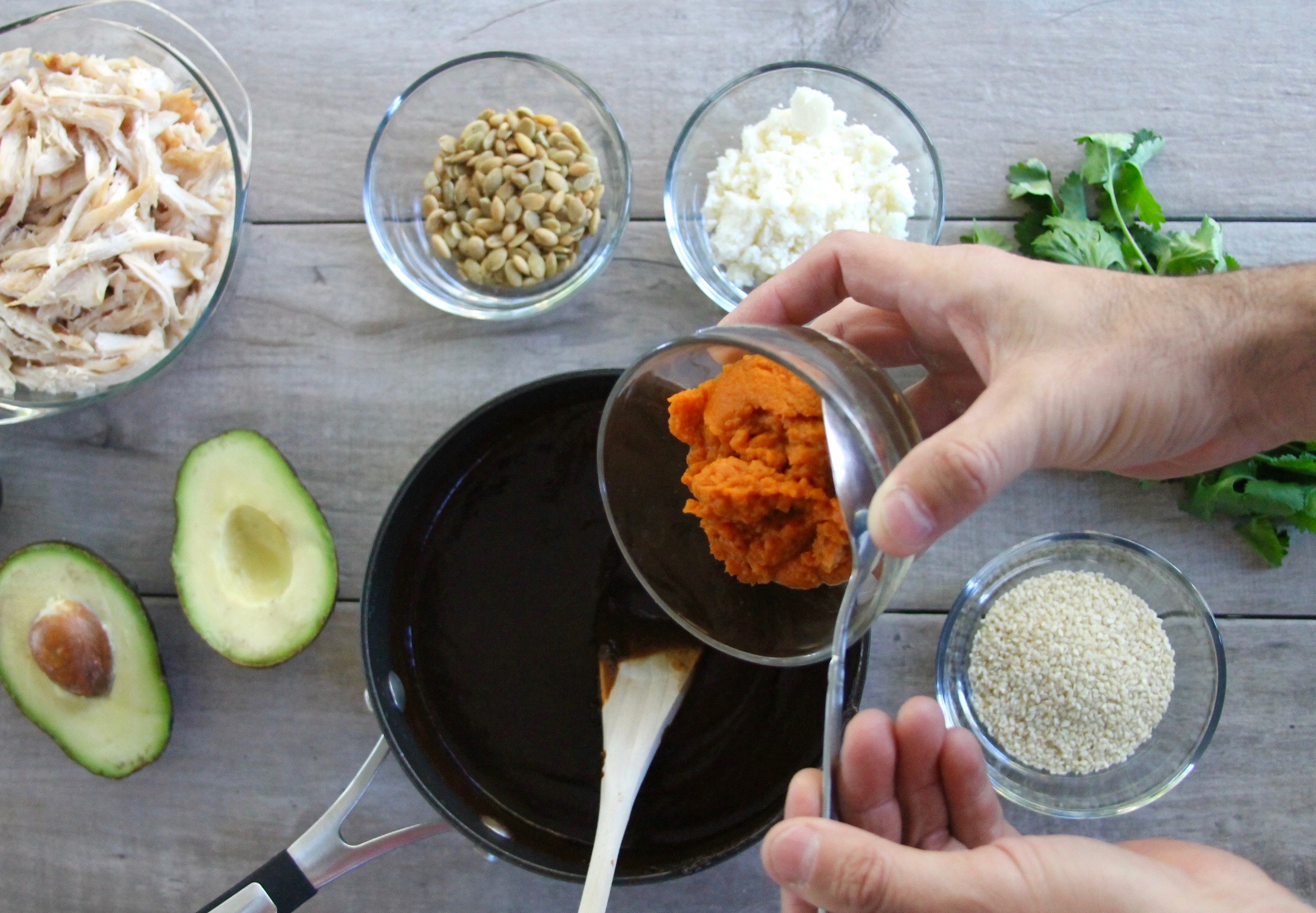 Instructions
 

Place the pumpkin mole sauce in a medium saucepan, add cooked chicken and cook over medium heat until the sauce and chicken are hot.

Cut the avocados in half and remove pit.

Scoop out some of the flesh in the center of each avocado; place into mixing bowl.

Scoop a couple of tablespoons of pumpkin mole chicken mixture into the wells of each avocado.

Garnish the pumpkin mole stuffed avocados with

queso fresco

, pumpkin and sesame seeds, fresh cilantro, and pomegranate seeds.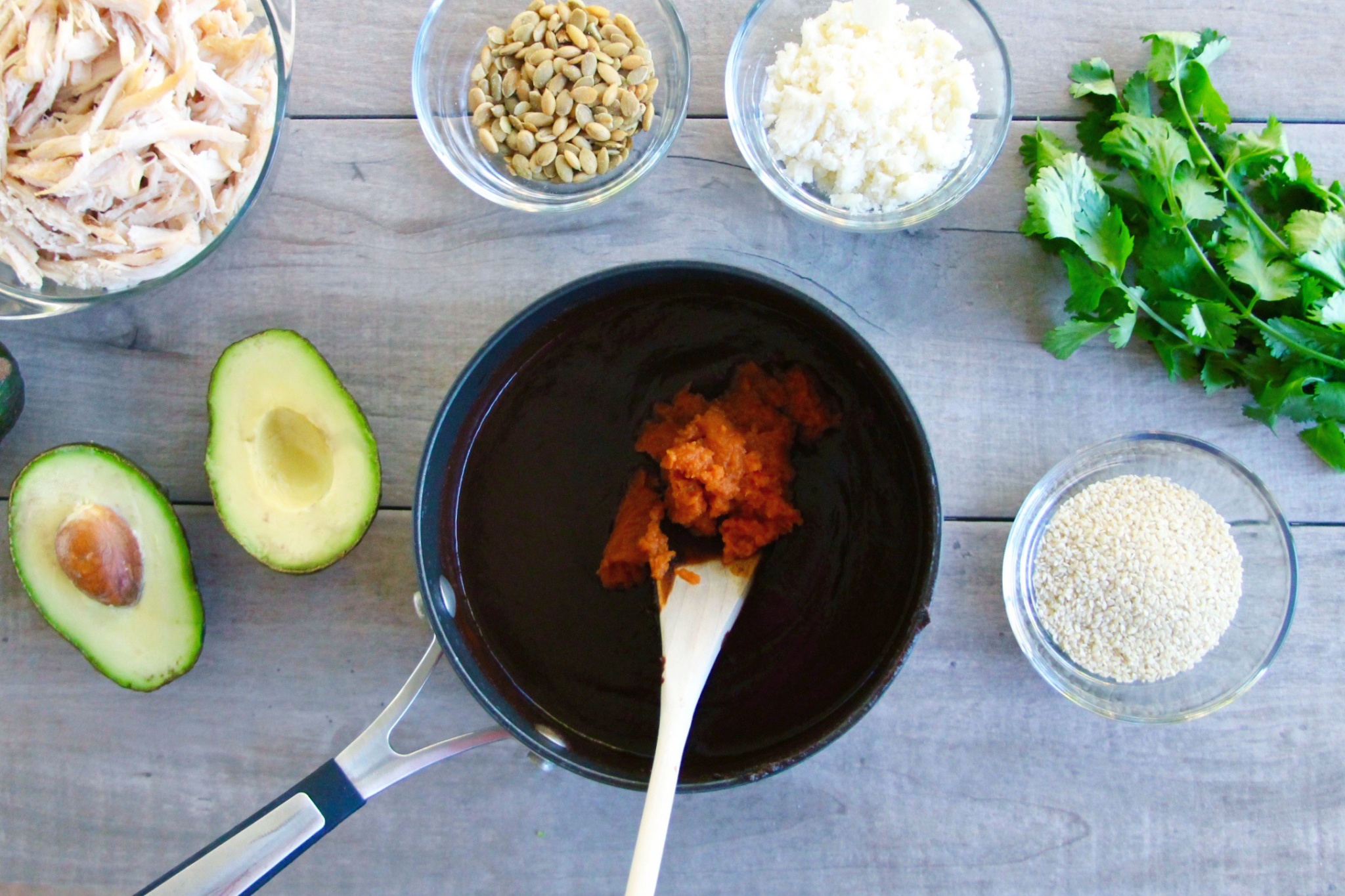 10-Minute Pumpkin Mole Recipe
Ingredients
 

1 cup mole paste (you can find it in the Hispanic aisle at most supermarkets)

 

½ cup pumpkin puree

 

3 cups chicken broth

 

Salt and sugar to taste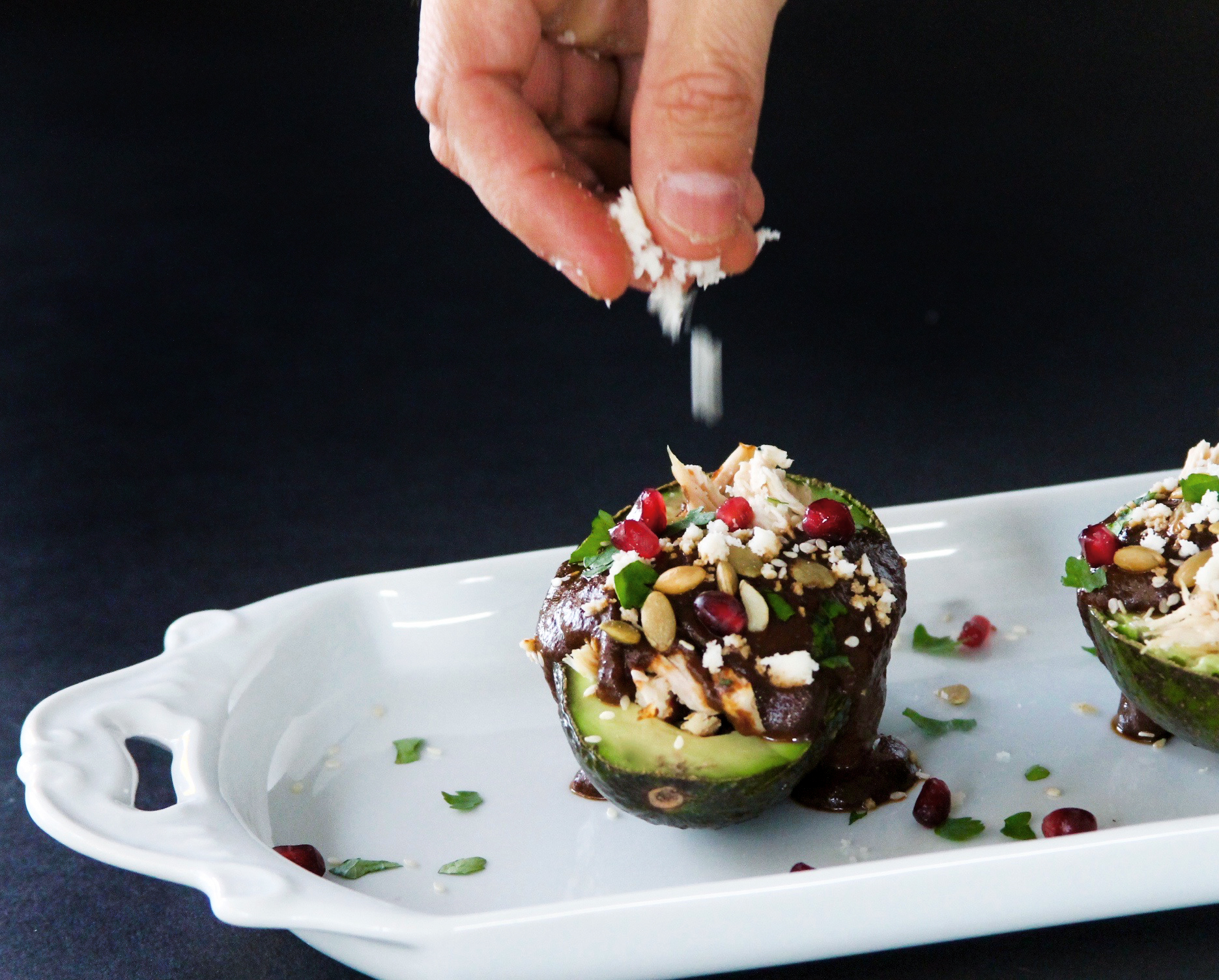 Instructions
 

Combine all ingredients in a saucepan over medium heat.

 

Bring to a boil stirring constantly to avoid burning.

 

If the sauce is too thick, add more chicken broth. If the sauce is too thin, simmer for a few minutes longer.

This can be made ahead and refrigerated.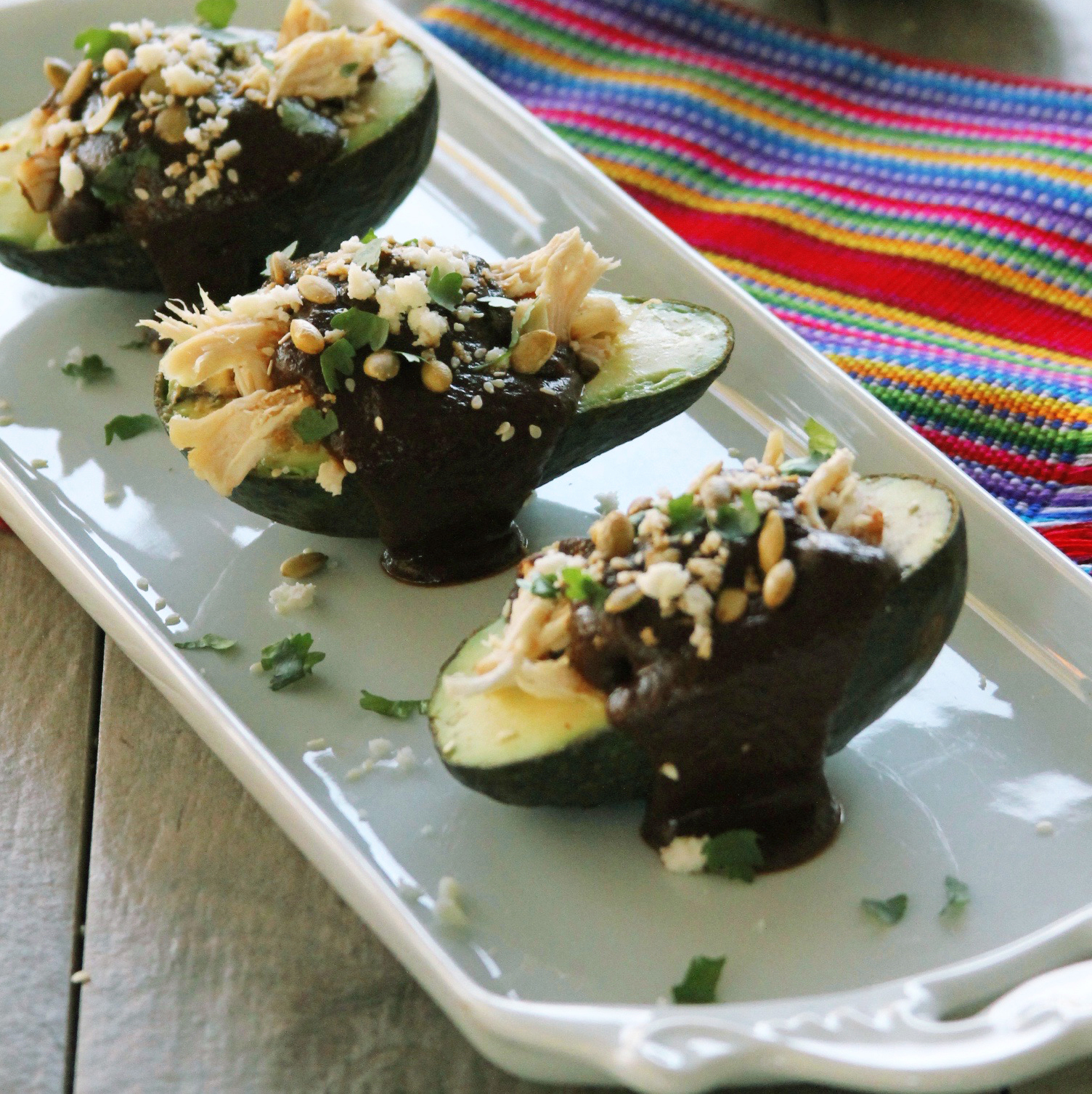 I remember as a child how I would wait with excitement for el Dia de Reyes (Three Kings' Day) on January 6. Although Santa Claus arrived bearing gifts on Noche Buena, we also got gifts from the Magi on Three Kings' Day. We would put our shoes outside our room the night before, and in the morning we would find three small gifts along with notes from Melchor, Gaspar and Baltazar. In the afternoon, we would get together with my grandparents and cousins, and everyone would bring a dish to share while my grandma would always bake the Rosca de Reyes.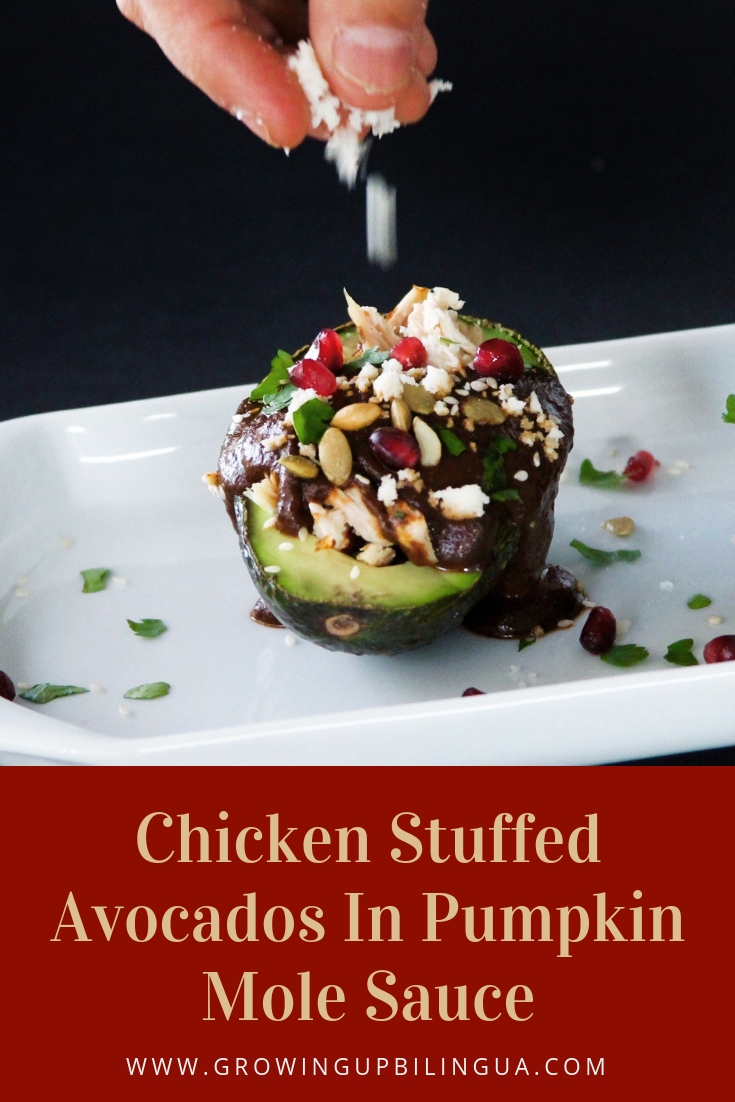 This year, I am looking forward to getting together with my family for Three Kings' Day and to share with them this delicious pumpkin mole stuffed avocado recipe! They will not believe that it only took me 15 minutes to make this! You can find lots more holiday inspired avocado recipes HERE.
Latest posts by Cesar Diaz
(see all)