This shop has been compensated by Inmar Intelligence and its advertiser. All opinions are mine alone. #fireandflavorgrilling
Growing up we would only grill with lump charcoal. I've always liked grilling with lump charcoal much more than grilling on a gas grill or even using briquettes. Food grilled over lump charcoal tastes better and that is why I wanted to share some tips for grilling with lump charcoal as well as a recipe for grilled steak tacos with pineapple chimichurri, just in time for homegating season.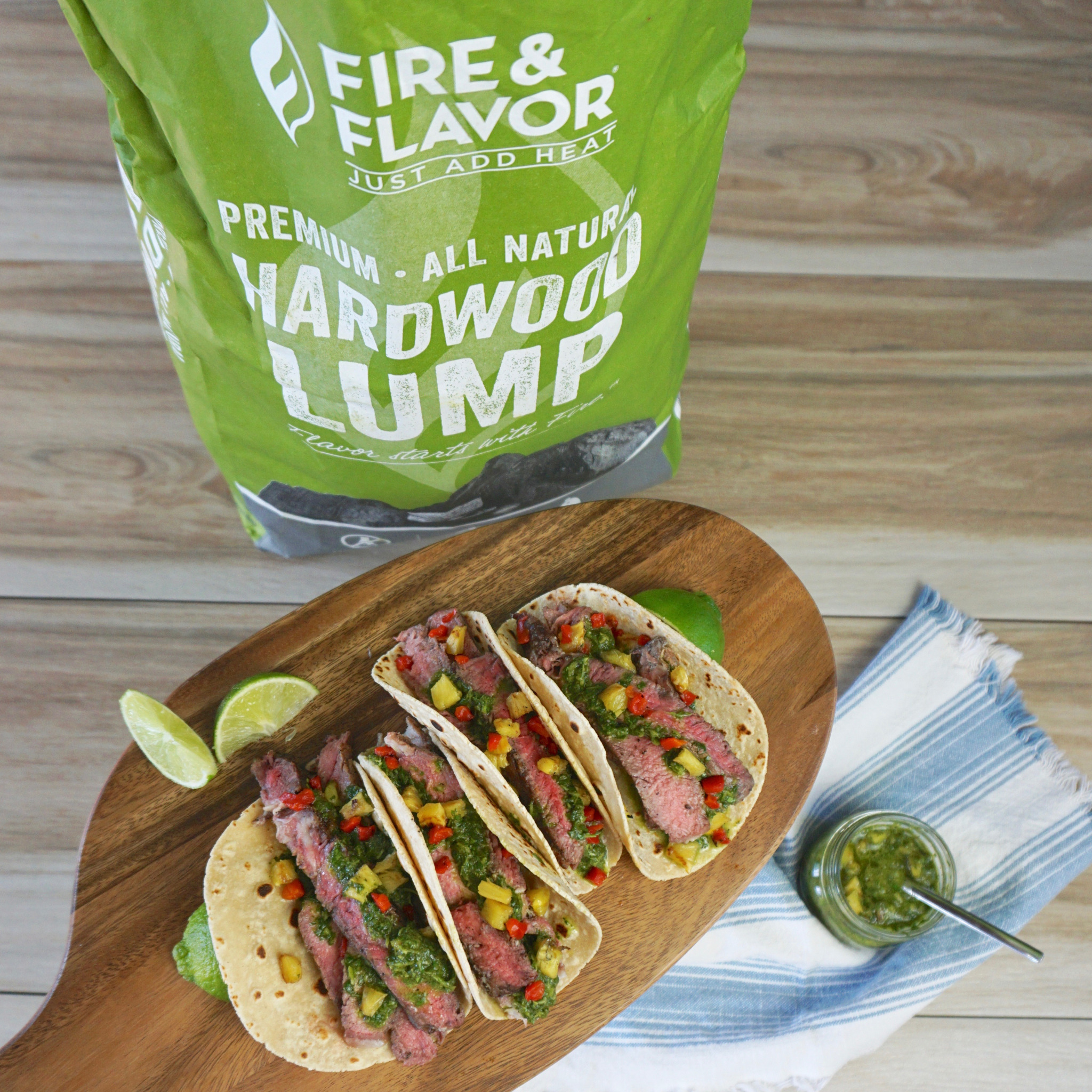 Difference between lump charcoal and briquettes
Lump charcoal is not as consistent as briquettes since briquettes are all the same size and shape. That just means that you have to check how hot your grill is to make sure you have the desired temperature for what you are cooking.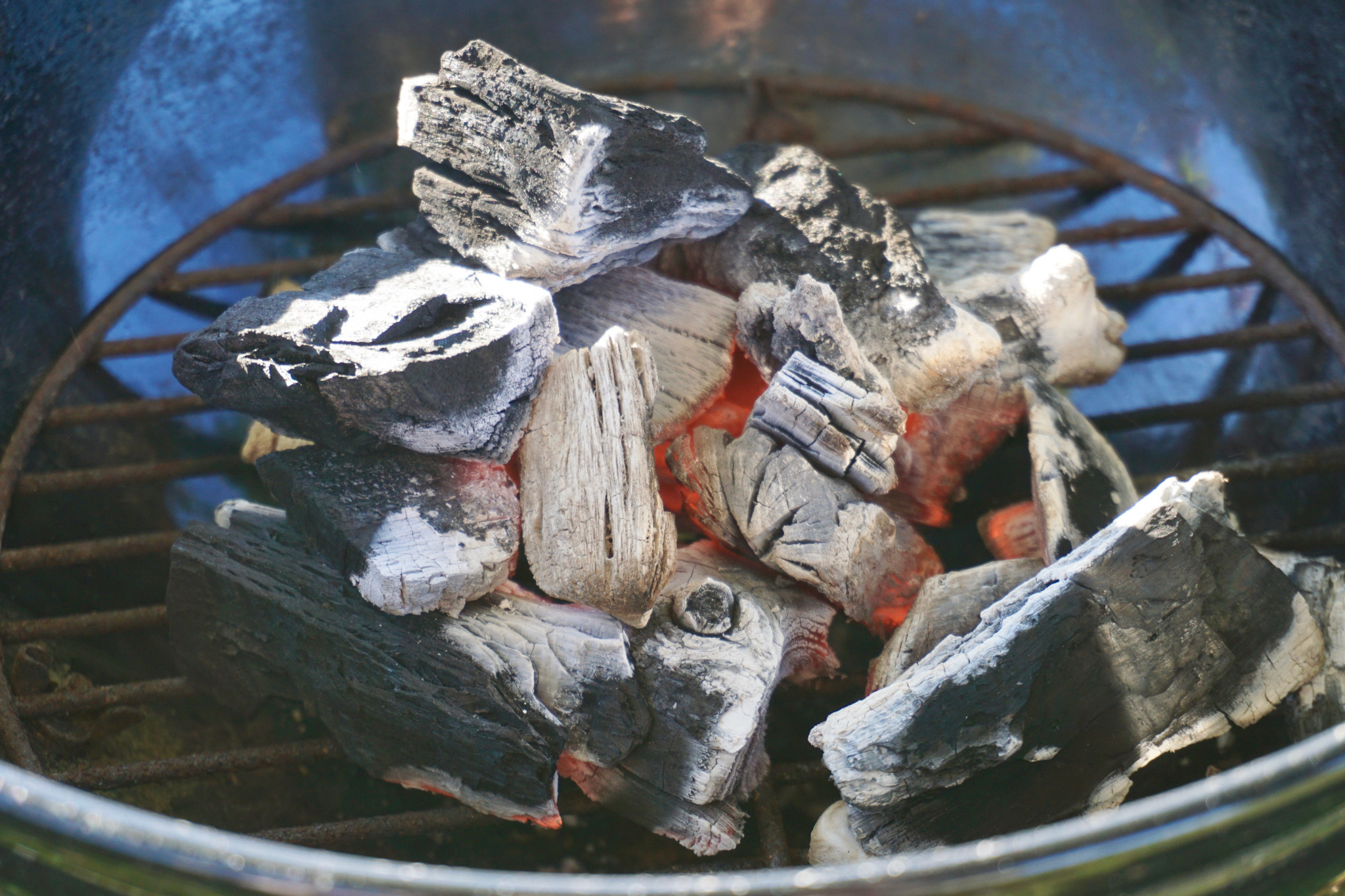 I prefer lump charcoal over charcoal briquettes. It is made from wood that has been charred into charcoal, with no additives or fillers. Briquettes on the other hand are made from pulverized charcoal mixed with fillers like cornstarch. Lump charcoal burns hotter and cleaner and it also imparts the food with a delicious flavor that comes from the natural wood as it burns. For me, lump charcoal is a far better option and I love the taste it gives my grilled food, especially the meats. It also takes me back to my childhood growing up in Guatemala and grilling with my dad. We always used lump charcoal we got at the local open market.
Now I always use Fire & Flavor® Hardwood Lump Charcoal, a premium all-natural charcoal made from renewable resources. I love grilling not only because I really enjoy cooking my food outdoors and having more control over how I cook it, but also because of the flavor grilling imparts on different foods. And that flavor comes from the type of charcoal you are using. The flavor starts with fire and that is why you want to use a great quality lump charcoal like Fire & Flavor Hardwood Charcoal.
Tips for using lump charcoal
Find a good brand of lump charcoal and stick with it: When it comes to lump charcoal, you want to find a brand that provides great quality hardwood charcoal and stick with it. Getting used to one brand and how their hardwood lump charcoal burns will give you an advantage when grilling. I always use Fire & Flavor and I really like not only the great quality and flavor it gives anything I grill, but I really like that it's a family-owned business and the leading brand of

all-natural charcoal, fire starters, and smoking woods.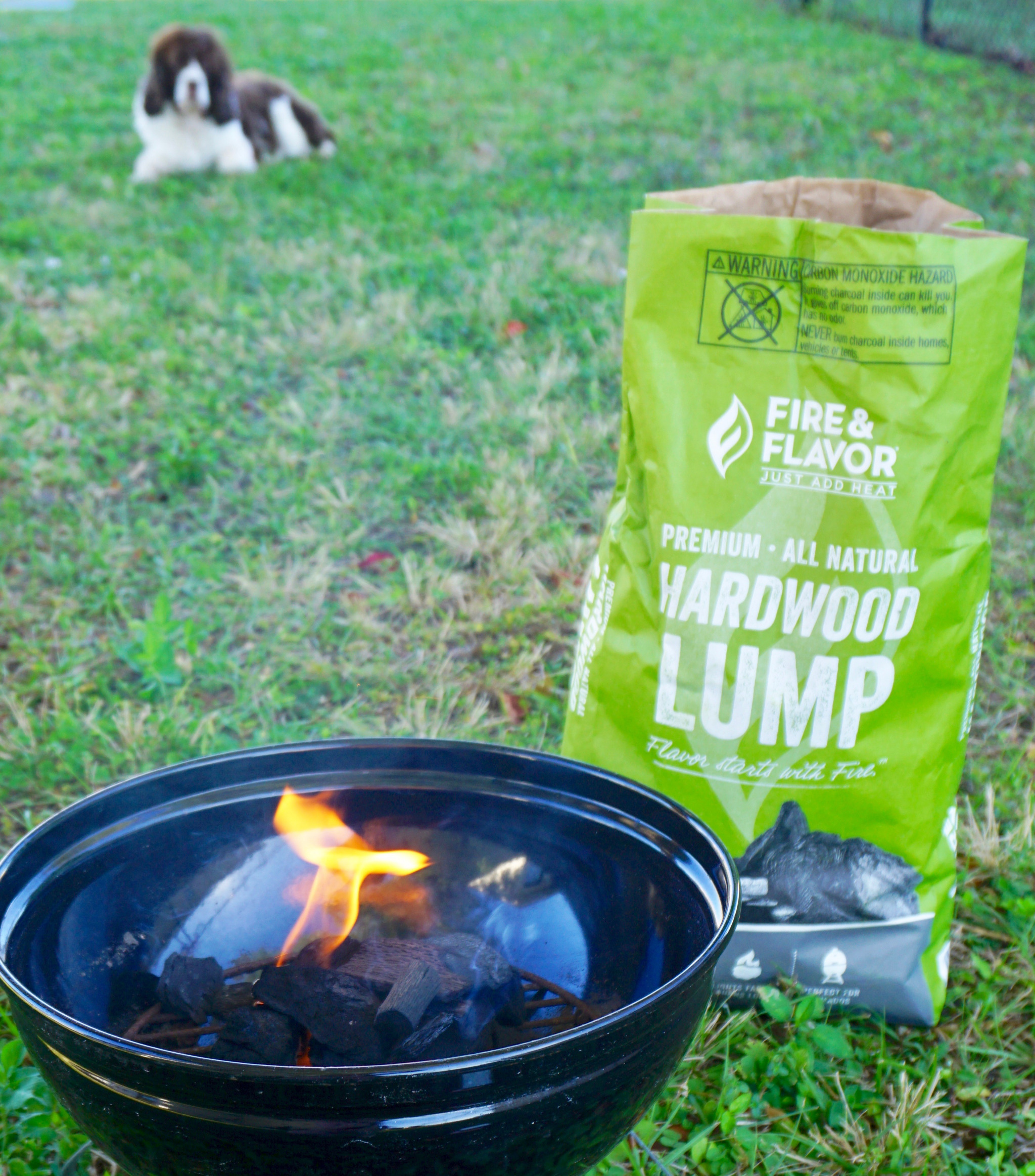 Create a two zone-fire:

When using lump charcoal I always use a combination cooking method, even for foods I would usually grill over direct heat like steak. I set up a two-zone fire and after searing in the hot zone I move the food to a cooler area for the food to finish cooking.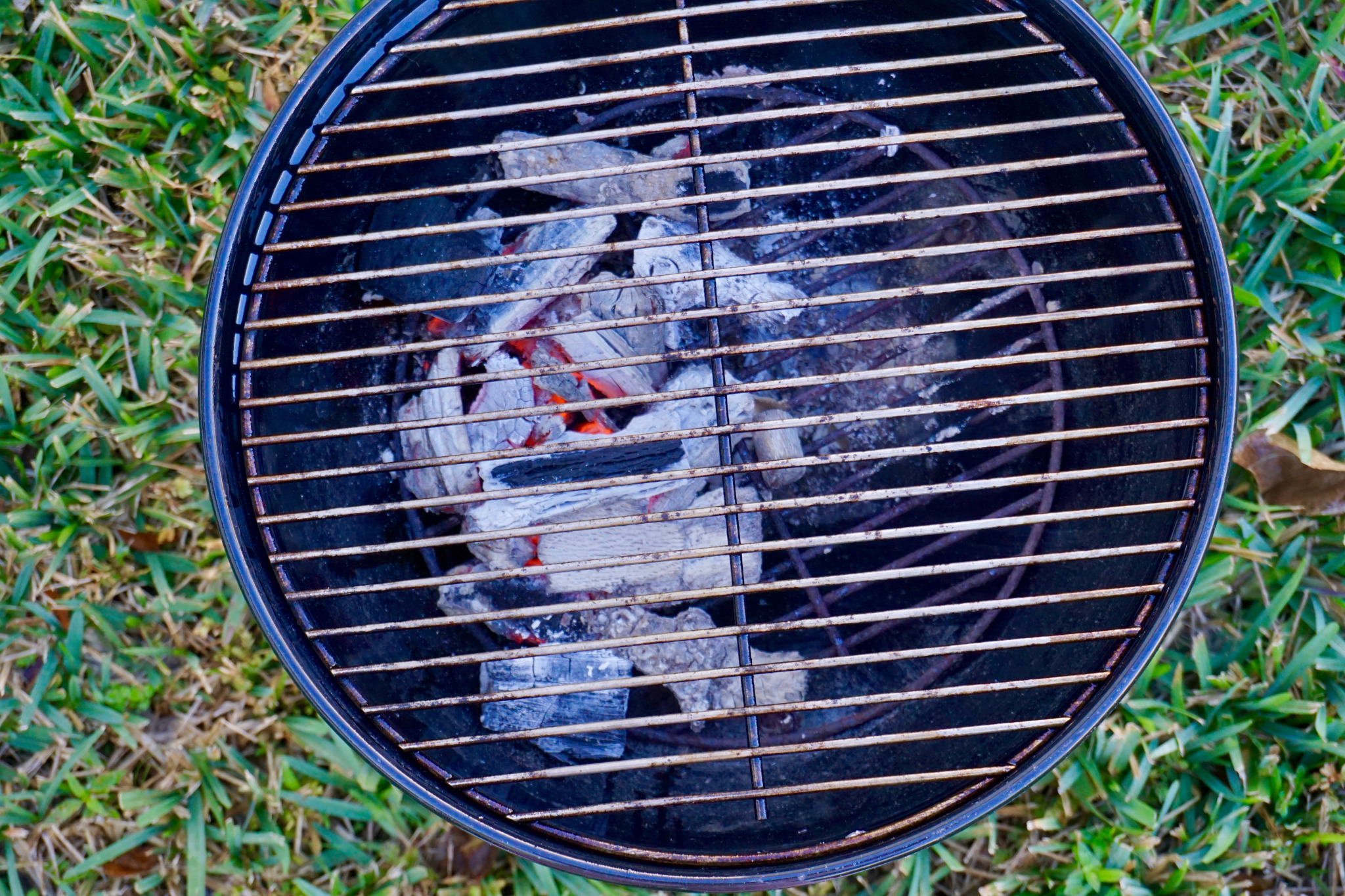 Have a second batch of charcoal ready: I always have more charcoal ready in case I need to add more to my fire if the

temperature is running low.

Check to find out how hot your fire is before cooking: The best thing to do is use a grill thermometer, but if you don't have one, there is an easy way to determine the intensity of your fire simply by using your hand. Place your hand about 1 foot above the grill and see how many seconds you can hold it there: if you can only hold it there for a second or less, it's very hot (ver 600°F), 1-2 seconds it's hot (400°F-500°F), 3-4 seconds it's medium (350°-375°), 5-7 seconds it's medium-low (325°F -350°F).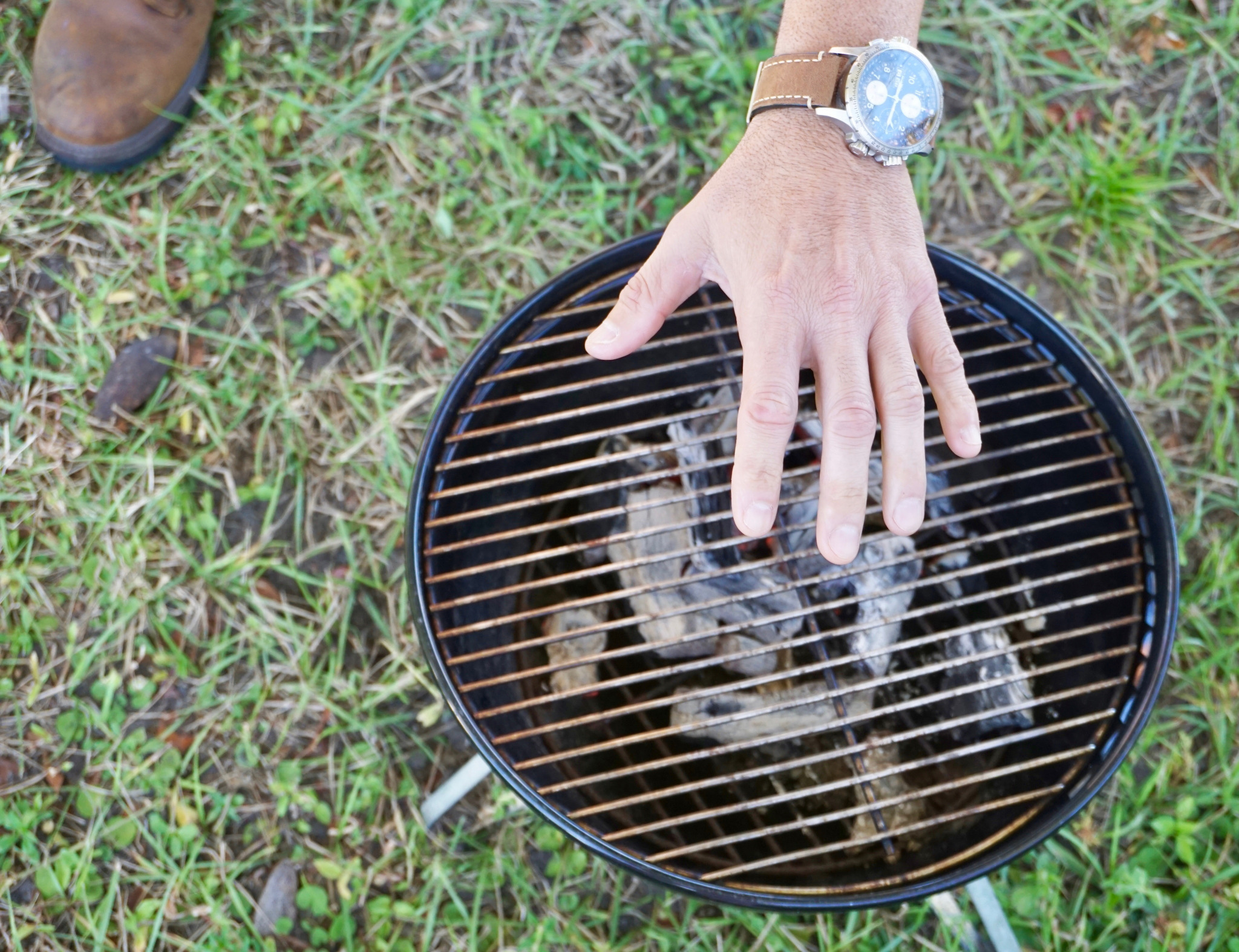 Different temperatures work best for different foods. If you're cooking steak a hot area is ideal for searing and achieving a rare or medium-rare center. If you're cooking pork chops or chicken, or something you want cooked all the way through you will want to use medium heat on your grill. To bring the heat down you can restrict the amount of air by slightly closing the vents to help the fire die down a bit.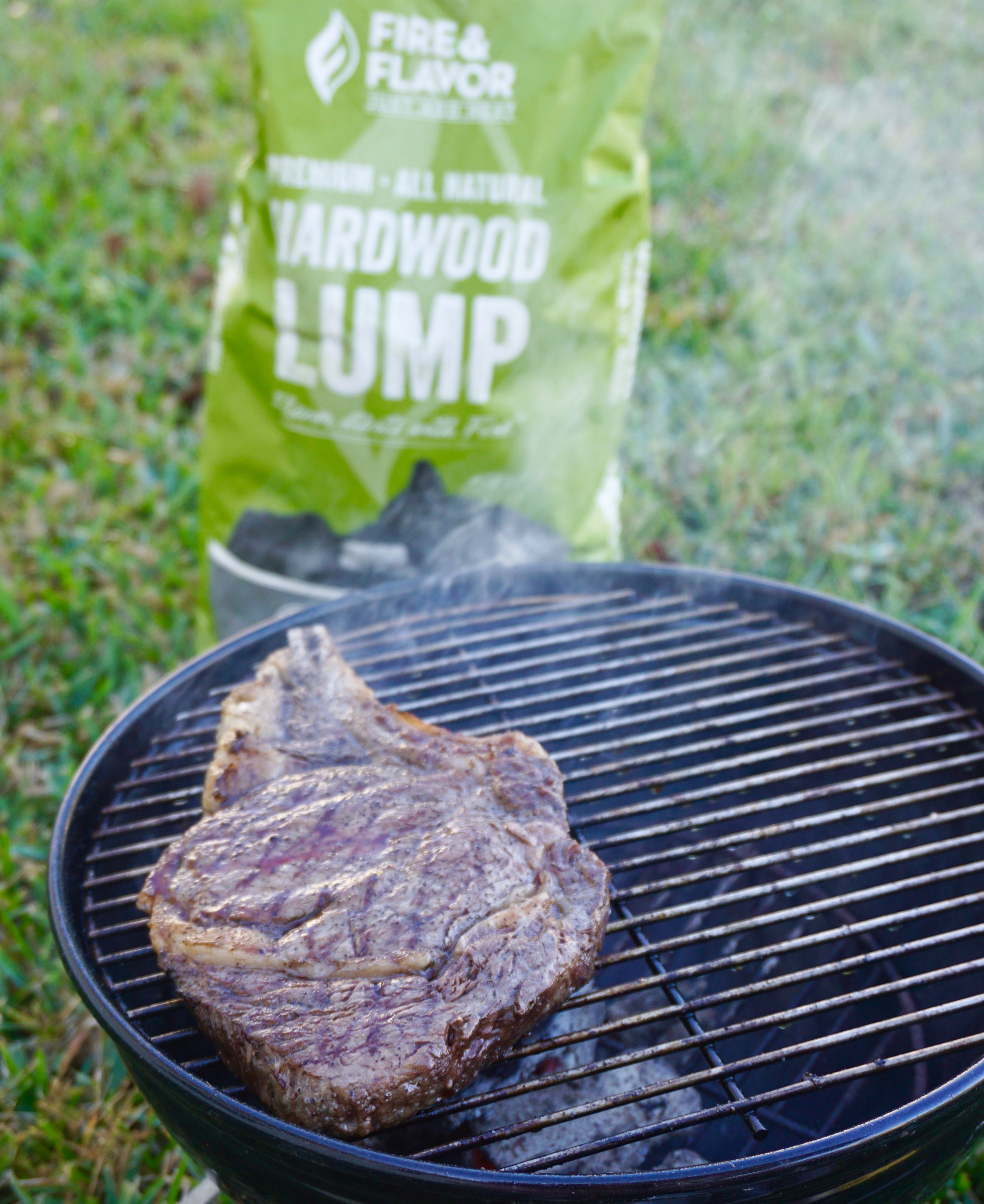 Use a meat thermometer. The best way to ensure that your steak or any other meat is cooked just the way you like it is to use a meat thermometer. I love medium rare steak so I cook my steak until it reaches an internal temperature of 130°F.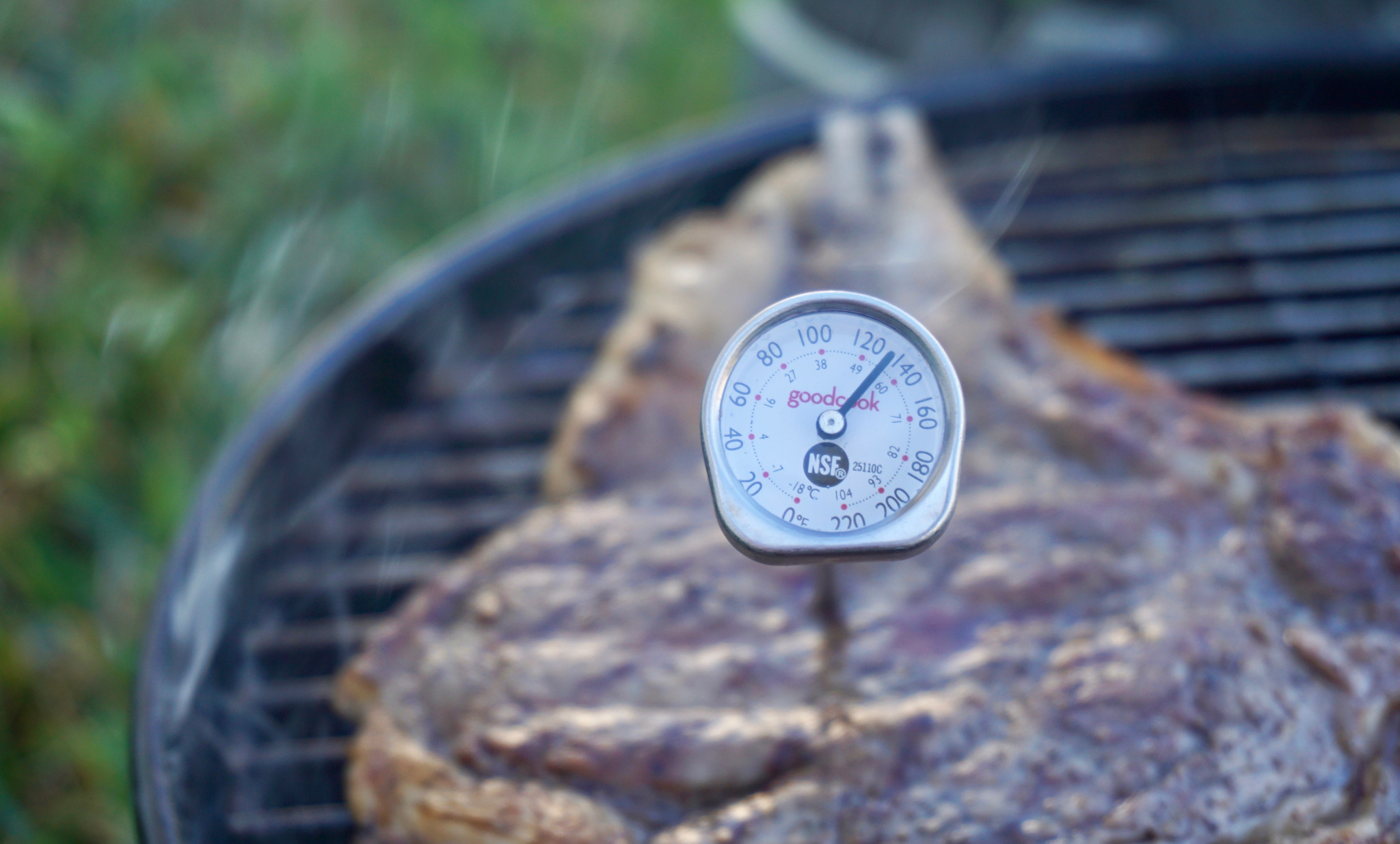 Grilled Steak Tacos with Pineapple Chimichurri
This recipe is one of my favorite recipes to share with family and friends when watching football games at home. It's a great recipe for homegating since this year we will be keeping our Big Game watching celebration smaller and at home.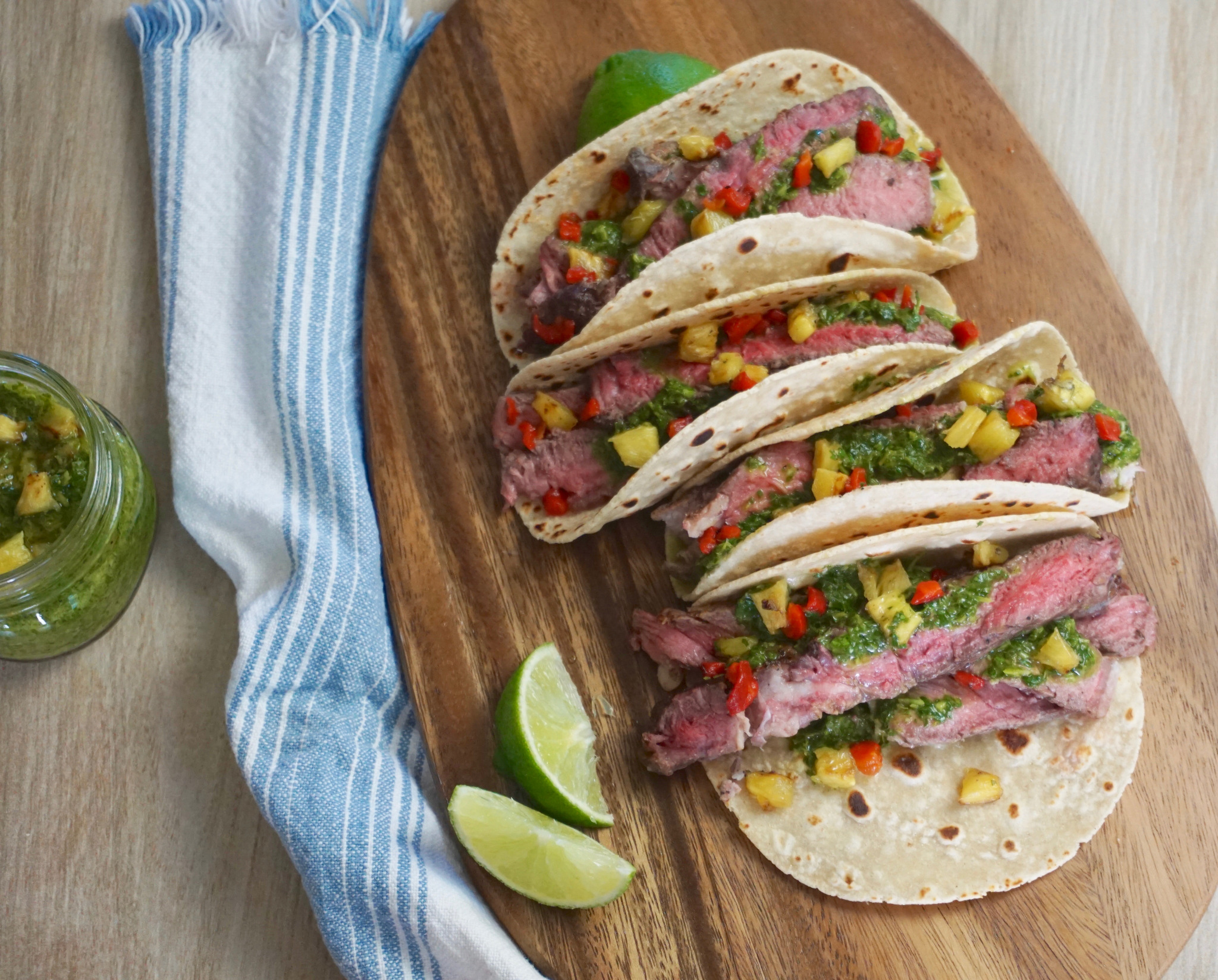 Grilled Steak Tacos with Pineapple Chimichurri Recipe
Makes 6 tacos
Ingredients
1 T-bone steak, or similar
1 cup of fresh cilantro, shredded
1 cup of fresh parsley, shredded
3/4 cup of olive oil
1/4 cup of red wine vinegar
1 tablespoon of diced garlic
1 teaspoon of oregano
5 slices of pineapple
1/4 cup fire-roasted red pepper, diced
Salt and Pepper to taste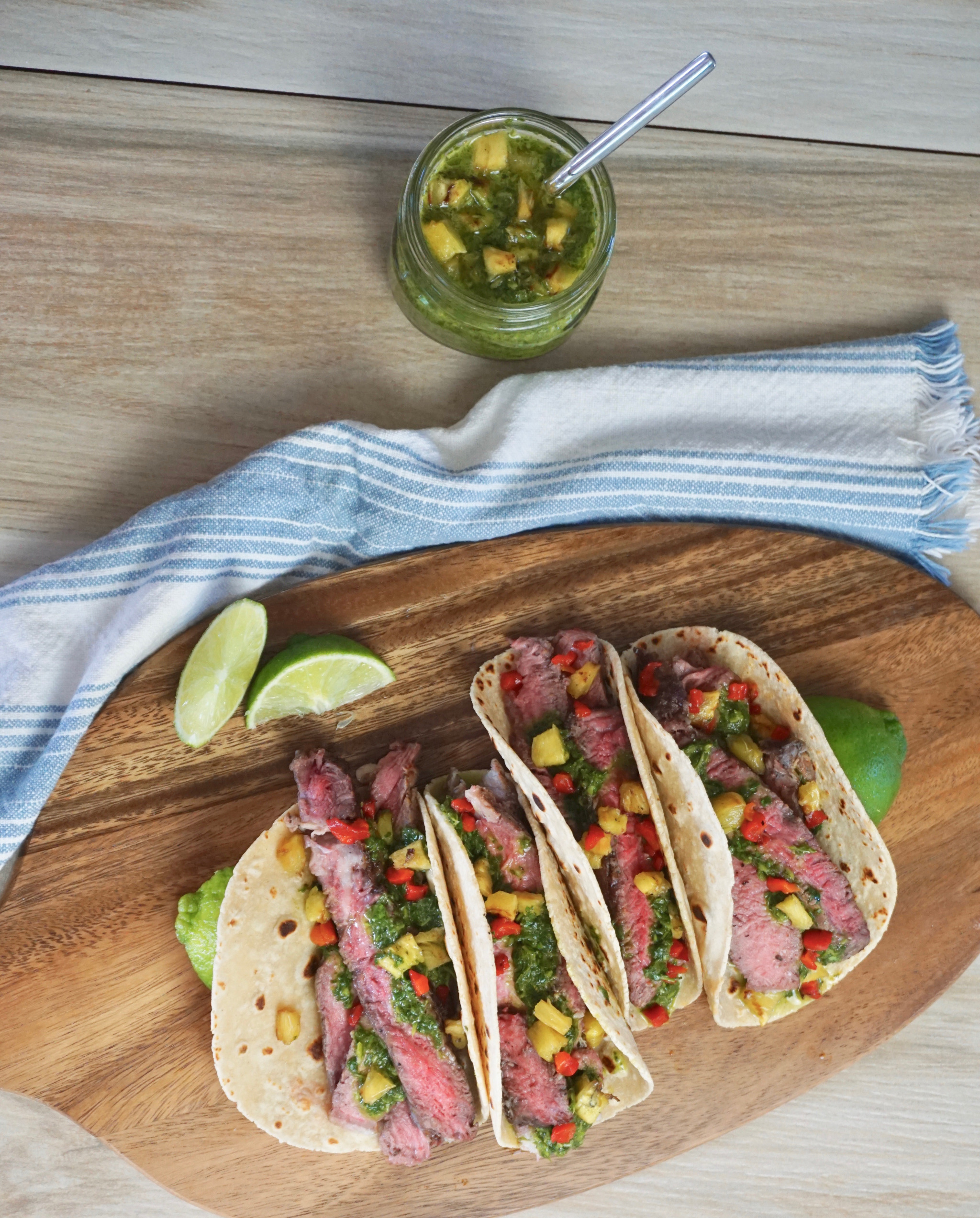 Directions
Set a two-zone fire on your grill.
Take your steak out of the refrigerator and let warm up to room temperature before grilling (about 30 minutes).
Season your steak with salt and pepper and place it in the hot zone once it has reached a temperature of approximately 400F.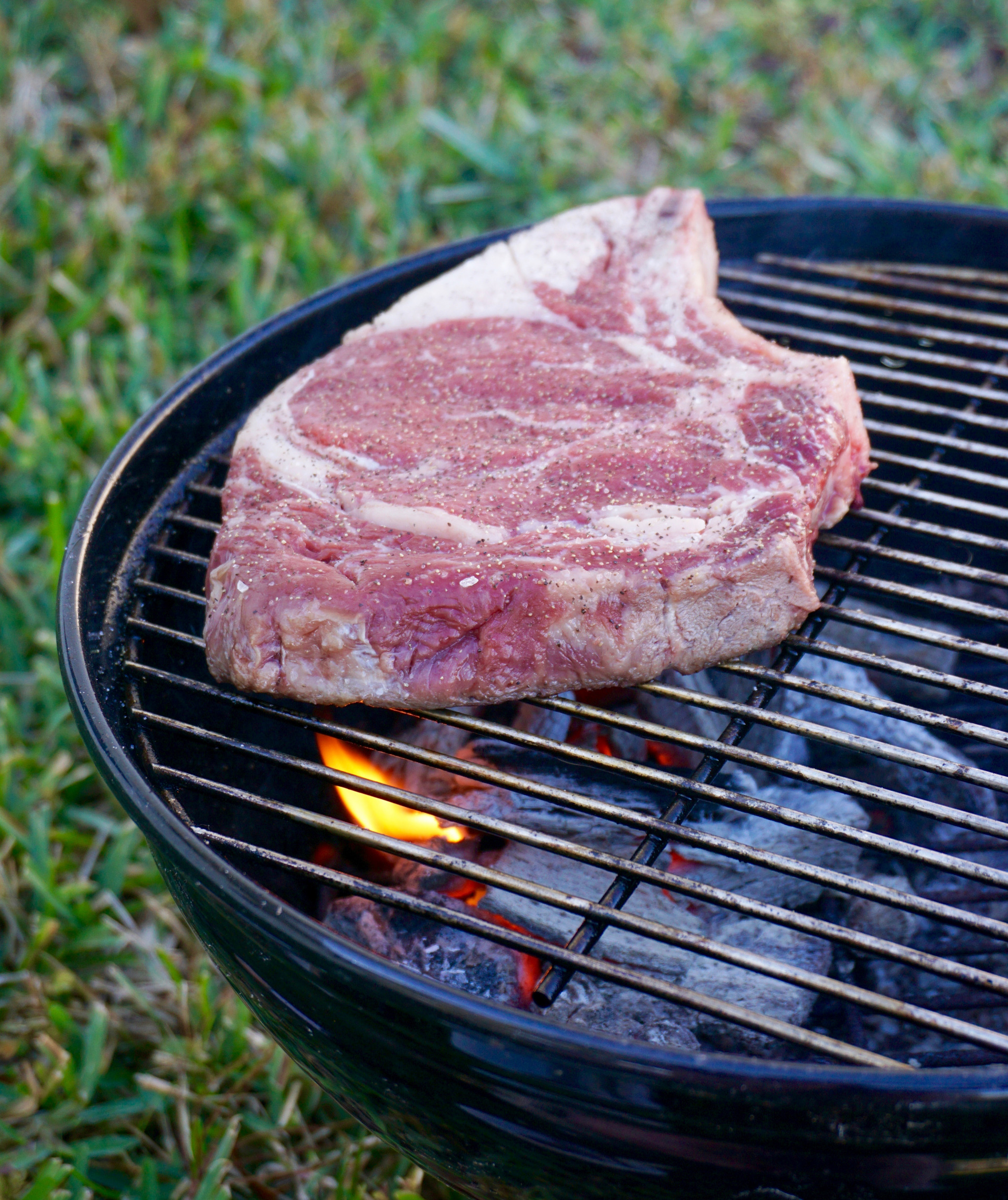 Sear for about two minutes on each side and move to the cooler side of the grill. Close the grill and let it finish cooking until it has reached an internal temperature of 130F for medium-rare.
While the steak is searing grill the pineapple slices on the lower heat side of the grill for about 1 minute or 2 on each side. Once grilled, cut the pineapple slices into small pieces.
Remove the steak from the grill and tent with aluminum foil, let it rest for about 10 minutes before cutting.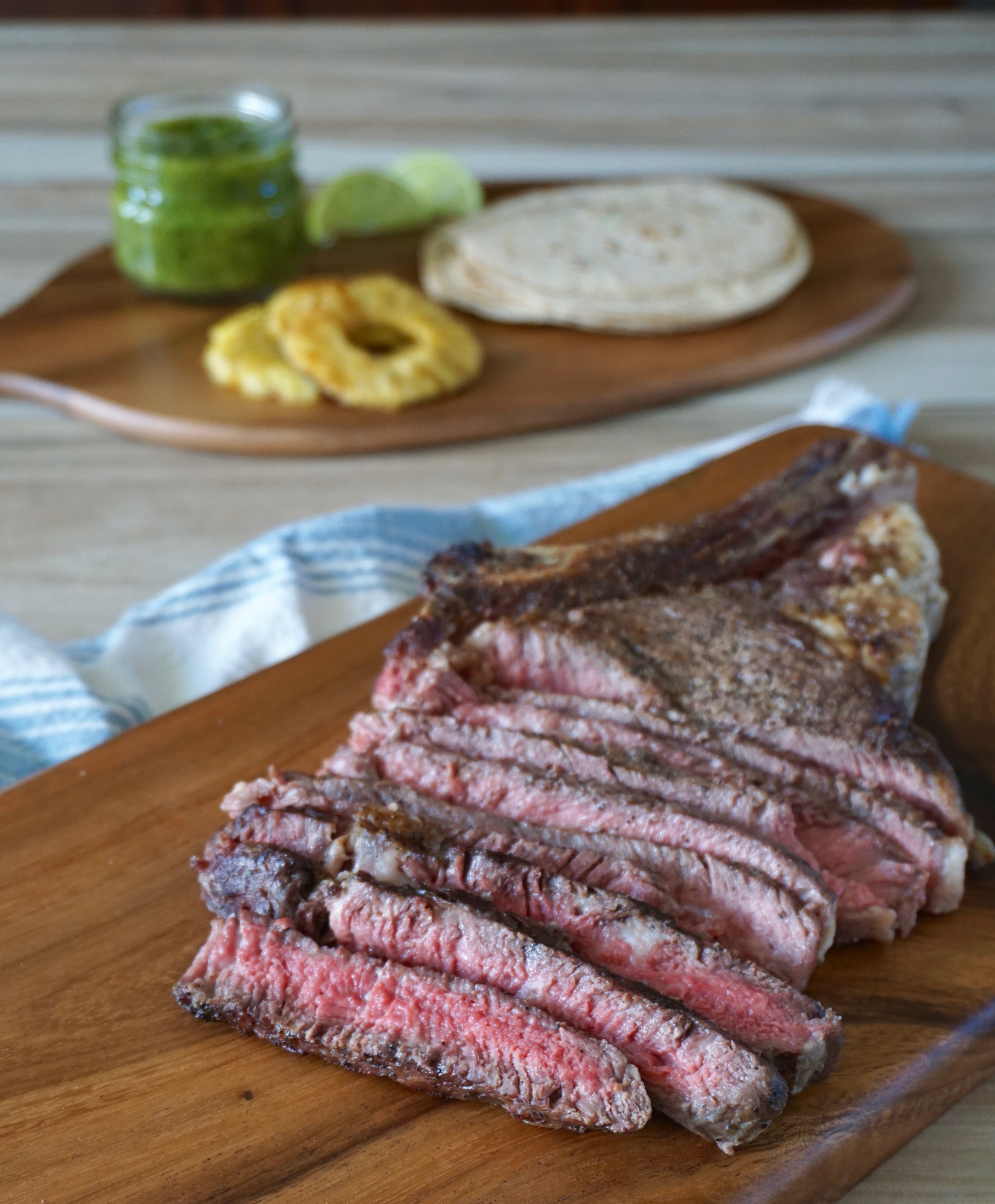 To make the chimichurri sauce combine the cilantro, parsley, garlic, olive oil, and red wine vinegar in a food processor. Add salt and pepper to taste.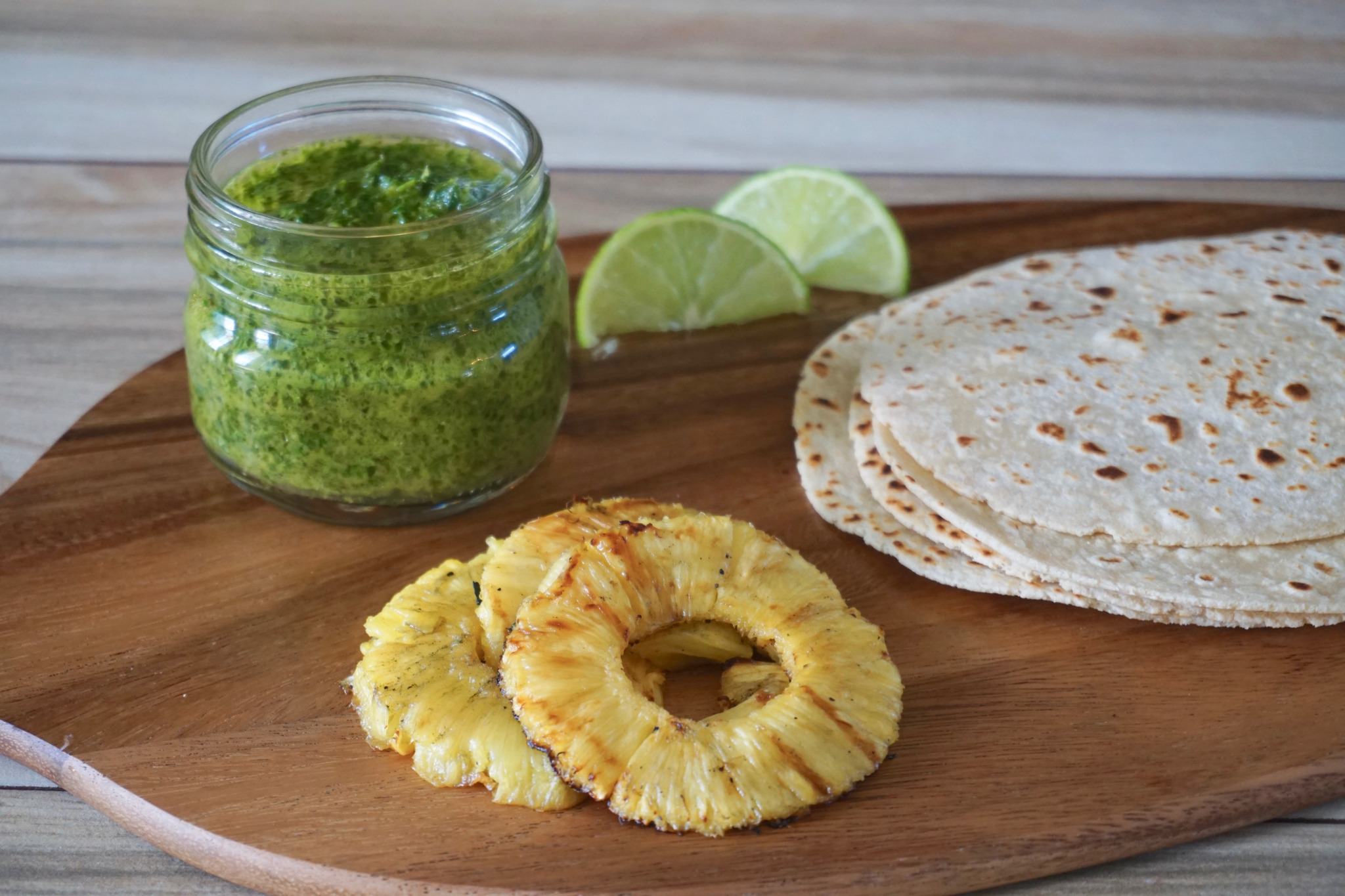 Remove the chimichurri from the food processor and mix with the grilled pineapple.
Warm the tortillas. To assemble the tacos place a few slices of steak on each tortilla, top with pineapple chimichurri and diced red pepper.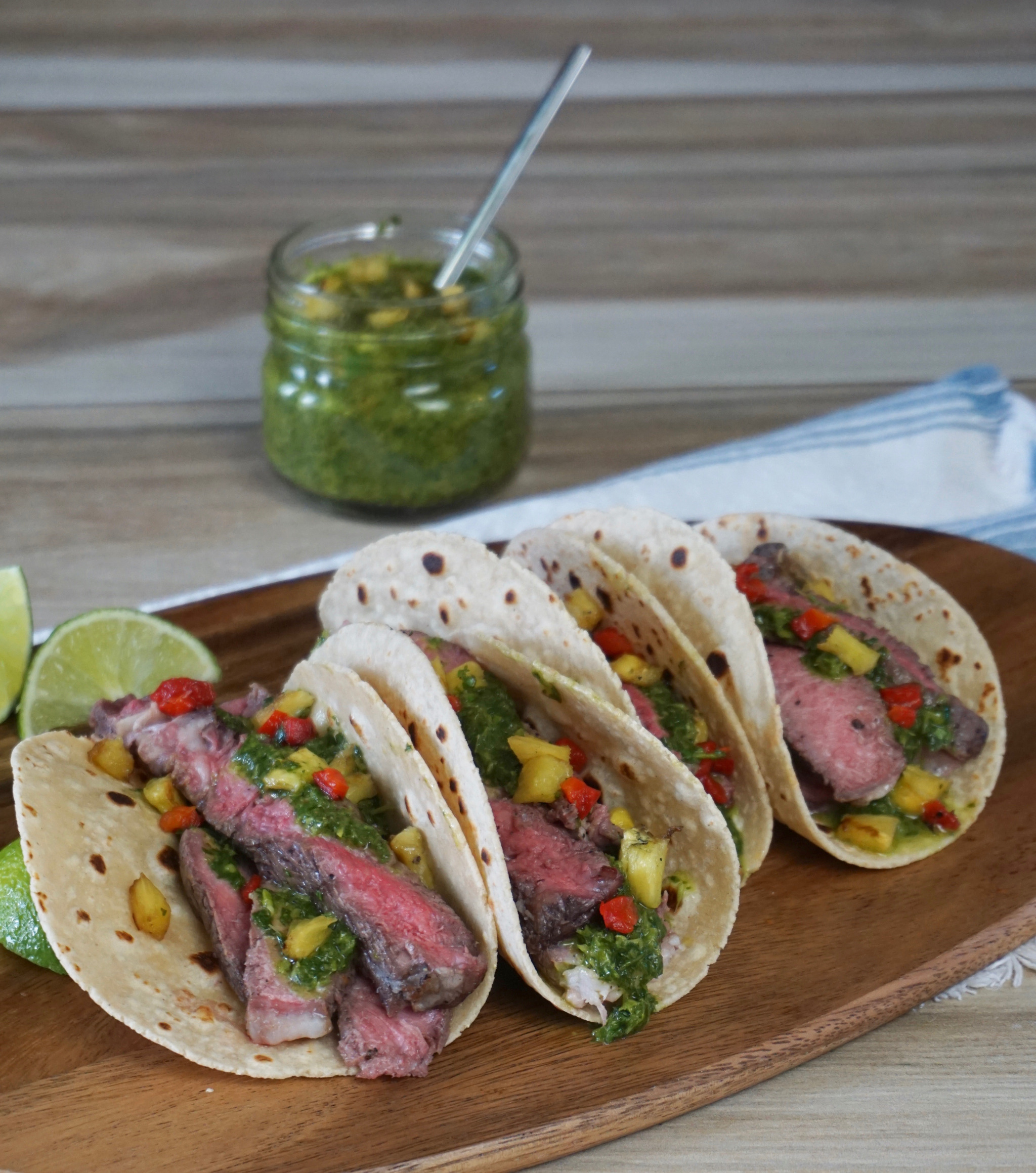 I always grill my steaks using Fire & Flavor® Hardwood Lump Charcoal and I always get it at Publix, where you can also find Fire & Flavor®​ Biomass Fire Starters​.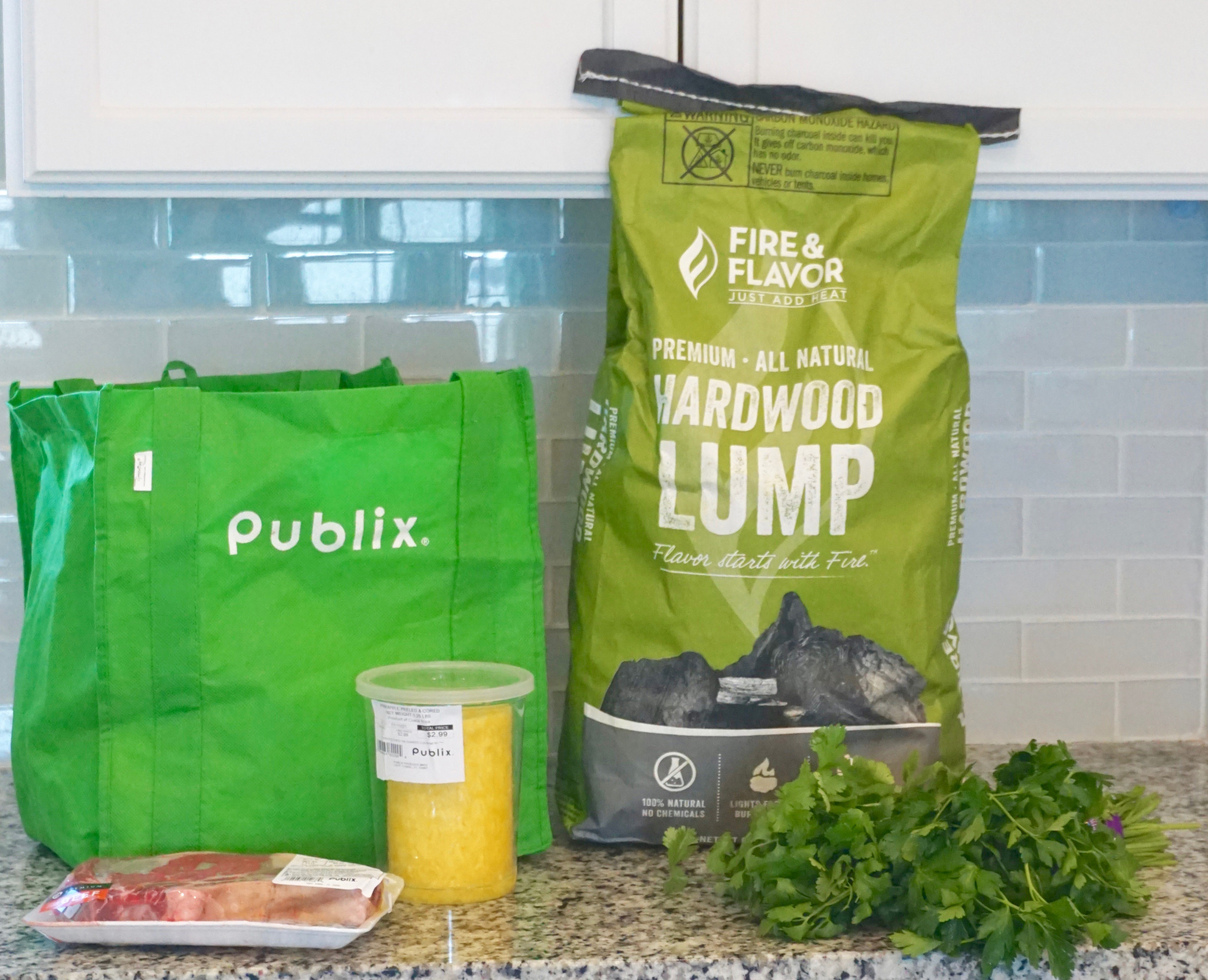 Latest posts by Cesar Diaz
(see all)