I love to start Valentine's with a special Valentine's breakfast. I have been obsessed lately with charcuterie boards and I thought: why not make a Valentine's charcuterie board, or better yet a Valentine's breakfast board! What I love the most about this Valentine's breakfast charcuterie board is that you can include all of your favorite breakfast foods. From pancakes and waffles to eggs and cinnamon rolls, you can add lots of different things to your breakfast board to make it your own.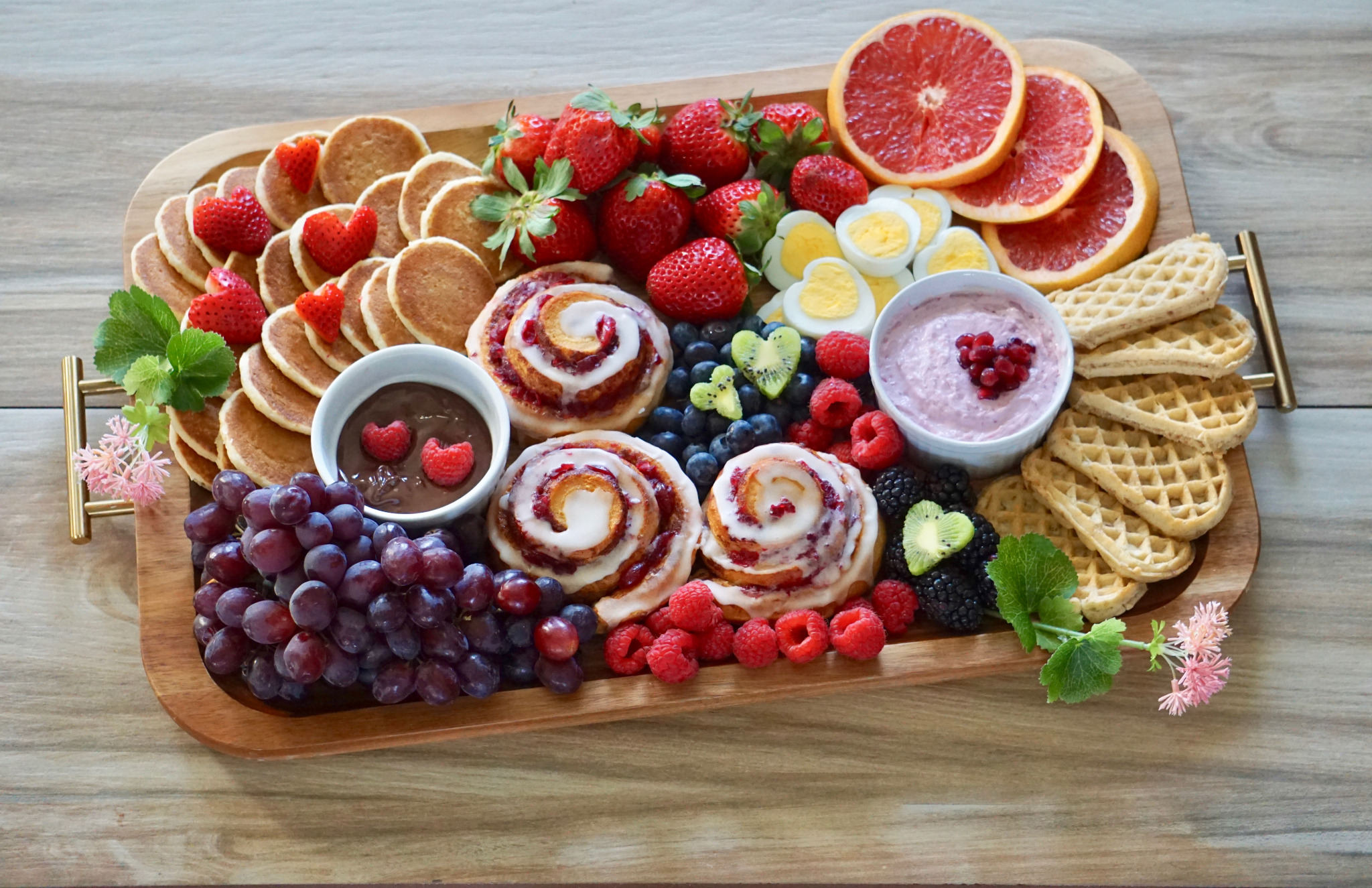 How to make a Valentine's Breakfast Charcuterie Board
The key to making a beautiful Valentine's breakfast board is to keep that Valentine's theme in mind. If you have never created a charcuterie board before it may seem a little overwhelming but it's easy once you know where to start.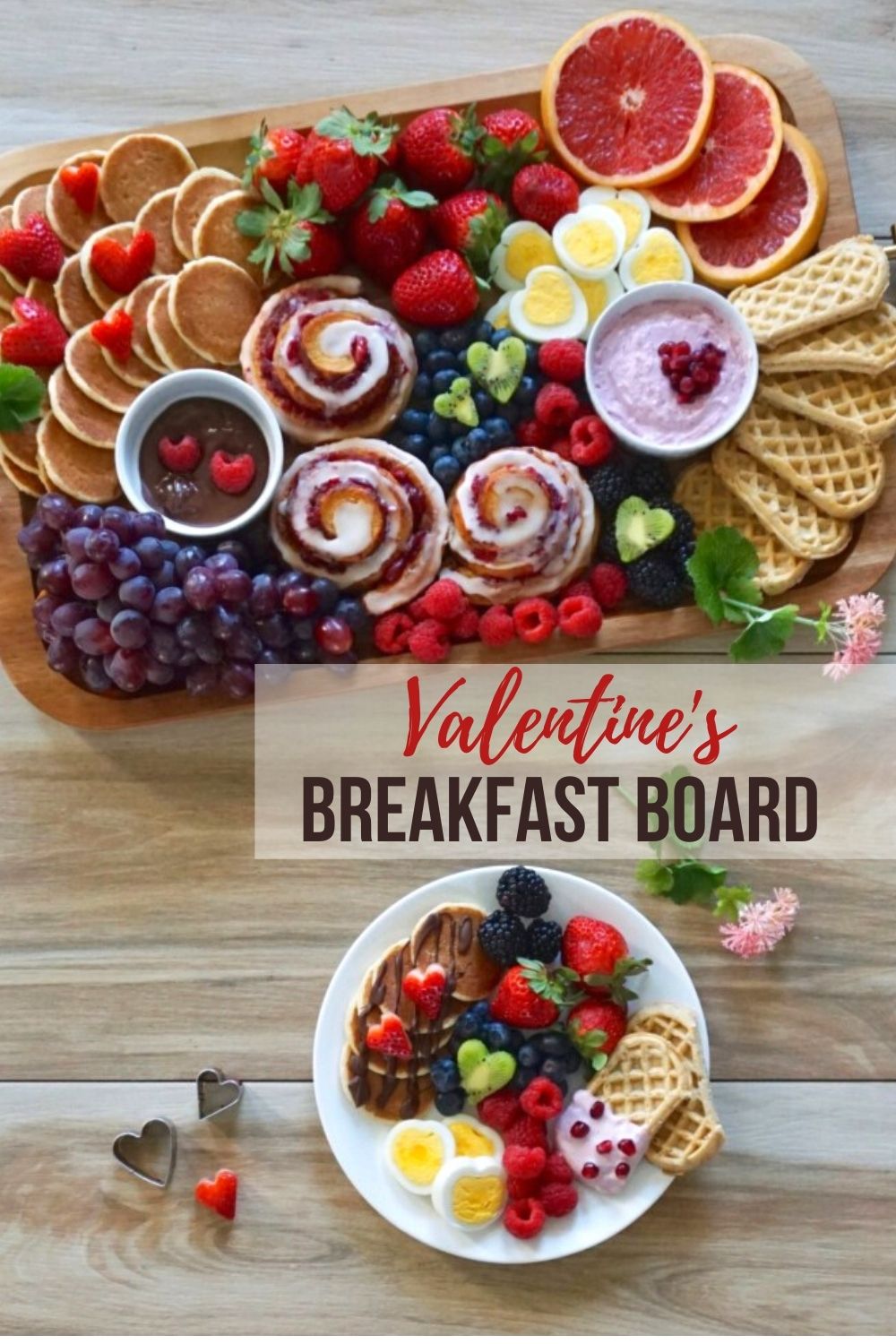 Start with a theme
Whether it's a specific color scheme or a special occasion, choosing the theme for your breakfast board will give you some ideas on what ingredients to include. For this Valentine's breakfast board I knew I wanted to include lots of red fruits as well as chocolate in some way because it's not Valentine's without some chocolate. I also added lots of hearts from heart shaped fruit to heart shaped hard-boiled eggs.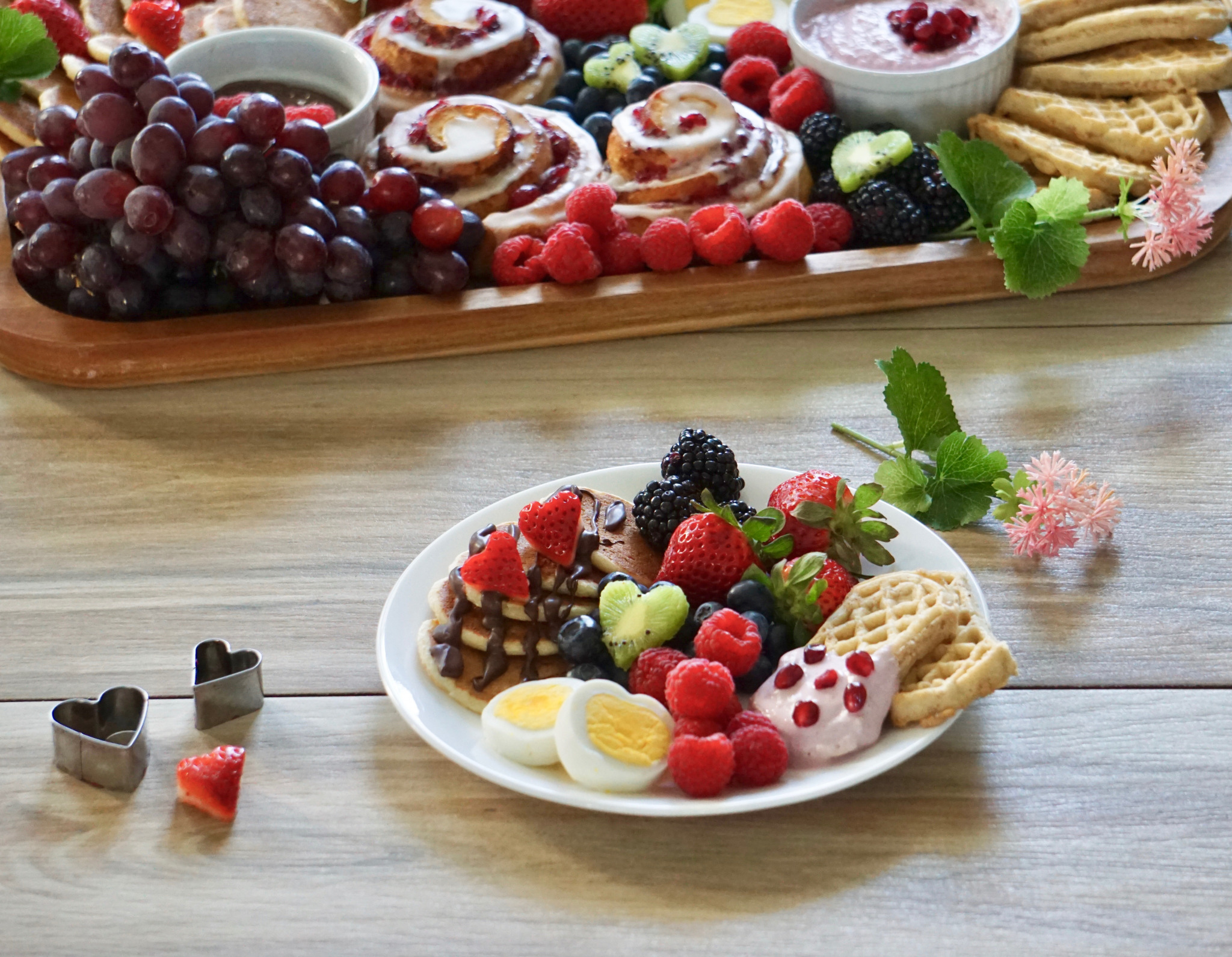 Your theme can also focus on a specific breakfast food, for example you can make a Valentine's pancake breakfast board or a bagel Valentine's breakfast board and focus all of your ingredients around that theme.
Choose a board
The size and shape of your board will determine how much food you can put on it. If you're creating a Valentine's breakfast board for your family or for a galentine's celebration with friends choose a larger board, if this is for only two people choose a smaller board or platter. A heart shaped board or large platter would also be a fun option for you Valentine's breakfast board. I use a wooden tray, which works well as I can move the breakfast board easily.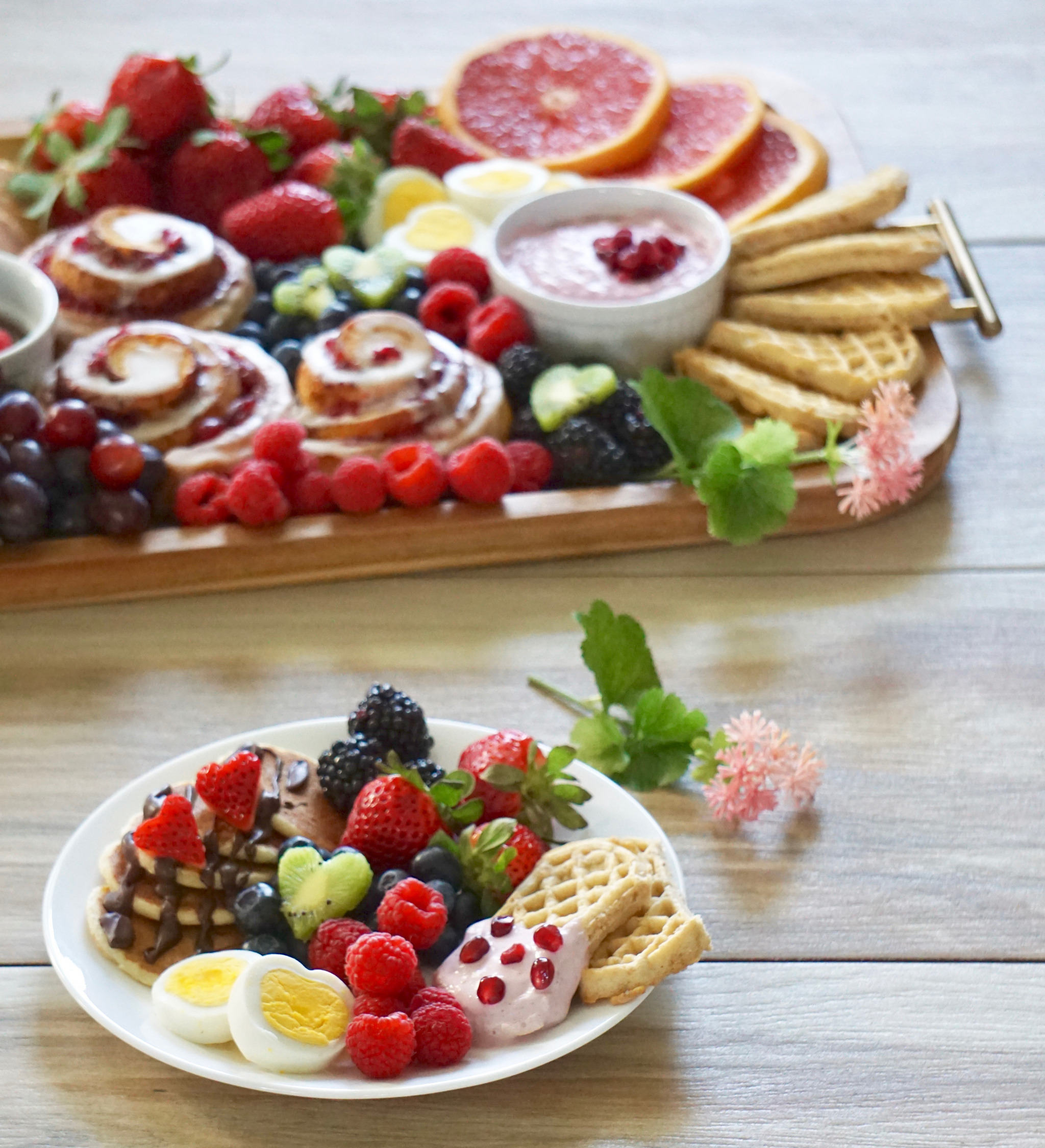 Decide on the type of foods you will include
For this breakfast board I focused on my family's favorite breakfast foods which include waffles, pancakes, cinnamon rolls, eggs and fruit. We're not big on meats but you can also include other breakfast friendly proteins like salmon, breakfast sausage and bacon. If you're creating a Valentine's breakfast board for a larger group of people it's a good idea to include lots of different options so there is something for everyone.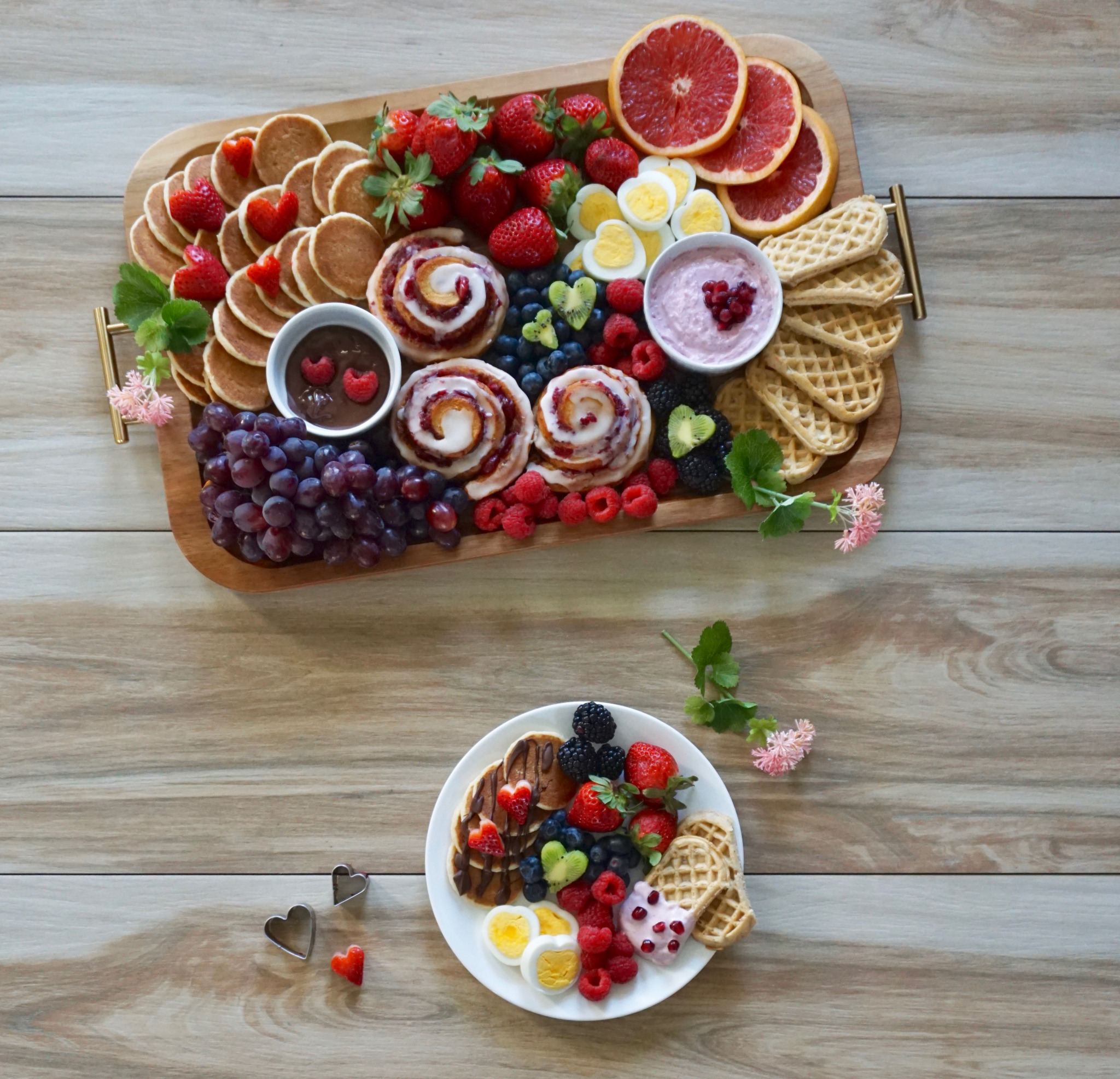 Don't forget the toppings & dips
When it comes to breakfast boards you can include different types of toppings or dips for your pancakes, waffles or toast. In this case, because this is a Valentine's themed breakfast board, I was focusing on using lots of reds and chocolate. I included a delicious strawberry yogurt dip that is perfect for dipping your waffle sticks and home-made chocolate syrup. Some other ideas for toppings and dips for a breakfast board include: cream cheese, honey, maple syrup, whipped cream, chocolate chips and jams and jellies.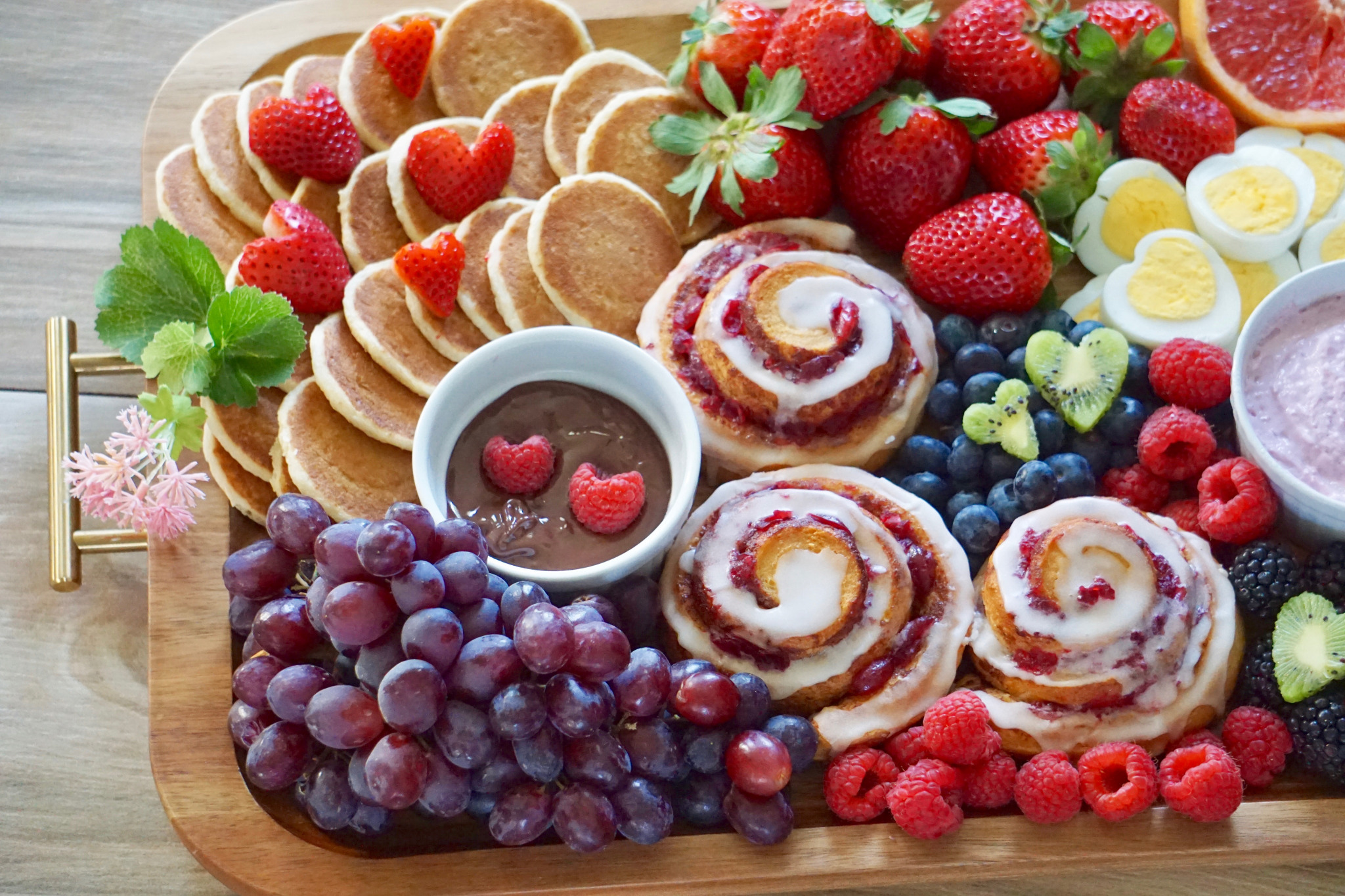 Add some decorations
Since the theme of this breakfast board is Valentine's Day I added some strawberry hearts and some kiwi hearts. I used heart shaped cookie cutters to make these and made them in a few different sizes, then I placed them on top of other fruit. I also used the heart shaped cookie cutter to create a heart made with pomegranate seeds topping the strawberry yogurt dip.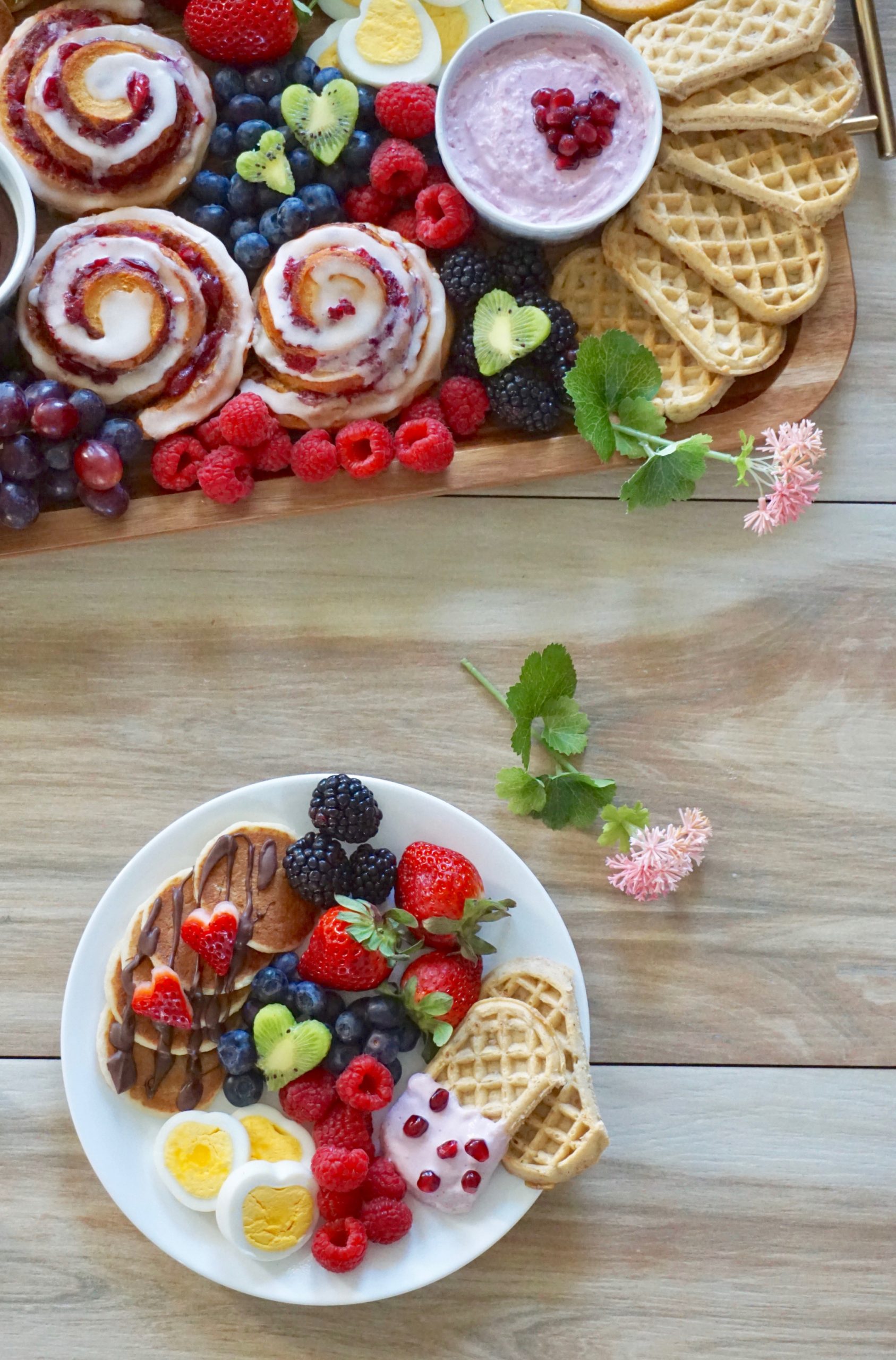 Some additional tips
Choose a color scheme.

Fill out your board completely.

Combine different shapes, textures and sizes.

Keep things simple. Frozen pancakes and waffles save time!