This is part of a sponsored campaign with Being Latino and Honey Maid.  However, all opinions expressed are my own.

As you know our family is always on the go and weather we are on the road or on a plane keeping hunger at bay is very important for everyone's sanity! When we are thinking of the ideal on te go snack we look for a snack that is nutritious, easy to take along on any trip and that is also affordable.
Not bringing snacks along when you are traveling or when you are running errands or taking the kids to after school activities makes you waste a lot of money as you end up having to buy something on the way and it also is the number one reason why you suddenly find yourself at the drive through of afast food restaurant.
We recently discovered the new Honey Maid Go Bites and I am thrilled to say that these snacks have not just been approved by the pickiest eater in the family, they are also good for you with 5 grams of protein and 7 grams of whole grain in every 30 gram serving, Honey Maid GoBites are a snack they can love and you'll feel good about.  Honey Maid GoBites are available in chocolate and vanilla flavor, my daughter loves the vanilla ones because they are not as sweet and my little guy is crazy about the chocolate ones.  I like both and love the crunchy texture with the soft, sweet filled center.
According to road tripping parents snacks are the number one way of keeping kids calm and entertained during long road trips so when you are planning those spring or summer road trips snacks should be at the top of your list!
Snacking Tips for Road Tripping Families 
Plan your meals before leaving. When you are planning your road trip plan stops for eating or for snacking along the way.  Knowing where and when you will be eating will let you plan your snacks around that so you don't over or under pack food.
Make sure you have something for everyone. Take into account everyone's preferences when packing snacks for a road trip.
Choose snacks that are healthy and nutritious as well as special treats. Snacks like bananas, apples or carrot sticks make excellent healthy snack choices but when you have a picky eater, like we do, you also need to pack some treats. That is why I like the new Honey Maid Go Bites because they are both nutritious and the kids feel like they are having a treat. I feel great about making them happy and keeping them calm during the trip with the Honey Maid Go Bites because they have delicious fillings chocolate or vanilla fillings and at the same time are delivering protein and whole grains.
Pack snacks that travel well. Putting snacks in zip-lock bags or buying single serve snacks helps you ensure that kids don't over eat and also keep snacks fresh.  It's also important to consider that in long trips fruits, veggies, lunchmeat, etc. will require a cooler so they don't go bad. Some great ideas include raisins, dehydrated fruit, trail mix and snacks like the Honey Maid Go Bites.
Make sure snacks and drinks are easy to access. You can't really be stopping every 30 minutes so don't put the cooler in the trunk!  We usually have a small cooler we keep in the back seat with the kids so they can get their own snacks and drinks.
Don't start the trip hungry. Make sure everybody has a good meal before you head out, specially if you are on the go all the time. This not only will prevent you from stopping on the first place you find no matter what it is but you will save time as well.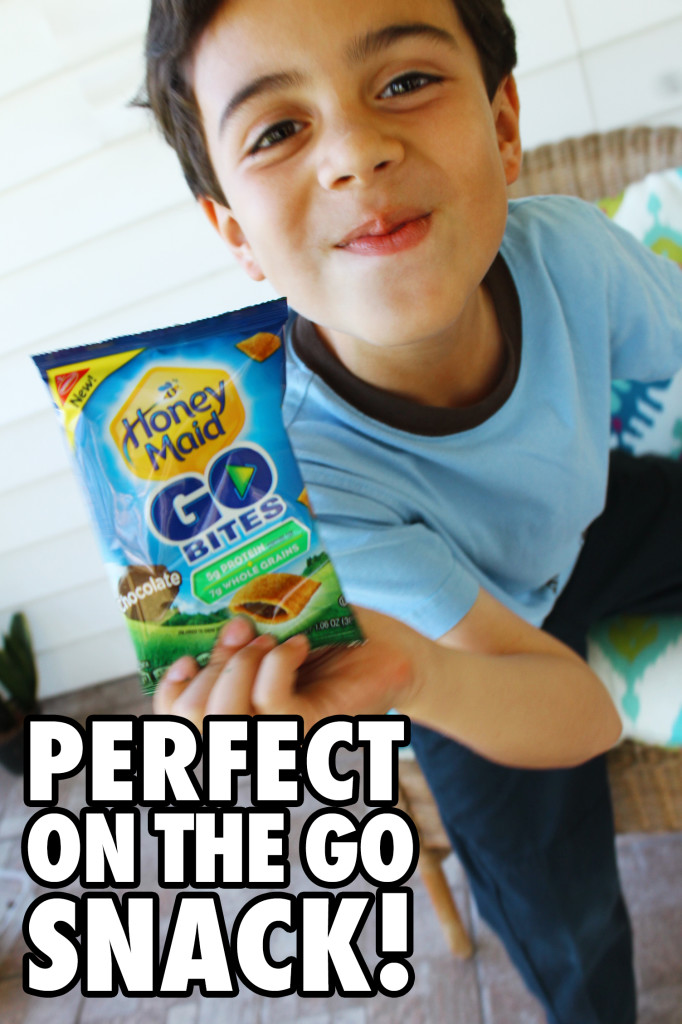 For more information about Honey Maid Go Bites, our new favorite snack, you can check it out here and watch the video here.