This post was sponsored by Amazon as part of an Influencer Activation for Influence Central and all opinions expressed in my post are my own.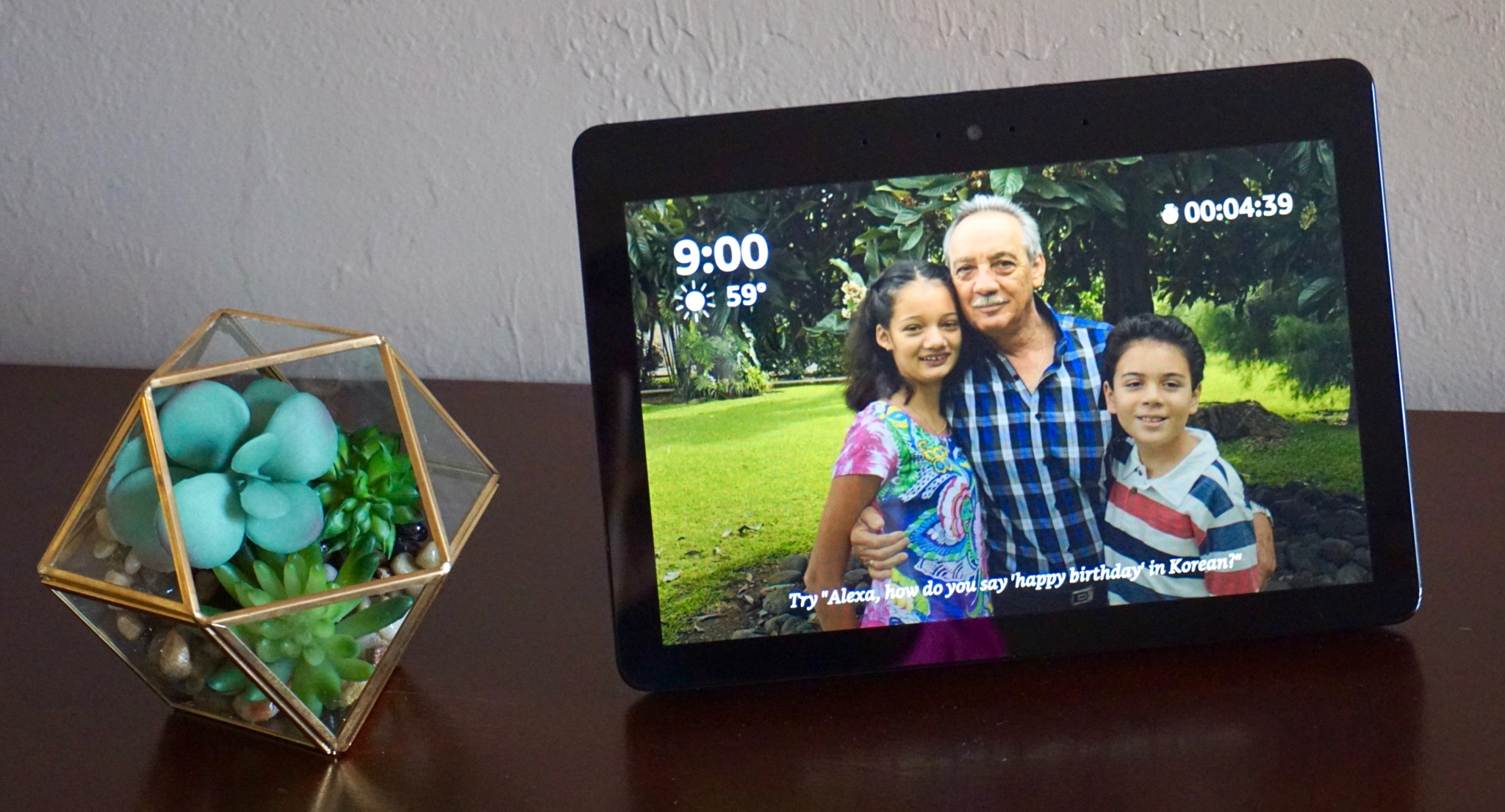 I'm a huge fan of Amazon's Echo ever since we got our first Echo about 4 years ago. We later got an Echo Kids which was a total hit and we just recently became the proud owners of the Amazon Echo Show (2nd Gen) and we're smitten! The Echo Show 2nd Generation comes with an all-new design, upgraded speaker for a truly amazing sound (I could really feel the difference compared to our Echo) and a stunning 10-inch HD display, and a built-in smart home hub.
I wanted to provide much more than a review of Echo Show 2nd generation because when you first get it you might not be aware of just how awesome this device is and in how many ways your Echo Show can make your life easier and yes, happier. Seriously, I kid you not!
First of all, let's just talk a little about Alexa. Whether you have an Echo Show or a regular Echo or are thinking of getting one, using it could not be easier. Interacting with Alexa is as simple as asking a question. Just ask her to play music, read the news, control your smart home, tell a joke, or even play a game and Alexa will respond instantly. Whether you are at home or on the go, Alexa makes your life easier by letting use your voice to get information and control your world while you're busy in the kitchen or getting ready for work or doing anything else. No hands needed and you can reach Alexa from anywhere in the room.
One of the conveniences that the Amazon Echo Show 2nd Generation brings into my life is its ability to play music seamlessly. However, occasionally, I find myself wondering, "Why does Alexa stop playing music?" It can be a minor frustration when the music suddenly pauses in the middle of a song or playlist. Thankfully, this is a rare occurrence, and it usually happens due to temporary connectivity issues or unforeseen glitches. By ensuring a stable Wi-Fi connection and keeping the device updated, I can easily resolve these interruptions and continue enjoying uninterrupted music streaming with the Echo Show 2nd Generation.
10 Awesome Things Amazon's Echo Show Can Do
1. Hands-free video calling. I love, love, love this feature. Not only can you call anyone with the Alexa app and Echo Spot or Echo Show but you can also video call US phone numbers and phone numbers in Mexico and Canada as well! You can also make calls via Skype which means you can video call anyone anywhere as long as they have a Skype account. We use this feature all the time to talk to my brother in Spain and the larger screens lets us share more with him on the calls; on our last call, the kids showed him what they got for Christmas. The Echo Show really makes us feel more connected with friends and family who are far away.
2. Get all the awesome info Alexa provides in a visual way. Like I said we're already huge fans of Alexa, however being able to get everything from weather updates, trending topics and news briefings in a visual way is a big plus for me. I also love that the Echo Show shows the lyrics for my favorite songs while playing them so that I can sing along. And while this might not make my life easier it does make me happier. 🙂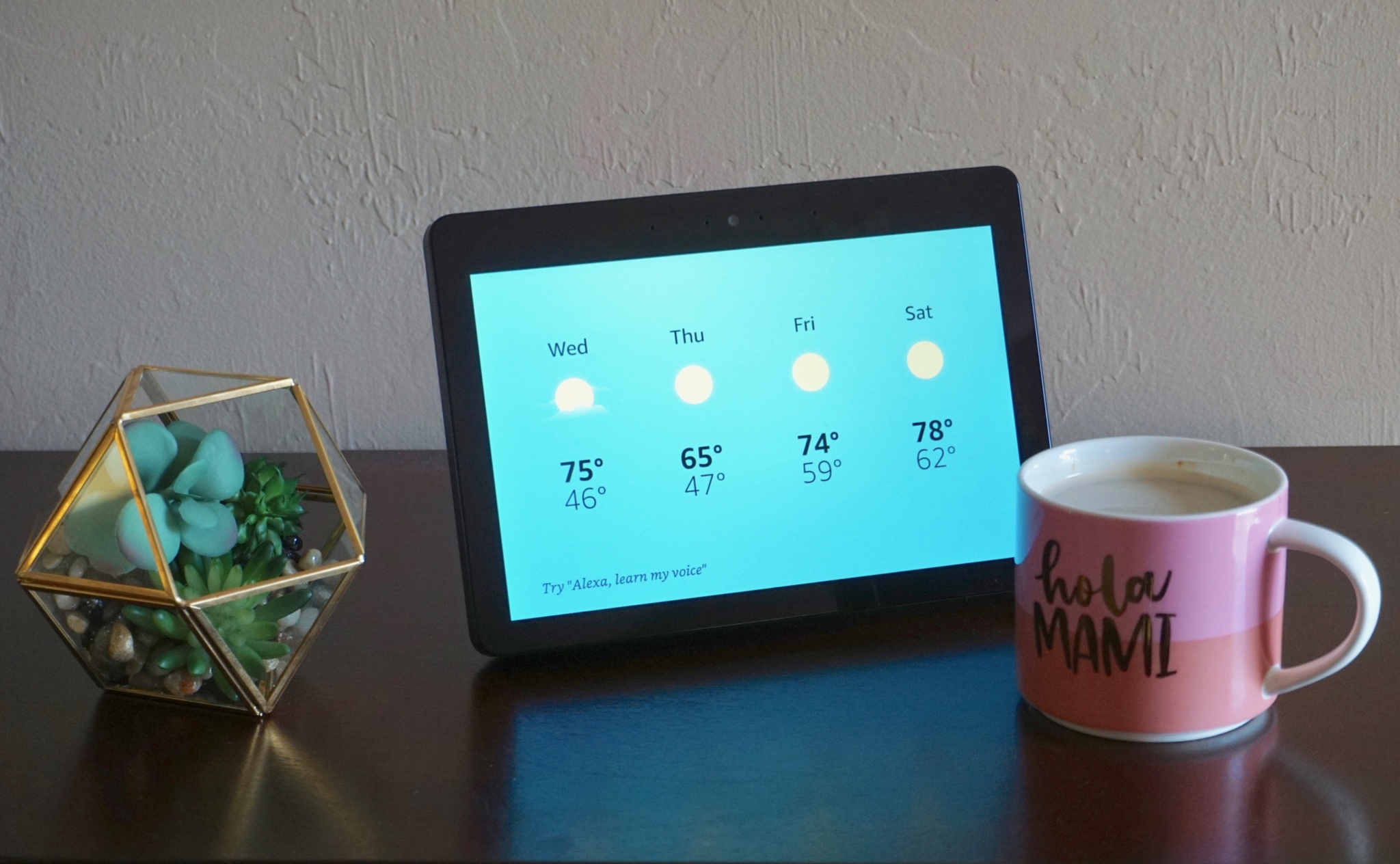 3. Organize your life. From creating to-do lists and shopping lists to helping you manage your calendar Echo Show can help you and your family get more organized. I love that everyone has access to the to-do and shopping lists in a visual way both at home on Echo Show and on the app on our phones. If we run out of milk or trash bags anyone in the family can add that item to the list and no matter who goes to the grocery store they can see the updated list and check items off from it. We used this with our Echo before but being able to see the list to make sure we're not missing anything (as opposed to Alexa telling us what items are on the list) is awesome. You can also connect it to your Google Calendar and the Echo Show will display the day's events.
4. Reminders for everyone. One of the most useful skills for me, has been being able to set up chores for everyone in the family and having Alexa set up reminders for everyone to actually get those chores done. I can pull up the chore schedule at any time on the Echo Show and add or modify the chores as the kids get more responsibilities. I also set up reminders for myself for everything from picking up the kids to giving medicine to the dog. This has really helped me as I am often focused on doing something and lose track of the time and I don't walk around the house with my phone and usually have it on mute so that it doesn't distract me while I'm working.
5. Set up the right mood … for any time of the day or occasion. From waking up to your favorite tune and providing you with some motivation you can program Alexa to set the right mood for any occasion. In the morning I have her set up to provide me with everything I need to start my day right: meditation time, the weather, traffic information, calendar reminders, a news briefing and fun facts along with upbeat music and motivational quote. When I get back home I have Alexa welcome me, give me reminders and set up some relaxing music perfect for cooking dinner with and when it's movie night or date night I have specific settings for her to dim the lights and put on romantic music. And of course I also have a setting for when it's time for cleaning, I have her play some Juan Luis Guerra (upbeat bachata music) to make cleaning easier.
6. Cooking made easier. I love making new recipes for my family and trying new things. When dinner comes around all I have to do is ask Alexa to show me recipes for anything from smoothies to tamales. And with the Amazon Echo Show I can see videos and photos for the recipes which makes it so much easier.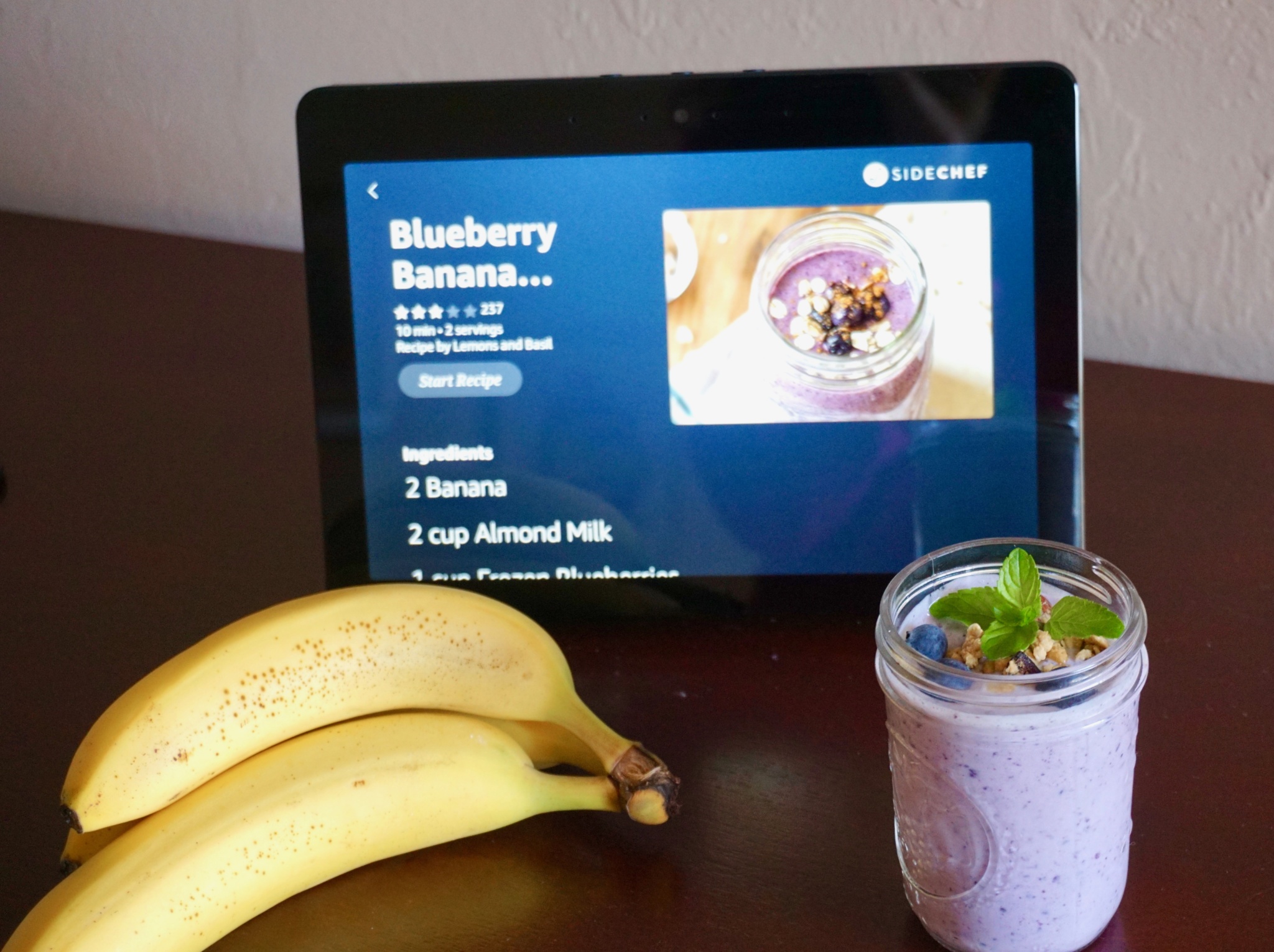 7. Great entertainment options. Looking for something to do on Saturday night or the weekend or any day? Amazon Echo Show can help you. You can ask Alexa to show you what movies are playing near you and besides giving you information about the times you can also watch the movie trailers right on the screen. With a vibrant 10.1″ HD screen the Echo Show is perfect for watching videos, movies, and TV shows I love while I'm cooking or setting up the table for dinner. Its also great to have another device to watch movies and/or shows from when the kids have taken over the TV in the living room. Lol! You can watch live TV and sports with a Hulu subscription, movies and shows from Prime Video, or music videos from Vevo.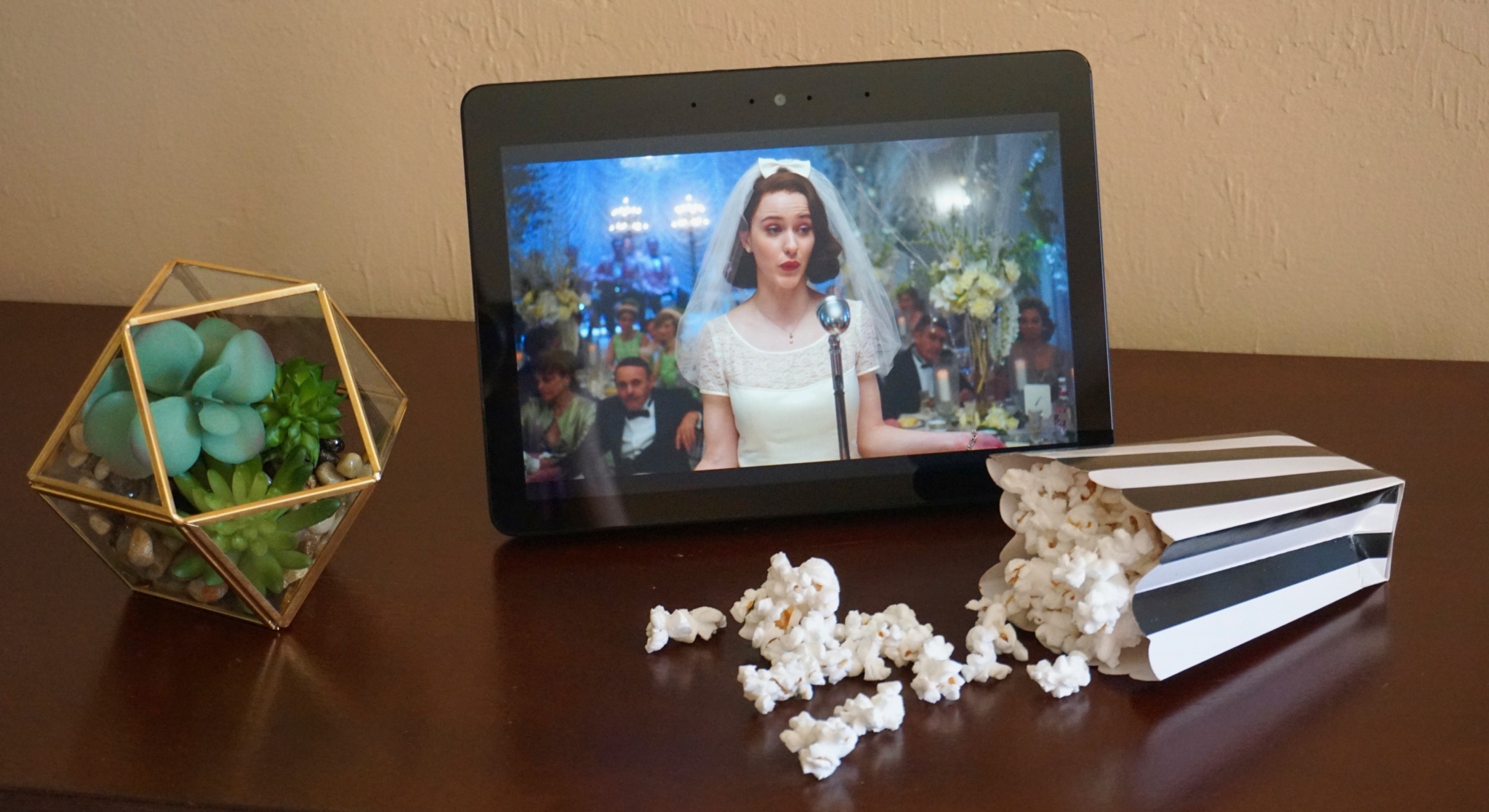 There's also lots of skills and games that will keep you entertained. My personal favorite is the Jeopardy skill but we also love some of their trivia skills.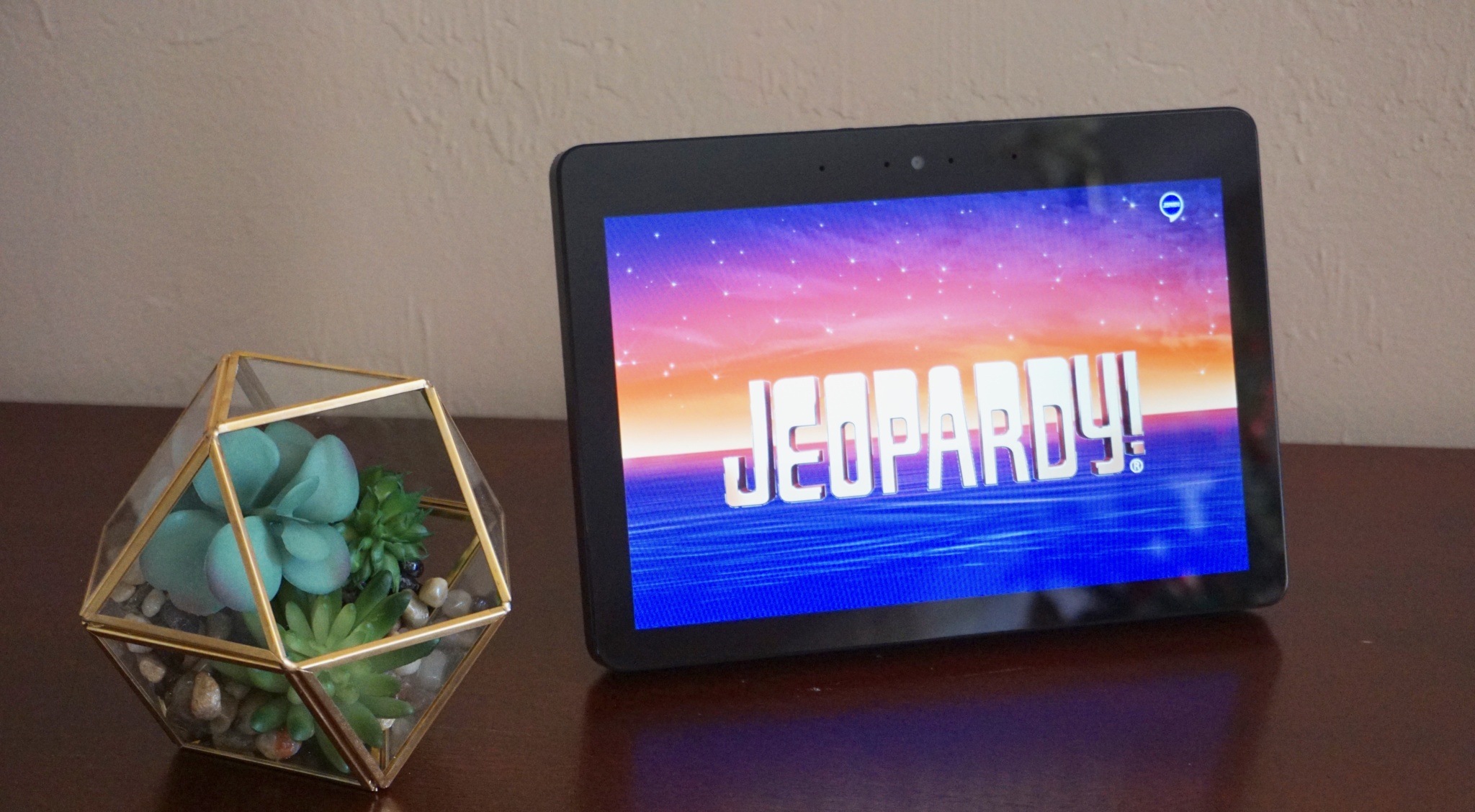 8. Shopping is a breeze. From ordering Domino's pizza to ordering groceries via Amazon Prime you can get your shopping done hands free. We love that Amazon Echo already has our preferences when it comes to the pizza we always order so ordering every week for movie night is a breeze. When I'm planning the meals for the week I can look for recipes on the Amazon Echo Show and then ask Alexa to add the ingredients to my shopping list and even order them!
9. Get tips and advice. There are lots of skills you can use (these are similar to apps) that can provide you with advice and tips for solving everyday problems like removing stains. Just ask Alexa "How do I remove a chocolate stain." and get a step by step tutorial along with the option to add some of the necessary tools and or products (like stain remover or vinegar) to your shopping list or watch a video on how to do it. And you can do all of this hands-free while cook or simply while you relax on the couch (like that ever happens).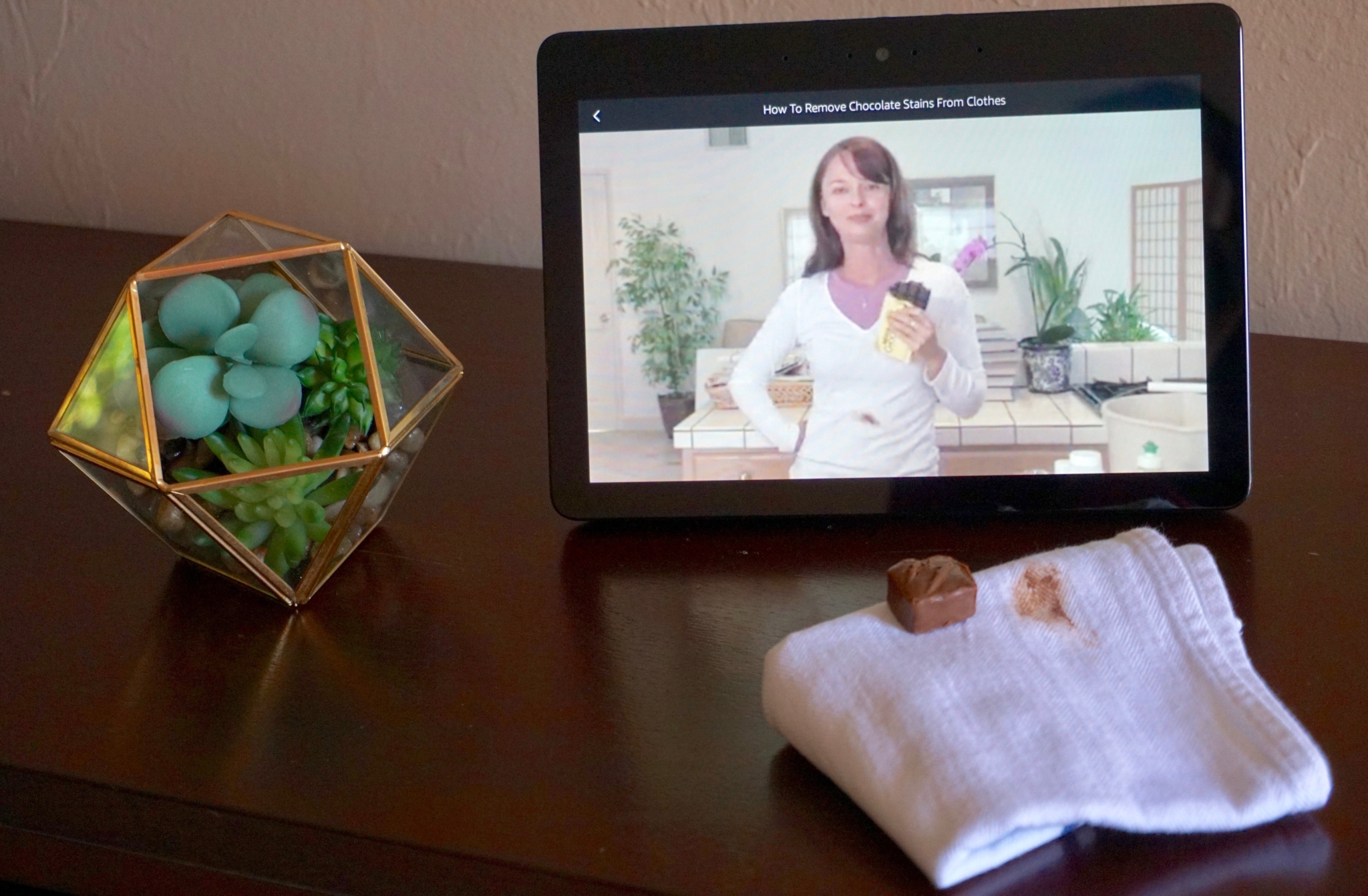 10. Control your smart home from one single hub. The Echo Show has a built-in smart home hub and you can even set up compatible Zigbee devices without the need for a separate hub. You can do everything from controlling the lights in different rooms to seeing your front door camera stream with 2-way audio and notifications.
Enter to Win Your Own Echo Show
To be eligible to win enter in the widget below.
Prizes include:
Secondary prizes: One (1) of 10 Echo Dots
Grand prize: One (1) Echo Show grand prize
I-C will randomly select winners from all program entries and Amazon will facilitate fulfillment of the winning prizes of 11 Winners.
What you do with your Echo Show is only limited by your imagination (almost). You can customize responses and even create new skills (Alexa's apps) yourself! We've created custom responses to different phrases like "Alexa I'm home" to fit our personalities and inject some positive energy and some laughs into our day and we're also playing around with the skills blueprints that are provided as a base for you to create new skills as we would love to create some new skills and share them with the community, wouldn't that be awesome!?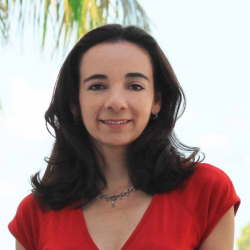 Latest posts by Paula Bendfeldt-Diaz
(see all)