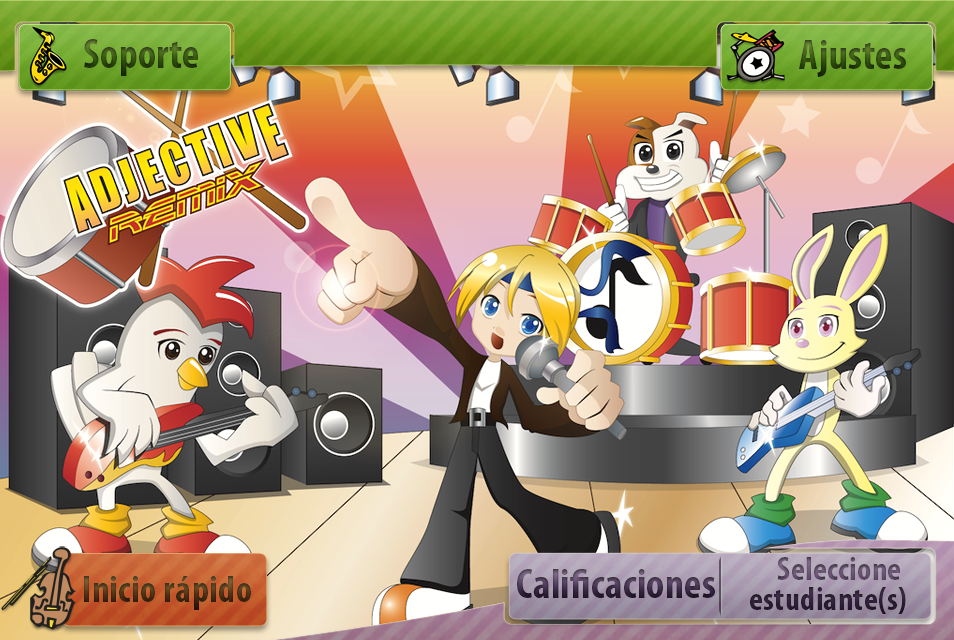 I am always eager to take advantage of technology to help  my children improve their vocabulary and language skills so I was happy to find Adjetivos Remix app for iPhone and iPad by Smarty Ears.
Smarty Ears has developed more than 50 apps that focus on using technology to help parents and speech therapists improve the communication skills of children with speech and language difficulties.   But even though most of their apps where conceived as a tool for children with speech impairments or challenges, they are ideal for children who are learning a second language as well.
Adjetivos Remix  is available in both English (Adjective Remix) and Spanish. Developed by a Speech-Language Pathologist it targets adjectives helping improve vocabulary and comprehension of descriptive words by asking children to choose between two images depending on their attributes.  The sets of images are divided into 8 categories: appearance, colors, feelings, quantity, shape, size, time and touch & taste.
How it Works
You can use the app with one or with several users. Developed with teachers and Speech therapists in mind this app takes it's job seriously.  It starts by giving you the option to add students so that each time a child uses the app their individual progress can be tracked.  I added the names and images of both of my children so that they where able to choose their own user when working on their adjectives in the Adjetivos Remix app.

The child gets two options and is asked questions like: "¿Cual es más delgado?"  o "¿Cual es rojo?  "  or something with a higher degree of difficulty like "¿Que es mas valioso?" o "¿Quién se ve aburrido?".  When the child gets an answer correctly they get positive reinforcement which consists of a written message ("Muy Bien") and a cheering sound.  If the child gets the wrong answer nothing happens which makes them rethink and try again looking for that reinforcement.  Once they pick the correct answer the child will get the positive reinforcement anyway but the answer will be still be recorded as being wrong.
You can go to the Calificaciones (Grades) section you will get a clear picture of what concepts need to be reviewed.  We've had other apps where incorrect answers are followed by a disappointed sound or a try again message but I liked this much better because there is no negativity at all and it makes it feel like more of a game.  My children can sometimes get really frustrated when they get a wrong answer and she didn't experience any frustration with this app because there was no negative reaction.

Once you know what your child needs to work on you can go back to  "Ajustes" and optimize for each child by choosing only those categories or specific words and concepts that your child is having difficulty with so that they can practice them.
How it Helped My Children Improve their Spanish
As I have mentioned in previous posts both my kids go to an English only school.  That means that their Spanish education is completely up to us. My daughter who is in the autism spectrum receives Speech and Language therapy a few times per week, but the Speech Language Pathologists work with her only in English and I feel like we are always trying to catch up with the Spanish.
I found Adjetivos Remix to be an wonderful tool to help both of my children's vocabulary and comprehension in Spanish.  The app's clean and simple design paired with high-quality images kept my children interested and engaged.  It helps children understand and work on concepts that are sometimes hard to explain in an easy way by making learning fun and entertaining through visual representations of each word.

We have been using Adjetivos Remix at home and my children have not only learned new words in Spanish but I was also able to get a clear picture of where they are and what we need to work on which I consider most valuable.   With Adjetivos Remix's easy customization I was able to tailor it to their specific needs so that each of them where able to target the vocabulary and concepts they needed to strengthen.
I found this app to be very valuable as a parent and very successful in improving my children's understanding of descriptive vocabulary in Spanish both for my daughter who has a speech impairment and for my son who does not.  You can find Adjetivos Remix on iTunes for $9.99.  You can like Smarty Ears on Facebook and follow them on twitter to learn more about their apps.
I recieved a copy of Adjetivos Remix's free so I could review it. I was under no obligation of posting a positive review. My opinion is sincere and this post was not edited by a third party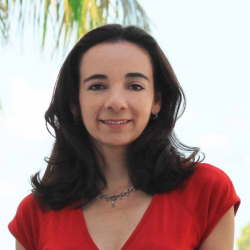 Latest posts by Paula Bendfeldt-Diaz
(see all)