This shop has been compensated by Collective Bias, Inc. and its advertiser. All opinions are mine alone. #BetterWithEggo #LeggoYourEggo #CollectiveBias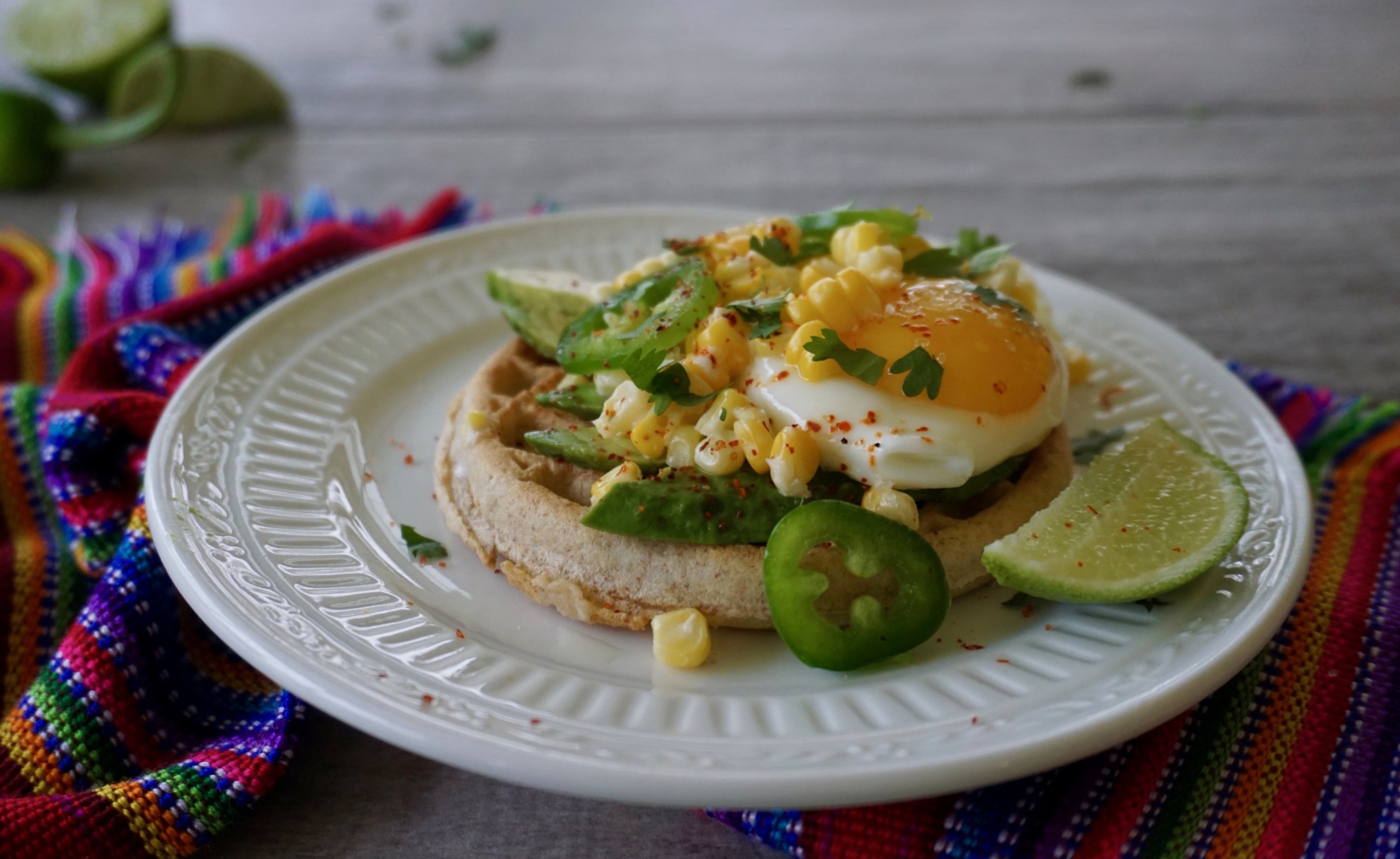 This waffle avocado and esquites (Mexican street corn salad) open egg sandwich is a savory breakfast that is healthy, flavorful, filling and high in protein.
When it comes to breakfast I'm all about getting creative and trying new recipes. I'm not one of those people who has the same thing for breakfast every day, I need to change things up a bit and make breakfast exciting as well as delicious. That is why I'm always thinking of new ways in which I can combine foods I love.
For this recipe, I used Kellogg's® Eggo Nutri-Grain Low Fat waffles 10 Ct and they turned out to be the perfect base for this delicious Mexican inspired breakfast recipe.
Hover over the photo and you can click through and purchase your Eggo Nutri Grain waffles.
Eggo Nutri Grain waffles have 8 grams of whole grain and are a great source of fiber. I love their taste, they're just like you make at home but quicker and now with flavors and colors from natural sources.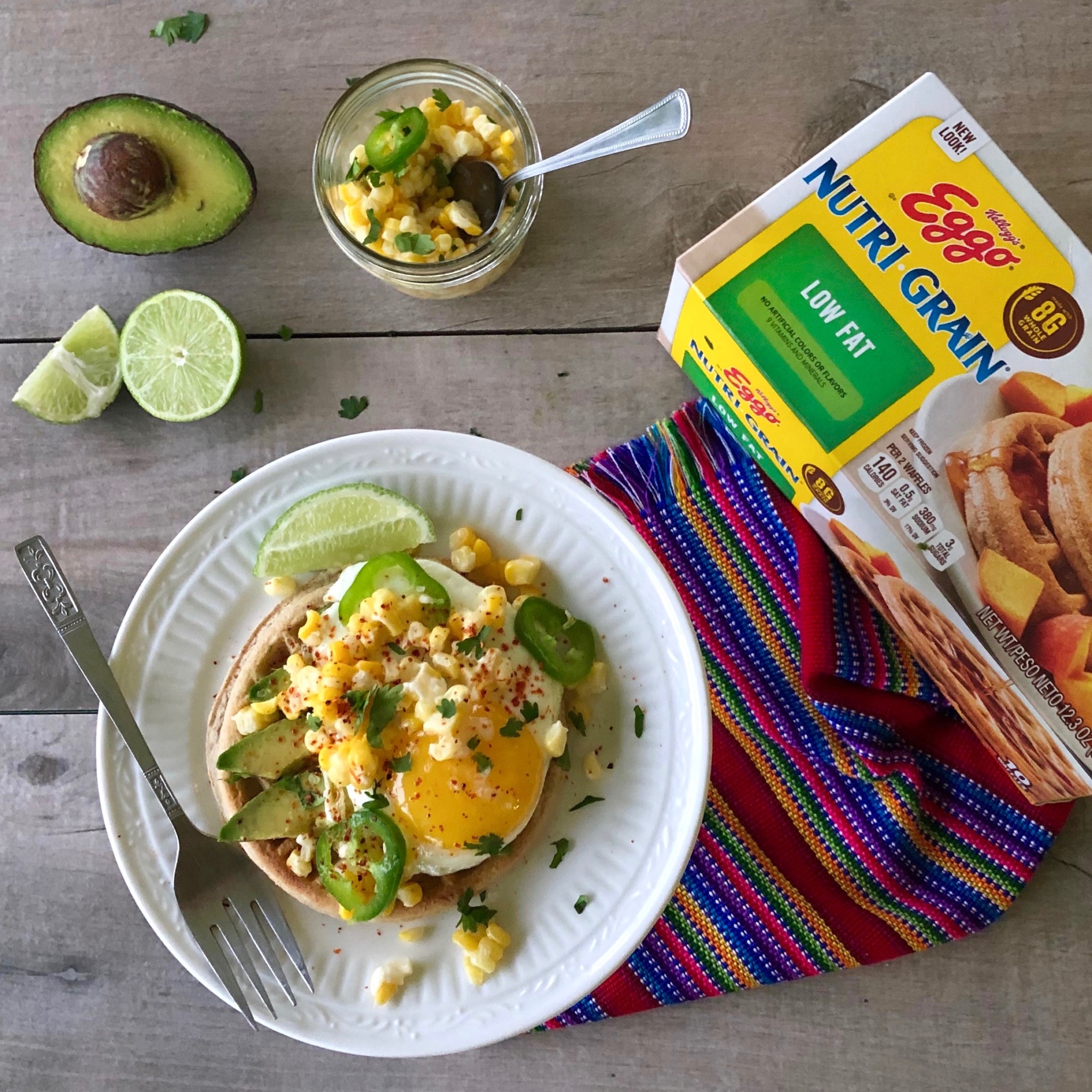 What is Esquites?
Esquites is one of my favorite Mexican street foods. Growing up I would love to eat Mexican elotes locos; grilled corn on the cob with butter mayonnaise, lime, queso fresco, and chili. Esquites is the same thing but with the corn kernels in a cup so they're easy to eat.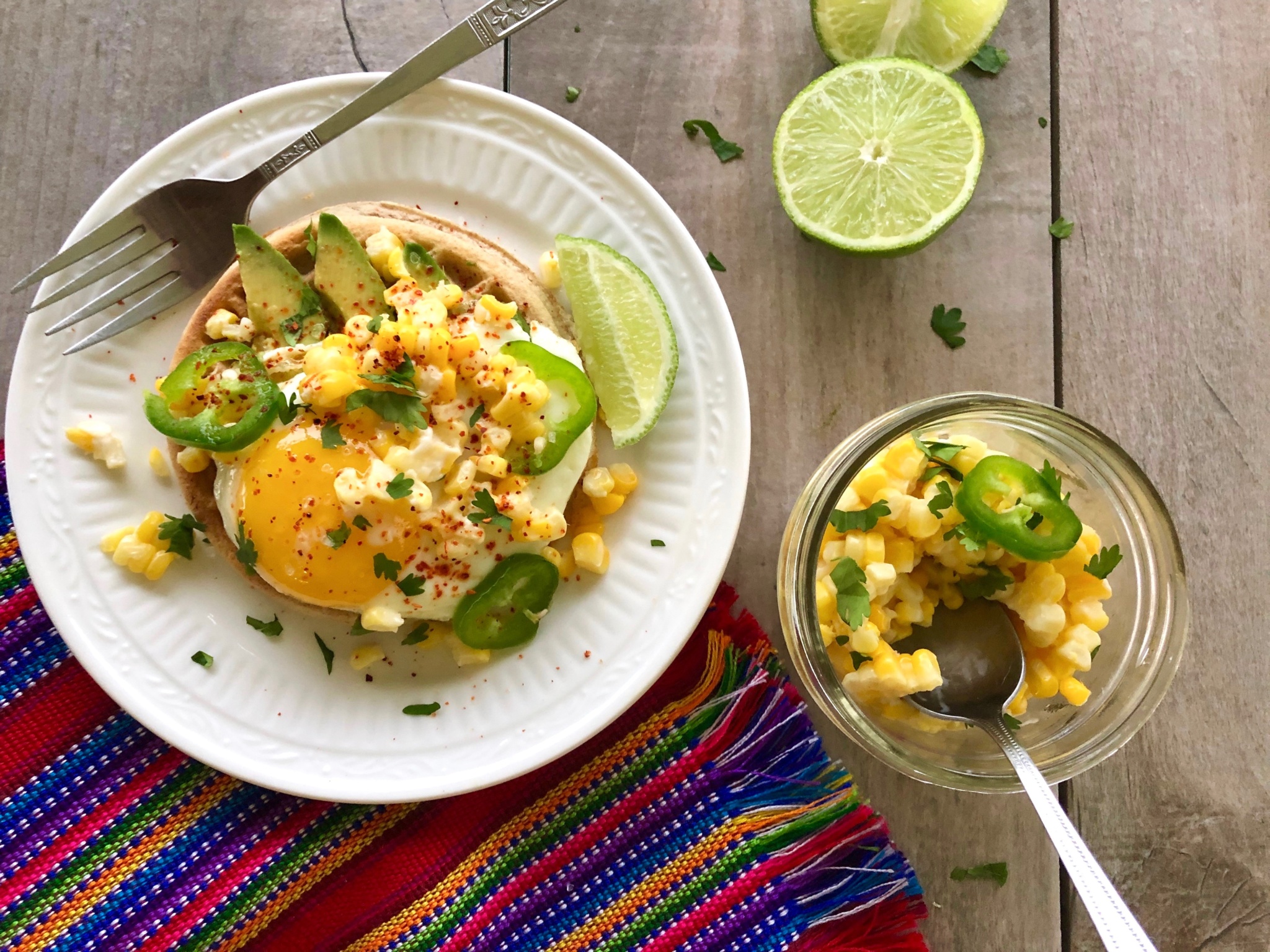 For this recipe, I substituted the mayo for Greek yogurt to make a skinny light version of the traditional Mexican esquites that is lower in calories, higher in protein and just as delicious as the original esquites.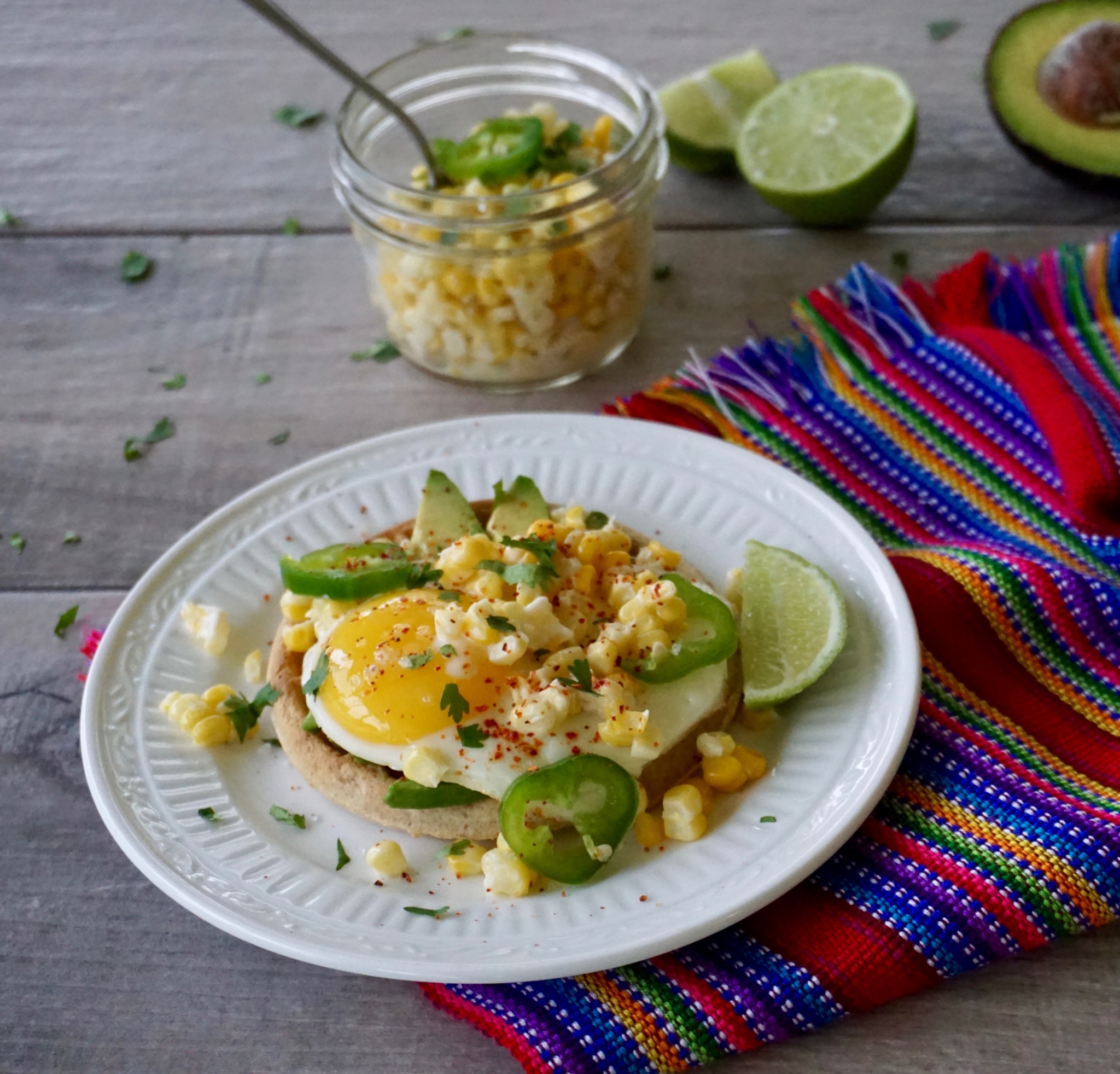 This skinny esquites recipe combined with eggs and a delicious Eggo Nutri Grain Low Fat waffle made for a fantastic and flavorful breakfast dish that everyone raved about!
I love the slightly sweet flavor of the Eggo Nutri Grain waffle and the texture it gives this dish. My husband loved this so much he requested it for dinner the next day. And I was happy to oblige because making this avocado and egg waffle toast takes only minutes.
Avocado Toast Waffles with Egg and Mexican Corn Esquites Recipe
Ingredients
1 Hass avocado, cut into thin slices
4 ears of sweet corn, husked and silks removed.
1/4 cup of low- fat Greek yogurt
1/4 cup of crumbled queso fresco
2 tablespoon of lime juice
1 jalapeño, sliced
fresh cilantro
ground chili powder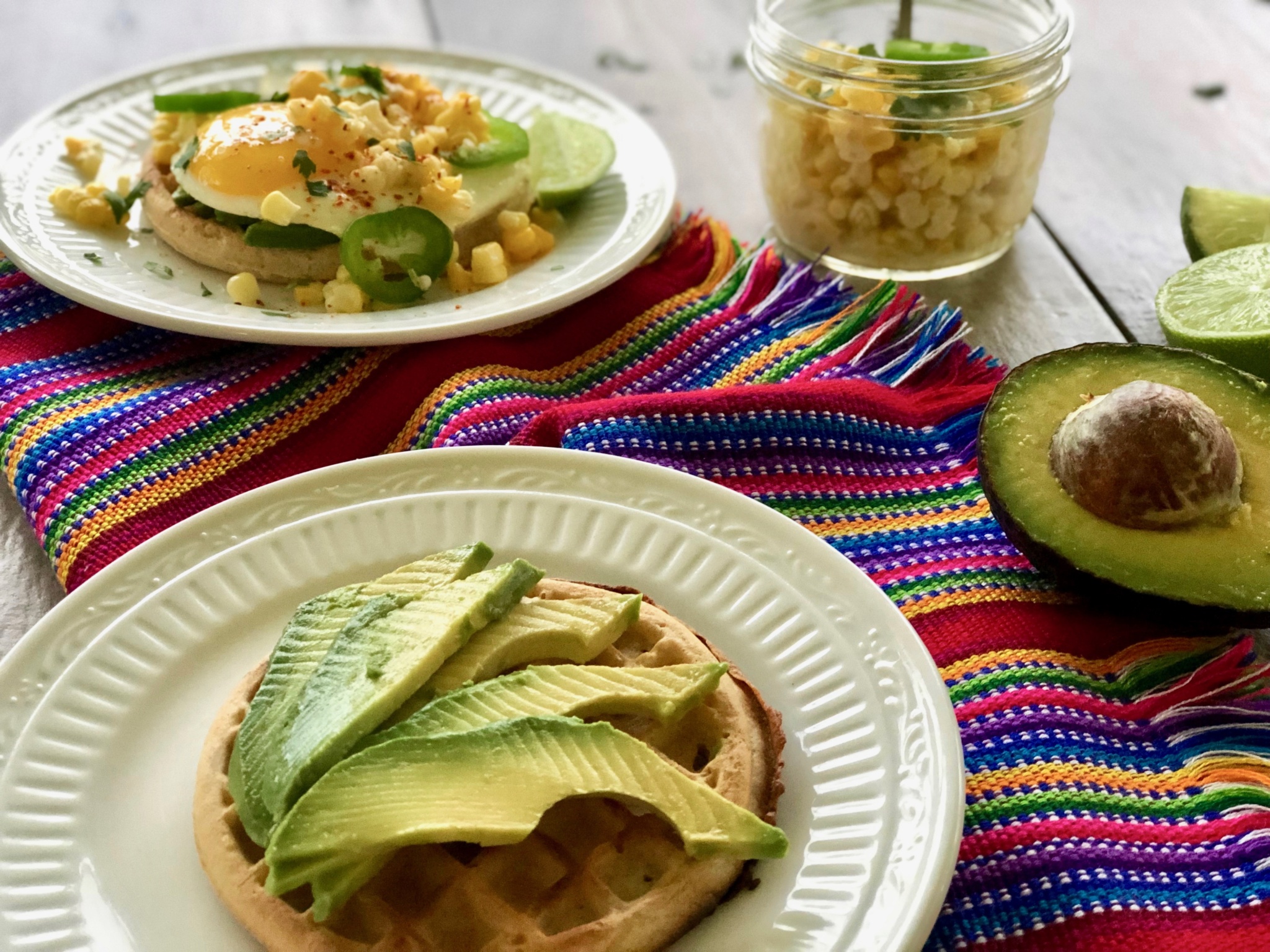 Instructions
1. Bring a pot of salted water to a boil. Add the corn and cook for 5 to 7 minutes or until tender.
2. Remove corn from the pot and using a serrated knife remove the kernels from the corn.
3. Place the corn kernels in a medium bowl. Add the Greek yogurt, the lime juice and the cilantro. Mix until well combined.
4. Add salt and powdered chili to taste.
5. Make the Eggo Nutri Grain waffles according to the instructions on the box.
6. While the waffles are toasting make heat a small skillet over low heat. Spray with nonstick spray and crack an egg into the skillet. Cover and cook to desired doneness.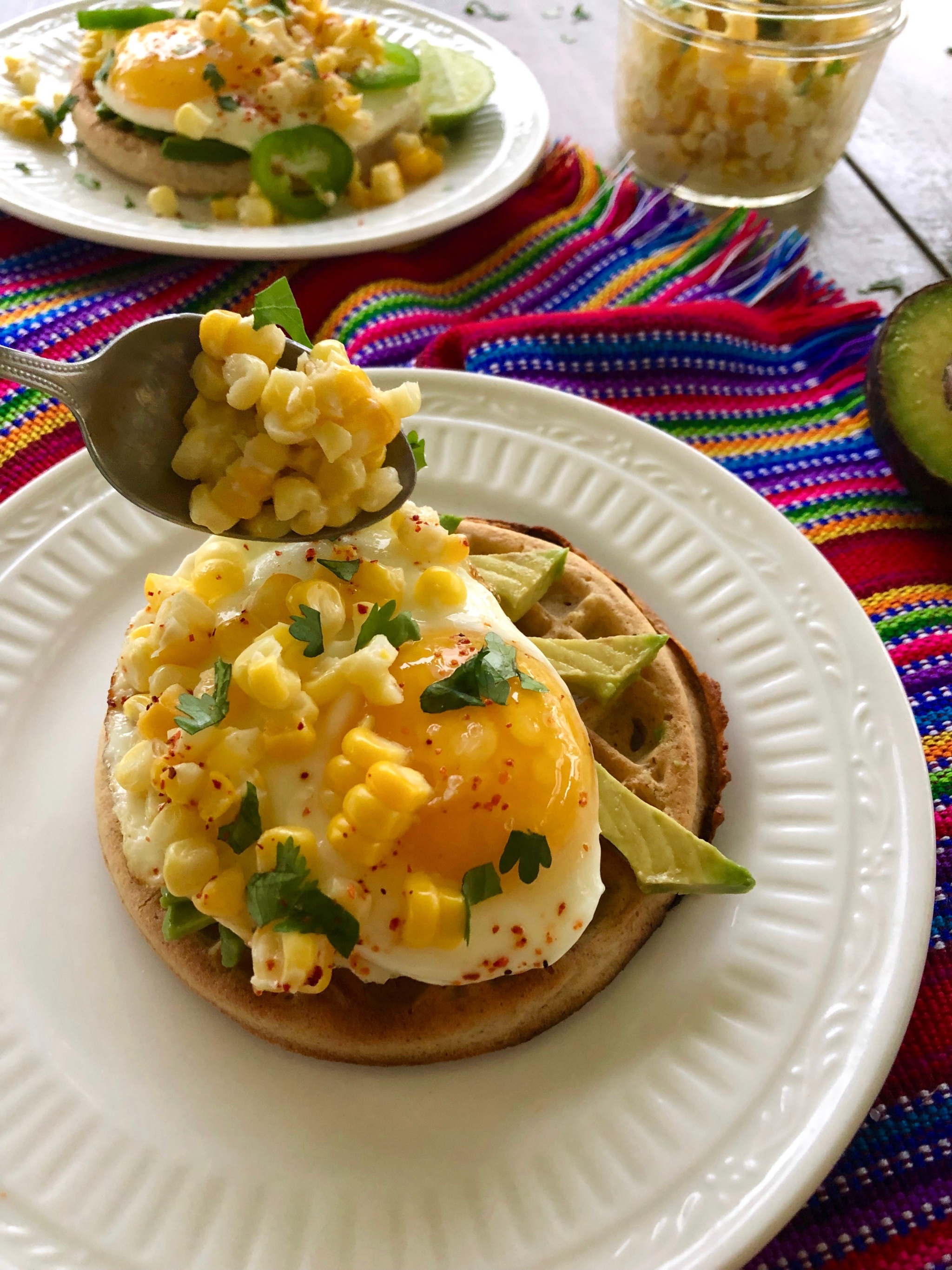 7. Place the avocado slices on the waffle. Top with the sunnyside up egg and spoon the esquites over the egg. Add a few slices of jalapeño if desired and sprinkle with additional chili powder and cilantro. Serve with lime wedges.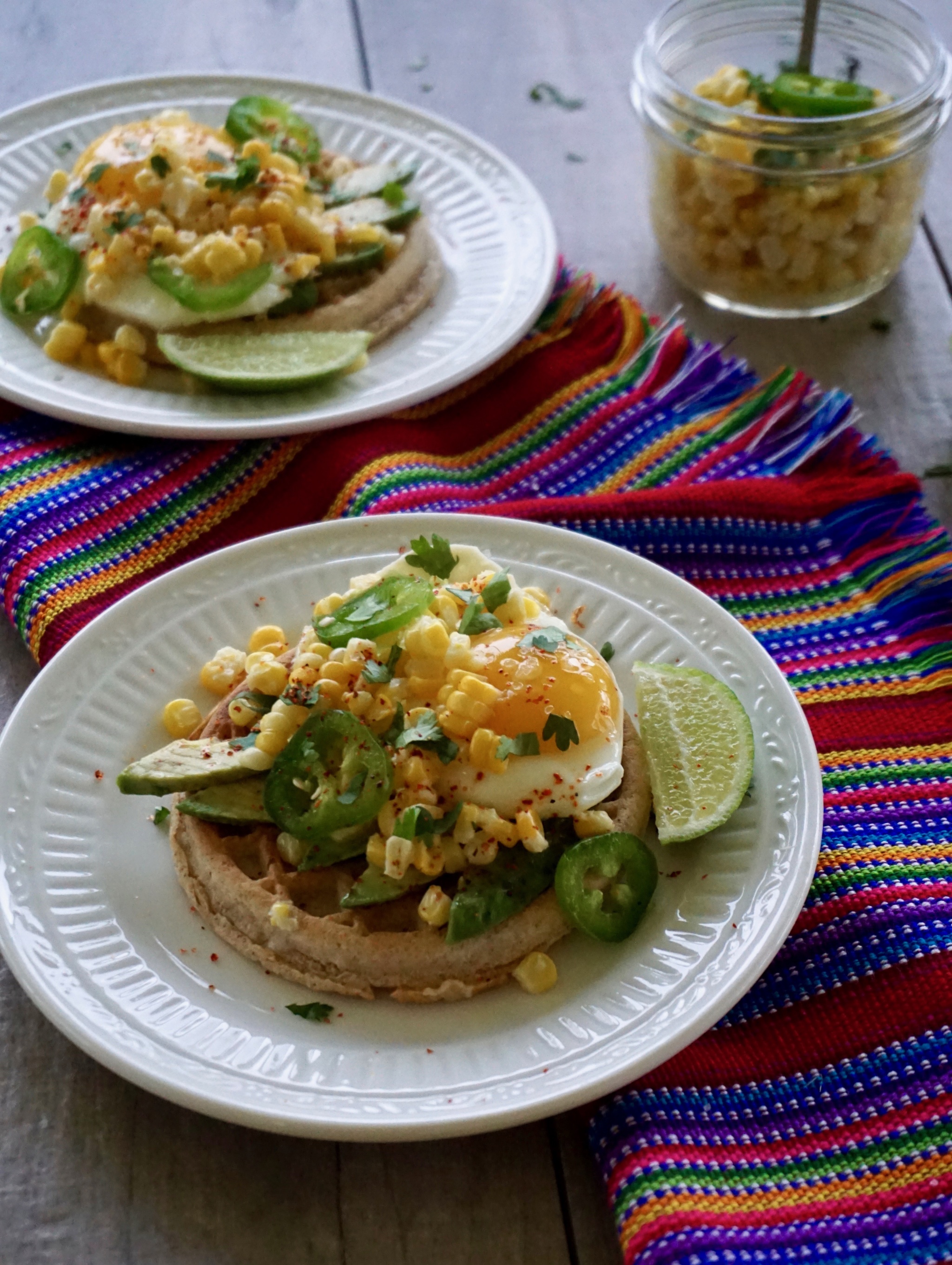 This twist on an avocado toast is perfect for breakfast, brunch or dinner. And the best part is that it's not only delicious but it's easy and quick to make and good for you.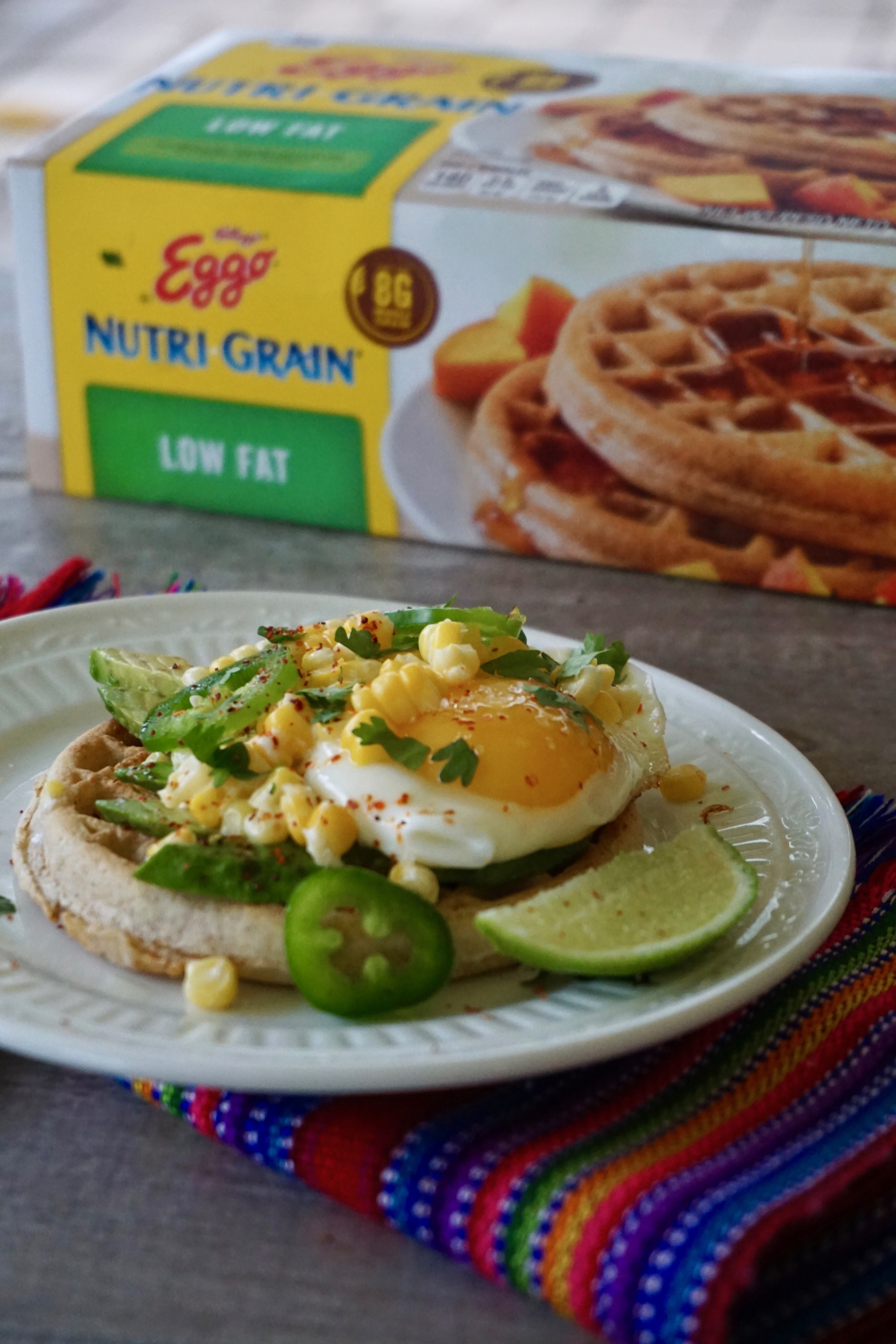 I love that this recipe is quick to make because I used Eggo Nutri Grain waffles. They're so convenient! You just pop them in the toaster and they're ready in no time and make for a great breakfast on their own or as part of an easy recipe like this one.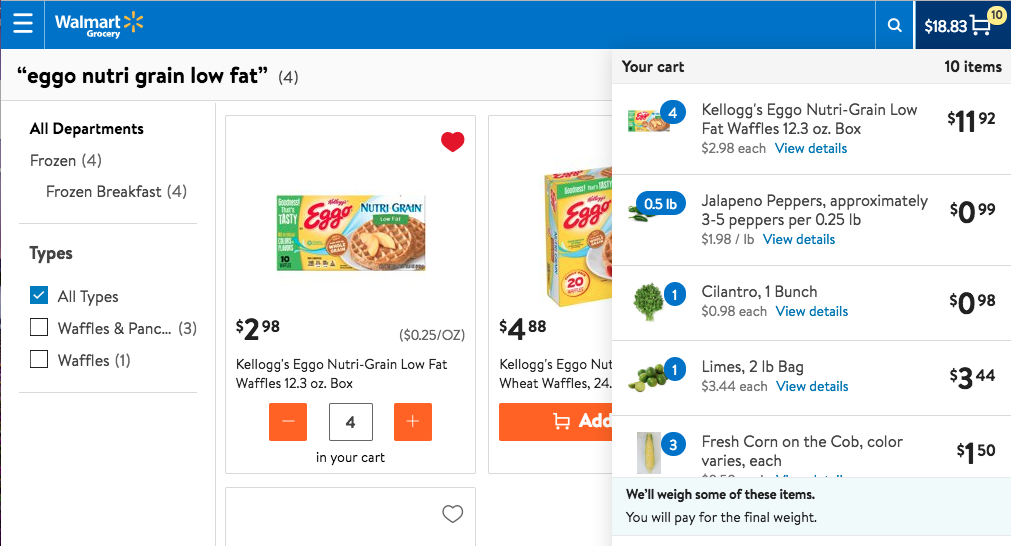 They're also super convenient to buy. I just order my Eggo Nutri Grain Low Fat waffles from Walmart Online Grocery Pickup. I just order online and pick up in store. So easy!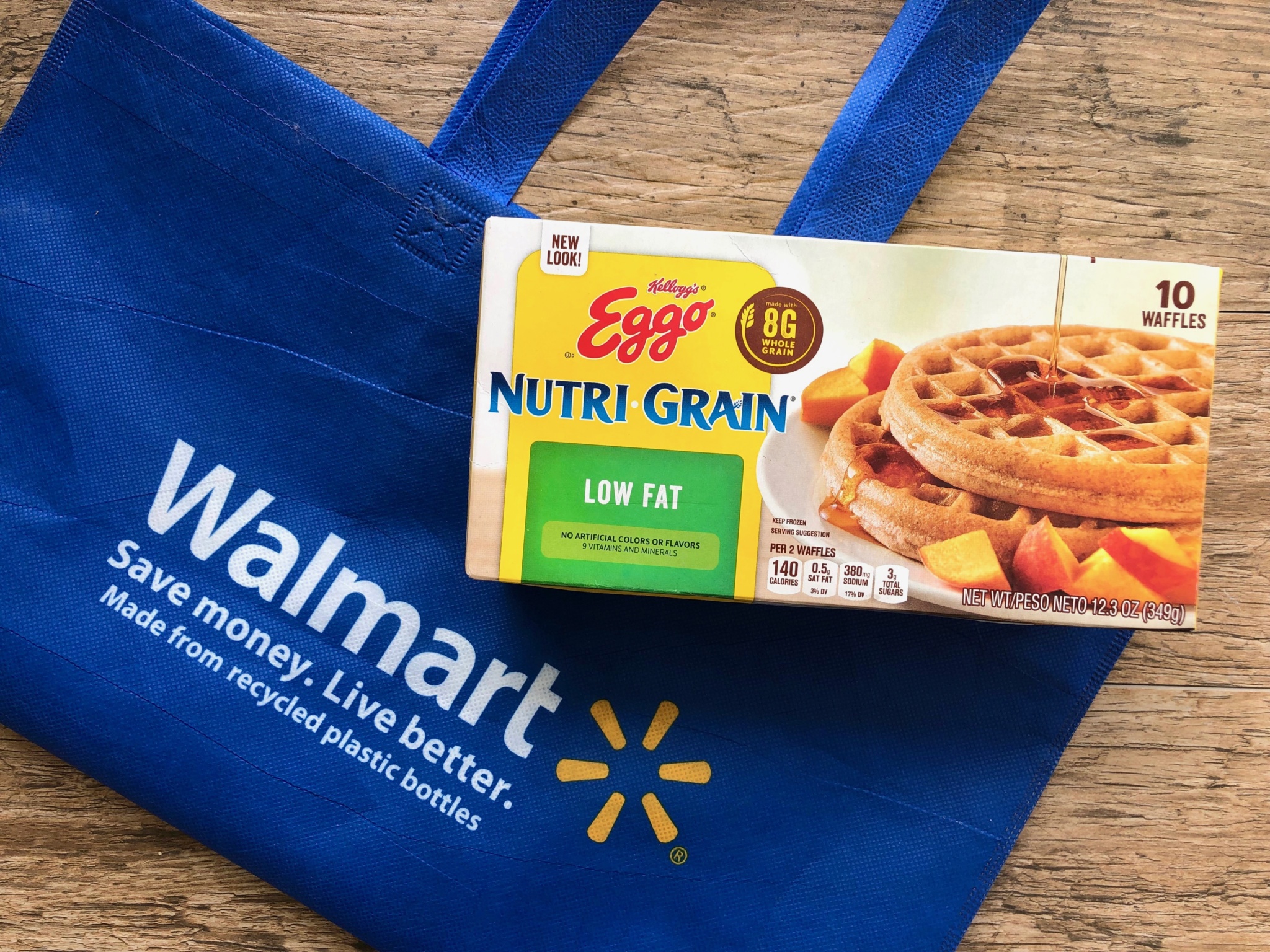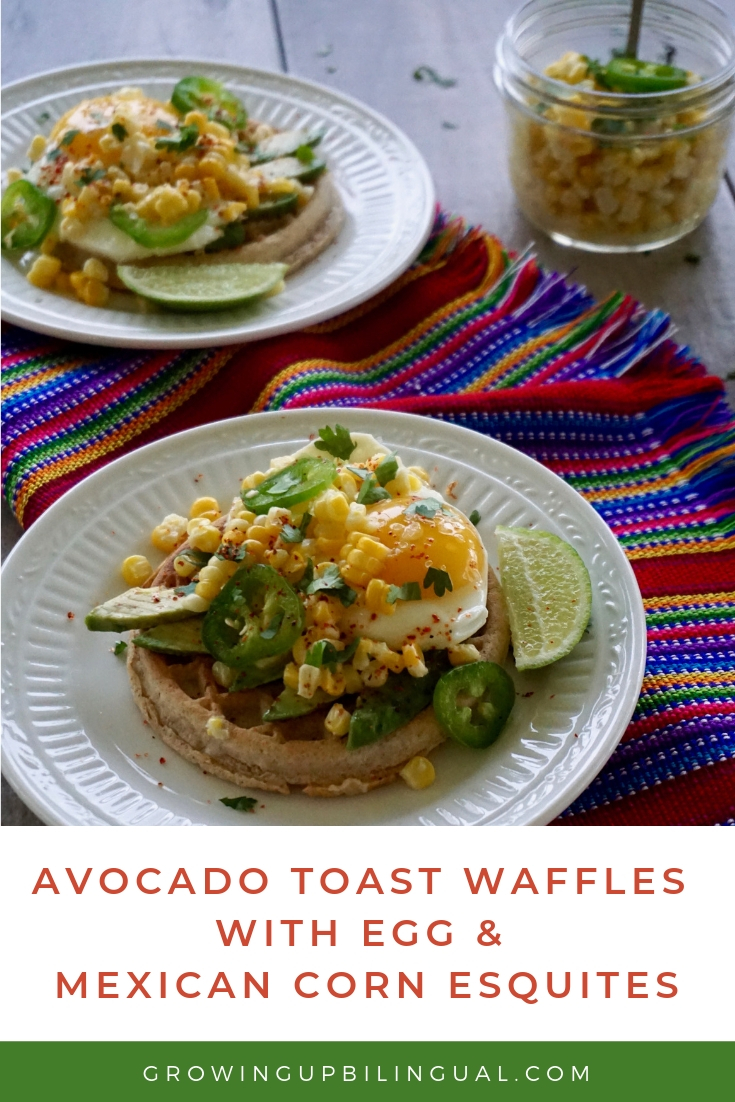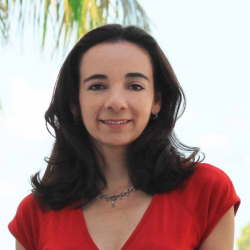 Latest posts by Paula Bendfeldt-Diaz
(see all)