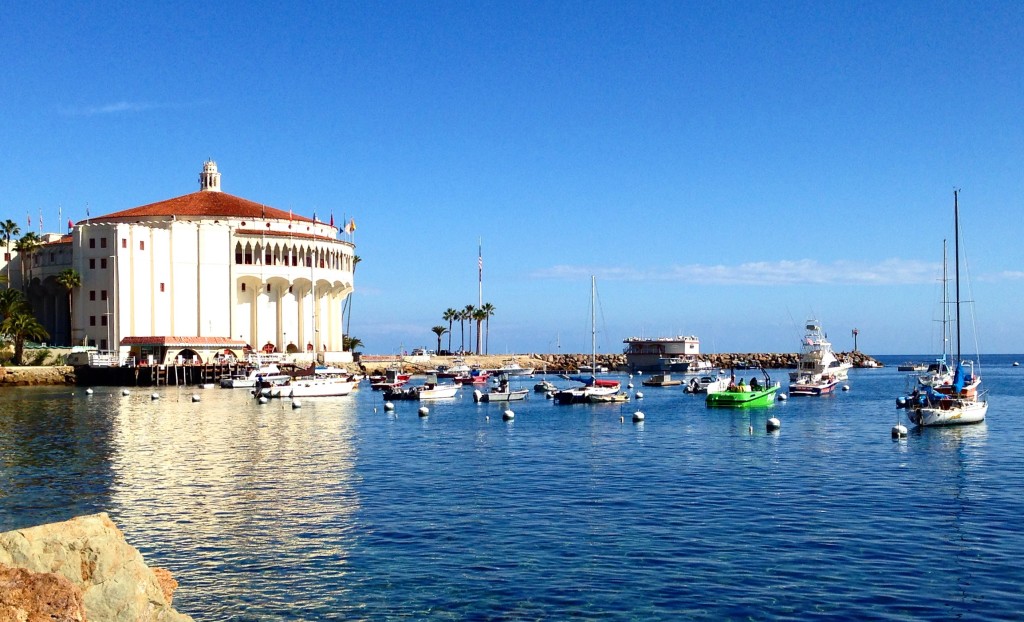 Just an hour boat ride from Long Beach aboard the Catalina Express Santa Catalina Island, also known as Catalina Island,  lies only 22 miles off the coast of southern California but a world away from urban chaos of Los Angeles.   William Wrigley, Jr. of Wrigley chewing gum fame developed the town of Avalon as a resort island destination and brought the Chicago Cubs baseball team (which he owned) to the Island for spring training in the 1930-1950's. Since then Santa Catalina has been a favorite getaway for Angelinos.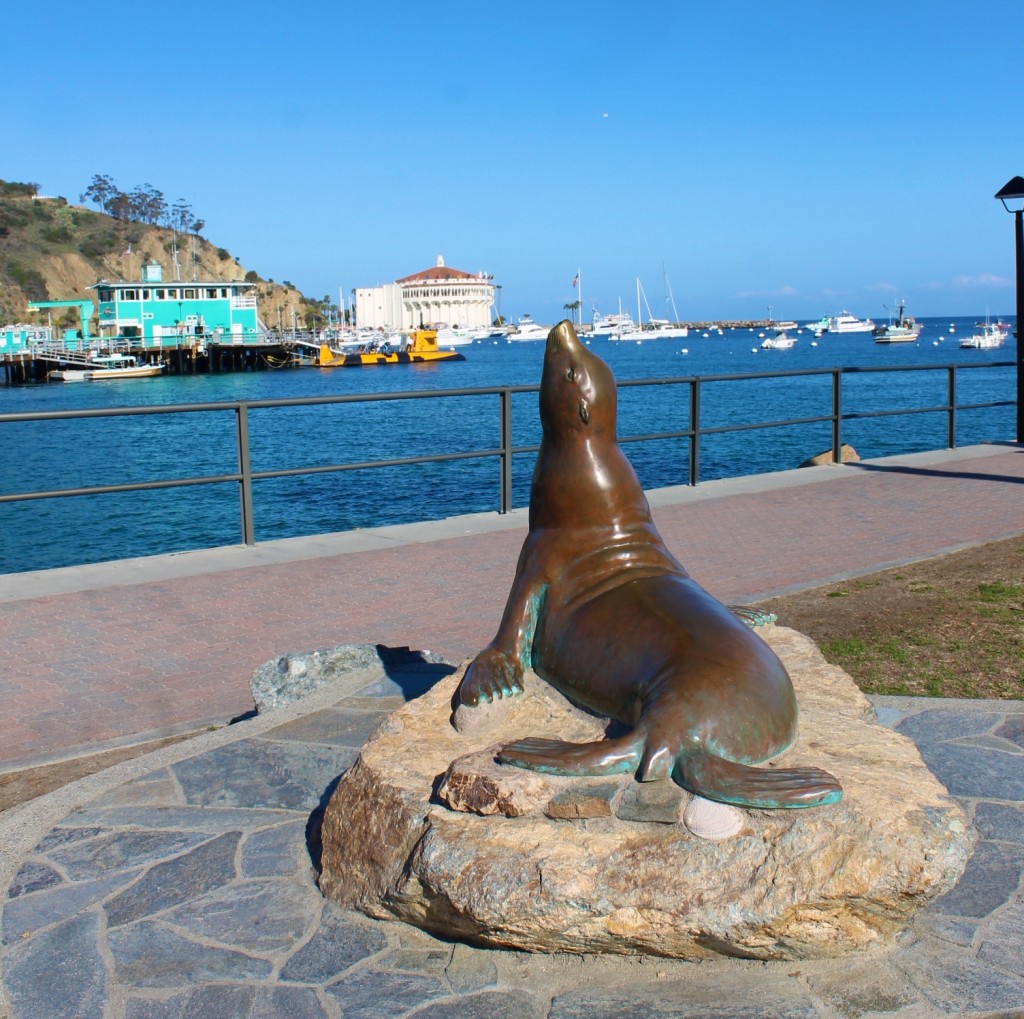 My adventure started well before I arrived to the island.  I boarded the Catalina Express at Long Beach and was about half way through the one hour trip when I caught a glimpse of a whale, it's spray and back clearly visible: my first whale sighting. Even though it was a bit colder than I like I decided to go outside for a while and after a few minutes I saw another whale and then some dolphins.  I had debated long and hard whether to visit Santa Catalina or take a whale watching tour and now I was getting both!  I smiled for the rest of the trip while I sipped on a mimosa comfortably seated on the Catalina Express's Commodore Lounge.
As I saw Avalon for the first time I felt like I was arriving at some Mediterranean town.  The small crescent shaped harbor dotted with sailboats, the sparking blue water, colorful shops and B&Bs climbing up the sides of the rugged mountains: this picture perfect scene looked like it came right out of an Amalfi coast postcard.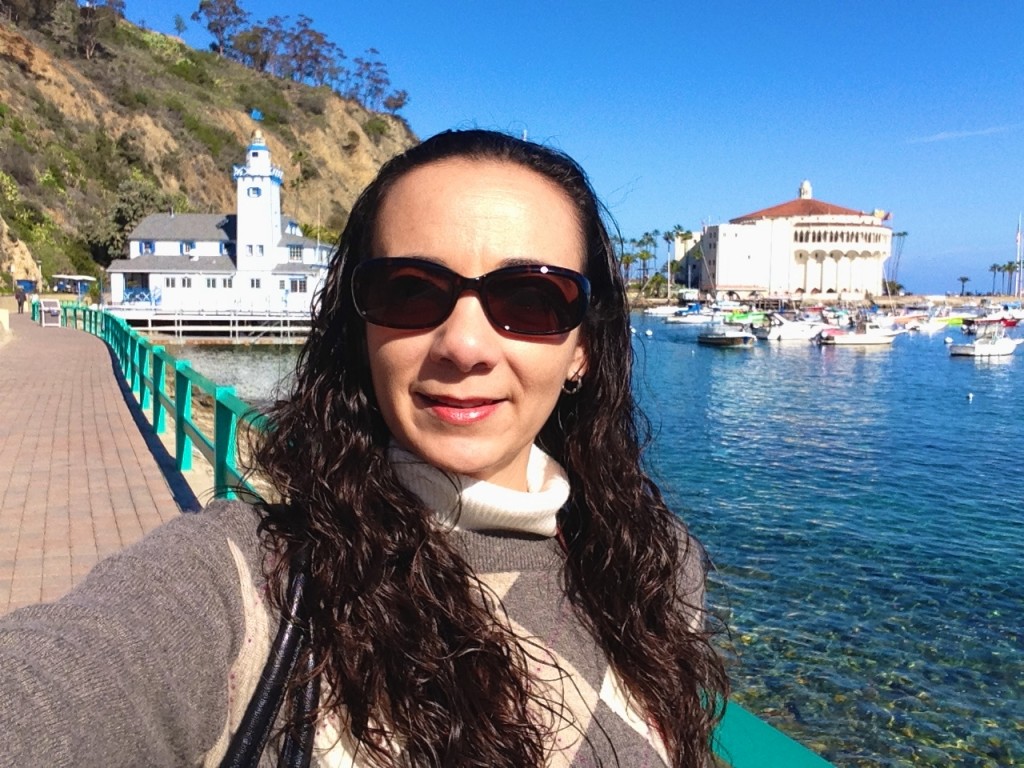 I strolled along the ocean-front pedestrian promenade and felt invigorated by the salty and crisp morning air, the gentle rhythm of the waves slowing back time until I found myself in a place of complete tranquility. I glanced at the harbor filled with small boats and spotted two seals playing in the cool waters.  In summer Santa Catalina is usually crowded with visitors, the sky dotted by parasailers and the harbor bustling with vessels but on this February morning there where only a handful of people walking along the promenade with me and as I enjoyed my view of the harbor and the seals I was thankful I had visited during winter.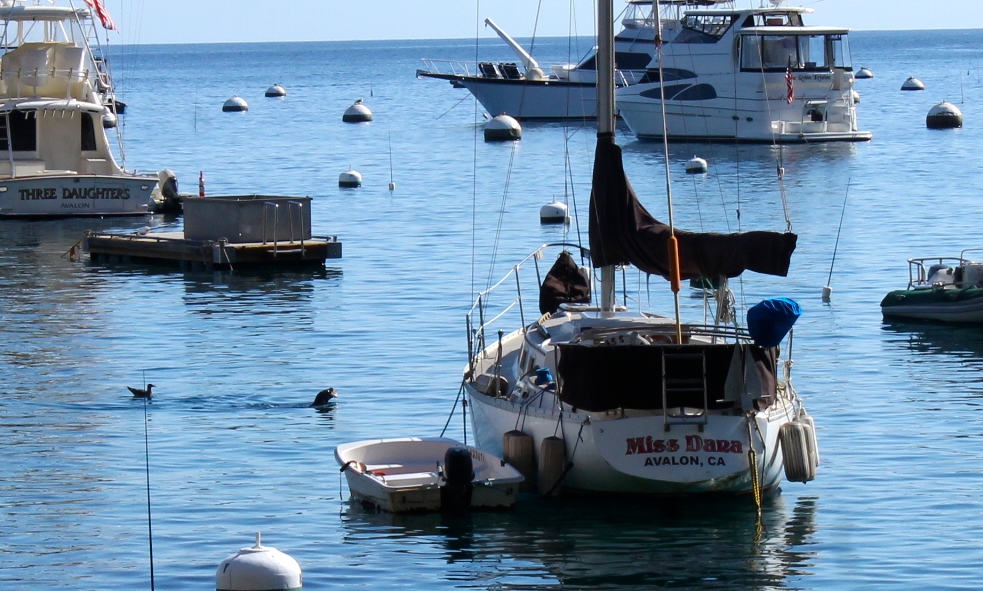 Catalina Island's rich history can be seen in many of the buildings and historic landmarks. I walked past the Tuna Club, the oldest fishing club in the United States it was built in 1889 and is one of Avalon's oldest buildings. The Tuna Club has a long list of famous members including Theodore Roosevelt, Winston Churchill, Cecil B. DeMille, Charlie Chaplin, and Bing Crosby and is a California Historical Landmark  on the National Registry of Historical Places.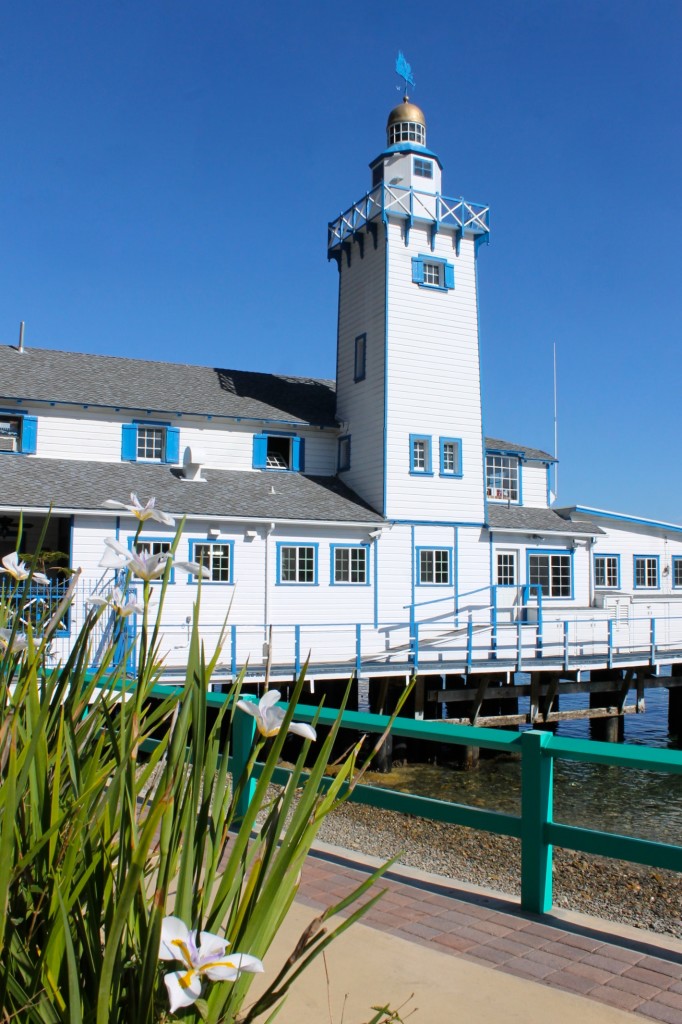 A visit to Avalon is not complete without a stop at the Avalon Casino, the most recognizable and iconic structure on Avalon. This massive circular art deco building is not a gambling hall, but a casino in the Italian sense of the word: a place of entertainment and gathering.  Here you can take a behind-the-scenes tour to learn all about the Casino Ballroom and the Avalon Theatre's glamorous past.  When the tour was over I stopped by the Catalina Island Museum, located in the back of the building, to learn more about the island's history, including two of Avalon's most famous residents: Wrigley and Marilyn Monroe.  For only $5 dollars the Catalina Island Museum is decidedly the best value in all of Santa Catalina!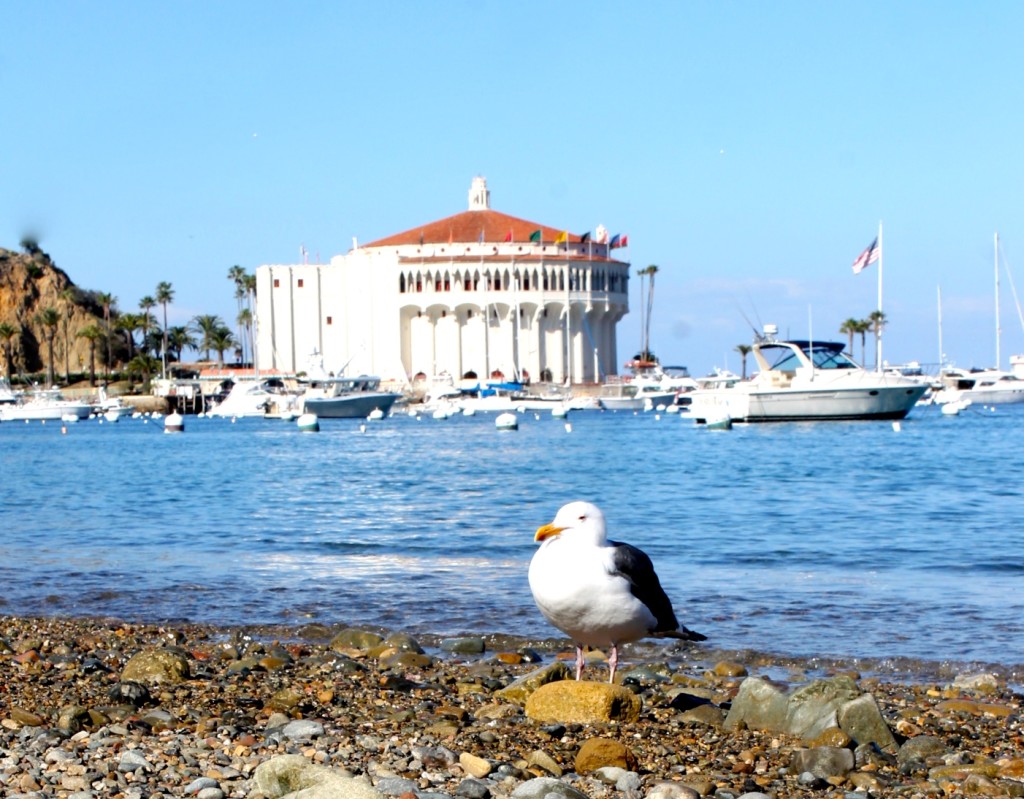 After exploring Avalon I had worked up quite an appetite so I headed to the Lobster Trap.  Owned by a commercial fisherman who actually serves up his own daily catch the Lobster Trap is a fun, casual eatery with an extensive menu that includes everything from a superb clam chowder to a fresh ceviche and some of the best fish and lobster tacos you've ever had. I ordered a lobster roll: the hamburger bun piled high with chopped local California spiny lobster, which is only available during the winter season (October through March).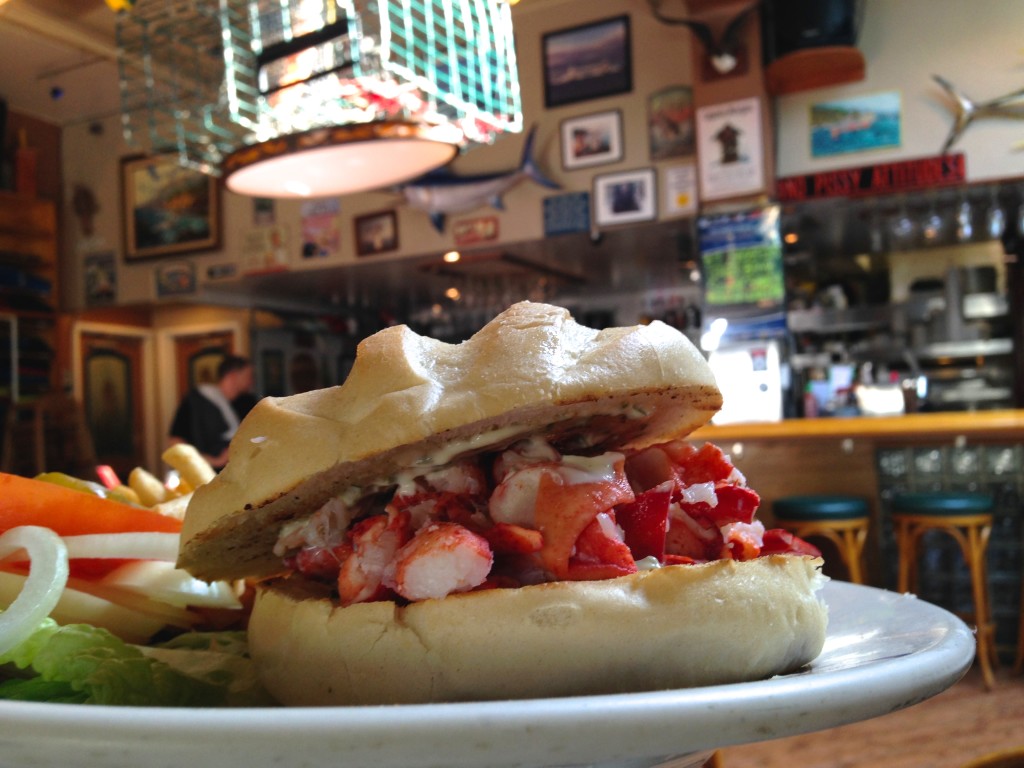 I wanted to get a better sense of the island and if we have to be totally honest, I was also eager to get that perfect picture of Avalon harbor. The Catalina Island Company offers a countless array of tour options from extreme off road tours through Catalina's rugged mountains in search of wild bison to glass bottom boat tours. I did not have a lot of time so I chose the less adventurous 7 mile Avalon Scenic Tour where the driver shared fun information about the island and it's history while we drove through the town, along the beachfront and up the hillsides to get that amazing view of the Avalon harbor below!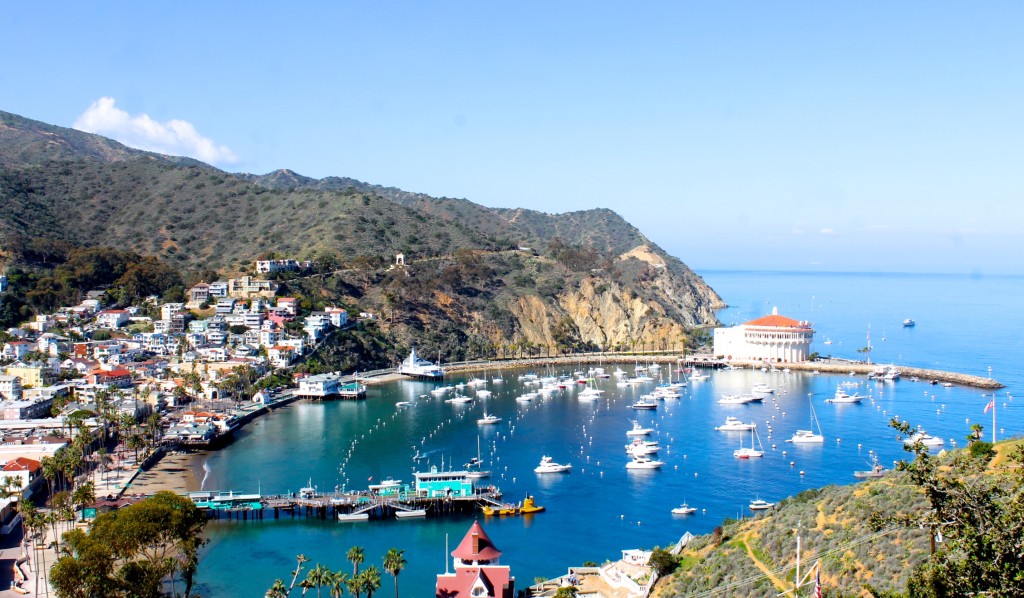 There are many restaurants in Avalon but in my opinion none of them compares to the Bluewater Grill not only because of it's incomparable location right on the wharf overlooking the harbor but also because of it's delicious food. Choose a table outdoors where you can watch the boats and if you are lucky like me maybe a playful seal or too.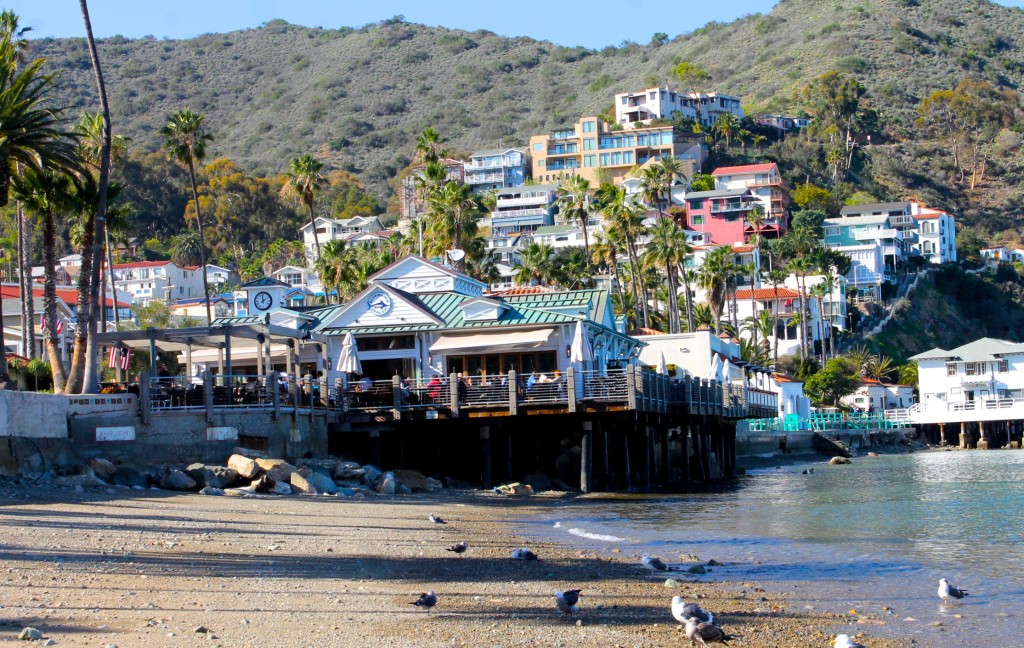 I could not help but try the clam chowder (one of my favorite foods), thick, creamy, flavorful and filled with lots of fresh clams it did not disappoint.   Feeling adventurous I followed the soup with Pozu Sashimi sea scallops, served on a half shell with a wasabi alioli and wakame salad.  The freshness of this dish and the combination of flavors turned my first experience with raw scallops into an unforgettable one, specially since I am not usually fond of sea scallops in general!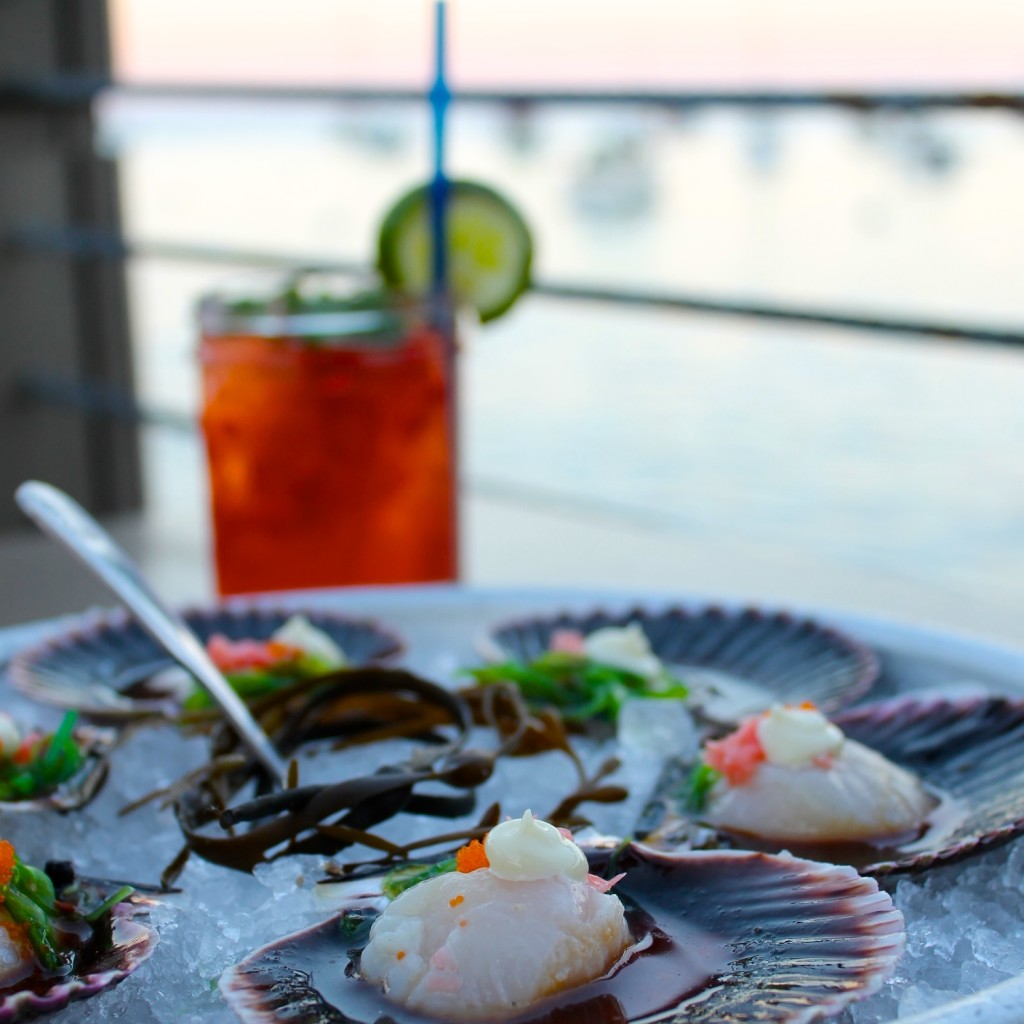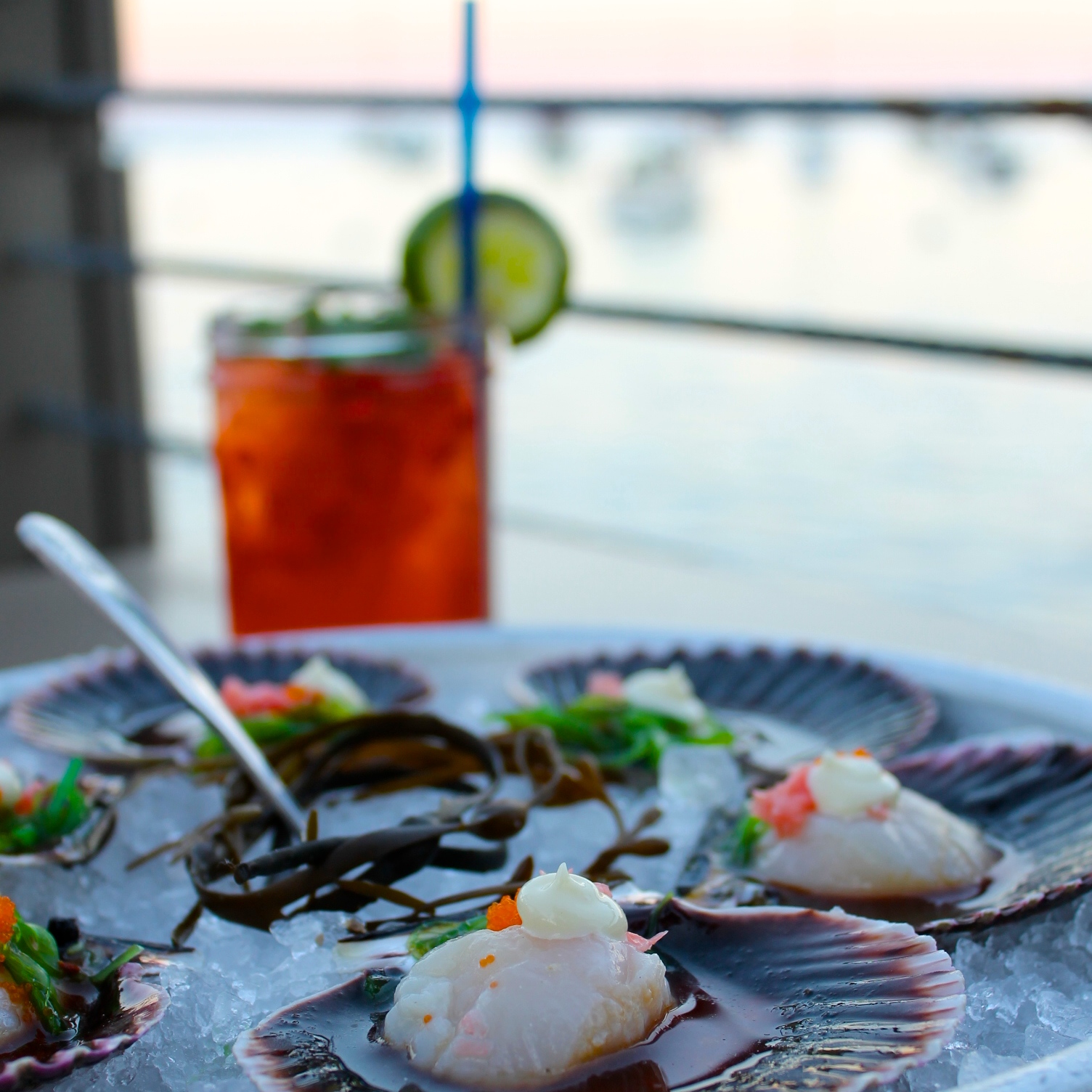 The Mahi Mahi in lemon pepper crust was sublime,  it's no wonder that Bluewater Grill has been consistently named one of the best seafood restaurants in Southern California. This restaurant offers the freshest seafood prepared simply and deliciously in a beautiful setting with an incomparable view.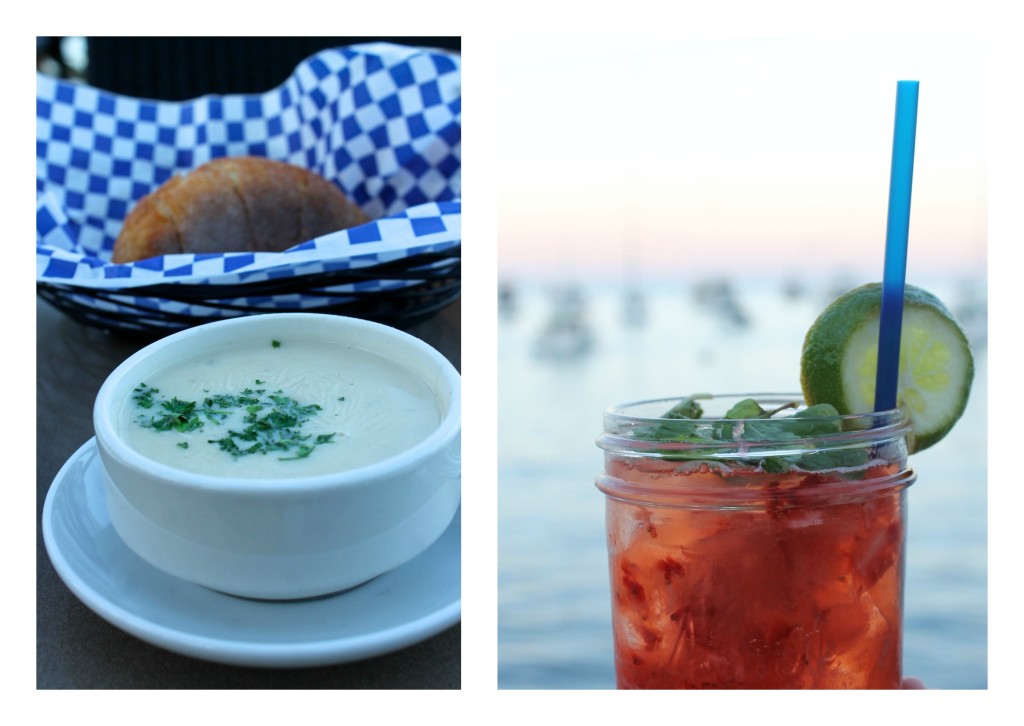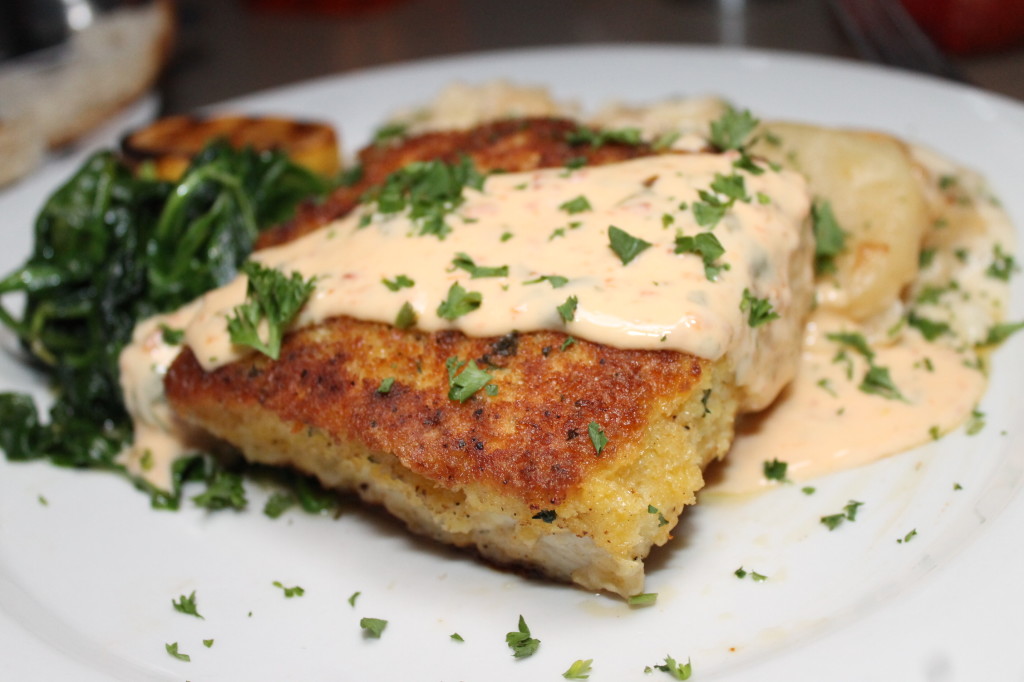 My day in Avalon was coming to an end and I tried to take it all in: the sun disappearing behind the mountains as my taste buds delighted themselves with the soft sweetness of the perfect creme brûlée and the breathtaking beauty of the sunset displayed before. What a fantastic ending to a wonderful day in Santa Catalina.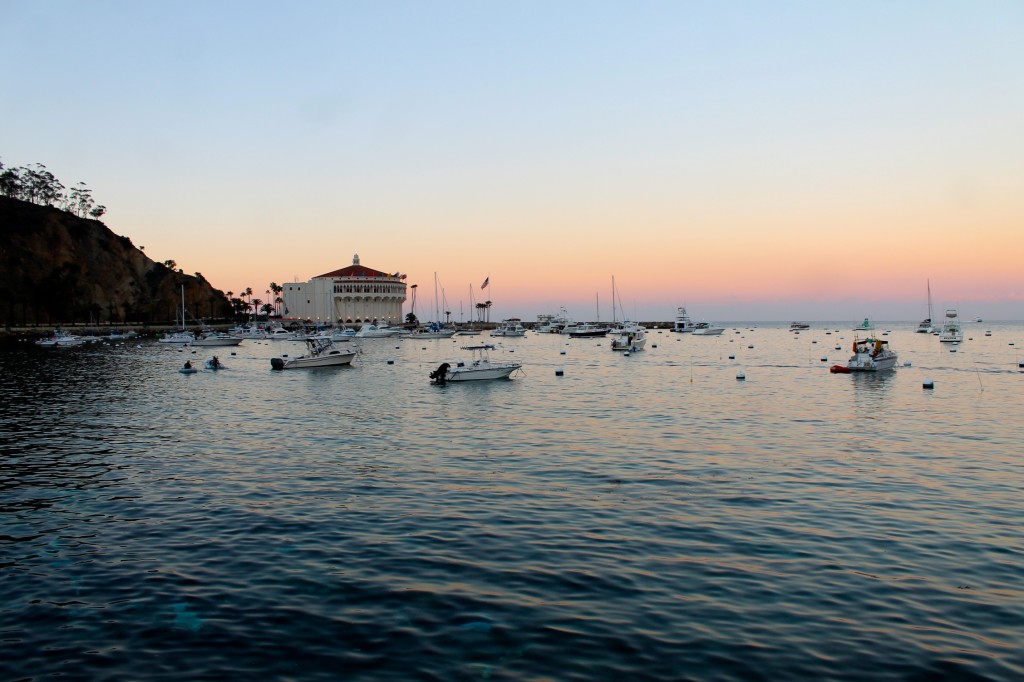 Things To Do
On this particular day trip I had decided to take it slow and just let myself absorb Avalon's unique Mediterranean island vibe. I found myself entranced by this island's enchanting personality, it's narrow streets and quaint island shops.  You can easily spend the day just walking, exploring and enjoying the delicious food but if you're looking for for a little more adventure Santa Catalina has somethings for everyone: zip lining, parasailing, diving, snorkeling or seatrekking, kayaking, hiking or biking.  You can also discover the wild side of Catalina's rugged interior inhabited by island buffalo abandoned on the island after a western film in the 1920'2 or it's abundant marine life by taking a dolphin cruise or an undersea semi-submersible.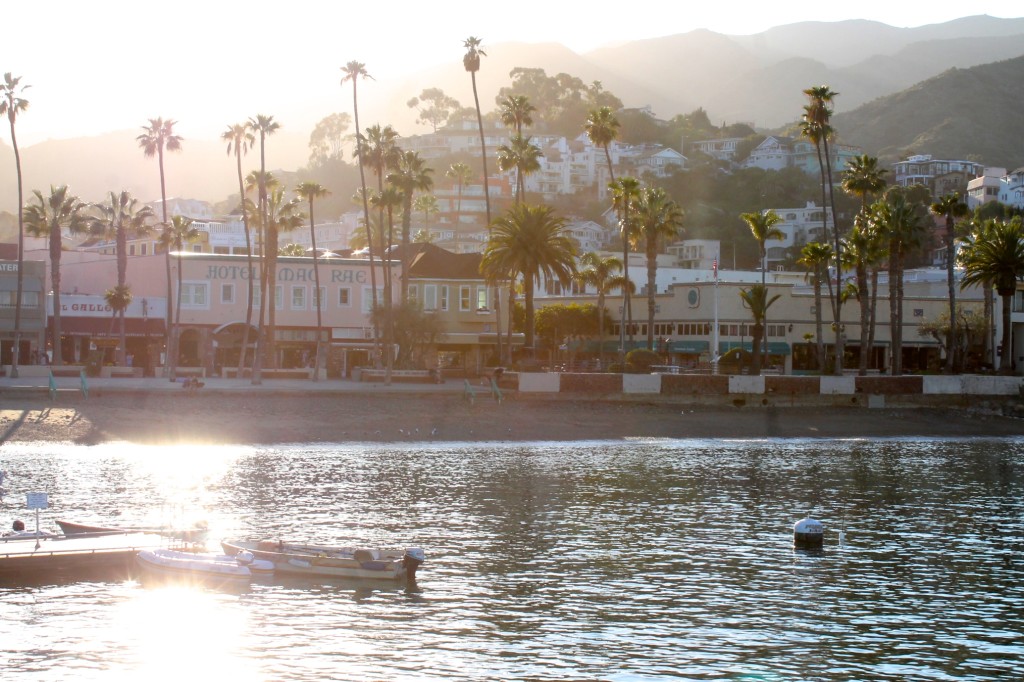 Getting There
With high speed boats departing from Long Beach, San Pedro and Dana Point Catalina Express makes the trip quick, easy and fun.  For only a $15 upgrade enjoy the comfort of the Commodore Lounge with comfortable leather trimmed seating in a lounge environment and a complimentary beverage with packaged snack served by cabin attendants with seat-to-ceiling level windows for great ocean views the Commodore Lounge is well worth it.
[important]Enjoy a free birthday trip to Catalina Island: Catalina Express offers free trips to Catalina Island on your birthday so take advantage of this great offer and enjoy your birthday by celebrating it at Avalon! Click HERE for more info. [/important]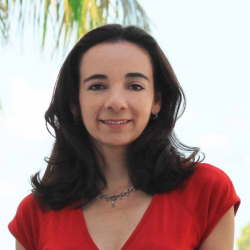 Latest posts by Paula Bendfeldt-Diaz
(see all)