Fiambre is a Guatemalan dish that is prepared once a year on November 1st for the Dia de los Santos or All Saits Day, a celebrations that takes place one day before the Dia de los Muertos. Traditionally people visit the cemetery bringing flowers, incense and fiambre to their dead. Today this dish is mostly shared at home in a more private celebration that includes family and close friends.  Each family has their own recipe for fiabre which is usually passed on from generation to generation.  There are different kinds: white, red and divoriciado in which all the ingredients are left separated and each person picks what they want.
Fiambre must be prepared at least one day before serving and marinated in sauce blend of vinegar and other ingredients called the caldillo.  This particular recipe is of fiambre rojo , which gets it's red color from beets and it's very similar to the one my grandmother used to make.
Many people add fish and even shrimp but I prefer fiambre without fish.  Although in my family we always have the red variety but white one is really good too and usually sweeter.  I will try and find a good recipe for it and share that with you soon.
Learn more about the origins of fiambre on my article:  Fiambre for El Dia de los Muertos.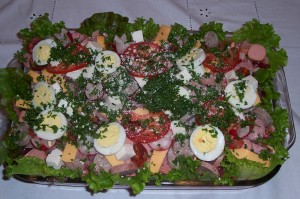 Fiambre Recipe
This recipe is needs to be prepared 2-3 days ahead of time.  For best results enlist family members in the process, there is a lot of cutting and slicing so make the preparation as well as the meal a family event.  When I was I kid I loved putting the fiambre together in layers and decorating the top making faces and fun designs with the chiles, radish roses, baby corn and long slices of cheeses.
INGREDIENTS
Feel free to add or leave out any ingredients you don't care for, but my advice is leave everything in because once mixed even the things you wouldn't normally eat by themselves give the dish the overall flavor (like cecina or cow's tongue) so try to be a little adventurous here!
VEGETABLES
½ lb asparagus
6 beets, sliced or julienned
6 carrots, sliced or julienned
4 cups green beans
1 cauliflower, cut in sections
1 cabbage, cut in fine long pieces
1 lb Brussels sprout
2 cups corn (shelled)
25 pacayas (found fresh in Latino markets, or use canned)
1 jar heart of palm
1 jar of pickled baby corn
1 jar of pickled baby onions
1/2 lb red beans (canned)
1/2 lb white beans (canned)
1 can chickpeas
4 cups green peas
1 lb fava beans (fresh)
1/lb capers
¼ lb green olives
¼ lb black olives
1 can of pimentos
1-2 heads of lettuce
radish roses for garnish
MEATS
½ lb butifarra (sausage made with anis and other spices)
½ lb cecina (dried smoked and salted beef)
1 lb chicken (cooked, removed from bone in long strips)
1 lb chorizo Colorado (red chorizo sausage, sliced)
1 lb black chorizo sausage, sliced
1 lb yellow chorizo sausage, sliced
1/2 lb hot dog, cooked and sliced
1 lb ham, cut in long strips
½ lb longaniza (sausage with mint and chile, can use itialian sausage)
1 lb mortadella, cut in large cubes
1 lb salami, cut in large cubes
1 lb hot dog, cut lengthwise
½ lb salted cow tongue
EGG AND DAIRY
2 eggs (hard boiled)
1/2 lb yellow or American chees (cut into strips)
hard boiled eggs (two hard boiled)
queso fresco (1 small)
½ lb Zacapa cheese (can use good parmesan)
DRESSING OR CALDILLO
1 bunch of parsley
4 bay leaves
2 springs of thyme
1 spring of oregano
1 quart vinegar
1 pint olive oil
6 tablespoons mustard  (I like using dark grainy mustard)
1 teaspoon of pepper
salt to taste
5 tablespoons Worcestershire sauce
1 tablespoon nutmeg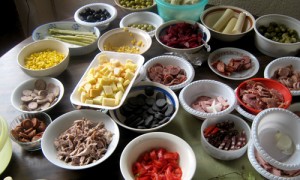 PREPARATION
2 Days Before Serving
Each vegetable group will be cooked separately; don't try to save time by mixing them. Boil the beets until just cooked, but still firm. Boil carrots and green beans together until just done. Boil cauliflower and cabbage. Boil peas, fava beans, and corn.
Boil the chicken and parsley adding salt and pepper to taste . Skim off the fat once it has cooled. To save time you can buy cooked chicken and use store bought broth. Shred the cooked chicken and store. Mix the broth in a blender with vinegar, olive oil, mustard, salt and pepper to taste, Worcestershire, bay leaves, thyme, oregano, nutmeg. Simmer for ten minutes then chill overnight.
1 Day Before
Boil the chorizos with butifarras the day before you will be serving the fiambre. Combine all veggies and pour the chicken broth mixture over it. Let it sit overnight in the refrigerator.
Early in the Day
The day you wish to serve the fiambre, place a lettuce leaf on a plate, arrange a layer of the veggie mixture and then add a layer of the meats and cheeses.  Repeat at least once and decorate with pimientos, sliced cheese, asparagus, baby corn, radishes, olives, and boiled eggs. Serve chilled.
Safety notes:
Make sure you use care in handling and storing all of these ingredients.  I find it easier to cut everything up and store separately in ziplock bags.  Washed and cut up vegetables can be refrigerated together, but meats and cheeses should be kept separate.
Serves: A small army
Calories: Calculating that would take more than it takes to prepare it
Estimated prep time: Days (if you take into account shopping for ingredients more like a week)
With all that said and hoping not everyone was scared off because of the amount of ingredients and time it takes to prepare: BELIEVE ME IS WORTH IT!
¡Buen Provecho!