These mango tiramisu pancakes are like heaven on a plate and they are the perfect pancake recipe if you're looking for a special breakfast or brunch recipe that is sure to impress.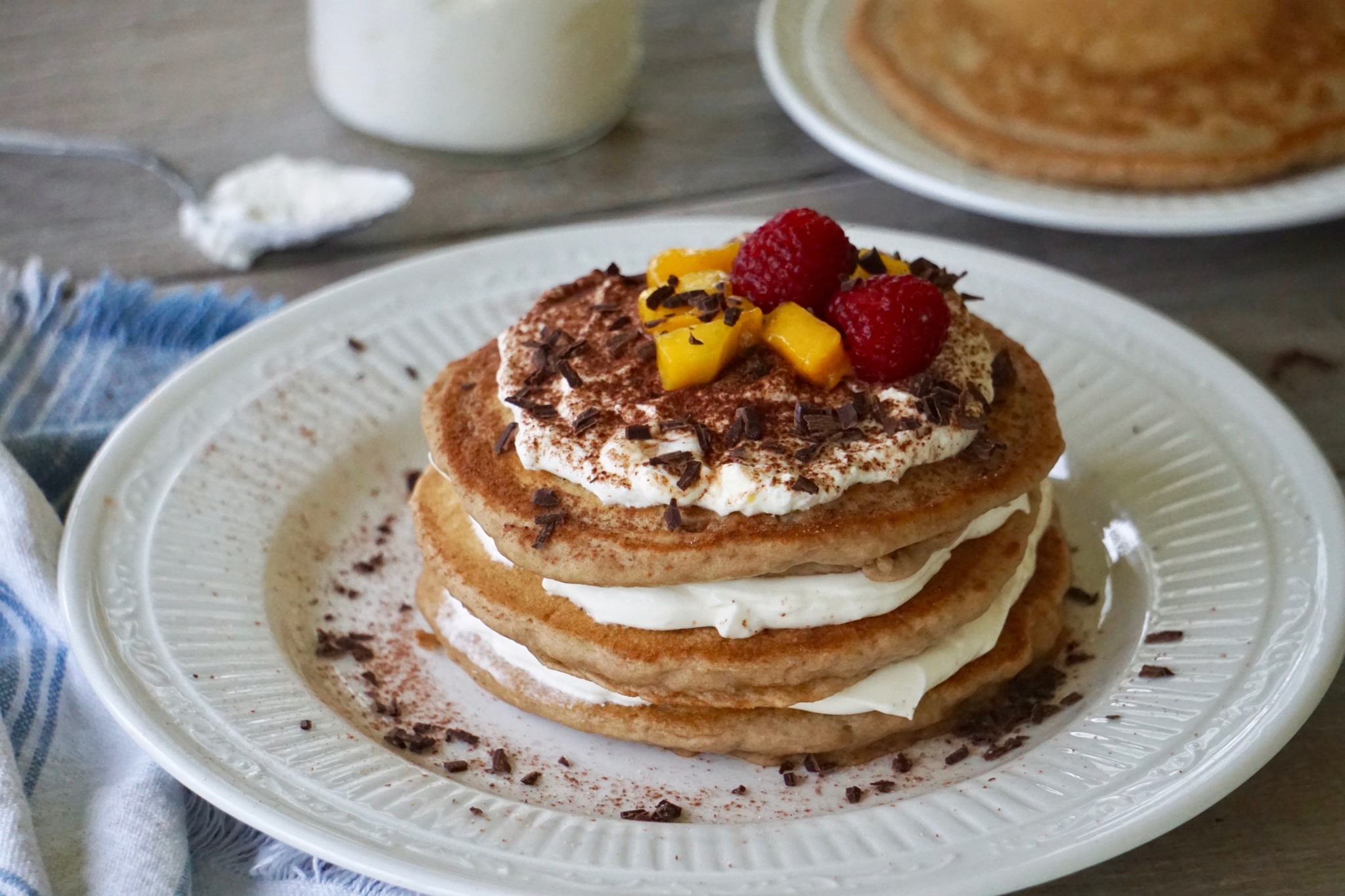 On weekends I'm all about pancakes and I love experimenting in the kitchen and coming up with new pancake recipes. It's been cold and cloudy here in Florida and I wanted something different and amazing and maybe just a little indulgent. So of course chocolate was my first thought.  And as I sipped my cup of warm coffee it hit me: chocolate + coffee, yes! That is how the idea to make tiramisu pancakes came about.
I had an amazing mango tiramisu at a restaurant a few months ago and I'm still dreaming about it so I thought it would be great to incorporate mangos into my tiramisu pancake recipe.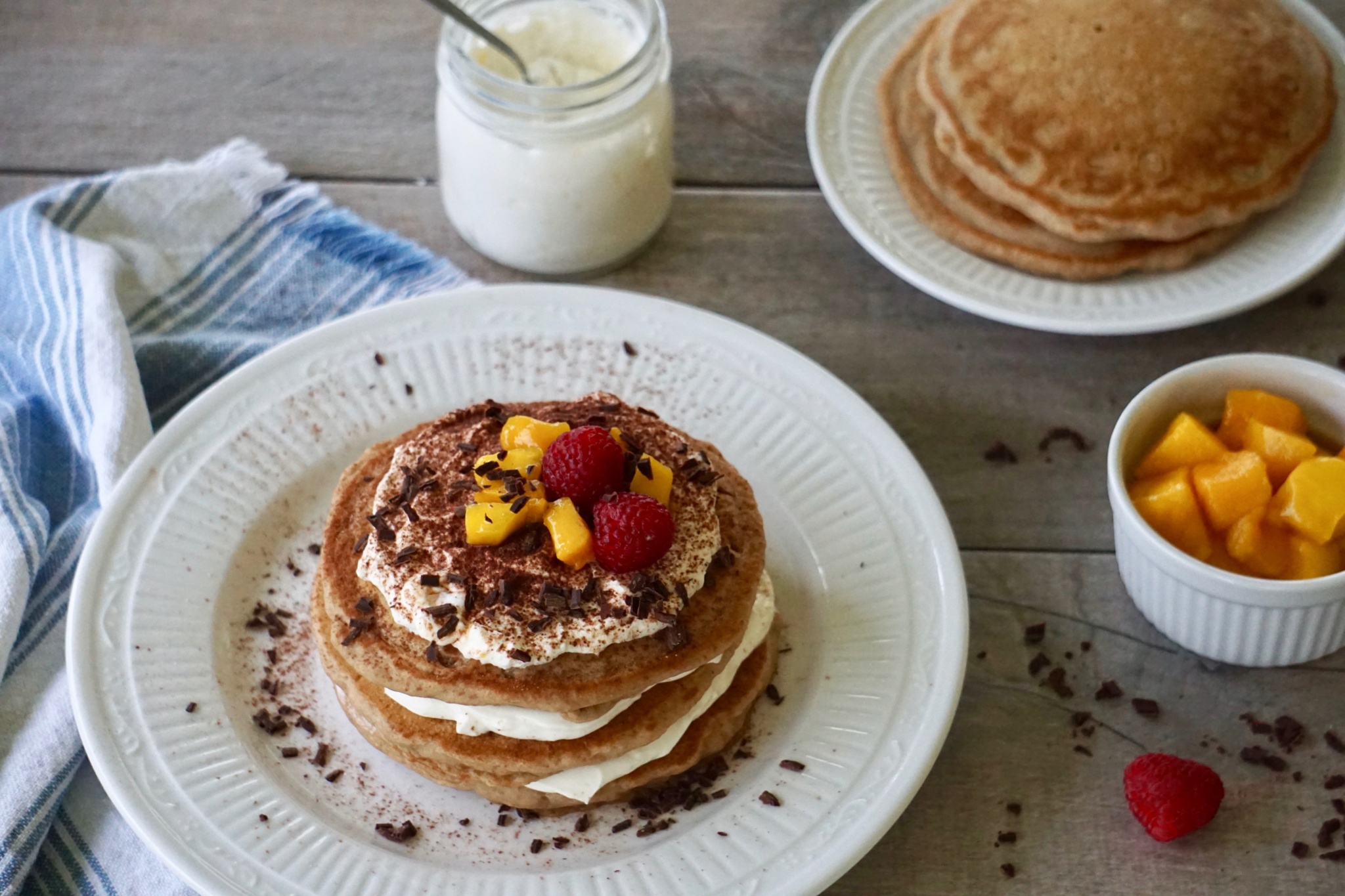 The pancakes came out so fluffy and light and the taste of cocoa with a slight hint of coffee combined with the layers of sweet mascarpone whipped cream: sublime!
The mango and raspberry really complemented the chocolate. And don't even get me started on that chocolate sauce! Not that these pancakes needed it but truth be told everything is better with chocolate sauce. Right?
Make sure you keep reading to get the recipe for the most awesome and easiest chocolate sauce ever! Believe me, this will be your go-to recipe for home-made chocolate sauce. Because who wants to use that fake chocolate flavor syrup. Yuck!
These mango tiramisu pancakes where a total hit. I made a big batch and my kids could not get enough of them and ate the leftover pancakes the next day. My husband declared these the best pancakes ever and I would have to agree.
This is now my favorite pancake recipe for sure. And this pancake stack looks so amazing that it's great for entertaining. I'm planning on making these when family comes to visit soon.
Mango Tiramisu Pancake Recipe
Ingredients
1 1/2 cups all-purpose flour
3 1/2 teaspoons baking powder
1/2 teaspoon salt
1/4 cup sugar
1 cup whole milk or buttermilk
¼ cup dark brewed coffee, cold
1 egg
3 tablespoons butter, melted
2 tablespoons cocoa powder
1 teaspoon vanilla extract
mango cut into bite-size pieces
fresh raspberries
shaved chocolate
Easy and quick chocolate sauce (get the recipe below)
Instructions for making Mango Tiramisu Pancakes
Step 1
In a medium bowl, mix together the dry ingredients: flour, sugar, salt, and baking powder and cocoa powder.
Step 2
In a separate bowl stir milk, coffee, melted butter, egg, and vanilla together.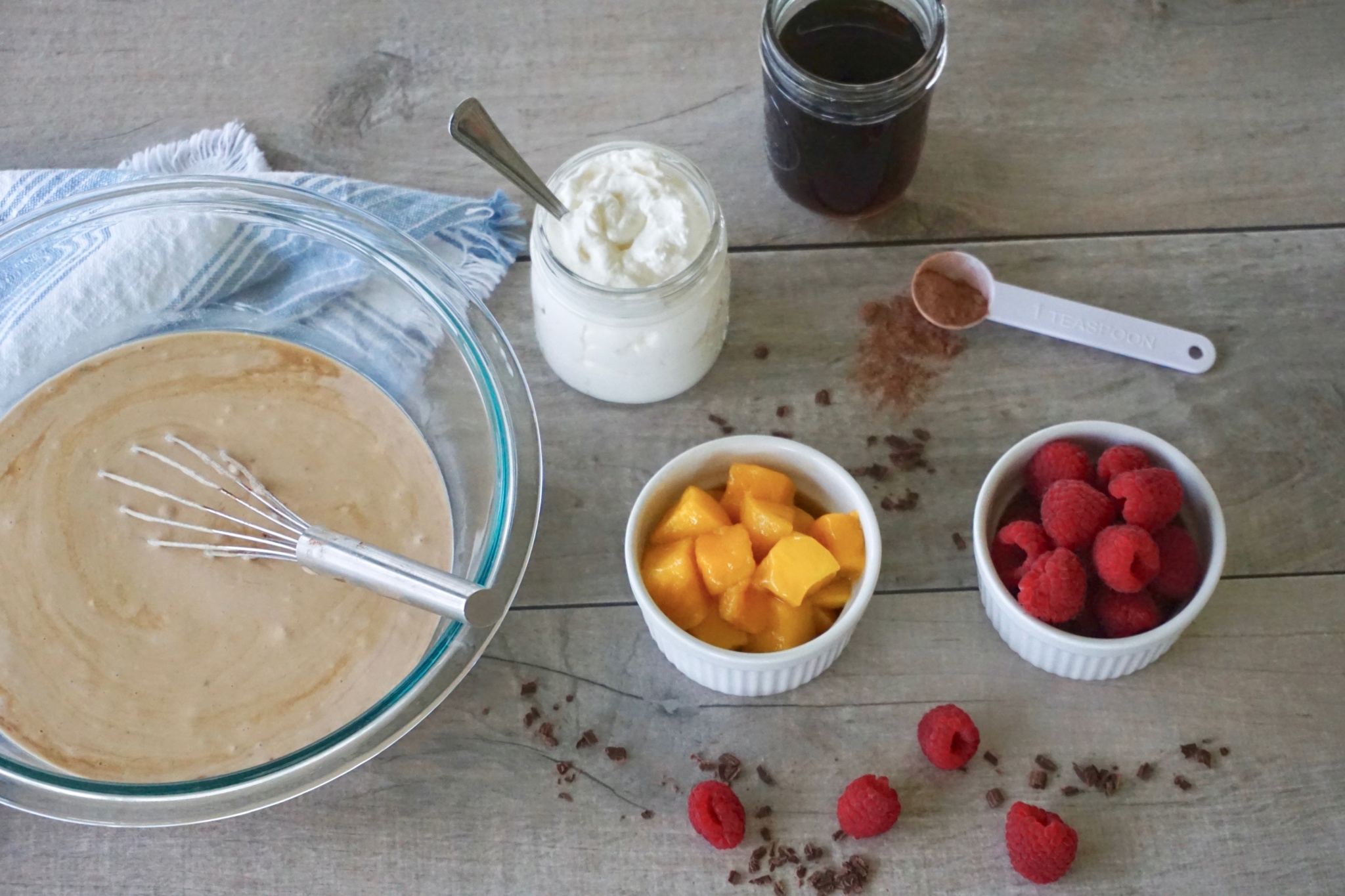 Step 3
Slowly pour the wet ingredients into the center of the dry ingredients while whisking to incorporate. Whisk the pancake mixture until well combined.
Step 4
Heat a lightly oiled skillet or griddle to medium-high heat and pour about ¼ cup of the batter onto the skillet or griddle. Cook each side of the pancake for 3-6 minutes, turning when bubbles form on the surface.
Step 5
Whip the heavy whipping cream until stiff peaks form. Fold the mascarpone cheese into the whipped cream, you can whip it for a few more seconds if necessary.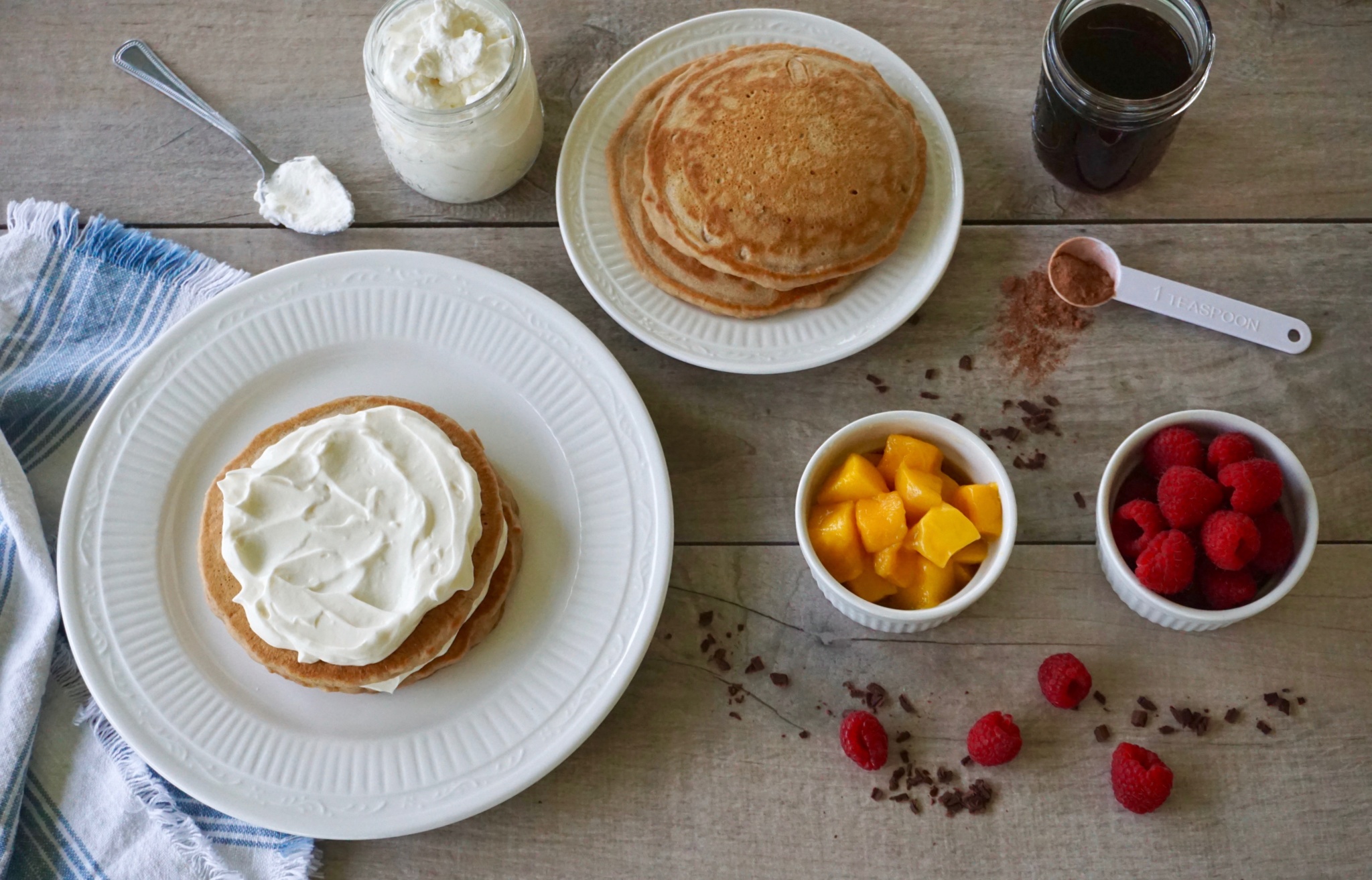 Step 6
Stack the pancakes with a layer of mascarpone whipped cream between each pancake. You can add some mango pieces into the whipped cream layers if you want.
Step 7
Top with more mascarpone whipped cream. Sprinkle with cocoa powder, top with mango and raspberries and add some chocolate shavings. Finish with a drizzle of chocolate sauce!
Super Easy Tiramisu Pancake Recipe
If you're short on time and want to make these super quick you can use pancake mix as the base for your tiramisu pancakes. Simply replace 1/4 cup dark coffee (make sure it's cold) for 1/4 cup water and add 2 tablespoons of cocoa powder to the mix and you're done!
Easy and Quick Chocolate Sauce
For the chocolate sauce, I used what I had in hand. This chocolate sauce is so simple and delicious and you can double the recipe and keep this in the fridge for a few days and use it on regular pancakes, on ice cream or even on baked bananas. The possibilities are endless.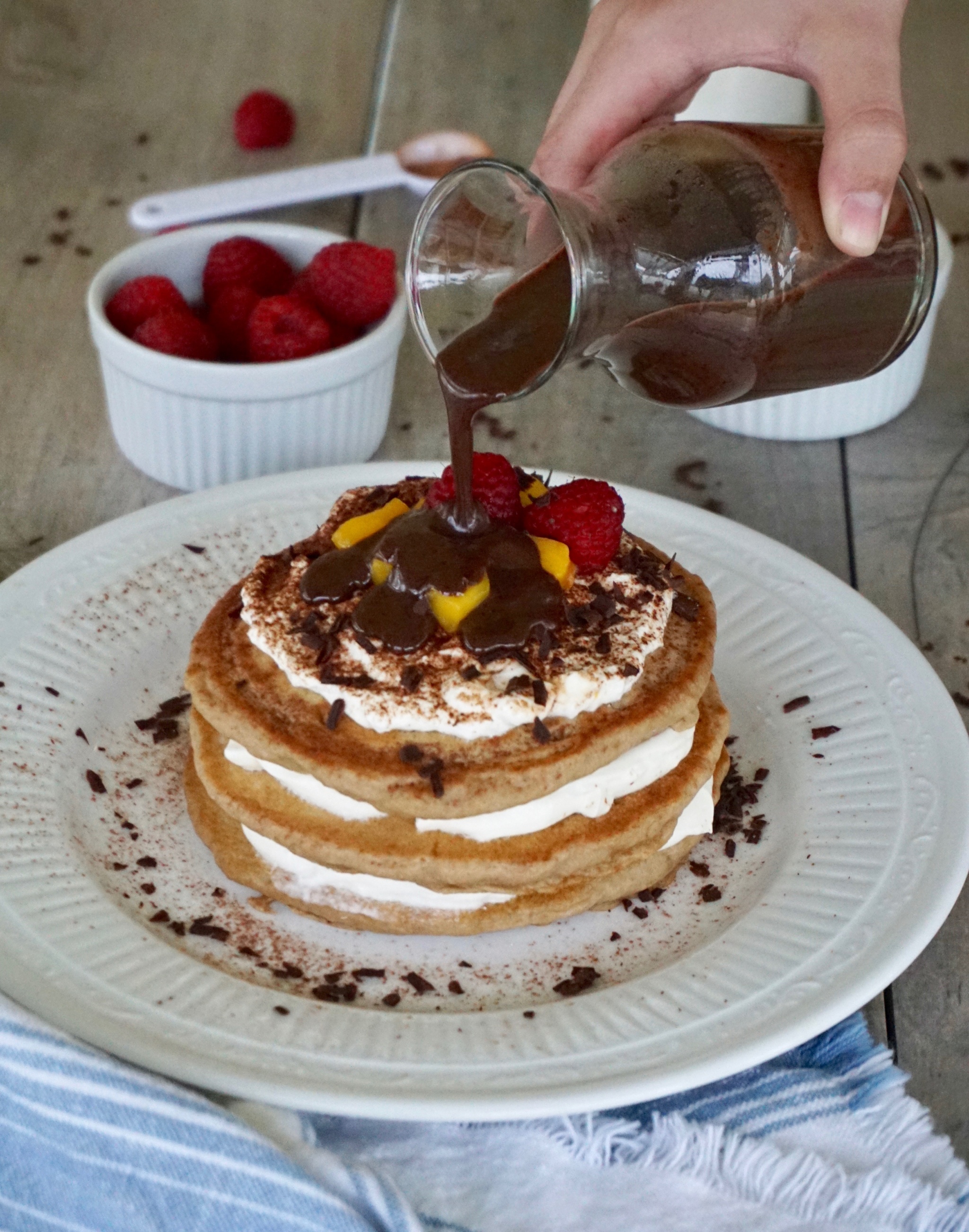 Ingredients for chocolate sauce
1 cup of whole milk, you can also use almond milk or soy milk or whipping cream for a thicker consistency
2 cups of dark chocolate chips, I like to use the mini chocolate chips as they melt faster
1/2 teaspoon vanilla extract
Instructions
Heat the milk in a small saucepan over medium-low heat.
Add the chocolate chips and mix constantly until the chocolate has melted and incorporated with the milk.
Remove from heat and add the vanilla extract, mixing until well incorporated.
You can serve this sauce warm or cold. For the pancakes, I definitely prefer my chocolate sauce thick and warm.
Enjoy!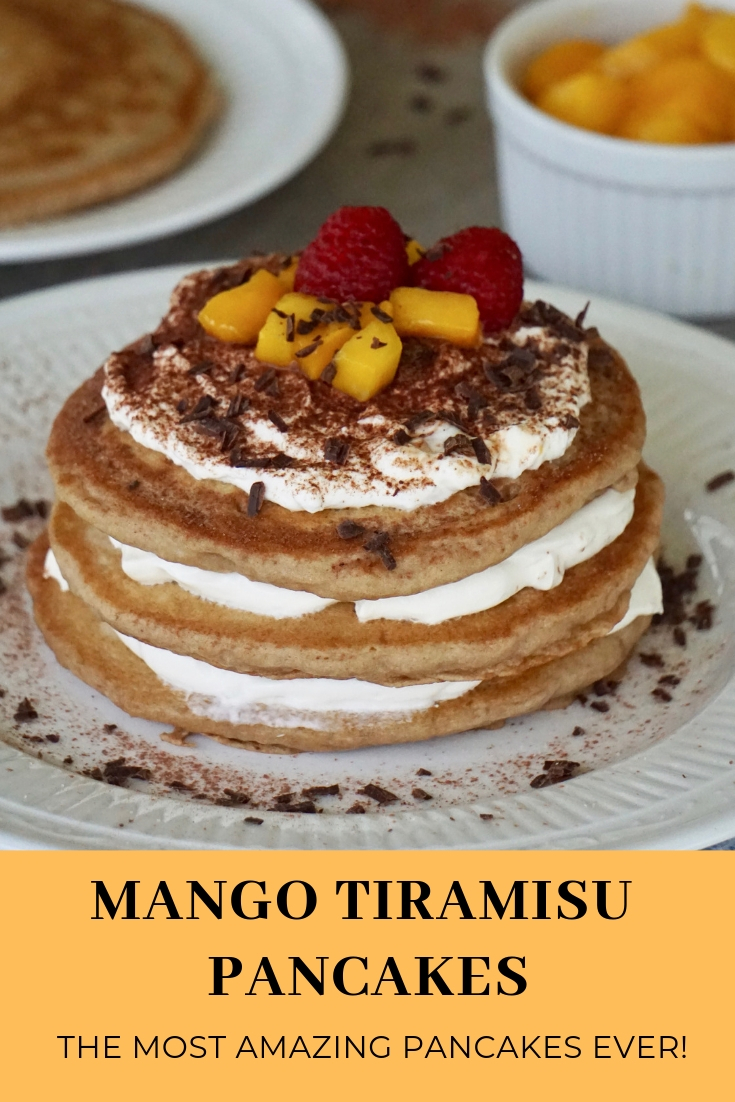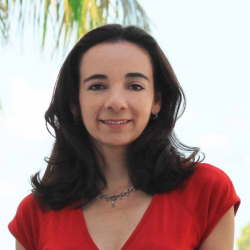 Latest posts by Paula Bendfeldt-Diaz
(see all)