This post is also available in: Español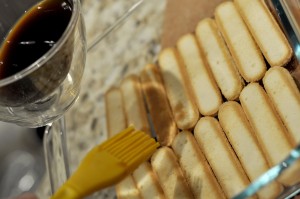 This is a very special recipe for me and I am really glad I finally got around to sharing it.  My abuelita, who is no longer with us,  used to make this every time we came over for dinner and besides being delicious I loved getting away with eating ladyfingers soaked in wine, it make me feel so grown up. I have never had this anywhere else and have no idea where this recipe originated all I know is that it brings me wonderful memories.  After my grandmother passed away I got the recipe from my aunt and will pass it down to my kids.
This is a simple and quick recipe to make but you will have to wait a few hours until it sets.  Hope you enjoy it as much as I did.
Ingredients
1 lt milk
1 teaspoon of vanilla extract
1 egg yolk
1 cinnamon stick
4 tablespoons of cornstarch
raisins
10 lady fingers
1/3 cup sweet red wine
1/3 cup water
1 teaspoon of sugar
1/4 cup sugar
Preparation
Mix the wine, water and one teaspoon of sugar and put the lady fingers in the mixture, letting them soak up the wine (make sure not to leave them in there too long).  Place the lady fingers 9×13 inch baking dish.
Beat the egg yolk until foam forms.  Pour milk into a saucepan, add cinnamon and bring to a boil.  Reduce heat and boil for a couple of minutes. Add raisins and 1/3 cup sugar and mix well.  Dissolve the cornstarch in 3 ounces of water or milk, add to boiled milk and mix vigorously to avoid clumps. Mix in the egg yolk and the vanilla and pour the milk mixture over the lady fingers.  Let it cool and refrigerate.
BUEN PROVECHO!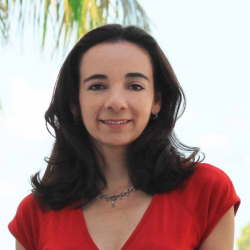 Latest posts by Paula Bendfeldt-Diaz
(see all)