Disclosure: This is a compensated campaign in collaboration with Latina Bloggers Connect and The Allstate Foundation.

Today I want to share with you something I feel very passionate about because it has touched me personally. October is Domestic Violence Awareness Month and I am supporting The Allstate Foundation's Purple Purse initiative.  The Purple Purse is The Allstate Foundation's symbol for domestic violence, and it proudly represents a woman's way to escape the cycle of abuse by gaining financial independence.
When people think of domestic violence or domestic abuse the first thing that comes to mind is physical abuse but there are many other types of abuse which include: emotional abuse, financial abuse, sexual abuse and spiritual abuse. What all of these have in common is that they are done for the purpose of gaining power and control over the victim.  Lacking financial knowledge and resources is the number one indicator of whether a domestic violence victim will stay, leave or return to an abusive relationship. Think about it, it's very difficult to leave an abusive relationship is you depend on your abusive partner financially.
One in four women has suffered from domestic violence in their lifetime – that's more women than breast cancer, ovarian cancer and lung cancer combined.  But even though millions of women are affected by domestic violence very few talk about it.  But starting a conversation about domestic violence can get victims to start taking the steps they need to empower themselves and leave those abusive relationships.
[important]Let's end domestic violence. Leave abuse behind. Pass the Purple Purse!  CLICK HERE and enter code 0003[/important]
You Can Get Out of An Abusive Relationship: My Story
Before meeting my husband I was in an abusive relationship for about 7 years.  In my case the abuse was mainly emotional and psychological and even I had a hard time realizing I was being abused. Just because you're not battered and bruised doesn't mean you're not being abused. Many women (and men) suffer from emotional abuse, which is no less destructive but often this type of abuse is often minimized or overlooked—even by the person being abused. I felt isolated but more scary than that I felt dependent both psychologically and financially.  I felt like I could not leave this relationship. My family and friends tried to talk sense into me but he would convince me that everyone hated him and he was the victim sand I would not listen.  But then my daughter came into my life and opened my eyes.  I got pregnant and I was afraid I would not be able to support my baby by myself so I put up with a lot of things. He made me feel like I was worthless, he called me a whore and convinced me I would never find anyone else, especially with a baby tow.  I felt trapped. But inside of me along with my baby a sense of empowerment and pride started to grow.  As I sat crying night after night I worried that the baby inside of me could feel this too and the more I read the more I realized this was affecting her.  I started to acknowledge the damage this relationship was doing to me and knew I could not let that happen anymore because even though I still felt worthless my baby deserved better and it was my responsibility as her mom; I had to offer her something better.  The first step for me was gaining financial independence.  I got a good job, with the help of my family I found an apartment I could afford and because I was confident I could support myself and my daughter I was able to leave that abusive relationship.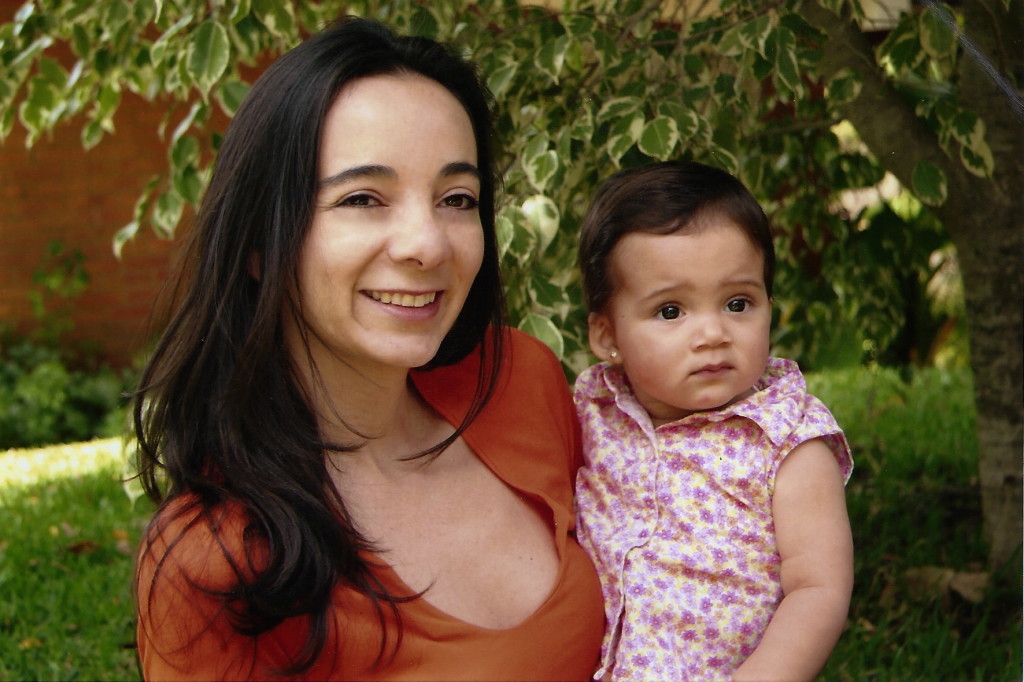 Like the majority of Americans I had a hard time talking about it, and it's still hard.  I'm am a smart woman, capable of anything I put my mind to but I could not get out of that relationship and that makes me want to keep it a secret. Although now I realize how hard is was and I am proud of having put that behind me and moved on to a great life with an amazing partner I still feel it reflects badly on me. Yes I realize this is not true but I want to keep this real, that is how most women who have suffered abuse feel about it, we feel ashamed to talk about it. I am opening up to you all because I want to start those conversations.  Maybe someone reading this will decide to click on the Purple Purse website and find the information they need to gain financial independence and leave an abusive relationship that they feel they are trapped in.
Passing the Purple Purse
Now in its third year, The Allstate Foundation's Purple Purse campaign has pledged to donate up to $350,000 to the YWCA for programs designed at assisting survivors of domestic violence and other women in need.  The Purple Purse was created because a purse represents the center of a woman's financial domain and purple is the color utilized by domestic violence awareness campaigns.
I encourage your to take action and help me empower women so that they are able to successfully leave and stay out of an abusive relationship. You can do this easily, with just one click of your mouse by passing on the Purple Purse.  The Purple Purse helps people carry on conversations and pass information about domestic violence and financial abuse by placing the power directly into people's hands with a purple purse.
For every purple purse passed through the end of October, The Allstate Foundation will donate $5 to YWCA. They will give up to $350,000 for programs aimed to help domestic violence survivors and stop the cycle of abuse.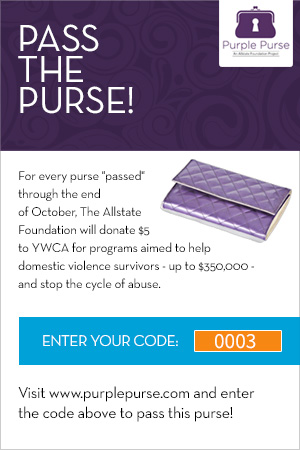 You can visit the Purple Purse Facebook page or PurplePurse.com for more information and get tips to help you start talking about domestic violence. You can also follow the purple purses on their journey around the country and track the YWCA's progress toward their goal to earn $350,000 from The Allstate Foundation
[important]Taking action against domestic violence is simple – Purple Purse: Pass It On. Click HERE and enter code 0003. [/important]
If you need immediate help, call the National Domestic Violence Hotline at 1-800-799-SAFE (7233) or TTY 1-800-787-3224.