We go on road trips often and we have learned the hard way that there are things we can not leave home without. Here are our road trip essentials when traveling with kids.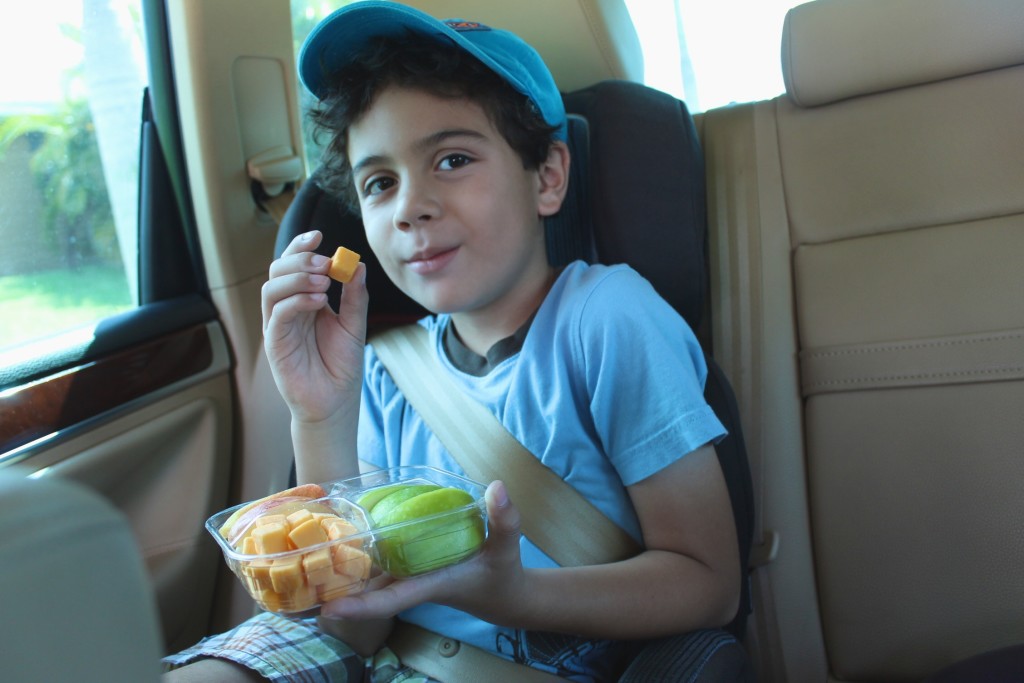 Snacks for the road.  There is nothing worst that hungry and cranky kids stuck in a car.  We always bring lot's of healthy snacks and drinks including fruit, pretzels, granola bars, crackers and nuts. We also like to pack a few fun treats which we bring out when the kids are really getting tired of sitting in the car.  If you know you will be driving in an areas where there are not many places to stop for a bite you can also pack sandwiches or plan to have a picknick at some nice location along the way.
Toys and games for the kids. My son loves to draw so we always bring paper and crayons, some books and a stash of small toys and road trip games.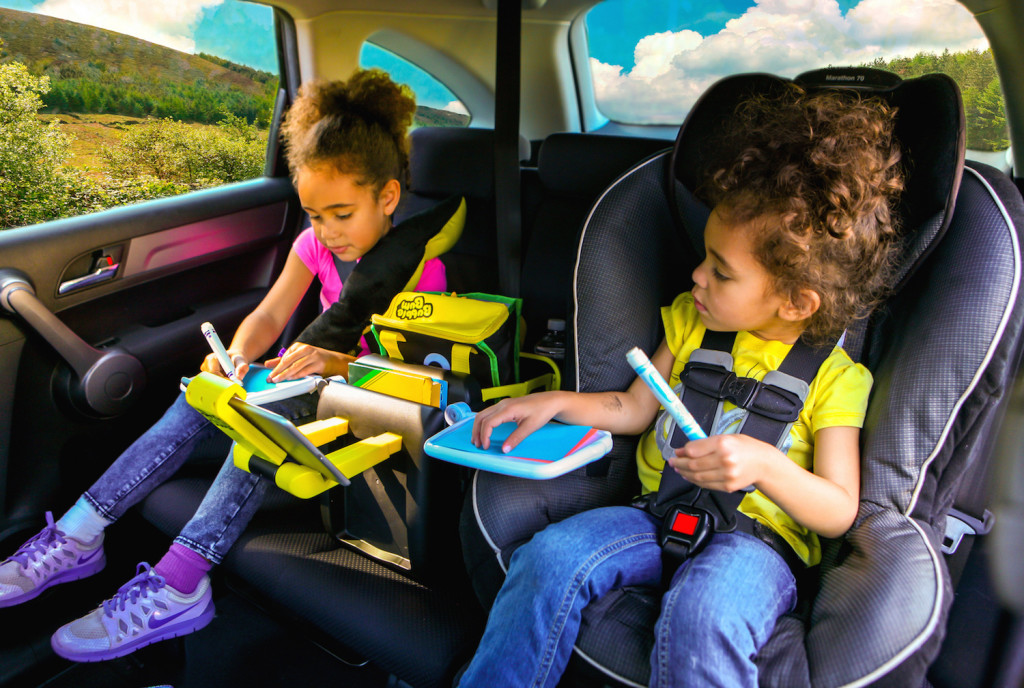 Car organizer.  We have been looking for a way to keep things organized in the car for a while and we are just in love with BubbleBum's Junkie all-in-one in-car organizer and activity station. This expandable organizer harnesses safely into the backseat to store activities, snacks and drinks conveniently between two kids.  It features two retractable activity trays for snacking and activities.  The two cup holders securely hold average sized water bottles within easy reach so parents can focus on the road.  The removable tote bag also makes toting activities from the house to the car a breeze.  It also features an insulated compartment that is perfect for keeping drinks and snacks cold while traveling. The innovative tech viewer allows kids to watch movies or their favorite shows on their tablet together in a safe secure manner while on the road.
Something to keep the kids comfortable when they fall asleep in the car. We have tried different products to keep the kids comfortable and prevent a kinky neck but our favorite by far is BubbleBum's Sneck pillow system, this travel pillow converts into multiple uses.  This innovative design makes napping in the car more comfortable than possible in the past.   It is perfect to take along on car rides but we have also taken this on plane trips. BubbleBum's Sneck easily attaches to the headrest with a Velcro strap so it stays in place allowing kids to rest without having to reposition the pillow.  The stash pocket allows kids to store MP3 players or small toys.  The three way design allows kids to manipulate the position for optimal comfort.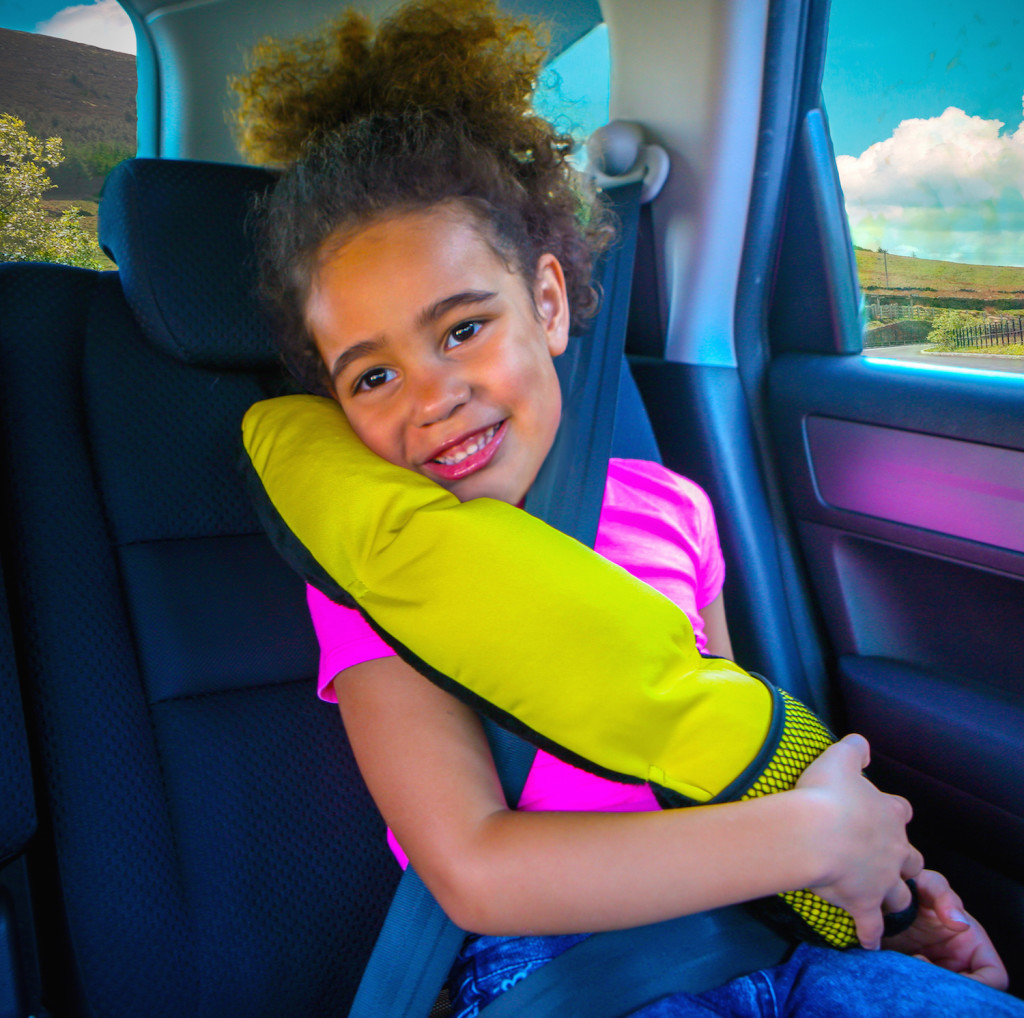 Audio books to keep everyone entertained. I like to limit the amount of movies the kids watch in the car and we discourage electronic games while on road trips as we feel that the time spent in the car is a great time for sharing as a family. Listening to audio books is something we can all do together, even the driver, so it becomes a fun family activity while on the road.  Some of our favorite audiobooks for kids, which also keep adults entertained, include: The Bad Beginning by Lemony Snicket and Dragon Rider by Cornelia Funke.
Wet wipes and paper towels. I always keep a box of wet wipes in the car even though my kids have not worn diapers for years. Wet wipes have come in handy in so many occasions and they are good for cleaning all kids of messes. We also keep a roll of paper towels in case of spills.
Would love to hear what your family road trip essentials are?