Pumpkin chili is the epitome of fall foods, combining a classic cold weather comfort food with the sweet and earthy flavor of pumpkin. This chipotle beef pumpkin chili takes chili to a whole new level with its subtle sweetness and smoky heat for a fall dish that is sure to become this season's favorite slow cooker chili recipe.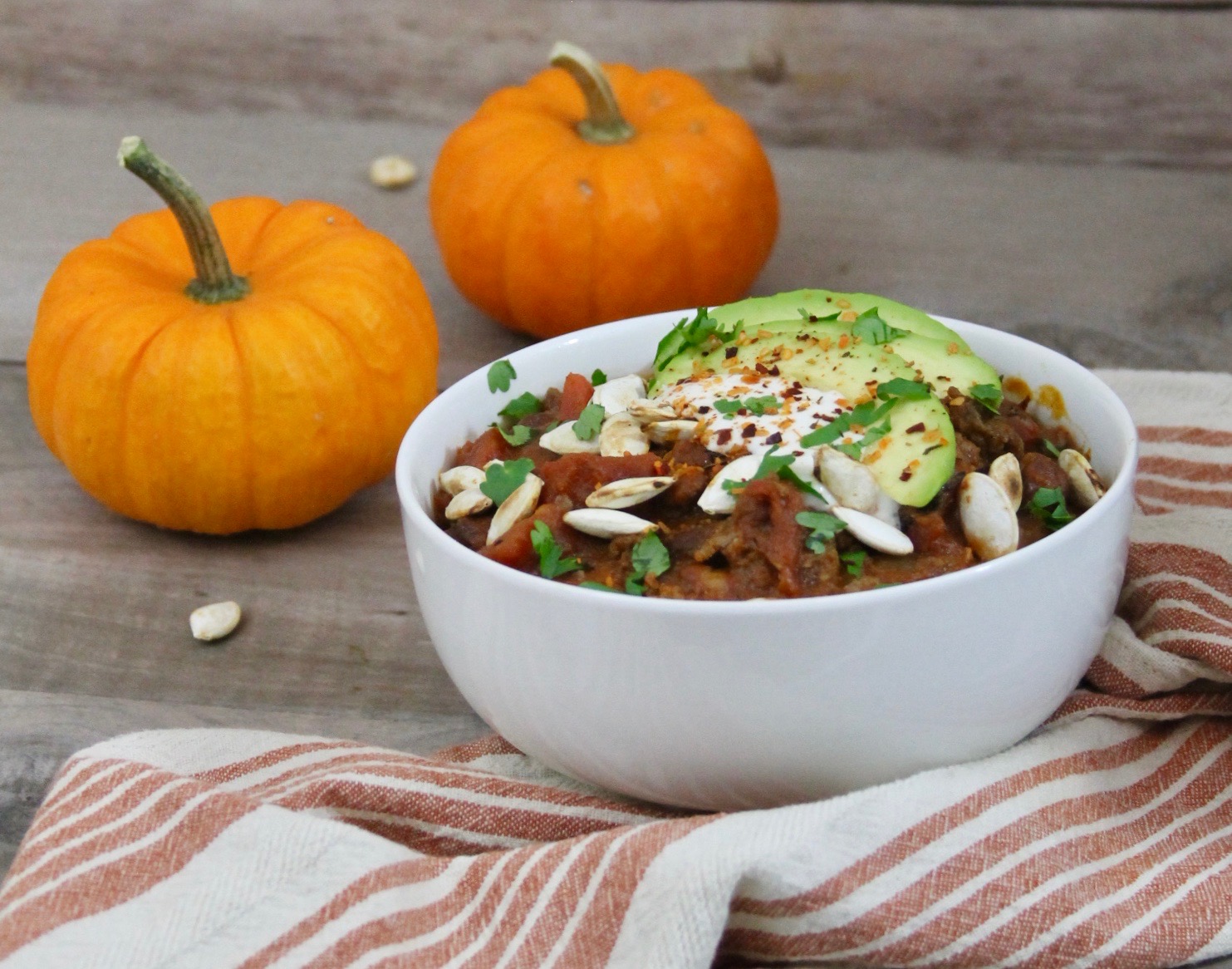 Chili season is here and there's nothing better than curling up on the couch with a warm bowl of chili. And in my case cranking up the AC and dreaming that I'm somewhere cooler and actually need a warm and comforting food since the Florida weather is still stuck in that perennial summer mode.
Even if I don't get to enjoy the cold and crispy weather or the beautiful fall colors I still get to enjoy fall flavors so I embrace this and really get into a cooking and baking mood when fall comes around.  And that of coarse means pulling out the slow cooker and making lots of chili! For me it's always about that search for the perfect chili recipe and for a new and exciting chili that could win a chili-cookoff championship!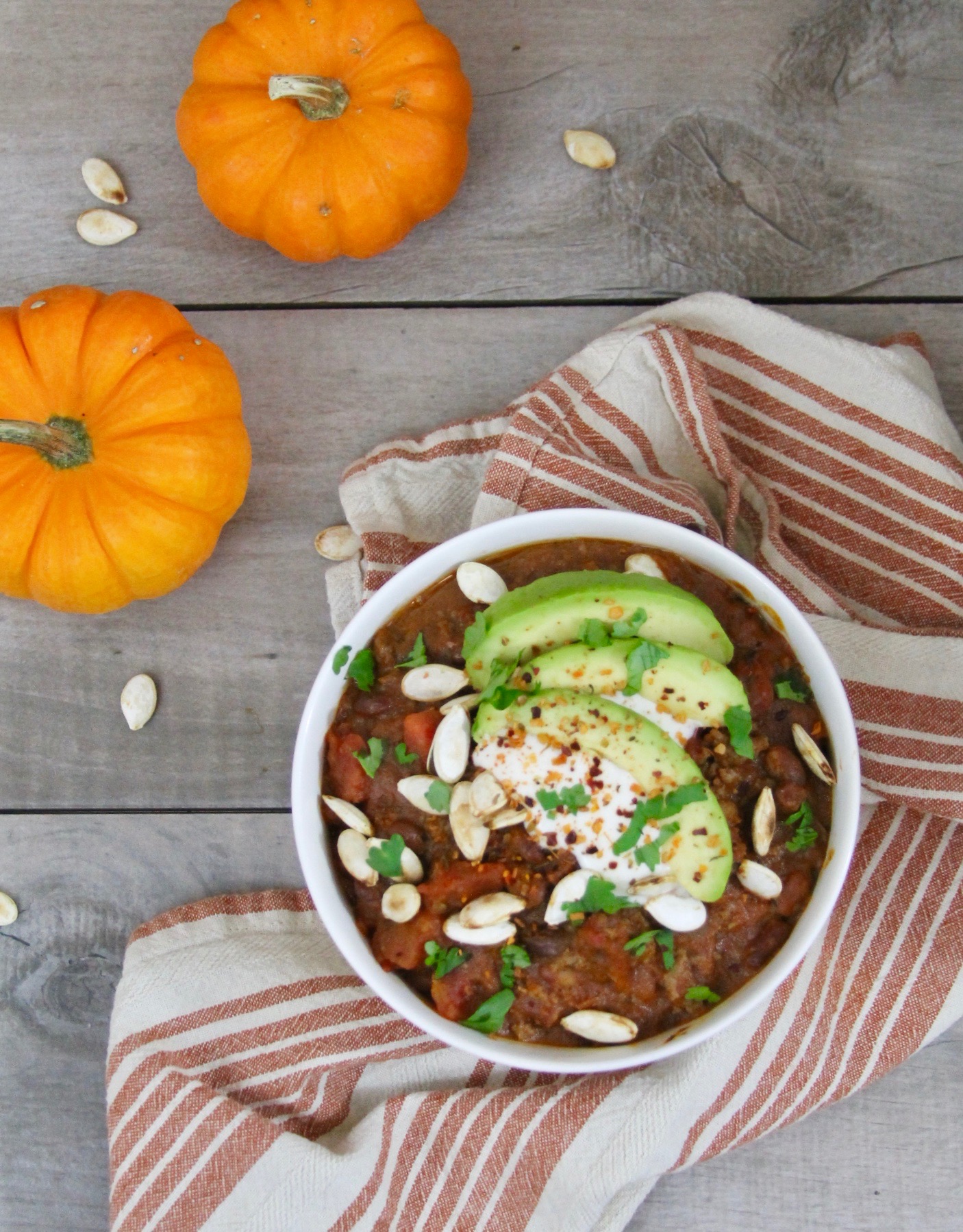 In my search for that perfect chili bowl, or at least for this years favorite chili recipe I dived into the pantry trying to find some inspiration and immediately came face to face with cans and cans of pumpkin puree I stocked up on. I have been hoping to create countless pumpkin recipes but that hasn't happened yet, so why not take advantage of that excess in pumpkin inventory and create the perfect fall chili: pumpkin chili!  And although pumpkin chili is not exactly a novel idea, pumpkin chili was a great place to start. However I wanted to add something new and make this a more exciting and unique pumpkin chili and with that in mind I decided to test out a couple more ingredients. I knew I wanted to add some heat and of coarse chipotle was the heat source of choice, it's smoky and earthy flavors a perfect match for that fall mood I find myself in. And since we where on a fall flavor theme here I also added some hard apple cider which really complimented the pumpkin and chipotle flavors for a chili that was a real winner in our home!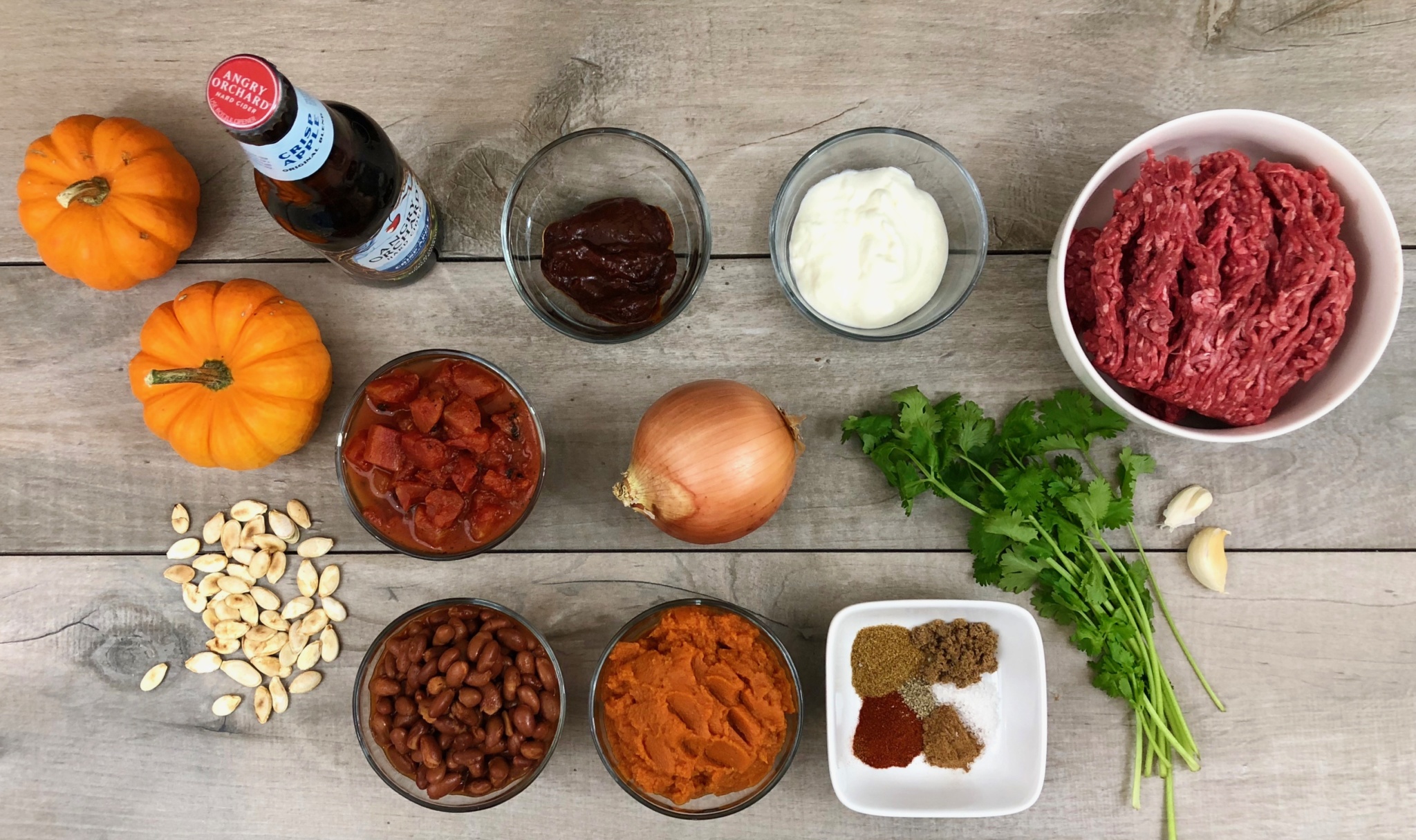 Chipotle Beef Pumpkin Chili
Ingredients
1 tbsp oil
1 large onion, chopped
2 garlic cloves, minced
1 lb ground beef
1 chipotle chili in adobo sauce + 2 tablespoons adobo sauce
1 14 oz can fire roasted tomatoes
1 cup pumpkin puree
1 15 oz can of chili beans
2 tsp cumin
1 tsp smoked paprika
1 tsp chili powder
1 tsp black pepper
1 tsp pumpkin spice
1tbsp brown sugar
1 tsp salt
1 cup hard apple cider
For garnish
1 Hass avocado, cut into wedges
fresh cilantro
Mexican crema
Pumpkin seeds
Instructions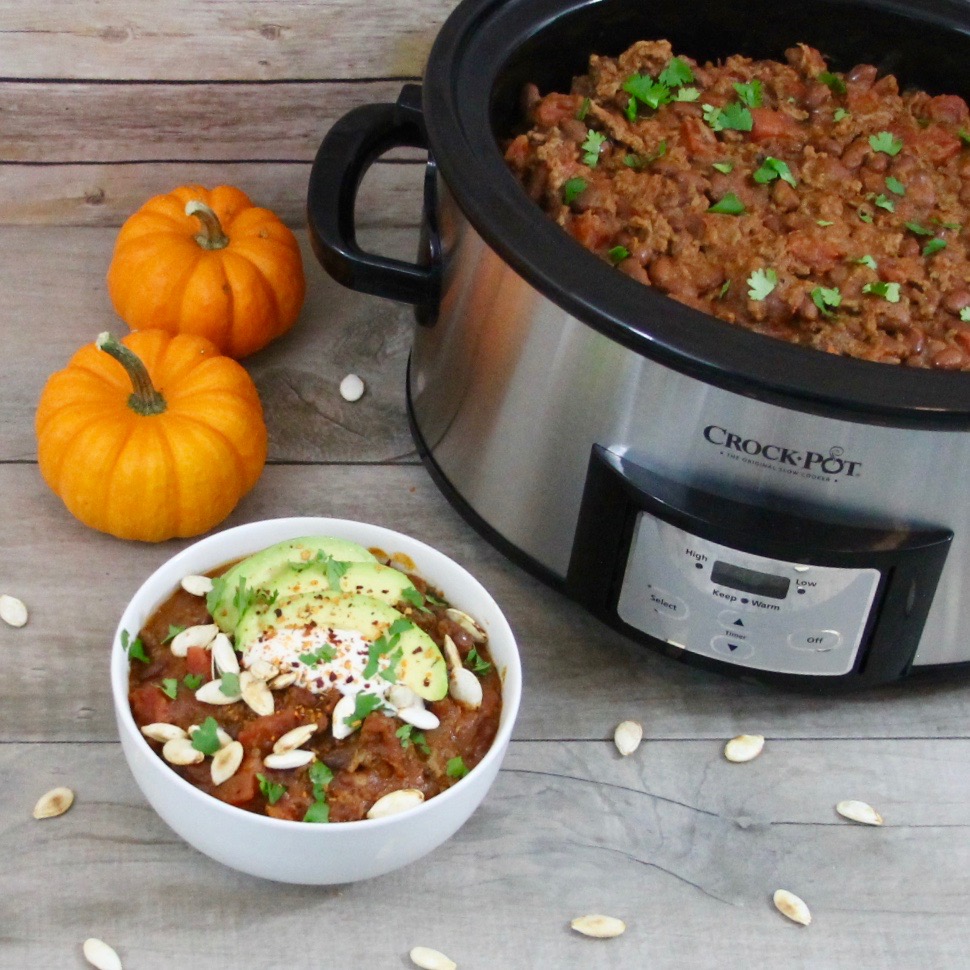 Instructions
Heat a large skillet oven over medium-high heat. Add oil and saute the onions stirring occasionally, for about 7 minutes or until onions start to soften.
Add the garlic and cook an additional 30 seconds or until fragrant.
Add the ground beef. Use a wooden spoon to break it up as it cooks. Cook until meat is nearly cooked through, about 8-10 minutes.
Transfer meat mixture to the slow cooker.
Place the chipotle chilis and adobo sauce in a food processor and pulse a few times until the chilis are finely minced, almost like a paste. Add to the slow cooker.
Add remaining ingredients and stir.
Set heat to LOW and cook for 6-7 hours. Serve with desired toppings.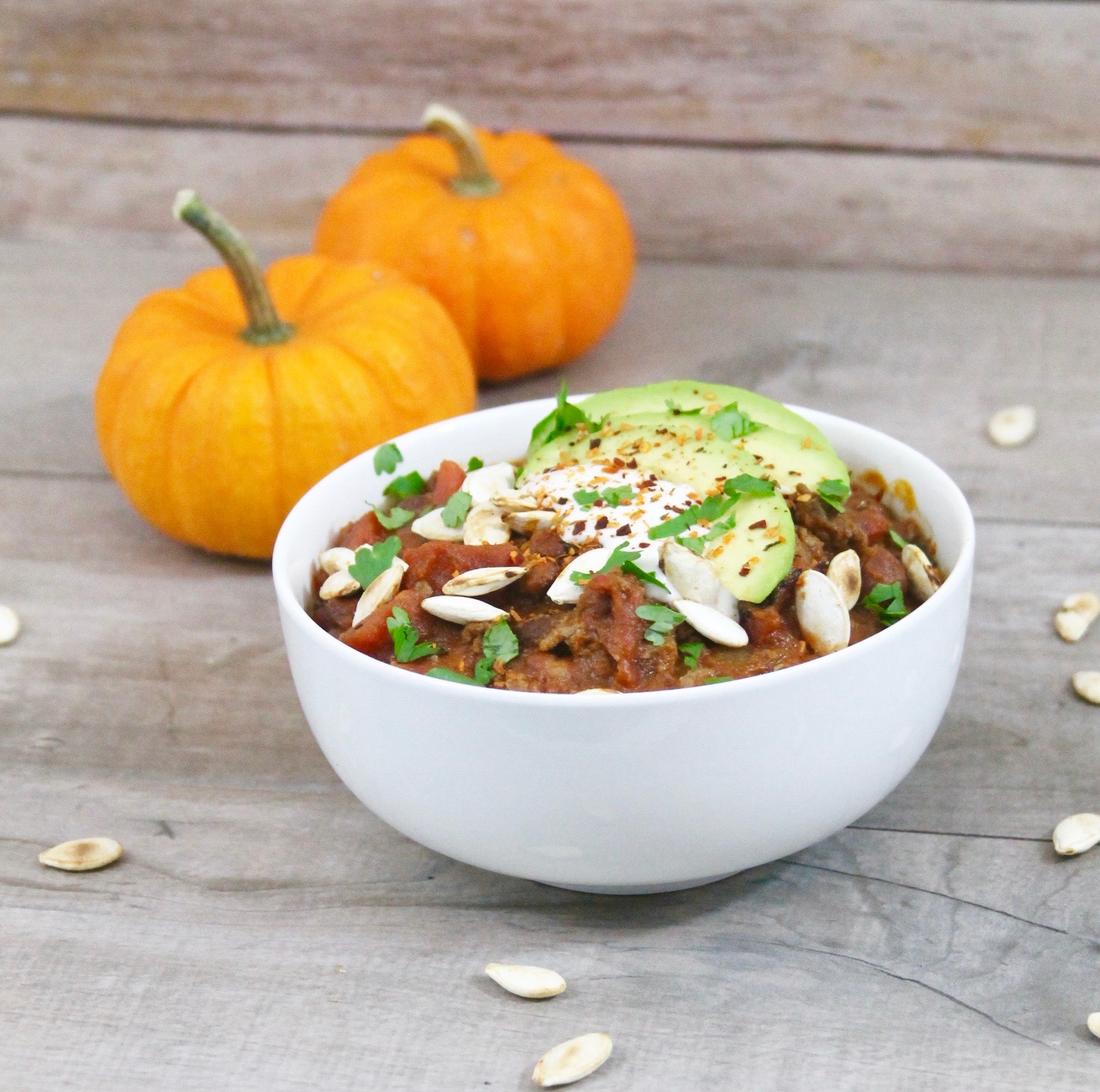 I love my chili chunky and hearty so if you like yours a little bit more stewy you can also add 1/4 or 1/2 a cup of chicken or beef stock or more hard apple cider. You can also replace the hard apple cider by regular apple cider.
With it's subtle sweetness and the perfect amount of heat this chipotle beef pumpkin chili might just become the best chili recipe of the season at your home too! So what are you waiting for? Pull out that slow cooker and try this pumpkin chili recipe out, and if you do be sure to come back and tell me how it turned out and if you made any tweaks to it.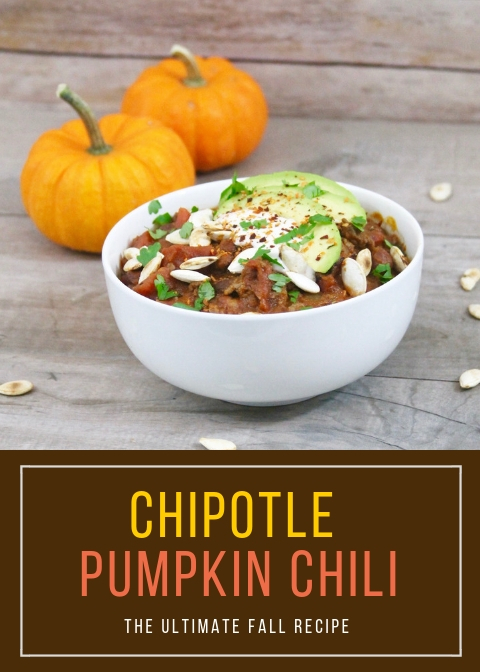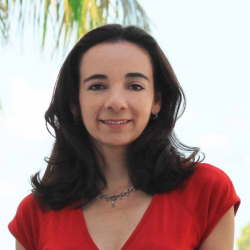 Latest posts by Paula Bendfeldt-Diaz
(see all)