Here in Florida it already feels like summer. When the heat and humidity reach their high point here we really need all the help we can get to keep cool. That means looking for refreshing foods and snacks for the whole family and the challenge is always in finding something that is healthy and that the kids like.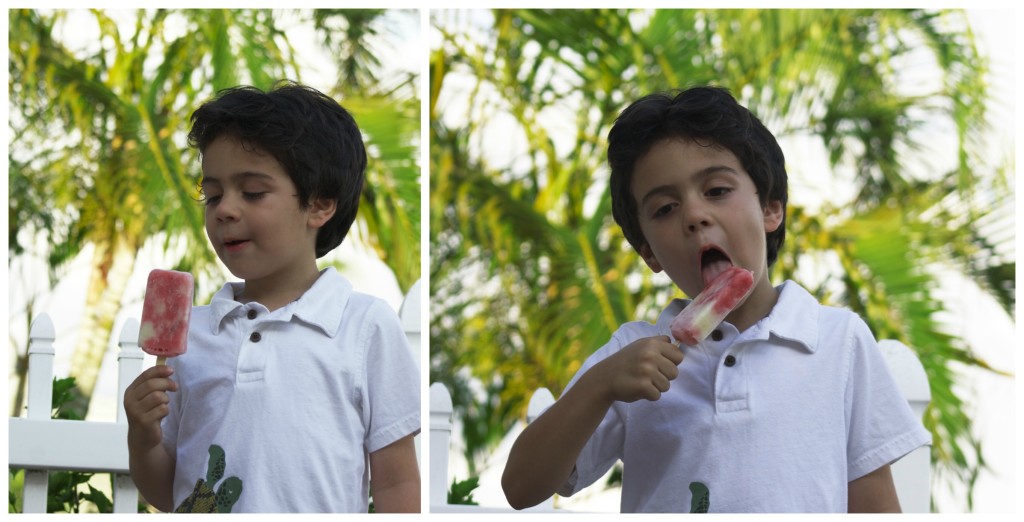 When summer arrives we usually buy some sort of frozen popsicle but most of them are filled with ingredients you can't even pronounce and made with artificial colors and flavors. That is not the case with Chunks O'Fruti, As I looked through the frozen snack section at Walmart I was amazed to see the difference between Chunk O'Fruti and other brands (you can check out our mission to find a healthier frozen snack on my Google+ Album HERE.) Made with real fruit this frozen treat is 100% natural. Chunks O'Fruit has no artificial colors or flavors. , you can actually see and feel the chunks of fruit.
Chunks O' Fruti is a product of Natural Fruit Corporation and as their name suggest they use only fresh, ripe fruit. That means that all the flavor comes from the fruit and there is no need to add artificial flavors or colors. The Chunks O' Fruti frozen fruit bars have more fruit than any other ingredient, do not contain corn syrup, are Vegan, Gluten Free, Kosher Certified and made in peanut free facility so that they are safe for many children with gluten and peanut allergies and ideal for vegans and vegetarian families too.
I was super excited to buy the new Chunks O' Fruti flavors: Strawberry Piña Colada and Mango Pineapple and could not wait to try them. They where really delicious and refreshing, it really felt like I was eating frozen fruit. These are also ideal for making all kinds of frozen and refreshing treats like smoothies and cocktails too!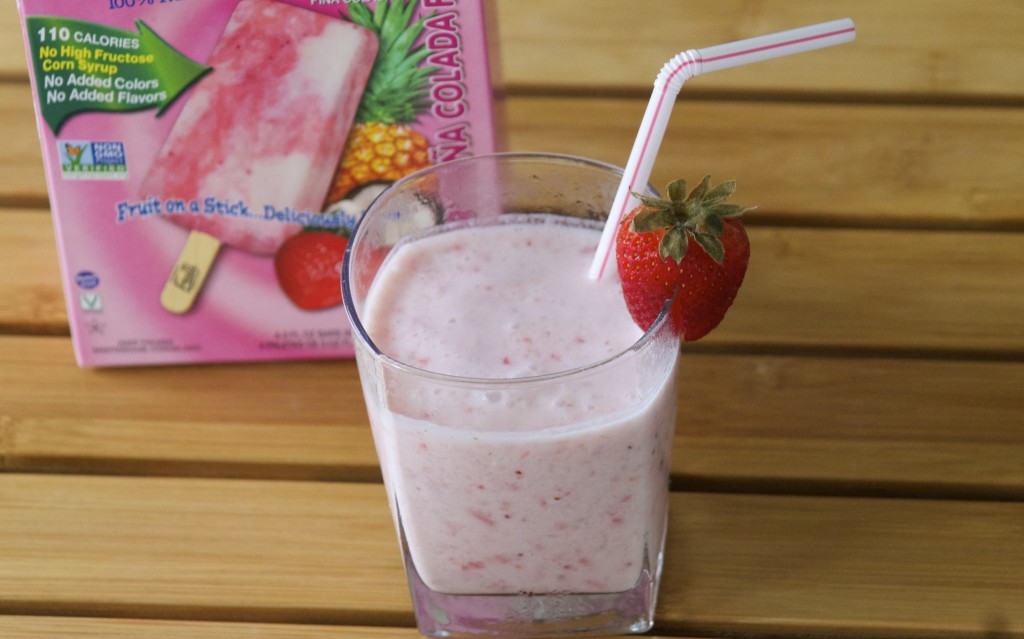 When I got home I put them to the ultimate test: my 5 year old. If you read my blog regularly you might know that my little guy goes beyond being picky, he actually suffers from food aversions and he does NOT eat fruits or vegetables except in liquid form. We are talking about a kid that goes to food therapy here! I gave him a bar of Strawberry Colada and I have to confess that since I know he does not eat strawberries or pineapples (he has tried, really he has) I just asked him to pose with it for a picture and as I talked to him about how good these where his curiosity was peaked. He looked at me and asked if he could try it. I was hopeful, but didn't want to sound too excited so I just said he could have a few bites because I didn't want him to spoil his appetite and as he took the first lick I held my breath. He looked at me with a big smile and said mommy I like it, it has strawberries and I like it. He was so excited and I seriously almost cried. He proceeded to eat the whole thing and asked for pancakes with strawberries for breakfast (did I mention he had never had strawberries before?!!).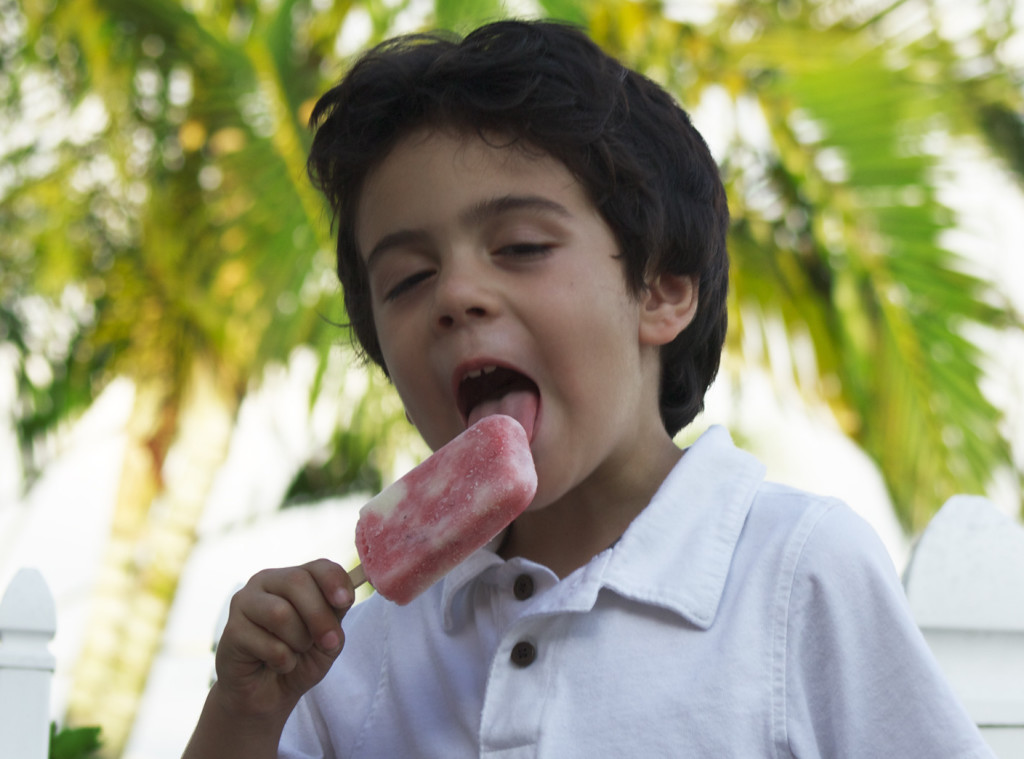 After breakfast he asked to try the Chunk O' Fruti Mango Pineapple flavor so in just a few hours he ate three new foods, three new fruits!!! I swear her therapist is not going to believe it! This called for a celebration so I decided to go all out and make something really special. Since he loves cupcakes I made him Mango Pineapple ice cream cupcakes.
I got the idea from a wonderful post on JoytheBaker.com and modified it a bit. The cupcakes came out looking good and taste amazing and this was my first time making any sort of ice cream cake. These would be ideal for a summer birthday party , don't you think? YUM!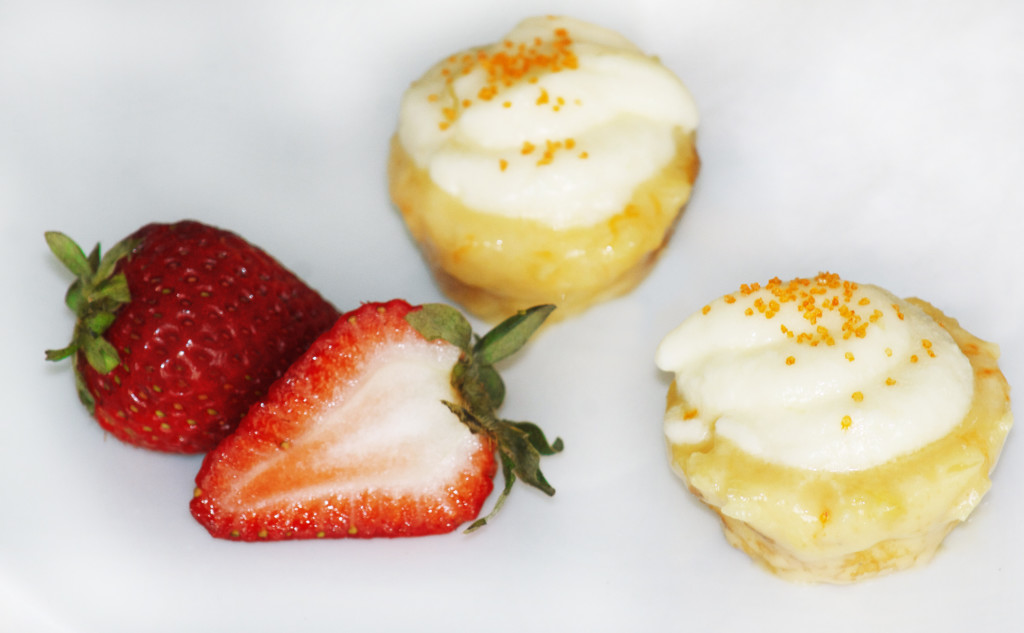 INGREDIENTS
Pineapple Cake
1 box of cake mix
1 can of crushed pineapple
¼ cup oil
3 eggs
Mango Pineapple Ice Cream
4 Chunks O' Fruti Pineapple Mango bars
1 can of low fat condensed milk
Mango Buttercream
1 Chunks O' Fruti Pineapple Mango bar softened
3 cups of powdered sugar
1 stick butter softened
INSTRUCTIONS
For Cake
Preheat oven to 350.
In a separate bowl beat the eggs. Add entire can of pineapple with juice. Add oil.
Slowly add cake mix.
Mix carefully until all dry mix in incorporated.
Spray the muffin tins with nonstick spray.
Fill the muffin tins only half as full as you normally would.
Bake at 350 degrees for time on box for size pan.
Remove the cupcakes from the oven, let cool in their tins for 15 minutes.
Loosen the cupcakes by running a knife along the edges of the muffin cups.
Make sure that none of the cupcakes stick to the pan, but keep the cupcakes in the cupcake pan, cover with plastic wrap and put in the freezer for at least 3 hours.

For Ice Cream
Leave Chunks O' Fruti bars outside while you make the cake batter.
Remove fruity bars from stick and mix them with condensed milk.
Refrigerate overnight.
For Mango Pineapple Butter Cream
Cream the butter in the bowl of a stand mixer for 2-3 minutes.
Add the powdered sugar and beat well.
Add the softened mango Chunks O' Fruti 1 tablespoon at a time, until the frosting has a spreadable (or pipe-able) consistency.
Combine all ingredients in blender.
Assembling Ice Cream Cup Cakes
Remove cupcakes from freezer. If you need to use a serrated knife to remove the top from the muffins to make them flat and put them back on the muffin tin.
Remove ice cream from freezer so that it will soften.
When ice cream is softened use a spoon to quickly fill in the rest of the cupcake tins.
When all of the cupcakes are covered with ice cream return to freezer to harden for at least 4 hours.
To remove the ice cream cupcakes from their tins, warm a small sharp knife under hot running water. Run the warm knife along the edges of the ice cream cupcake until it's easily lifted out of it's tin.
Place the cupcakes on a plate and return to the freezer for 15 minutes.
Remove from freezer and top with whipped cream, chocolate or mango butter cream.
The Chunk O' Fruti frozen fruit bars are also ideal for making smoothies and cocktails, you can check out the recipes on the Natural Fruit Company's website HERE.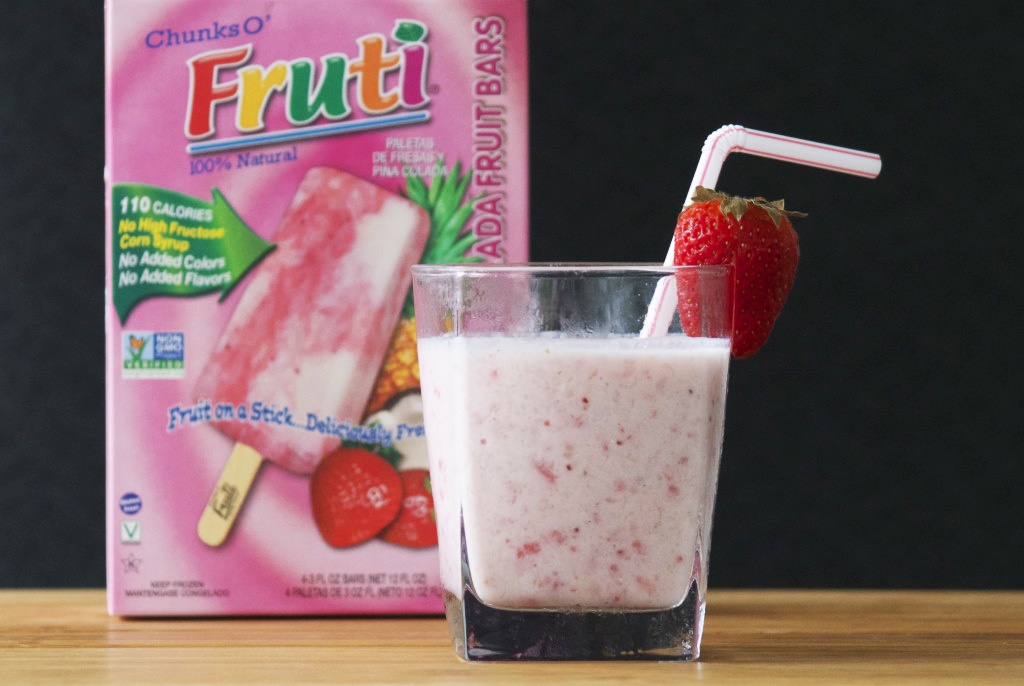 You can visit the Natural Fruit Company's website to find out more about Chunck O' Fruti frozen fruit bars including nutritional and allergy information. Like Chunks O' Fruti on Facebook and follow them on twitter @ChunkOFruti to learn about great natural and refreshing recipes that will cool you down this summer.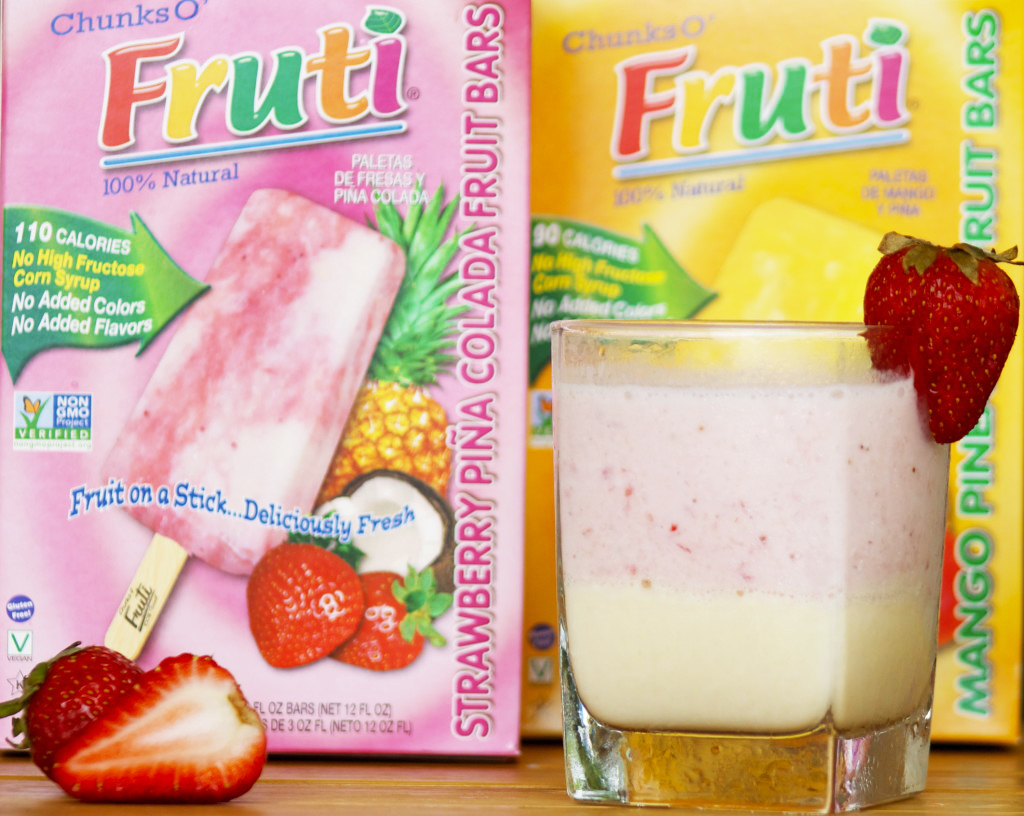 Disclosure: I am a member of the Collective Bias® Social Fabric® Community. This shop has been compensated as part of a social shopper insights study for Collective Bias® and Fruti however all opinions are my own. #cbias #SocialFabric #FreshNFruti