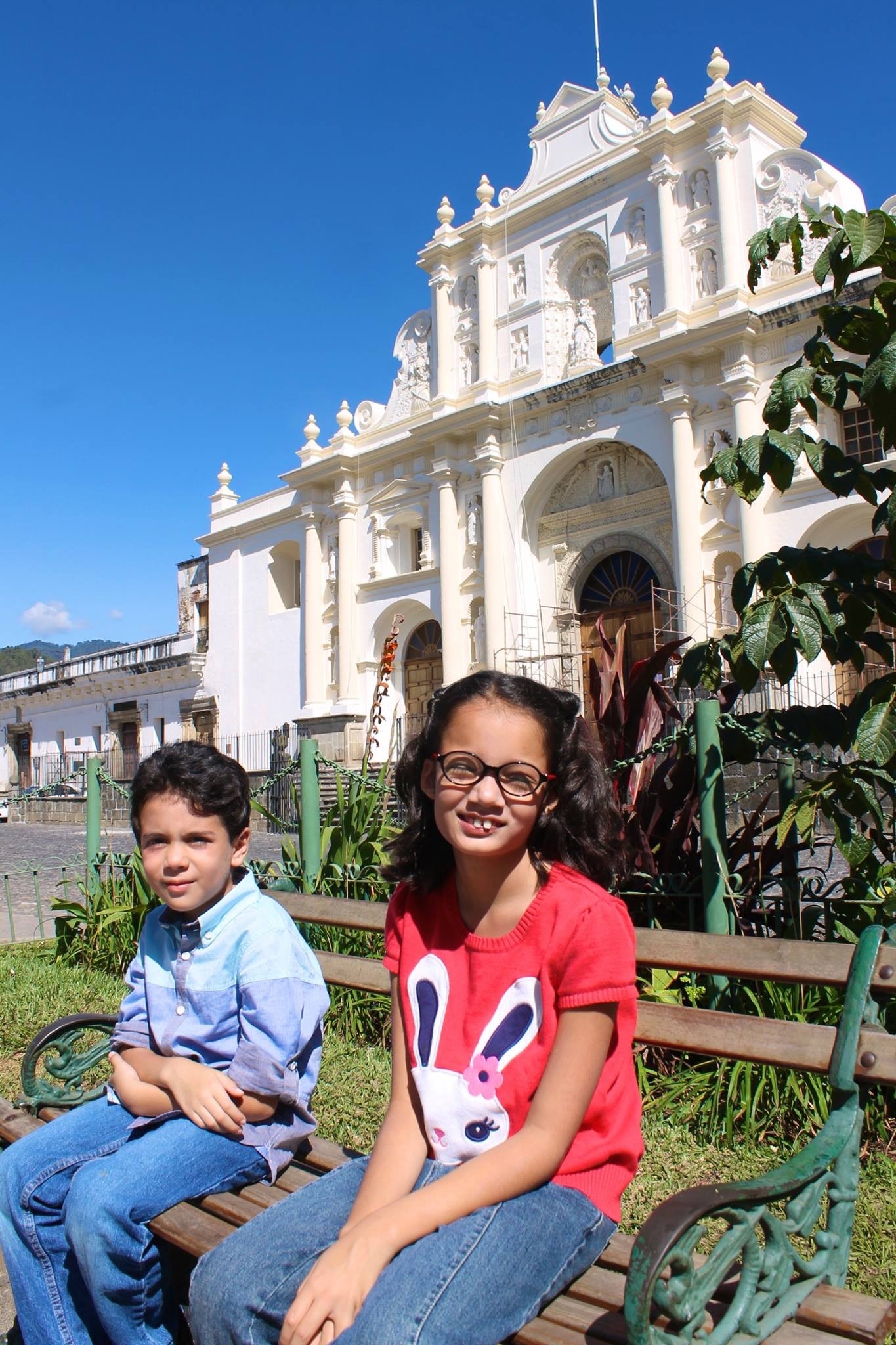 Language immersion is the best way for kids to learn a second or third language. And what better time to do this than taking advantage of the summer break and spending some time abroad learning a new language while creating memories that will last a lifetime. Whether you want your kids to reinforce their Spanish, like we do, or want to learn Spanish as a family a great place to do this is in Antigua Guatemala.
From the moment that we moved to the US I set out a plan to ensure that my kids would grow up bilingual, even if there are no bilingual schools in our area. Getting as much Spanish language immersion as possible by traveling back to my native country of Guatemala was always part of that plan.
We try to speak only Spanish at home but it's hard, my kids come home and want to share their day and I don't want to stop them to make them speak to me in Spanish. Specially now that they are older it's just more important for me to have great communication with them. That is why going abroad and reinforcing their Spanish by enrolling them in a summer camp and Spanish school while combining this with an awesome vacation where they will be speaking in Spanish in a natural way is the perfect way for reinforcing their language skills!
This year we're headed to Antigua Guatemala where both of my kids will be attending a bilingual summer camp at Antigua Green School as well as intensive language lessons at a Spanish school. We also have planned a wide array of activities that will immerse them in and connect them with the local community and culture, including volunteering with grassroots community projects through Buena Onda, an organization specializing in customized volunteering experiences.
I am originally from Guatemala and know the area well so I thought I would share with you some recommendations for making the most of your immersion Spanish learning family experience!
5 Tips For Spanish Language Immersion for Kids In Antigua Guatemala
1. Choose the Right Location – Why Antigua Guatemala
Start of by choosing a country that has the infrastructure and a neutral Spanish accent. Choose a location where it will be easy to find a summer camp or language tutor and that also has activities that your family will enjoy.
We chose Antigua Guatemala for our Spanish immersion destination but before getting deeper into why Antigua Guatemala is the perfect destination for families looking to learn Spanish abroad I want to address any safety concerns. You might have heard about the volcanic eruption in Guatemala a few weeks ago and although this was a terrible natural disaster that affected many people I want to assure you that traveling to Guatemala is safe. Guatemala's tourism board has declared all tourist destinations safe and fully operational. They have also shared that the best way to help Guatemala after the eruption of the Fuego Volcano is to visit Guatemala and they are encouraging media to promote it as the safe and magical destination that it is. There is also an article on the New York Times that you can read HERE.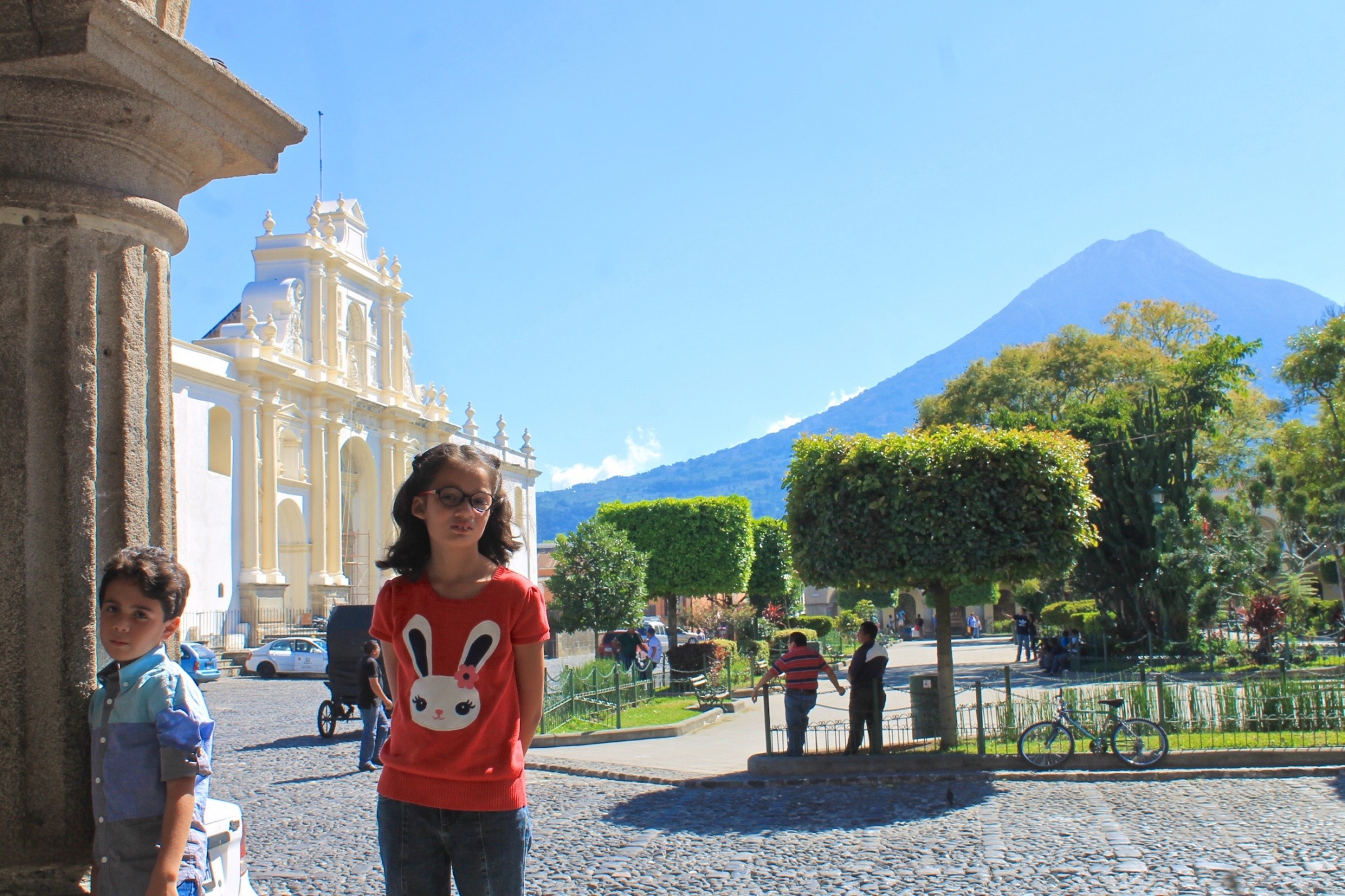 Antigua Guatemala is famous for having some of the best Spanish schools in the world and Guatemalan Spanish is known for having a neutral accent and being easier to learn than the Spanish spoken in other countries. Besides it's great schools and easy to learn Spanish Antigua Guatemala is a UNESCO world heritage site. This colonial city is beautiful and has lots of things to do so it also makes for an ideal family vacation destination.
Antigua also has a large expat community and a few of the local schools follow a similar school calendar to the US schools (most Guatemala's schools have their long break from November to January) and offer summer camps during summer.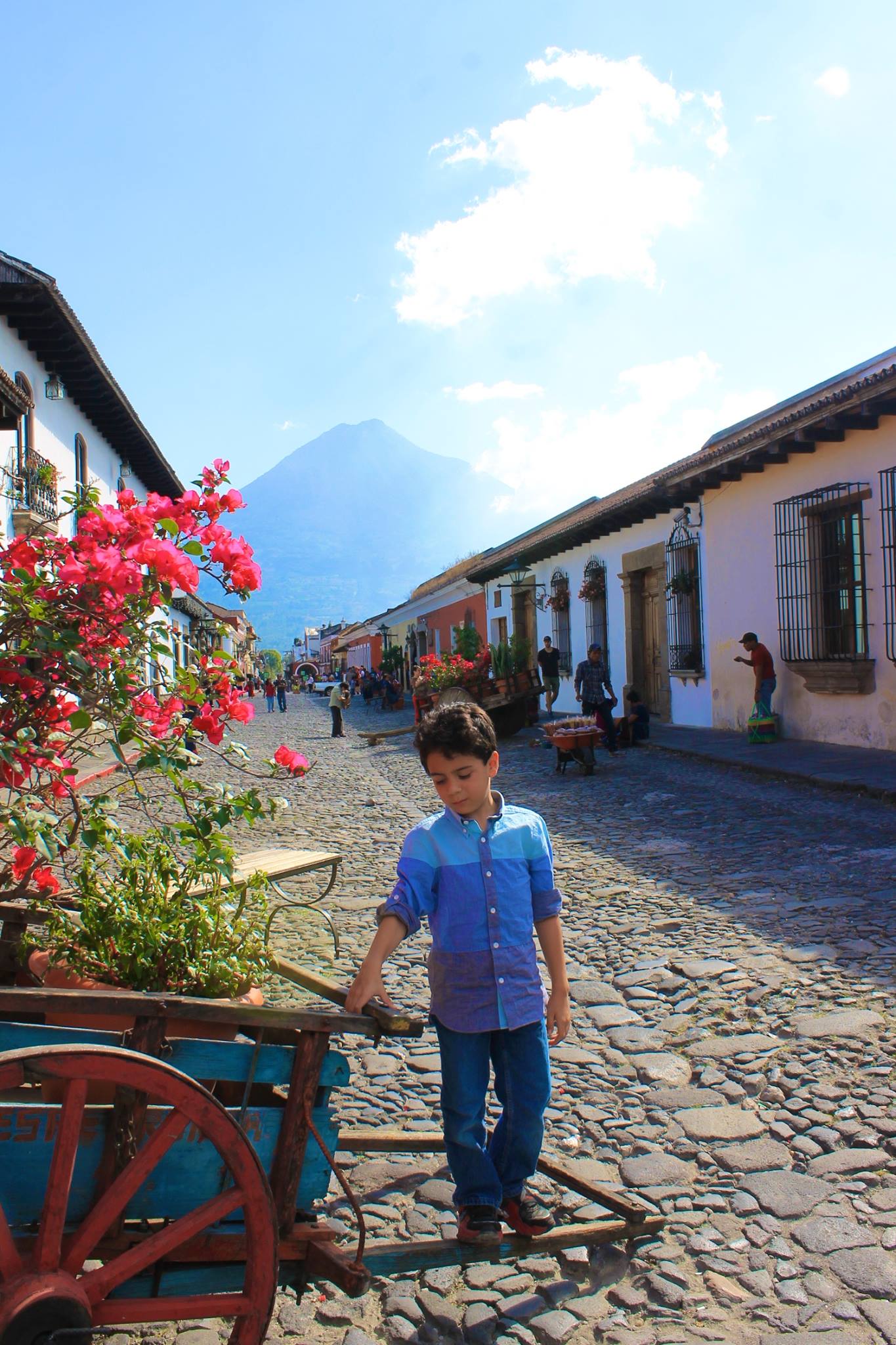 In Antigua Guatemala you can stay with a local family at a homestay and it's also easy to find a well-located house or apartment on AirBnB or HomeAway. Staying in a vacation home or condo gives you enough space for your family and lets you save money by being able to cook meals at home and is ideal if you want more privacy and flexibility. On the other hand a homestay is incredibly affordable and also provides for a more authentic experience as part of the local community.
2. Find the Right Programs
We didn't want to just throw the kids in a Spanish school or hire a Spanish tutor because we believe that the best way to learn is to do it in a natural way while you're having fun and it was important for us that they also got to meet kids their age. After doing our research we found Antigua Green School, which offers an entirely bilingual camp with families coming from within Guatemala and abroad. Since this was the first time my kids will be attending a summer camp aboard we thought this was the perfect environment with a mix of kids from the US and locals and both kids and teachers speaking a mix of both languages. Green Camp is a bilingual day camp immersed in nature for children ages 3-15 years where kids get the opportunity to learn experientially, in a safe, structured and natural environment. I loved that attending Green Camp not only gives my kids the opportunity to engage in fun activities while learning Spanish but Green Camp also focuses on teaching the basics of environmental care, sustainability, community care, and leadership by partnering with local organizations and NGOs!
We also found a few in Spanish schools in Antigua that have programs specially designed for kids which is so important because you want to make sure kids are having fun and learning the language in an authentic way and that teachers are trained to teach Spanish to children so that they stay engaged. So we decide to combine the Antigua Green Camp experience with learning at a Spanish school to reinforce grammar and spelling.
4. Provide Kids with A Variety of Experiences and Opportunities To Speak Spanish
There's a lot to do in Antigua Guatemala, and everything is relatively close either within walking distance or via a short trip on a tuc tuc or uber. To maximize the opportunities to learn Spanish in a natural way we have planned a wide array of activities from a chocolate making class and a cooking class to visiting museums, touring a coffee plantation and shopping for groceries at the mercado. This way we all get to practice Spanish in a natural way.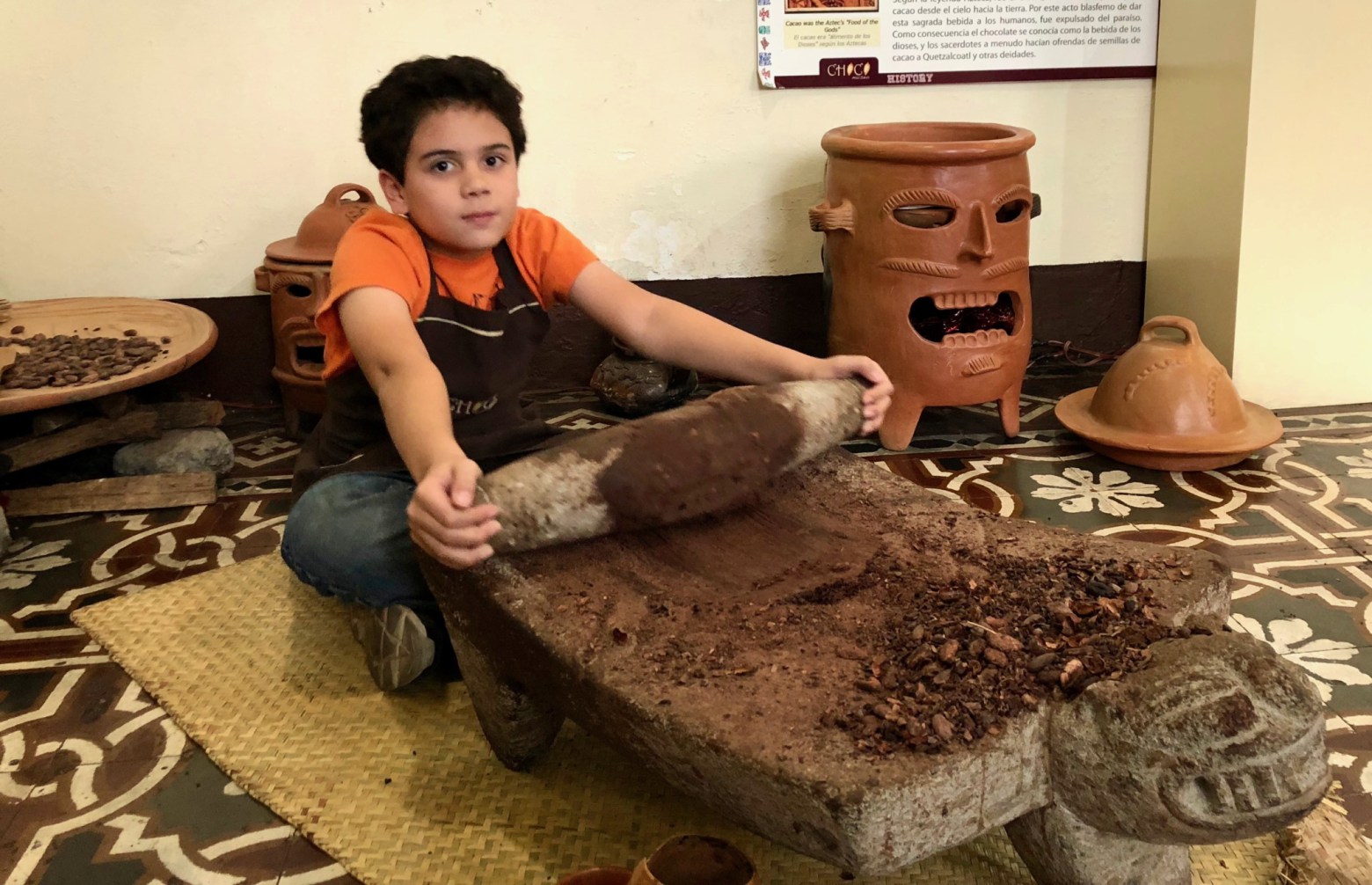 This is why Spanish immersion abroad is so successful; not only do you instantly get to use what you learn but you also naturally develop an ear for the language learning new vocabulary in a passive way as you hear the language being spoken all around you.
5. Connect to the Community
Antigua can be a bit touristy and it was important for us that our kids got to experience and connect with real Guatemalans, that they learned about the culture and that they connected to the community and what better way to do this than by volunteering?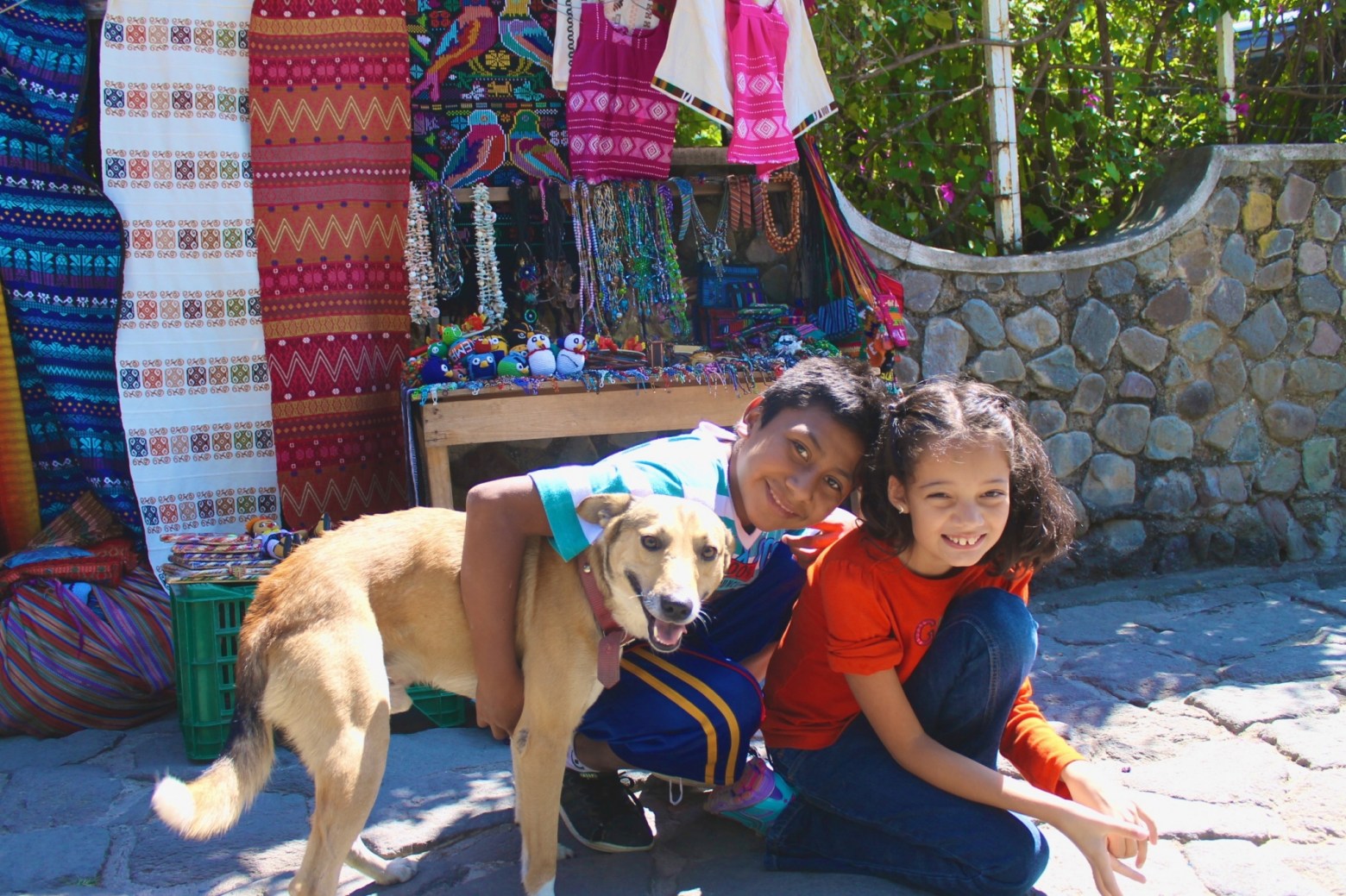 Connecting with the local community, is for us, an important part of why we travel. This is also one of the reasons why we thought that Green Camp was such a perfect fit for our kids, because they partner with local NGO's and community organizations to teach kids about sustainability in an experiential way.
We also found an amazing organization called Buena Onda, that specializes in providing customized volunteer experiences that align to your passions. We spoke with them and they are finding the right volunteering opportunity for our family taking into account our kids ages and the causes we are passionate about: kids, education, animals and the environment.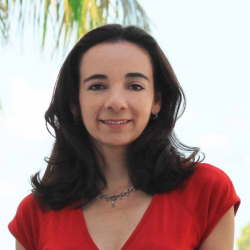 Latest posts by Paula Bendfeldt-Diaz
(see all)