Disclosure: I was provided with a personalized Stuck On You backpack to review.  However all opinions are sincere and are my own.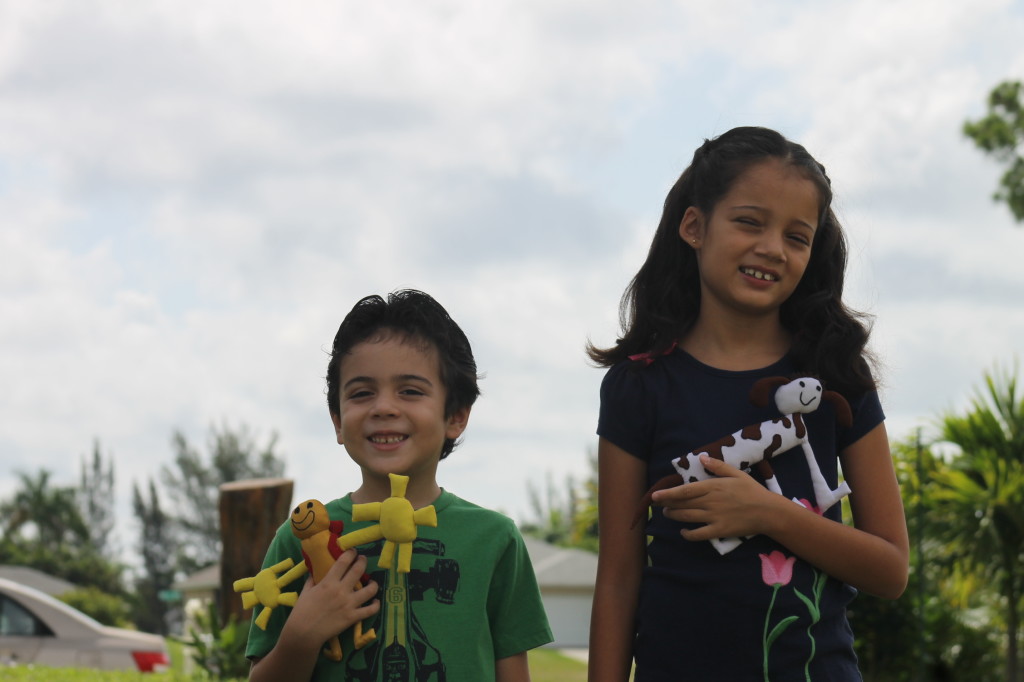 No matter what language your raise your children in, one of the greatest gifts you can give your child is motivating him be creative.  This is why I was so excited when I discovered Cryoow!  Cryoow! is a company that literally makes your child's imagination become a reality!   Cryoow! turns your child's drawings into dolls they can play with, hold and sleep with.  It brings your child's creations from the a two dimensional paper to reality and it does so staying true to the child's original idea down to the smallest detail.
Children learn through play and I am a firm believer in getting my children toys that have an educational value.  The best toys are those that leave the door open for children to use their imagination and creativity.  Cultivating a child's imagination and creativity will promote learning and brain development in young children, so I try to stay away from fancy toys that talk and walk and only require children to push a button or two.
When I stumbled upon Cryoow! I could not contain my excitement.  This was a truly unique toy that any child would love and cherish and that would make the perfect gift for a creative little one.  Not only that but this toy is also a great motivator for children to work on their drawing skills, which in turn improve their fine motor skills and their cognitive development.
My little guy is quite an artist. He loves drawing and making plans for things he will build in the future.  One of the things he draws a lot is his imaginary friend Laffy.  Laffy usually comes with us on trips, sleeps with him at night and has even been known to request his own special breakfast at the family table.
Cryoow! is the brain child of the 7 year old daughter of it's founder who longed to have a doll just like the one she had drawn.  This really resonated with me and I thought: "How amazing would it be for my little guy to have a Laffy doll he can physically play with and hug?"
Cryoow! Bringing Children's Creativity To Life
I asked my little man to draw his best friend Laffy and explained he had to be very detailed as his drawings would serve as the plans for a Laffy doll. He was so excited!  He quickly sat down to draw Laffy.

He explained he needed to draw his back too because Laffy carries a backpack with lots of things for school.  I helped him by tracing his drawing to make the back side of Laffy and he colored it and added a red backpack with his name on it.  Excited about starting Kindergarten this year he also added a book, an apple for snacking, a pair of scissors and a toy car to Laffy's backpack.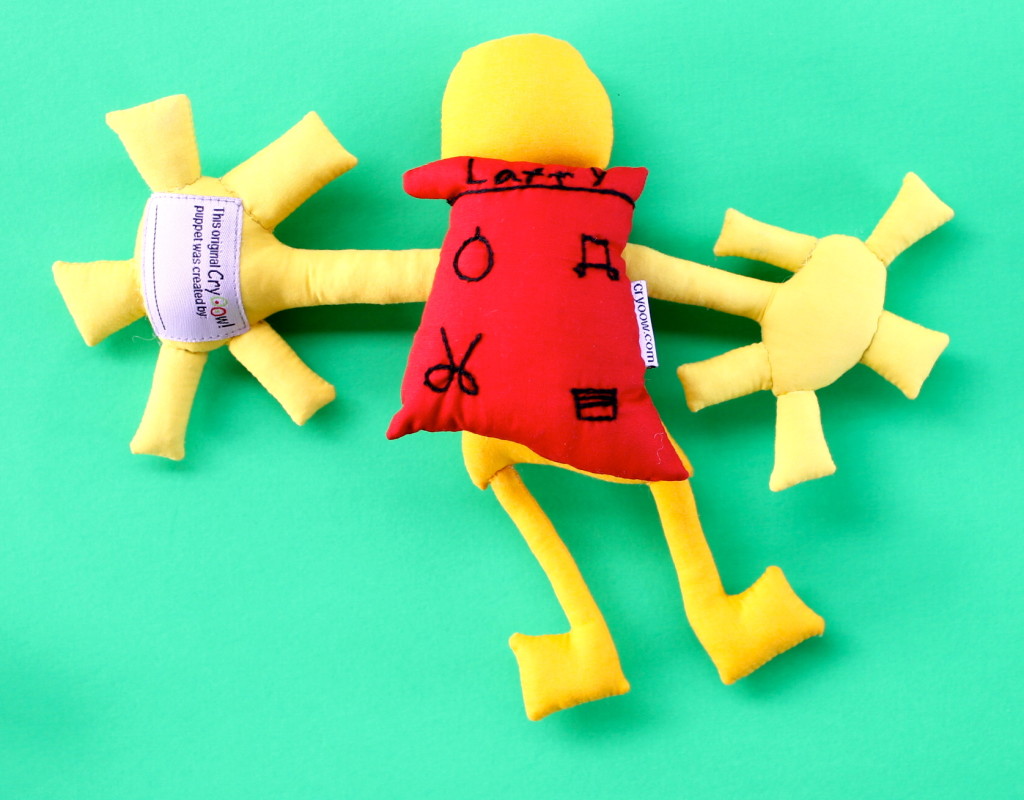 Then it was my daughter's turn.  She really wanted a doll of her dog but since she has difficulty drawing due to her motor processing disorder she asked the official family aritist to draw her dog Sally for her.  Happy to oblige my little guy sat down with a piece of paper and drew exactly what my daughter described.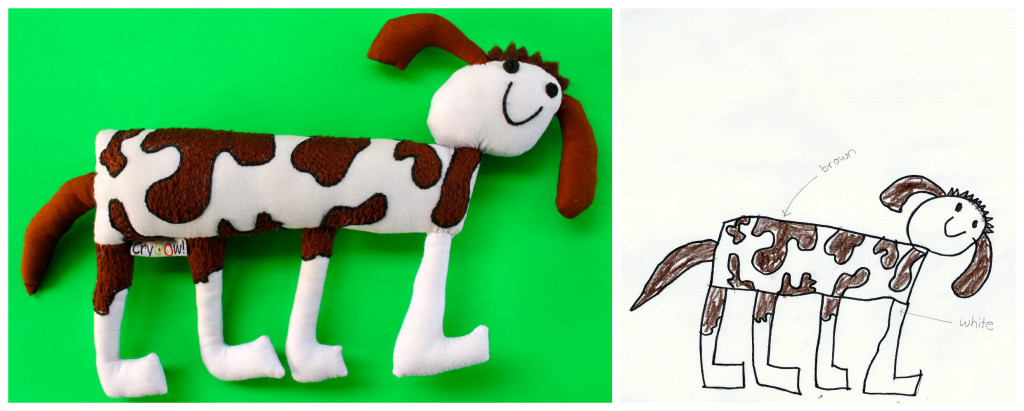 We scanned the artwork and emailed it to Cryoow! My little guys was very specific about the colors and even had some ideas regarding textures so we added those instructions to the drawings.  Once Cryoow! had received the drawings it took them 2 weeks to produce the doll. Each doll is hand made and once it is finished it is shipped via DHL and it takes around 3 working  days until it arrives on your doorsteps. While you are waiting your kids can play the free memory game that you can find on the Cryoow! website. My kids where thrilled that their dolls where being shipped from far away Bali and once we received the DHL confirmation we had so much fun following Laffy and Sally as they traveled half way around the world to reach us.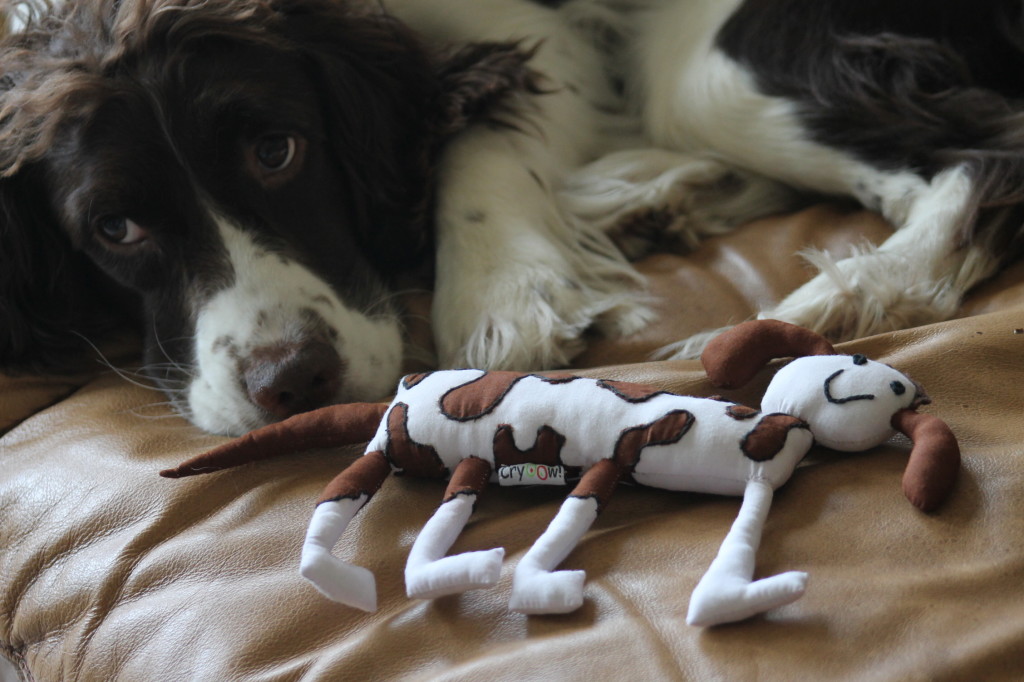 Each day we would look at a world map and I would point to the country where Laffy and Sally where at the time and both of my children loved it, we even went a step further and used that opportunity to learn a little about each of the countries: I showed them pictures and we talked about what languages where spoken.  My little guy let his imagination run wild and would tell me stories of how Laffy was having fun traveling in an airplane and how he was learning different languages as well.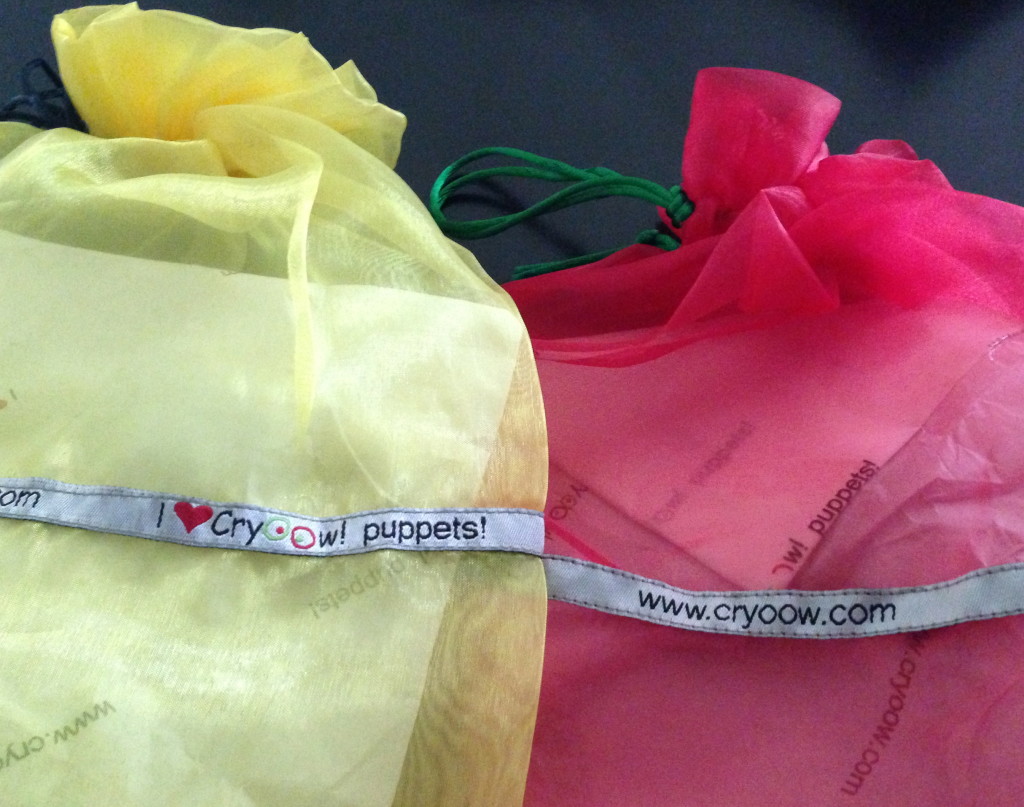 When the dolls arrived my kids where literally jumping with excitement.  They came in a beautiful bag, wrapped in tissue paper and accompanied by the name of the person who had created each one.  Even though I had seen many photos of the finished dolls I was truly surprised by how incredible the similarity was to my little guy's drawings.  The attention to detail and the choice of colors and materials was right on the spot and my kids where thrilled!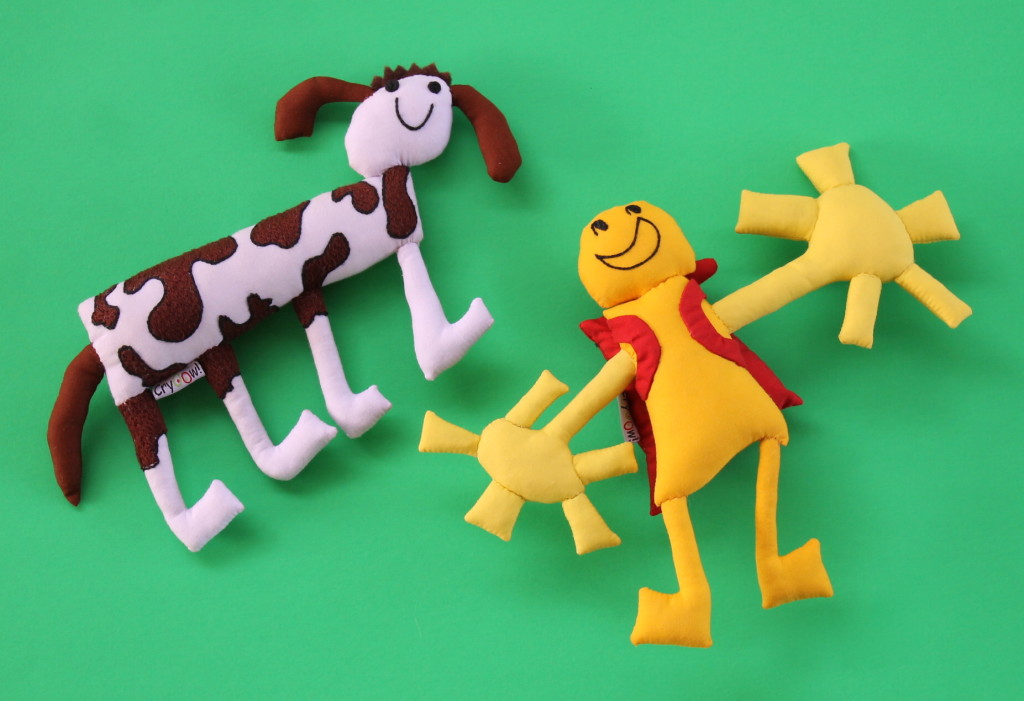 They immediately started to play with their dolls and did not stop until it was time for dinner.  They both slept with their dolls that night and even though it has been weeks since we got them they have not lost interest in them.  The best part is that the dolls have held up wonderfully to hours and hours of continuous playtime. My children are very happy with their creations and love showing them off to everyone and my little guys loves that he can now play with his best friend Laffy and bring him on family trips and we can all "see" him.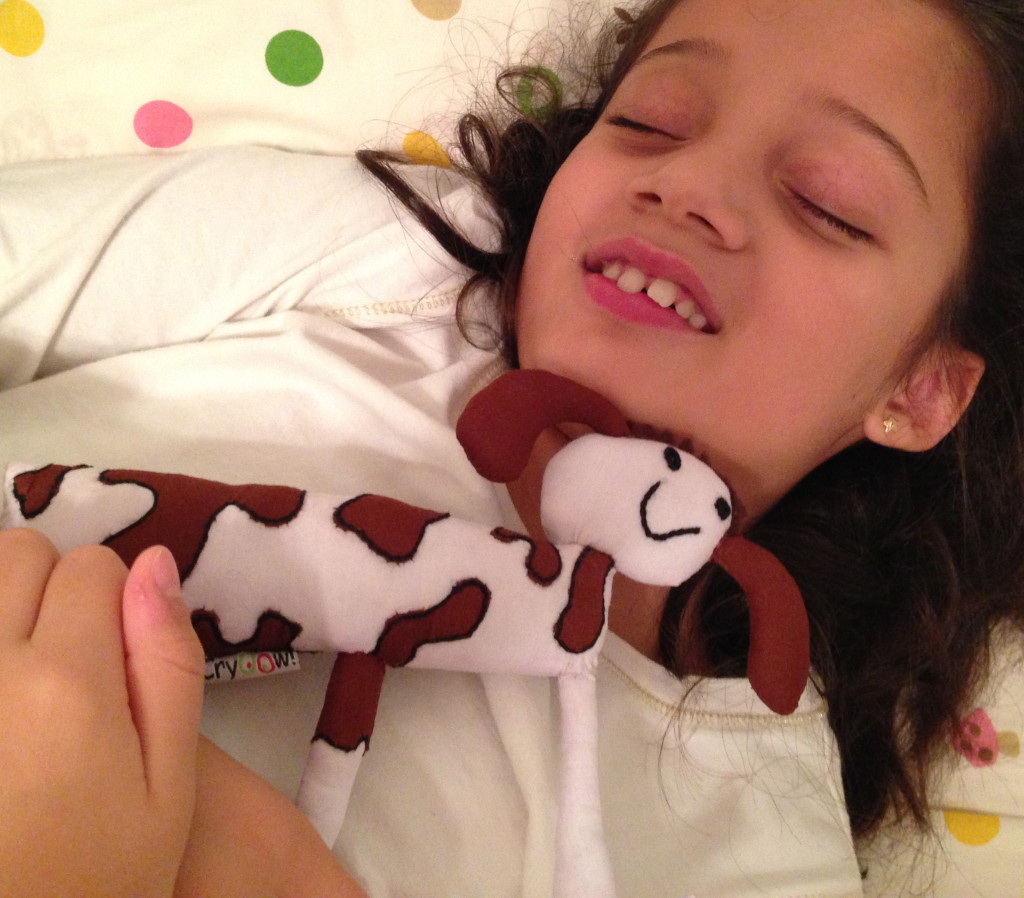 You can visit the Cryoow! website, like Cryoww! on Facebook and follow @Cryoow on twitter to learn more about their handmade one of a kind creations and stay up to date with their latest news.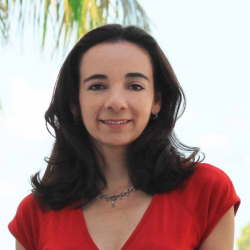 Latest posts by Paula Bendfeldt-Diaz
(see all)