Disclosure: this is a compensated campaign in collaboration with Kikkoman and Latina Bloggers Connect. However all opinions are my own.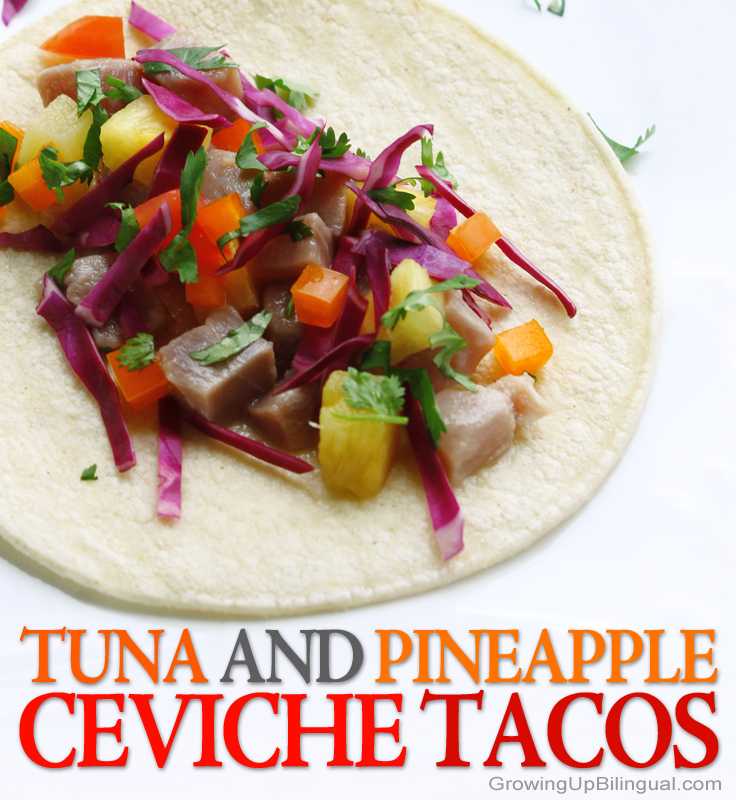 When I think of ceviche memories of Guatemala rush back: stopping at a cevicheria on our way to the beach or just getting together to eat ceviche on weekends during the warm summer months. Ceviche is very versatile and you can make it using any type of seafood which is cooked in lime juice. In Guatemala tomato, onions and cilantro are usually added while in other Latin American countries different ingredients are used alongside the fresh seafood.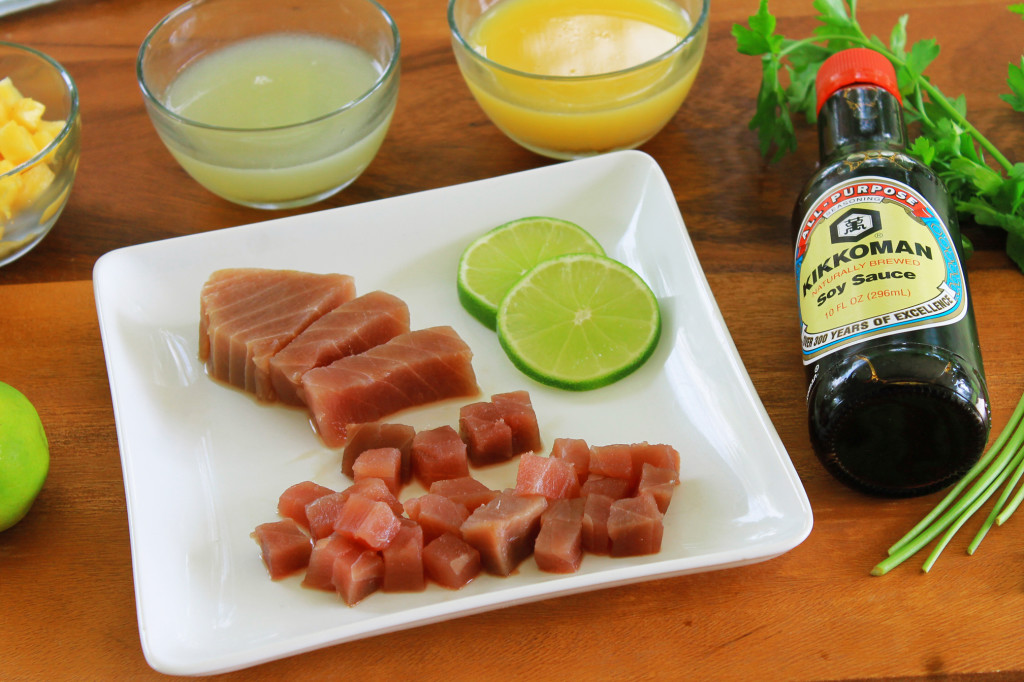 In Guatemala tuna is not usually used for ceviche as it is not easily available but since tuna is my favorite fish and I already enjoy it raw in sushi I decided to make a tuna ceviche. To give it a little twist I decided to add pineapple to my tuna ceviche inspired by a tuna and pineapple maki roll I ate at a restaurant recently. I also wanted to make it easier to eat for the kids, my son does not like the way ceviche looks marinating in all the juices so I thought I would put the ceviche in a tortilla and make some ceviche tacos.
For this ceviche I used a combination of lime juice, orange juice and pineapple juice giving it a sweet and tangy taste. To bring out all the flavors I added Kikkoman soy sauce. Kikkoman soy sauce is a versatile ingredient and it is perfectly balanced to naturally enhance the flavor. The salty savory flavor of the soy sauce really brought all of the flavors together and made them "pop"! Besides by using 1/2 tsp Kikkoman Soy Sauce in place of 1/2 tsp. table salt, the sodium content of the recipe is cut by 1000 mg.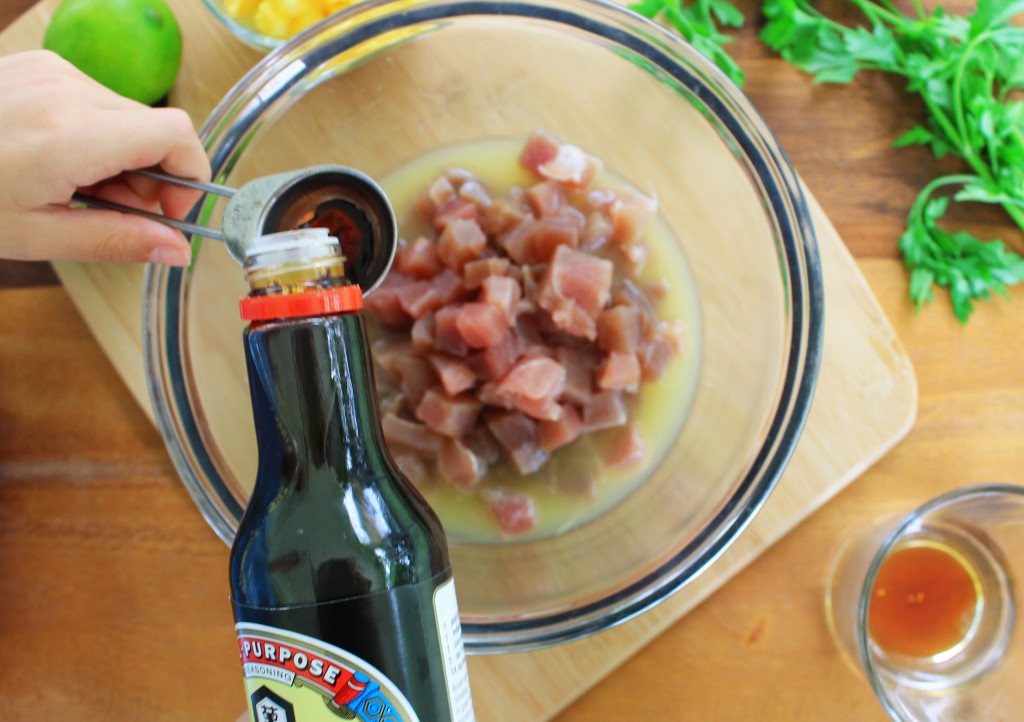 Here you can see my 6 year old son is helping me out pouring the ingredients. Yes those beautiful little hands are not mine! 🙂 He was pretty excited about helping out in the kitchen and so much more willing to give this new dish a try after participating in the preparation process.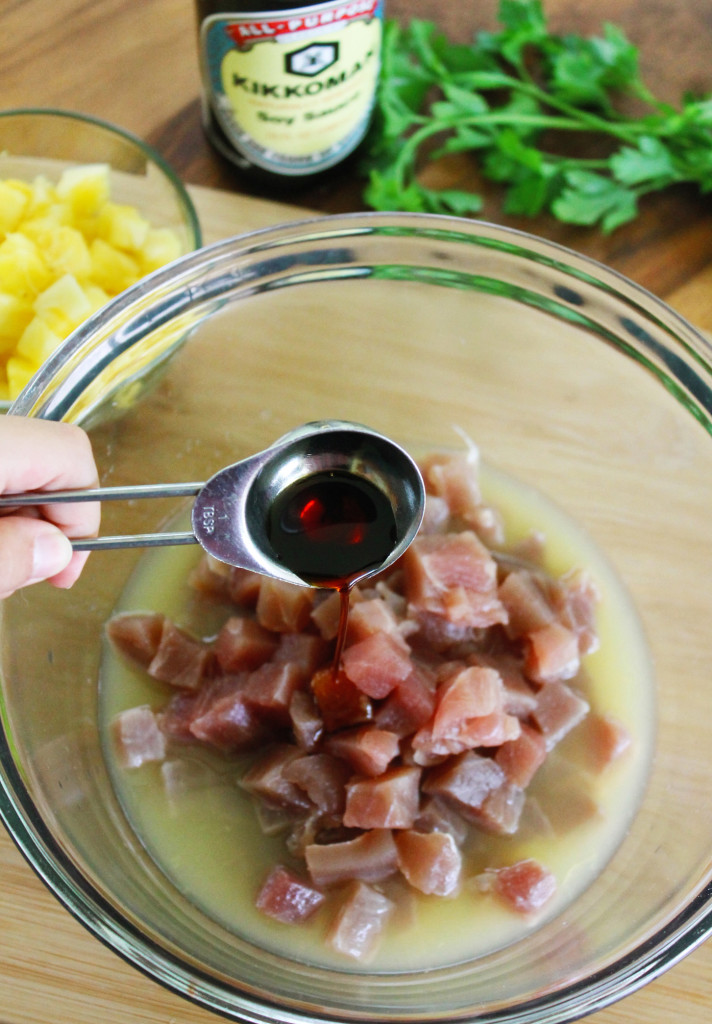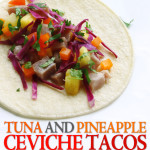 Tuna and Pineapple Ceviche Tacos
Ingredients
12

ounces

very fresh

sushi-grade tuna

1 1/2

cups

fresh pineapple

cut into small dice

¼

cup

onion

finely diced

2

tablespoons

finely diced yellow bell pepper

2

tablespoons

finely diced red bell pepper

1/3

cup

fresh lime juice

3

tablespoons

fresh orange juice

3

tablespoons

pineapple juice

1

tablespoon

Kikkoman soy sauce

1

tablespoon

good quality extra-virgin olive oil

2

tablespoons

rice wine vinegar

1 1/2

tablespoons

finely diced jalapeño pepper

¼

cup

chopped fresh cilantro leaves

10

corn tortillas

1/4

cup

shredded red cabbage for garnish
Instructions
Cut the tuna into 1/4-inch dice.

Place in a glass dish with the lime juice, orange juice, pineapple juice, vinager, soy sauce, peppers, onions, and garlic, tossing to coat.

Cover and refrigerate for 30 minutes, stirring occasionally.

Add the cilantro, olive oil, pineapple, salt and jalapeño peppers. Fold gently to mix.

If you don't like the heat or to make these more kid friendly leave out the jalapeño or add directly to some of the tacos, not to the ceviche.

With a slotted spoon transfer ceviche to a bowl to remove juices.

Heat up the corn tortillas, place a couple of spoon fulls of ceviche on each tortilla and garnish with red cabbage.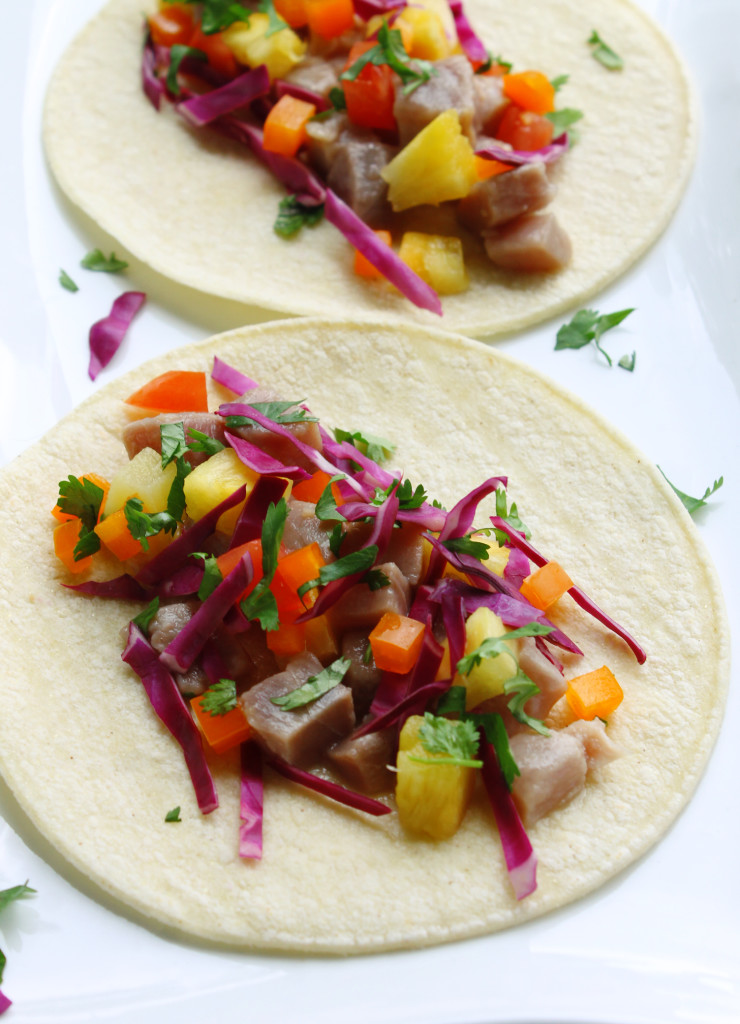 I love cooking with good quality ingredients and love that Kikkoman's meticulous six-month natural brewing process dates back to feudal Japan. Kikkoman soy sauce was founded more than 300 by a woman in a time when women did not start companies and is still a family owned company. How awesome is that?!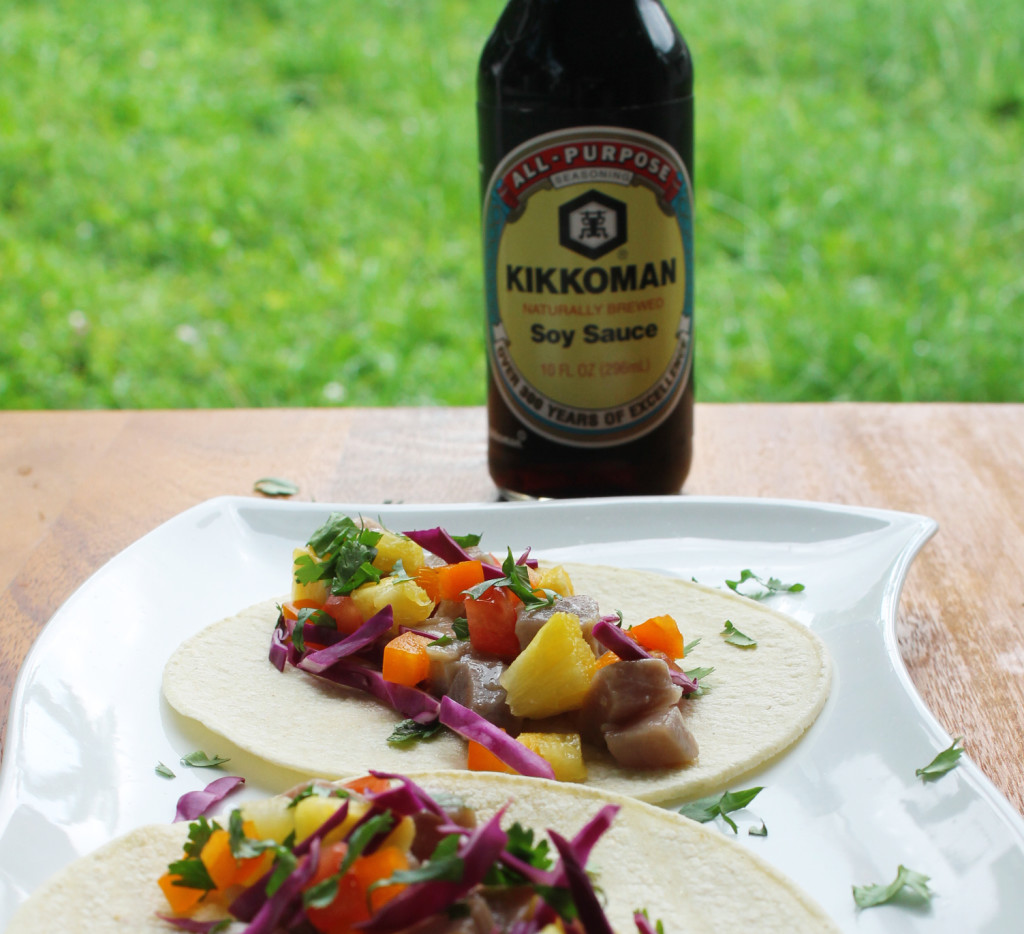 You can visit the KikkomanSabor.com website to find more recipe and ideas filled with sabor!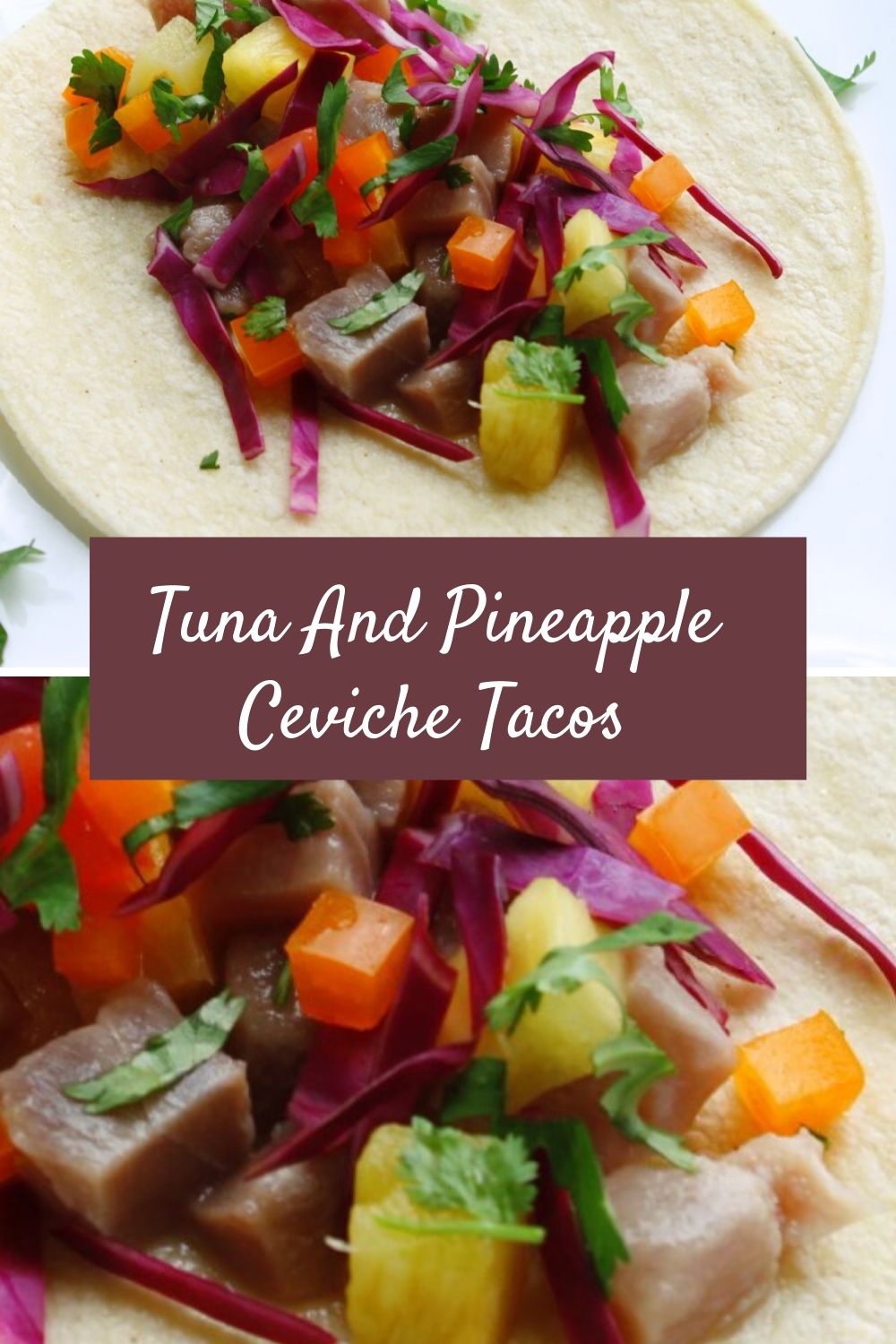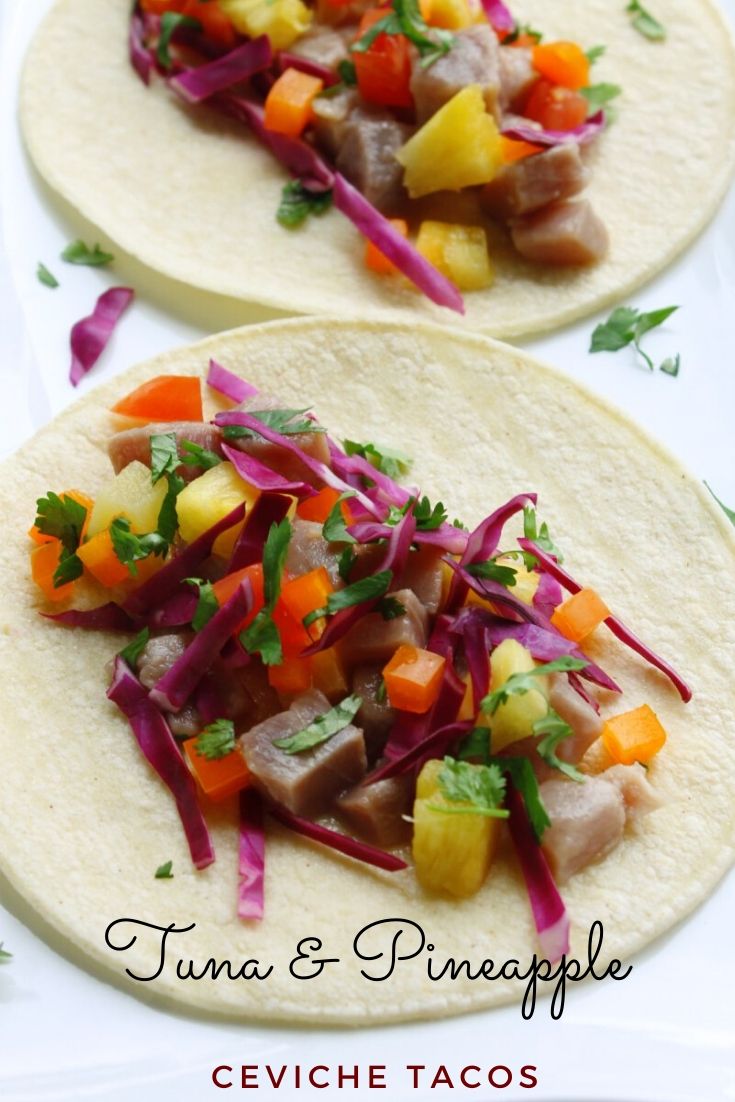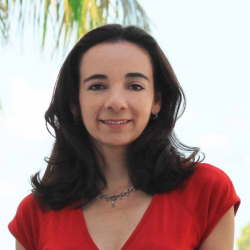 Latest posts by Paula Bendfeldt-Diaz
(see all)