This is sponsored post in collaboration with IMUSA. However, all opinions and this delicious seafood chili recipe are all mine! #IMUSA #IMUSAMoments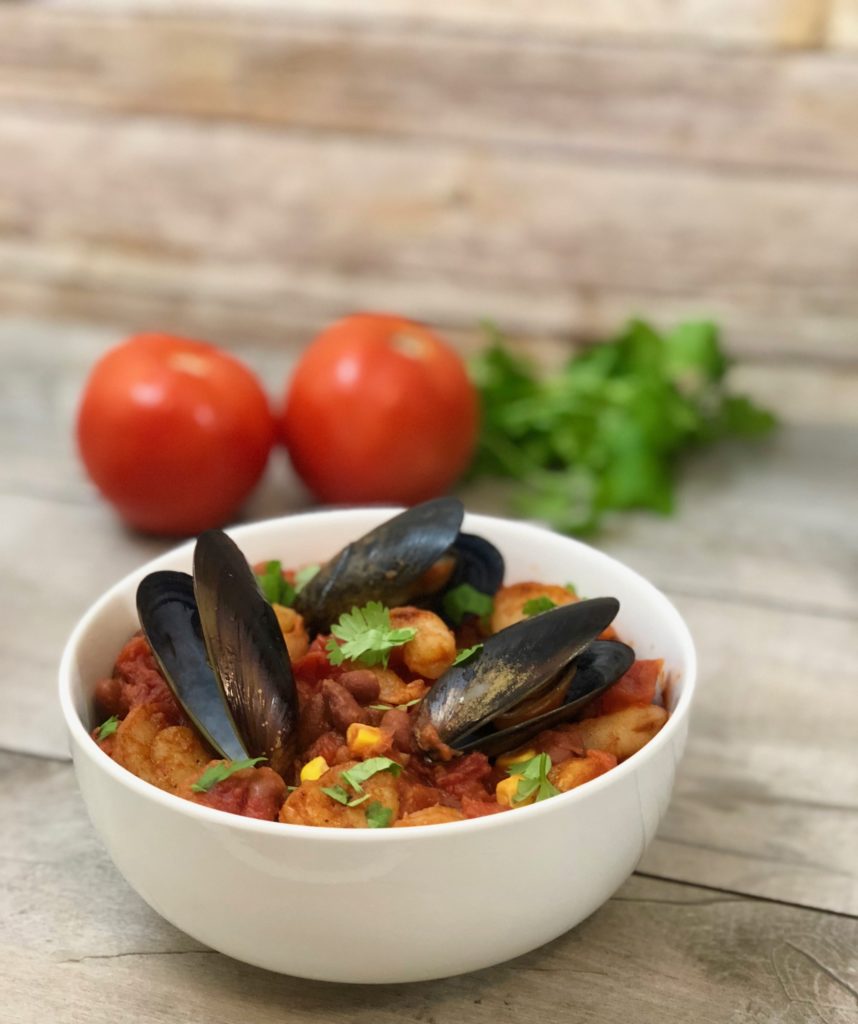 The weather has been chilly lately, even here in Florida and I've been craving something hearty and delicious that will warm me up. I was thinking of making chili but wanted something a bit more special so I figured I would replace the meat for some shrimp and add some mussels to turn it into a seafood chili.
I don't know why I had never thought of making seafood chili, the combination of the tomatoes, beans and the seafood is a match made in heaven!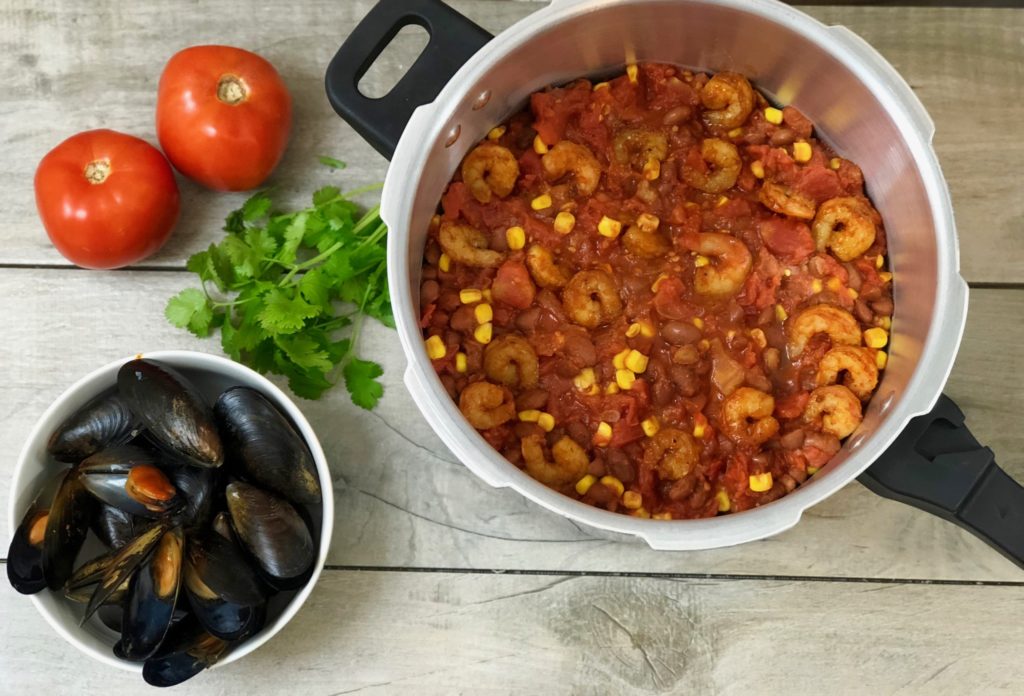 This seafood chili is so easy to make and the best part is that it comes together in under 20 minutes, all thanks to the pressure cooker.
I used my new pressure cooker from Inmusa, and I still can't believe how quickly this all came together!
Ingredients for Seafood Chili
1lb shrimp, un–cooked, de-veined
1 28-ounce can diced tomatoes
1 12onz can of corn
1 package cooked frozen mussels
1 12onz can beans
1 garlic cloves, minced
1 onion, minced
2 tbs. olive oil
1/2 cup chicken stock
Juice of half a lemon
1 tsp. cayenne pepper
1 tsp. smoked paprika
2 tbs. old bay seasoning
salt and pepper to taste
fresh cilantro for garnish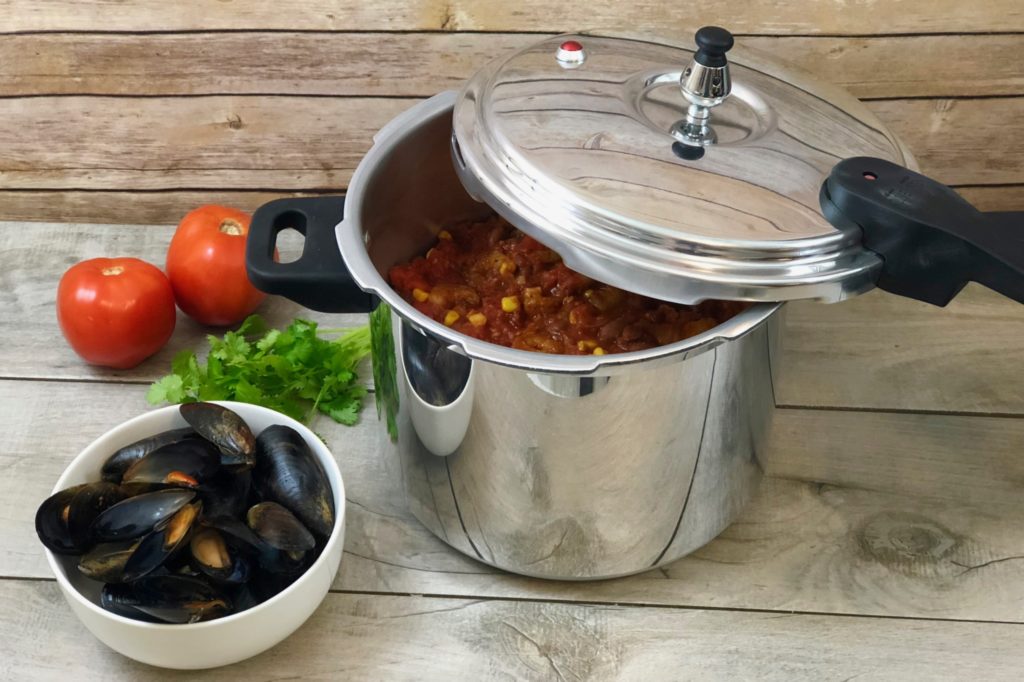 Directions
Peel the shrimp, remove the dark filament in the back. Rinse them and let them drain. Place them in a dish and spray them with lemon juice.
Mince the garlic and onion.
Heat the oil in your IMUSA pressure cooker. Add the minced garlic, onion and sauté everything 3 minutes.
Add diced tomatoes, beans, corn, shrimp, cayenne pepper, paprika, old bay seasoning. Mix well and add salt and pepper to taste.
Close the lid and bring to high pressure, then adjust to just maintain high pressure. Cook at high pressure for 7 minutes.
While the chili is cooking heat the mussels according to package instructions.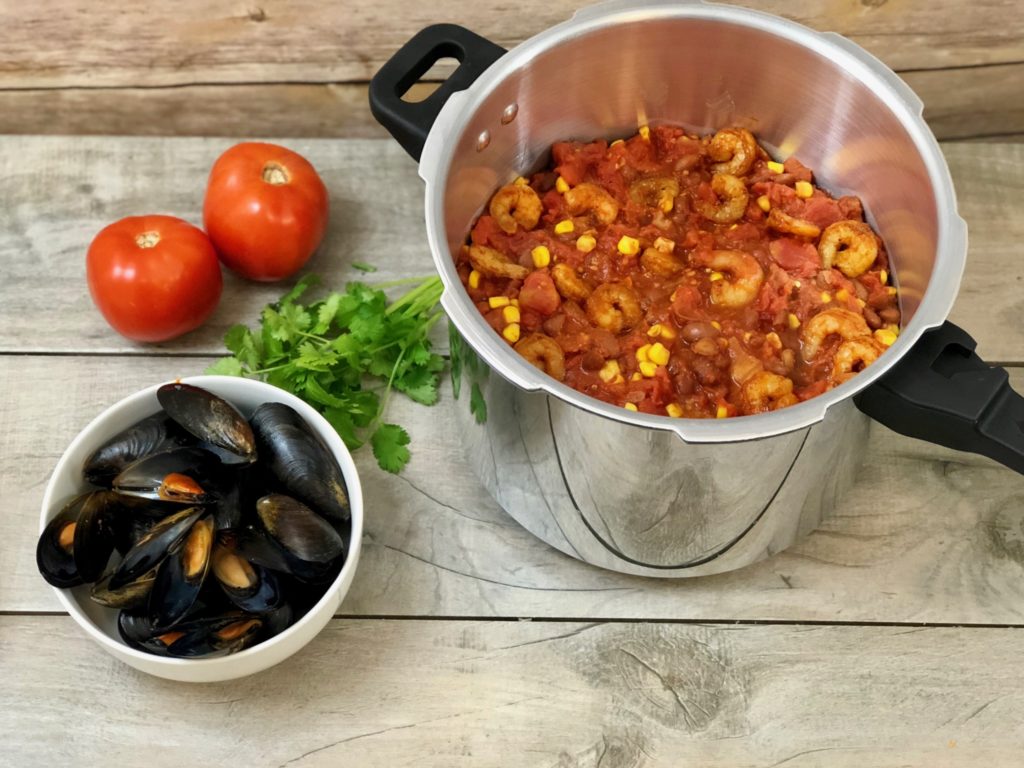 Turn heat off, remove the pot from the burner, and allow steam to escape and open the pot (following the recommendations of your pressure cooker, of course).
Remove the lid, directing steam away from you.
Add the mussels and cook for about two minutes until the chili thickens and the mussels are hot 2 minutes with the pot uncovered.
Serve in bowls and sprinkle with fresh cilantro.
Adding shrimp and mussels makes this delicious chili perfect for sharing with friends and family and for entertaining and it's so easy to make that you can make this quickly on a weekday.